Are you new to Singapore, or have guests in town and want to enjoy the very best of what this dazzling city has to offer families? We've cherry-picked the top 20 must-dos with kids!
Singapore is arguably the best city in the world for families with its year-round tropical weather, delicious child-friendly restaurants and unbelievable attractions for kids. Even when the dreaded Haze hits, we still have awesome indoor play centres to hang out in with our kids. We're so proud to call Singapore home that we don't want you to waste precious time faffing about working out what to do, so we've carefully curated a list of MUST DO family activities. All the mums here at HoneyKids HQ have voted for their personal family favourites. Work your way through iconic experiences like Gardens by the Bay and Sentosa to off-the-beaten track gems like MacRitchie Reservoir and Watten Estate Park. There's so much to do and no time to waste, so let's get cracking…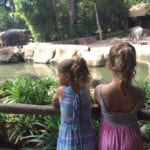 1. Gardens by the Bay
Singapore is a city synonymous with lush tropical growth, with Gardens by Bay being its finest example. Gaze up in awe at the impressive Super Trees en route to the Flower Dome and Cloud Forest. The conservatories are testament to Singapore's ingenuity and engineering prowess and are truly incredible both in terms of the range of flora and their immaculate presentation. The giant waterfall in the Cloud Forest will take your breath away, and there is always something new to see at the ever-changing Flower Dome (we love Christmas Wonderland at Gardens by the Bay, when you can see the garden covered in snow!) Don't miss the free FEO Children's Garden water play area, which is so fab it warrants a whole separate visit. Take your little ones to the splash pad where they can play amongst the fish fountains, or make a dash through the sprinklers and dodge the buckets of water coming from those giant flowers! HoneyKids Ed Selina thinks hanging out here is the best free day out with the kids in Singapore.
18 Marina Gardens Drive; www.gardensbythebay.com
2. Day out at Sentosa
The State of Fun is so jam-packed with family friendly activities that you'll need a week to tick them off your list. Plan your visit in advance with our handy guide to Sentosa. Here's just a few of our faves:
3. Universal Studios Singapore
Okay, so strictly USS should come under the Sentosa banner, but South East Asia's only Hollywood theme park is such a hot ticket that it deserves its own dedicated mention. Go behind the silver screen and witness movie magic as you explore seven awesome zones – Hollywood, New York, Sci-Fi City, Ancient Egypt, Lost World, Far Far Away, and Madagascar. Check out our insider's guide to Universal Studios here. Hot tip: upgrade to the express pass to avoid ride queues!
8 Sentosa Gateway, Singapore 098269; www.rwsentosa.com/UniversalStudiosSingapore
 4. Singapore Zoo
Renowned as one of the best zoos in the planet, the Singapore Zoo is so cleverly designed that it feels like open wilderness. You'll see what we mean when you walk beneath orangutans swinging in vines, look across a moat at white Bengal tigers and spy through glass at swimming pigmy hippos. The entire family will fall in love with all the furry (and scaly) animals here, and the wet play area at Rainforest Kidzworld is the perfect place to cool down after a hot and sweaty day out. What ever you do, don't miss the antics of one very cheeky sea lion in the Splash Safari Show. We sat in the front row where we were thoroughly entertained and splashed!
80 Mandai Lake Road, www.zoo.com.sg
5. Pulau Ubin
Take a day trip to Palau Ubin via bumboat from Changi Point Ferry Terminal and you'll feel like you've stepped back in time to Singapore pre-independence. It's home to Singapore's last surviving kampong (village), and is an untouched isle crisscrossed with nature trails, local eateries in old wooden huts, and hundreds of rental bicycles. We went with friends visiting Singapore and we all were in stitches ferrying the kids around on dinky bikes. And our little adventurers loved running up the hill and frolicking with the butterflies in the butterfly garden. Kids' paradise!
Pulau Ubin, Singapore
6. Night Safari
Love the zoo but hate the heat? Witness the stunning Singapore wildlife reserve sans sweat at the nocturnal Night Safari. Doors open at 7.30pm, with animal-lovers lining up for the first Creatures of the Night Show from 7pm. Head out early and grab a bite to eat while enjoying the high-octane Thumbuakar fire show (first performance is at 6.45pm, with food outlets open from 5.30pm). Volunteer to get up on stage with the cute free-range critters at the show and then kick back and enjoy the commentary on the train as it weaves its way past the natural enclosures of the night safari animals. Wave to the lions for us! Buy tickets online to score up to 25 per cent off the regular ticket price.
80 Mandai Lake Road, Singapore 729826; www.nightsafari.com.sg
7. River Safari
Jump aboard and set sail on a wild adventure at the $160-million attraction that is the River Safari. Admire exotic animals while cruising down the Amazon, Congo, Yangtze, Ganges, Nile, Mekong, Murray and Mississippi! Whatever you do, don't skip a visit to the Giant Panda Forest to meet resident pandas Kai Kai and Jia Jia. If your nascent Jane Goodall is keen for a more personal approach, join a guided River Trail. Not only will your kiddos learn all about the animals, they'll also be involved in feeding time, and may even grab a pat!
80 Mandai Lake Road, Singapore 729826; www.riversafari.com.sg
8. Jurong Bird Park
Anyone who grew up in Singapore will remember childhood trips to the Jurong Bird Park to see the parrot show. Opened in 1971, this institution holds the enviable title of Singapore's first attraction. Work your way through all the feather-tastic exhibits on offer from Lory Loft, Jungle Jewels, Waterfall Aviary, Penguin Coast and Pelican Cove, and you'll spy over 5000 birds. No trip to the park is complete without a splash at the Birdz of Play play scape. For a treat our kids love eating local delights while meeting the cheeky parrots.
2 Jurong Hill, Singapore 628925; www.birdpark.com.sg
9. Singapore Science Centre
You might want to think about an annual membership at this wonderfully interactive scientific haven. With exhibits littered in an impressive 14 galleries, your kids will be inspired to greatness as they investigate first-hand and learn all about the solar system, tornados and earthquakes. KidsSTOP is like Willy Wonka's factory, with music-making stations, cool machines and so much more; the family can watch short movies starring Sesame Street characters or dinosaurs under a domed screen at the Omni-Theatre; and did you know there's a water play park at the Science Centre? Make sure you check out the Kinetic Garden, and our writer Tracy swears by the new Butterflies Up-Close exhibit. You can happily spend an entire day at the Science Centre, so thankfully you can refuel at the Kidz cafe. Who knew science could be so fun?
15 Science Centre Road, Singapore 609081; www.science.edu.sg
10. Singapore Botanic Gardens
Given the abundance of lush green spaces in Singapore, you'd be forgiven for not realising that it's a teeming metropolis of almost 5.5 million people. Our favourite green oasis, the Singapore Botanic Gardens has just achieved international recognition by being named Singapore's first UNESCO World Heritage Site. Wander through the lush tropical rainforest, through the spectacular National Orchid Garden and gander at the resident swans and turtles. Don't miss the lovely Jacob Ballas Children's Garden (closed Mondays) for the most awesome treehouse slide (don't forget your bucket and spade for the sand pit).  The water play area is so inviting that you'd best pack swimmers for the kids or you'll have little nudies on your hands!
1 Cluny Road, Singapore 259569; www.sbg.org.sg
11. FUTURE WORLD @ the Art Science Museum
With its amazing FUTURE WORLD exhibit, the ArtScience Museum is a truly spectacular experience for young and old(er). Immerse yourselves in a room with floor to ceiling flower blooms, chillax and watch waves roll in, stack oversize illuminated blocks, and enter a ball pit like no other. Get the full scoop on our visit to FUTURE WORLD and get to the ArtScience Museum as quick as your lovely legs will take you.  Be savvy and make sure to go on Family Fridays (one adult ticket secures entry for up to four kiddos – Bargain!)
6 Bayfront Ave Singapore 018974; www.marinabaysands.com/museum
12. Playeum, The Children's Centre for Creativity
This incredibly creative play-scape in Gillman Barracks is the sort of wholesome place that you feel good about taking your little ones. Executive director Anna Salaman certainly knows a thing or two about raising creative kids! Playeum's current exhibit, Hideaways – Creating With Nature inspires kids to create and learn through the use of recycled and 'found' objects. It's almost like a child has curated the space as it anticipates exactly what kids want to do – from making instruments, to crafting animal homes, to projecting resin inset insects on the wall with a giant magnifying device and building an glow in the dark spider web in an immersive space (with accompanying sounds). There's even a textural soft play section with mod-grass boxes for the little people. And if you post a letter to an insect you might just receive an email in response. Quirky! P.S. The new exhibit with a storytelling theme is heading our way next month (watch this space!)
Blk 47 Malan Road Gillman Barracks #01-23 Singapore 109444; www.playeum.com
13. The National Gallery – Keppel Centre for Art Education
The newly refurbished National Gallery Singapore housed in the stunning former Supreme Court Building is a cutting-edge visual arts institution focusing on Southeast Asian art. Sure, it has a massive collection of works from the 19th century to present day, but what really makes this place special for families is the Keppel Centre for Art Education. Plan ahead and join in one of the innovative programmes (our kids adore playing with fabulously interactive puzzle art at the Art Corridor and exploring the brilliant Art Playscape with an illustrated floor-to-ceiling enchanted tree house theme). All that art appreciation is sure to work up a hunger. Thankfully the National Kitchen by Violet Oon is there to satisfy your local food cravings with a touch of panache. Or if its more of a casual lunch your after, head to Gallery & Co. or grab a cupcake and coffee at Plain Vanilla. Nom nom.
1 St. Andrew's Road #01–01, Singapore 178957; www.nationalgallery.sg
14. Asian Civilisations Museum
Head to the Asian Civilisations Museum for an awesome hit of pan-Asian art and culture and walk away with a head full of knowledge about the intriguing history of vibrant, multicultural Singapore. The clever exhibits appeal to all ages, which make it a staple for school excursions – check out the brilliant Saturday programs for families, which include storytelling, art and craft. The kids will be busy learning while having fun! If you lose track of time, it's nice to know you can stave off a tantrum by refuelling at its noteworthy cafe, Prive.
Asian Civilisation Museum, 1 Empress Place, Singapore 179555; www.acm.org.sg
15. Singapore Flyer
Treat your fam to a bird's eye view of Singapore from aboard the Singapore Flyer. As the world's second-tallest ferris wheel, it has a somewhat circus appeal to little kids (and is rather exciting for us too!). You'll have fun pointing out the iconic sights of the Lion City, from Marina Bay Sands, to Merlion Park and beyond.
30 Raffles Avenue, Singapore 039803; www.singaporeflyer.com 
16. Singapore Guided Tours
The Singapore River Cruise will have you touring the traditional way: on board a quintessentially Singaporean bumboat. The 40-minute journey will float you past the lively restaurant district of Clarke Quay, alongside the colourful shop houses of Boat Quay, past the Merlion and to super-sleek Marina Bay Sands. If you can keep the kids awake – catch the light show trip at 7.45pm. Singapore River Cruise, Jetties from Robertson Quay to Marina Barrage (we went to Clarke Quay); www.rivercruise.com.sg.
DUCKtours' remodelled WWII Vietnamese war craft will take you touring on both land and sea! Extra points for the amazed look on your kids' faces as you plunge into the river. Fun! #01-330, Suntec City 3 Temasek Boulevard; www.ducktours.com.sg
17. MacRitchie Reservoir
Get back to nature with a ramble along the scenic trails and boardwalks at MacRitchie. There's a good stretch that's pram friendly, but the majority is a little more intrepid (so a baby carrier is required). If your older trekkers have a sense of adventure and stamina to match, tackle the 250m long, 25m high treetop walk. The wildlife is spectacular, but keep a safe distance from the pre-historic monitor lizards. The monkeys have become quite brazen when stealing food, and have been known to bite (squirt water at them and they'll leave you in peace!).
MacRitchie Reservoir Park, Singapore 298717; www.nparks.gov.sg
18. East Coast Park
No trip to Singapore is complete without a walk, scoot or rollerblade along beachside East Coast Park. Hire a family bike and see how much of the 42km length you can traverse before stopping for a swim. The seafood restos along this strip are some of the best in the country – chilli crab anyone? And Parkland Green offers great family-friendly dining options. If you're short on time, make sure to reserve some for the recently re-furbished Marine Cove (to the tune of $18 million!). This 3,500 sqm playground is out-of-this-world, and yes there are swings!
19. Watten Estate Park
This little hidden gem of a park is a lovely leafy place to spend a morning with the kids to run off excess energy. Grab a coffee and morning tea from Baker & Cook and scoot around the corner to the park where you'll be rewarded with a flying fox, climbing frames and swings (which are oddly scarce in Singapore). Bring insect repellant!
Watten Estate Road (just up from the corner of Hillcrest Road)
20. Bukit Timah Saddle Club
If you're looking to escape the high-rise city life of Singapore, head out to Bukit Timah Saddle club. It's a true sanctuary where you are instantly transported to farm 'like' life. The kids can wander around the stables admiring the horses and then have a pony ride for $10 (Sundays only at 10am). Delish grub at Marmalade Pantry or Riders Café too!
Bukit Timah Saddle Club, 51 Fairways Drive, Singapore 286965; www.btsc.org.sg/