Get your kids into a cool water sport like kayaking for a new challenge!
From kayaking and surfing to sailing, these water sports are making a splash here in Singapore. Dive in, kids!
Growing up on an island and in a city where public pools are fantastic, it makes sense to teach our kids to be safe around water as early as possible. But once our water babies have mastered their swimming lessons and are looking to try out a new skill, it might be time to dip your toe into a new challenge. Water sports in Singapore isn't just about kayaking or surfing: kids can get into dragon boating, diving and other aquatic adventures too. Read on to see what water sports the kids can dive into, right here in Singapore…
The best water sports for kids in Singapore
Constant Wind (sailing, windsurfing, kayaking and paddleboarding)
Make a splash over at Changi coast, where you will find the one-stop sea sports centre, Constant Wind. High sea adventures for kids aged nine and above include sailing, windsurfing and kayaking. Stand Up Paddle (SUP) lessons are also available, and are reasonably priced at $60 for two hours. We also love that this place is along one of the more quiet parts of our coastline: wide open spaces for all. For the landlubbers who wish to stay firmly on dry land, head on over to the on-site cafe. Here you can watch the kids having a whale of a time while munching on local and international food fare.
Where: Constant Wind, 11 Changi Coast Walk, Singapore 499740, p. 6445 5108
Surf Cove, Sentosa
Surf's up! We're always looking for an excuse to head over to Sentosa with the kids, and Surf Cove is the perfect hangout for little dudes and dudettes who fancy trying a spot of surfing. This new integrated surfing attraction, once known as the Wave House, is currently undergoing renovations, and we reckon it might take some time before they're up and running. But you can certainly shop for your rashies and goggles in the meantime! We can't wait till it opens.
Where: Surf Cove, 36 Siloso Beach Walk, Singapore 099007
Singapore Dragon Boat Association (SDBA)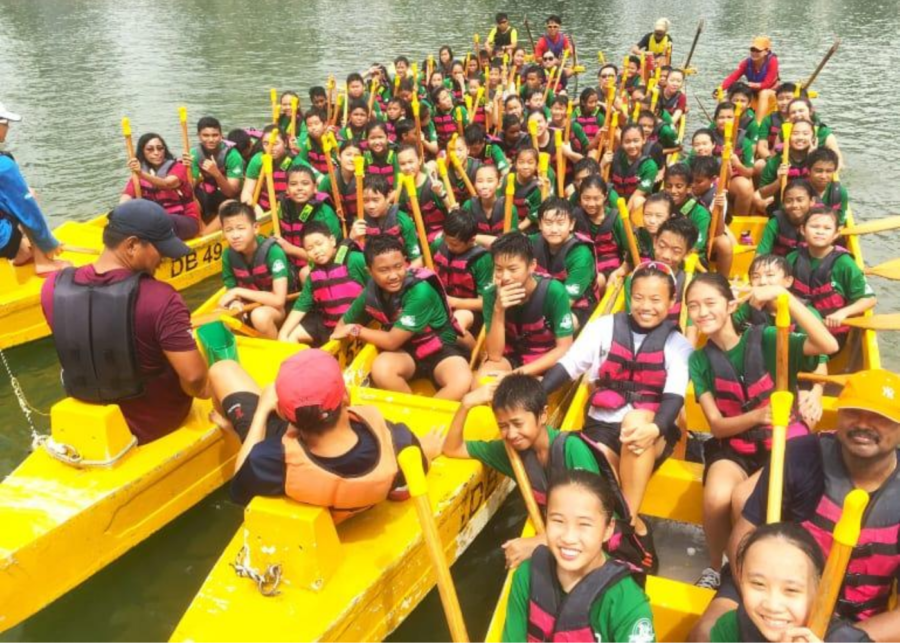 This may well be the coolest water sport there is here in Singapore, and the good news is that our older kids can learn this traditional team sport too! This is not a rock-up-and-learn kind of deal though… Kids from age 14 will need a grown-up to apply for the training through their school, registered club or society. Two-hour sessions include rental of the boat, equipment, trainer plus steer person, and costs start at $224.70 per boat (for a non-affiliate, with a trainer and steersperson). Bookings need to be made at least two weeks in advance by emailing [email protected] and kids will set sail with their team from the Kallang Water Sports Centre.
Where: Singapore Dragon Boat Association (SDBA),10 Stadium Lane, Singapore 397774
The Dive Company
Sure, there may not be a huge amount of marine life under the seas surrounding Singapore. But we are very lucky to be so close to a heap of amazing dive spots around South East Asia (though we'll have to wait a bit longer to travel). And we say it's never too early to get our nippers learning an adventure sport like diving! It's definitely one of the more fun water sports for kids in Singapore.
Dinky-divers will love the PADI Bubblemaker sessions at The Dive Company, which are suitable for kids from age eight and up. Water confidence is essential but being an Olympian swimmer is not. The maximum depth they will go to during these lessons is six feet, and no previous experience is necessary. Sessions cost $160 per child, will last around two hours, plus kids will be rewarded with a take-home pack stuffed with goodies including a kid-sized beach towel, logbook, certificate, temporary tattoo emblem and a Bubblemaker action figure.
Where: 761A North Bridge Road, Singapore 198729, p. 6396 0946
If wakeboarding floats your kiddos' boat then Ryders will have the whole family hanging off the back of a boat like a pro in no time. Powerboats are available in varying sizes, and these guys are so passionate about getting youngsters riding the waves that they offer special discounts for students! Rates start at $130 an hour (max of 4 riders under Phase 2 rules), and the price includes boat rental, instructor (who also moonlights as the captain) and all the wakeboarding equipment. Hold on tight!
Where: Marina Country Club, 11 Northshore Drive, Singapore 828670
Changi Sailing Club
Thinking about sailing the seven seas? The Changi Sailing Club (CSC) lets kids age seven to 14 pick up basic sailing skills with the Optimist Introductory Sailing Course so they can captain their very own vessel. The Optimist is a single-handed sailing dinghy suitable for kids – the perfect starting point for sailors. They'll pick up all the know-hows of sailing including knotting, capsizing and how to rig a boat. Members of CSC can sign up to the Youth Sailing Programme to learn how to race as well.
Where: Changi Sailing Club, 32 Netheravon Rd, Singapore 508508
Looking for more water sports for kids in Singapore? Take them to one of Singapore's fab public pools, sign them for a swimming lesson, or take them to one of Singapore's free water play areas!