Get your kids into a cool water sport like kayaking for a new challenge! Photography: Ben Cho via Flickr
From kayaking and surfing to sailing, these water sports are making a splash here in Singapore. Dive in, kids!
Growing up on an island and in a city where public pools are fantastic, it makes sense to teach our kids to be safe around water as early as possible. But once our water babies have mastered their swimming lessons and are looking to try out a new skill, it might be time to dip your toe into a new challenge. Water sports in Singapore isn't just about kayaking or surfing: kids can get into dragon boating, diving and other aquatic adventures too. Read on to see what water sports the kids can dive into, right here in Singapore…
The best water sports for kids in Singapore
WATER SPORTS CENTRE IN SINGAPORE
1. Constant Wind
Make a splash over at Changi coast, where you will find the one-stop sea sports centre, Constant Wind. High sea adventures for kids aged nine and above include sailing, windsurfing and kayaking. Stand Up Paddle (SUP) lessons are also available and reasonably priced at $60 for two hours. We also love that this place is along one of the more quiet parts of our coastline: wide open spaces for all. For the landlubbers who wish to stay firmly on dry land, head on over to the on-site cafe. Here you can watch the kids having a whale of a time while munching on local and international food fare.
Constant Wind, 11 Changi Coast Walk, Singapore 499740
DRAGON BOATING IN SINGAPORE
2. Singapore Dragon Boat Association (SDBA)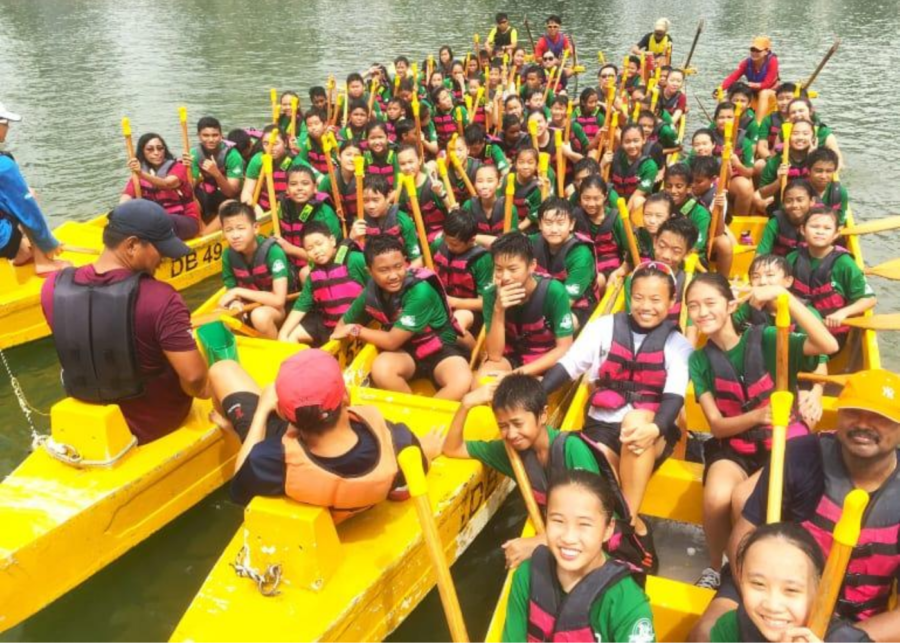 This may well be the coolest water sport in Singapore, and the good news is that our older kids can learn this traditional team sport too! It's not a rock-up-and-learn kind of deal though… Kids from age 14 will need a grown-up to apply for the training through their school, registered club or society. Two-hour sessions include rental of the boat, equipment, trainer plus steer person, and costs start at $224.70 per boat (for a non-affiliate, with a trainer and steersperson). Bookings need to be made at least two weeks in advance by emailing [email protected] and kids will set sail with their team from the Kallang Water Sports Centre.
Singapore Dragon Boat Association (SDBA), 10 Stadium Lane, Singapore 397774
SCUBA DIVING IN SINGAPORE
3. The Dive Company
Sure, there may not be a huge amount of marine life under the seas surrounding Singapore. But we are very lucky to be so close to a heap of amazing dive spots around South East Asia (though we'll have to wait a bit longer to travel). Thus, it's never too early to get our nippers learning an adventure sport like diving! It's definitely one of the more fun water sports for kids in Singapore.
Dinky-divers will love the PADI Bubblemaker sessions at The Dive Company, which are suitable for kids from age eight and up. Water confidence is essential but being an Olympian swimmer is not. The maximum depth they will go to during these lessons is six feet, and no previous experience is necessary. Sessions cost $160 per child, will last around two hours, plus kids will be rewarded with a take-home pack stuffed with goodies including a kid-sized beach towel, logbook, certificate, temporary tattoo emblem and a Bubblemaker action figure.
The Dive Company, 761A North Bridge Road, Singapore 198729
SALING IN SINGAPORE
4. Changi Sailing Club
Thinking about sailing the seven seas? The Changi Sailing Club (CSC) lets kids age seven to 14 pick up basic sailing skills with the Optimist Introductory Sailing Course so they can captain their very own vessel. The Optimist is a single-handed sailing dinghy suitable for kids – the perfect starting point for sailors. They'll pick up all the know-hows of sailing including knotting, capsizing and how to rig a boat. Members of CSC can sign up for the Youth Sailing Programme to learn how to race as well.
Changi Sailing Club (CSC), 32 Netheravon Rd, Singapore 508508
WAKEBOARDING IN SINGAPORE
5. Ryders@Punggol
If wakeboarding floats your kiddos' boat then Ryders will have the whole family hanging off the back of a boat like a pro in no time. Powerboats are available in varying sizes, and these guys are so passionate about getting youngsters riding the waves that they offer special discounts for students! Rates start at $130 an hour (max of 4 riders under Phase 2 rules), and the price includes boat rental, instructor (who also moonlights as the captain) and all the wakeboarding equipment. Hold on tight!
Ryders, Marina Country Club, 11 Northshore Drive, Singapore 828670
6. Singapore Wake Park
Located within East Coast Park is the only cable-ski park in Singapore, where kids and adults alike can hone their wakeboarding skills. It has three cable systems, which caters to beginners, intermediate and experienced riders. Yes, even children as young as six years old can go wakeboarding here! The obstacles offer varying challenges for those seeking a thrill ride. Also, how does wakeboarding at night sound? Avoid the blistering heat by doing it after sunset here. Equipment is provided, and booking is to be done two weeks in advance.
Singapore Wake Park, 1206A East Coast Parkway, Singapore 449891
SURFING & STAND-UP PADDLE BOARDING IN SINGAPORE
7. Splash-n-Surf
There are plenty of things to do at the Sports Hub. And, if you've not gone to Splash-n-Surf, you're seriously missing out! While there's plenty of water play areas for kids of all ages, surfing wannabes can try their hand at catching the waves on the Stingray. They can also have a go at bodyboarding and skimboarding by climbing on top of its half-surf facility. Riders are to be above 1.2m in height and accompanied by an adult aged 18 and above.
Splash-n-Surf, 1B Stadium Walk (access from the entrance near Gate 22 along 100PLUS Promenade), Singapore 397690
8. Sup Ventures
We're always looking for an excuse to head over to Sentosa with the kids, and Sup Venture is the perfect hangout for little dudes and dudettes who fancy trying a spot of stand-up paddleboarding. Also known as SUP and originating from Hawaii, this offshoot surf sport allows you a full-body workout. Plus, everyone can get into it – even your doggo! The tykes can take part in the Sup Experience Kids, where they'll be introduced into the water sport. Or, get the whole fam into the Sup Experience for four pax. Once you're more confident, join the Sup Wise classes.
Sup Ventures, Ola Beach Club, 46 Siloso Beach Walk, Singapore 099005
Synchronised swimming classes for girls in Singapore
This impressive Olympic sport is all about glitz and glamour – not an easy feat when you're mostly underwater. The choreographed acrobatic moves require some serious strength, stamina and flexibility to perform! Sadly boys are left out in the cold when it comes to this sport (sorry lads: how about an awesome dance class for boys instead?)…  We can't help but love that synchro swimming is embracing girl power!
9. Aquadance Synchro Swimming School
Wannabe graceful mermaid types should sign up with professional swim coach, Grace Cui Hai Yan, who has over ten years of coaching experience under her aquatic belt. Synchronised swimming courses are available to girls who can swim at least 25 metres without stopping and who are confident in the water. Swimmers who also have some ballet or gymnastic experience will particularly excel with cool new skills including sculling and somersaults. Free trials are available to test the waters before you commit.
Aquadance Synchro Swimming School, Farrer Park View, 15 Farrer Park Road #14-43, Singapore 210015
10. Speediswim Aquatic Centre
Dive over to Speediswim for synchro lessons suitable for absolute beginners through to competition level. Russian national synchro coach, Tanya, will teach your nippers to perform amazing displays of strength, flexibility, dance and an impressive ability to hold their breath! Swimmers should have mastered freestyle, backstroke and breaststroke swimming techniques before joining the programme, and a trial is advised before signing up. These guys certainly know their synchro stuff: a number of the girls have taken part in national-level competitions!
SpeediSwim Aquatic Centre, locations at Orchid Country Club, German European School Singapore (GESS), and Singapore Sports School
11. APS Swim School Singapore
If your young mermaids err on the side of grace and agility, are team players and also have a natural ability to show off (step forward my daughter), APS can put these skill sets to good use on the Learn-to-Synchro programmes. Girls should be committed to putting in at least two years of training, so this is not one for the flash-in-the-pan types (still talking about my daughter).
APS Swim School Singapore, Farrer Park Swimming Complex, 2 Rutland Road, Singapore 218253 and Anglo-Chinese Junior College Sports Complex, 25 Dover Close East, Singapore 139745
12. The Swiss Club
Members (and friends) of the Swiss Club can take advantage of the regular synchro lessons for kids age five and up who are able to swim at least 100 metres (any stroke). You'll find classes for all abilities – adult programmes too if you fancy perfecting your water handstand! Lessons are taught by fin-tastic German coach, Kerstin from aquaDucks.
The Swiss Club, 36 Swiss Club Road, Singapore 288139
13. The Singapore Mermaid School
We couldn't produce a list about grace and beauty in the water without mentioning The Singapore Mermaid School! Whilst not traditional synchronised swimming, this one gets a thumbs up for including boys in its programs too, and also because, well, learning to be a mermaid is seriously cool! Trainee mer-folk will learn not only how to swim like a mermaid, but will also find out about the mythology surrounding these legendary aquatic creatures too. Lessons can be taken as part of a group, individually or even as a one-off 'mermaid for the day' experience.
The Singapore Mermaid School, lessons held in the west, Dempsey and central areas
Looking for more water sports for kids in Singapore? Take them to one of Singapore's fab public pools, sign them up for a swimming lesson, or take them to one of Singapore's free water play areas!