Hello from HoneyKids! Based in sunny Singapore, we're a parenting and lifestyle platform, as well as a video content and events production house. We're the fun and feisty little sister to The Honeycombers (which was founded by Chris Edwards in 2008), but with just as big a personality. Yes, our company has been around for over a decade (we're looking pretty good for our age, right?) and has expanded to Hong Kong and Bali, too. A pretty impressive family to be a part of, we reckon.
And we love our jobs. We take special pride in what we do and only write about things we, as parents, believe in. We're constantly working to bring you the latest and greatest things to do with kids around town, as well as ideas for sanity-saving holidays, fam-friendly restaurants and how to choose the right school. In a nutshell, we're here to make your life easier, so you can focus on the most important thing: your family.
Speaking of family, we're a team of different colours, shapes and sizes – and that's the way we like it. Discrimination is a huge no-no: we don't endorse it in any form.
Yes, we have advertising on the site, but the difference between editorial and advertorial content will always be made clear. And, like we said, we don't write about things we wouldn't endorse ourselves (that includes our work for clients).
Lastly, we're real people just like you – we're working mums, both local and expat. We juggle deadlines with school drop-offs, meetings with morning sickness, and time management with toddler (and teen) tantrums. We are known to suffer from hangovers and parenting fails. But the one thing we all have in common is we love where we live, and we love sharing it with you.
BTW, we'd love to hear from you. Say hello! DM us on Instagram or Facebook or email us at [email protected]. Want more? Check out our editorial policy and handy competition Ts and Cs.
So, who are we?
Chris Edwards, Founder
A true multi-tasking mumpreneur, Chris juggles deadlines, kids and her packed schedule with talent only found here and at the circus. (Potentially the next career move?) She started Honeycombers as a one-woman band, and has since had three littlies, bringing a new talent to her portfolio – tracking down the coolest kids' stuff in town.
Louise Newsham, Interim HoneyKids Editor
Email Louise
Louise is our Honeycombers Bali editor, and in the interim our HoneyKids editor. Salty hair and sandy toes, she's a die-hard island addict. When she's not writing, she can usually be found beachfront, her Bali dog at her feet and the Spice Girls playing on repeat.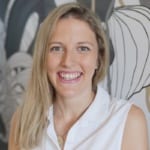 Kate Noble, Feature Writer
Email Kate
Kate is a Singapore newbie who loves travel and chocolate – ideally together. If she's not daydreaming about the next holiday, she's exploring her new home with her toddler, Jess, in tow. After moving from the land of sand (aka Dubai), Kate is all about the green spaces here. She loves sharing her adventures and co-writes a blog, The Guestbooks, with her equally travel-obsessed dad.