Ready for an afternoon of fun? Head to Nestopia in Sentosa. Photography: Nestopia via Facebook
They don't call it Asia's favourite playground for nothing. For a little island, Sentosa is jam-packed with fun stuff for families. Check out our ultimate guide on where to eat, play and stay to help you plan an amazing day out!
Here at HoneyKids, we're always dreaming of jetting off on a quick getaway. But what if you can't pack up your bathers for a jolly jaunt overseas? There's loads of fun to enjoy at Singapore's own tropical playground, Sentosa Island!
Whether you are looking for some high-energy thrills, building sandcastles at the beach, a no-fuss staycation, or just something a little bit different from your usual outdoor activities, Sentosa has something fabulous for all ages and budgets. And to make things easy peasy for you, we have put together all the best eats, attractions, beaches, and hotels to help you plan an amazing day (or two) on the island.
A COMPLETE GUIDE TO SENTOSA WITH KIDS
How to get to Sentosa
Getting to Sentosa is very accessible nowadays: from taking a leisurely stroll down the Sentosa Boardwalk to going on a cable car ride, there are many ways to get to the island by your preferred mode of transportation.
1. By car/cab
There's a gantry admission of between $2 and $6 (dependent on the time of day) for each car/cab entering Sentosa. Parking lots can be found at Sentosa Cove Village Parks, Beach Station, Imbiah, Tanjong Beach, and Palawan Beach. Parking charges are $1.20 per hour between 7am and 5pm, and $2.40 per entry thereafter. FYI: from now till 31 December 2022, you can drive into the island for free!
2. By bus
Jump on bus 123 (which you can catch from the central region of Singapore, including MRT stations at Tiong Bahru, Havelock, and Orchard), and be transported to one of three stops on Sentosa: Resorts World Sentosa, Merlion Plaza, and Beach Station. If you're coming from the east side, take the shuttle bus from Our Tampines Hub. The two-way shuttle service is $2 per person and is available on weekends, public holidays, and Fridays of school holidays.
3. By cable car
Make your journey to Sentosa an adventure and take in an aerial view of the island as you glide in from Mount Faber or Harbourfront Cable Car Stations.
4. Sentosa Boardwalk
Take a scenic stroll across the Boardwalk from Vivocity's waterfront promenade.
5. Sentosa Express
Get your cutie to guess what colour train will pull onto the platform at Vivocity (Lobby L, level 3) to whisk you over to Sentosa! The ride costs $4 per person and $2 for selected TransitLink concession card holders (under-threes are free), and runs between 7am and midnight. Psst, admission to the island via Sentosa Express is free till 31 December 2022!
All the attractions in Sentosa
1. Central Beach Bazaar
Located near Sentosa's Beach Station, Central Beach Bazaar introduces three new attractions, including the 80-metre-high Sentosa SkyJet. The iconic Sentosa Musical Fountain has also made a comeback, while the third attraction offers simulation ride experiences and carnival games. There's also International Food Street, a casual multi-F&B concept, to look forward to. Central Beach Bazaar is poised to enhance the existing nearby entertainment, retail, and dining experiences.
Central Beach Bazaar, 60 Siloso Beach Walk, Singapore 098997
2. Scentopia
Here's where you can celebrate Singapore's floral heritage and cultural aromas. Visitors get to go on a free guided perfume tour, experience augmented reality scented exhibits, and even create their signature scent. If you prefer pre-made ones, the physical retail space stocks plenty of those made with alcohol-free ingredients and sustainable material packaging.
Scentopia, 36 Siloso Beach Walk, Singapore 099007
3. SkyHelix Sentosa
Take to the skies by trying out SkyHelix Sentosa, the latest attraction on the island. This open-air rotating gondola offers awesome panoramic views over Singapore, plus a nice breeze if you're looking to beat the heat. Grab a drink before you take flight and sip on it as you ascend 79 metres above sea level. Psst, children between 1.05 and 1.20 metres or 12 years and below may take the ride only if accompanied by an adult.
SkyHelix Sentosa, 41 Imbiah Road, Singapore 099707
4. Adventure Cove
Great fun for all the fam, Adventure Cove takes water play to the next level. Bigger kids (and kidults!) will love the massive slides and water-coasters, while smaller kids (and the less brave among us) will be happy bobbing around on the lazy river, racing around the wet maze, and jumping the waves in the main pool. Don't forget to check out the colourful Rainbow Reef where kids can get up close and personal snorkelling with over 20,000 friendly fishy friends! (Kiddos will need to be over 107cm tall to join this one.)
Adventure Cove, Resorts World Sentosa, 8 Sentosa Gateway, Singapore 098269
5. S.E.A. Aquarium
Home to more than 100,000 fishy friends in every shape, size, and colour imaginable, the S.E.A. Aquarium will have even the littlest of littlies mesmerised by the array of marine life. Check out Nemo and Dory and wander through the super cool shark tunnel (which houses over 200 sets of sharp teeth). To finish their under-the-sea adventure, kids should head to the rock pools where they can touch and hold some weird and wonderful creatures.
S.E.A. Aquarium, Resorts World Sentosa, 8 Sentosa Gateway, Singapore 098269
6. Universal Studios Singapore
Whether your kids are rollercoaster junkies or prefer a more sedate merry-go-round, Universal Studios Singapore is a one-stop destination for the kids to have mega fun in Sentosa. HoneyKids' Junior Reporters have road-tested this theme park many times, and it always gets the thumbs up. Tip: Check out our Universal Studios Singapore survival guide before you head over to meet a Minion, hang out with Puss in Boots, and snap a photo with the Sesame Street gang!
Universal Studios Singapore, Resorts World Sentosa, 8 Sentosa Gateway, Singapore 098269
7. Skyline Luge and Skyride
Up for a little bit of competition? Challenge the kids to a race down the Skyline Luge's 628m Jungle Trail, 688m Dragon Trail, or the forest-based tracks: the 638m Kupu Kupu, and the 658m Expedition. Full instructions on how to navigate the carts will be given before you whizz down the hill (and leave your partner or teen in your dust!). Smaller kids can ride with grown-ups, and while we know your inner speed demon might make an appearance once you hit the slope, remember that the carts can be steered and controlled at a speed that suits you.
After you've beaten the kids (Lewis Hamilton-style) down the Luge, hop on the Skyride chairlift to check out the really gorgeous Singapore skyline, before hurtling back down the hill again on the Luge. One time is never enough! Psst, the fun doesn't stop after the sun sets, either. Illuminated by vibrant colours, the Luge comes alive at night and provides a whole new experience as you race down the tracks. Woohoo!
Skyline Luge Sentosa, 45 Siloso Beach Walk, Singapore 099003
8. Sentosa Nature Discovery
Walk along the Sentosa Nature Discovery trail to discover the different trees and flowers that make up the eight habitats found on Sentosa. There are interactive exhibits and sculptures along the trail – you might even get a glance at the endangered Magpie Robin! Check out the newly opened Geology Gallery too!
Sentosa Nature Discovery, 40 Imbiah Road, Singapore 099702
9. Trick Eye Museum
Scorching sun? Rainy day? The Trick Eye Museum is one of our top picks for fun indoor activities in Singapore for kids. Step into some seriously funny photos courtesy of clever visual trickery. Kids will crack up at the sight of Dad as a world-class ballerina, and the family photo of you mountain climbing in your shorts and tees will surely be a keeper!
Trick Eye Museum, Southside Interim Market Singapore, 80 Siloso Road, Singapore 098969
10. Mega Adventure Park
If your kids are into high-flying adventure, Mega Adventure Park is where it's at in Sentosa, and it's all about the MegaZip. Fly like an eagle down a 75m high zip-line at up to 60km per hour over the jungle canopy of Imbiah Hill! We've road-tested this one and it's not for the faint-hearted, but boy, is it fun. Once your wobbly legs have recovered from the Zip, you can take on the MegaClimb, MegaJump, and MegaBounce… if you have nerves of steel!
Mega Adventure Park, 10A Siloso Beach Walk, Singapore 099008
11. Sentosa 4D Adventureland
Rollercoasters are not everyone's cup of tea. But with Sentosa 4D Adventureland's 4D motion-simulated virtual rollercoaster ride, you'll believe you're flying to the top of a mountain, plunging back down into a valley and through white-water rapids. All the fun of a coaster without the fear! Journey to the centre of the earth in Journey 2 or saddle up and start shooting the bad guys in Desperados, a 4D interactive shoot-out game. There's also the Haunted Mine Ride 4D for a spooky kinda ride the whole fam will love.
Sentosa 4D Adventureland, 51B Imbiah Road, Singapore 099708
12. HeadRock VR
Tucked away beside the Koreatown food court is the thrilling HeadRock VR! With parks open in the US, Japan, and Korea, the first-ever VR theme park has come to Southeast Asia with 11 rides designed with kids (and kidults!) aged six and up in mind. Strap on the VR headset and jump into an immersive VR experience of shooting games and sports before moving on to adventure and exploration experiences. Think jungle rafting through the Jurassic period, or zooming to new heights on the Skyscraper attraction. You can even get strapped into a harness to go diving into a volcano, or go bungee-jumping into a jungle. Can't do that in real life!
HeadRock VR, 80 Siloso Road, Southside Block B, #01-03, Singapore 098969
13. Fort Siloso
If you fancy something with a bit of history and love a child-friendly museum, then look no further than Fort Siloso. Entry is free (which helps if you're saving up for an extravagant Christmas!), and you'll get to learn why the Fort was built and just what life was like for a soldier from times of old. You will also get to explore the underground ammunition stores and check out the WWII guns. Be sure to finish your history lesson with a visit to the Surrender Chambers to witness the two historic surrender moments that changed life in Singapore during WWII.
Fort Siloso, Siloso Point, Singapore 099981
14. Nestopia
Climb and crawl at Nestopia, an exhilarating outdoor, open-air playground with challenging obstacle courses. Made out of three giant nests situated a dauntingly 7.5-metres off the ground, it may seem a little scary at first, but we can assure you the views are definitely worth it.
Nestopia, 6 Siloso Beach Walk, Singapore 098995 
15. iFly Singapore
If you are looking for the ultimate thrill-seeking experience for your over-sevens, it doesn't get much more exhilarating than sky diving! No aeroplanes or parachutes are involved so kids get all the fun without any of the risks. First-timer packages come with a training session, complimentary flight gear, personal training from a flight instructor, and a flight certificate to prove that you and your small team of skydivers have defied gravity!
iFly Singapore, #01-01, 43 Siloso Beach Walk, Singapore 099010
16. Madame Tussauds Singapore
Families have been flocking to Madame Tussauds around the world for over 250 years to rub shoulders with likenesses of their fave stars, and now this popular attraction has made it to Singapore. You and the littlies can strike a pose on the red carpet with the likes of Angelina Jolie and Johnny Depp, before hopping on to the Marvel 4D experience, where you'll get to see your favourite Avengers up close and personal. You'll get top parent points for picking this great family day out!
Madame Tussauds Singapore, 40 Imbiah Road, Imbiah Lookout, Singapore 099700
17. Hydrodash
This floating waterpark is something you definitely can't miss whenever you set foot in Palawan Beach. So why not give it a go? Three obstacle courses with varying difficulty levels will challenge your dexterity and put you through your paces. So get ready to climb, slide, dash, and leap!
HydroDash, 72 Palawan Beach, Singapore 098498
18. Wings of Time
Once the sun has gone down on your fun-packed day out, why not delay going home for a bit longer by heading to the Wings of Time show? This colourful outdoor night show (the only one of its kind in the world!), is sure to be a hit with the whole family with its water displays, laser shows, fire effects, and music. A spectacular way to end your perfect Sentosa day.
Wings of Time, 50 Beach View, Singapore 098604
The best beaches in Sentosa
1. Palawan Beach
Palawan is a family-friendly beach that connects to the Southernmost Point of Continental Asia via a suspension bridge (cool fact!). Plus, if you've got kiddos that adore animals, they'll love to meet some monkeys, reptiles, and birds at Palawan Amphitheatre's 15-minute show.
2. Siloso Beach
Want to enjoy a weekend lunch by the beach? Siloso is lined with restaurants and bars but has a really chilled-out family vibe. And, if you want to get active, it's also beach volleyball central. There are also skimboarding, kayaking, cycling, rollerblading, and other family-friendly beach activities to pick from. Siloso isn't just for sandcastles!
3. Tanjong Beach and Tanjong Beach Club
Take in the tranquillity and quiet of Tanjong Beach where you and the kiddos can build sandcastles galore in relative peace. This one gets extra brownie points: Tanjong beach is one of Singapore's dog-friendly destinations and your four-legged family member can hang out off-lead and splash in the sea with the rest of your brood. No visit to Tanjong Beach is complete without dropping by the iconic Tanjong Beach Club, too. It's all about brunching in style here and hanging out on the oversized beach beds in between dips in its infinity pool. Tanjong Beach Club is a bit of a scene on weekends, so morning and lunch sessions are best for fams.
Family-friendly restaurants in Sentosa
We're constantly on the hunt for great restaurants and cafes in Singapore that are kid-friendly too. Thankfully, Sentosa is bursting at the seams with options for all budgets: here are just some of the go-tos for families!
1. Coastes
Situated bang on the beach and right next to the Luge, Coastes is a popular pitstop for families owing to its perfect trifecta of sandcastle fun, paddling in the sea, and kid-friendly food. Expect classic breakfasts and pub-style classics for weekend brunch, with a kids' menu that always hits the spot: we're talking burgers, pizzas, and fish and chips! (Psst: Coastes has a fully stocked bar for that cheeky cocktail – or a bucket of beer!)
Coastes, 50 Siloso Beach Walk, Singapore 099000
2. The Kitchen Table
The Kitchen Table at W Singapore is a top choice if you are happy to splurge a little on lunch. The whacky upside-down tables hanging from the ceiling and live cooking stations will have the small people intrigued. You'll want to order delicious family faves such as wood-fired pizzas, seafood, dim sum, and tandoori – perfect for sharing. We love this one for its top-notch location and pool!
The Kitchen Table, W Singapore – Sentosa Cove, 21 Ocean Way, Singapore 098374
3. Ola Beach Club
We're definitely a fan of Singapore's first Hawaiian-themed beach club, Ola Beach Club. Bring the fam for a day out of water sports (hello, banana boat) or let the little ones play in the sand after a chilled-out brunch. We've got our eye on the ahi poke.
Ola Beach Club, 46 Siloso Beach Walk, Singapore 099005
4. Ocean Restaurant
This is our top recommendation if you're looking to surprise your fam with a unique underwater dining experience. Enjoy your lunchtime meal together while majestic sharks and giant manta rays swim around you. Your children are going to flip out! The kids set menu looks super yummy – we'd definitely want to order the Mermaid Ice Cream Sundae and Ocean Jello Cup for ourselves too!
Ocean Restaurant, #B1-455 & 456, Equarius Hotel, 22 Sentosa Gateway, Singapore 098136
5. Din Tai Fung
Is there a kid in Singapore who doesn't love Din Tai Fung? Quick, easy, and always delish, this is our go-to when we have a dim sum and wanton craving. Did someone say hot and sour soup?
Din Tai Fung, #01-217, The Forum, Resorts World Sentosa, 26 Sentosa Gateway, Singapore 098138
6. Panamericana
Not only is the view over the coastline of Sentosa a romantic dinner factor at Panamericana, but the delicious cocktails and excellent menu seal the deal for a fab date lunch or night (with or without the kids). Kickstart your meal with a Grown-Up Fanta (a Prosecco-based cocktail) and savour the smoky delights from the open oven including Colombian chicken, Kühlbarra Barramundi, and rib-eye steaks. South American food, how we love thee. Plus, there's plenty of green space for the kids to run around while you enjoy a delish cocktail. Cheers!
Panamericana, Sentosa Golf Club, 27 Bukit Manis Road, Singapore 099892
7. Hard Rock Cafe
Sometimes you just have to have a burger. Well, you're in luck: Hard Rock Cafe delivers the goods. Its classic American menu mixed with local faves is sure to appeal to even the fussiest eater, and the portion sizes are large enough to satisfy hungry teens who are all out of fuel after conquering waves and zip-lines. Check out the cool rock memorabilia on display before ordering a huge ice-cream sundae for you all to share.
Hard Rock Cafe, #01-209, The Forum, Resorts World Sentosa, 26 Sentosa Gateway, Singapore 098138
8. Trapizza
Kiddo's craving for some pizza? Swing by this casual Italian eatery, a short walk away from Shangri-La Rasa Sentosa Resort. Parents can enjoy a refreshing tipple (or two) to go with the signature thin-crust pizza, while the little folks can busy themselves at the play areas.
Trapizza, Shangri-La Sentosa, 10 Siloso Walk, Singapore 099538
Where to stay in Sentosa: our fave family hotels!
As you may have gathered by now, there's a ton of fun stuff to do in Sentosa. Far too much to cover in one day! So why not make a weekend of it and treat yourselves to a cheeky little staycation for a night or two?
1. Village Hotel Sentosa
There's nothing quite like a revamped hotel to get us excited, especially when it just so happens to be a fam-friendly gem over in Sentosa. This is a family hotel through and through, which starts even at check-in – kids can check in on the family's behalf and get their own novelty key! There's a range of family-friendly rooms with connecting doors and all the kids' amenities you could need. Read our review of the hotel here!
Village Hotel Sentosa, #02-01, Palawan Ridge, 10 Artillery Avenue, Singapore 099951
2. W Singapore – Sentosa Cove
Located in the peaceful setting of Sentosa Cove, this modern, luxurious choice gets a thumbs up from us. W Singapore has huge rooms for the whole family to stay in, a delicious breakfast spread, and an always-open swimming pool. Oh, and you certainly can't miss its vibrant and colourful decor.
W Singapore – Sentosa Cove, 21 Ocean Way, Singapore 098374
3. Hard Rock Hotel
This rock-n-roll themed hotel is a huge party zone for the whole family. The kids will love the themed floors and the amazing play pools at Hard Rock Hotel. So much so, it might be hard to pry them away to enjoy the rest of the fun Sentosa has to offer.
Hard Rock Hotel, Resorts World Sentosa, 8 Sentosa Gateway, Singapore 098269
4. Capella Singapore
If it's a touch of five-star luxury you're after, and if you fancy staying in one of Asia's top five hotels, then Capella is the choice to make. Spread across 30 acres of tropical greenery, this beautiful resort has three pools to cool off in once you have finished on the beach. Plus, Palawan beach is only a short walk away, and the kids will certainly love the 24-hour buggy service available. Here's an idea: maybe ditch the kids altogether for a romantic weekend for two, or as a calm-before-the-storm babymoon treat (trust us, it's pure bliss).
Capella Singapore, 1 The Knolls, Singapore 098297
5. Shangri-La Rasa Sentosa Resort and Spa
With its beach-front location tucked away from the hustle and bustle, the Shangri-La Rasa Sentosa makes for the perfect family staycation. If your kids love waterslides, the fun-packed pools will be a major hit with water babies. Tip: go for the babysitting service, so you and the hubby can have dinner in peace once the kiddos have exhausted themselves and are tucked up in bed for the night.
Shangri-La Rasa Sentosa Resort and Spa, 101 Siloso Road, Singapore 098970
6. Sofitel Singapore Sentosa Resort and Spa
While its name might be a bit tricky on the tongue, a staycation at Sofitel Sentosa will leave you feeling relaxed enough to tackle anything. Kids will love spotting the free-roaming peacocks while having brekkie, and the pool here is heaven for a cool-off at the end of the day. Don't forget to check out (and book in!) the heavenly SoSpa for a treatment (or two) to complete the perfect staycay!
Sofitel Singapore Sentosa Resort and Spa, 2 Bukit Manis Road, Singapore 099891
7. Festive Hotel *CLOSED UNTIL FURTHER NOTICE*
This cheery choice makes Festive Hotel an ideal stay for families, and youngsters will be welcomed with an assortment of candies upon arrival! The hotel has a great family-friendly pool, a dedicated kids wet play area, interactive games, and Cartoon Network in all of the rooms to entertain the kiddos with. Loft beds in the family rooms are an added bonus!
Festive Hotel, Resorts World Sentosa, 8 Sentosa Gateway, Singapore 098269
8. Equarius Hotel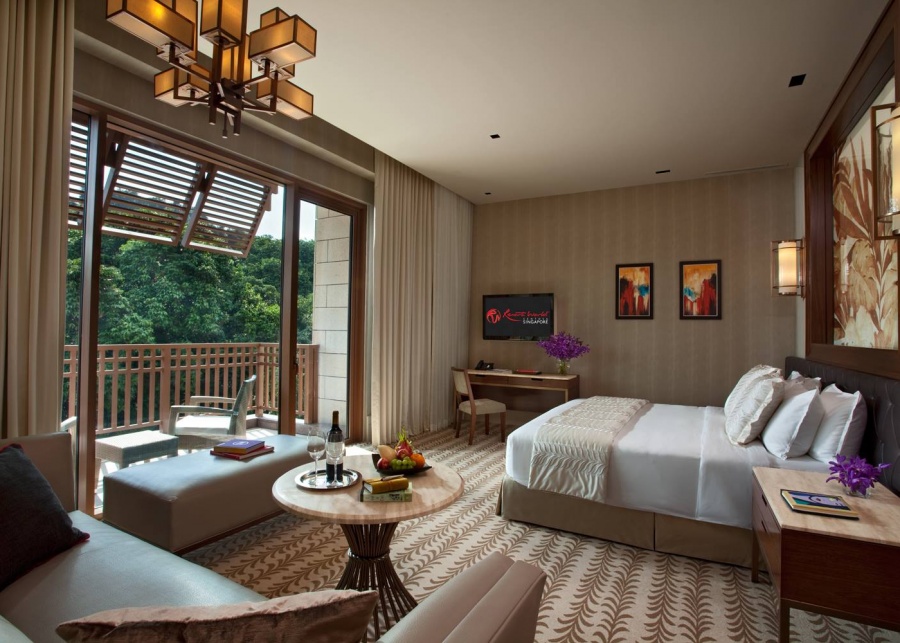 Don't let the location slightly further away dissuade you: Equarius Hotel is perfect for a family stay. It's away from the hustle and bustle of the island, giving you magnificent views of the tropical rainforest or waterfront. The spacious rooms come with private balconies or patio. The pool's pretty epic over here too – the kids will definitely give it two thumbs up!
Equarius Hotel, 8 Sentosa Gateway, Singapore 098269
Love this kids guide to Sentosa? Check out our guides to Universal Studios and Singapore Zoo, too!