Itching to travel? Explore Singapore and visit these island destinations without having to cross the border.
We often spend a (significant) amount of time daydreaming about our next exotic vacay with the family (especially now, since we can travel to VTL-approved destinations). But, seeing as we live in the tropics anyway and are pretty blessed when it comes to amazing parks for kids and not-too-shabby beaches here in Singapore, we're pretty happy with our lot. And here's something you might not have known (hold onto your hats for this one, folks): turns out we ALL live on an exotic-sounding island anyway. The main island of Singapore, i.e. where most of us live, is officially called Pulau Ujong. Oh yes it is! Honest! How do we know this? We've been researching islands near Singapore for day trips that don't require our passports, so now we know exactly where to go when we want a little escape…
Must-visit islands near Singapore for a tropical day trip
1. Pulau Satumu
Did you know that this island (pictured top) was the original Coney Island? Its current name translates to One Tree Island, where you'll be able to spot plenty of coconut trees. The offshore island is also home to coral reefs and the iconic Raffles Lighthouse, which has been operating since 1855. This particular lighthouse marks the southernmost turning point to guide ships in their navigation. Snap lots of photos of this towering monument when you've made your way to the island! You can also climb up the 29-metre lighthouse for awesome sea views and visit the museum to learn more about its history.
How to get there: Now you don't have to wait till Singapore Maritime Week to visit this island. The Raffles Lighthouse Tour, organised by the Maritime and Port Authority of Singapore, will be conducted on the 2nd and 4th Saturdays of the month. Tickets start from $58.85 (participants must be at least 18 years old) and will be released for sale at 8am at the start of every month for tours taking place the following month.
2. Pulau Semakau
Pulau Semakau, AKA Semakau Landfill, is situated south of Singapore, off the Straits of Singapore. The offshore landfill occupies the eastern side of the island, is mainly filled with ash produced by the country's four incineration plants, and is estimated to operate until 2045. Don't discount this island just yet – the island is also home to the largest barramundi farm in Singapore, as well as plenty of untouched flora and fauna, mangroves, and a coral nursery. Fun fact: Pulau Semakau is the only place in Singapore where the Milky Way is visible from the ground!
How to get there: Entry to the island is restricted; however, those who are interested in visiting the landfill can apply for a permit via the National Environment Agency. Once your application has been approved, book a private charter boat that can set you back for $400. (Visits to the island is currently suspended due to Covid-19.)
3. Pulau Hantu
This island's name literally means ghost island in Malay, but don't worry, they're not on the island… we hope. Anyhoo, this untouched island near Singapore is a great place to get away from the city. There are plenty of things that you can do here, though we enjoyed a simple, quiet walk along the shores. Home to coral reefs, the island is a fave among snorkelers and scuba divers. See if you can spot any marine life while you're in the water!
How to get there: Like Sisters' Island, there are no public ferries to the island. You'll need to hire a private fast boat which will set you back at least $300 for a two-way trip. Or, sign up for an expedition to the island.
4. Sisters' Island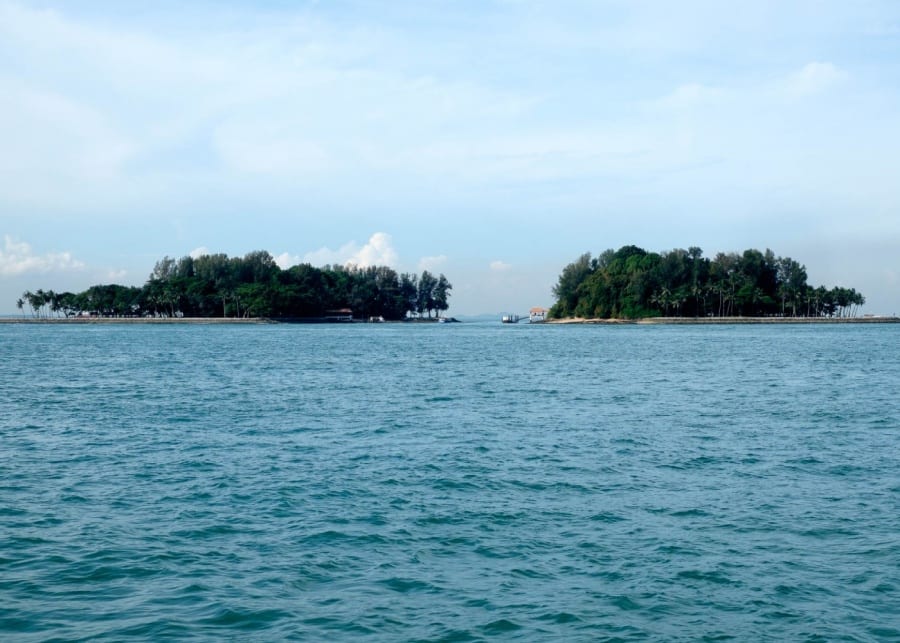 Located to the south of Singapore's main island, Sisters' Island consists of two small islands – Pulau Subar Laut (Big Sister's Island) and Pulau Subar Darat (Small Sister's Island), which are connected by a narrow channel (the currents can be strong so do be very careful!). Check out the Sisters' Island Marine Park, home to more than 250 species of hard corals, tons of reef fish and at least 12 types of seagrass. Keep an eye out for SpongeBob SquarePants – there are around 200 types of natural sponges to be found in the area!
How to get there: Visitors can charter their own boat from West Coast Pier or Marina South Pier to visit Big Sister's Island. Prices will be quoted according to party size/time, etc.
5. Kusu Island
Discover a little local folklore at Kusu (tortoise) Island, where legend has it a turtle turned itself into an island in order to rescue two sailors, one Chinese and one Malay. The Chinese consider the turtle a sacred animal, and today the island has a sanctuary that is home to hundreds of cute critters. Make sure to visit the famous Da Bo Gong Chinese temple and three Malay shrines, all of which you can explore against a scenic backdrop of sand, sea, and lush tropical greenery.
How to get there: Take a round-trip ferry ride from Marina South Pier ($15 for adults and $12 for kids age one to 12 years) to St John's Island and then a 15-minute onward ferry ride from there.
6. Lazarus Island
If escape is what you're after, visit Lazarus Island via a short causeway from St John's Island. It may be close to home, but it still has the rustic, tropical vibes of a deserted island. And it's perfect for when you crave a bit of peace and quiet (best leave the kids at home…). Bring along a kite as the breeze on Lazarus makes for perfect conditions, and don't forget to pack your beach kit too. The glorious stretch of sand rivals any tropical island destination you would usually board a plane to get to! Definitely one of the more secluded islands near Singapore.
How to get there: Take a round-trip ferry ride from Marina South Pier ($15 for adults and $12 for kids age one to 12 years) to St John's Island and then pop across the causeway on foot – it takes around 15 minutes to walk. Psst, you can also travel from Sentosa Cove jetty! 
7. St. John's Island
Once home to unfortunate souls suffering from cholera and leprosy, St John's was a quarantine station for sick immigrants heading to Singapore. Don't let its horrible history put you off, though! These days, it has crystal-clean swimming lagoons, bountiful marine life and corals, and is also the gateway to several other gorgeous island finds in the area. Perfect for a day of snorkelling and sandcastle building.
How to get there: Take a round-trip ferry ride from Marina South Pier ($15 for adults and $12 for kids age one to 12 years).
8. Pulau Ubin
One of our favourite islands near Singapore to visit on the weekend, Pulau Ubin is a solid option for a charming day of back-to-nature fun with the kiddos. Have a look at our guide to this beautifully rustic little patch of green before catching a bumboat over for an exploration adventure of your own.
How to get there: Board a bumboat at Changi Point Ferry Terminal for the 15-minute ride. $3 each way per person, and an extra $2 if you bring along your bike. Boats will depart once they have 12 people on board.
9. Sentosa Island
Sentosa is the easy-peasy island pick when it comes to a fun day out with the kids! Check out our guide to all things Sentosa before packing the family up and heading out on an adventure.
How to get there: Sentosa is super accessible. Head over on a cable car from Mount Faber, the Sentosa Express from VivoCity, by car or taxi through the gantry, or on foot via the Sentosa Boardwalk from VivoCity.
10. Coney Island
Escape with (or from) the family to this wonderfully rustic island near Singapore! A trip to Coney Island – also known as Pulau Serangoon – is a great option for a cracking day out. Read our guide on the top things to do on the island and its Punggol surroundings to make the most of your adventures.
How to get there: Cross the Punggol Promenade Nature Walk which will take you to Coney Island West Entrance.
Enjoy your island-hopping adventures, folks! And don't forget the sunscreen!