Looking to treat the family? Book a night or two at one of these family-friendly resorts and hotels in Singapore. Staycation mode: ON!
Although travel has (kind of) made a comeback (hooray!), it's not as easy as simply hopping on a flight for a long weekend away anymore. But if Covid-19 has taken its toll, and you're still in desperate need of some holiday vibes, then we have the perfect solution: Pack your bags for a family-friendly staycation with the kids in tow at some of Singapore's best hotels!
Oh yes, there are tons of family-friendly hotels in Singapore for your next staycation. Here's a look at our faves so far, complete with special deals and all the kid-friendly features (kid's clubs!) you need. But do check back regularly. We'll update you whenever we find another family-friendly pick you need on your weekend radar!
THE 41 BEST FAMILY-FRIENDLY HOTELS IN SINGAPORE FOR A STAYCATION
Orchard Road family-friendly staycations
1. Shangri-La Singapore
Smack in the middle of Orchard Road sits Singapore's own Shangri-La Singapore. It's way more than a city centre hotel for bag dumping and sleeping. It's got heaps of family-friendly facilities that will have you booking your staycations, pronto. The entire ninth floor of one wing is solely dedicated to families, with its own Family Concierge. The hotel is also home to five themed family suites and 19 deluxe family rooms. Yep, everyone can move around the room comfortably without stepping on each others' toes!
The best bit about Shangri-La Singapore? buds! buds by Shangri-La is a giant outdoor and indoor play area with plenty of different activities to keep kiddos of all ages occupied. There are themed activity areas for little ones to get stuck in: Muddy for budding artists, Stage for young performers and Bake, a fully equipped cooking studio. Got a tot under four? They'll have a blast at the specially designed Toddler Zone. It's packed with swings, slides, a Big-esque piano floor, sensory walls, a ball pit and heaps more! Plus, there's also waterplay fun galore over at Splash, with six unique water play areas. Chances are you won't be straying too far from the hotel! Psst – check out the Fun Family Playcation offers when booking!
Shangri-La Singapore, 22 Orange Grove Road, Singapore 258350
2. Goodwood Park Hotel
You might miss this beauty of a hotel if you're not looking for it. Surrounded by lush gardens, yet just a stone's throw away from all the action of Orchard Road, it ticks all our boxes for the perfect family staycation in Singapore. Their cookies and milk servings with turndown are sure to impress the littlies. And, that's before they've seen the complimentary teddy bear on offer (in a super cute bathrobe!), plus one bag of old school games to keep the kids entertained. Everyone is well catered for with complimentary breakfast for all, too. Maybe you won't make it to Orchard Road after all?!
Goodwood Park Hotel, 22 Scotts Road, Singapore 228221
3. Orchard Rendezvous Hotel
Now, this is one of the Singapore hotels we're fully on board with when considering staycations: The Orchard Rendezvous Hotel. Splurge in Singapore's fabulous shopping district, dive into kid-friendly eateries, then head here for an overnight stay. Orchard Rendezvous Hotel is THE perfect place for a night or two of rest and relaxation after a jam-packed day of adventure. As relaxing as it can be with kids anyway! Our pick? Book a Family Room, which comes with two types of bedding configurations (one king bed + one single bed, or one king bed + one bunk bed). Or, plump for an even more spacious Family Suite (one king bed + two single beds + a separate dining area). Either way, there's plenty of space to stretch out (and stash all those shopping bags!).
Orchard Rendezvous Hotel, 1 Tanglin Road, Singapore 247905
4. Ascott Orchard Singapore
Although staying in a luxury hotel can be amazing, sometimes we need to be practical too – especially when travelling with bubs and toddlers. Ascott Orchard Singapore has the best of both worlds: high spec, yet all the essentials you'll need, such as a well-equipped kitchen. Plus, there's a separate lounge area, perfect when you want to put the littlies to bed but don't fancy sitting in the dark from 7pm (we've been there). If you do want to dine out, kid-favourite Kith is just downstairs. Ascott Orchard Singapore is also super convenient, just a hop, skip, and jump from all the action on Orchard Road.
Ascott Orchard Singapore, 11 Cairnhill Road, Singapore 229724
5. Four Seasons Hotel Singapore
Hidden away behind Orchard Road, you might miss this one entirely if you didn't know it was there. And you'd miss out on a treat! Four Seasons Hotel Singapore has the best of everything: luxury, a great location, and it's family-friendly. Hooray! Kids are well catered for with kid-friendly toiletries, mini bathrobes and activity kits! There's also a dedicated kid's dine-in menu for breakfast, dinner and that all-important dessert if you don't fancy heading out. But if you do decide to pop out, make sure you pick up their fab 'kids activities around town' brochure for loads of advice on where to explore!
Four Seasons Hotel Singapore, 190 Orchard Boulevard, Singapore 248646
6. voco Orchard Singapore
Another hotel boasting a fab location for all the action of Orchard Road is voco Orchard Singapore, which took over the previous Hilton hotel site. Situated next to kid-friendly mall The Forum, it's a great base for exploring this area. It's also got a lovely rooftop pool, plus offers up family suites which are suitable for two adults and two kids with a separate living space, so there's plenty of room for everyone. Kids amenities are also available on request if you forget anything for the littlies. You won't go hungry either; feast on the sweet treats at D9 Cakery or treat the fam to dinner at Opus Bar & Grill. There are also all the family-friendly restaurants on your doorstep, such as Tiong Bahru Bakery, Shake Shack, and more. Chances are, you might need more than one night here!
voco Orchard Singapore, 581 Orchard Road, Singapore 238883
7. Grand Hyatt Singapore
Ideally located to catch all the sights of Orchard Road, Grand Hyatt Singapore is a great choice if you want the best of both worlds (AKA fab hotel facilities, plus a super location). We love the room choices here, with so many options to cater for all families. We also think the pool is the perfect sanctuary after a day of hitting the shops and family attractions nearby. Our top tip? Time your visit on a weekend so you can also enjoy the amazing brunch at Mezza9!
Grand Hyatt Singapore, 10 Scotts Road, Singapore 228211
8. Hilton Singapore Orchard
Situated within the bustling Somerset area and occupying the former Mandarin Orchard site is Hilton Singapore Orchard (yes, the rebranding can get a little confusing). The refurbished hotel now boasts over 1,000 rooms and suites across two towers. Looking for a family staycay here? There are rooms big enough to accommodate your entire brood, from the Premium Family Room which includes additional space and a convertible bed to the Confirmed Connecting Room where you get two connecting rooms. Mealtimes are also easy with five restaurants to choose from, including Chatterbox, Shisen Hanten, and Ginger Lily. Your little people will also be well taken care of during their stay here – they get their own dedicated check-in, a welcome pack for those aged between two and 10 years, and babysitting services if parents want a quiet date night. Psst, the hotel currently has opening stay offers valid till 30 June 2022.
Hilton Singapore Orchard, 333 Orchard Road, Singapore 238867
9. The St. Regis Singapore
After a long day out and about with the family, don't you just wish you could retire to a fancy accommodation instead of heading home? Well, who says you can't? The St. Regis Singapore is waiting to welcome you and your family! This hotel is the definition of luxury: we're talking regal chairs that you can lounge on, shimmering chandeliers, tailored linens and bedding, and even a 24-hour butler service! Each gorgeous room features expansive spaces where you can take all the photos you want for Instagram and panoramic views of the Botanic Gardens. You won't want to check out when it's time to leave…
The St. Regis Singapore, 29 Tanglin Road, Singapore 247911
Marina Bay family-friendly staycations
10. Marina Bay Sands
Let's be honest, we all want a staycation at Marina Bay Sands. We're seriously coveting a weekend break in one of the most iconic Singapore hotels! Family rooms for two adults and two kids have plenty of space for your gang to get a great slumber (one king bed and two singles). We also love that it has a sofa: hello, movie night! Don't forget to catch the nightly light show on the marina, check out the neighbouring ArtScience Museum, and hop across the bridge to Gardens by the Bay. Also: THAT infinity pool.
Marina Bay Sands, 10 Bayfront Avenue, Singapore 018956
11. Mandarin Oriental Singapore
A great option if you're after a bit of all-out luxury is Mandarin Oriental Singapore. You know you're going to be in for the treat, and the kids are sure to be impressed too! There's all the essentials to hand (think baby cots, rollaway beds, even strollers to loan!), plus a special gift for kids! There's a dedicated children's pool with bubble jet water features and family cabanas. And if you fancy heading out to explore, you'll have all the attractions on your doorstep! Check out the family staycation packages, which include free tickets to ArtScience Museum's Future World: Where Art Meets Science, or a three-hour sesh at Kiztopia, both of which are within easy reach of the hotel.
Mandarin Oriental Singapore, Marina Square, 5 Raffles Avenue, Singapore 039797
12. The Fullerton Hotel Singapore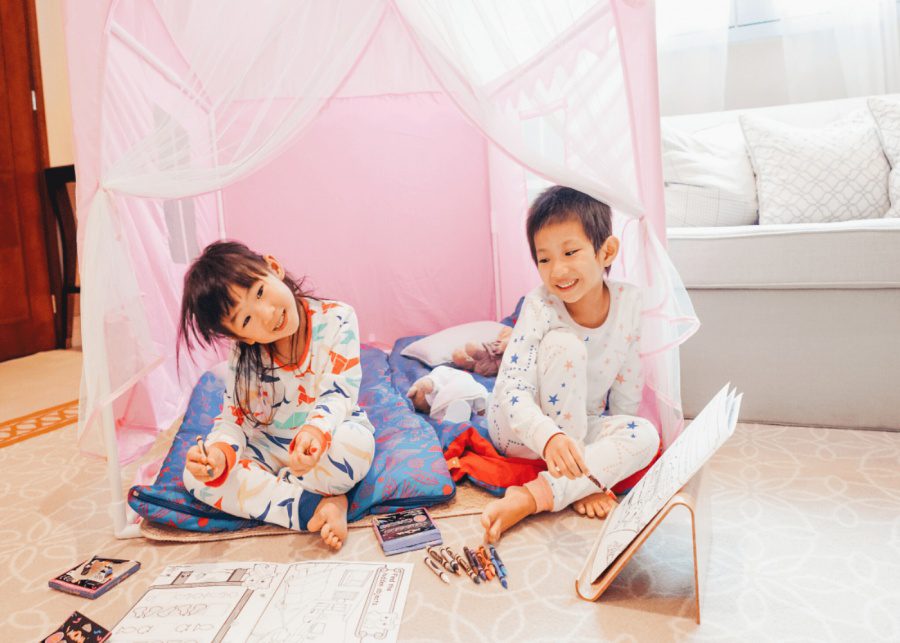 The Fullerton Hotel Singapore has a whole lot of history (dating back to 1928) and wins in the beauty stakes. Add the prime location, close to Marina Bay, and you've got a contender for a perfect family staycation. We love the kid-appealing perks on offer here too. From packs on arrival through to a daily ice cream pass, yum! Children's menus are also available in all nine restaurants, making dinners a breeze. There's also a super cool kids club with heaps of activities to keep the little folk busy. With Merlion Park a stone's throw away (and THAT view), not to mention ArtScience Museum and Gardens by the Bay an easy stroll, there's plenty for the whole family here.
The Fullerton Hotel Singapore, 1 Fullerton Square, Singapore 049178
13. The Fullerton Bay Hotel
It's not just the Fullerton Hotel Singapore that's got family staycations covered. Nope, just across the road, you can also be treated to a fab break at The Fullerton Bay Hotel! Enjoy special children's amenities, including ice cream passes and colouring activity sets! Then there are the complimentary family-friendly activities to enjoy like the Fullerton Farm tour, feeding of koi fish at The Fullerton Hotel Singapore, and the Fullerton monument tour and maritime journey tour (and that's just for starters!). Let's not forget those Marina Bay views to really seal the deal…
The Fullerton Bay Hotel, 80 Collyer Quay, Singapore 049326
14. The Ritz-Carlton, Millenia Singapore
Are the kids bugging you for a camping trip? How about embracing the camping vibe in this family-friendly Singapore hotel! With the Ritz Kids Night Safari Adventures, the fun of the outdoors is brought indoors, with tents pitched inside a Premier Suite. The best bit? No insects to deal with: hurrah! The deal also includes daily breakfast for two adults and two kids, a specially prepared edible amenity, passport and discovery map (Ritz Kids can redeem a scoop of ice cream at Colony after obtaining five stamps) and a Ritz Kids birthday cake surprise (for birthdays within the stay duration).
The Ritz-Carlton, Millenia Singapore, 7 Raffles Avenue, Singapore 039799
15. Pan Pacific Singapore
Pan Pacific Singapore has got family staycations all wrapped up with its Urban Jungle Experience package! The offer includes the two themed suites featuring jungle-themed rooms that come with an inflatable hippo, a teepee, and a treehouse bunk bed that can sleep two children. You can also visit the newly-opened Urban Jungle Villa, the hotel's first children's play area with seven activity zones. The zones include a treehouse above a virtual pond, a forest library, teepees, and even a cave climber! Want to head out? Spend the afternoon browsing Suntec City, Marina Square or Millenia Walk next door! Let the munchkins end the day with a relaxing soak in the bathtub, complete with toys, pint-sized bathrobes and bedroom slippers.
Pan Pacific Singapore, Marina Square, 7 Raffles Boulevard, Singapore 039595
Family-friendly staycations in Bugis and City Hall
16. InterContinental Singapore
The Family Suites at InterContinental Singapore are a dreamland for kids. The rooms feature a king-size bed (for mum and dad) connected to an interactive room complete with two custom-designed bunk banks and a slide (yes, slide!). That's not all – check out the mini activity desk, teepee, as well as lots of fun crawling spaces for good measure. If you can tear the munchkins away from this absolute pad, then you're also slap bang in the middle of town in Bugis with plenty of indoor play options, family-friendly restaurants, and tourist hotspots to explore.
InterContinental Singapore, 80 Middle Road, Singapore 188966
17. Raffles Singapore
It's the ultimate on everyone's bucket list, but is Raffles Singapore doable with kids? Yes! Although you might decide to enjoy this one just with the other half (and we don't blame you), if you've got kids in tow, then don't let that dissuade you from booking a stay. First up, the suites are actually perfect for families, given just how roomy they are. And you know service is going to be top-notch, even the littlies will feel special with the service from the amazing Raffles butlers. And let's not forget the prime location, right in the heart of town, there are kid-friendly attractions and dining options within metres of the door. Although we can bet you'll want to spend a lot of time making the most out of the Raffles experience!
Raffles Singapore, 1 Beach Road, Singapore 189673
18. Village Hotel Bugis
With the cool 'hoods of Haji Lane, Arab Street and Kampong Glam right on the doorstep, Village Hotel Bugis makes for a perfect family staycation. Why? Well, for starters, it's right in the heart of one of our favourite heritage areas! Once you've booked into your spacious family room, why not fill up at the award-winning Hainanese restaurant, Mooi Chin Place? Then head out for cultural adventures galore within a stone's throw of the lobby.
This really is THE Singapore hotel for urban explorers – the location is spot-on for families. Once you've discovered all the fun in the area, bring back tired kids for a dip in the pool. Don't forget your mum reads: let dad do the parenting, we say! Then it'll be time to wind up your perfect day with a delish dinner in the hotel's Landmark Restaurant. There'll still be some time before bed for an awesome bathtub session for the kiddos before you tuck the little darlings up for sweet slumber. There are even fab kid-themed rooms to seal the deal!
Village Hotel Bugis, 390 Victoria Street, Singapore 188061
19. Fairmont Singapore
Fairmont Singapore always comes up trumps with its staycation packages on offer for the kids. From their very own in-room teepee to kid-pleaser Prego with its wood-fired pizzas just downstairs, it's got the kids' wishlist ticked down to a tee. Then there's the pool to keep them busy before heading out to explore the shops, museums and family attractions on the doorstep. We also love that their signature suite comes with a spacious separate lounge area and a private balcony with views of the city, perfect for when the kids have hit the hay. Psst, CocoMelon Cafe and Hello Kitty staycation & afternoon tea are also in town at the min to give even more incentive to book a stay!
Fairmont Singapore, 80 Bras Basah Road, Singapore 189560
20. Park Royal on Beach Road
For an affordable family staycay option within easy reach of the vibrant Kampong Glam neighbourhood, head to Park Royal on Beach Road. Being part of the Pan Pacific chain of hotels, you know everything is going to be top-notch when it comes down to facilities and service. And this hotel has the kids well catered for too. First up is the huge swimming pool (including a dedicated kids' pool) that you might struggle to tear the kids away from. There's also a complimentary welcome picnic tote bag with activity kits for the kids. The hotel has daily curated local experience workshops for the fam to get involved in. And if all else fails, there are even kids' activities like a sandbox and PlayStation 4 available!
Park Royal on Beach Road, 7500 Beach Road, Singapore 199591
21. The Capitol Kempinski Hotel Singapore
If you really want to impress the kids, we reckon the Capitol Kempinski Hotel Singapore is a safe bet. Their Glampkation package comes complete with animal plushies, take-home sleeping bags and fun activities within a set-up tent. There's even a choice when it comes to tents (we love the decorated treasure island theme)! The fun doesn't stop there, with in-room cupcake decorating, a take-home kid-friendly games activity, plus unlimited ice cream for the children – this is the stuff of kid dreams! And with the kids entertained, you can make the most of enjoying the luxurious, spacious colonial-style rooms and suites on offer, hooray!
The Capitol Kempinski Hotel Singapore, 15 Stamford Road, Singapore 178906
22. Grand Park City Hall
Here's an option if you're looking for a stay that is near the shopping malls. Grand Park City Hall is a top-notch hotel a stone's throw away from Suntec City Mall and Capitol Piazza as well as myriad dining options. Enjoy the ultimate getaway at its family suite, which comes with connecting rooms for kids and adults. The specially-designed children's rooms come furnished with an activity wall, swing chair, and bean bag. If you're looking for a fun staycation for the school holidays, embark on A Space Odyssey, an augmented-reality space-themed staycation, with the hotel! The kiddos will have fun learning about the Solar System, planets, and galaxies through an exclusive mobile application. The offer, which runs till 30 June, also comes with a curated Space Kit and a complimentary galaxy-themed dessert.
Grand Park City Hall, 10 Coleman Street, Singapore 179809
Family-friendly staycations near Chinatown
23. Hotel Mono
Who would've thought that Chinatown would also be the place where you can go for a sweet staycay? One option to consider is Hotel Mono, a chic boutique hotel housed in six shophouses located in the heart of Chinatown. The hotel's exterior has managed to convince us to stay there, that's for sure! The entire space is decked out monochromatically in minimalist fashion, while still retaining the building's original charms with airwells and Rococo-era windows. Rooms are spacious enough to fit a family of five. Make a booking via the website and stay by 31 December 2022 and you'll get to enjoy 45% off. Sweet!
Hotel Mono, 18 Mosque Street, Singapore 059498
24. Sofitel City Centre
If you want to be near the hip hangouts of Tanjong Pagar and Chinatown, but have the kids in tow, then make a beeline for Sofitel City Centre. The family room comes kitted with kids' amenities, plus a teepee tent which is sure to go down well with littlies! There are also interconnecting rooms available for the older kids. We also love the infinity pool here and are sure the kids will too! Plus, you've got easy access to all the sights and amazing restaurants of the neighbourhoods on your doorstep – winner!
Sofitel City Centre, 9 Wallich Street, Singapore 078885
Sentosa family hotels and staycation deals
25. Capella Hotel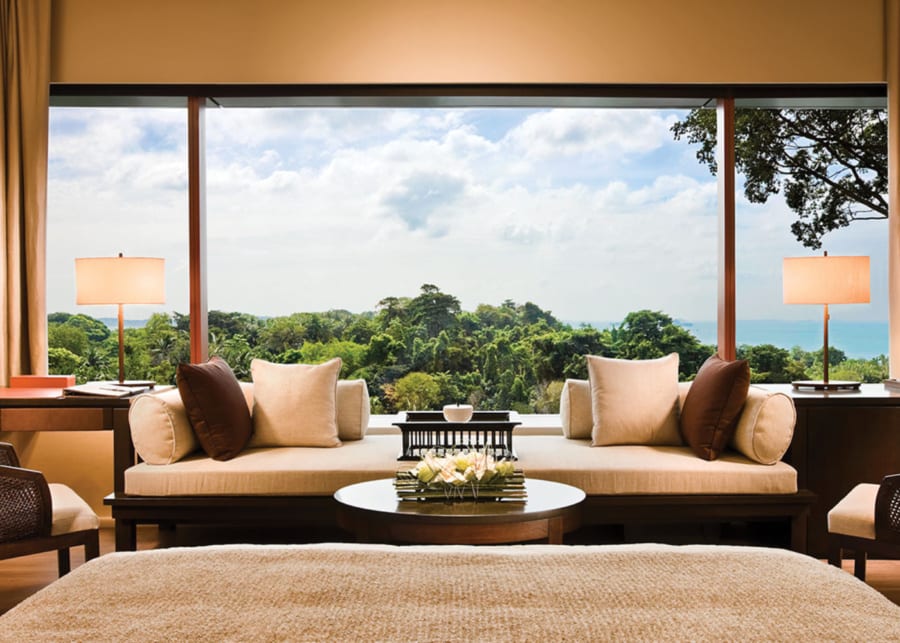 Decadence is what you'll find on the menu at the beautiful Capella Singapore. With its spacious suites, amazing views, resident peacocks and outdoor pools set among lush greenery, this Singapore hotel is one of the best we've stayed in. The top-notch spa and the mouthwatering breakfasts help too (Champagne with your breakfast? Totally yes!). Our advice? If you can, ditch the kids and soak this one up all for yourself (we did!). If you do decide to bring the small humans, the hotel does offer treasure hunts and movie matinees! Plus, you've got all the attractions of Sentosa on your doorstep – not that you'll want to stray too far from that pool!
Capella Hotel, 1 The Knolls, Singapore 098297
26. Shangri-La's Rasa Sentosa Resort & Spa
For a bonafide holiday feel, a getaway to the Rasa Sentosa Resort & Spa on Siloso Beach definitely gives us the vacay vibes! It's non-stop fun at this off-the-scale family-friendly Singapore hotel. Think water slides, swimming pools, kids' club, playgrounds and even a giant treehouse slide! Hard-to-please teens can keep busy with water sports and the Game Zone, while younger tots will be in sandcastle heaven on the huge expanse of sandy beach.
Shangri-La's Rasa Sentosa Resort & Spa, 101 Siloso Road, Singapore 098970
27. Sofitel Singapore Sentosa Resort & Spa
There's no shortage of staycation options over on Sentosa. Another to have on your list is Sofitel Singapore Sentosa Resort & Spa, which will have you relaxed in no time with their Infinite Family Experiences packages. First up, you'll get connecting rooms which are always a big plus for families, and that's before we've mentioned all the gourmet food options on offer! You can pretty much eat every cuisine at the hotel, so even fussy eaters are covered. But the best bit about a stay here? The kids' schedule! Packed with daily activities from face painting to lantern making, the folks at Sofitel will make sure the kids are kept entertained so you can really relax!
Sofitel Singapore Sentosa Resort & Spa, 2 Bukit Manis Road, Singapore 099891
28. W Singapore – Sentosa Cove
Thought W Singapore – Sentosa Cove was just for grown-ups? Wrong! It's also a great option for the fam! First up, the location is a winner in the heart of Quayside Isle. It's right next to a whole host of restaurants, so if you fancy venturing out for lunch and dinner with the fam, you've got Greenwood Fish Market, Blue Lotus and Mykonos on the Bay on your doorstep, as well as all the fab family-friendly options at W Hotel itself. We also love the pool here, and the cabanas poolside are perfect for the whole fam. For a minute, you might just think you did escape the Little Red Dot for your family holiday after all!
W Singapore – Sentosa Cove, 21 Ocean Way, Singapore 098374
29. Equarius Hotel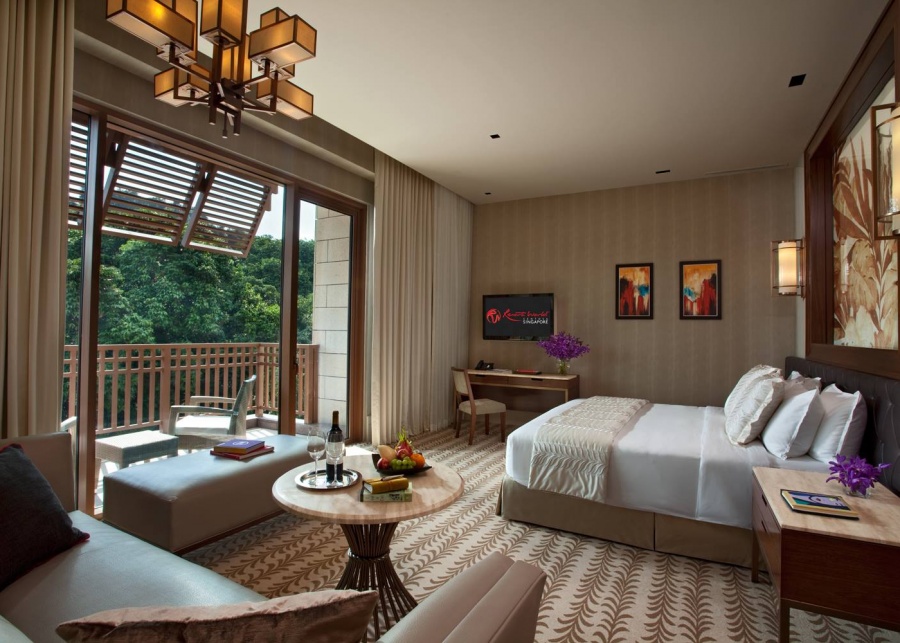 One of the six offerings as part of Resorts Worlds Sentosa, don't let the location slightly further away dissuade you. We think Equarius Hotel is perfect for a family staycay. We love the spacious rooms which come with private balconies or patio. They are perfect for when you put the littlies to bed but don't fancy lights off at 7pm to join them. We also quite like that this hotel is away from the hustle and bustle of the rest of Sentosa, so you can enjoy tropical rainforest or waterfront views. We also think the pool is pretty epic here too! Psst – there aren't F&B options onsite, but there's a shuttle to take you back to the centre of Resorts World Sentosa for loads of fam-friendly dining options, as well as all those Sentosa attractions!
Equarius Hotel, Resorts World Sentosa, 8 Sentosa Gateway, Singapore 098269
30. Hotel Michael
If you're looking to be right slap back in the middle of all the action and attractions of Resorts World Sentosa, then look no further than Hotel Michael. A hop, skip and a jump away, you'll be in Universal Studios Singapore, S.E.A. Aquarium, plus have easy access to all the great family-friendly restaurants. This is the ultimate convenience. Not only that, the hotel is pretty swish too with its arty rooms and decor (the hotel is a tribute to American contemporary architect Michael Graves). Although this fact might be lost on the kids, it's a plus for us parents. We are also big fans of the pool for when you need some downtime post-Universal Studios!
Hotel Michael, Resorts World Sentosa, 8 Sentosa Gateway, Singapore 098269
31. One15 Marina Sentosa Cove
Another great option in Sentosa Cove is One15 Marina. We think the pool here is hard to beat with its views over the Marina. We also love the family rooms, equipped with a queen bed and a bunk bed. There's also that all-important balcony for drinks post-kids bedtime. Look out for their family getaway deals. They include two hours of bike hire, board game hire, plus $20 of arcade tokens!
One15 Marina, Sentosa Cove, 11 Cove Drive, #01-01, Singapore 098497
32. Amara Sanctuary
The Amara Sanctuary is just that: a little slice of TLC in Sentosa. Formerly a WWII colonial British Army barrack from the 1930s,  this hotel's design is on point as far as the style stakes go, and the family suites facilities are equally impressive. Each suite features a king-sized bed, living room, plus a private verandah overlooking the infinity lap pool. And that's just one of FOUR pools. The kids are sure to make a beeline for the children's pool, complete with water slides! Look out for their family getaways packages which often include entrance to the nearby Sentosa attractions too!
Amara Sanctuary, 1 Larkhill Road, Singapore 099394
Further afield family-friendly staycations
33. Dusit Thani Laguna Singapore
If you want to feel like you've really left Singapore, then look no further than Dusit Thani Laguna Singapore. Located within the grounds of the Laguna National Golf and Country Club, you'll have your fair share of greenery here. Opened in 2021, you can expect top-notch facilities with three swimming pools, three outdoor tennis courts, a fancy spa, and of course, an 18-hole golf course! The location, close to Jewel Changi Airport, means it's also perfect for checking out Canopy Park if you get bored (although let's be honest, that's unlikely!)
Dusit Thani Laguna Singapore, 11 Laguna Golf Green, Singapore 488047
34. Villa Samadhi Singapore
Here's another option to make you feel as if you're living the island life. Villa Samadhi Singapore is a 20-room boutique hotel situated within the Labrador Nature Reserve. The black-and-white colonial garrison was restored over a period of three years before being given a new lease of life as the hotel. And we have to say, we're beyond impressed with this entire establishment! There are five different types of rooms that you can choose to stay in, which features a king-sized bed. If you decide to book the Luxe Sarang, it comes with its own outdoor pool! Bring along a large float so that everyone (not just the kids) get a chance to laze in the waters. Plus, with Labrador Park in your backyard, there are plenty of other things you can do: dinner at Tamarind Hill, hiking at the nature reserve, and more.
Villa Samadhi Singapore, 20 Labrador Villa Road, Singapore 119193
35. Gallop Kranji Farm Resort
Fancy some fun on the farm? Enjoy a break in the countryside with a staycay at Gallop Kranji Farm Resort. And let's just pop this here from the get-go: there's a spa! So while you head off for a well-earned facial, pack the kids off with Dad to ride a pony, feed the koi, work off some energy in the indoor play area and then cool off in the water theme playground. Meet up later for the fish farm tour, and then learn about the birds responsible for the Asian delicacy, bird's nest soup – not your average staycations experience! Accommodation is villa-style and spot-on for families – take a look at a Family Suite, which comes complete with a steam room, jacuzzi, four queen-sized beds and breakfast. Not got anyone to look after your dogs while you are away? Bring them with you! Accommodation is pet-friendly, as is the onsite Ulu Ulu Pets Cafe.
Gallop Kranji Farm Resort, 10 Neo Tiew Lane 2, Singapore 718813
36. Gardenasia Farm Stay Villas
Another great option if you fancy escaping the hustle and bustle of day-to-day life in SG: pack your bags and head to the countryside with a farm stay at one of Gardenasia's villas! Perfect for families, these villas are as pretty as a picture, themed around black and white colonial-style homes. There are three villas to choose from, and all sleep up to four guests. On-site, you'll have access to a tennis court, lap pool, plus all the programmes taking place at Gardenasia. Make sure you book a table at BISTRO, which boosts a fab farm-to-fork experience. You'll also have the farms of Kranji on your doorstep, so there are plenty of activities to keep the kids and grown-ups busy!
Gardenasia, 240 Neo Tiew Crescent, Singapore 718898
37. YOTELAIR Singapore Changi Airport
Speaking of Jewel Changi Airport, extend your stay at this complex by checking in at YotelAir, located on the fourth floor. The hotel contains rooms (AKA 'cabins') that are inspired by luxury first-class aircraft design. Each cabin is fitted with 'moon' lighting, an ensuite bathroom with a rain shower, and flat-screen television. If you're worried that it may be too small to fit your family, fret not: the family cabin can accommodate two adults and two children, with a queen-size bed and bunk bed. We reckon room size will be at the back of your mind though, since you'll be busy spending the day at Jewel.
YOTELAIR Singapore Changi Airport, Jewel Changi Airport, 78 Airport Boulevard, #04-280, Singapore 819666
Other family staycation options for future stays
38. Village Hotel Changi – currently closed
With a day trip to Pulau Ubin just a hop, skip and a jump across the water, why not head out of the city? Over on the Changi coast, you can enjoy an easy breezy getaway at Village Hotel Changi. Not only does this affordable hotel in Singapore boast a rooftop infinity pool, but the newly refurbished Deluxe Rooms come with a view of the coastline AND non-stop plane spotting ops for the kids. This is also a great pick if you fancy searching for Singapore's wildest residents: otters, boars, hornbills, and even the odd croc have been spotted in the area!
Village Hotel Changi, 1 Netheravon Road, Singapore 508502
39. D'Resort @ Downtown East – currently closed until 9 August 2022
Pack up the kids and head to Singapore's first integrated water resort and all-around eco-friendly staycation pick, D'Resort @ Downtown East. Plump for an Underwater Themed Room (Rainforest Family). Not only is it a good size for our fam of five, but it had some nice touches for the younger kids. Our kids loved the themed bunk beds and decor, plus a treasure chest filled with goodies! Add in the neighbouring Wild Wild Wet water park, easy access to the beach and surrounding nature, and you've got yourself a weekend winner. Who knew Singapore hotels could feel like such a holiday?!
D'Resort @ Downtown East, 1 Pasir Ris Close, Singapore 519599
40. Festive Hotel – currently closed for renovations
We've long waxed lyrical about how much fun we have on a day out around Sentosa. Staying the night is the icing on the cake when it comes to a family staycations adventure close to home. And the Festive Hotel ticks all the boxes for a kid-friendly stay. Check out the Deluxe Family King Room, complete with colourful loft beds and sofa beds for smaller guests. Relaxing poolside in a cabana while the kids make use of the pool and water play area, sounds just the ticket to us after a busy day. Did we mention there's also babysitting…
Festive Hotel, 8 Sentosa Gateway, Singapore 098269
41. Furama Riverfront – currently unavailable for leisure stays
A whimsical adventure is the name of the staycations game when it comes to the themed and family rooms at Furama Riverfront. Each room comes with snazzy bunk beds and is decked out in either a pirate, underwater or castle theme. And the in-room XBOX games console seals the deal! The rest of the hotel loves kids, too – a huge playroom, swimming pools with inflatables, and a play area at The Square restaurant will all be a hit for the whole gang.
Furama Riverfront, 405 Havelock Road, Singapore 169633
Love this list of family-friendly hotels in Singapore? We've got some sweet staycay deals if you're planning to make a booking!