Whether you love soft serve or sorbets, we've found the coolest spots to go for an ice-cream date with the kids in Singapore.
Ice-cream shops and Singapore are a match made in heaven considering the year-round summer weather! And one of our favourite ways to beat the heat? Ice cream! Fortunately, living on a perennially hot island means new ice-cream stores are popping up every other minute (it seems). The HoneyKids team braved the scorching sun and ate ourselves silly to get the scoop on the best ice-cream shops in Singapore for local flavours, interesting ice-cream mixes and low-fat offerings – all for you lucky readers and your littlies!
The best ice cream shops in Singapore
1. Kind Kones
Natural and dairy-free
Okay, it might be a bit odd to start this one off with something healthy and guilt-free rather than completely indulgent. But we have to mention the ice cream outlet Kind Kones in Tanglin. The ice-creams are free from dairy, soy, refined sugar, egg, preservatives and any artificial additives. Grab a table by the chalkboard and let the kiddos get creative!
Where: Lot B1-27/K1, Forum The Shopping Mall, 583 Orchard Road, Singapore 238884
2. Kooks Creamery
If you've been scouting about town for a vegan equivalent to your favourite ice cream flavours, your search ends here! Kooks Creamery has indulgent ice cream options that will surprise even our non-vegan bunch. Think of flavours like chocolate peanut butter ice cream with cacao nibs, dirty matcha, strawberry balsamic, and many more. There are plenty of familiar flavours available in case you aren't up to experimenting much with that monthly treat.
Where: Bedok – 218 Bedok North Street 1 #01-19, Singapore 460218; The Cathay – #01-06 Handy Road, Singapore 229233; Serangoon – 211 Serangoon Ave 4 #01-02, Singapore 550211
3. Milk & Honey
This one-stop shop has it all to satiate that sweet tooth. Besides the nommy biscottis, shortbreads, cakes and other bakes on offer, Milk & Honey churns out some indulgent scoops of ice cream too. Treat the fam to lick-tastic flavours like Choc A Baby, Cookie Monster and Milk & Honey. There's plenty on offer for a good tease of the palette for the adults too, like earl grey and matcha & Yude azuki. Here's to a scoop-licious time!
Where: 86 Bedok North Street 4, 01-179, Singapore 460086
4. Salted Caramel
Besides the chunky brownie and cakes on offer, Salted Caramel also churns out some heavenly scoops worth a try! The handcrafted ice creams are made from scratch using superlative ingredients and will check off every box, even for the picky eaters! Plus, with tons of flavours on offer, there's bound to be something for every ice cream personality in the fam. Our pick? Salted Caramel, hands down!
Where: 246F Upper Thomson Road, Thomson Garden Estate, Singapore 574370; 17 Lorong Kilat, Kilat Court, Singapore 598139; 87 Science Park Drive, Oasis, Singapore 118260
5. Apiary
Are you a mum or dad conscious about the quality of ice cream scoop your littlies lick at? Singapore's homegrown ice creamery Apiary is your best bet! All the ice creams and sorbets on offer come with no artificial flavours or colouring, and use the freshest natural products for that perfect churn. Best part? They offer heaps of unique flavours that the fam will love, including lavender, earl grey, Hojicha, blue milk, and so much more. Available in pints for takeaway.
Where: 84 Neil road, Singapore 088844; 81 Joo Chiat Road, #01-01, Singapore 427725; 61 And Mo Kio Ave 8, #01-02, Singapore 569814
6. Island Creamery
Looking for the real deal head-turning treat? Pop by Island Creamery for its all-too-famous ice cream mud pie and cakes that the fam will love. Plus, if you are scouting for seasonal island flavours closer to home, they have plenty of those on offer too. Like Chendol, teh tarik, Pulut Hitam and even pineapple tart ice cream flavour with love letters. Nom!
Where: Holland Village, #02-03 Holland Road Shopping Centre
7. the ice cream bar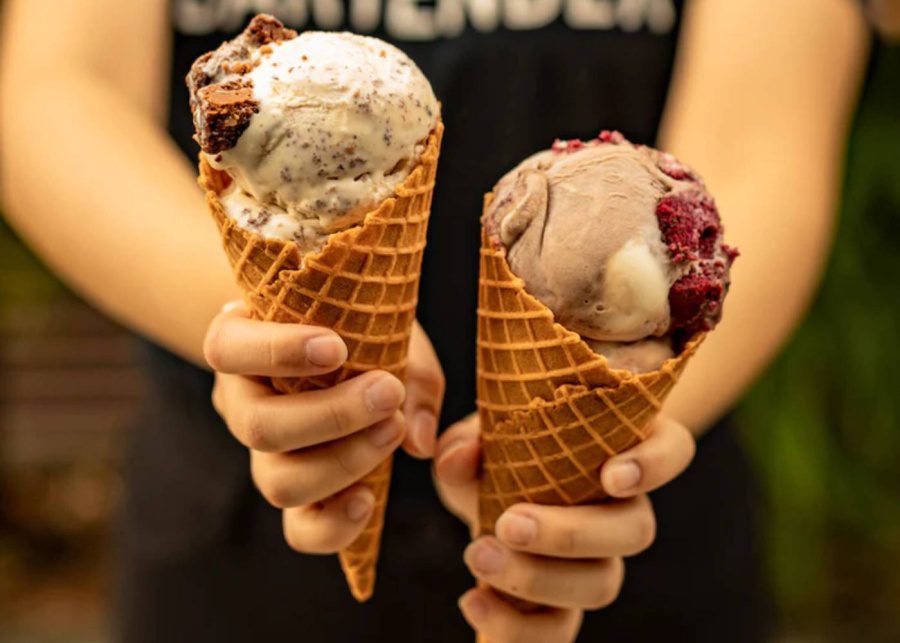 This hotspot is perfect to end that romantic mum-dad date night on a sweet note. And from the looks of it, you are in for one heck of a treat! Sorry kiddos! Hit the ice cream bar with your better half and indulge in high-spirited scoops of handcrafted ice creams with a boozy twist. Think smoked cognac, crunchy coffee whisky, Kahlua cheesecake, and so much more. Need we say more?
Where: 59 Kampong Bahru Rd, #01-01, Singapore 1693, The Ice Cream Bar 313@Somerset
8. Tokyo Milk Cheese Factory
If your bunch enjoys a good cup of milk every day, this ice creamery is made just for you. Look forward to heavenly soft serves from Tokyo Milk Cheese Factory packed with indulgent flavours of Hokkaido Jersey milk and Gouda & Cream cheese. Although this spot offers just three simple flavours of ice cream, we say it's well worth a try for that perfectly milky treat.
Where: Multiple locations including Jewel Changi #B2-265, Raffles City #B1-73, Paragon Orchard #B1-37, ION Orchard #B4-05 and AMK Hub #01-13
9. Denzy Gelato
Award-winning gelato
Cool off with a scoop or two at Denzy Gelato. The gelateria is award-winning: it's been crowned Singapore's Best Gelato! Have a taste of its unusual flavour, pear, ginger and gingerflower… sounds refreshing!
Where: Several locations across the island
10. Birds of Paradise Gelato Boutique
Do it for the 'gram
The East Coast has even more to offer now with a botanically inspired super-smooth gelato house, smack bang in the middle of colourful Katong. Birds of Paradise uses natural ingredients to make refreshing ice-cold treats, including our fave, Lychee Raspberry – great for our little tropical island! Its thyme cones are freshly made, crispy and oh-so perfect.
Where: East Coast Road: 63 East Coast Road, #01-05, The Red House, Singapore 428776, Jewel Changi: 78 Airport Boulevard #01-254, Singapore 819666
11. Momolato
Pretty popsicles that take us back to our childhood
Fruit sorbet popsicles by Momolato are soooo pretty we can't get enough of them – plus they instantly transport us back to the carefree childhood days of eating ice lollies (and making a big mess) on a patch of grass with friends. Extra thumbs up for being a healthy option the whole fam can enjoy on a regular basis! Momolato focuses more on wholesale and supplying to hotels and cafes around Singapore – check out where you can get some of their gelatos and popsicles here. If you wish to indulge at home, you can order directly from their website, but the shipping cost is a bit eye-watering!
Where: 34 Haji Lane S189227
12. A Spoonful of Sugar
Ice-cream and waffles!
With décor as whimsical as its baked goods, A Spoonful of Sugar provides a cosy environment for friends and families alike. Watch them 'cold fry' up your customised chocolate combo (kids love watching this technique adapted from street food stalls) and then dive in for the delicious result. Come hungry!
Where: Opposite Daiso, Downtown East, #01-K106 1 Pasir Ris Close, Singapore 519599
13. Ben & Jerry's
What's your flavour?
Bring the kiddos for a special treat at Ben & Jerry's outlets around Singapore where you can get your chocolate hit, while the lactose intolerant among us can indulge in its non-dairy options. It's a perfect icy treat if you've braved the heat and headed to the zoo, the Night Safari or Jurong Bird Park. The best news? You can enjoy ice-cream delivered to your door by ordering from supermarkets: Redmart, Cold Storage and Fair Price all stock it. Nom!
Where: Vivocity, 1 HarbourFront Walk, #02-K1, Singapore 098585
14. Creamier
Ice-cold comfort food
Head over to Gillman Barracks (a great pitstop from the Southern Ridges Walk) and let Creamier provide you with the scenic, sun-kissed afternoon you deserve. Bringing the kids is purely optional. Creamier is known to whip up some limited-edition flavours, but we love the unusual yet heavenly Sea Salt Gula Melaka flavour.
Where: Gillman Barracks: 5a Lock Road, Singapore 108927; Toa Payoh: Blk 131 Toa Payoh Lorong 1, #01-02, Singapore 310131; Tiong Bahru: 78 Yong Siak St, #01-18, Singapore 163078
15. Baskin Robbins
An oldie but a goodie
Be spoilt for choice by Baskin Robbins' myriad flavours and sundaes, from cotton candy to caramel chocolate crunch. If you're trying to be a little less sinful, try the Caramel Turtle, a caramel swirl swimming with tiny chocolate turtles, for a reduced-fat treat. Whether it's a cone or a tub, it's guaranteed goodness.
Where: Branches in Bedok Mall, Harbourfront Centre, NEX Serangoon, Northpoint Singapore, Punggol Oasis Terraces and Tiong Bahru Plaza
16. Ice Cream & Cookie Co
The sweetest ice-cream sandwiches around
Ice Cream & Cookie Co serves up ice-cream cookie sandwiches in ingenious (and extremely moreish) combos like English Earl (Earl Grey tea infused ice-cream between two chewy lemon zest cookies) and Toasted Marshmallow (hand-torched marshmallow ice-cream between two chewy brown sugar cookies).
Where: online
17. Udders
Udder-ly fantastic!
Udders' Mao Shan Wang durian ice-cream is sure to stick with you for a long, long time. Creamy, thick, and pungent – just the way we like it! Durian not your thing? Share a more subtle flavour on toast with the kids – with strawberries on top! Pre-packaged cups and pints are also available at NTUC FairPrice Xpress outlets and Cheers outlets around town.
Where: Branches in Bukit Timah, Upper Thomson, Novena, Kovan and Beach Road
18. Sunday Folks
Original hipster
Tuck into soft-serve ice cream served with waffles or homemade charcoal cones, delectable trifles and seasonal treats at this popular (and Instagrammed-to-death) hipster cafe. At Sunday Folks, we're all about the Milo Dinosaur: ice-cream topped with chocolate wafer balls, homemade cocoa sand and Milo powder. If that's not a blast from the past, we don't know what is!
Where: 44 Jalan Merah Saga, Chip Bee Gardens #01-52
19. Tom's Palette
A flavour for every palate
Tom's Palette certainly lives up to its name, offering a palette of unusual flavours including the much-talked-about Salted Egg Yolk and Nasty Mix (salted chocolate and pretzels layered with caramel peanut butter).
Where: 51 Middle Road, #01-01, Singapore 188959
20. Merely Ice Cream
Unique flavours
Merely's thick and silky ice-cream comes in all flavours – Horlicks Panda and Grape Yakult for the kids and a sneaky Lychee Beer for you! Want something more refreshing? We love the look of that melon sorbet.
Where: Sunshine Plaza, #01-13 Sunshine Plaza, 91 Bencoolen Street, Singapore 189652 and Our Tampines Hub, 1 Tampines Walk B1-52, Singapore 528523
21. The Daily Scoop
A scoop a day keeps the heat at bay!
The Daily Scoop is a well-loved staple, churning out a range of unique flavours like Macadamia White Chip and Maple Crisp, as well as Chilli Choc for more unconventional tastes.
Where: Branches in Clementi Arcade, Chip Bee Gardens, Sembawang Cottage and Bedok Reservoir Rd
22. New Zealand Natural
All-natural ice-cream
The refreshing taste of NZN's ice-cream is one the whole family will want in on. Made from natural ingredients and fresh milk all the way from New Zealand, our personal fave flavour is the 99% fat-free mango sorbet. Look out for a tub to take home at the local grocery store if you can't get to an outlet!
Where: Parkway Parade: 80 Marine Parade Road, #01-K1, Singapore 449269
Here's to a scoop-licious time with the fam!