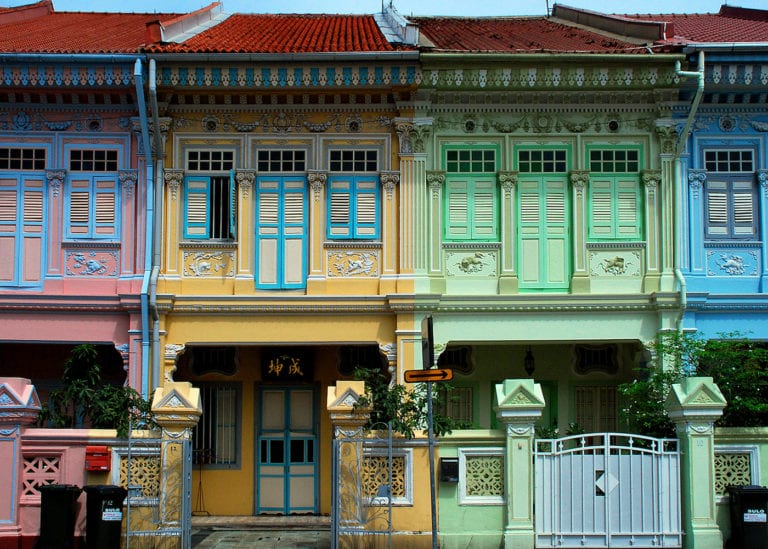 The East Coast in Singapore is a ginormous area full of family-friendly neighbourhoods, eateries and activities for kids. Here, we break down Joo Chiat and Katong into bite-sized pieces so you and the family can get exploring!
Just moved to the East Coast or fancy exploring a new patch of Singapore? We've got the lowdown on everything you need to know about the Joo Chiat and Katong neighbourhoods, from places to eat and where to shop to fun things to do with the kids. With the amazing East Coast Park on the doorstep and a host of wonderful preschools in the east to choose from, this area of Singapore is definitely a great family-friendly neighbourhood to be in.
A FAMILY GUIDE TO JOO CHIAT AND KATONG
WHERE TO PLAY IN JOO CHIAT AND KATONG
Kaboodle
Bring the kiddos to Kaboodle for a creative experience. Choose between a free play class or something more structured for bubs aged one through 12.
Where: 88 East Coast Road, #02-06 Katong Square, Singapore 423371
My Gym
Small ones aged three months through 10 years old will enjoy the sessions at My Gym. Think music, dance, games, gymnastics, sports and more… what a way to get the munchkins to burn off all that extra energy!
Where: 80 Marine Parade Road, #15-03 Parkway Parade, Singapore 449269
WHERE TO EAT IN JOO CHIAT AND KATONG
Known as a foodie's paradise, there are so many cafes, coffee shops, bars, bakeries, restaurants, and hole-in-the-wall spots to delve into around Joo Chiat and Katong. Off the tops of our heads, we came up with a list of more than 20 (!) but we didn't want to exhaust you, so we've picked a selection of our faves.
Ninethirty by Awfully Chocolate
Stop for a coffee and a slice of the salted butterscotch brownie (the calories are worth it, promise!) at Nine Thirty by Awfully Chocolate. Lunch options include a delicious grilled cheese, which the kiddos will most definitely be fighting over!
Where: 131 East Coast Road, Singapore 428816
Rabbit Carrot Gun
This cafe is airy and known for its brunch offerings (available from 9am–3pm everyday). Indulge in a steak sarnie or some kid-friendly red velvet pancakes… the treats are only for once in a blue moon, anyway! Eating here sans kids? Know that the cocktails at Rabbit Carrot Gun are divine…
Where: 49 East Coast Road, Singapore 428768
Five Star Chicken Rice
Hainanese chicken rice might be an acquired taste. Seriously, we thought it was just boiled chicken meat until we had it with the accompaniments of ginger, black sauce and chilli sauce. Five Star is the only place to visit for a taste of the very Singaporean dish. Order a kid-friendly egg fried rice if the little ones aren't feeling so adventurous.
Where: 191 East Coast Rd, Singapore 428897
Smokey's BBQ
Missing some good ol' southern BBQ? Head to Smokey's BBQ and get stuck into some sticky baby back ribs. The buffalo wings are also a must-try. Kid-friendly options include nuggets, sliders and, of course, an indulgent grilled cheese.
Where: 73 Joo Chiat Place, Singapore 427790,
Madeleine's Original Portuguese Tart
Snack on a Portuguese egg tart from Madeleine's if you need an afternoon pick-me-up. Yours truly misses the Macanese Lord Stow's from Hong Kong, and this is most certainly a much closer (proximity-wise!) replacement.
Where: 198 Tanjong Katong Road, Singapore 436997
Birds of Paradise Gelato Boutique
I scream for ice-cream! If you're pounding the pavements of Katong and working up a sweat, duck into Birds of Paradise Gelato Boutique on East Coast Road. The munchkins will love staring at the flavours – and tasting them, of course! And you'll get to try local flavours such as Milo dinosaur, teh tarik and gula melaka too.
Where: 63 East Coast Road, Singapore 428776
Best of the rest
Katong Laksa: a hole-in-the-wall with only one item on the menu… you guessed it, laksa! Not for picky little eaters.
Alt. Pizza: You won't go wrong with a slice of pizza or three at one of our fave pizza chains.
Astons Specialities: Another chain serving up meat and veg – think fish and chips or grilled chicken.
Firebake: Grab a loaf of Firebake's famous wood-fired sourdough bread post 5pm. You won't regret spreading some delicious butter and marmalade on it for breakfast the following morning.
Tea Villa Cafe: Take your pick of the teas from the extensive menu while snacking on chilli cheese toast or a slice of the resto's famous mac and cheese pizza.
Bergs Burgers: With loads of burger options on the menu, there's something for everyone, including small burgers for small hands.
Eng's Wanton Mee: A local institution serving up barbecue pork (char siew) with steamed wontons and noodles.
An Açaí Affair: Stop by for an uber-trendy acai or smoothie bowl at this chain cafe. We love the Nutty Party, or make your own and choose what goes in if you have picky eaters in tow.
Mr and Mrs Mohgan's Super Crispy Roti Prata: Nothing beats roti prata drenched in fish curry. This spot is a bit further into Joo Chiat but totally worth the walk.
Chin Mee Chin Confectionery: Another oldie but goodie. This 50-year-old establishment has been serving up the same kopi, kaya toast and boiled eggs for so long that it's become an East Coast institution.
Sinpopo: This place seamlessly blends traditional and modern, from the décor to the famous nasi lemak, served deconstructed so you can eat it your way. End on a sweet note and try the gula melaka jelly.
Dunman Road Food Centre: The Little Red Dot has hawker centres by the truckload – and they're often the best place to go for delish local food. Dunman Road Food Centre is no exception. Although smaller than the one down the road at Old Airport Road, you've got some solid choices here.
Forty Hands: A neighbourhood cafe serving up Australian-style brunch and delicious specialty coffee. There's also a branch in Tiong Bahru if you're venturing in that direction.
Brawns & Brains Coffee: Another speciality coffee shop with an ever-changing food menu, although you can't go wrong with the breakfast options here.
We weren't joking about the East being a foodie's paradise! Keep reading for some date-night dining spots and bars to stop in for a quick drink.
WHERE TO SHOP IN JOO CHIAT AND KATONG
The WYLD Shop
Got some time to shop for yourself? Check out WYLD, a local fashion and lifestyle boutique. Shop easy, breezy, lightweight clothing options for yourself – you'll definitely need a new wardrobe if the Singapore heat is taking some getting used to!
Where: 412 Joo Chiat Road, Singapore 427637
Cat Socrates
This cute souvenir and collectibles shop is the perfect place to get your kitschy Singapore memorabilia. There's a great selection of accessories made by local designers and cool ceramic pots for all your #plantlady needs. Don't forget to say hi to the resident kitty, too!
Where: 448 Joo Chiat Rd, Singapore 427661
I12 Katong Mall (currently under renovation 'til 2021)
Seek some respite from the heat at I12 Katong Mall. Grab a bite at the food court in the basement or browse some of the homeware and fashion shops in the mall. Golden Village cinema is on Level 4, so why not see what's playing and duck in for a film?
Where: 112 East Coast Road, Singapore 428802
Joo Chiat Complex
Joo Chiat Complex is full of textile and fabric shops and traditional Malay art and craft shops, as well as some tailors. You'll also find some curtain and upholstery shops here.

Where:1 Joo Chiat Road, Singapore 420001
Katong Shopping Centre
There is a mish-mash of small stores in Katong Shopping Centre. From banks, opticians, jewellers and goldsmiths to stationers, photocopiers, beauty supply stores and women's fashion… the list goes on!
Where: 865 Mountbatten Road, Singapore 437844
Katong V
Another small mall that's a catch-all of everything. Think kids' enrichment centres, food stalls and food shops, including grocery store Fairprice (NTUC). Get your hair blown out at one of the hair salons in here too.
Where: 30 East Coast Road, Singapore 428751
Roxy Square
Located right next to Katong V, this mall is full of nail salons, hair salons, kids' enrichment centres and beauty supply stores. Grab a bite at the small food court in the basement.
Where: 50 East Coast Road, Singapore 428769
JUST FOR PARENTS: adult-approved spots in Joo Chiat and Katong!
Wine & Dine
Spa & wellness
Get your hair done at blow+bar (and enjoy a glass of wine while getting your hair tended to!), Toni & Guy or Expat Hair Studio. Roxy Square has loads of nail salons to pop to for a quick mani or pedi. Paint Shoppe Nail Spa, Project Nails and The Nail Artistry are also great for a more indulgent experience. Looking to get a workout in? Check out Yoga Movement or Yoga Lab East.
Top image from Choo Yut Shing via Flickr.