Looking for the best preschool in Singapore? You've come to the right place. We've put together this giant list of Singapore pre-schools that follow Montessori methods, Reggio Emilia & more!
Parents, we get it. Choosing the perfect pre-school in Singapore is no easy feat. This list of Singapore preschools alone proves how many fab learning centres and early childhood programs we have on this little island! But the good news? No matter what your priorities are, there's definitely a preschool out there that fits your parenting style to a T.
If you want someone to do more than mind your child, take a look at our list of recommended preschools in Singapore, from play-based learning, bilingual immersion programmes, to long-day childcare-style options, international schools and Montessori and Reggio Emilia-based curriculums. There are so many pre-school programs scattered across the island, you'll easily find a great option near you, from Sentosa and Jurong West to Marine Parade and Tanglin too.
And psst – there's no shame in being a little kiasu: you'll probably end up on three different waiting lists before you find that perfect preschool in Singapore. But it's worth it!
Do you have a great preschool to recommend? Write to us at [email protected] and tell us what you love about it!
ALL THE BEST PRESCHOOLS & KINDERGARTENS IN SINGAPORE
Bilingual Immersion methodology
Childcare/Preschool
50 locations across Singapore
If you're looking to give your child a headstart in bilingualism, look no further than MapleBear Preschool. This preschool is known for its Bilingual Immersion methodology, one that is proven to be effective in 16 different countries. It offers students in Singapore a quality Canadian education (methodology and curriculum), which is apt as the country is a world leader in bilingual education. Compared to the traditional language learning method, children who learn through the immersion method are able to master and speak both languages more naturally. At MapleBear, children learn to listen, speak, read, and write in both English and Mandarin by being 'surrounded' with conversation and instruction in both languages. Its curriculum also has a strong focus on bilingual language and literacy. At the end of Senior Kindergarten, students are able to communicate in both English and Mandarin effectively, as well as basic reading skills in both languages. MapleBear graduates are also equipped with beginner's writing strategies.
MapleBear Preschool's full profile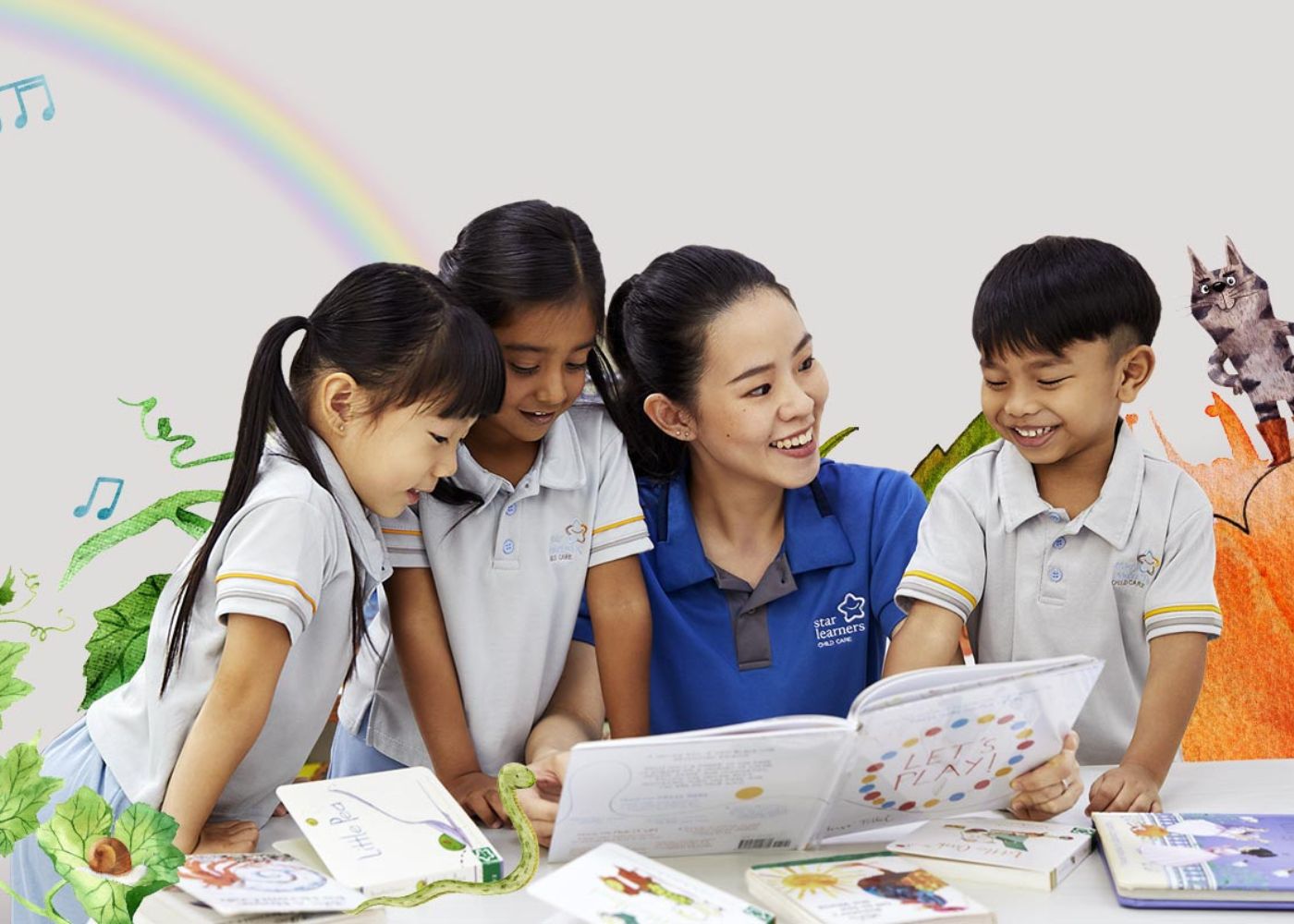 Literature-based approach
Full day or half day options
43 locations across Singapore
Childcare/Preschool
With 20 years of experience in the child care space, you can count on Star Learners to support your child's early years development. Its unique literature-based curriculum immerses every child in rich and exciting worlds, opening up a world of opportunities for them to tackle concepts in multiple learning areas. This curriculum features the distinct and proprietary Starbeam Framework, designed to nurture Happy learners, Empathic thinkers, Respectful, confident communicators and Open collaborators. Stories in this curriculum are also thoughtfully curated from children's literature around the globe, where concepts are and skills are presented through story elements. But that's not all, this curriculum is integrated with a robust activity-based approach, where children can learn a multitude of essential skills: problem-solving, creative and critical thinking, as well as communication. This is a preschool that's committed to raising a generation of children with strength of Character, Confidence, and Creativity. Star Learners is also the largest appointed partner under ECDA's Partner Operator (POP) scheme, which means your child gets quality education at an accessible and affordable price!
Integrates globally recognised pedagogies in its curriculum
First and only preschool network to be certified by The Institute for Habits of Mind
17 centres around Singapore
With so many awards up its sleeve, it's no surprise that Mulberry Learning is so popular with families in Singapore. The award-winning preschool uses a holistic curriculum, featuring a blend of globally recognised pedagogies: Habits of Mind, Reggio Emilia, and Multiple Intelligences. In fact, it's the first and only preschool network in the world to be certified by the Institute for Habits of Mind for using its proprietary framework. What's so great about this framework, you ask? Habits of Mind is used to develop intelligent thinking skills among children. It has also been adopted by Singapore's Ministry of Education in its Gifted Education Programme for primary school students. But the curriculum isn't the only impressive feature at Mulberry Learning – have you seen its Reggio-inspired learning spaces?! There's the Discovery Cove, Art Atelier, Construction Piazza, and Imaginary Playscape. These spaces are designed to encourage children's self-expression, essential life skills, and growth in a fun, immersive setting. Don't believe us? Just check out Mulberry Learning's cool campuses located in 17 convenient locations throughout Singapore!
Mulberry Learning Centre's full profile
IB-certified preschool
Five campuses islandwide
Starting age: Eight months
Children are directors of their own learning at Odyssey The Global Preschool. It follows a combination of Reggio Emilia-inspired and IB PYP approaches to offer children a truly global preschool education. Each of its five campuses feature learning environments conducive to self-directed learning, encouraging children to explore and interact with the environment around them. Odyssey also has a low teacher-child ratio – one to four for toddler classes; one to six for Nursery 1 and above. These are the best-in-class pedagogues, all of whom are part of a prestigious team of passionate educators, including curriculum specialists, designated full-time Chinese language teachers and specialist teachers in Art and Music.
Odyssey The Global Preschool's full profile
Inquiry-embedded play-based teaching approach
17 preschools and four infant care centres
Starting age: Two months
This bold, vivacious, and inspiring preschool is here to prepare children to be Challengers of the Future. The Schoolhouse by Busy Bees (formerly Pat's Schoolhouse) has been a household name in Singapore for more than 30 years, offering infant care, preschool, and childcare services. The preschool follows an inquiry-embedded play-based teaching approach, allowing children to acquire new skills and knowledge through play. It's also known for being a pioneer in offering a Bilingual Immersion Core Curriculum, where teaching plans are co-created by the English and Mandarin teachers. The Schoolhouse by Busy Bees also makes music a central part of the day by incorporating it into all of the learning areas, facilitated by in-house music specialists. The STEM programme, which combines science, technology, engineering, and mathematics, plays a huge role in nurturing critical thinking skills in its students through collaborative and problem-based activities. Enrichment programmes like swimming, soccer, golf, ballet, and taekwondo are also available in selected centres too. Parents who are interested can sign their child up for a one-month immersion programme to see if the preschool is a good fit.
The Schoolhouse by Bus Bee's full profile
Enrichment programmes available
Starting age: 18 months
Seven locations islandwide
Brighton Montessori believes that every child learns at their own pace. As such, the preschool's curriculum is designed to facilitate each child's individualised learning pace. Following the Montessori philosophy, each centre's learning environment is purposely built to motivate children to explore, interact, and learn independently. Children benefit from hands-on learning approaches in all of their lessons, be it in Phonics or Mathematics, which equip them with the necessary skills for primary school and beyond. Enrichment programmes like Intensive Chinese Immersion and Kidz Fun Discovery are offered to all children, which start after their morning classes. It's also worth noting that Brighton Montessori values strong parent-school partnerships and practises an open door communication policy with all parents. With that, parents can be assured that they will be kept informed about their child's progress and wellbeing in school.
Brighton Montessori's full profile
Choose between International and Singapore preschools
Immersive bilingual curriculum
Starting age: Two months
EtonHouse International School and Pre-School is one of the most trusted education providers in the country. The group runs eleven standalone preschools nationwide that fall under two categories: International preschools and Singapore preschools. Whichever school you enrol your child in, they'll stand to benefit from EtonHouse's highly personalised education approach and unique Inquire.Think.Learn curriculum, which is inspired by the Reggio Emilia approach. It is the only school in Singapore that partners directly with Reggio Emilia and is part of the international network of Reggio Children. EtonHouse is also well known for its bilingual programme, being one of the first few preschools to introduce bilingual education in early childhood. Selected preschools even offer the rigorous Zhonghua Mandarin Immersion Programme where children are fully immersed in a Mandarin environment all day long. Your child will also enjoy learning in the preschools' beautiful classrooms and studios, guided by specialist teachers in physical education, visual art, and even robotics. Book a tour to visit the nearest EtonHouse Pre-school today!
EtonHouse International School and Pre-School's full profile
Holistic and child-centred approach to learning
Fosters character development through The Virtues Project
Starting age: Two years
St. Joseph's Institution (SJI) International has expanded its legacy-rich educational offering to nurture young minds through its new Preschool. SJI International Preschool takes over the former Maris Stella Kindergarten, a preschool that's equally rich in history and dedicated to shaping young ones through the power of love. Using a holistic and child-centred approach to learning, the Preschool nurtures the whole child: physically, socially, emotionally, spiritually, and intellectually. Its curriculum is thoughtfully designed to ignite curiosity, promote critical thinking, and cultivate a lifelong love for learning in children. The Preschool also uses The Virtues Project to foster character development. Virtues are integrated seamlessly into the preschool's daily activities, making character education an integral part of its curriculum.
St. Joseph's Institution International Preschool's full profile
Award-winning preschool
Relationships-first approach
High quality and affordable preschool
At My First Skool, positive relationships matter. The preschool uses a relationships-first approach, fostering lasting bonds between teachers, parents, and children from day one, which empowers them to become socially confident learners. What this means is that My First Skool equips children with the social competency to navigate different situations, a crucial skill to prepare them for a lifetime of growth. Children aged four to six are exposed to intriguing, everyday topics through the preschool's inquiry-based projects. This helps them to understand the world they live in and the role they play in the community. The preschool also teaches children essential everyday life skills, such as counting money when making purchases, to ease their transition into primary school. My First Skool's curriculum and innovative teaching practices are well recognised, too, having won over 50 awards and with 37 centres that are awarded SPARK Commendation awards.
Pedagogy based on clinical research on child development
Unique and effective bilingual curriculum
Literacy-based curriculum
Did you know that 93% of Little Skool-House's children have high bilingual proficiency in both Mandarin and English? It's no wonder that it's one of the top choices for families here. In fact, Little Skool-House is the chosen preschool by prestigious institutions – eg. Ministry of Education, OCBC Bank, etc. – to provide preschool education for their staff's children. The preschool uses a relationships-based curriculum to develop strong relational skills in children, nurturing them into confident and independent learners. Unique learning programmes like Builders & Innovation project and weekly journal-writing are conducted in both Mandarin and English to boost its students' bilingual skills. These programmes provide children with exposure to current affairs as well, which sparks thoughtful conversations on everyday topics and helps them develop into global citizens. Little Skool-House also has a fun Mandarin Theatre programme that allows children to write, produce, and star in their own shows! Last but not least, the preschool preps children for the 'big kids' school through its special Primary School Formation programme, which further cements their learning in Maths, the Sciences, sharpens their communication skills, as well as social and emotional skills necessary for success in primary school.
Little Skool-House's full profile
Preschool with multi-award winning experiential curriculum
Strong bilingual immersion programme with hands-on learning approach
Infant care and preschool
Full day and half day options
Little Paddington Preschool is a bilingual childcare centre that treasures every child's unique talents and nurtures them to grow. Every child's natural curiosity and confidence is ignited through hands-on learning, exploration, and discovery at the centre. On top of phonics, mathematics, and bilingual literacy and language programmes, Little Paddington also offers Atelier programmes of United Nations, STEAM, art, music, cooking, and imaginative play. All these work together to help children maximise their potential. Children also get an immersive natural learning experience with the centre's vast outdoor spaces. This includes sensorial zones, playground, water play, sandpit, gardening, and even school pets! Plus, Little Paddington is known for providing excellent primary school preparation. Its Mandarin Immersion Programme follows the MOE syllabus, and lessons are infused with interactive. It also runs an Advanced Programme for Primary Preparation to develop vital skills and instil confidence in children for their next big step. Not forgetting the importance of wellbeing, Little Paddington places dedicated emphasis on social-emotional development, pastoral care, and fostering strong parent-school partnerships through daily communications too.
Little Paddington Preschool's full profile
Preschool and childcare
Coworking space available for parents
Starting age: 18 months
Imagine dropping off your little one at their preschool and working just a few steps away from them. Sounds great? Then Trehaus School is the perfect preschool for your family! This Silicon Valley-inspired preschool and childcare is situated close to the Central Business District of Singapore, making it super convenient for families to get to. The preschool uses its proprietary curriculum, Little Projects, which is a super fun project-based programme designed to raise future-ready changemakers. It also draws from five leading pedagogies in its approach to education, namely the Reggio Emilia, Montessori, Bronfenbrenner's Ecological Systems Theory, Somatics, and Respectful Caregiving to create a child-led curriculum adapted to meet the needs of each individual child. At Trehaus School, educators aim to nurture all aspects of the children such as adaptability, resilience, and empathy — all of them essential qualities for thriving in our ever-changing world. Plus, with the school's one-to-five teacher-student ratio, teachers can offer tailored assistance more effectively in order to help them succeed. Last but not least, parents can join Trehaus' Business Club to enjoy a dedicated adults-only work area while being an integral part of their child's early learning journey.
Unique Musical Arts Programme
First Montessori-based infant care in Singapore
Infant care, childcare, and preschool
Not only does Josiah Montessori have an impressive history of educating children in the Montessori approach for the past 25 years, it's also the first Montessori-based infant care in Singapore! This childcare and preschool believes that all children are unique – as such, it allows students to learn unhurriedly at their own pace. Its infant care service, Josiah Babies, provides parents and little ones with a calm environment and an atmosphere filled with tender loving kindness. Babies will benefit from the school's Montessori Moments activities that aim to maximise every child's potential through close observation. Upon entering toddlerhood, children will be exposed to the preschool's unique curriculum – called The Josiah Way – which has been perfected over time to suit every child's individuality and modern day expectations. The preschool also includes its very own Musical Arts Programme into the daily lessons of N1 to K2 students, teaching them Dance, Singing, Classical Music Appreciation, Speech and Drama as well as Arts.
Josiah Montessori's full profile
Finnish HEI preschool curriculum
Spacious 10,000 sqft flagship childcare centre
Infant care, childcare, and preschool
Imagine learning in a beautiful and fun environment that's comfortable and stress-free – that's exactly what My Learning Haven offers its students! This preschool is the first in Singapore to incorporate Finland's HEI School Curriculum Toolkit into its lessons, which encourages children to be active agents in their own learning and development. Even its Playrooms (what My Learning Haven calls its classrooms) are designed according to the Finnish Preschool Model! Students will also benefit from the bilingual learning environment at My Learning Haven's Language Playroom, where they learn a new vocabulary, engage in hands-on exploration, learn to count, and dance to music according to the month's theme – in both English and Mandarin at the same time. Last but not least, the preschool has two centres at Suntec City Mall and Mediapolis, with the latter providing infant care services. It's conveniently located for parents and offers lots of space for kids to learn and explore!
My Learning Haven's full profile
Preschool and Up
Full Day
8.20am-3.40pm (Mon – Thurs)
8.20am-2.50pm (Fri)
Sir Manasseh Meyer International School (SMMIS) is a not for profit, child-centred school that offers an intimate pre-school inspired by the principles of Reggio Emilia. Open to children from 2 years old onwards, its low student-teacher ratio ensures each child receives individual and nurturing attention. Learning through play provides opportunities for children to learn as they discover, create, improvise and imagine. And the state-of-the-art campus supports this, with its indoor, sensory gym carefully designed for pre-school as a safe environment to develop fundamental motor skills and facilitate fun! A key part of the SMMIS experience is making friends across different nationalities and cultures through shared activities and interests. As such, the school is imbued with the vibrancy of Jewish values, tradition and culture, yet nurtures a diverse community that welcomes students of all nationalities and faiths.
Nursery and up
8:30am-3:30pm
As a leading IB school in Singapore, Canadian International School offers the Primary Years Program from nursery. CIS pioneered the STEAM approach (Science, Technological, Environmental Studies, Arts and Mathematics), an interdisciplinary system which allows students to think creatively and innovatively and explore solutions in a safe and supportive learning environment. The school has two campuses located a short walk away from Jurong Lake at Lakeside (Nursery to Grade 12) and Tanjong Katong (Nursery to Grade 6) in the East with its Outdoor Discovery Centre, furthering its commitment to inquiry and play-based learning.
Canadian International School's full profile
Infant care/Child care
Half-day/Full-day
7am-7pm
Raffles Kidz International nurtures and inspires children to be life-long learners through an exploratory and purposeful play approach to learning. They are a multi award-winning premium pre-school brand from Singapore with many parents providing favourable testimonials and recommendations to families looking for the right school. Starting their first center in 2014, the school has since expanded to 4 centers with most centres running a full house. The school integrates the Montessori and Inquiry based approach to learning while offering a bilingual curriculum that caters to the holistic development of the whole child. Many parents also appreciate the seamless transition into primary school as the school helps to build a strong academic foundation in core subjects like Literacy and Numeracy. Lessons are carefully tailored and taught by passionate and well-trained teachers. The school's innovative learning environments at each center have also been carefully designed for children to be active agents in their learning.
Raffles Kidz International full profile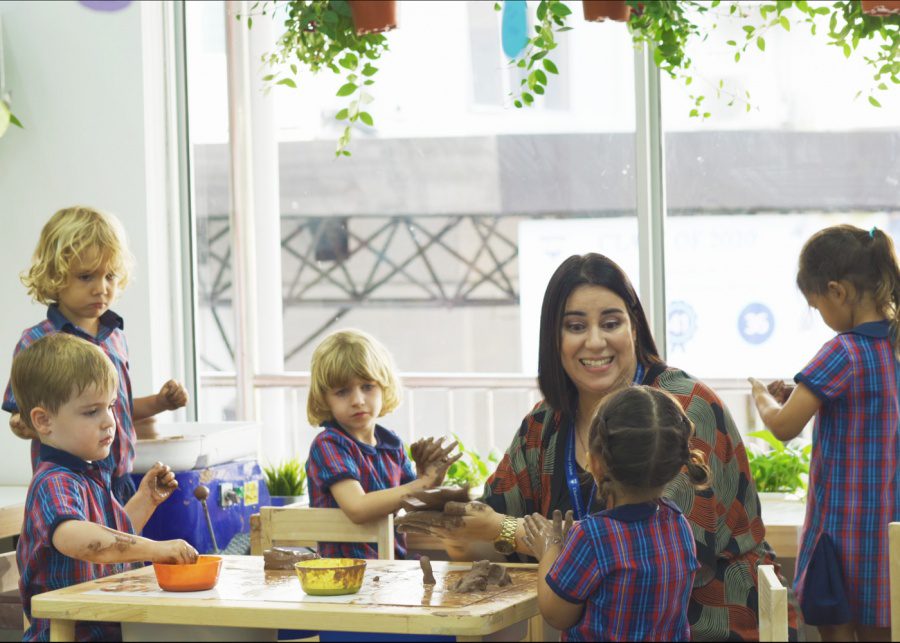 Preschool and up
9am-3:30pm
Chatsworth International School is an internationally-minded community of students, academic and support staff, collaborating to provide a holistic learning experience. With a mission to Inspire, Educate & Enlighten, Chatsworth is an IB World School that teaches the Primary Years Programme (PYP) for children aged three through to 11. Children in the Junior Years section are placed in a student-centred, inquiry-based learning environment. The school offers stand-alone subject lessons in Physical Education (PE), Music, Library and Mandarin. It also has an extensive English as a Second Language (ESL) Program to help students master the English language.
Preschool and up
Full day
9am – 12:30pm
As a global and international school, GIIS values a holistic approach to learning, promoting happiness among the students to nurture life-long learning. GIIS cultivates an environment that maximises development and delight through well-lit, open spaces and numerous school facilities including Montessori labs and even a toy library; the internationally renowned GIIS Nine Gems model, including self-learning, peer-learning and group learning; and a motivated and enthusiastic staff. With each student's experience tailored to their individual preferences and capabilities, GIIS employs the best practices to cultivate their students from preschool and beyond to become tomorrow's leaders.
Playgroup/Preschool and Up
IB PYP
Half-day/Full-day
8am-3pm
GESS – International Preschool caters to students from 2 years to 5 years within a purpose-built preschool home where there are age-appropriate facilities ranging from outdoor play areas, visual atelier, preschool library, music rooms, sports rooms and more! All activities are child-centered and give students the freedom to influence the flow of learning with their own questions, curiosities and areas of interest. Its teachers are experts in listening to the children and adapting the programs to make it relevant to the children's experiences in the world at any given point! The preschool curriculum is built on the IB Primary Years Programme (PYP). Children will be exposed to an inquiry-based learning environment with focus on language, mathematical, scientific, artistic, and physical disciplines.
Playgroup/Preschool
Three or five-hour sessions
5pm, Contact the school directly for schooling hours
Dedicated to providing children with an environment that values long term emotional and intellectual growth since 1999, Invictus International Preschool (formerly White Lodge) has since flourished. Incorporating the theories of High Scope, Reggio Emilia and Howard Gardner into its teaching guidelines, the school places tremendous importance on creative education for young children. Invictus offers a range of programs for children aged 1.5 to 5.5 years. Each centre is equipped with a library, outdoor play equipment, and facilities for water and sand play.
Invictus International Preschool full profile
UWCSEA is a mission-driven school with a passionate belief in the importance of education as a force for good in the world. Its infant school program starts at K1 for children from ages four to seven. Inspired by the Reggio Emilia philosophy, the program combines the best of academics, outdoor activities and social education. Its campuses are well-equipped with facilities like rope courses, pools, several fields and even student accommodations. UWCSEA is a not-for-profit organisation and has 15 schools and colleges located around the world.
UWC South East Asia's full profile
Infant care/Child care
Half-day/Full-day
7am-7pm
With a guided inquiry-based approach, the curriculum at KiddiWinkie Schoolhouse strikes a balance between play and school-readiness. At KiddiWinkie Schoolhouse, curiosity is often seen as the first step of being a lifelong learner. Through a creativity-inspired curriculum, along with an engaging and intriguing environment, children are always on a journey of learning discovery. While the programme focuses on the holistic development children and equips them with 21st century soft skills, bilingualism is also a significant aspect – with a 50% ratio of English and Mandarin.
KiddiWinkie Schoolhouse's full profile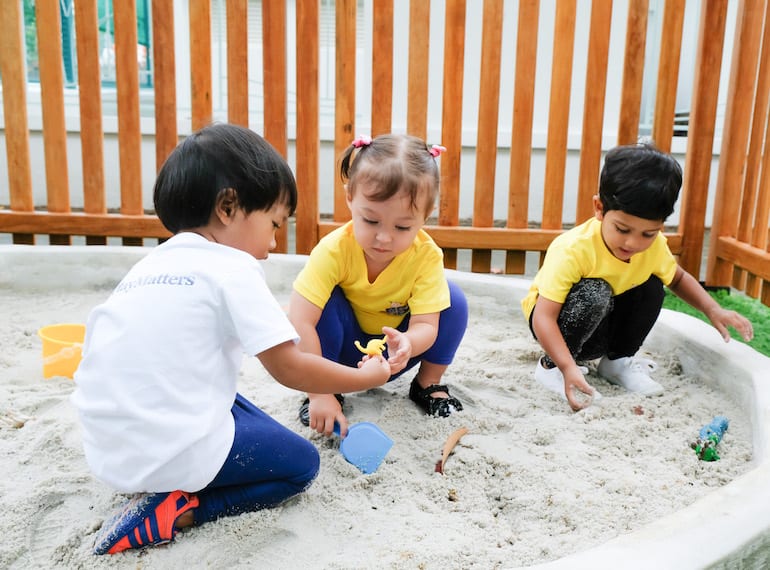 Playgroup/Preschool and up
Half-day
8:30am-12:30pm
The first boutique international school in Singapore, Integrated International School (IIS) has just announced its new Reggio Emilia inspired drop-off program, Little Tykes for toddlers aged 1.5-3.5 years old. Based in IIS's safe play atelier, facilities like the enchanted teepee, sensational sandpit and the amazing Ocean Snoezelen sensory room allow toddlers to learn through an exploratory multi-sensorial approach. Little Tykes even has an immersive bilingual program with a dedicated Mandarin teacher. As one of two international schools in Singapore offering both Mainstream and Support approach for kids up to 16 years old, IIS "redefines success" for students by taking into account their multiple intelligences and encouraging individuality. Keep an eye out as well for the new playgroup, Tea & Tots for babies eight to 18 months.
Infant care/Preschool
Full-day
7:30am-7pm
With over twenty years in the business, Learning Vision makes it a point to put the children first, creating spacious learning environments that promote independent exploration and a School Readiness Programme for Kindergarten 2 children to be ready for primary school. Staffed by experienced and passionate staff, parents can be sure their children will develop literacy and math skills while also learning to work independently and with peers instead of relying solely on teachers for instructions. There are several centres scattered about the island offering different programs, so there's sure to be a program near you that suits you and your child.
Learning Vision's full profile
26. KidzRock
Preschool
Half-day/Full-day
9am-5pm
KidzRock International Preschool prides itself on being one of the first full-fledged Special Education Preschools in Singapore, offering a mainstream play-based curriculum with an array of special learning programs. These are tailored to teach children with learning disabilities by using their strengths, and assessing them through observation and setting academic goals specific to each child. Your child can be sure to get the attention they need with the incredibly low student to teacher ratio of 3:1. KidzRock also offers opt in speech and occupational therapy services to assess children's abilities and requirements to enhance their skills. Plus, the kids get to visit the best class pets ever – horses!
Playgroup/Preschool
Half-day/Full-day
9am-3pm
What more can we say about this inspiring campus? Other than its picture-perfect view (complete with horses!), clean and airy environment and the warm Pantry for parents to meet up and have a coffee, Blue House, Singapore's first Reggio Emilia-inspired nursery is just about any child's dream come true. Children will get the attention they need from the low student to teacher ratio and be engaged in enrichment lessons in sports, music and dance and Chinese, not to mention art lessons from onsite professional artists. For those with tiny tots, The Blue House Infant & Toddler Ateliers offer parent accompanied classes and drop in slots for children from 6 to 36 months.
Blue House Nursery and International Preschool's full profile
Preschool
French (Mon, Tues, Fri)/English (Wed, Thurs, Fri)
8:30am-3.15pm
La Petite Ecole is a bilingual French/English school established in Singapore in 2012, and accredited by the French Ministry of Education. Together, teachers who are native speakers of French and English cover the French national curriculum for children aged 2.5 (N1) to 7 years old (G1). All nationalities are welcome in this truly multicultural school, where both local language and culture are embraced. The school places the child at the core of the learning process: they play, build, learn and develop their self-awareness. A unique and innovative pedagogical system promotes the independence, curiosity and motivation of the child.
La Petite Ecole's full profile
Preschool/Enrichment
1.5-4h
8.30am-12.30pm
BibiNogs believes that learning happens naturally when activities are fun, hands-on, multi-dimensional and related to children's lives. Warm, fun and engaging activities and environments will make children learn naturally and enthusiastically. With programs for kids starting from six months, BibiNogs has a variety of Bilingual and Mandarin adult-accompanied programs and drop-off programs for babies and toddlers, a Kindergarten for preschoolers, and enrichment programs that bring out the passion for learning in Mandarin and English for children of all ages!
Preschool
Half day/Extended Half day/Full day/Mixed
8.30am-5.30pm
Shaws Preschool is one of the first play and activity based preschools in Singapore, and one of the longest running preschools in Singapore. Shaws Preschool has classes for children from 18 months to six years. It follows a project-based curriculum where teachers let students take the lead on a subject and help them to explore the subject in detail. The school also offers a Sports Program, Reading Program, Creative Mathematics, and a bilingual program in English and Mandarin for the pre-nursery class. Shaws Preschool has three campuses on the East Coast near Marine Parade.
Infant care/Student care
Half-day/Full-Day/Flexi
8:30am-5pm
When it comes to family, Ichiban Montessori's definitely number one. Offering a comprehensive thematic curriculum at subsidised fees, this Montessori school not only covers topics to build awareness about the self and the world, but also gives kids plenty of opportunities to share and exchange this knowledge during Show and Tell. There's even a kid-gym with kid-sized exercise bikes – talk about stimulating!
Preschool
Half-day/Full-day
8:30am-4:30pm
Equipped with a purpose built PlayGarden and situated near a quiet neighbourhood playground, Early Years Montessori has been in this location for over ten years. Children aged 2½ to six years are allowed to explore topics covered in the curriculum through project-based learning as active and engaged learners. Acquiring literacy and language through activities and technology, children are given a multilingual and multicultural education.
Preschool
Half-day/Full-day
Half-day: 8am-12pm/1.30pm
Full-day: 8am-3.30pm
As a school offering Montessori sessions with full bilingual immersion, The Little House guides children to become confident learners unafraid to tackle challenges, as well as thoughtful, considerate and polite children able to resolve disagreements peacefully. With 15-16 students ranging from 2½ to six years old in each year, parents love this little school for how their kids thrive, as well as the caring and observant teachers and how they provide support through resources and feedback for parents just as much as they provide support for their children. The school also offers extra-curricular activities such as aikido, speech and drama, robotics and music.
Infant care/Childcare/Preschool
Half-day/Full-day/Flexi
7am-7pm
Just Kids offers a wealth of culturally and developmentally appropriate learning opportunities, just for kids, through active exploration and sensorial activities. Children will be able to take on a self-directed project every term to become comfortable with questioning, learning and working in a group. The staff understand their role as language role models who value children's talk and encourage children to express themselves through talk.
Childcare/Preschool
Half-day/Full-day/Flexi
7am-7pm
Modern Montessori offers students a modern Montessori curriculum, designed to facilitate learning for children aged 18 months to six years (PG-K2). The subjects include Mathematics, Phonics, Sensorial Education, Cultural, Practical life, and languages, all taught using the Montessori techniques. MMI believes that all children want to learn, and when given the freedom to explore, they become active learners. Adopting a child-centred philosophy, lessons are given individually or in small groups, encouraging each child to develop at their own pace. MMI has several branches across Singapore, including Marine Parade, Bedok, Katong, Pasir Ris, Jurong West and Jurong East.
Infant care/Childcare/Preschool
42 centres across Singapore
Half-day/Full-day
7am-7pm
Little Footprints Preschool provides quality childcare services to the community at affordable fees through its comprehensive curriculum that focuses on the holistic development of children. Lessons are integrated into a central theme each term across various learning domains while multi-sensory hands-on activities encourage children to observe, explore and experience their environment. Little Footprints strives to nurture every child into a civic-minded citizen, confident communicator, efficient problem-solver and independent thinker with a love for learning. Children also enjoy opportunities to participate in community projects with government agencies. Through these collaborations, they get to discover the world around them and learn from positive role models, which helps to inculcate good values in them.
Infant Care/Playgroup/Preschool
Half-day/Full-day
7am-7pm
Little Paddington Preschools and Infant Care is best known for its bilingual immersion program and its project-based inquiry curriculum. With its campus filled with facilities such as a petting zoo, science atelier and sensory garden, there's every possibility to discover the world around them. On top of that, children are able to explore their interests and strengths within a home-environment.
Playgroup/Daycare/Preschool
Half-day/Full-day
7am-7pm
Housed in a beautiful colonial black and white building off York Road, Lorna Whiston encourages outdoor play and creative development in children, building confidence through exploration and a thematically integrated curriculum. In addition to the one-on-one comprehensive individualised reading program, Lorna Whiston also offers English and speech and drama enrichment lessons for kids aged two to 16 years. Language is definitely not neglected with an English teacher and Mandarin teacher in every classroom to deliver a fully Bilingual Immersion Programme. Lorna Whiston has three other branches, two are located in the East with the newest branch overlooking the Kallang river.
Childcare/Preschool
Half-day/Full-day
7am-7pm
Named after Julia Gabriel's parents' home, Chiltern House strives to recreate the nurturing qualities of home, aims to nurture independence in children aged 18 months to six years, and to cultivate positive self-esteem and self-image as well as a love of learning. Children are able to explore their interests and experiment with the various learning centres and with small class sizes, children gain the full attention needed from teachers. Within the comprehensive preschool curriculum, Chiltern House has a dedicated Learning Support program for kids who require extra help.
Preschool
Half-day/Full-day
7am-7pm
Founded by a group of like-minded parents who believe in a holistic education and primary school readiness, Cherrybrook Kindergarten adopts the Montessori pedagogy to teach children aged 2½ to six years. In addition to the mixed-aged Montessori environment, children learn in specialised English and Chinese language classes with kids of the same age.
Playgroup/Preschool
Half-day/Full-day
7am-7pm
Camberley Pre-school considers every child a champion and fortifies their learning through an inquiry based curriculum, plus frequent adventures such as the weekly field trip to Jacob Ballas Children's Garden. In addition to a high-quality early years bilingual program, children aged 18 months to six years will be able to learn in an international environment with a low student/teacher ratio. Camberley also has premium facilities, including a custom built tree house themed playground and kitchen studio and sensory gardens. Local, expat and international students are welcome.
Infantcare/Playgroup/Preschool
Half-day/Full-day
7am-7pm
With two campuses all set in green surroundings, Da Little Preschool provides a positive and encouraging bilingual learning environment with hands-on and fun activities such as excursions, show and tell, messy art and hip-hop. Children aged 18 months to six years learn to interact through group activities, meet guided learning goals and make meaningful connections with their atypical peers.
Childcare/Preschool
Half-day/Full-day
7am-7pm
Nestled in between two tree-like wings of a stately house, Between Two Trees is the perfect environment to inspire and nurture young minds. The sister school of Between Two Trees Early Learning School, B2T uses a Reggio Emilia inspired approach to give children the opportunity to work on their own projects and interweaves their interests with more structured learning in languages and math. In addition to a trampoline, sand and water play spaces, B2T also has an edible garden perfect for cultivating some little green thumbs.
Infant care/Preschool
Three-hour / four-hour / Extended
8:30am-3pm
With close to thirty years of experience, Montessori Children's House offers two programs: the Infant Community which is for children aged 1½ to three years, and Casa which is for children aged three to six years old. One of the few authentic Montessori learning environments in Singapore, MCH has classes of mixed ages and allows children the freedom to work at their own pace within a prepared environment.
Preschool
Half-day/Full-day
Half Day: 9am-1pm
Full Day: 7.30am-1pm/9am-3pm
Pibo's Garden Playschool offers kindergarten programmes for the expat community. With a focus on developing children's love for learning through play, little ones are engaged through multi-sensorial activities and experiences in a cosy, home-like environment.
Childcare/Preschool
Half-day/Full-day/Flexi
7am-7pm
As a school embodying "growth and development" both in name and in spirit, Pariposa Preschool is a classroom without borders, allowing its students to learn through self-directed learning and heuristic and messy play. As the first childcare centre to offer LEGO Robotics, language through Messy play and Picto Grams to learn art through process-based learning, Pariposa is dedicated to providing its students with the freedom to learn. Children aged 18 months to six years will definitely thrive in this unique experiential learning environment, fortified with ample outdoor play and nutritious, balanced meals.
Preschool
Half-day/Full-day
8am-6:30pm
Pegasus International Preschool (PIPS) cultivates interest and inquiry based learning within a bilingual environment. Through its expansive classroom and outdoor play area, children are encouraged to gather information through all five senses to associate play with learning. PIPS also offers Japanese as a second language along with a host of other programs such as Cookery, Sports and Fidgets Play Time. By working hand in hand with trained therapists from Kaleidoscope Therapy Centre located on the floor above, PIPS promises to hone children's natural learning habits from 18 months to six years of age.
Parent-accompanied/Preschool
Flexi
8:30am – 3:30pm
From outdoor playtime to morning gardening sessions, The Garden House's garden is a permanent and important fixture in the school's emergent curriculum. Using a Reggio-inspired program, The Garden House structures lessons around the child's pace, instilling a love for learning and investigating their interests and ways of expressing themselves through art and drama. What's more, you can be sure your child will be getting 100% organically grown meals either freshly-picked from the garden or bought from organic farms in Singapore. This little green preschool also offers two parent accompanied programs for infants aged 15 months to three years, and for infants aged six months and up.
Infant care/Preschool
Half-day/Full-day/Flexi/Emergency
7:30am-7pm
Sunflower Baby's curriculum incorporates the Multiple Intelligences and aspects of the Montessori approach, placing emphasis on locally-developed music programs to help children acquire a love for Chinese through music. The school even has programs for toddlers and babies that caters for their need for locomotion and communication through yoga, simple vocab and sign language. Sunflower Baby also makes sure parents are kept in the loop with daily observation records, bi-annual parent-teacher meetings and "Coffee Talk" for parents to admire the children's artwork and observe classroom interactions.
Preschool
Half-day/Full-day
9am-4pm
Swallows and Amazons recognises that the classroom is a dynamic learning environment and through an Inquiry based learning approach, children are encouraged to express their individuality with group work, arts and crafts, solving puzzles, writing stories and cookery. Other than the pre-nursery and N1 to K2 programs for children aged 18 months to six years, they also run daily Extra Curricula Activities from 1:15pm to 2pm which include a variety of sports for children aged three and above.
Playgroup/Childcare/Preschool
Half-day/Full-day
7am-7pm
Little Wonders Montessori has been home to young students and passionate staff for more than ten years. In addition to cultivating a love for languages through calligraphy and Tang poetry, Little Wonders makes use of Montessori materials to facilitate learning and discovery and supplements learning through enrichment lessons of Speech and Drama and a comprehensive music program.
Childcare
Half-day/Full-day
7am-7pm
Workplayz Montessori's cosy environment lets children feel right at home to mix with children of different ages and use Montessori materials, instilling confidence and a drive to learn. Children have plenty of opportunity to learn practical life skills such as baking and gardening, and they go on regular field trips.
Playgroup/Preschool
Half-Day/Full-day/Flexi
7am-7pm
Loveshine's love for children definitely shines through in its Montessori and thematic learning curriculum. Each child is given the space to freely express themselves and explore as well as participate in guided lessons in Music and Movement, Cookery, Art and Crafts and field trips. Loveshine's global outlook on education encourages children to question and implement prior knowledge to carry out project-based investigations.
Childcare/Playgroup/Preschool/Student Care Centre
Half-day/Full-day/Flexi
7am-7pm
From just five students in 2001, Amazing Star has grown to five branches, two of which are situated in the West. Children are able to carry out their own hands-on, self-directed learning under the watchful eye of a qualified teacher and go on excursions centred around a theme. At Amazing Star, children get the chance to develop fine and gross motor skills through sensory activities such as dough and waterplay.
Playgroup/Preschool
Half-day/Full-day
7am-7pm
Just as an orange tree grows oranges, The Orange Tree implements all-rounded individual learning programs to ensure children develop to become bright and competent individuals. By providing a bilingual curriculum with native English and Chinese speakers and a holistic Book-Based Literacy Programme, children are nurtured to become confident bilinguals.
Playgroup/Preschool
Half-day/Full-day
7am-7pm
Greenfield Montessori has adopted the Ministry of Education's Preschool Education Branch framework into the curriculum, combining subjects to show children how they are related. Children tackle thematic based subjects through project-based work using both Montessori and Non-Montessori materials and this hand-on approach helps children with phonetic analysis, word attack skills and reading.
Preschool
Three-hour sessions
8:30am-3pm
HANIS Learning Centre's mission is to provide an innovative, creative and fun learning environment for Muslim children, encouraging total development in terms of emotional, spiritual and physical aspects. It is a pioneer in Arabic Montessori and Malay Montessori and covers the full Montessori curriculum as well as the Islamic Curriculum. HANIS Montessori Kindergarten's Super Wonder Kids Program is designed for children aged three to six years and classes are held five days a week. The school has a comprehensive duniawi and ukhrawi syllabus and organises monthly thematic excursions that are enriching for children.
Playgroup/Workgroup/Enrichment
2-3h classes
8:30am-3:30pm
Tulip Montessori has planted its roots a stone's throw away from Yew Tee MRT, providing playgroup and workgroup programs for children anywhere between three and a half to seven years old. The staff are well-equipped, not just with a good education, but with a passion for nurturing children. Tulip Montessori aims to build children from the ground-up through Montessori activities, giving them the ability to tackle reading and writing in both English, Chinese and Hindi with confidence.
Childcare/Preschool
Full day
7am-7pm
Apricot Academy offers childcare for infants and toddlers, and preschool sessions for children above 18 months. Its bilingual centres combine features from project-based learning, multiple intelligence curriculum and elements of the Early Childhood Education program. Enrichment lessons include language lessons, speech & drama, abacus and swimming. Apricot Academy offers full-day programs from Mondays through Fridays. It has a tiny tots and smart toddler playgroup for children from 18-36 months and offers nursery and kindergarten to children aged three to six.
Childcare/Preschool
9am-11am
Established in 1991, Talent Plus now has 90 branches and 26 years of experience in children's education. The school offers a playgroup for children from 18 months to three years of age. Through a combination of Montessori training and Thematic Learning, the school has developed a fun-filled holistic curriculum that includes different topics, like sea creatures, zoo animals and road safety. Talent Plus has several branches across Singapore, including Marine Parade, Pasir Ris, Tampines and Bedok.
Kids won't be leaving any stone unturned after experiencing the inquiry and integrated curriculum from Summer Montessori. Through Montessori methods, children learn teamwork and hygiene and express themselves confidently through talking, reading and writing and aren't afraid to question and explore to discover facts on their own. Children can internalise musical kinaesthetic appreciation and to build on children's creative expression and exploratory skills through music and movement lessons.
Preschool and up
3.5h
9am-3.30pm
Yuvabharathi International School offers both Montessori and a self-developed Kindergarten course from K1 and 2 to Grade 12 of the Central Board of Secondary Education (India). The Montessori curriculum places emphasis on enquiry based learning and initiating inquiry by encouraging self-directed learning and providing guidance instead of solutions. Activities are integrated with thematic learning and consolidated through discussions and group activities in Circle Time; Tamil or Hindi is offered as a second language.
Infant care/Childcare/Preschool
Full-day
7am-7pm
Since 1995, Agape Little Uni has strived to show agape or unconditional parental love to the children, collaborating between parents, teachers and children to identify and nurture a children's budding talents. Agape has stayed relevant all these years through constant evaluation and revision of the curriculum but has continued to allow children to explore topics and relevant experiences using inquiry-based learning.
Childcare
Half-day/Full-day
7am-7pm
Iman Kindergarten's top priority is to provide a holistic education that is fun and engaging. An award-winning school with long-serving staff, Iman's curriculum is in line with the latest Early Childhood Development Agency (ECDA) guideline, focusing on developing thinking skills and multiple intelligences in students. Iman also runs enrichment classes for speech and drama and a reading clinic.
Childcare/Preschool
Flexi/3h sessions
Contact the school directly for schooling hours
Dreamkids Kindergarten has big dreams for children to develop socially as well as intellectually. Dreamkids' curriculum involves customised learning complete with future-ready skills such as public speaking, STEM education, coding and financial happiness. It offers several reading and phonics programs to develop an early mastery in languages as well as parent-accompanied Mandarin immersion programs for children aged 18-36 months. Its programs include playgroup for toddlers aged 18-30 months, N1 and 2 for children aged three to four and K1 and 2 for children aged five to six.
Childcare/Preschool
Half day/Full day
9am-3pm
Ripples Montessori has been providing quality preschool education since 1996. The school has a small boutique feel and a flexible approach to teaching, adapting to meet the varied abilities and interests of each child. Using the philosophy and principles based on the Montessori method of education, Ripples Montessori aims to shape children into well-rounded individuals who are kind and socially responsible. The school's curriculum is tailored to include practical life exercises, sensorial training, communication, language and literacy, Mathematics and cultural subjects. Ripples Montessori offers a playgroup for children aged 18 months to 2.5 years, N1 and 2 classes for children aged 2.5 years to four years, and K1 and 2 classes for children aged four to six years.
Infant care/Childcare/Preschool
Half/Full day/Flexi
7am-7pm
Babyplanet is a quality infant care facility managed by specialists trained in Early Childhood Education. It offers full day, half day as well as flexi-care programs for infants aged two months and up. Babyplanet also has a preschool for children from 18 months-six years, Planet Montessori, which has a successfully integrated Montessori curriculum, offering half day and full day programs. Planet Montessori focuses distinctly on topics such as Culture and Science, Practical Life, Mathematics and Mandarin. There is also ample opportunity for outdoor play.
Preschool
Half day/Full day
8am-2.30pm
PSSMK started in 2003 with a passionate goal of facilitating early childhood development through hands-on experiential learning in a mixed age environment. The school has adopted an innovative approach, combining the best features of the Montessori training with the contextual, investigative approach of Project Work. Teachers use creative teaching materials, interactive games, stories and songs to make learning an extension of play. The teacher-to-children ratio is capped at 1:10 so contact time is maximised. The school offers a morning and afternoon session of three hours each from Monday to Friday. Both branches are located in the East at Bedok and Simei.
Preschool
Half day/Extended Half day
8.15am-3.30pm
Montessori For Children believes in creating a 'stress free' environment, placing its students in classes of mixed ages from 2.5 to six years of age and keeping them in the same class until they graduate. Younger children can learn by observing their older classmates who, in turn, reinforce their own understanding of topics by helping the little ones. The school has specially designed Montessori classrooms with a 'prepared environment', which allows children to learn at their own pace and builds self-motivation. Montessori for Children has two branches in Singapore, one of which is in Katong.
Playgroup/Preschool
Three-hour / six-hour / full day
Contact the school directly for schooling hours
Pink Tower Montessori aims to educate children through Montessori principles and fostering the holistic development of its students. The school creates individual lesson plans for each child and adjusts to their pace. Pink Tower Montessori also incorporates a Bilingual Immersion Program and Primary One Preparatory Program into its curriculum. The school offers a playgroup and N1 to K2 programs and boasts an excellent teacher-student ratio and a high-quality learning space.
Preschool
Half day/Full day
7am-7pm
If you are looking for a school with strong Christian ties, then Charis Montessori might be for you. Bible stories are made fun and relevant through songs, dance and drama and children have the chance to express themselves during circle group discussions and the year-end concert. All core subjects (Phonics/English, Mathematics and Mandarin) are taught one-to-one or within small groups using Montessori materials. The school also has opportunities for imaginative play, where kids can dress up in costumes and play with toys like building blocks and mini supermarkets.
Playgroup/Preschool
10:00-11:30 (Playgroup)/9am-12.15 (Nursery)/9am-1pm (Kindergarten)
What first started out as a playgroup in 2003 with a common goal to promote Waldorf education in Singapore, Waldorf Steiner Education Association Singapore has now expanded to a nursery and kindergarten. The association prizes careful and conscious study of children as well as a comprehensive understanding of the child through all developmental stages. The program comprises of free play, circle time, bread making, craft making for parents, story time (using handmade props and puppets) and snack time. The preschool provides a home-like environment where children are encouraged to participate in free-play as well as meaningful activities such as crafts and baking.
Childcare/Preschool
Full day
7am-7pm
MY World Preschools was founded by Metropolitan YMCA and has been nurturing students since 1980. It offers quality child care and preschool education that emphasizes character development and building strong values in its students. MY World uses a special 'spiral' approach, revisiting old concepts and skills as new ones are learnt. It adopts a learner centric and inquiry-based approach and offers programs for children from two months to six years – these include infant care, playgroup and N1-K2.
Preschool
Half-day/Full-day
7am-7pm
Part of the EtonHouse International School family, the spacious and modern Islander Pre-School is a relative newcomer set among the lush greenery overseeing the Sentosa Golf course. Children from 18 months to six years old are absolutely seen as individuals here, and will benefit from teaching methods created based on every child's holistic requirements. There's plenty of sunshine both in and out of the classroom, and if you're looking for a strong bilingual program, little learners are taught daily both in English and in Mandarin.
Preschool
Half-day/Full-day
9am-2pm
Quayside Isle Preparatory School (QUIPS) is an International Primary Curriculum (IPC) based school which implements an enquiry-based approach for small students aged two to seven years to learn through play. Through a low student-teacher ratio and strong bonds with the Sentosa community, QUIPS strives to nurture Creativity, Confidence, Compassion and Curiosity in all of its children and stimulate self-discovery and growth. Little ones are absolutely encouraged to express themselves, and to further their interests at weekly field trips and fun and stimulating in-curriculum Special Programs including Library and Zumba.
Infant care/Playgroup/Preschool
Half-day/Full-day
7am-7pm
Since 2010, Children's Cove has opened its doors to locals and expats alike, enrolling children from the age of two months to six years. Children's Cove balances indoor and outdoor experiences along with an effective bilingual integrated learning approach focusing on children-guided play-based learning, project and inquiry. By implementing Home-School partnerships, the educators are able to plan experiences and facilitate learning and development suited to each individual child.
Children's Cove's full profile
77. The Preparatory Place
Childcare
Half-day/Full-day
7am-7pm
Looking for a home away from home? The Preparatory Place promises to provide high quality education and service. Through an inquiry-based approach and project work, teachers expand on children's interests and offer learning environments that provide opportunities for in-depth experiences as well as purposeful play.
Taking open-air classrooms to a whole new level, Little Bunnies – The Outdoor Classroom has everything a little bunny aged two to three could want, a fresh garden to grow and harvest fresh veggies, shady spots to listen to stories and have a snack, and a pond to watch the fishies swim about. Located in Infinite Studios at Mediapolis, if parents don't feel like joining in the fun, there's plenty of cafés about for them to enjoy a nice cuppa while the kids are off being kids.
Preschool
Four-hour / Enrichment
9am-3pm
With its high teacher to student ratio, Pearlbank Montessori gives each child that passes through its doors the education they need. Integrated into the well-thought out curriculum that encourages creativity through the arts, children of different ages and nationalities learn together and from each other during Montessori sessions to independently explore Mathematics, Language and acquire practical life skills. What's more, their knowledge is fortified by discussions with teachers.
Preschool
Half-day/Full-day/3h Montessori
7am-7pm
Seedlings Montessori Alexandra is a learning centre that provides children with intellectual, emotional and social experiences through the incorporation of the Montessori Method of Teaching into a thematic approach. Seedlings has three centres catering to children 18 months to seven years and offers Montessori Programmes for children one to six years old. The Reading Scheme helps the children to be engaged in the individual reading process and learn at their own pace. Seedling also teaches Soroban mental arithmetic and art buzz with a strong emphasis on visual art and computers.
Preschool/Enrichment
Half-day/Full-day
8:30am-1pm
Milagros de Montessori is where a journey towards excellence begins. Milagros prepares a top quality Montessori environment for children aged 18 months to six years to develop independence, and all Montessori education materials are imported from Italy and Holland. The two NIDO and CASA programs provide children with the head start or focus needed on specific subjects and the CASA curriculum for children aged three to six years offers Chinese Malay and Tamil as the Mother Tongue language. In addition, Milagros offers both Saturday Montessori Enrichment programs and holiday programs.
Preschool
Half-day/Full-day
7am-7pm
First opened in Tiong Bahru in 2008, Arts Kidz has made an impact with its focus on the arts and specially designed curriculum. Fronted by an international team of enthusiatic and driven Mandarin, Japanese and Korean native speakers and specialist arts teachers, children receive the creative outlet necessary to improve academic learning.
Infantcare/Childcare/Preschool
Half-day/Full-day
7am-7pm
As a centre that believes in leading by example, Bambini Montessori encourages tolerance, self-control and teaches social skills through collaborative mixed age groupings. Kids from as young as two months are introduced to the Montessori curriculum with at least a two hour work cycle, plenty of free play and a strong Mandarin syllabus. BM has a curriculum with Catholic values and strong virtues as well as a small student to teacher ratio.
Childcare/Preschool
Half-day/Full-day/Flexi
7am-7pm
Arts Junior Montessori is a multicultural preschool popular among Japanese and accepts children between one and six years of age. The founder, Misugi Momoyo, has international qualifications in Montessori Education in both Japan and the United States and has developed a program that focuses on the joy of learning. In addition to the Montessori curriculum, Arts Junior conducts violin lessons taught through the "Suzuki method" and offers inclusive extra-curricular activities such as Aikido and soccer and the "π-Club (pie club)" for children in kindergarten as well as primary school.
Infantcare/Playgroup/Preschool
Half-day/Full-day
7am-7pm
Superland Montessori has an integrated Montessori–based curriculum that aims to instill a passion for lifelong learning and develop resilience by acquiring practical life-skills. With specially designed classrooms to encourage learning and an open-door communication policy, Superland ticks all the boxes for a well-rounded, hands-on approach to learning.
Playgroup/Preschool
Half-day/Full-day
7am-7pm
As Singapore's first inclusive preschool, Kindle Garden works towards creating a personalised learning environment of rich diversity where every child grows in virtue and knowledge. Kindle Garden's inclusive policies recognise every child's abilities and makes understanding the first priority when learning through the project approach. Children are not only supported by a team of educators and allied health professionals, Kindle Garden also involves parents in their child's process through parent conferences, field trips and take-home tasks. Indoor and outdoor play areas are also fully wheelchair-accessible.
Childcare/Preschool
Half-day/Full-day
7.30am-7pm
LeClare Preschool occupies its own little patch of heaven with its rooftop adventure park and jungle gym, trampoline and pool play area. As a Reggio-inspired school, LeClare believes the environment is the third teacher for children aged 18 months to six years to explore and construct their own learning. LeClare has also adopted an Integrated-Inquiry approach and a bilingual curriculum as well as a strong emphasis on the arts in the environment such as The Open Space, The Recycling Centre and specialist lessons LeClare Art and LeClare Music.
Infantcare/Playgroup/Preschool
Half-day/Full-day
7am – 7pm
Since 2011, House on the Hill has been a centre that promotes professionalism, openness and curiosity so that to the child, every day is a special day. As a partner of Nienhaus, the world's leading brand of AMI-approved Montessori materials, House on the Hill implements a strong Montessori curriculum with a focus on self-guided hands-on learning. Even the food's great with the nutritional value of the school's menu endorsed by Ian Marber, an independent nutritionist and co-founder of 'The Food Doctor'.
Playgroup/Preschool
Half-day/Full-day
8.30am-1pm
Brainy Child offers lessons to children aged 18 months to seven years, including weekend playgroup sessions, both parent-accompanied and unaccompanied, as well as enrichment classes and holiday programs for children already enrolled in a preschool. Not only is the staff dedicated and well-educated, ready to provide high-quality education and care suited to each individual child, but they also cover second language needs in Mandarin and Japanese for international students.
90. Halifax Montessori
Playgroup/Preschool/Childcare
Half-day/Full-day/Flexi
7am-7pm
Started in 1996, Halifax Montessori Childcare Singapore aims to develop well-rounded, responsible children who are able to adapt and be resilient to the changing environment. Along with its prime yet serene location near the Kampong Java Lotus Pond, the school presents a bilingual environment that ensures children are exposed to both academic and cultural activities and the classroom is stocked with materials that changes to suit the curriculum theme.
Childcare
Half-day/Full-day/Emergency care
Full-day: 7:30am- 7pm
Half-day: 7.30am-1pm
Enfant Educare's curriculum has it all in one, the thematic approach is integrated with the Montessori and project approach and includes Multiple Intelligences activities for children aged 18 months to 6 years. Children are also able to explore different arts and cultural activities such as dramatic play, puppets and enrichment activities such as Kindermusik, dance and abacus.
92. Heartfield Kindergarten
Preschool/Enrichment
Half-day/Full-day
8.30am- 4pm
Every day is a new day at Heartfield Kindergarten with a theme-based integrated curriculum full of surprises and offering a variety of activities to meet the children's sensory needs. With a healthy dose of both garden play and free play in addition to circle time, this is truly a free-form learning experience that promotes fun. Plus it has partnered with Sportball SG and a practising artist to provide interesting and stimulating extra-curricular activities.
Starting age: Two years old
9am-12pm (Nursery); 9am-3.30pm (Kindergarten)
Overseas Family School (OFS) is one of the pioneers in the Singapore international school scene. The OFS Kindergarten offers the International Early Years Curriculum (IEYC), which is an innovative, research-based curriculum that recognises global trends and best practices in early childhood education. Building on your child's natural curiosity, the programme allows for a combination of both child-initiated and teacher-led learning experiences, with children learning through enquiry and play-based approaches. As the Kindergarten focuses on the total growth of the developing child, taking into account your child's physical, social, and emotional well-being, the school also offers specialist lessons in Information & Communications Technology, Music, Physical Education (gym and swimming), Library, Cooking, and Languages (mother tongue or foreign language).
Overseas Family School's full profile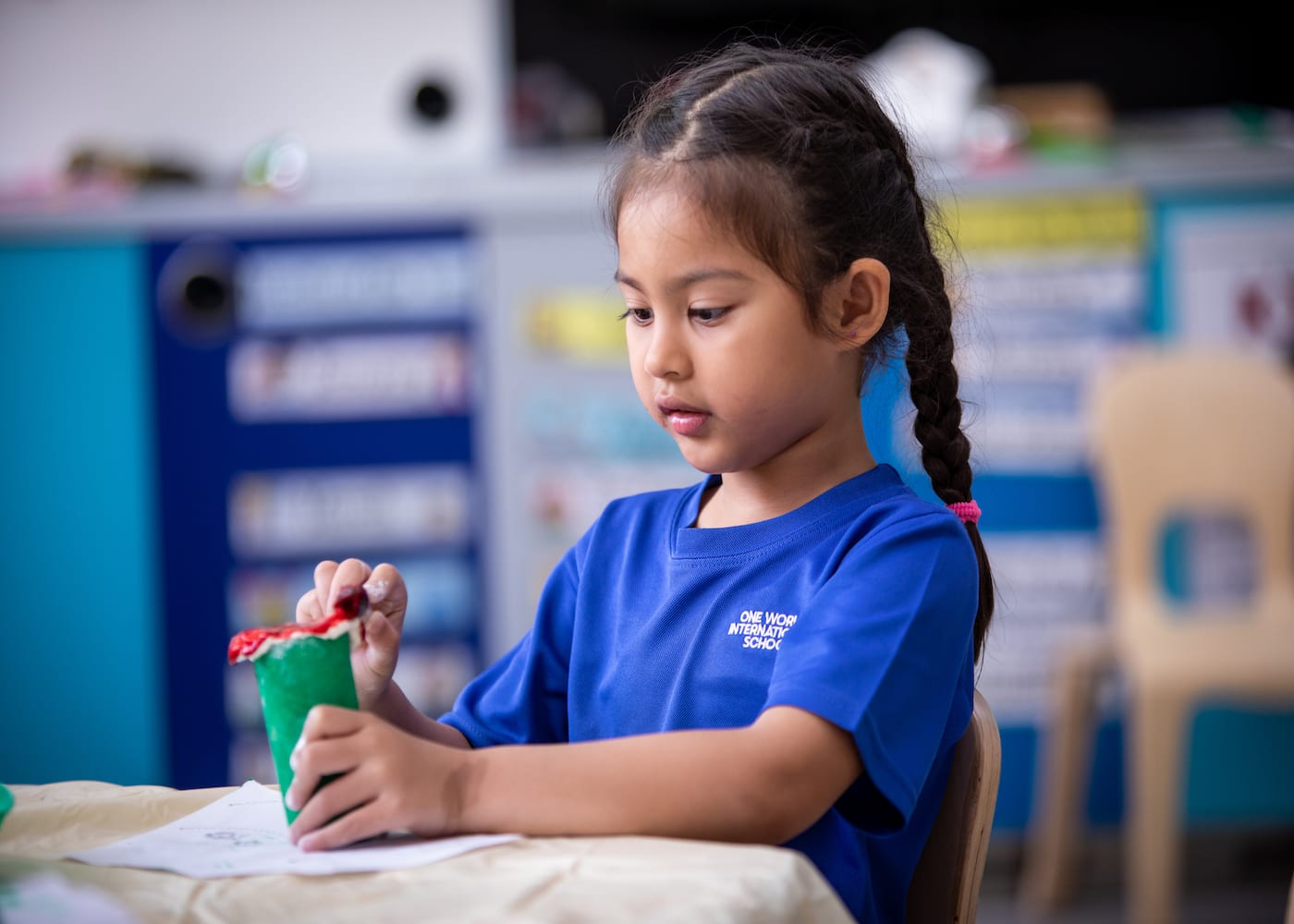 Preschool
Half-day/full-day
9am to 3.30pm
Are you a fan of OWIS' kind culture? You'll be pleased to know that it now has its own dedicated facility in the East, created specifically for young learners. Uniquely designed to meet the needs of early childhood students, it also follows a play-based learning approach anchored by the English National Curriculum that includes Music, Movement and Art. We love the fact that the school has smaller class sizes. It's a safe, secure and fun environment kids will look forward to seeing each morning!
One World Preschool Mountbatten's full profile
Preschool
Fulltime
10am to 4.30pm
The Grange International Preschool focuses on a play-based international curriculum (for ages two to six), so every child receives a holistic and future-focused education. The wall-less learning approach includes specialised learning blocks that equip your bub with relevant life skills. There's Young Chefs, Young Artists, Young Musicians, Young Sportsmen and Young Botanists – all of which foster thinking, social, collaborative and self-management skills; and encourage curiosity and confidence to explore. Thanks to its strategic location along Singapore's green belt, your little one will get to appreciate and understand their natural surroundings. There's even an eco-garden and farm with over 100 types of organic fruit and vegetable plots and edible flowers. Through a well-designed curriculum, kids can develop disciplinary and transdisciplinary skills with lotsa fun too! Perk: enjoy 20% off registration fees from now till 30 November 2021!
The Grange International Preschool's profile
Starting age: Three years old
Preschool
8am to 1.30pm
Say hello to the happiest place on the little red dot! The Singapore American School (SAS) Early Learning Centre is a Reggio-inspired preschool that respects young children as unique, capable, and curious learners. The teachers act as support and a resource for the children, always listening and asking questions to help the little ones discover their ideas and theories. A day at the Early Learning Centre involves lots of time to (you guessed it) play, discover, wander, and learn. The preschool also offers a Chinese class for all students as part of its language programme. Interested parents can sign up for the Early Learning Centre's upcoming Admissions Virtual Event to find out more about the programmes offered.
SAS Early Learning Centre's full profile
Forest School Programme available
Preschool
Starting age: Three years
Tanglin Trust School's Infant School is not short of recognition and awards. In addition to being the oldest British international school in Southeast Asia, Tanglin's Infant School is also the first in Asia to be awarded the Early Years Quality Mark and the Primary (Infant) Quality Mark, as well as the Curiosity Approach accreditation. But what does all this mean? It means that Tanglin's Infant School has an impressive Early Years Programme with results to prove it. In fact, the school's programme is so impressive that Lead British Schools Overseas Inspector Julia Coup said, "Tanglin is not just an outstanding school. It is an inspiring school." Coupled with the Curiosity Approach, the Infant School recently launched its Forest School Programme, which encourages children to explore and learn through authentic materials and the natural environment around them. By using the environment as the "third teacher" to support play, exploration, and wonder in learning, children can start developing their academic, creative, personal and social skills from their early years. As a not-for-profit school, all fees are devoted to providing outstanding education to students. Teacher-pupil ratio ranges from 1:7 in Nursery to 1:12 in Year 2, allowing teachers to give bespoke provision to each child. Last but not least, the school has a host of state-of-the-art facilities as well: from the Mud Kitchen, Water Play Areas, Music Shed, and playground at the Infant School, to new Infant Spaces and amazing facilities in the Tanglin Centenary building that will benefit the entire Tanglin community once it is ready in the next academic year. Interested parents can connect with Tanglin's Admissions Team via email at [email protected] or its website for application details.
Tanglin Trust School's full profile
Japanese-inspired education
International class available
Kindergarten and Nursery classes
With its original "Kids First approach" based on Japanese culture and behaviour practices, Coco-Ro Learning House is all about providing kids with the ultimate grounding for a happy and successful future. Established in 2012 and with over 230 sister branches in Japan, it's fair to say they are conscious and vastly experienced when it comes to teaching based on Japanese practices and values. Children will learn everything from core skills like the importance of respect, all the way through to Japanese dining values and etiquette. Meals are even provided by local Japanese restaurants to make for a truly authentic (and very yummy) lunch. But it doesn't stop there – students can also benefit from an extensive arts and sports program, with lessons planned and delivered by trained professionals. Kids are also encouraged to explore their individuality through activities like creative playtime, another big tick in our book.
Think the school only caters for Japanese students? Wrong! From August, the school is super excited to be launching two international classes so that all children from different age groups and nationalities can benefit from the above exceptional program, alongside experiential, creative and child-initiated play activities with an English-speaking teacher in the kindergarten.
Coco-Ro Learning House's full profile
Love the look of these preschools in Singapore? Check out these international schools too!