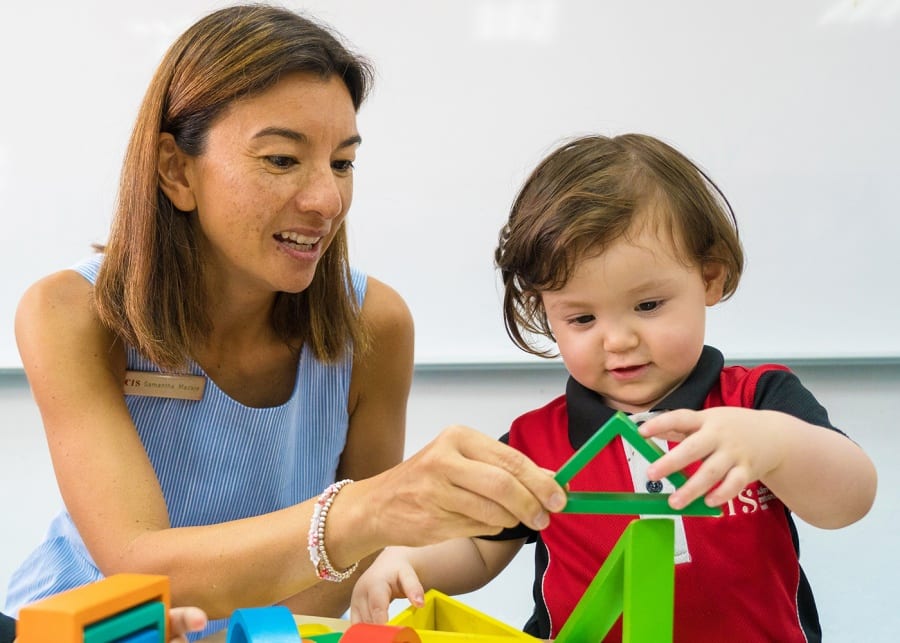 Canadian International School (CIS) is a leading IB world school in Singapore that offers the Primary Years Programme, Middle Years Programme and Diploma Programme for students aged 2 to 18 years. Over 3,000 students from 70 nations attend the school at its Lakeside campus (Nursery to Grade 12) in the West.
The Tanjong Katong campus will close in June 2023. Students enrolled at this campus will transfer to Lakeside in August 2023. Speak with our admissions team to learn more.
The school's passionate and highly trained staff strive to equip each student with 21st-century skills that enable them to thrive, exercise leadership, achieve ambitious and worthy goals, and to make a positive difference in an increasingly globalised world.
Bilingual programmes
At CIS, we value our community's linguistic diversity and are committed to promoting multilingualism. CIS's Chinese-English and French-English bilingual programmes are designed to allow students to be fluent communicators in both languages, providing them with an edge in an extremely competitive and ever-changing world.
Chinese-English Bilingual Programme
Available to our students in nursery through to Grade 6, the Chinese-English Bilingual Programme is fully aligned with the IB PYP and includes two qualified teachers per class: one native English speaker and one native Chinese speaker.
French – English Bilingual Programme
CIS offers a French-English bilingual programme to children in senior kindergarten to Grade 6. This programme is perfect for families who want their children to become bilingual, biliterate and bicultural in both English and French.
Key features of our bilingual programmes
Two fully qualified teachers for each class
A bilingual curriculum fully aligned to the IB Primary Years Programme
Equal exposure to both languages.
STEAM programmes
The CIS STEAM (Science, Technology, Environmental Studies, Arts and Mathematics) philosophy and makerspaces provide project-based learning experiences that challenge inquisitive minds, fuel innovative thinking, and create a culture of teamwork and collaboration. STEAM provides students with:
An engaging interdisciplinary approach that integrates the five areas of science, technology, environmental studies, arts and mathematics.
Innovative and enlightening learning experiences that are transformational, for both students and educators.
An inquiry-based approach that helps develop critical thinking skills and creativity, spurring innovation and invention. Students are empowered to take control of their own learning, preparing them to be problem solvers in the real world.
Watch this video of our new kindergarten wing which is due to be completed in January 2023.
Essential Information
Type
Nursery, Preschool, Primary, Secondary
Grades
Nursery, Kindergarten, Grades 1 - 12
Curriculum
IBDP, IBMYP, IBPYP
Language of Instruction
English
Foreign Languages Taught
English, French, Japanese, Mandarin, Spanish
Current School Population
3000+
School Hours
8:30am - 3:30pm
Demographic Breakdown
70+ nationalities are represented at CIS.
Nationality Restriction
None
Teacher to Student Ratio
3 - 6 years: 1:16 Early childhood to Junior kindergarten
7 - 10 years: 1:22 Grade 1
11 - 14 years: 1:24 Grades 5 to 8
15+ years: 1:26 Grades 9 to 12
Qualification Type
IBDP, High School Diploma
Facilities
Outdoor Discovery Centre, Indoor Learning Pods, Junior Aquatic Centre, Junior Lab, Bilingual Classrooms, Chinese Classrooms, Spanish Classrooms, Junior / Senior Playgrounds, Sand Pits, Science Labs, Academic Guidance Centre, 500-Seat Theatre, Drama Studio, Visual Arts Studio, Music Room, Arts Collaboration Studio, Aquatics Centre, Tennis Courts, Elevated Playing Field, Fitness Centre, STEAM Centre, Makerspace, Multimedia Lab, Gym, Basketball Courts, Nurses Station, Amphitheatre, Outdoor Classroom, Multi-storey library
Term Dates
15 Aug 2022 - Start of 1st semester,
25 January 2023 - Start of 2nd semester,
15 Jun 2023 - End of 2nd semester
What Sets This School Apart
At CIS, our aim is to empower students. To set them up to succeed in a world we can't yet see.
​​
1. A Student-Centric Approach
CIS has a culture of innovation in academic programming and thinking. Using a student-centric approach which ensures that programme development, curriculum and assessment are driven by what is best for our children and their learning, we provide facilities, learning spaces and programmes that simulate the real world, inspire curiosity, innovation and creativity, and encourage collaboration.
2. Making Connections
At CIS, students are taught how to think, not what to think. Learning isn't deskbound. Students are taught to become flexible and critical thinkers, creative in the way that they connect ideas and concepts, collaborative in their thinking and inspirational in their capacity to motivate others. They collaborate, they connect with the community and environment around them, and they search for solutions rather than look for the one 'right' answer. They are encouraged to build on their natural curiosity and develop strong communication skills that will enable them to connect with people both on a local and global level.
3. Instilling a Determination to Act and Achieve
CIS teaches students the value of resilience, giving them the confidence to pursue an idea from inception to completion, as well as providing them with the necessary skills to overcome the barriers they may encounter along the way. At CIS, students are instilled with a sense of drive, purpose and a determination to achieve.
4. 21st Century Success
Today's students are in a unique position; they are the first generation to face a world where exam results alone no longer dictate success. Success in a global environment more than ever before will require not only the ability to come up with fresh and original ideas, but the focus and dedication to turn those ideas into action.
Exciting New Developments
Our website will help you get a glimpse of what life at CIS is like. So, take the time to peruse our videos, magazine articles, social posts and parent testimonials to understand more about our community, academic programmes and campuses. Do also keep a lookout for our new kindergarten wing, due to open in January 2023.
School Culture
Engage. Enlighten. Empower. These words are the cornerstones of the Canadian International School's (CIS) mission and educational philosophy, and eloquently define our commitment to education and represent the aspirations we have for all student learning experiences, be it in the classroom or beyond.

At CIS, we celebrate both our internationalism and the uniqueness of each of the 70 plus nationalities represented among our students and staff. We believe in building a warm and inclusive community that welcomes different cultures and ideas. In encouraging a multicultural and multilingual environment, we are greatly enriched by this diversity. This brings people together to make exciting things happen – an environment that inspires the best in everyone.
Financial Information
Annual Tuition Fee
● Nursery (half-day) - $17,450
● Nursery (full-day) - $25,450
● Pre K - Grade 3 - $33,950
● Grade 4-6 - $37,900
● Grade 7-10 - $42,300
● Grade 11-12 - $44,200

For full details of all our fees, please visit our website.
Application Fee Refundable
No
Admission / Enrolment Fee
First child - $4,000, second child - $3,300; fee is waived for the third and subsequent child.
Building / Facility / Development Fee
NA
Parents Association Fee
NA
Discounts
CIS' sibling discount scheme offers 10% for the enrolment of a third child and 15% for a fourth child onwards. Discounts are applied to tuition fees only, and from the third child onwards. Sibling discounts cannot be combined with any other discounts or bursaries.
Programs Available
Extra Curricular Activities
CIS' activities programme includes competitive sports, extracurricular (paid activities known as ECAs) and co-curricular activities (free activities known as CCAs, available in secondary only).

It is divided into four core segments: Enrichment, Arts, Recreational Sports, and Languages, providing students with an opportunity to develop their passions and talents outside regular school hours.

Such activities provide students with the opportunity to connect with like-minded CIS friends from across different age groups, and, at times, with friends from other schools. Opportunities are wide in scope, and because of the demands made on their time, students learn about the concept of commitment and time management.

Participation in activities encourage our students to form an understanding of their peers, while developing skills that facilitate success in group or team environments. By trying out new things, students have an opportunity to be risk-takers, communicators and knowledgeable.

Activities that are run by external providers (who are leaders in their field), take place after school and on weekends in fixed time slots. They are offered in three seasons across the school year, and students sign up via an online registration system. Competitive sports, offered under the ACSIS league, also run year round.
English as a Second Language
Yes