Wondering what's on in Singapore this week? Check out these awesome things to do and family-friendly activities for a ton of fun with the kids this weekend! And psst - we've got some mid-week inspo too!
Your search for fun and kid-friendly weekend plans stops here because we've got your back! We at HoneyKids are always on the lookout for the latest happenings in Singapore to keep the kids busy over the weekend (and loads of weekday inspo to boot!), so you don't have to. Since more social distancing rules have been put in place, your long awaited family dinner out is once again postponed. But that doesn't mean you can't do other fun stuff! So, while you wait for restrictions to ease, have a look at what we've got lined up this weekend in Singapore.
Top things to do this weekend with kids in Singapore (and throughout the week!)
1. Hop on board The Japan Rail Fair
While we're all waiting for a travel bubble with Japan, here's something truly Japanese for the whole family to enjoy. This weekend, a fun-filled virtual fair is back for its second edition, and promises to bring passengers on yet another amazing journey! Organised by Japan Rail Cafe, the virtual Japan Rail Fair includes both free and ticketed live programmes over three days (16-17 and 23 October). They will span prefectures such as Akita, Kagoshima, Kanagawa, Aomori, Aomori and Tokyo. Plus, you'll get to immerse in food, drink, and culture during autumn – all via rail. Check them out for more details!
2. Celebrate the Festival of Lights at the Deepavali Open House
Deepavali is just around the corner, which means the most vibrant lineup of activities is in full swing at the Indian Heritage Centre. Until 14 November, catch the mesmerising mini light-up installation and snap a fab #OOTD pic. Then, post it on your social media with the hashtag #IHCDeepavali to win some money packet giveaways. For some more family fun, check out its free festival paper lamp craft, Little India Trishaw trails, Rangoli & Kolam workshop, and a paper garland craft workshop. If you need more info, give the Indian Heritage Centre website a visit. Enjoy!
3. Compete in the National Art Competition by Visual Arts Centre
Want to win up to $2,088 in cash rewards plus gift vouchers and hampers? Sign the kids up for this art competition stat! Titled "courage, hope and love in the time of a pandemic", this inaugural art competition gives tweens and teens a chance to create original artworks based on their reflections of the courage, hope and love that they experienced or felt during the pandemic. There are two age categories for kids to compete in. Group A is for kids between 7 to 11 years-old, and group B is for kids between 13 and 18 years-old. For more information on registration and competition guidelines, visit Visual Arts Centre's website. Hurry though because the competition ends this month!
4. Get spooked at Haw Par Villa
If your kids are after a larger-than-life day out, and you feel like ramping up the cultural escapades, then make a trip down to Haw Par Villa this weekend. Behind the colourful and slightly freaky statues are oodles of history that will knock the kids' socks off. After a long hiatus, the attraction finally reopened its doors in July. However, the highly-anticipated Hell's Museum, which previously was the infamous 10 Courts of Hell, is still under renovation. But, no worries because the rest of the park is equal measures of fabulous and gruesome! So, to get you fully prepped for your trip this weekend, we've prepared a comprehensive guide to Haw Par Villa. Go get your freak on and have fun!
5. Say hello to the new giraffes at Singapore Zoo
A sunny weekend calls for another day out at the zoo! Plus, the kids will definitely love to see the two new young Rothschild's giraffes hailed all the way from India's Mysuru Zoo. They've travelled a 22-hour inter-state road journey, a seven-day sea voyage, and made it through a three-month quarantine, in order to be here today. They're now hanging out at the giraffe exhibit in the park's Wild Africa zone, and they can't wait to meet you!
6. Roam around a new indoor playground
New indoor playground alert! The new Spring Rolls Trampoline Park at Forum The Shopping Mall is open, and it looks fantastic! While the trampoline park isn't huge, it has everything to keep the kids fully occupied so parents can get a breather too! Here's something very interesting about this new playground: it is fully automated! Yep, you heard that right. There won't be any staff here. Everything is self-service. All you need to do is tap your credit card at the front, and let the kids jump to their heart's content. But, here's a catch: kids can't re-enter for free once they exit. So, make sure they've got everything they need before going in. It's located at level B1 at Forum The Shopping Mall. Once they're done bouncing around, don't forget to check out the new Eggslut right next door if you haven't been!
7. Give paint a spin at Spin Paint House and create your own piece of art
Step aside regular paint art, we're going to try spin art this weekend! What is spin art, you might ask? Well, here's what we know so far. It features custom-built tables that allow canvases to be spun at high speeds using one's own energy with a hand crank. There are also swinging pendulums and trapezes. Plus, kids under 1m tall can use a wheel built just for them. This allows anyone to create amazing pieces of art! Spin Paint House is inspired by Instagram-famous artist Callen Schaub and his colourful spinning process that creates beautiful pieces. It's therapeutic to watch, but it's even more so to create one. So much fun!
8. Spend a fun Sunday at Tech Funday by KidsSTOP
Sunday Tech funday at KidsSTOP @Science Centre Singapore is happening this weekend on 17 October, yay! It's a parent-child programme that encourages the exploration of science, technology, engineering and maths through mission-based activities. This Sunday, from 2pm to 3:30pm, join its first challenge to create a miniature golf course. All you gotta do is control a mini robot and use the least number of strokes to create a miniature golf course. Once you're succeeded, swing by the gallery for some more play time! We'll see you there!
9. Solve mysteries at Old Changi Hospital virtual escape room
Take on the role of paranormal investigators this weekend to uncover all the mysteries surrounding the haunted Old Changi Hospital in this halloween event of the year! The whole experience is virtual, and you can book your tickets on their website. If you'd like to take it up a notch, opt for the secret agent VIP experience, where you get to add a side of real-life escape room to your virtual gameplay. But, this in-person experience is only happening on Halloween weekend of 29-31 October. So, for now, let's walk down the eerie halls of Old Changi Hospital and solve some murder mysteries online with your whole fam!
10. Participate in a kids' virtual race
October is all about kids. And because of that, Standard Chartered Singapore is organising a kids' marathon, happening from 16-31 October, for the little ones to compete with each other in Singapore and all around the world. Titled 'Make it a Family Affair", the virtual event will allow kids to take part in two races: a 2km and 4km race. All parents gotta do is sign the kids up, strap on some sturdy running shoes, and get them outside. If they'd prefer to hop on a treadmill instead, that works too! Or, if running isn't their thing, they can also walk or jog. Whatever it takes to complete the distance! For more info, check out the Standard Chartered event page. Have a good sweat, kiddos!
Wait, there's more! BONUS THINGS TO DO THIS WEEKEND IN SINGAPORE!
11. Check out the new Bukit Gombak park in the West
Attention residents of the West! There's a brand new park that's just opened in your 'hood! Get ready to trek up a flight of 108 steps and take in the breathtaking forest and green views surrounding Bukit Gombak park. When you reach the highest point of the park, you'll find a butterfly garden, home to over 20 species of butterflies! Let's swap AC for some fresh air, and let the kids frolic around the breeziest and greenest play area, equipped with a slide integrated into the terrain. And don't leave Fido at home – the furkid can roam around the 480sqm dog run. Fun!
12. Visit PinkFong Baby Shark (Halloween edition) at S.E.A Aquarium
The kids' all-time fave cartoon character Pinkfong Baby Shark is back with his fin-tastic friends for some Halloween fun at the Aquarium. In this special edition, kids will have a blast going trick or treating, and hunting down the candy ambassadors. While doing that, they'll be able to bop to the beats of 'Baby Shark' down the musical walkway. They will also get a chance to learn and re-learn all the fascinating facts about sharks, as well as tips on how to develop sustainable habits and conserve the environment. There will be a family interactive multiplayer game for the whole fam to challenge themselves as well. And as always, remember to take some eerie wefies with the shark family in their cute lil Halloween costumes!
13. Visit Museum of Ice Cream
It's official: the Museum of Ice Cream Singapore is now open in Dempsey Hill! You've no doubt seen this candy-pink attraction sprinkled all over your Instagram feed already (pun intended). This is a pretty exclusive import to Singapore, with the original (and only) Museum of Ice Cream being based in NYC! We've already explored its 14 never-before-seen installations, dedicated to the celebration and experience of enjoying ice-cream! We give a big thumbs-up to the dragon playground, the pink and yellow jungle with 10,000 bananas, and the largest MOIC sprinkle pool ever created. The experience lasts up to 90 minutes, and yes, there's ice-cream tasting stations dotted throughout (which we think is the best part of the tour!). Tickets sell out fast, so be sure to grab yours!
14. Take a virtual vacay with the family
While we can't promise a stamp in your passport anytime soon, you can give the kids a treat with a virtual vacay this weekend. How about visiting the ancient sights of Peru via You Visit's 360-degree virtual tour? Got animal fans? Check out Wild Earth which hosts live safari drives on their Twitch stream, so you can get up close with hyenas, lions, elephants, lions and more. Or, how about seeing the sights of Japan with the Japan National Tourism Organization's VR movie and its YouTube playlist? We say order takeout sushi for this one too!
15. Have a go at Origami with these free downloadable kits!
How about trying a new craft this weekend? We love the free downloadables available from Canon's Creative Park website. There are loads to choose from and resources suitable for all ages (even the grown-ups!) – it's also quite addictive once you get the hang of it!
16. Treat the fam to the best cookies this weekend!
Nothing can beat a cookie – so if you think your weekend could do with a special treat, look no further than this list of delish cookies to surprise the fam. Chewy, gooey, soft, crunchy, chocolatey, even stuffed – we've got them all covered!
17. Scoot your worries away at these scoot-friendly spots
Want some outdoorsy fun? Pack the scooter and head off to one of these fab scooter-approved destinations. It's perfect for getting the kids active this weekend! From Punggol Waterway Park in the east to Jurong Lakeside Garden in the west, there are fab spots to scoot all over Singapore!
18. Get the kids clued up on Chinese culture with Uncle Ting!
Sun Yat Sen Nanyang Memorial Hall have got some super interactive (and educational!) online resources if you're looking for an easy win this weekend and are keen to stay home. You can download and print these booklets and let the kids embark on an adventure with Uncle Ting. From exploring Chinese food to opera and calligraphy, there's something for all!
19. Check out the Children's Biennale 2021 at home!
If you haven't checked out the National Gallery Singapore's Children's Biennale yet, then add it to your list of things to do this weekend! The site is full of fun online activities and games for kids to explore, including immersive animated stories and digital art-making. You'll get to see the work of renowned local and international artists before it hits the gallery walls later this year too!
20. Try one of these pram-friendly walks!
If you want to get out this weekend for a bit of fresh air and have bub in tow, then opt for one of these pram-friendly walks. We've picked 15 of our favourites, from the heights of the Southern Ridges to nature spotting over at Pasir Ris Park Mangrove Boardwalk! There's something for everyone, and you don't need to worry about those pram wheels – winner!
21. Get baking with the kids!
Another great (and yummy) indoor activity to keep the kids occupied this weekend is baking. We've been busy putting together a list of 25 of our fave baking recipes for you to tackle. There's everything from a super easy Nutella mug brownie (with only three ingredients needed) to the ultimate scone recipe. Looking for healthier options? We've got that covered too. From guilt-free apple muffins to sugar-free baking delights and savoury treats. It's fair to say you'll be cooking up a storm in no time!
22. Indoor exercise ideas for all the fam!
Rain stopped play, or just keen to stay home? You can still keep the kids active with these indoor options to get you working up a sweat. From Cosmic Kids Yoga to GoNoodle, there are some brilliant online YouTube videos and apps to get the little ones (and you!) moving!
23. Online storytelling and craft-making session with Gateway Arts Kids Club
Stuck for ideas this Saturday? Gateway Arts Kids Club is bringing a heap of activities to your living room so you can rest easy. At 10am, there's the "Look What I Made!" in-person arts and crafts session at Gateway Theatre. Then there's online streaming of storytelling sessions every Saturday at 10.30am. Saturday morning activities, sorted!
24. Dine out (at home!)
If heading out for dinner is tricky, you can still avoid the washing up and order in this weekend. There's everything from comfort food options (much needed this week) to fam-fave pizzas – yup, we've got the intel on all the best takeout deals to see you through the weekend!
25. Hit the beach!
How about exploring a new beach? From dog-friendly (and as pretty as a picture) Tanjong Beach to going back in time over on Pulau Ubin. Or get away from it all and hit the beach at St. Johns Island. Whatever you decide, remember to pack the sunscreen and bite spray (and, of course, be mindful of social distancing!)
26. Explore Rainforest Lumina at Singapore Zoo
The fun for kids doesn't have to stop at sundown. Let them experience a multi-sensory journey, melding nature and technology, that expertly captures the natural sights, sounds, and scents of the rainforest at night. Teach them how to appreciate nature and protect wildlife through interactive play, a symphony of lights, and beautifully orchestrated music. Other highlights to look forward to this year include a digital thunderstorm conducted by Bob the playful otter, dazzling laser displays on the Luminous Pathway, and thousands of sparkling pixel lights at the Shimmering Islands.
27. Admire the installations at ArtScience Museum
Here are some good news for museum-hopping parents: ArtScience Museum has a range of family-friendly artworks to explore at Future World! Step into Inverted Globe, Giant Connecting Block Town, where interactive art turns into a vibrant cityscape with every move. Watch the kiddos have fun playing with cars, trains, planes and other vehicles projected on this virtual city! Are the little ones obsessed with aquatic life? Check out the Sketch Aquarium, which lets them put pen to paper. Their creations will be brought to life as digitally rendered underwater animals, as if by magic. Keen to explore? Enjoy 30% off exhibition tickets with a free Sands Rewards Lifestyle membership card!
28. Take bubs to a soft play
All kids love an indoor play area, but sometimes the littlies of the gang are overlooked. We've compiled a list of tot approved play places to make sure that's the case. After the complete list for older siblings? Check out our fave indoor playgrounds in Singapore. Then read our survival guide for parents to ensure you leave with your sanity intact!
29. Catch a blockbuster
What to do today? Cinema time! So what social distancing and safety measures can you expect? Although there is increased capacity, you'll still, of course, need to wear your mask at all times. Want to know what's hitting the screens? See our guide to all the best family films coming out in 2021.
30. Explore a new playground!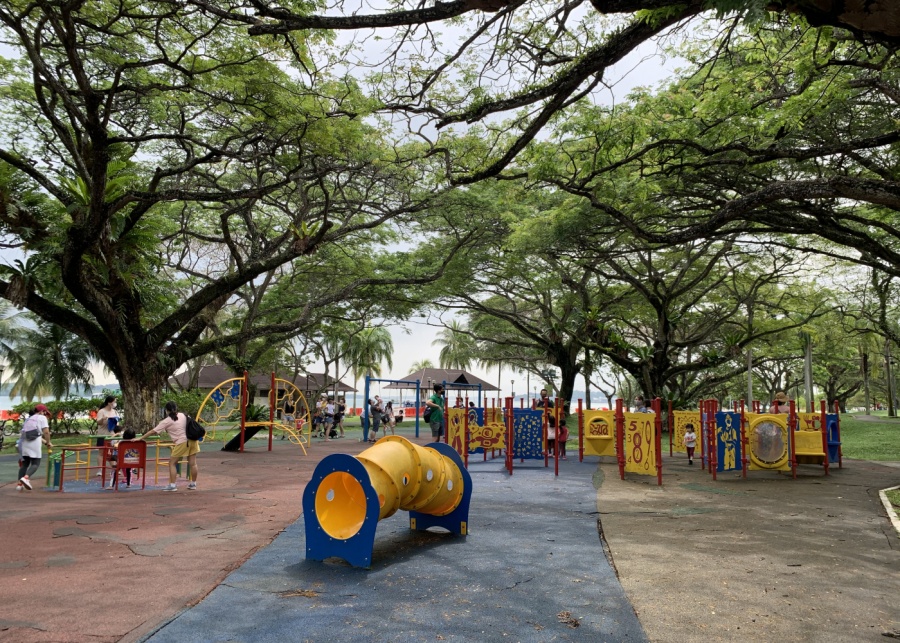 This is one thing we LOVE to do in Singapore – playgrounds. Wondering where to go? Check out our guide to the best parks for kids in Singapore, and then let them enjoy all that fresh air. Don't forget the sunscreen! Come to think of it, don't forget the mozzie repellant either…
31. Go swimming
Why not take a quick dip with the littlies? We've also pulled together a guide on our fave public pools. Don't forget to check out our guide to where to buy the best kids' swimmers so you can get all the gear. Psst – check ahead to confirm re-opening plans with individual facilities to avoid disappointment!
32. Raid the shops
Need to escape the rain or heat? Head to one of our fave shopping malls in Singapore and treat yourself, we think you deserve it!
33. Hang out with the grandparents
If you ask us, our kids should be hanging with the Grandies almost every day of the week (even though they drive us nuts sometimes!). So, we've put together a list of all the fun things to do in Singapore with the seniors – the kind of family-friendly activities that won't have them wilting in the Singapore heat, but will keep the kids busy too!
Here's a little reminder about the changes as restrictions tighten:
Groups of up to two are allowed to meet (and only two visitors are allowed to your home).
Likewise, dining out for groups of up to two are permitted, so long as everyone's fully vaccinated!
Large-scale events may resume at 1000 attendees capacity (fully vaccinated), or 50 attendees (with pre-event testing).
WFH is still the default mode.
And lastly, traveling is now possible to certain countries via the Vaccinated Travel Lanes!
For a comprehensive list of all the changes in rules and regulations, please visit MOH website.
Don't forget to practise safe distancing!
To do your part and stay safe, you'll still need to limit close contact, maintain hygiene (keep washing those hands!) and continue with the safe distancing. In essence, wear your mask at all times when you leave the house, and stay at least one metre away from others.
Whatever activities you decide to do with the kids this week, have a good one, folks. And watch this space for more fun things to do this weekend!