Wondering what's on in Singapore this week? Check out these awesome things to do and family-friendly activities for a ton of fun with the kids this weekend! And psst - we've got some mid-week inspo too!
Ah, at last, sunshine! We don't want to speak too soon, but it's looking like the weather is finally cheering up for us and becoming a little less unpredictable. Whilst it's always good to have those rainy weather activities prepped, we can hopefully plan some outdoor fun to entertain the fam this weekend, yay! We've been busy scouring the length and breadth of Singapore, to bring you our top picks to fill your weekend and your week with the kiddos. There are loads of great exhibitions and events kicking off this week, Art Week Singapore being one of them! Or, if you have dancers in the house, then check out the recently launched Got to Move campaign by the National Arts Council. We've also got some ideas for fab neighbourhoods to explore, as well as outdoorsy activities for the kids to burn off some energy! A sunny weekend in Singapore, sorted.
Top things to do this weekend in Singapore (and throughout the week!)
1. Dance along to National Arts Council's Got to Move campaign!
If you're looking for a bit of fun and something different for the whole family this weekend, check out the Got to Move initiative by the National Arts Council. Not only does the programme shine a spotlight on Singapore's amazing dance community, but it gets everyone on their feet (you included) with five interactive digital dance programmes to participate in. The first one uses augmented reality filters (fancy!), so it's sure to impress the kids. Be the first to try them out by signing up. No dancing shoes required!
2.  Take a hike along the Southern Ridges
If the weather continues to be on the sunny side, then get the family outdoors this weekend. We love the Southern Ridges for the perfect family-friendly hike. It's got more than enough to keep the kids interested (make sure you include Henderson Waves and Mount Faber on your stroll). There are some fab cafes which open early close by too, for the perfect pitstop!
3. Watch a family movie
As much as we are optimistic about the weather, this is Singapore which means we always need a backup. So, what better way than to watch one of these classic family movies (in our opinion, some of the best) if things do turn out a little bit wetter than we hoped!
4. Get creative with a colouring competition!
Another rainy day find, and a way for the kids to try out their creative flair is through Hard Rock Cafe Singapore's back to school colouring contest. Simply download the colouring sheet, let the kids go wild with the colours and then upload. There are goodies up for grabs for the best design in the form of a Hard Rock Cafe backpack and plush toy. Even more incentive for the kids to get the pens out.
5. Visit the Light to Night Festival
Running from the 22 – 31 Jan, the Light to Night Festival is worth keeping the family up late for. Take a stroll around the Civic District and see your favourite iconic building come to life in a burst of colour with the latest illuminations. Be sure to have Asian Civilisations Museum, The Arts House, the Victoria Theatre and Concert Hall and the Esplanade on your list!
6. Feel inspired with the ARTWALK Little India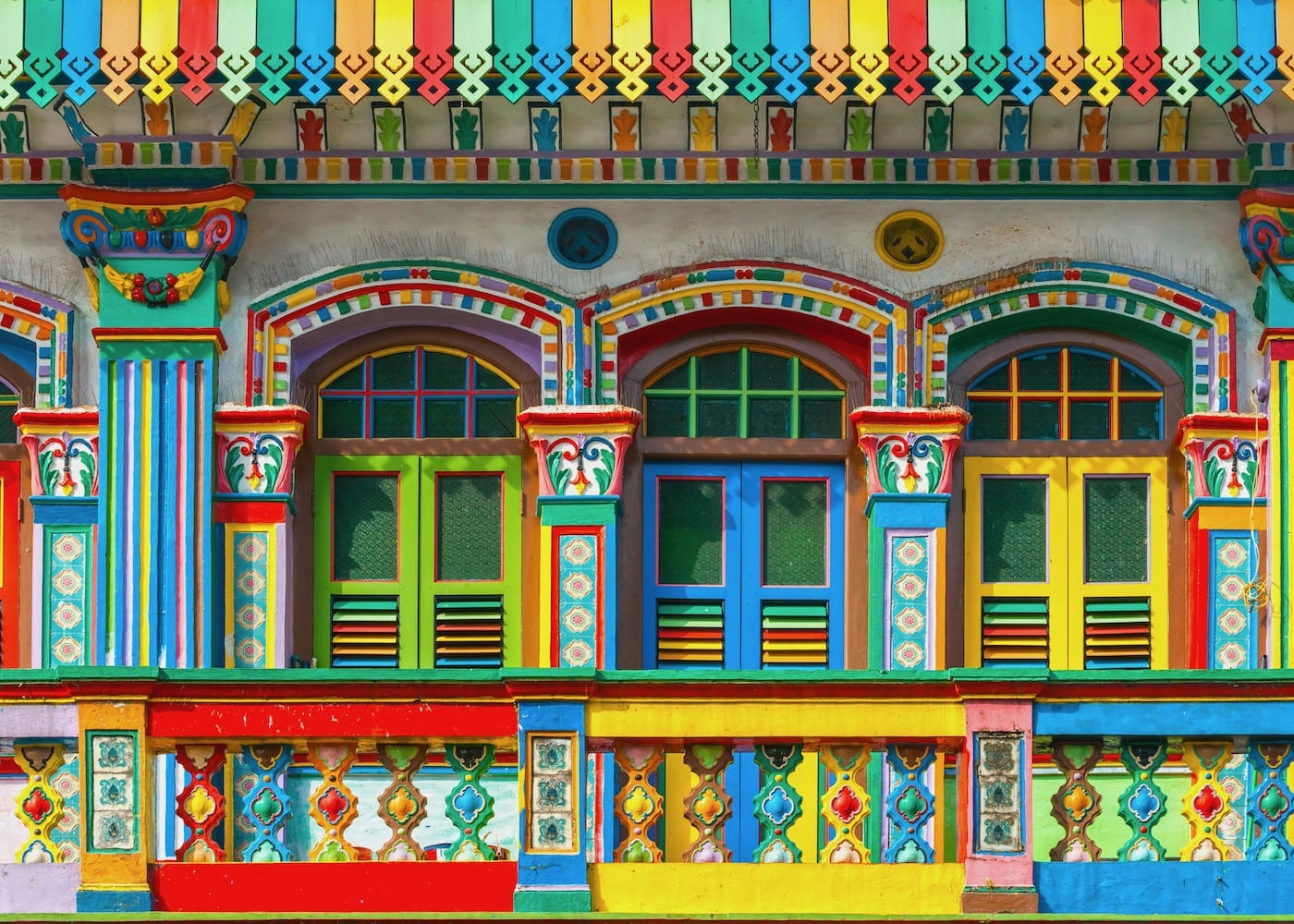 Our kids love Little India at the best of time for the sights, colours, and yummy food. So, we were pretty excited to hear there's another fab reason to visit this neck of the woods with the launch of ARTWALK Little India. Take a stroll and look out for six new artworks in the heritage precinct, including a community wall along Upper Dickson Road by artist Khairulddin Wahab. Running from the 22 Jan – 6 Feb, there's loads of online content for the kids too if you don't make it down to Little India, from workshops to a Zumba class. A workout for Mum and Dad too!
7. Spot Wild Critters at Gillman Barracks
Get your art on down at Gillman Barracks this weekend and get the kiddos on the lookout for five fictional endangered critters created by a range of local artists and collectives and hidden across the five different habitats of Gillman Barracks. It gets better: use Instagram Augmented Reality (AR) to interact with them, and capture your encounters. Not only is it super fun, but it's also aimed at raising awareness of endangered species along the way too. Once you've spotted all five, treat yourself to well-deserved ice cream at favourite Creamier, yum! Psst – complete and record your experience at all five AR sites on the art walk and redeem a Wild Critter mask at Creamier too!
8. Explore family-friendly Holland Village
A firm favourite fam-friendly neighbourhood, and with good reason! Holland Village has cafes and restaurants galore to enjoy a breakfast or lunch with the gang. There's also the fab wet market to stock up on all your fruit and veg. We love the convenient location, perfect for pairing with a trip to Singapore Botanic Gardens. Don't miss the HDB playgrounds along Holland Ave either!
9. Discover the Incredible Magical Moving Sticker Exhibition
Another great family activity from Singapore Art Week sees 30 professional and emerging digital artists create a collection of digital stickers which have been used creatively by members of the public on Instagram. A selection of these are even being showcased on Clear Channel digital screens at bus shelters across Singapore. Get outdoors and keep your eyes peeled! For indoor fun, check out all the activities over on Eyeyah! from animation sketches, through to puzzles and worksheets. Perfect for kids who can't get enough of their GIFs!
10. Score a goal at a football class
As well as having a kick around in one of the many amazing parks this weekend, you can also get your budding soccer star signed up for a football class. Turns out, Singapore has a heap of fab options for boys and girls of all ages in loads of locations across the Little Red Dot. Get kicking!
Wait, there's more! BONUS THINGS TO DO THIS WEEK IN SINGAPORE
Looking for more things to do this weekend with the kids? Phase 3 means sports, public facilities and gyms, plus tuition and private enrichment classes (except singing or voice training classes) have resumed. Which we have a LOT of time for. So if you want more ideas for things to do this week with kids, you've got it. Because we love ya.
Admire the installations at ArtScience Museum
Good news for museum-hopping parents: ArtScience Museum has a range of family-friendly artworks to explore at Future World! Step into Inverted Globe, Giant Connecting Block Town, where interactive art turns into a vibrant cityscape with every move. Watch the kiddos have fun playing with cars, trains, planes and other vehicles projected on this virtual city! Are the little ones obsessed with aquatic life? Check out the Sketch Aquarium that lets them put pen to paper. Their creations will be brought to life as digitally rendered underwater animals, as if by magic. Keen to explore? Enjoy 30% off exhibition tickets with a free Sands Rewards Lifestyle membership card!
Catch a blockbuster
What to do today? Cinema time! So what social distancing and safety measures can you expect? Well, patrons must sit at least 1m away from each other, or a minimum of a two-seat gap. Although there is increased capacity in Phase 3, you'll still of course need to wear your mask at all times (unless you're shovelling popcorn in your face, obvs). Want to know what's hitting the screens in 2021? See our guide to all the best family films coming out in 2021.
Hit a cafe early doors!
Kids don't understand lie-ins? You're not the only ones. On a brighter note, least you'll bag a spot at one of these fab coffee shops which understand our kids and open early. Hotfoot it down and grab your caffeine fix to see you through until lunch.
Take bubs to a soft play
All kids love an indoor play area, but sometimes the littlies of the gang are overlooked. We've compiled a list of tot approved play places to make sure that's not the case. After the complete list for older siblings? Check out our guide to our fave indoor playgrounds in Singapore, where you'll find who's open, who's still closed and what the safety precautions in place are. Then read our survival guide for parents to ensure you leave with your sanity intact!
Try a new park
This is one thing we LOVE to do in Singapore – sit and play on the grass! Yep, parents: parks are officially open for fun again. Wondering where to go? Check out our guide to the best parks for kids in Singapore and then let them enjoy all that fresh air. Don't forget the sunscreen! Come to think of it, don't forget the mozzie repellant either…
Explore Jewel's Canopy Park
It's one of our top places to spend a few hours, so we're happy to hear Canopy Park is open! Check out our guide for the full scoop.
Hang out with the grandparents
If you ask us, our kids should be hanging with the Grandies almost every day of the week (even though they drive us nuts sometimes!). So, we've put together a list of all the fun things to do in Singapore with the seniors – the kind of family-friendly activities that won't have them wilting in the Singapore heat, but will keep the kids busy too!
Head to the zoo
Singapore Zoo, how we love you! We're so excited to say hi to all our animal pals again. Just remember it's running at roughly 65% occupancy in Phase 3, so be sure to get there early.
Go swimming
The pools are open, so why not take a quick dip with the littlies? We've also pulled together a guide on our fave public pools. Let's just hope it stops raining so we can enjoy them! Don't forget to check out our guide to where to buy the best kids' swimmers so you can get all the gear.
Head to the playground
Singapore has some of the best park playgrounds — fact. Now for this rain to stop… If you get a dry spell this week, take the kids to burn off some energy on the climbing frames, swing sets and roundabouts.
Raid the shops
Make the most of the January sales and grab a bargain at one of our fave shopping malls in Singapore, you deserve it!
Here's a little reminder about changes we can enjoy in Phase 3:
Groups of up to eight people are allowed to meet (eight visitors are also allowed to your home)
Increased capacity at malls and operating capacity increased at some attractions
Larger religious services and weddings
Live performances up to 250 allowed
Don't forget to safe distance!
While we're enjoying our long-awaited freedom, don't think the pandemic has disappeared – the risk of Covid-19 is still there. To do your part and stay safe, you'll still need to limit close contact, maintain hygiene (keep washing those hands!) and continue with the safe distancing. In essence, wear your mask at all times when you leave the house, and stay at least one metre away from others.
Whatever activities with kids you decide on this week, have a good one, folks. And watch this space for more fun things to do this weekend!