Wondering what's on in Singapore this week? Check out these awesome things to do and family-friendly activities for a ton of fun with the kids this weekend! And psst - we've got some mid-week inspo too!
Your search for fun and kid-friendly weekend plans stops here because we've got your back! We at HoneyKids are always on the lookout for the latest happenings in Singapore to keep the kids busy over the weekend, so you don't have to. Have a look at what we've got lined up this weekend – think Pongal, Veganuary and Chinese New Year celebrations too!
Top things to do this weekend with kids in Singapore (and throughout the week!)
1. Check out Dahlia Dreams at Gardens by the Bay
We are super excited that the annual Dahlia Dreams has arrived at Gardens by the Bay, and this year there's the added bonus of a nighttime display too! By day, you can take a wander through row upon row of dahlias (2,000 in total!) and get the kids to spot the tigers dotted throughout the Flower Dome. Stick around until evening when the display transforms with beautiful floral lanterns as part of River Hongbao's display. We'll see you there!
2.  Take a trip to Light to Night 2022
There are so many new things popping up in Singapore at the min, and one of our faves has to be Light to Night 2022. Keep the kids up late and head on down to the Civic District to see your favourite buildings illuminated with bedazzling light displays this weekend. There's lots more in store as part of this festival too (see below for ideas!).
3. New exhibit alert: Asian Civilisations Museum – New Waves
So many of our favourite museums have got new exhibits to explore this Jan as part of Light to Night 2022. One to check out this weekend is the Asian Civilisations Museum New Waves, inspired by the Singapore River. First up, spot the Memory Portals outside, which display alternative views of the river. There are more interactive displays inside the museum, such as As the River Flows – a sound and light exhibit influenced by stories and sounds of the river. There's also a host of workshops and tours, such as the ACM Gallery Trail, as well as a drop-in craft opportunity where you can design your own family crest!
4. Waterplay is back at Coastal Playgrove!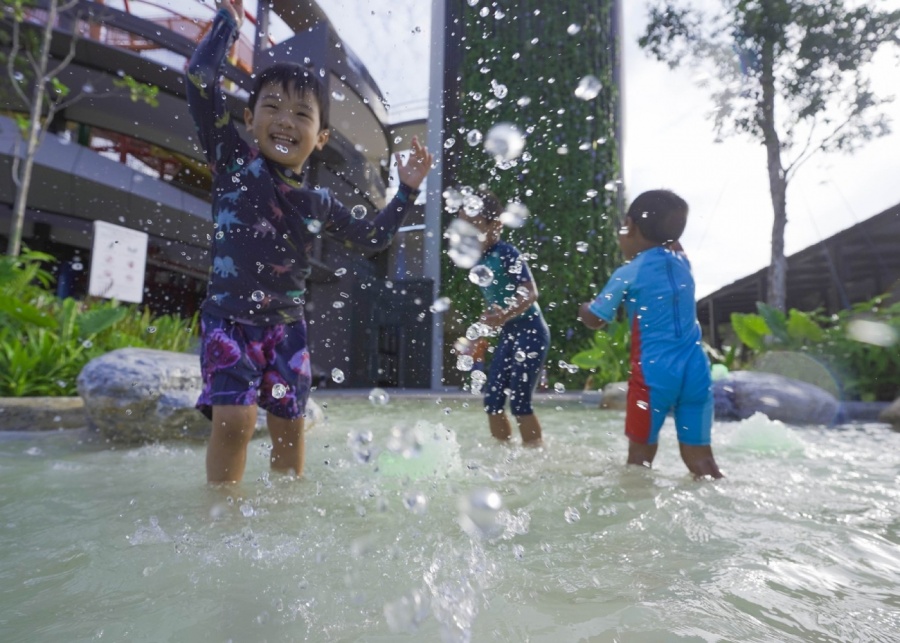 If you've been at a loss since water play closed, then good news for you this weekend – water play at Coastal Playgrove is back. Hooray! Grab the swimming costume, sun cream, and head on down!
5. Get clued up on Chinese New Year with Singapore Chinese Cultural Centre!
If you're after an activity to do at home this weekend, how about checking out the one-stop online guide on all things Chinese New Year?! From a yusheng guide to zodiac predictions, Festive Fever from Singapore Chinese Cultural Centre has it all. Plus, there are loads of interactive quizzes for the kids (and grown-ups!) to test their knowledge!
6. Last weekend for Singapore Art Week 2022!
There's still time to catch the annual Singapore Art Week this weekend. If you're taking the family, then our pick is the ArtWalk taking place across Little India, Katong and Joo Chiat. Get the kids to spot their favourite murals along the way that bring a whole lot of history to life!
7. Discover a new park
Want to get outdoors this weekend but bored of the same old park? Good news, we've just finished updating our Singapore parks roundup, with 35 to choose from! Whether you want to take a trip out West to Jurong Lakeside Garden or hit Pasir Ris in the East – there's sure to be a new park to tick off your list this weekend!
8. Chinese New Year festivities at Sun Yat Sen Nanyang Memorial Hall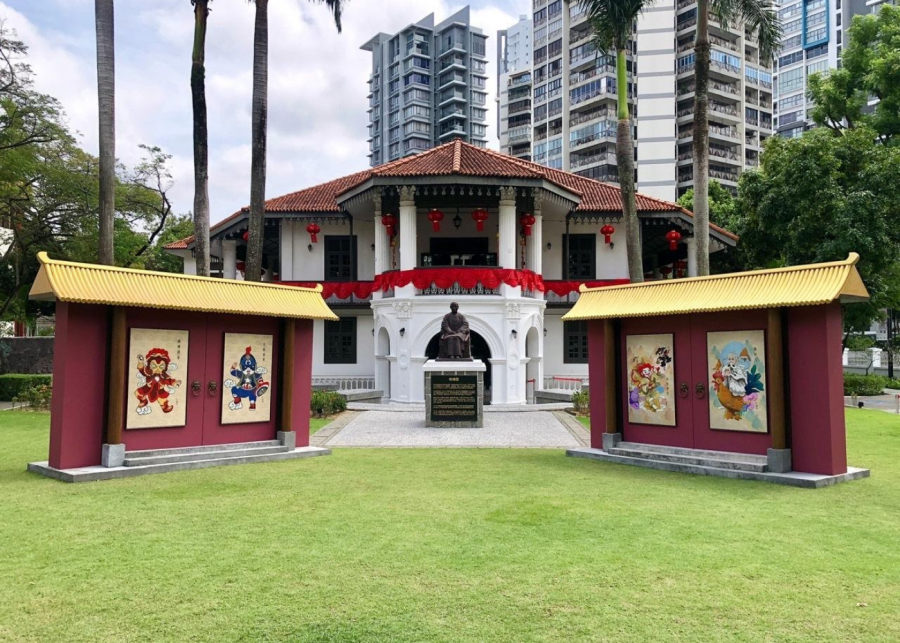 There are lots of festive happenings at Sun Yat Sen Nanyang Memorial Hall over Chinese New Year, but if you'd like to start celebrating early, you can visit the latest lawn installation, 'Blessings Come A-Knocking', this weekend. This installation represents the memorial hall's wish for protection against the trials and tribulations brought about by the pandemic, something we are definitely on board with.
9. Try your luck with the Lunar New Year Hongbao Campaign!
The National Heritage Board are back with their Lunar New Year Hongbao Campaign! So if all the fun goings-on weren't enough, here's another reason to pop to your fave museum or gallery or discover a new one this weekend! Visit one of the 35 participating museums and galleries and pick up limited edition red packets, each featuring unique designs. It's running until the 4 February, so best get that collection started!
10. Have a go at mastering a plant-based dish!
It's not too late if you want to have a go at Veganuary, and it's easier (and tastier) than you think with these plant-based recipes to try at home. From Vietnamese rice paper rolls to easy-peasy vegan pancakes, there are options for breakfast, lunch and dinner for the whole family to try this weekend!
---
Now that you're up to date with all the fabulous things to do this weekend, have peace of mind by making sure everyone in the family is protected. Stay insured with NTUC Income's PA Secure.
Starting at only $68 a year for an individual plan, this affordable Personal Accident Insurance plan covers key benefits – including medical expenses (up to $3,000¹) for an injury due to an accident, daily hospital income ($150 per day for up to 50 days¹); and seven infectious diseases like chickenpox, Hand, Foot and Mouth Disease and dengue fever.
There's more! The PA Secure plan also offers two unique lifestyle optional benefits, one of which is the event and staycay expenses optional benefit. Let's say, if you or your child is unexpectedly hospitalised due to an accident or from contracting an infectious disease and is unable to attend a planned ticketed event or staycation with the family, you can get up to $500 reimbursement for the non-refundable expenses² incurred by the insured person.
All you need to do? Simply top up just $18 a year for each insured person. Terms and conditions apply.
Wait, there's more! BONUS THINGS TO DO THIS WEEKEND IN SINGAPORE
11. Visit the new Singapore Art Museum at Tanjong Pagar Distripark
One for the older kids this weekend –check out the newly opened Singapore Art Museum at Tanjong Pagar Distripark. And good news, it's free entry until the 14 February as an introductory offer!
12. Bounce the weekend away at Jumptopia Gardens by the Bay!
Jumptopia by Kiztopia has arrived at its next destination, Gardens by the Bay! From now until 3 July 2022, the kids can conquer eight indoor garden-themed bouncy castles with a maze, slides, swings, ball pits, obstacle course, and so much more! Once you're all jumped out, you can head on over to Kith Café to refuel!
13. Go vegan this weekend!
If you don't fancy cooking, then there are plenty of delicious vegan restaurants out there to cater to even the fussiest of fussy eaters (i.e. the kids). Whether you're after a vegan burger, sushi, or pasta, everything is covered (and more!) in our roundup of favourite fam-friendly vegan restaurants!
14. Jurassic Dinosaur – Adventure Park, Downtown East
Singapore's first Jurassic Dinosaur – Adventure Park Interactive indoor playground has opened in Downtown East. Get a selfie with your fave dino, and check out the dinosaur fossil cave, volcano trampoline and dinosaur train, to name a few! It's open from now until the 13 February, so get in quick!
15. Get outdoors at Gardens by the Bay Kingfisher Wetlands
If you think you've seen everything that Gardens by the Bay has to offer, well, think again. Its newest addition – the Kingfisher Wetlands – provides families with a new nature area and is perfect for a weekend outing. The attraction is divided into three zones: natural rock & main cascades, King Fisher cascades and wildlife lookout. Look out for tons of wildlife such as the smooth-coated otter, lesser whistling duck and Malayan monitor lizard during your visit!
16. Enjoy sweet treats at Burnt Ends Bakery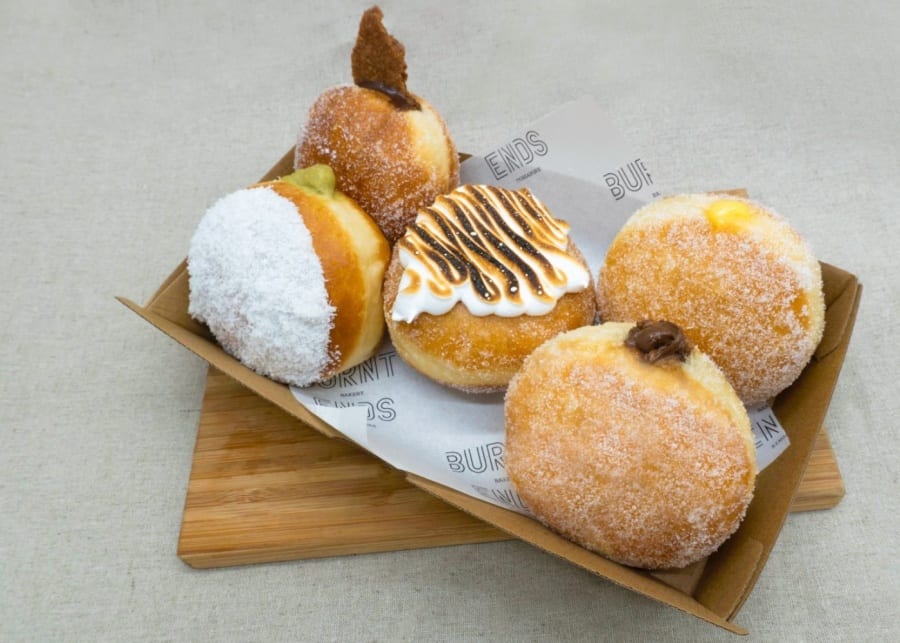 When was the last time you brought the fam to Dempsey Hill? Well, there's a good reason to head there this weekend, and that's Burnt Ends. This one-Michelin-star brand is moving to its new digs in our fave neighbourhood, and its bakery is already open for business. Get your wallets ready for its doughnuts, scones, cookies, and sourdough bread, which you can either pre-order from its website and then self-collect on-site, or make your purchase at the bakery directly. If you plan on doing the latter, be sure to drop by early… We're told the good stuff sells out pretty fast!
17. Head to ArtScience Museum for VR fun
ArtScience is running a new season of space-themed films and VR artworks for kids aged 13 and over. Discover Spacewalkers – a VR experience where you'll get the chance to peer through the mirror-glazed visors and reach for the stars to experience astronaut life. As well as being a surefire hit with tricky to please teens, it will also teach them (and you!) a thing or two about all things intergalactic!
18. Try sustainable fishing at Bedok Jetty
You may have noticed that fishing is one activity that has seen an uptick in take-up rates since the pandemic. But how do you know if you've caught a rare fish and, inadvertently, disrupted the country's marine biodiversity? Enter FishX, a series of youth-led workshops where new and seasoned fisherfolk can learn how to fish sustainably and responsibly while contributing to marine conservation science. All fishing equipment will be provided, so all you need to do is turn up!
19. Step into the wild with Otah & Friends: Camp Stardust
Just when you thought Otah & Friends couldn't get any better – it did. If you've been following Otah's adventures closely, then you definitely can't sit this one out. Enter Otah & Friends: Camp Stardust. Join your fave otter and his friends as they take you through a magical forest. You'll get to spot wildlife and plants inspired by the National Museum of Singapore's William Farquhar Collection of Natural History Drawings. That's not all. Through the otter-themed experience, you can solve novel challenges and learn about values. Sounds otterly awesome? Swing by the National Museum of Singapore this weekend, stat!
20. Head to the Rooftop Farm Experience at The Sundowner in Siglap
We're lucky to have a host of farms to explore here in Singapore (check out our farm guide if you don't believe us). But how about trying out the Rooftop Farm Experience over in Siglap at The Sundowner this weekend? The main attraction at this rooftop space is its urban farm, where the kids can learn more about organic farming, don a bee suit and get up close to rescued bees, and even cuddle with a couple of free-roaming chickens! They can also participate in various workshops, including paper marbling, terrarium building, and learning magic tricks. Parents, you are not forgotten – wind down at the rooftop bar, watch a movie at the Nomad's Tent, or try your hand at mixing your own cocktails and/or pizza! Make sure you book in advance to secure your space!
21. Explore Pop-up Disney! A Mickey celebration
Hop in; we're going on an adventure with the one and only Mickey Mouse! Until 20 March 2022, a Disney Pop Up exhibition, which first made its debut at Disneyland Resort in California, is coming to Suntec Convention Centre. And we're super excited! There will be seven themed experiences filled with multi-dimensional visual displays, where art and the perfect photo ops come together to make magical memories. Other playful surprises to look out for include the giant Minnie Mouse bow sofa in Mickey and Minnie's Love room, Sorcerer Mickey's Magic Room that's filled with fantasy, and the Mickey Loves Singapore thematic room which celebrates all things Singapore. Mickey has come a long way to be here with you in Singapore, so snatch your tickets ASAP!
22. Meander down a path filled with Dinosaurs
Check out Jurassic Mile – Singapore's largest permanent outdoor display of life-sized dinosaurs! Walk or cycle along the 1km path as you approach more than 20 different pre-historical creatures from nine different species. From the carnivorous and herbivorous to a massive five-metre tall dino, expect to see every sort of dinosaur you can think of! While you're there, keep an eye out for the gigantic dino eggs. And watch the kids go bananas over these enormous creatures!
23. Hang out with the Grandparents!
If you ask us, our kids should be hanging with the Grandies almost every day of the week (even though they drive us nuts sometimes!). So, we've put together a list of all the fun things to do in Singapore with the seniors – the kind of family-friendly activities that won't have them wilting in the Singapore heat, but will keep the kids busy too!
24. Step into a roarsome Brickosaurs World
More dino news coming your way. From now until 3 May 2022, catch more than 60 life-sized dinosaurs at Singapore Zoo and River Wonders. Titled Brickosaurs World, this is the first-ever showcase of dinosaurs of all sizes in Asia. Kids, get ready to embark on interactive self-guided trails to discover animals on the brink of extinction. They'll learn crucial knowledge on how to save these animals and conserve wildlife.
25. Visit a CoComelon café pop-up
Can't get enough of CoComelon? Hotfoot it to CoComelon café! Located at CLOVE, the first CoComelon-themed café brings families a fully interactive, all-day dining experience. Expect themed food like the Bingo Paw Bun and TomTom Favourite Burger that are almost too cute to eat. Tables will also take the form of the familiar Wheels On The Bus school bus. And the best part? A merchandise corner! Excuse us while we go join the queue…
26. Check out the new Bukit Gombak park in the West
Attention residents of the West! Get ready to trek up a flight of 108 steps and take in the breathtaking forest and green views surrounding Bukit Gombak park! When you reach the highest point of the park, you'll find a butterfly garden, home to over 20 species of butterflies! Let's swap AC for some fresh air, and let the kids frolic around the breeziest and greenest play area, equipped with a slide integrated into the terrain. And don't leave Fido at home – the furkid can roam around the 480sqm dog run. Fun!
27. Visit Museum of Ice Cream
Make it a sweet treat weekend at the Museum of Ice Cream Singapore!  This is a pretty exclusive import to Singapore, with the original (and only) Museum of Ice Cream being based in NYC! We've already explored its 14 never-before-seen installations, dedicated to the celebration and experience of enjoying ice cream! We give a big thumbs-up to the dragon playground, the pink and yellow jungle with 10,000 bananas, and the largest MOIC sprinkle pool ever created. The experience lasts up to 90 minutes, and yes, there are ice cream tasting stations dotted throughout (which we think is the best part of the tour!). Tickets sell out fast, so be sure to grab yours!
28. Have a go at Origami with these free downloadable kits!
How about trying a new craft this weekend? We love the free downloadables available from Canon's Creative Park website. There are loads to choose from and resources suitable for all ages (even the grown-ups!) – it's also quite addictive once you get the hang of it!
29. Treat the fam to the best cookies this weekend!
Nothing can beat a cookie – so if you think your weekend could do with a special treat, look no further than this list of delish cookies to surprise the fam. Chewy, gooey, soft, crunchy, chocolatey, even stuffed – we've got them all covered!
30. Scoot your worries away at these scoot-friendly spots
Want some outdoorsy fun? Pack the scooter and head off to one of these fab scooter-approved destinations. It's perfect for getting the kids active this weekend! From Punggol Waterway Park in the East to Jurong Lakeside Garden in the West, there are fab spots to scoot all over Singapore!
31. Check out the Children's Biennale 2021 in person or at home!
If you haven't checked out the National Gallery Singapore's Children's Biennale yet, then add it to your list of things to do this weekend! The in-person exhibit is now open (and is fab), or if you're staying home, then the site is full of fun online activities and games for kids to explore, including immersive animated stories and digital art-making.
32. Get baking with the kids!
Another great (and yummy) indoor activity to keep the kids occupied this weekend is baking. We've been busy putting together a list of 25 of our fave baking recipes for you to tackle. There's everything from a super easy Nutella mug brownie (with only three ingredients needed) to the ultimate scone recipe. Looking for healthier options? We've got that covered too. From guilt-free apple muffins to sugar-free baking delights and savoury treats. It's fair to say you'll be cooking up a storm in no time!
33. Storytelling with Gateway Arts Kids Club
Stuck for ideas this Saturday? Gateway Arts Kids Club is bringing a heap of activities to your living room so you can rest easy. At 10.30am, there's the "Once Upon A Time" Storytelling with a different story each week. You can also check it out in person for $10.
34. Hit the beach!
How about exploring a new beach? From dog-friendly (and as pretty as a picture) Tanjong Beach to going back in time over on Pulau Ubin. Or get away from it all and hit the beach at St. Johns Island. Whatever you decide, remember to pack the sunscreen and bite spray (and, of course, be mindful of social distancing!)
35. Take bubs to a soft play
All kids love an indoor play area, but sometimes the littlies of the gang are overlooked. We've compiled a list of tot approved play places to make sure that's the case. After the complete list for older siblings? Check out our fave indoor playgrounds in Singapore. Then read our survival guide for parents to ensure you leave with your sanity intact!
36. Go swimming
Why not take a quick dip with the littlies? We've also pulled together a guide on our fave public pools. Don't forget to check out our guide to where to buy the best kids' swimmers so you can get all the gear. Psst – check ahead to confirm re-opening plans with individual facilities to avoid disappointment!
37. Raid the shops
Need to escape the rain or heat? Head to one of our fave shopping malls in Singapore and treat yourself, we think you deserve it! Or, check out these sweet deals to save a dollar or two!
38. Get outdoors and try one of these pram-friendly walks!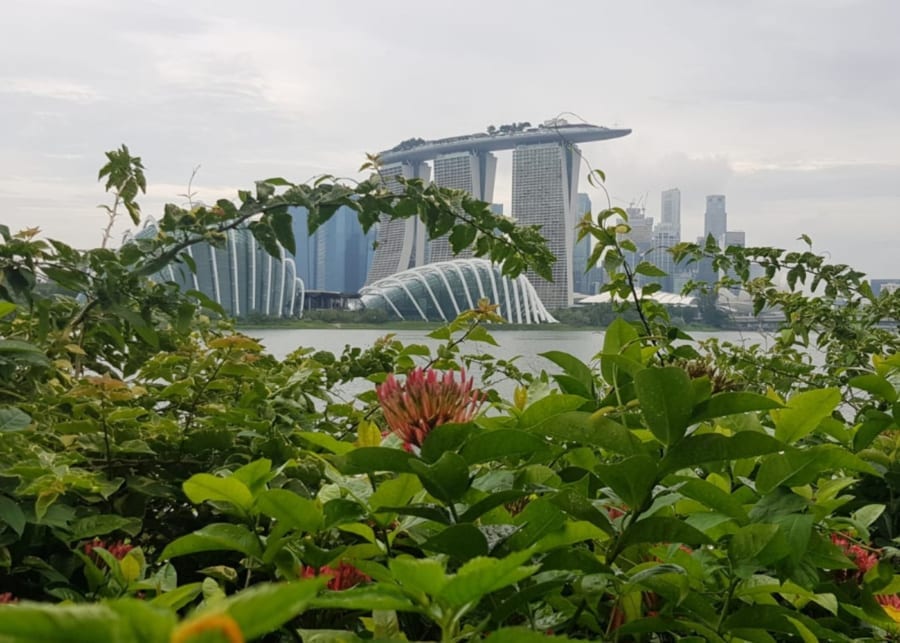 Singapore is all about getting outdoors (it's not called the Garden City for nothing!), but what about when you've got little members of the family in tow who need a pram? Don't despair; we've been busy finding some of the best pram-friendly strolls all over Singapore. Whether you want to hit new heights over at Henderson waves or head out East to Pasir Ris – there are 15 great walks to choose from this weekend!
39. Look for dinosaurs in Antarctica
How about going on a journey back in time when dinosaurs still roam the earth? Omni-Theatre will be playing a digital movie titled Dinosaurs of Antarctica, where a group of scientists will go on a quest to explore the lost prehistoric world in one of the coldest places on earth.
40. Scale new heights at SkyHelix Sentosa
How about taking to the skies this weekend and trying out the latest Sentosa attraction – SkyHelix Sentosa! This open-air rotating gondola offers awesome views over Singapore, plus a nice breeze if you're looking to beat the heat. While you're in Sentosa, you can take advantage of the January promo of 30% off food and beverage vouchers redeemable at various outlets on the island. Pick a restaurant and purchase a voucher in advance, and you've got dinner sorted, too! Psst, after more offers? Check out our fave sweet deals for Jan!
41. Check out the latest exhibit at Science Centre Singapore – Smart Nation Playscape
After another new thing to explore this weekend? Head on over to Science Centre Singapore and discover all things tech! There are eight interactive, gamified technology zones to try out, which will give you a sneak peek into the ever-evolving technology landscape in Singapore!
42. Learn coding from the comfort of your home
If you're not planning to head out this weekend, gather the kiddos and try Apple's free coding sessions for kids aged eight to 12 years old. Explore coding basics, get started with problem-solving and create cool stuff using Swift Playground on the iPad or iMac. Up for more creative projects? Download the free activity guide, and your little one (and perhaps even you!) will be on your way to becoming a coder.
Here's a little reminder about current restrictions:
Groups of up to five are allowed to meet and dine out together (and five visitors are allowed to your home).
Travelling is now possible to certain countries via the Vaccinated Travel Lanes!
For a comprehensive list of all the changes in rules and regulations, please visit MOH website.
Don't forget to practise safe distancing!
To do your part and stay safe, you'll still need to limit close contact, maintain hygiene (keep washing those hands!) and continue with the safe distancing. In essence, wear your mask at all times when you leave the house, and stay at least one metre away from others.
Whatever activities you decide to do with the kids this week, have a good one, folks. And watch this space for more fun things to do this weekend!
---
NTUC Income's PA Secure Important Notes and T&Cs
1. This benefit limit is applicable under Plan 3.
2. The event and staycation expenses that we will reimburse is the non-refundable deposit or ticket fees incurred by the insured person. We will not pay for claims that are less than $50.
This article is for general information and should not be relied as financial advice. All opinion and information in this article are solely those of HoneyKids Asia. HoneyKids Asia is responsible for the accuracy and completeness of all information and intellectual property used in this article. NTUC Income is not responsible to any party for this article. You should seek advice from a qualified advisor if in doubt. Buying insurance that is not suitable for you may impact your ability to finance your future insurance needs. Precise terms, conditions and exclusions of this plan are found here. Protected up to specified limits by SDIC.
Information is correct as of 3 November 2021.