Wondering what's on in Singapore this week? Check out these awesome things to do and family-friendly activities for a ton of fun with the kids this weekend! And psst - we've got some mid-week inspo too!
Christmas is coming! We're in the throws of Christmas shopping, and if you are too, then go ahead and check out our festive gift guide and stocking fillers for inspo (or have a look at some charitable Christmas gifts. The festive season is the time for giving, and we love this option.) There are plenty of Christmas events and markets happening, opportunities to snap pics with Santa, and don't miss these stunning Christmas light displays across the island!
Feeling festive and looking for things to do this weekend? Here are a few ideas. Visit Santa's Workshop at Plaza Singapura and enjoy face painting and craft activities, meet everyone's favourite Aussie pup, Bluey, at Comic Con, and don't miss the opening birthday bash for the Children's Museum!
Top things to do this weekend with kids in Singapore (and throughout the week!)
1. Visit Santa! You are invited to join us for a special event: Honeykids Presents: Santa's Workshop at Plaza Singapura!
10, 11, 17, and 18 Dec 2022 
Santa's Workshop is coming to town, and you're invited! Not only will you and the fam get to meet Santa at our Christmas event, but you'll also get to sit in for storytelling sessions and pose for a festive family we-fie too (BYO camera!). And the fun doesn't end there – we've got some cool artsy workshops lined up for the kiddos as well. The little ones can transform into Santa's elf, or any of their favourite superheroes, at our Face Painting booth. They'll also get to pour their creative juices into creating their very own snow globe or Christmas tree decor at our arts and crafts workshop! Check out all the details here. See you there!
2. Meet, play and dance with Bluey at Singapore Comic Con
10 and 11 December
We have a new visitor on the island this December, and we are super excited about it. Bluey, the award-winning cartoon sensation, is coming to Singapore Comic Con (SGCC) for the very first time! Yay! Brace yourselves for an interactive and immersive experience as the worlds of learning and playing come together. There are tons of fun things to do, including arts and crafts activities and meet-and-greet sessions with Bluey, with a chance to dance and play along in iconic games like Keepy Uppy and Magic Xylophone. The kiddos can also look forward to the screening of Bluey's full episodes, followed by a quiz. Psst, watch the screening carefully, cause there are exciting prizes to be won!
3. Attend the Children's Museum Opening Weekend Birthday Bash!
10 and 11 December
Come and play at the Children's Museum for their opening weekend birthday bash! There'll be exciting game booths and prizes to be won, an array of performances and goodie bags waiting for you. Book your tickets before you go!
4. See a cool puppetry performance at Paper Monkey Theatre's 'No Strings Attached'
9 – 10 December
No Strings Attached is a festival organised by Paper Monkey Theatre that features puppetry artists from Asia and around the world. The festival this year will present works from artists based in Germany, Korea, Thailand and puppeteers from Singapore. Be inspired and touched by the magical world of puppets! Book tickets now
5. Visit Funtasia, the largest inflatable theme park in Singapore!
2 – 30 December 2022
As the name suggests, Funtasia is gearing up for lots of fun the kiddos will love! It boasts the largest inflatable theme park in Singapore, with tons of exciting challenges for the kids to enjoy. Toddlers can look forward to fun experiences at the tire track, small river jump and slides, and older kiddos can enjoy the Kids Fun Zone, including The Rabbit, Merlion Lion and Berries. For those with a competitive streak and in for a bit more challenge, the Obstacle Challenge zone is your ticket to a great time, featuring The Jupiter, The Mars and more. You can even stand a chance to win a medal! Woohoo!
6. SPACES TO PLACES: An UNTAME 2022 event at Science Centre Singapore!
Until 11 December
UNTAME's STEAM festival came and went in a flash, but that's no reason for the kiddos to fret! UNTAME is already back with its next showcase for our inquisitive explorers, called SPACES TO PLACES. The kids will have the chance to embark on a journey across four key spaces – living space (sustainability), outer space (astronomy), cyberspace (digital and artificial intelligence), and inner space (mental health and wellness) – through a series of exciting activities. Best part? The kiddos can expect a multi-dimensional experience, including STEM-themed quests, online missions, sensory shows, games, DIY kits, activity trails and an after-dark fiesta too! Shall we hop onto the exploration buggy?
7. Catch LITE-UP at Marina Barrage
10 December, 1pm – 9pm
Sustainability is the hot topic of the hour nowadays, and with good reason. If you are looking to introduce the topic to the kiddos and have no idea where to begin, we know just the place. Lite-up happening at Marina Barrage will be taking a deep dive into the topic through fun-filled learning opportunities for the fam. Discover how to turn disused items into something valuable through fringe activities like upcycling plastic bottles for self-watering planters. Check out interactive exhibitions and booths to find out more about sustainable and safe living. Visit the green bazaar where the fam can learn about sustainable options while shopping. Cool! You can also participate in the B.E.S.T (Buy, Exchange, Sell and Take) marketplace. Sign up
8. Visit The Great Bay Fiesta and Ice Magic!
Until 1 Jan 2023
We love carnivals, yes we do, we love carnivals, and so should you! The Great Bay Fiesta is back with a bang, and we can't wait to pay a visit. Taking place at Bayfront Event Space until 1 Jan 2023, this event features a line-up of merrymaking activities clustered into four main event segments. Check out premium international circus acts, a mega carnival that includes an experiential inflatable playland, and a gorgeous indoor winter wonderland aptly titled Ice Magic. Of course, no trip to the carnival is complete without festive bites and fairground treats! Dig into a delightful selection of speciality fare from both local and international brands.
9. LAST CHANCE: Little ones can make a gingerbread house and enjoy playtime at Buds Shangri-La
20 November – 11 December (Saturdays and Sundays)
There are 'Enchanted Wonders' happening at Shangri-La this festive season! Share the joy of Christmas with your kiddos and have some special bonding time by taking part in this super fun (and very popular) Gingerbread House Children's Workshop. Children and parents work together to create their very own gingerbread houses with frosting, cookies, and candy in a fun-filled session led by Area Executive Pastry Chef Hervé Potus. Tickets from $128 per child with up to two accompanying adults.
10. LAST CHANCE: The Sound of Music closes this weekend!
22 November – 9 December 2022
Last chance to catch this beloved musical this weekend! Kids in Singapore were invited to audition for the roles of the Von Trapp children so that you may see some familiar faces on the stage! We were lucky enough to see the show on Opening Night, and we can confirm that it is brilliant and well worth a watch – check out our theatre review for more.
The Sound of Music, Sands Theatre, 4 Bayfront Ave, B1, Singapore 018973
Wait, there's more! BONUS THINGS TO DO THIS WEEKEND IN SINGAPORE
11. Take the kids to visit Jumptopia Candy Land at Vivo City
18 November – 26 December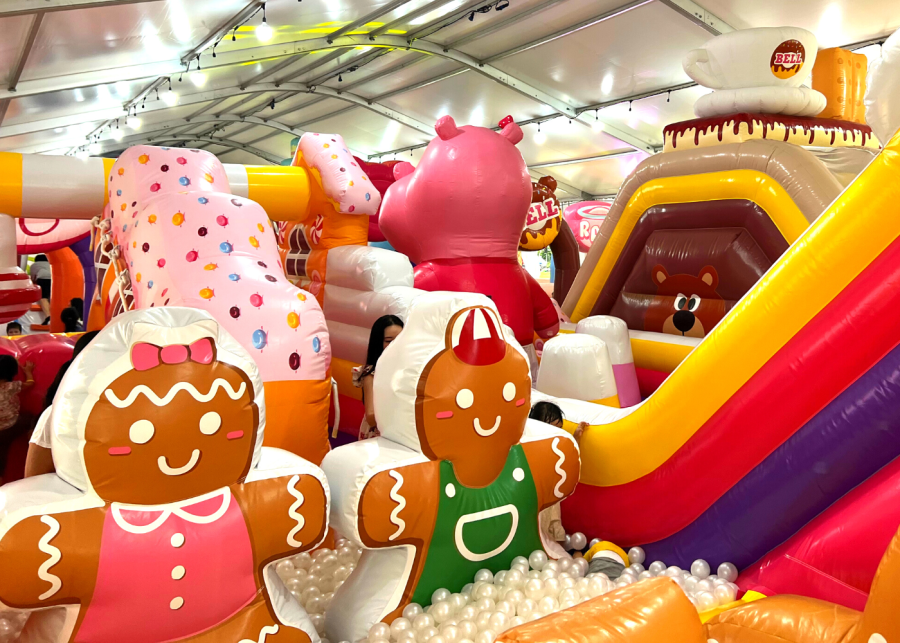 It's a Candyland-themed bouncy paradise! Envision inflatable bouncy castles in candy and dessert themes covering across 8,600 sq ft of the Outdoor Plaza, Level 1, at Vivo City. Kiddos can jump into five (yes, five!) gigantic candy-coloured bouncy castles and indulge in a 'gastronomical experience' with a sweet twist.
Bounce off artisanal cakes and other sweet treats at Bell's Chocolatier Café, or visit Tiger's Donut Joint for some doughnut challenge and heart-thumping slides! Wrap up your play session with all things sweet, like the candy-coated gingerbreads at Happy's Gingerbread House and colourful lollipops at Raby's Lollipop Hutch (so sweet!). Little ones can also challenge themselves at Mark's Little Training Gym.
Jumptopia Vivo City, Outdoor Plaza, Level 1, Book tickets
12. Can't get enough? Jumptopia: Festive Village is now open at Marina Bay Sands Convention Centre
22 November 2022 – 3 January 2023
This one is a biggie! With seven curated zones and ten brand-new giant Christmas-themed inflatables, the whole fam can get into the bouncing Christmas spirit at Jumptopia Festive Village. There are live stage performances, including magicians and meet and greet characters to snap pics with, as well as snow play and craft activities. We visited and had a blast!
13. Catch Pinocchio at Wild Rice this November – December
Thursday 17 November – Saturday 24 December 2022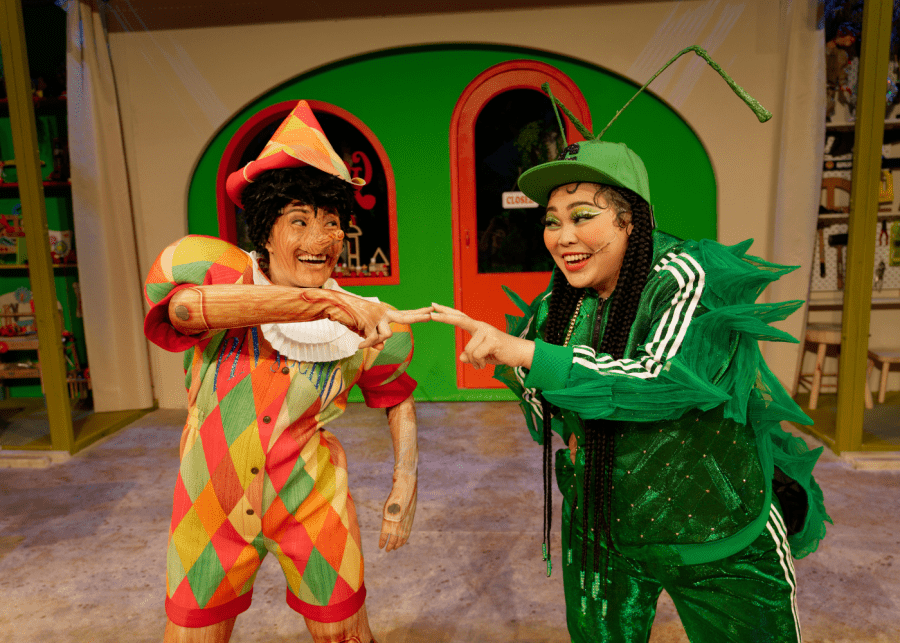 In this cheekily on-the-nose musical adaptation of the classic fairy tale, Wild Rice brings one of the world's most beloved characters to the Singapore stage. Pinocchio is a brand-new, original musical written by Thomas Lim, with lyrics by Joel Tan and music by Julian Wong, performed by a stellar cast, including the adorable First Stage Kids.
Based on the beloved fairytale about the little wooden puppet Pinocchio, crafted with loving care by Geppetto – a kind, humble carpenter who has always dreamt of becoming a father. With a wish and a touch of fairy magic, Pinocchio springs to life… but there are some strings attached! A hilarious and heartwarming celebration of family, friendship and the importance of being true to yourself, Pinocchio is the perfect holiday treat for you and your loved ones. Wood we lie to you? Check out our review before you go!
Pinocchio, The Ngee Ann Kongsi Theatre @ Wild Rice, Funan
14. Go around the world (without tickets) at this children's workshop
Not planning to travel this year-end? Here's the next best option: go on an educational adventure at Andsoforth Junior's Around the World in 80 Days Book Workshop! Participants will learn more about the famous books by celebrated author Jules Verne and visit replicas and reimagined places like a ship travelling from Egypt to Bombay, a train from Hong Kong, Japan's oldest and largest coal mine, and more. Workshop facilitators are on hand to talk about characters from the book and teach hands-on activities.
15. Check out the new MEGA Carnival at D'Marquee Downtown East
November 19 2022 to February 5 2023
With more than twenty games, rides and activity stations, Mega Carnival is one family fun day out that you want to book in now!  Get competitive with your friends and family at the arcade zone, or take your little dino lovers to experience all the dino-themed rides and attractions like fossil digging sand pits, slides, carousels, and a dino egg trampoline! Book tickets
16. Themed High Tea with Hello Kitty and Little Twin Stars
22 November 2022 – 29 January 2023
Hello Kitty fans are in for a treat! How adorable are these little characters? Take the kids for a fancy feast at Swissotel the Stamford Brasserie and transcend to the stars with Sanrio. The Kawaii Pulled Pork Milk Bun and cleverly cooked veggie chips were very tasty, but the star of the meal is the 'Sun, Moon & Stars Gelato', which billows puffs of white mist like magic! Have a look at the menu. Happening for a limited time only – book now!
17. Tasmanian Devils have arrived at Mandai Night Safari just in time for a Festive Wild-erland
It's a Festive Wild-erland! This weekend is the kick-off of the black-and-white-animal themed festive celebrations at Mandai Wildlife Reserve. The holiday festivities take on a new colour at Singapore Zoo, River Wonders and Night Safari, where you will find that in the wild, black and white is anything but dull. Come on a spectacular adventure across the three wildlife parks with charming monochrome animals. In a Singapore first, Night Safari has welcomed four Tasmanian Devils, one of Australia's most iconic predators. The four females with the cutest names we've ever heard (Crumpet, Snickers, Jesse and Panini) are all around three years old and have made the Wallaby Trail their new home. Book tickets now!
18. Doraemon Exhibition at the National Museum!
Until 5 February 2023
Travelling from Japan to Singapore, Manga Doraemon has returned to the National Museum in the international premiere of The Doraemon Exhibition! Featuring a collection of Doraemon-inspired artworks by 28 leading Japanese contemporary artists, including Takashi Murakami, Mika Ninagawa, and Yoshitomo Nara, the exhibition showcases Doraemon's continuing cultural impact in contemporary history. Singapore is the exhibition's first global stop and includes an exclusive first-ever public showcase in Asia of original drawings by Fujiko F. Fujio, as well as a small selection of artworks by local artists. Alongside the exhibition, visitors can also bring home exclusive limited-edition Doraemon merchandise (yippee!)
19. Calling all Baby Shark fans! Enjoy this Pinkfong World Adventure immersive experience
Until Monday 2 January 2023, various timeslots
Ready for another spectacular adventure? Join Pinkfong, Baby Shark and friends as they explore the marvellous universe through fin-static song and dance. This is Singapore's first immersive event with over ten game stations, including interactive motion games, a soft playground and joyful song and dance.
Travel around on a spaceship with Pinkfong, Baby Shark and friends as they venture to different worlds, like the Baby Sharkworld Reefville, Pinkfong Wonderstar and Pinkfong the Space Adventure. Ride with Baby Shark and Shark Family on the Spring Shark Rider, have a thrilling time with Pinkfong and Hogi as they sledge down the grass, explore the universe on a spaceship, and much more. Most importantly, take once-in-a-lifetime pictures with your favourite characters at the Meet and Greet.
Pink Fong World Adventure, Let's Play @ #03-208/209 – Marina Square
20. Visit Jurassic Nest at Gardens by the Bay, with Michelin-starred food and 18 huge dinosaurs!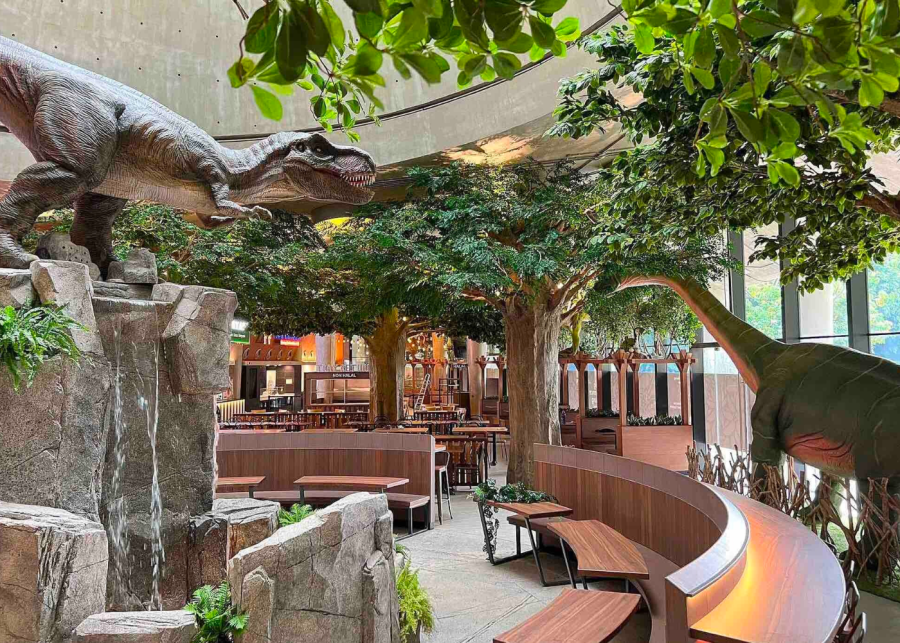 Fancy dining among the dinos? Check out Jurassic Nest Food Hall, the newest restaurant at Gardens by the Bay, which includes super cool and realistic dinosaur statues! This is more than a restaurant hall; it's a whole edutainment destination in itself with daily shows and an educational trail that guides you to explore the surrounding gardens to discover fascinating facts about some of the earliest species of flora and fauna that existed since prehistoric times (wow!)
21. The Minions are back with a new super-cool interactive exhibition
Until 2 January 2023
We are big fans of Gru and his crazy crew, and this fun exhibition with eight interactive zones looks like one-in-a-Minion. Snap a pic of yourself with the villains and visit the sets, have fun building a Minion and take the personality test to find out which Minion you are! A highlight: take a tour of Gru's lab and test out a Fartgun (we just know our kids are going to love this!)
A Minions Perspective Experience, Sentosa Waterfront, 3 September 2022 – 2 January 2023. Tickets from $22 (child) and $30 (adult). Book tickets
22. Visit X-SCAP8, the brand new all-in-one funground now open at Orchard Central
Monday – Sunday, 11am – 10pm
Looking for somewhere super fun to beat the heat when shopping on Orchard Road while also enjoying a bite to eat? Pop in X-SCAP8 (pronounced 'escapade'), the funground on Level 7 of Orchard Central. There are five specially curated zones, including Infinity and Beyond (a ropes adventure course that soars three storeys high – gulp!), a Smash Lab with all the protective gear, an X-Warrior Challenge course with a timer to compete against your friends, an Arcade Zone complete with motorcycle racers, and there's even a golf simulator! For lunch, we recommend the burger from the Eat-Play-Laugh Resto bar to be enjoyed while taking in the views from the alfresco dining area. Best for kids over 1.2 metres in height.
Psst… Check out our review for our hot take!
23. Updated: Hunt for dinosaurs around Singapore
Ongoing
Love dinos? So do we! And there are loads of places to see dinosaurs in Singapore – special exhibitions, museums, theme parks, playgrounds, and on TV. We've rounded up everywhere we spotted a dino into one handy list – happy dino hunting!
24. Fun attractions at the Central Beach Bazaar in Sentosa
All weekend
Located at the heart of Sentosa's beaches, Central Beach Bazaar is a new attraction that offers a day-to-night carnival beach experience, featuring the return of the iconic Sentosa Musical Fountain, which is augmented by the tallest fountain in Southeast Asia, the Sentosa SkyJet. Central Beach Bazaar will be the highlight of your day at the beach, more than just the sun, sand and sea!
25. Gateway Arts storytelling Saturdays
Every Saturday, 10:30am
Storytelling + Arts and crafts, all for a (refundable) fee of $10? Yes, please! Head over to Gateway Arts theatre every Saturday morning from 10:30am for a storytelling session. This August, it's all about Once Upon a Fishing Village; tickets are available through Sistic.
26. Be swept into the world of Pandora at Avatar: The Experience
Gardens by the Bay Cloud Forest is being transformed into the world of Avatar in this brand new immersive event, Avatar: The Experience. With five different zones, check out interactive experiences such as a baby Banshee and 'handler', a life-size animatronic banshee that roars, and take snaps with an artistic sculpture representation of the new marine creature, the Ilu, from the upcoming film Avatar: The Way of Water! Tickets from $35, available from Klook
27. Get booking your theatre tickets! New shows for kids coming to Singapore
We love the theatre, and there are some cracking shows coming to Singapore's shores in the coming months. Who doesn't love a Christmas ballet (we've already booked our tickets to The Nutcracker!) Littles will love Disney in Concert, A Magical Celebration, happening on 17 December (just in time for a pre-Christmas treat!) There's also The Sound of Music (featuring homegrown talented kids that live in Singapore!)
Need more inspo? Check out our huge list of things to do in Singapore!
Whatever activities you decide to do with the kids this week, have a good one, folks. And watch this space for more fun things to do this weekend!