Wondering what's on in Singapore this week? Check out these awesome things to do and family-friendly activities for a ton of fun with the kids this weekend! And psst - we've got some mid-week inspo too!
Your search for fun and kid-friendly weekend plans stops here, because we've got your back! We at HoneyKids are always on the lookout for the latest happenings in Singapore to keep the kids busy over the weekend (and loads of weekday inspo to boot!), so you don't have to. It's such a bummer that more restrictions have been put in place, so while you're waiting to organise that long awaited family dinner out, have a look at what we've got lined up this weekend…
Top things to do this weekend with kids in Singapore (and throughout the week!)
1. Meet the fin-tastic friends at S.E.A
If you haven't yet, you still have three weeks to catch Pinkfong, Baby Shark, and his family at S.E.A Resorts World Sentosa. Don't forget to put on those dancing shoes for the little ones, because they're going to want to groove along to the beats of Baby Shark down the musical walkway. They will also learn fascinating shark facts and become heroes of the sea! While you're at it, snap some cool photos with Pinkfong, Baby Shark, Mommy and Daddy Shark, along with the manta ray mascots Mika, Mako, and Manja. Tell the kids they're going to see Baby Shark, and see how fast they race towards the door!
Where: S.E.A at Resorts World Sentosa
2. Final chance to catch the Dale Chihuly: Glass in Bloom exhibition
This is your last chance to catch this extensive collection of 25 breathtaking glass masterpieces by American artist Dale Chihuly. Once you're done ogling at those beautiful (and huge!) installations, hope over to Creator's Cove and get crafty through a series of fun and interactive workshops while drawing inspiration from the art and nature all around. Remember to prebook your time slots to avoid having to wait!
Where: Gardens by the Bay
3. Watch the Olympics
This weekend, dedicate your time to catching up with the Tokyo Olympics! So many categories will be running over this weekend, such as aquatics, track and field, archery, basketball, and boxing, just to name a few. It's such a shame that Joseph Schooling didn't make the cut this year, but we bet you have your personal fave team or athlete to cheer on (ours is all the incredible competing mums, if anyone asks!). Also, there's no better way to get the kids all fired up and excited than to do some Olympic sports. Check out our ultimate guide to sports classes in Singapore, and enrol the littlies real quick!
How: Mediacorp provides 14 channels of Olympics coverage, but mostly on the Singapore team. You'll need a VPN to online stream a particular country's broadcaster. 
4. Explore Pulau Ubin on bikes
Escape the hustle and bustle of city life and spend the day on Pulau Ubin – a natural gem that's only 15 minutes away by boat. Rent a bike at one of the bike shops, and embark on a journey to discover the 'Granite Island'. Snap a few selfies at Chek Jawa Wetlands and the Tudor house remnants. Cycle down a sensory trail and spot all the fruit trees in sight. Or, rent a kayak if cycling isn't your thing. Never been to Pulau Ubin? Check out our ultimate guide to a day well spent on the island. We promise it'll feel like a mini vacation!
5. Join a storytelling session
Mama Rabbit sent Peter Rabbit to pick blueberries for his birthday cake. But he got distracted by the tasty carrots from Farmer McGregor's farm. What's he going to do? This Saturday, join the young storytellers of The Storytelling Centre to find out what Peter Rabbit is up to!
Where: Online and onsite at Gateway Theatre Dance Studio
6. Go on a back-to-school shopping spree
Schools have now mostly all resumed, but do the kids have enough stationery and other school essentials? If your answer is not yet, then get shopping, because you've got a lot of things to buy! We're talking schoolbags, lunch boxes, stationery, clothes, and so much more. Our handy back-to-school guide will take the pain out of your shopping-for-school experience, and steer you to the best school supplies in Singapore. We've even got the lowdown on child-friendly salons to squeeze in a spiffy new haircut, so your kids can stride through those school gates totally school prepped.
7. Crank it up at Mud Krank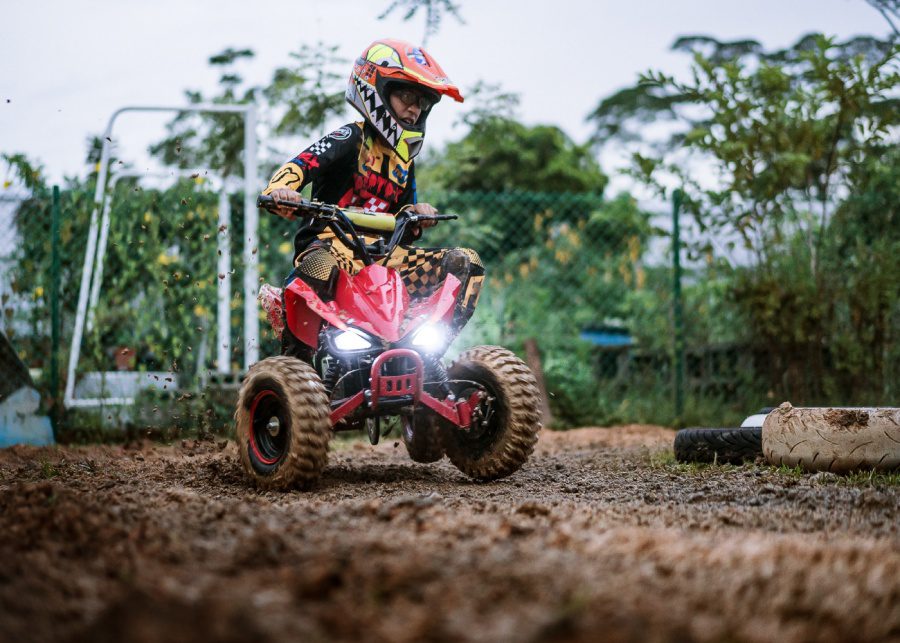 Got a need for speed? Got a kid who's an adrenaline junkie? Then bring them to Gallop Kranji Farm resort, and watch them own the circuit in their chic All Terrain Vehicles (ATV). Each session is 15 minutes, and the kiddos get to drive their ATVs round and round the circuit, adjusting the speed, navigating bends, and crossing obstacles. Don't worry, they will be fully and safely geared up prior to racing, and the track is not actually muddy like its name suggests.
Where: Gallop Kranji Farm Resort
8. Spend the day in Coney Island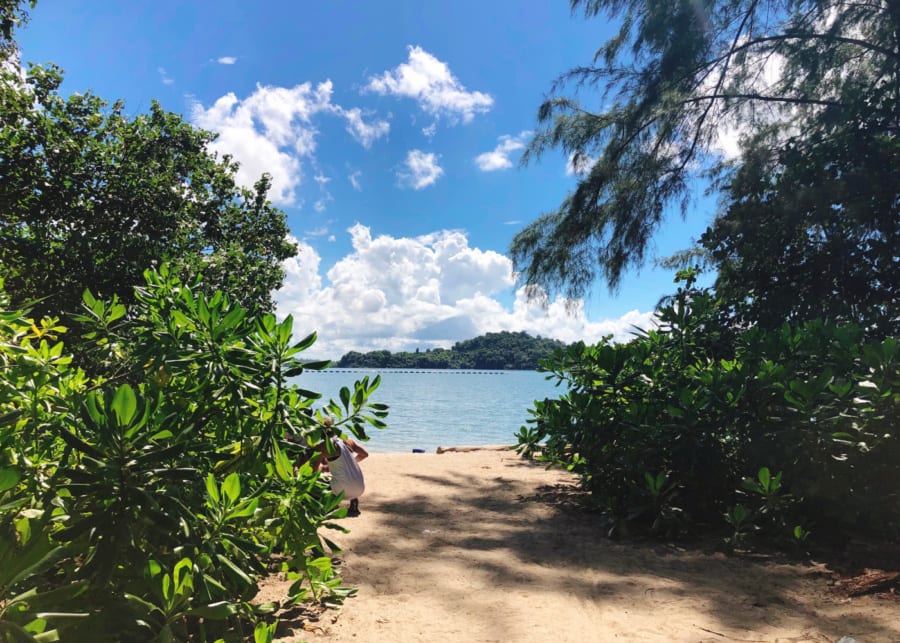 Need a little nature escape? Then head over to Coney Island, hire your bikes at Jomando Adventure & Recreations, and get going! They have an assortment of bikes for the whole fam here, so even your toddlers will be able to join in on all the fun with the toddler bike seats. What we love about Coney Island is how tranquil it is, and the close proximity to the beach means you never get overheated. Bike around, snap some pics, spot wildlife, and dip your toes in the ocean. We hear there are wild boars running about, but we're to see them! Monkeys however, are everywhere, and they will steal your snacks! For newbies who have never been to Coney Island, check out our complete guide for all the tips and advice you'll need!
Where: Coney Island
9. Participate in the Decathlon Sports Fest 2021
With the closure of indoor group fitness classes, comes the popularity of outdoor workouts. Granted, Decathlon Sports Fest is not a workout class, but it's better! It is the first-ever nationwide non-competitive sporting event that hosts 10 different sports, for you to complete by yourself, or with family and friends. Choose one or a few kid-friendly sports, like the 5.6km run, yoga session, or swimming challenge to complete with the littlies. And psst – there are some goodies for you upon completion of each challenge!
Where: Decathlon Sports Fest 2021
10. Order in
No dining out? No problem! Chances are, your fave restaurant is open for takeaway and delivery. If you don't feel like cooking or doing anything this weekend, how about kicking back and ordering in from these kid-friendly restaurants? We won't judge even if you order a few times a day (because we're probably doing the same!).
Wait, there's more! BONUS THINGS TO DO THIS WEEKEND IN SINGAPORE!
11. Take a virtual vacay with the family
While we can't promise a stamp in your passport anytime soon, you can give the kids a treat with a virtual vacay this weekend. How about visiting the ancient sights of Peru via You Visit's 360-degree virtual tour? Got animal fans? Check out Wild Earth which hosts live safari drives on their Twitch stream, so you can get up close with hyenas, lions, elephants, lions and more. Or, how about seeing the sights of Japan with the Japan National Tourism Organization's VR movie and its YouTube playlist? We say order takeout sushi for this one too!
12. Have a go at Origami with these free downloadable kits!
How about trying a new craft this weekend? We love the free downloadables available from Canon's Creative Park website. There are loads to choose from and resources suitable for all ages (even the grown-ups!) – it's also quite addictive once you get the hang of it!
13. Treat the fam to the best cookies this weekend!
Nothing can beat a cookie – so if you think your weekend could do with a special treat, look no further than this list of delish cookies to surprise the fam. Chewy, gooey, soft, crunchy, chocolatey, even stuffed – we've got them all covered!
14. Scoot your worries away at these scoot-friendly spots
Want some outdoorsy fun? Pack the scooter and head off to one of these fab scooter-approved destinations. It's perfect for getting the kids active this weekend! From Punggol Waterway Park in the east to Jurong Lakeside Garden in the west, there are fab spots to scoot all over Singapore!
 15. Get the kids clued up on Chinese culture with Uncle Ting!
Sun Yat Sen Nanyang Memorial Hall have got some super interactive (and educational!) online resources if you're looking for an easy win this weekend and are keen to stay home. You can download and print these booklets and let the kids embark on an adventure with Uncle Ting. From exploring Chinese food to opera and calligraphy, there's something for all!
16. Order in breakfast this weekend!
How about getting breakfast delivered to the door this weekend? No need to get out of those PJs, or panic about the kids trashing the cafe with croissant crumbs. Get ordering from one of your fave outlets and eat in instead. Not only will you be getting a big thumbs up from the kids, but there's no cooking. Win-win!
17. Check out the Children's Biennale 2021 at home!
If you haven't checked out the National Gallery Singapore's Children's Biennale yet, then add it to your list of things to do this weekend! The site is full of fun online activities and games for kids to explore, including immersive animated stories and digital art-making. You'll get to see the work of renowned local and international artists before it hits the gallery walls later this year too!
18. Try one of these pram-friendly walks!
If you want to get out this weekend for a bit of fresh air and have bub in tow, then opt for one of these pram-friendly walks. We've picked 15 of our favourites, from the heights of the Southern Ridges to nature spotting over at Pasir Ris Park Mangrove Boardwalk! There's something for everyone, and you don't need to worry about those pram wheels – winner!
19. Get baking with the kids!
Another great (and yummy) indoor activity to keep the kids occupied this weekend is baking. We've been busy putting together a list of 25 of our fave baking recipes for you to tackle. There's everything from a super easy Nutella mug brownie (with only three ingredients needed) to the ultimate scone recipe. Looking for healthier options? We've got that covered too. From guilt-free apple muffins to sugar-free baking delights and savoury treats. It's fair to say you'll be cooking up a storm in no time!
20. Indoor exercise ideas for all the fam!
Rain stopped play, or just keen to stay home? You can still keep the kids active with these indoor options to get you working up a sweat. From Cosmic Kids Yoga to GoNoodle, there are some brilliant online YouTube videos and apps to get the little ones (and you!) moving!
21. Online storytelling and craft-making session with Gateway Arts Kids Club
Stuck for ideas this Saturday? Gateway Arts Kids Club is bringing a heap of activities to your living room so you can rest easy. At 10am, there's the "Look What I Made!" arts and crafts session streamed on YouTube. Then there's online streaming of storytelling sessions every Saturday at 10.30am. Saturday morning activities, sorted!
22. Dine out (at home!)
If heading out for dinner is tricky, you can still avoid the washing up and order in this weekend. There's everything from comfort food options (much needed this week) to fam-fave pizzas – yup, we've got the intel on all the best takeout deals to see you through the weekend!
23. Hit the beach!
How about exploring a new beach? From dog-friendly (and as pretty as a picture) Tanjong Beach to going back in time over on Pulau Ubin. Or get away from it all and hit the beach at St. Johns Island. Whatever you decide, remember to pack the sunscreen and bite spray (and, of course, be mindful of social distancing!)
24. Explore Rainforest Lumina at Singapore Zoo
The fun for kids doesn't have to stop at sundown. Let them experience a multi-sensory journey, melding nature and technology, that expertly captures the natural sights, sounds, and scents of the rainforest at night. Teach them how to appreciate nature and protect wildlife through interactive play, a symphony of lights, and a beautifully orchestrated music. Other highlights to look forward to this year include a digital thunderstorm conducted by Bob the playful otter, dazzling laser displays on the Luminous Pathway, and thousands of sparkling pixel lights at the Shimmering Islands.
25. Admire the installations at ArtScience Museum
Good news for museum-hopping parents: ArtScience Museum has a range of family-friendly artworks to explore at Future World! Step into Inverted Globe, Giant Connecting Block Town, where interactive art turns into a vibrant cityscape with every move. Watch the kiddos have fun playing with cars, trains, planes and other vehicles projected on this virtual city! Are the little ones obsessed with aquatic life? Check out the Sketch Aquarium, which lets them put pen to paper. Their creations will be brought to life as digitally rendered underwater animals, as if by magic. Keen to explore? Enjoy 30% off exhibition tickets with a free Sands Rewards Lifestyle membership card!
26. Take bubs to a soft play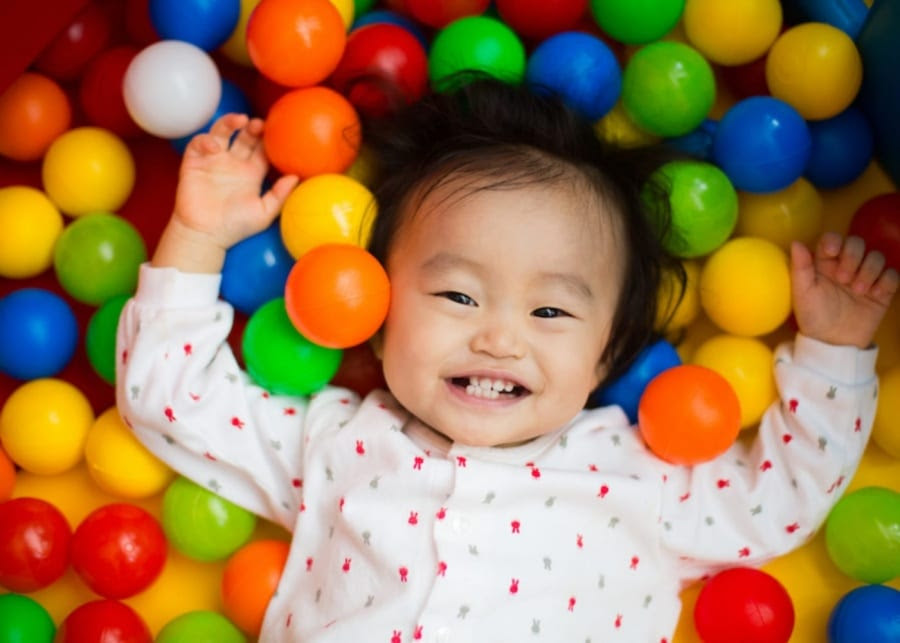 All kids love an indoor play area, but sometimes the littlies of the gang are overlooked. We've compiled a list of tot approved play places to make sure that's the case. After the complete list for older siblings? Check out our fave indoor playgrounds in Singapore. Then read our survival guide for parents to ensure you leave with your sanity intact!
27. Explore a new 'hood!
Never made it to Tampines or Pasir Ris? Still need to explore more of Bukit Timah? Add it to the plans this weekend, and check out this handy guide for more neighbourhood inspo!
28. Catch a blockbuster
What to do today? Cinema time! So what social distancing and safety measures can you expect? Although there is increased capacity, you'll still, of course, need to wear your mask at all times. Want to know what's hitting the screens? See our guide to all the best family films coming out in 2021.
29. Explore a new playground!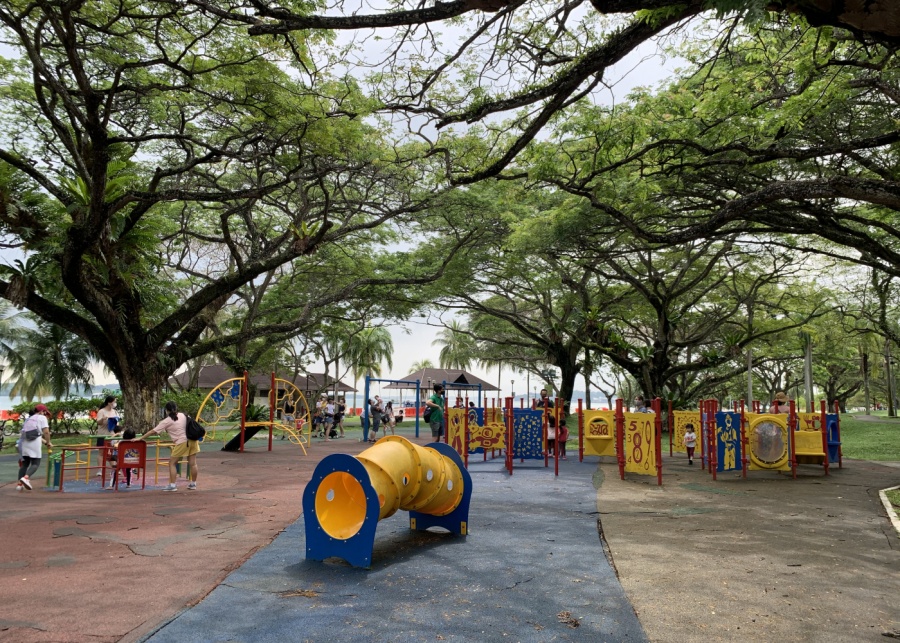 This is one thing we LOVE to do in Singapore – playgrounds. Wondering where to go? Check out our guide to the best parks for kids in Singapore, and then let them enjoy all that fresh air. Don't forget the sunscreen! Come to think of it, don't forget the mozzie repellant either…
30. Head to the zoo
Singapore Zoo, how we love you! We're so excited to say hi to all our animal pals again. Just remember it's running at reduced capacity, so be sure to get there early.
32. Go swimming
Why not take a quick dip with the littlies? We've also pulled together a guide on our fave public pools. Don't forget to check out our guide to where to buy the best kids' swimmers so you can get all the gear. Psst – check ahead to confirm re-opening plans with individual facilities to avoid disappointment!
31. Raid the shops
Need to escape the rain or heat? Head to one of our fave shopping malls in Singapore and treat yourself, we think you deserve it!
32. Hang out with the grandparents
If you ask us, our kids should be hanging with the Grandies almost every day of the week (even though they drive us nuts sometimes!). So, we've put together a list of all the fun things to do in Singapore with the seniors – the kind of family-friendly activities that won't have them wilting in the Singapore heat, but will keep the kids busy too!
Here's a little reminder about the changes as we return to Phase 2:
Groups of up to 2 are allowed to meet (five visitors are also allowed to your home).
Dine-out is not allowed!
Wedding receptions may resumed at 250 attendees capacity (with pre-event testing), and 50 attendees (without pre-event testing).
WFH is still the default mode.
Gyms and fitness studios are closed (for now…)
Don't forget to safe distance!
To do your part and stay safe, you'll still need to limit close contact, maintain hygiene (keep washing those hands!) and continue with the safe distancing. In essence, wear your mask at all times when you leave the house, and stay at least one metre away from others.
Whatever activities you decide to do with the kids this week, have a good one, folks. And watch this space for more fun things to do this weekend!