Wondering what's on in Singapore this week? Check out these awesome things to do and family-friendly activities for a ton of fun with the kids this weekend! And psst - we've got some mid-week inspo too!
It's finally here! Our HoneyKids Asia International School Fair is happening this Saturday, 23 September at the National Gallery Singapore. There'll be over 2o international schools all under one roof, so no more endless emails or traipsing around Singapore on school tours! It's completely free to enter, however you do need to register to let us know you'll be there. We can't wait for this one.
There is lots on at the theatre this weekend, with the Smeds and the Smoos at Victoria Theatre, & Juliet opening at Marina Bay Sands Theatre, and Gateway Theatre's Mid-Autumn play happening in their Sky Garden this Saturday only. Speaking of Mid-Autumn, preparation for this Festival is in full swing. Take a walk and enjoy beautiful new lantern displays at Gardens by the Bay, Jurong Lake Gardens and Chinatown. Don't forget to order your mooncakes!
We have BRAND NEW episodes of our HoneyKids Asia 'Growing Pains' podcast, and we'd love for you to give it a listen! Without further ado, here are your weekend plans with the kiddos, sorted.
Top things to do this weekend with kids in Singapore (and throughout the week!)
1. Shop and play with your family at the Not So Little Fair
30 September – 1 October 2023
The Not So Little Fair is back again! This time, you and your little ones can get up close and personal with the Minions, travel to outer space at the fair's dedicated play area (put together by Kiztopia!), and check out products and services from over 80 premium retail brands! Not So Little Fair is an all-encompassing and experiential event specially designed for families with children up to 12 years old. On top of exclusive shopping deals from a host of curated brands, you can expect entertainment for the kiddos with play areas, fun hands-on trials, and family-friendly live shows. Plus, make a purchase at Not So Little Fair and you might just be in the running to snag a Sentosa Fun Pass for the fam! Shopping and fun – all under one roof, we love! Entry is free with registration, book your passes now!

Bonus: The first 20 to book your slot with the promo code "NSLFSep23xHoneyKidsAsia" will enjoy all the perks under the Best Bud VIP ticket, including free entry to Kiztopia Play Area, instant redemption of a mystery surprise gift (worth up to $100), and more!
When: 30 September – 1 October 2023
Where: Suntec Convention Hall 403
2. THIS SATURDAY: Register now to attend our International School Fair (and stand a chance to win a trip to Phuket!)
23 September 2023
Are you looking for an International School in Singapore or Malaysia, and you aren't sure which one is the right fit for your family? Don't traipse around the island on countless school tours. Register now and attend the HoneyKids Asia International School Fair! Happening on 23 September at the National Gallery Singapore, meet with 20 of the best international schools all under one roof!
There's expert panel discussions on the different curricula. You can ask all your questions on after school activities, language classes, and of course, school fees, and compare them on the spot! There'll also be supporting partners, loads of family fun, and free entry to the Children's Biennale at the National Gallery. Sign up now (there's a 4D3N stay at Club Med Phuket up for grabs) and we'll see you there!
3. All the fun activities at the Children's Biennale 2023
After you've spent some time at the International School Fair, while you're at the National Gallery why not take a look at all the happenings at the Children's Biennale! We've put together our ultimate guide to all the fun activities (plus an exclusive guide just for toddlers, too!).
4. Book your seats with the little ones for this production of The Smeds and The Smoos
21 to 25 September 2023, Victoria Theatre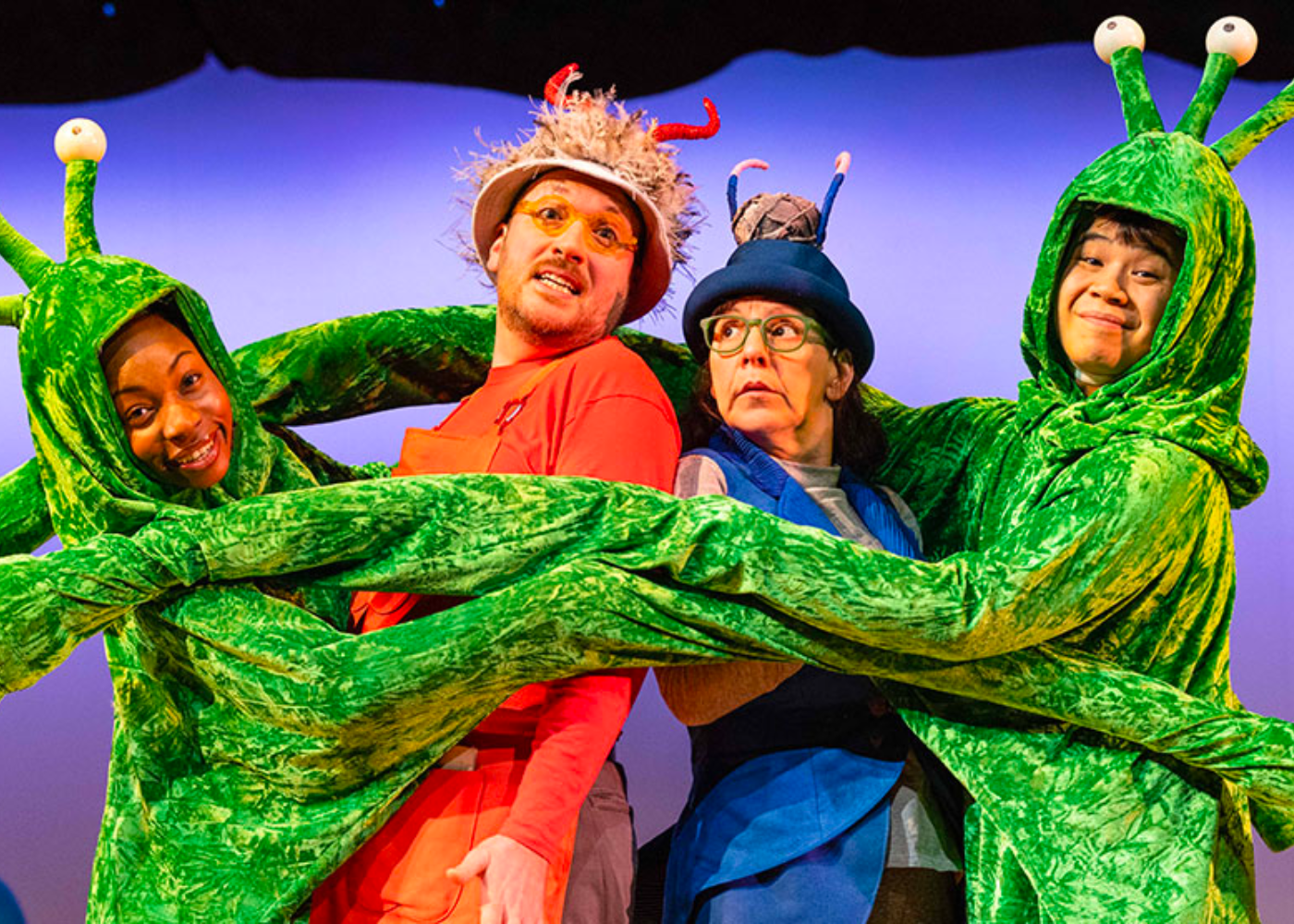 Soar into space with this stellar new show based on the book by Julia Donaldson and Axel Scheffler. On a far-off planet, The Smeds and the Smoos can't be friends. So when young Smed and Smoo fall in love and zoom off into space together, how will their families get them back? Music, laughs and interplanetary adventures for everyone aged three and up from Tall Stories – the company that brought you The Gruffalo and Room on the Broom live on stage!
BONUS: Want a cheeky discount? We got you.
Save 15% quote 'SMS15' when booking (applies to Thursday + Friday Performances)
Save 10% quote 'SMS10' when booking (applies to Saturday + Sunday Performances)
5. NEW: Explore the World of Nickelodeon at Let's Play, Marina Square
23 September 2023 – 14 January 2024
If your kiddos love Paw Patrol, Spongebob Squarepants, Dora the Explorer and Teenage Mutant Ninja Turtles, then you'll want to snap up tickets to Let's Play at Marina Square for the return of the immersive experience, World of Nickelodeon! Active kiddos will want to complete their ninja training with the turtles, while adventurous little ones can climb to the top of the Paw Patrol tower! We can't wait to explore and see what other fun activities are on offer. Head to Sistic for tickets, prices starting from $28.
6. Free movie screenings, carnival and bouncy castles at Carnival by the Bay 2023
22 to 23 September 2023, 5pm to 9.30pm, The Lawn @ Marina Bay
Look forward to free outdoor movie screenings and a fun-filled carnival this weekend at The Lawn @ Marina Bay! Top Gun: Maverick and Jurassic World Dominion will be showing while you enjoy the evening breeze and beautiful city skyline views on the sprawling grounds. There will also be a carnival featuring interactive arcade games and exciting inflatables!
7. Take the kiddos to see The Race Around the Moon in preparation for the Mid-Autumn Festival!
Saturday, 23 September 2023, 2pm and 5pm, Gateway Theatre Sky Garden
Why not hop to the theatres with the kiddos this weekend? Gateway Theatre unveils its latest production, The Race Around The Moon, in celebration of the upcoming Mid-Autumn Festival. You can expect to see some of the characters from the original legend. This original play captivates audiences aged five to 10 (or a little above) through a journey that teaches them the value of friendship, perseverance and self-discovery. It's open to the public for one day only on 23 September at Gateway Theatre's Sky Garden.
Although stranded on the moon for years, Chang-E, Jade Rabbit and Wu Gang are friends and help each other get by while pining for their respective homes on Earth until they find themselves locked against each other in a race. The winner gets to go back to Earth. How will these 3 friends navigate this difficult situation? Catch the play to find out! Expect kiddos to be enchanted by the immersive elements. They might even have the opportunity to get on stage to help the cast during the big race!
This original play captivates audiences aged five to 10 (or a little above) through a journey that teaches them the value of friendship, perseverance and self-discovery. It's open to the public for one day only on 23 September at Gateway Theatre's Sky Garden. Kiddos are in for a treat with a lantern-making activity after the show.
8. Girls Night Out! Head to the theatre to see & Juliet, the musical
21 September to 8 October 2023
Gather your girlfriends, make it a date night, or bring along your older kiddos to go and see this feel-good musical coming to Singapore for the first time! & Juliet is a musical based on the incredible musical talent of Max Martin, an insanely successful music producer. Featuring songs from Katy Perry, Britney Spears, the Backstreet Boys, Kelly Clarkson and more, this is a story of self discovery, empowerment and love, and we are so excited to see it!
BONUS: Want a cheeky 20% discount? You're welcome!
9. Get fit with the fam and join the Mandai Wildlife Run
23 to 24 September 2023
A family fun run, but with animals! The Mandai Wildlife Run is back again, in support of endangered wildlife. Choose from a 5km competitive run, a more leisurely walk, or take the minis with you and join in the 3.5km Ranger Buddies family dash. Start time is early (from 7am), so you miss the hottest time of day. A great way to spend some bonding time outdoors, and there are fun fringe activities and sustainability workshops happening too!
10. Visit the Science Centre for the 2023 Comics Art and Sci-Fi Expo
23 to 24 September 2023
Have you got comic book fans on your hands? Visit the Science Centre Singapore this weekend and check out the Comics Art and Sci-Fi Expo! Kiddos can meet their heroes as Comic creators from the US are set to make appearances over the weekend, including Texan David Angelo who helped to create Rick and Morty. Check the schedule and book your tickets online before you go (prices start from $15).
11. Prepare for Mid-Autumn celebrations with a lantern walk
16 September – 1 October 2023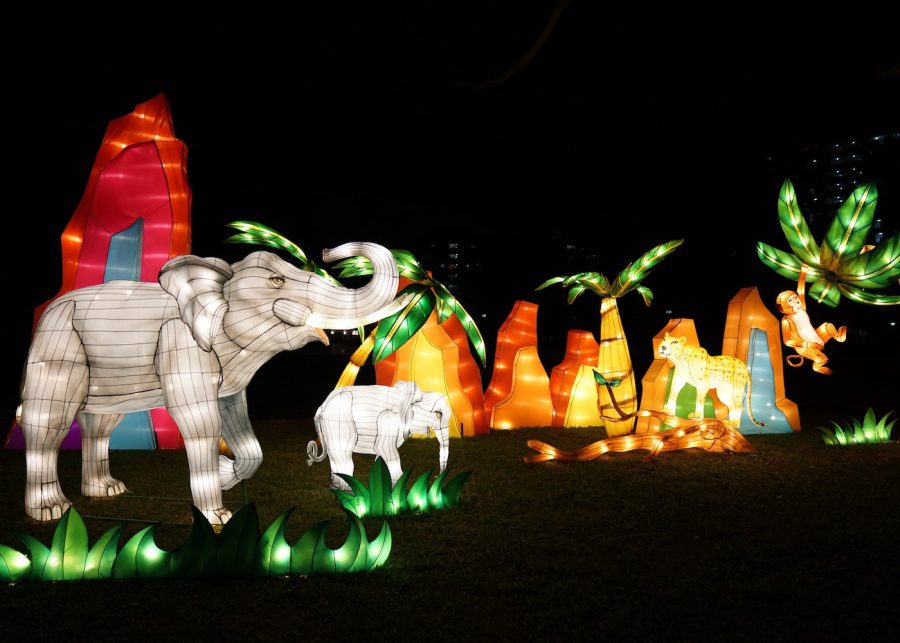 Mid-Autumn celebrations are in full swing! Jurong Lake Gardens is hosting Lights by the Lake throughout September with beautiful lantern displays, performances, a festive market (with F&B!) and fun activities! The whole park lights up every night from 7pm with magical lantern sculptures that are perfect for photo ops. Make sure to read our Guide to Jurong Lake Gardens before you go!
Explore Chinatown and see the lanterns lighting up along New Bridge Road, Eu Tong Sen Street,  South Bridge Road and Upper Cross Street. Don't miss the festive fairs happening in the event spaces outside People's Park Complex and Smith Street.
For more lanterns, check out Gardens by the Bay Mid-Autumn celebrations. We are so excited to see this year's display and join in the fun fam-friendly activities and performances! Lastly, don't forget to order your mooncakes – we've listed out our favourites to help you decide.
Wait, there's more! MORE THINGS TO DO THIS WEEKEND IN SINGAPORE
11. NEW: Listen in to the new season of our HoneyKids Asia Growing Pains podcast
Are you a mum who needs a makeover? Are you worried about your teenager and mental health, and wondering how you can help? Need advice on social media and kids? You've come to right place. We cover all of this and more in our brand new season of our HoneyKids Asia Growing Pains podcast, with expert guests and really meaningful, helpful advice and discussions. Tune in now, wherever you get your podcasts!
12. Rainy weather? Head to the cinema! Here's our list of our favourite new flicks
Book your tickets and grab the popcorn, there are loads of fun new movies opening at the cinema! Fans of the Teenage Mutant Ninja Turtles will be excited to see this reboot. If Formula 1 fever hasn't quite left your system, check out Gran Turismo on the big screen before its run ends. There's also a new Poirot tale, for the murder mystery fans out there (great for a date night!) See you at the movies!
13. Explore the hip hood of Tiong Bahru
We love eating, exploring and playing through Tiong Bahru, so we have put together a fun Guide to help you make the most of a visit! The train themed playground is a firm favourite with our kiddos, and there are lots of cute shops and cafes to enjoy. Don't forget to explore the wet market and collect a beautiful bunch of (inexpensive) flowers to decorate your home!
14. Egg Splash water play has reopened at Bird Paradise!
If your kiddos love Bird Paradise like ours do, then they'll be super excited to hear the Eggsplash water play has reopened (thanks for the heads up @lydiaslaytonlife!). Gentle reminder to keep a close eye on the kiddos to prevent any accidents, and they should follow the directions in the playground to only slide down, and not climb up.
Psssst.. we have a whole list of our favourite free waterplay parks in Singapore to explore!
Book ahead…
15. Disney in Concert: The Sound of Magic – Celebrating 100 years of Disney!
Favourite characters and soundtracks from the Walt Disney Animation Studios and Disney Parks come to life on stage and the big screen at the Esplanade Theatre in a live-to-film concert like never before.
When: 7 – 8 October 2023
Where: Disney in Concert: The Sound of Magic, Esplanade Theatre
16. Take your little 'Things' to see The Cat in the Hat
Based on the all-time favourite book by Dr. Seuss, The Cat in the Hat has been developed into a magically witty play by Britain's National Theatre. After the successful staging by SRT's The Little Company in 2012 and 2015, The Cat in the Hat is now back again! Your little 'Things' will love this production of The Cat in the Hat. In the traditional style Dr. Seuss, this story is a lesson in grammar, syntax, scansion, phonics, morality, ethics, tolerance and the human spirit.
When: 18 October – 12 November 2023
Where: The Cat in the Hat, KC Arts Centre – Home of SRT
17. Book a trip to Hong Kong Disneyland for the opening of Frozen World
Opening 20 November 2023
Have you got little Frozen fans in your house? It's time to start planning a trip to Hong Kong Disneyland to be first in line at Frozen World! Check out our Guide to Hong Kong for more info!
18. Get your tickets now for the Disney Immersive Experience coming to Singapore this November!
18 November – 31 December 2023
Disney fans won't want to miss this super cool immersive experience coming to Singapore this November! You can get your tickets now, ready for the opening. Expect a Disney Frozen experience, a bubble room to take you 'under the sea' with Ariel, and shimmer and glow wristbands for VIP's!
Need more inspo? Check out our huge list of things to do in Singapore!
Psst, are you on Threads yet? Come and say hello and join us – we'd love to hear what your plans are this weekend.
Whatever activities you decide to do with the kids this week, have a good one, folks. And watch this space for more fun things to do this weekend!