Wondering what's on in Singapore this week? Check out these awesome things to do and family-friendly activities for a ton of fun with the kids this weekend! And psst - we've got some mid-week inspo too!
The international school holidays are in full swing (for different schools at different times – check your calendars!). We have rounded up loads of fun ideas to keep the kids entertained and listed out our fave holiday camps too!
Our Muslim friends will be celebrating the beginning of Ramadan, and with this brings the return of the bazaars! Also, be sure to save the date for our egg-citing Easter event at Forum The Shopping Mall. For this weekend, why not head to S.E.A Aquarium with the kids – they are looking for Junior Ocean Detectives. Bigger kids won't want to miss Andy Griffith's 13-Storey Treehouse, Live on Stage at Victoria Theatre, happening this weekend only!
Happy weekend, everyone!
Top things to do this weekend with kids in Singapore (and throughout the week!)
1. Plan ahead: Come for our Easter Magic event at Forum The Shopping Mall
1-2 April 2023, 11am-4pm
You're in for a hopping good time at our Easter Magic event at Forum The Shopping Mall this April. That's right; the HoneyKids team has prepared a weekend of fun for the whole fam! There'll be arts and crafts, performances, as well as a Scavenger Egg Hunt around the mall. The best part? Winners of the egg hunt will get to bring home some amazing prizes! Last but not least, what's Easter without the Easter Bunny? Our lovable Easter Bunny mascot will be making an appearance as well, so come over to say hi and snap a photo or two!
2. Herald the return of the Ramadan bazaar
17 March – 22 April 2023
Our Muslim friends will be honouring the holy month of Ramadan, and you know what this means… The Ramadan bazaar at Geylang Serai is back again – and this time, it's bigger than ever! Expect more than 700 stalls where you can chow on delish food and sweet treats, browse through beautiful baju kurungs and kebayas, and bask in the excitement. The bazaar runs from 17 March to 22 April. Psst, while you're there, be sure to check out the Hari Raya light-up!
3. International school holiday fun! Loads of things to do (plus our list of the best camps!) for the March / April holiday breaks
It's school holidays for some of the international schools in Singapore, and we have got you covered with a whole list of things to do! Shows, exhibits, scoot routes, our favourite parks and green spaces, and more! Take a look and get filling up your Singapore school holidays itinerary with these fun-filled activities for the whole family. You can also check out our list of holiday camps to keep the kiddos occupied. Happy holidays!
4. Andy Griffith's 13-Storey Treehouse, Live on Stage
If your kids love the book series of the same name, then get booking your tickets to this fun and hilarious stage production, coming to Singapore in March this year! After all, who wouldn't want to live in a tree house? Especially a 13-Story Treehouse that has everything! A bowling alley, a secret underground laboratory, and self-making beds, for starters!
Andy and Terry live there, make stories together, and have a series of completely silly adventures…There's just one problem. They forgot to write the play! And where will they find flying cats, a mermaid, a sea monster, an invasion of monkeys, and a giant gorilla? We can't wait to find out! Book your tickets at Sistic.
When: Saturday, 25 March 2023 – Sunday, 26 March 2023
Where: Andy Griffith's 13-Storey Treehouse, Live on Stage, Victoria Theatre, 11 Empress Place, Singapore 179555
5. Take the kids to see Asia's best compete in the Water Polo Championships!
Wednesday 22 March – Monday 27 March 2023
The Asian Water Polo Championships will see host Singapore take on regional powerhouses like Kazakhstan, China and Iran in the men's competition. In the women's competition, Kazakhstan and Uzbekistan will be the teams to watch. This is a qualification tournament for the World Aquatics Water Polo World Cup, which will be held in Berlin, Germany, from May 1-7 2023. The top two men's and women's teams will earn slots to compete among the world's best. So book your tickets and inspire the next generation of water polo players! Tickets from $5, available from Sistic.
6. One Punggol Hawker Centre launching this weekend! Family fun at the Pasar, magicians for the kids, and more!
Saturday, 25 March from 10am to 6pm
Looking for a fun dining experience with some magicians thrown in? Head to One Punggol for the Grand Opening of the Hawker Centre, and enjoy a day of endless food and fun! There's a jam-packed schedule of multi-generational activities and programmes that will keep the whole fam entertained all day long! Don't miss out on the ultimate foodie and fun-filled experience – head online for more details.
7. Special workshops for parents and teens: Happy Me, Happy You
Are you having trouble understanding your teenager? Does your spouse understand your frustrations at work and at home? How can you better express your dissatisfactions, fears and worries without starting a fight? Gardens by the Bay are hosting a series of workshops to equip and train you to help you connect better with loved ones and be a better you. A separate session for your child will be conducted at the same time if you sign up together. Head online for more information and to book. Pssst… Check out Sakura at the flower dome or the Avatar Experience while you're there!
8. Visit a pop-up library at City Square Mall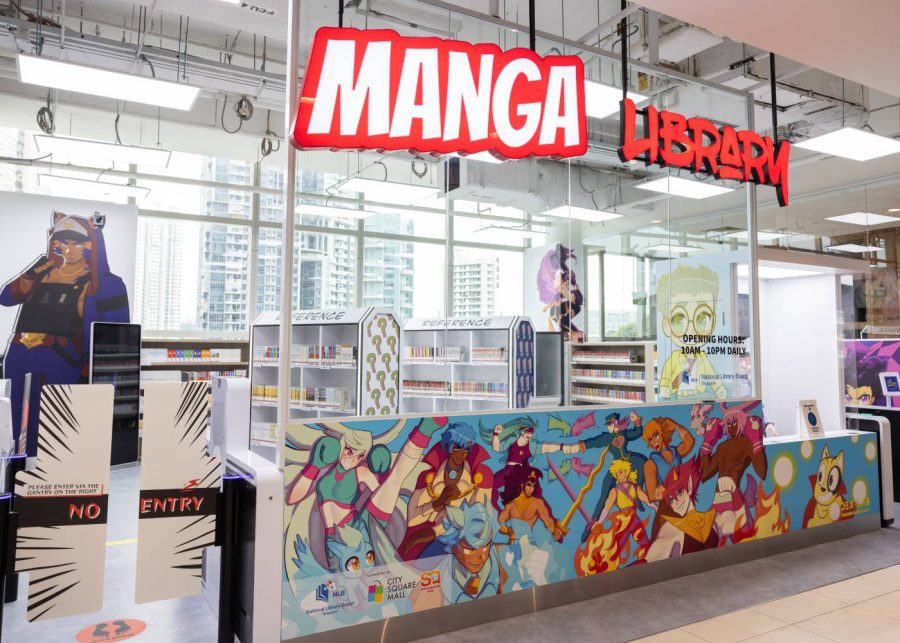 Hop over to City Square Mall with the brood and explore the first Manga Library in Singapore. Peruse a colourful and vast collection of 5,000 manga books to borrow from and browse creative digital manga on e-Reads screens. There's an exhibition space that showcases the Singapore comics scene. While you're there, acquaint yourself with Mr Kiasu robot concierge – a smart bot programmed with an AI-generated voice. This very helpful bot will recommend books and provide basic instructions on using Grab-n-Go, among other services.
9. S.E.A. Aquarium is looking for a Junior Ocean Detective
Got a curious kid who's into solving mysteries? S.E.A. Aquarium is on the lookout for Junior Ocean Detectives, and your kid could be just the person they need! Sign the kids up for S.E.A. Aquarium's Trainee Detective, where they'll be tasked to investigate some marine mysteries. Each Trainee will receive their own detective toolkit and case file before they embark on their investigative trail.
This experience will bring them on an educational journey, learning about the relationships between marine animals, the importance of maintaining the balance of the ecosystem, while picking up some critical thinking skills along the way. Plus, they'll even get to go behind the scenes to meet an aquarist! S.E.A. Aquarium's Junior Ocean Detective is a drop-off programme suitable for kids ages seven to 12, and will run every weekend from 11 March until 12 November 2023, with daily slots during the March and September school holidays. Enlist your mini detective today (tickets priced at $66++, inclusive of admission to S.E.A. Aquarium)!
10. Explore the newly opened Kranji Node of the Railway Corridor
The latest addition to the Railway Corridor is up in the north outside Kranji MRT, and it features a cool rustic nature trail for the kids to explore. There's also a new access point at Hillview Bridge to check out, with a lookout deck near the Upper Bukit Timah truss bridge. It's time to go outdoors and get hiking – weather permitting, of course.
Wait, there's more! BONUS THINGS TO DO THIS WEEKEND IN SINGAPORE
11. There's a new Japanese-inspired flower exhibition at Gardens by the Bay opening this weekend!
Inspired by the theme of train travel, this year's Sakura floral display will see the Flower Dome transformed into a landscape evocative of a scenic train journey across the most beautiful areas of Japan. To complement the cherry blossom viewing experience, you can also look forward to enjoying a lineup of Japanese-themed activities, such as cultural experiences held in collaboration with the Embassy of Japan in Singapore's Japan Creative Centre! Book your tickets online.
12. Throwback to the 2000s at this art exhibition
You're not a true blue millennial if you don't know who – or what – Toki Doki is. The colourful brand is part of Kawaiimpressionism, a free art exhibition that's currently taking place at Raffles Hotel. The exhibition features large statues and paintings depicting fashionable women in various states of life. Head down and relive this nostalgia while it's still around, as the exhibition is only up till 26 Mar.
13. Are you listening to the latest season of our podcast?
That's right – we're back again with the next instalment of our podcast, Growing Pains! From the rise of eco-anxiety to sex education in Singapore, we've been chatting to cool parents from all corners of the Little Red Dot. So grab a coffee and join our lovely host, mum-of-two Ange Neo, as she gets the lowdown on all the hottest parenting topics right now.
14. A treat for the senses: Van Gogh: The Immersive Experience
The award-winning Van Gogh: The Immersive Experience is a 360-degree multi-sensorial art exhibition, and it's on now at Resorts World Sentosa! This digital immersive event is also accompanied by its signature virtual reality experience, where you'll be surrounded by over 300 of Van Gogh's renowned artworks. You can even try your hand at creating your own masterpiece – the kids will be sure to love this! Psst… Best to get your tickets ASAP – they're selling like hotcakes.
15. Go rock climbing at [email protected], Singapore's newest attraction at Changi Airport!
Are your kids bonkers about bouldering? There's a new rock climbing wall to scale from the team at The Rock School Singapore! Head to Terminal 3, Basement 3 at Changi Airport to find an 8-metre-high rock-climbing wall as well as a 12-metre-long boulder wall. This family-friendly facility has both guided and free-and-easy programmes for climbers of varying skill levels, from as young as two years of age all the way through to adults, so the whole fam can get involved! Tickets from $15 for kids, $17 for adults, or $10 for supervising adults (non-climbers). Want to explore a rock wall closer to home? We've found all the best places to go rock climbing with the kids in Singapore! Enjoy.
16. Sneakertopia: A cool exhibition to visit with teens
Until 17 July 2023
Teens complaining they are bored this weekend? Head to the Art Science Museum and take in the 'Sneakertopia: Step Into Street Culture' exhibition. Sneakertopia is a colourful, larger-than-life sneaker and street culture exhibition that celebrates the art and history of sneakers and much, much more!
The event info: "Born on the streets, sneaker culture has since been driven by artists, athletes and celebrities who express their creativity and passion through sneakers and their designs. Whether status symbols or markers of identity, there is no denying the role of sneakers in defining pop and street culture today, but this phenomenon is about more than just sports, hip-hop and fashion." Sounds like our teens are going to love this! Book tickets online
17. Visit the renovated Peranakan Museum
Ongoing
After nearly four years of renovations, the Peranakan Museum at Armenian Street has opened its doors to the public again. The completely refurbished building features brand-new permanent galleries that introduce visitors to the diverse Peranakan cultures of Singapore and Southeast Asia. Psst, check out the amazing murals in the kids area during your visit!
18. Visit the revamped Future World at Art Science Museum
There are new exhibits at our favourite digital playground, Future World, at the Art Science Museum! Think mesmerising underwater scenes, evolving cityscapes and celestial wonders. We had a sneak peek; check out our lowdown before you go, and don't forget that kids go free on Fridays! Book your tickets now.
19. Happy 100th Birthday, Disney! Visit Jewel for a spectacular Disney-themed light show and exclusive merchandise
16 January – 9 April 2023
Mon- Thu: 7.30pm, Fri – Sun, PH & Eve of PH: 7.30pm & 9.30pm

We are all huge fans of Disney here at Honeykids Asia! Be enthralled by the Disney100 Light and Sound show featuring a plethora of characters from iconic Disney films over the century. Step through the Disney100 archway and emerge in front of a 4-metre-tall platinum statue of Mickey Mouse. Avid Instagrammer? Explore exclusive Disney-themed photo spots only on display in Singapore! Inspired by scenes from Disney, Pixar, Marvel and Star Wars movies, these interactive photo spots at the Shiseido Forest Valley and Canopy Park are sure to bring back fond memories (we all have our favourite classic Disney movie!), all while capturing new ones with the kiddos. Visit the website for details.
20. Visit the T3 Underground Carnival!
Until 2 April 2023
Wednesday – Friday: 5.30pm to 9.30pm
Saturday, Sunday, Public Holiday, March School Holiday: 12pm to 10pm 
If you're out Changi way, why not pay a visit to the T3 Underground Carnival? Experience the past, present and future all at once, with 9,000 sq ft of fun and over thirty carnival rides and games in different themed zones. What's a carnival without prizes? Test your accuracy, strength and luck at the various game booths, such as Ball the Clown and King Hammer and win home some larger-than-life plushies! The Modern World also houses a large 3D shooting gallery that boasts a variety of maps, enemies and levels.
21. Prep your holiday plans for 2023
We've figured out all the 2023 public holidays you need to know about this year so you can make the most of your annual leave days and start booking those fun family getaways now! Find out the best times to visit Asian holiday destinations or where the best kids' clubs are – we've covered it all! Don't forget to take some time to explore all the fun happenings at Changi Airport if you're jetting off with kids in tow.
22. Visit Mattel Playhouse!
13 January – 9 April 2023
We love indoor play centres, especially during this rainy weather we've been having. And fans of Barbie and Hot Wheels won't want to miss the Mattel Playhouse at Marina Square. From self-drive replica Hot Wheels cars to a huge ball pit playground and Barbie disco, as well as a ride on Thomas the Tank Engine, this is a toddler's dream space! Book tickets now from Trip.com.
23. Check out some new additions to Fort Canning Park
We love a good day out at Fort Canning Park, and now there are two new things that you can explore while you're there. Visitors can learn more about the park's history at the new Fort Canning Heritage Park. The gallery is located on the second and third levels of the Fort Canning Centre. Admission is free, and it opens daily from 10am to 6pm.
24. Visit Jurassic Nest at Gardens by the Bay, with Michelin-starred food and 18 huge dinosaurs!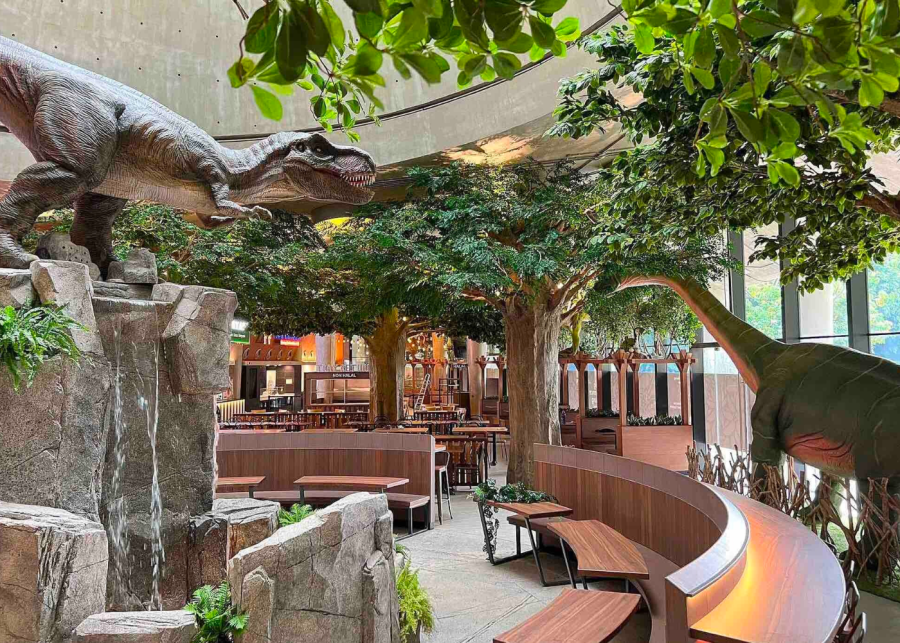 Fancy dining among the dinos? Check out Jurassic Nest Food Hall, the newest restaurant at Gardens by the Bay, which includes super cool and realistic dinosaur statues! This is more than a restaurant hall; it's a whole edutainment destination in itself with daily shows and an educational trail that guides you to explore the surrounding gardens to discover fascinating facts about some of the earliest species of flora and fauna that existed since prehistoric times (wow!)
25. Fun attractions at the Central Beach Bazaar in Sentosa
All weekend
Located at the heart of Sentosa's beaches, Central Beach Bazaar is a new attraction that offers a day-to-night carnival beach experience, featuring the return of the iconic Sentosa Musical Fountain, which is augmented by the tallest fountain in Southeast Asia, the Sentosa SkyJet. Central Beach Bazaar will be the highlight of your day at the beach, more than just the sun, sand and sea!
26. Be swept into the world of Pandora at Avatar: The Experience
Until 30 June 2023
Gardens by the Bay Cloud Forest is being transformed into the world of Avatar in this brand new immersive event, Avatar: The Experience. With five different zones, check out interactive experiences such as a baby Banshee and 'handler', a life-size animatronic banshee that roars, and take snaps with an artistic sculpture representation of the new marine creature, the Ilu, from the upcoming film Avatar: The Way of Water! Tickets from $35, available from Klook
27. Updated: Hunt for dinosaurs around Singapore
Ongoing
Love dinos? So do we! And there are loads of places to see dinosaurs in Singapore – special exhibitions, museums, theme parks, playgrounds, and on TV. We've rounded up everywhere we spotted a dino into one handy list – happy dino hunting!
28. Gateway Arts storytelling Saturdays
Every Saturday, 10.30am
Storytelling and Arts + crafts, all for free? Yes, please! Head over to Gateway Arts theatre every Saturday morning from 10:30am for a storytelling session. Tickets are available through Sistic.
29. Visit a library, including the newly opened location at Punggol!
Ongoing
New library alert! Punggol Regional Library has opened two of its five floors, and there are heaps of fun things for the kids to explore. Make a beeline for the 'World and Us Zone', which features reading materials from around the world. For activities, check out the DIY tinkering station, which has fun, hands-on activities and challenges to put the kids through their paces.
There's also TinkerTots, where children aged six years and below can play with educational toys and an amazing Toy Library. So much fun for just two floors! We can't wait for the rest of the library to open. Meanwhile, why not check out our list of favourite kid-friendly libraries in Singapore?
Need more inspo? Check out our huge list of things to do in Singapore!
Whatever activities you decide to do with the kids this week, have a good one, folks. And watch this space for more fun things to do this weekend!