Photography: freepik via Freepik
While we're sure the kids (and dad) have got our Mother's Day prezzies under control, we think homemade offerings are always the best...
Mother's Day: the annual date in the calendar (other than our birthdays) where we get spoilt rotten and celebrated for our awesomeness. While we're super excited for a fancy Mother's Day brunch (hint hint!), we're still hoping for the mother of all Mother's Days, AKA a lie-in (past 6am, at least), some gorgeous flowers and – dare we say it? – breakfast in bed! If the kids haven't been able to sit with dad for a spot of shopping, we say break out the craft supplies. Here are some fun Mother's Day craft ideas that kids of all ages will love making for mum…
Mother's Day craft gifts
1. Mother's Day crown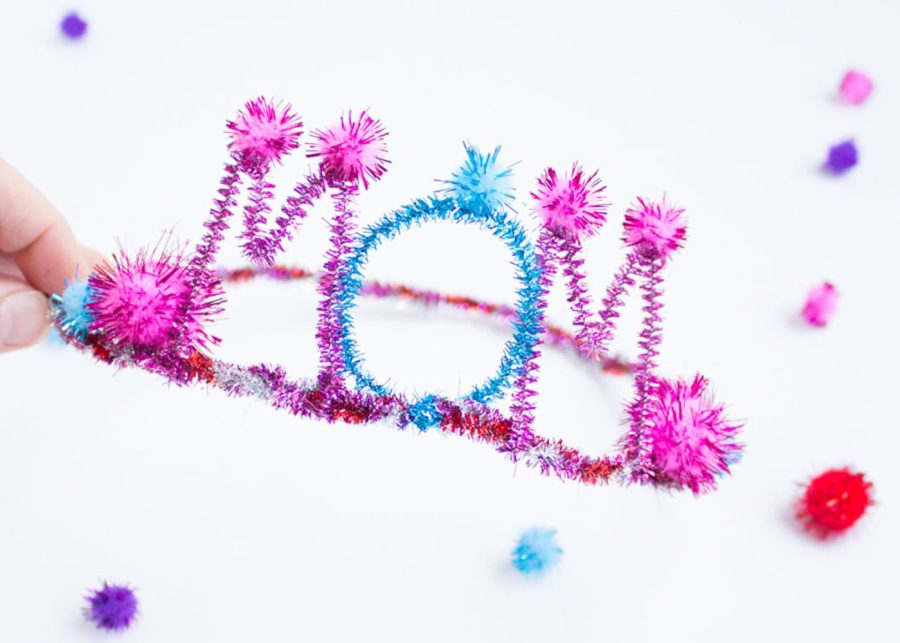 What better way to honour the queen of your home than with a DIY crown? All you need are some sparkly pom-poms and pipe cleaners, instructions from Oriental Trading and… ta-dah!
Photography: Mr Printables
Looking for a quick fix? Mr Printables has your back with these neat typography crowns guaranteed to make mums feel like queens! Simply print your desired design and set about making the paper crown! This Mother's Day crown craft will make mummy feel like royalty on her special day.
2. DIY crayon candle
If you have loads of stubby crayons lying around the house, The Pinning Mama has a great craft idea that you can follow. Get the little ones to pick out momma's favourite colours and have fun creating this colourful candle. Add in any essential oil if you want to make it a scented candle.
3. Tissue paper flower bracelet
No money to get a bracelet for mummy? No problem, here's the next best alternative – a tissue paper flower bracelet! Follow the awesome tutorial by Buggy and Buddy and see your mother's face light up when you present her with this.
4. Framed pressed flowers
So you got your mum a beautiful bouquet for Mother's Day. What happens to the flowers after a few days, then? Here's an activity that will prolong the blooms and serve as a beautiful reminder in your home… forever! LilyArdor has the instructions on how to press flowers and frame them up.
5. Paint a rock portrait
Photography: DIYCuteness via Pinterest
Mums rock our world, so how about we paint up some rocks to celebrate her? Grab yourselves a few pebbles on your next day out, then dust off the brushes and paint. You can also find some cute ideas on DIYCuteness.
6. Tin can planters
We're pretty sure you must have some canned goods in the house – who doesn't?! Well, once you're done with your tins of beans, why not turn them into some super-cute planters? These gorgeous and vibrant upcycled pots by The Best Ideas For Kids are perfect for housing a succulent or cactus.
7. Yarn letters
How awesome are these yarn-wrapped letters from Art Bar? If you've got some wool remnants lurking about the house, get the kiddies to put them to good use. Not only do these eye-catching letters keep hands of all sizes busy (preschoolers, in particular, love this one!), but they look amazing displayed on a shelf or fireplace. Better yet, if you have more than one child, you can dish the labour out. It'll buy you enough time for a hot cuppa, at the very least…
8. Origami heart bookmarks
Raise your hands if you're an avid reader (have you checked out the HoneyKids Book Club yet?)! If so, perhaps your kids can try this Mother's Day craft – guaranteed to be useful! That Kids Craft Site has a super easy-to-follow tutorial and we can't get enough of.
9. Create some fuzzy felt abstract art
The House That Lars Built is one of our fave sites for awesome craft ideas, and this abstract art felt board is no exception. Stock up on some colourful felt and create this board in a flash. It's hours of fun for them and some one-of-a-kind abstract art for you to enjoy, too. Definitely the gift that keeps on giving.
10. Make a macaroni necklace to wear with mummy pride
Revisit this old classic for Mother's Day as a gift for you (or your mum friends!), because who doesn't have a soft spot for the macaroni necklace? And yes, neon and outrageous tassels are totally acceptable!
You will need:
Pasta – try penne, macaroni and little pasta stars
Embroidery needles
Embroidery thread
Nail polish – the nail polish adds a layer of lacquer which helps with strength, but you can also use paint if you're working with kiddies
How to do it:
Paint your pasta. Gold works really well because it's quite similar to the colour of the pasta, so you don't notice any imperfections. Plus… bling!
Tip: to paint the little stars and macaroni, we used a bamboo skewer to hold it while we painted.
Let the pasta dry in a plastic take-away container. It will be easy to get off afterwards. Don't let it dry on paper, or it will end up all pulpy.
Thread your pasta onto the embroidery thread. To create the chevrons, thread the penne pieces onto the thread and use some nail polish to stick them together so they stay in the chevron shape.
If you fancy making a necklace with the little stars, you'll need an embroidery needle to thread them through because they are quite fiddly.
To make a tassel, follow the steps below…
– Wrap the thread around a card.
– Tie a piece of thread around the top to keep the strands together.
– Cut the bottom of the tassel, so it comes off the card.
– Tie another piece of thread around the top to keep it in a bunch. Trim this piece very close to the knot.
Mother's Day craft cards
1. Mom, I love you pop-up card
Here's a cool pop-up card that you can do and give to mum. It requires some precision when it comes to cutting out the words, but the end result makes up for it. Print out the template from One Dog Woof and follow the tutorial.
2. "I love you to pieces" suncatcher card
This is no ordinary card – it comes with a suncatcher that you can hang up or place near the window! Mum will definitely appreciate the surprise when she opens up the card, we can guarantee that! If you're keen to do this Mother's Day craft idea, Learning and Exploring Through Play has a tutorial you can easily follow.
3. Paper scraps greeting card
We're all for sustainability, and this greeting card craft idea by Mama Is Dreaming is one that we totes approve of. Gather all the paper scraps that you have lying around the house (wrapping paper, coloured cards, origami paper), sit the kids down, and get to work making the card.
4. Pompom cards
Pompoms make us smile inside (have you seen our mini party hats tutorial for toy animals?), fact. So, what better Mother's Day craft than a handmade card that heroes pompoms! Design For Soul's DIY offerings include flamingo and penguin options, and over on their site there's also a chick and honeybee tutorial too.
5. Heart fan card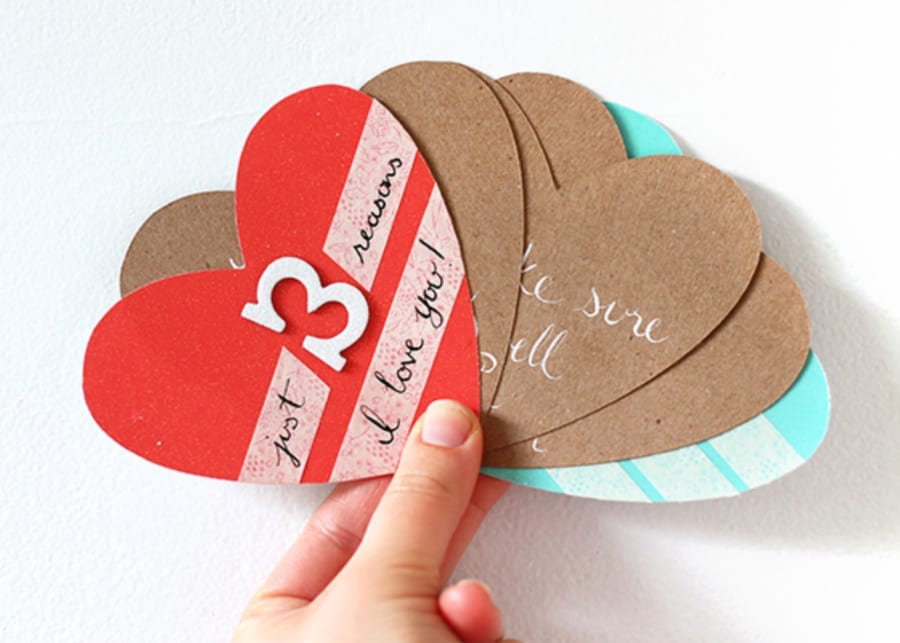 How cute is this idea from Squirelly Minds? Get the kids to write a reason why they love you on each card, then pin them all together using a butterfly clip. The best bit? This can be as simple or as creative as they like. You can go all out with watercolours or crayons and draw on each one, or keep it easy by simply writing something sweet on each heart.
6. String art cards
String art is a great activity for little fingers – our young 'uns love it. So why not make a card out of it? Hello Wonderful has an easy DIY craft for kids that they'll love to do.
7. I love Mum trading cards
Our hearts MELT for Design Improvised's post about Mother's Day trading cards… these really take us back to our own childhoods! Whereas this post uses a specially bought kit, we say improvise and make your own version! Create a template for the cards for an image and some text, then cut them out and set your mini crafters to work. It'll be like a whole heap of Mother's Day cards in one go!
8. Fingerprint card
It wouldn't be Mother's Day craft without some fingerprint art in the mix. Always avoid paint because you've got little ones who always pop their hands in their mouth? Worry not: Kids Activities has a great recipe for homemade, non-toxic and taste-safe finger paint. The sky's the limit when it comes to finger painting: you can turn those prints into cute animals, spell out words, do entire handprints – go wild!
9. Butterfly Handprint Card
These butterfly handprint cards make for meaningful memento for mum! Photography: thebestideasforkids.com
This card is particularly meaningful because it features kiddo's handprint as a lovely keepsake for years to come! The instructions to make this simple card can be found here. Make sure to help kiddos cut out their handprints. This card is a super memory "capsule" for mum!
Happy Mother's Day crafting!