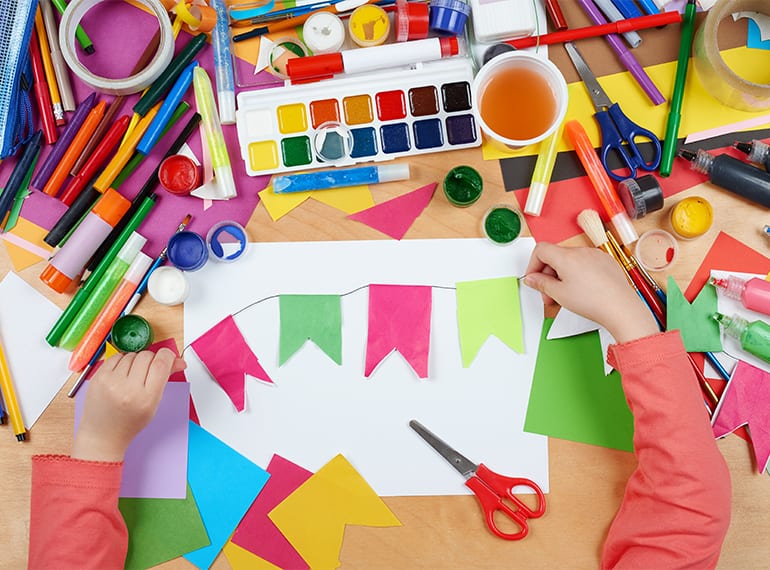 Fill up your kit with paints, coloured paper, cool stationery, fabrics and more from these art and craft supply stores in Singapore.
When we're faced with a rainy day in Singapore and the kids need some fun indoor activities, we love nothing better than getting busy with cool craft projects. Nowadays, there's no shortage of inspiration for ways to spend a great 'crafternoon' with the little ones. What prevents your forays into arts and crafts with the kids from reaching creative heights, apart from the mess? Not having the right supplies! But you can create your own Pinterest-worthy projects with just a little preparation. Make the most of your little helpers and get them involved in choosing fun supplies from craft shops around Singapore – it's all part of raising creative kids, right? Here's our round-up of the best stores for buying art supplies, plus a handy craft supplies checklist to take shopping with you.
Art Friend
From feathers to felt, this store has every variety of craft material imaginable waiting to be transformed into paper dolls, masks or jewellery. The only limit is your imagination! Stock up on supplies at stores in Bras Basah Complex, Clementi and Orchard.
Art Friend, various locations; artfriend.com.sg
Made With Love
Step into a world of flowery, glittery delight at this popular scrapbooking store in the heart of town. They stock pretty ribbons, cute stamps, stickers galore, and row upon row of colourful printed papers ready for framing all of your memories.
Made With Love, B2-08 313@Somerset, 313 Orchard Road, Singapore 238895; madewithlove.com.sg

Popular Bookstore
With a branch in practically every mall in Singapore, and at pocket-money prices, Popular is the place to go for craft fans young and old the island over. Scour the aisles for coloured card, sparkly paper, ribbons, pens, paints and heaps more arts and craft delights. (And pick up a good read while you're there too!)
Popular, various locations; popular.com.sg
Paper Market
With two stores located at Raffles City and Plaza Singapura, Paper Market is a go-to for drool-worthy craft materials – we adore its 'florist' and 'butchery' sections, which offer a wide range of floral embellishments and unique die-cut tools. Its range of handy craft kits knows no bounds!
Paper Market, various locations; papermarket.com.sg
Fancy Papers
Whether it's matte black or sandy-textured paper, this store offers only the highest quality paper to suit all crafting needs. It's the perfect place if kids want to make a cool poster for their bedroom wall, mount a school project or create a scrapbook.
Fancy Papers, #01-26 North Bridge Centre, 420 North Bridge Road, Singapore 188727; fancypapers.com
Junior De Artist
If you are looking for something beyond a run-of-the-mill store, head over to Junior De Artist where staff are utterly passionate about all things arts and crafts. Pick up your letterpress machines and plates here, and sign up for one of the cool DIY workshops for kids held regularly instore.
Junior De Artist, #03-22 
Novena Square Shopping Mall, 238 Thomson Road, Singapore 307683, juniordeartist.com.sg
Spotlight
Get inspired with materials for arts and crafts, sewing, cooking, decorating and parties at this superstore. Expect everything from fabrics to clay moulds, wooden shapes to pompoms, but be warned: You can lose hours in there without realising!
Spotlight, Level 5, Plaza Singapura, 68 Orchard Road, Singapore 238839; spotlight.com.sg
Daiso
A hop, skip and a jump from Spotlight, you will find $2 shopping heaven: Daiso, Japan's number one supplier of homewares, stationery and everything else you didn't know you needed. It's always a lottery when you dive into Daiso – you never know what goodies you'll unearth! (And you never leave empty-handed, either.)  Pick up kooky bits and pieces like pinwheels, clay moulding tools, beads and more, and leave with a giant bag of supplies for very little cash. They also stock the cheapest washi tape we've come across, and some seriously cool blackboard paper that reveals a rainbow of colours underneath when you scratch a picture on it!
Daiso, Level 5, Plaza Singapura, 68 Orchard Rd, Singapore 238839 and various locations; www.daisosingapore.com.sg
IKEA
Everyone's favourite furniture giant knows just what kids love: bright, happy colours, of course! Its range of art and craft products includes well-priced paints and pastels, ink stampers with various designs, watercolour paint boxes, patterned paper, scissors and nice thick pencils. And that iconic kids' easel is pretty hard to resist…
IKEA, two locations. 60 Tampines North Drive 2, Singapore 528764; 317 Alexandra Road, Singapore 159965; ikea.com/sg/en
Overjoyed
Overjoyed is what the kiddos will be when they can get their little hands on all the craft essentials they need to make the sock puppet or home-made photo frame they've been itching to create! Parents, check out the workshops in life drawing and hand-lettering to unleash your own inner artist.
Overjoyed,#B1-08, 89 Short Street (Golden Wall Centre), Singapore 188216; overjoyed.xyz/home
Wish I Were Stitching
These specialists in all things stringy don't just stock yarn and thread (in every colour under the sun!), they also hold needleskill workshops and single session classes so you and your little ones can pick up a new skill (it's never too early to get the kids sewing their own clothes: think of how much money we could save on new threads!). This is your go to for anything from Amigurumis to cross-stitching and embroidery.
Wish I Were Stitching, Unit 03-12A, LTC Building B, 12 Arumugam Road, Singapore 409958; wishiwerestitching.sg
Tokyu Hands
Looking for some craft-inspo? This all-in-one lifestyle store is jam-packed with all sorts of crafty things – tools for crafting, clay and origami are just a snippet of what's on sale. If you're feeling ambitious, pick up everything you need to kick-start a new jewellery making, flower arranging or even dress-making kinda hobby.
Tokyu Hands, branches at Jurong East, Orchard Central and Suntec City; tokyu-hands.com.sg
People's Park Centre/Complex
Tucked away in the heart of Chinatown, you'll find a crowded corridor full of textile stores on the second floor of People's Park Centre. Check out Golden Dragon (#02-51), where you'll find great supplies for knitting, sewing or embroidery. At People's Park Complex, make sure to visit Malin Textile (#02-1122) for gorgeous Japanese fabrics.
People's Park Centre, 101 Upper Cross Street, Singapore 058357; People's Park Complex, 1 Park Road, Singapore 059108.
Arab Street
This is a great area for all the small things. At wholesaler Kin Soon (36 Arab Street) you will find a big range of ribbons with different colours and textures. Head over to the highly recommended Sin Hin Chuan Kee (796-798 North Bridge Road) for wallet-friendly DIY items like buttons and sequins – just look out for the "YKK" words on the shop awning.

WHAT TO ADD TO YOUR CRAFT KIT:
Coloured markets, crayons, pencils, paint, ink pads

Brushes, sponges, eye-droppers and applicators

Paper: scrap, wrapping, patterned and coloured paper, paper plates, paper cups

Materials: cardboard, felt, foam, cloth, fabric scraps, clay

Scissors, pinking shears, retractable pen knife (for older kids)

Hole puncher and other paper craft tools

Cutting board/mat

Paper glue, fabric glue, glue gun and cartridges

Ruler, stencils and templates

Sticky tape, masking and washi tape

Embellishments: buttons, feathers, pipe cleaners, popsicle sticks, stickers, beads

Threading: elastic, yarn, floral wire, string

Natural materials: pine cones, pebbles, leaves and shells

Recycled materials: egg cartons, toilet paper rolls, foil, tins, trays, bottles and takeaway containers are all great for craft projects!
Like this story? Here's more we think you'll enjoy:
Recycle your rolls: toilet roll craft
5 things to do with a cardboard box
Pick up a new skill at a fun workshop for adults
Art classes for kids
Rock hunting and decorating in Singapore