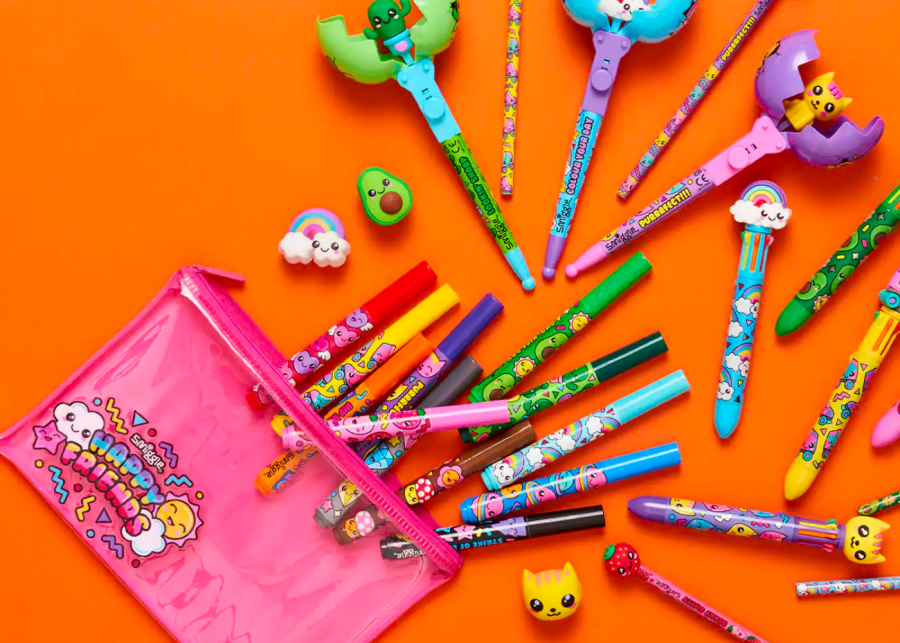 Image: Smiggle
Get started on the back-to-school shopping list with our pick of cute stationery for kids in Singapore! Psst, you might be tempted to nab one of these pens or notebooks for yourself, too!
Schools are back, and we're scrambling to get cute stationery for the kids, among other things on our back to school shopping list. Lucky for us, Singapore is loaded with options to get our kiddo's backpacks kitted with stationery essentials. So, we've rounded up our favourite stores where you can buy sheaves of patterned paper, cartoon pens, and cuter-than-cute erasers and notepads… In fact, all sorts of cute stationery for kids, available right here in Singapore!
Where to buy stationery for kids in Singapore
1. Smiggle
The first thing you'll notice when you step into Smiggle is the rainbow of stationery lining the shelves. There's nothing dull or subtle about the fun and dazzling array of back-to-school essentials here. Think sequins, adorable characters, and cool bags and lunch packs. The stationery here has become a staple (pun intended) among kiddos the whole island over…
Smiggle, multiple locations including ION Orchard, Wisma Atria, 313 Somerset, and Plaza Singapura
2. kikki.K
This Swedish design stationery brand is a veritable pastel paradise featuring soothing but fun patterns and colours. You'll find all sorts of functional kids stationery at kikki.K, like pens, stamps, and notepads: everything you need to write the perfect letter (hop into our guide to finding a pen pal) or to take down the neatest notes.
kikki.K, #01-K32, VivoCity, 1 HarbourFront Walk, Singapore 098585
3. Overjoyed
Overjoyed leaves us overjoyed indeed with its slew of craft supplies and stationery choices. We could browse for hours coveting the beautiful stationery for both the kiddos and us! To get really inspired, how about picking up a new hobby at one of the in-store workshops?
Overjoyed, #B1-11, The Cathay, 2 Handy Road, Singapore 229233
4. Minted
Minted is all about personalised stationery and hand-written notes. And we definitely support that, because whatever happened to snail mail or the 'thank you' note? So why not get a notepad for your little one to use during Mandarin lessons? Also, Minted even has ongoing design competitions for its community if you fancy trying your hand at a spot of design.
Minted, online only
5. PaperMarket
This nifty little shop stores all things paper and scrapbooking, as well as designer stationery. You'll find pretty patterns on everything at PaperMarket, from wall planners to decorative seals, stickers, and washi tape. Get a Bonnie the Bunny or Miko the Panda notebook to jot down lesson notes, scribbles, and anything else during classes. Have a look in the bargain bin for off-season steals!
Paper Market, #01-120, Great World City, 1 Kim Seng Promenade, Singapore 237994
6. Evergreen Stationery
While you're at Great World City, if you're looking for simpler stationery that won't break the bank, head to Evergreen Stationery (top floor, next to Best Denki). Here, you'll find all the stationery you need to kit out both the kids and your home office – everything from basic pens and highlighters, copier paper, notebooks, erasers, label makers and calculators!
Evergreen Stationery, #02-135, Great World City, 1 Kim Seng Promenade, Singapore 237994
7. NBC Stationery & Gifts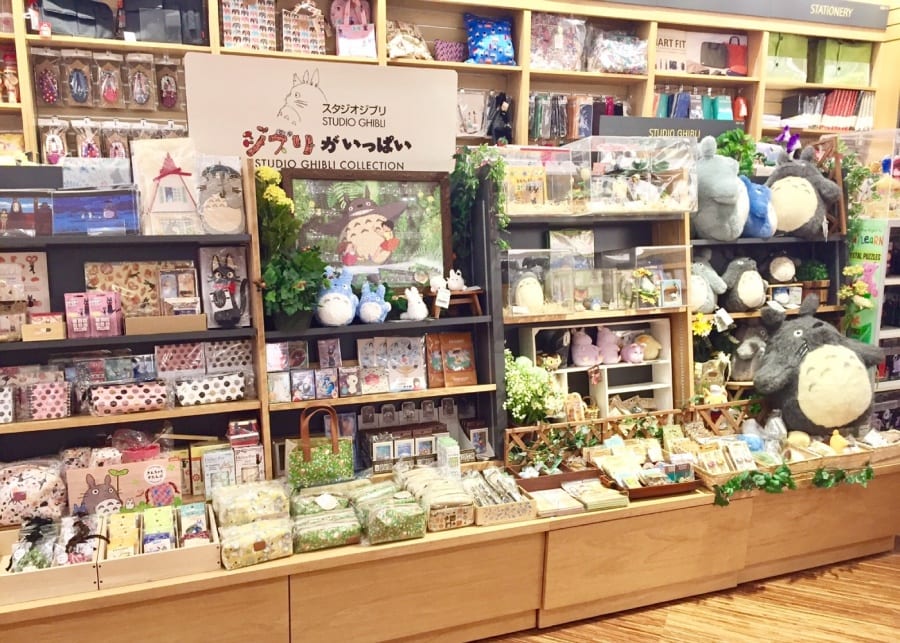 For an assortment of Japanese-designed stationery, NBC has top-quality pens, Copic markers, stickers, ink stamps and notebooks that are cute to boot. You'll find all your favourite mascots here with new ones arriving regularly. Head to the NBC stationery corner in Books Kinokuniya Ngee Ann City to score yourself some extra Studio Ghibli stash.
NBC Stationery & Gifts, various locations throughout Singapore
8. Daiso
Ah, Daiso. This Japanese (two) dollar store has everything and anything you would ever need in your home, including stationery. With whole sections dedicated to envelopes, notebooks, craft materials, folders, tapes, glues, and writing pads, the kids can blow their allowance on a real stationery haul.
Daiso, several stores across Singapore
9. Popular
Definitely our go-to for anything stationery-related, Popular has no shortage of pens in all shapes and sizes. But the real fun here starts at the front of the store with the character-themed goodies and stylish steals. Best to get your stationery supplies early though, before the back-to-school book-buying begins in earnest. Those queues can get insane!
Popular, multiple outlets in Singapore
10. Typo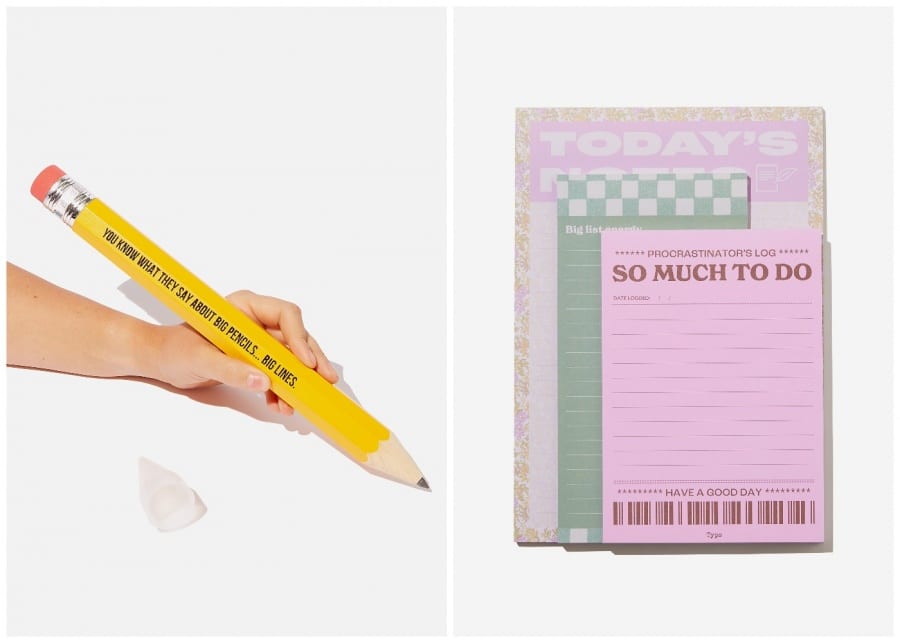 Every shopping trip out with the tweens and teens deffo warrants a peek inside Typo. Its range of novelty products from holographic diaries to Star Wars-themed stationery is just what every fashion-conscious youth needs to complete their school get-up. We were kinda sold on the funky coffee cups too…
Typo, various locations including VivoCity, Wisma Atria, and Suntec City
11. Mtrade – The Novelty Wholesale Store
Looking for fun and fancy stationery? Hit up this wholesaler then! There are plenty of goodies that you'd immediately want to add to your cart, from cute animal ballpoint pens and googly eye notepads to funky neon highlighters. We also spotted country flag erasers! Parents, remember those school times back then when you use to battle your classmates with those erasers? Vintage!
Mtrade, #05-06, [email protected], 50 Gambas Crescent, Singapore 757022
12. The first green store
Here at HoneyKids, we're always talking about being eco-conscious and promoting sustainability. Thus, it goes without saying that we've included this green store in this list. As its name implies, stationery products sold here are ethical and eco-friendly while still being cool and funky. The kids will be more than happy to show these off to their mates.
The First Green Store, #10-11, International Plaza, 10 Anson Road, Singapore 079903
13. Tokyu Hands
Tokyu Hands is your one-stop source for all things lifestyle. We've spent ages wandering the aisles on more than one occasion, emerging with office supplies, notebooks, cards and art supplies that look adorable (but are still languishing in our drawers). Proceed with caution!
Tokyu Hands, stores in Orchard Central, Suntec City, Jewel Changi Airport, PLQ Mall, and Great World City
14. The Paper Stone
This brand's founded by a stationery lover, so you know it means serious business with the products it has to offer. There are notebooks in various sizes, pens in bright, fun, colourful designs, and even desk planners to keep your kiddos in check with their revisions. We love, love, love the Singlish notebooks – you can even gift them as souvenirs to your friends moving away from Singapore and those based overseas!
The Paper Stone, online only
15. Kiddie Goodie
This online-only stationery shop is the definition of cute. We're talking animal fan pens, dinosaur roller stamps, lollipop fruit erasers, owl sharpeners, and more. You can even get the stationery set, which includes all the necessities, for only $2! An absolute steal.
Kiddie Goodie, online only
Love this list of stationery stores in Singapore? Check out these craft supply stores too!