Ergonomic bags are designed to distribute weight and reduce strain on backs so carting all those school books around isn't quite as weighty after all...
Every kid grows through growing pains as they get older, but one of the biggest growing pains is having to lug more and more textbooks to school each year. The recommendation from Health Promotion Board (HPB) is for children to carry no more than 15 percent of their bodyweight (about 3.5kg to 5kg) but the combined weight of textbooks, worksheets, water bottle and miscellaneous junk kids insist on carrying around can easily smash that number. Ergonomic backpacks are specially designed to reduce strain on your child's back by distributing the weight. We've picked out a few ergonomic backpacks for you to add to your shopping list of essential school supplies before that growing pain becomes chronic!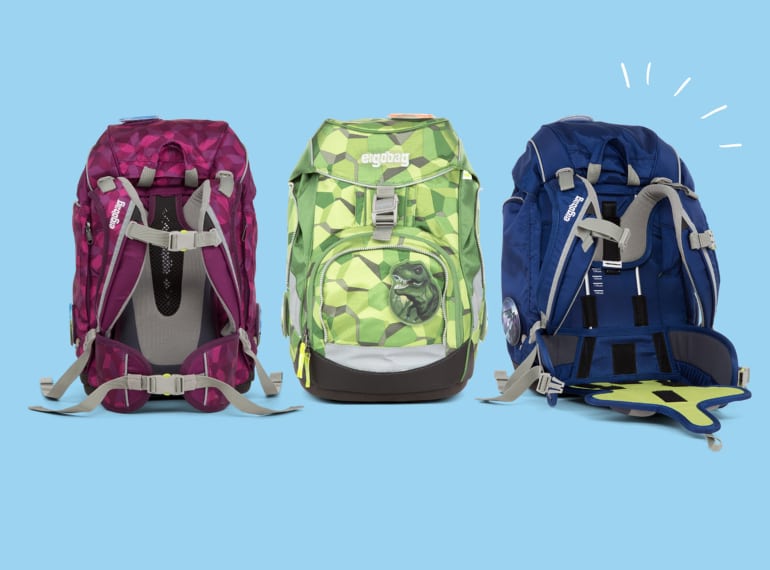 Ergobag
If kids are literally trekking to school, the Ergobag is the bag for them. Ergobags, part of the Fond Of brand, are suited for children aged five to 12 years old (up to 1.5m in height). The back-padding molds to the curve of the spine and adjustable chest and hip belt helps to distribute the weight to the pelvic area. The base is mounted with feet to keep the bag dry when placed on the ground and a gym bag can be securely fastened to the bag to make it hands free. Ergobag also has an eco-friendly and stylish upgrade for adolescents too – Satch backpacks. Satch backpacks are made from recycled PET bottles and are suitable for kids up to 1.8m in height.
Ergobags and Satch backpacks are from $198, buy from Ergokid
Bromin
Light on the back as well as on your wallet, Bromin is a Singapore-based line of ergonomic bags. The new series of ergonomic school backpacks are aimed at kids aged six to 10 years and weigh about 0.7kg. With back support, waist and chest straps, the bags even stand on their own when the main compartment is open. Each bag also comes with a lifetime warranty.
From $66, buy online, or at Tom & Stefanie selected stores
IMPACT
IMPACT Spinal Protection Backpack is a multi-award winning brand pitched as the only ergonomic brand to be endorsed and recommended by Singapore Physiotherapy Association and The Chiropractic Association (Singapore). Weighing about 1.05kg, its Patented Orthopaedic Spinal Protection System (OSPS) molds to the back and the bag comes with stress-free straps, a detachable waist belt, parachute pull rings to easy adjusting and reflective material so your child is always visible. IMPACT also has roller bags to take the weight off your kid's shoulders altogether.
From $55, buy from Ergoworks; see the full line of products on Impact Lifestyle
Affenzahn
Kindergarten-aged kids (one to five years) are sure to love Affenzahn (pictured top). These eco-friendly bags put the fun in functional and come in cool animal and creatures shapes in all sizes and colours. They even double up as cuddle buddies with retractable tongues, arms and buckles. You can pick from a range of small to large 'Friends' and even Cotton Friends which are made from 100% organic cotton.
From $65, buy from Ergokid
TOTEM
TOTEM bags are touted as being orthopedically and ergonomically designed. With extra thick lumbar padding and a firm base to hold up those books, TOTEM bags come as light as 580g and last for ages. Just be sure to select the right sized orthopaedic bag for your little one or opt for an ergonomic backpack instead for kids aged 10 and up.
From $49, buy from Ergokid
IVAR
IVAR bags have a patented IVAR-LIFT design which reinvents a normal bag compartment into a tiered shelf system designed to even out weight distribution. No more rooting around their bags, your kids will be able to keep their books perfectly organised. Kind of.
From US$39.95, buy from Amazon
Nikidom
Looking to take the load off completely? Nikidom lets kids roll their books to and from school with ease on wheels. The handle is designed to allow kids to push the bag in front of them to reduce the strain of dragging it behind them. This bag is completely strapless so kids won't be able to carry it which means no chance of back pain: hurrah! The oversized wheels let kids roll their bags up short flights of stairs with ease, but it's probably not the best option if their classroom is a few storeys up.
From $178, buy from Ergokid
Top image: Affenzahn
Like this story? Here's more we think you'll enjoy:
Where to buy children's furniture in Singapore: cool beds, chairs and tables
Your back to school shopping guide
Prepping your little ones for a new school
Guide for the best kids' haircuts in Singapore
Don't forget to subscribe to our weekly newsletter for the latest updates on all things family-friendly and follow us for sneak peeks and fun moments on HoneyKids Instagram!