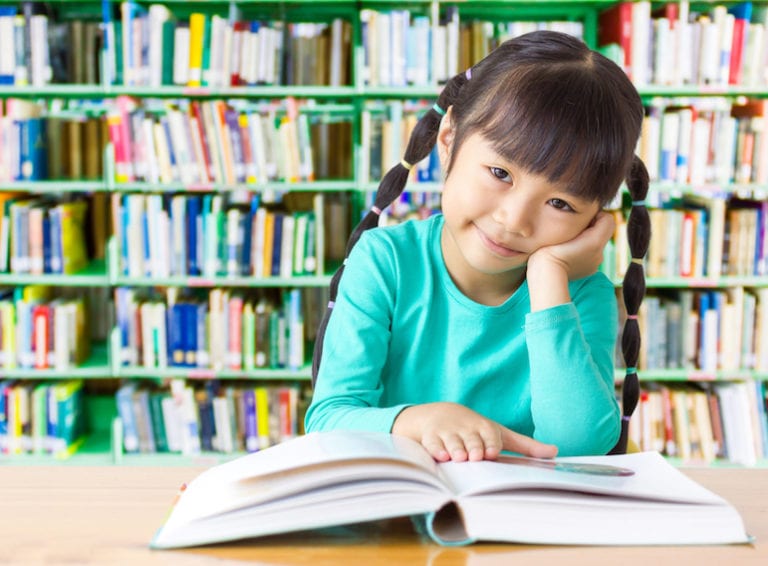 We've found the best libraries for kids in Singapore for bookworms of all ages! Curl up with a good book at one of these family-friendly libraries...
"The more that you read, the more things you will know. The more that you learn, the more places you'll go." We think Dr Seuss got this (and a lot of other stuff) right. Which is exactly why we love reading with our kids in a cosy corner of one of our favourite children's bookstores in Singapore, sharing a classic tale from our own childhood or heading to the best libraries for kids to discover new reads. (Besides, borrowing books is a great way to save money!) And just in time, too, because public libraries are finally reopening on July 1! To celebrate this occasion, we've put together a guide to our favourite libraries around Singapore. We've found libraries packed with movie evenings, art and craft sessions, teen hang-outs sessions and even gaming rooms…
Psst, take note: the libraries might be open, but will be operating on a "borrow and go" basis. All seating and study areas will still be closed off, and all programs, guided tours and events will continue to be suspended until further notice.
Central Public Library
Take a load off in the interactive children's section, My Tree House, over at Central Public Library and prepare for imaginations to go wild! As well as more than 45,000 children's books to choose from, enjoy interactive e-reading kiosks, regular storytelling sessions and a cosy reading corner. Yep, it's one of the world's first green libraries for kids and we love it! Our fave part? The little tree house where kids can clamber up and chill out with a book. Ours are huge fans of the cool and quirky Weather Stump, too. It's a guaranteed hit with kids who like to press buttons!
Where: Central Public Library, 100 Victoria Street, #B1-01, Singapore 188064
Jurong Regional Library
Send your teenagers over to Jurong Regional Library where they'll find Singapore's first dedicated teen library service – Verging All Teens – which has been created for teens, by teens, to inspire teens. There's a huge collection of comics and graphic novels, and this is also the place for them to take part in open-mic gigs and drama performances. Smaller people should head to the Early Literacy Library for a ton of great reads available in four official languages. And, kids of all ages should keep an eye for the regular programs happening. Like in the PIXEL [email protected]: a dedicated space full of equipment for on-site tinkering.
Where: Jurong Regional Library, 21 Jurong East Central 1, Singapore 609732
The Babies and Toddlers section at Sembawang Public Library is chockablock with fabulous reads for our tiny bookworms. Head over every third Wednesday of the month for fun storytelling sessions and craft activities (check beforehand if they are going ahead). Older kids will love hanging out with a good read in the ship container-shaped spaces which have been designed with Sembawang's shipyard days of old in mind.
Where: Sembawang Public Library, 30 Sembawang Drive, #05-01 Sun Plaza, Singapore 757713
Bukit Panjang Public Library
The Children's Zone in Bukit Panjang is a must-visit. Situated across the Adult and Teen Zone, you're welcomed to this all-kid's-zone by the eye-catching rainbow-coloured book display out front. Think: an interactive multimedia storytelling room, a cool conveyor-belt return system with a mountain-decorated staircase for the little ones to drop their books in. Returning books has never been this fun! There are also wall-mounted interactive boards and colour-coded paths to guide kids to age-appropriate books and genres. And, the shelves are arranged into cosy little nooks perfect for snuggling up with a good book. Do note it can get a little loud – it's a kids' zone after all!
Where: Bukit Panjang Public Library, 1 Jelebu Road, #04-04 & 16/17 Bukit Panjang Plaza, Singapore 677743
Clementi Public Library
Children visiting Clementi Public Library will definitely want to hang out with friends at the interactive wall: a place where kids are encouraged to 'ask, discover and share'. Look out for the digital storytelling kiosks, 'learn through asking' programs and storytelling sessions for kiddos aged four to six every Thursday.
Where: Clementi Public Library, 3155 Commonwealth Avenue West, #05-13/14/15 The Clementi Mall, Singapore 129588
Toa Payoh Public Library
Ahoy there, small book fans! Set sail on a reading adventure when you board the children's section over at Toa Payoh Public Library. Look out for regular storytelling sessions and art and craft programs too. Older kids can escape to the Teen Zone for some peace and quiet away from younger sibs. Also, once you're done, explore Toa Payoh and pop to the cool mosaic dragon or dinosaur playground!
Where: Toa Payoh Public Library, 6 Toa Payoh Central, Singapore 319191
Tampines Regional Library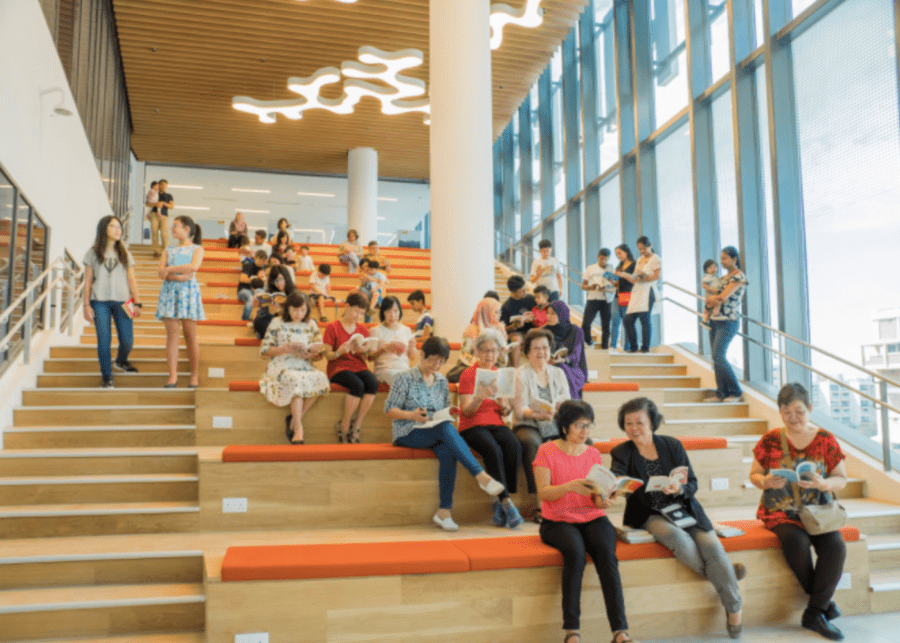 Bring your small bookworms down to Tampines Regional Library, where you'll find regular special activities for kids age four and up. This place is enormous! Free up a few hours to spend exploring the five floors of books, audio and visual materials, magazines and more. There's also a cooking studio, PIXEL labs, regular storytelling sessions, maker spaces, exhibitions and guided tours. Alas, the full-sized train has retired, but there's more than enough going on to make up for the locomotive's absence. Mum-approved!
Where: Tampines Regional Library, 1 Tampines Walk, #02-01 Our Tampines Hub, Singapore 5285230
Queenstown Public Library
Urban kids should flex their green fingers at the Queenstown Public Library community garden. Part of the National Parks Board Community in Bloom project, the whole family are welcome to volunteer to help out with gardening activities.
Where: Queenstown Public Library, 53 Margaret Drive, Singapore 149297
Serangoon Public Library
We've all long since realised that our kids are a generation of technology lovers, so we're on board with the cool dedicated gaming areas at Serangoon Public Library where children can read and learn through interactive games. Plus, storytelling sessions every Friday and the 1st and 2nd Saturdays of the month!
Where: Serangoon Public Library, 23 Serangoon Central, #04-82/83 NEX, Singapore 556083
Woodlands Regional Library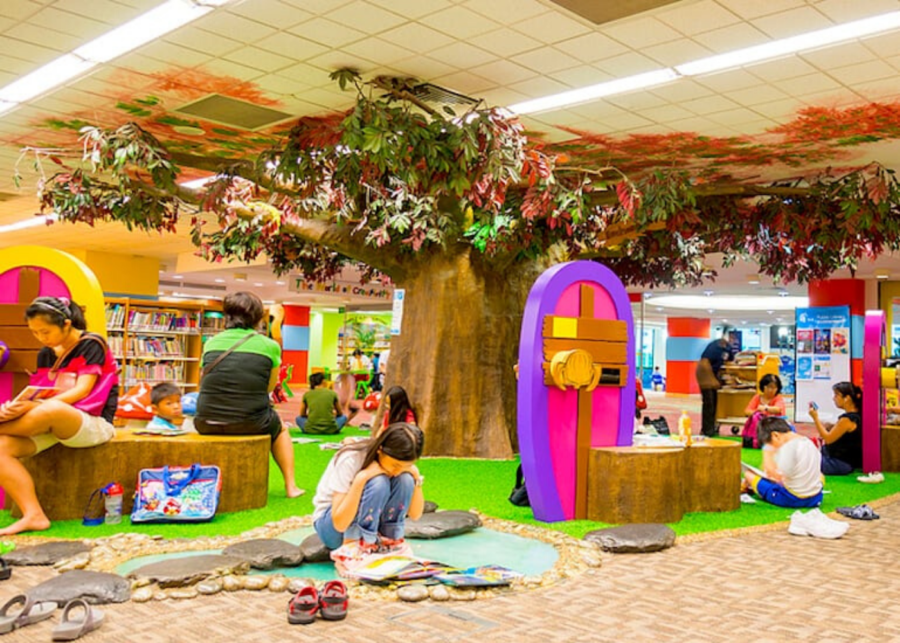 Reading is a big must for activating any kid's imagination, and Woodlands goes one step further with an interactive library that includes an enchanted tree! It's also the home of the Asian Children's Literature Collection. Here's where you'll find around 8,000 examples of Asian children's literature and rare publications, dating back to the 1900s. And our favourite part: an autism-friendly space with sensory-friendly reading and learning areas.
Where: Woodlands Regional Library, 900 South Woodlands Drive, #01-03 Woodlands Civic Centre, Singapore 730900
With over 200,000 books, magazines, and audio-visual materials in a 3000 sqm space, the [email protected] is the largest shopping mall library in Singapore. The best part? It's got an awesome Children's Zone where kids can check out digital books and activities in the Tumblebook stations. Alternatively, they can immerse themselves in the Stories Come Alive Room. Plus, there's also a Tinker Truck children's maker space where kids can get their hands on DIY crafts and puzzles, too.
Where: [email protected], VivoCity #03-05, 1 Harbourfront Walk, Singapore 098585 (Lobby F)
Ebook Library
Need a book in a hurry but no time to get to the library? Or perhaps the book you want isn't available? Either way, we love the Ebook Library. Set up your user account and then choose from over two million ebooks ready to download with the press of a button.