Hort Park is one of our fave green spaces for kids. Photography: Amy Potter
Get into the great outdoors and keep the kids busy at one of these awesome parks in Singapore… picnic spots, green spaces and so much more!
While it might sometimes feel as though we are living in an urban jungle when you look beyond the condos and shopping malls, there's still plenty of green space in neighbourhoods all over Singapore: it's not called the Garden City for nothing! Time in the great outdoors for us means pram-friendly walks, awesome playgrounds, packing picnics and enjoying time in the prettiest parks in Singapore. So behold: a complete guide to the best parks and playgrounds for kids in Singapore – from awesome family days out to top picnic spots, pretty gardens, and even the parks with water play!
The best parks in Singapore for a family day out
If your family is after a park that's more than just green spaces and pretty flowers, check out these parks for a full family day out. We're talking scooting routes, wildlife spotting, water sports and awesome sights to see – not to mention some family-friendly restaurants and alfresco feasting opportunities!
1. Singapore Botanic Gardens
An oldie (since 1859!) but a goldie, the Singapore Botanic Gardens is a must for nature-loving kids. Not only is it home to an array of stunning plant life, but it also has fascinating animals, too! Pack your munchies and lay back for a soothing evening of classical music or jazz at the Shaw Symphony Stage, movie screenings over at Swan Lake or stroll through the Jacob Ballas Children's Garden for the fabulous treehouse with slides after your picnic feast.
Singapore Botanic Gardens, 1 Cluny Road, Singapore 259569
2. East Coast Park
One of Singapore's most popular parks, the East Coast offers more than just sea, sand and swaying palms! Head here for cycling, rollerblading, barbecues, kite-flying and even water sports. Head to the great hawker centres for delish local food, try out the fantastic seafood restaurants dotted along the coast, or head to the Parkland Green and Marine Cove areas for restaurants galore. It's also the perfect place to ease your city-bred kids into the outdoors. Want to know more about this favourite destination? Check out our guide to East Coast Park for families.
East Coast Park, East Coast Parkway, Singapore 455486
3. Mount Faber Park
Stay on the Southern Ridges walk, and you'll eventually get to Mount Faber Park. While there aren't any playground facilities here, it's still a gorgeous green space to bring the small, medium and large humans to. Kids of all ages will love it for the panoramic views…and the cable car ride! When you're done exploring (check out the Instagrammable rainbow stairs and consider walking to the equally 'gram-friendly Henderson Waves), why not pop on the cable car and head over to Sentosa (check out our Sentosa guide first)? Otherwise, grab a coffee and some grub at Arbora to refuel while breathing in that view. Pop it on your date night schedule, too… cocktails at Dusk is ridiculously romantic.
Mount Faber Park, Telok Blangah Road, Singapore 099448
4. Gardens by the Bay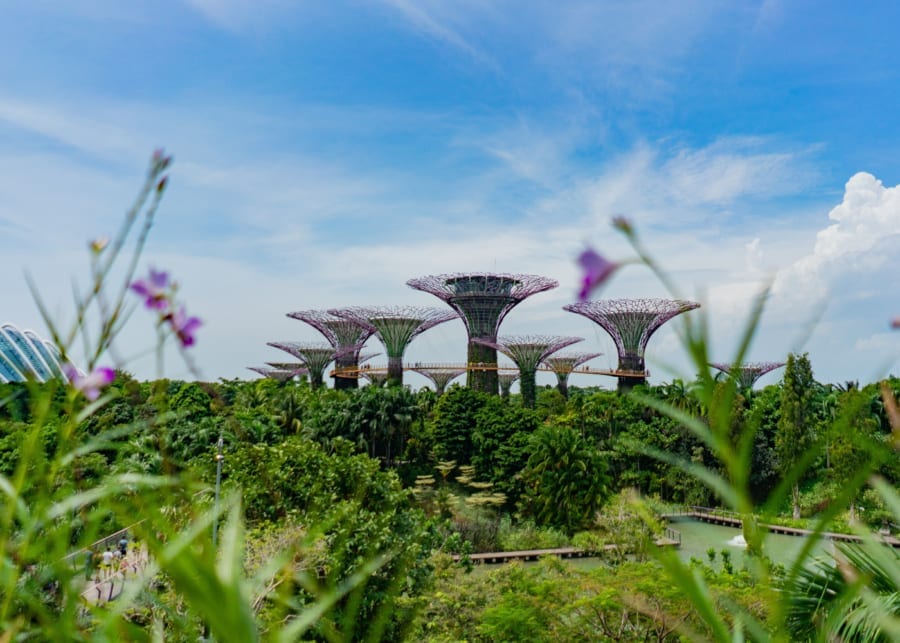 So beautiful, we reckon Gardens by the Bay is absolutely one of the best parks for kids on the whole island. Our top picks? Cooling off in the Flower Dome and Cloud Forest, enjoying an ice cream under the Supertrees and cooling off with some water play action at the FEO Children's Garden. (Check opening times on the site so you're in the know before you go.) There's also one of the best playgrounds ever – we're fans even as parents! Don't forget to check out Floral Fantasy as well for more beautiful blooms.
Gardens by the Bay, 18 Marina Gardens Drive, Singapore 018953
5. Jurong Lake Gardens
Jurong Lake Gardens is one pretty high up on our list for a fun-filled day out with the fam. It has an array of community spaces and activities amidst nature, including plenty of pavilions offering food and drink, a water play area at Clusia Cove that the kiddies will love and even a 2.3 ha playground at Forest Ramble (suitable for kids 5 to 12 years old). Teenagers aren't forgotten by any means, with Singapore's largest skating arena, SkatePark, at the gardens. Perfect for tweens and older kiddos to work up a sweat while you sit back with a good book. The park also has Allotment Gardens – a great space for gardening enthusiasts to flex their green thumbs. There's tons more in store for even nature lovers, like log trails and grasslands, and plenty of jogging trails for those into fitness. Overall, the garden has something for everyone (including pooches)!
Jurong Lake Gardens, 104 Yuan Ching Rd, Singapore 618665
6. Bedok Reservoir Park
This is a fantastic park for kids – especially the active ones! Cycling, rollerblading, scooting and kayaking are all on offer at the Bedok Reservoir Park. Besides plenty of open space to let loose with a ball, there's also the Forest Adventure Treetop Course. Good for kids aged five and up, it features aerial activities, including wobbly bridges and zip lines.
Bedok Reservoir Park, Bedok Reservoir Road, Singapore 479233
7. Changi Beach Park
While everyone flocks down to East Coast Park, we'd gladly retreat to Changi Beach Park, AKA one of the oldest coastal parks in Singapore. Take off your shoes and enjoy a nice walk down the sandy, pristine white beaches. Lay down a mat and enjoy a breezy picnic while the little people build sandcastles and go for a swim. See how many aeroplanes you can spot while you're there! Rent a bicycle from the nearby kiosk and ride down to the two playgrounds within the park.
Changi Beach Park, along Nicoll Drive and Changi Coast Road
The best parks in Singapore with adventure playgrounds
Slides, ropes, see-saws, sandpits, flying foxes and more! These parks in Singapore aren't only wide-open spaces for kids to let their craziness run free; they're also home to the very best outdoor adventure playgrounds in Singapore!
8. West Coast Park
A beloved treasure, West Coast Park is a mega play centre for your rambunctious tots. This relatively quiet spot is well-loved by parents and kids of all ages for its adventure play area (pirate ship playground, climbing ropes, flying foxes and giant pyramid included) spread across eight play zones. You'll find ample space for restless tots to roam, play ball or fly kites, or you could even hire an assortment of family bikes. There's even go-karting for the older kids! For a good grub either bring a picnic or research other local haunts beforehand. Check out our full guide to West Coast Park for more details of why we think it's one of the best parks for kids in Singapore.
West Coast Park, 71 West Coast Highway, Singapore 126844
9. Jurong Lake Gardens
Grab the fam and head over to the heartlands to take in the 90 hectares of lush greenery comprising Lakeside Garden (formerly Jurong Lake Gardens West), Chinese and Japanese Gardens (formerly Jurong Lake Gardens Central) and Garden Promenade (formerly Jurong Lake Gardens East). Kids will get a kick out of Forest Ramble for sure – it's one of the best playgrounds around! Expect a nature-inspired playground that encourages them to mimic the actions and motions of the animals that inhabit the freshwater swamp habitat. There are also lots of water sports on offer and F&B options to refuel at. Check out our guide to Jurong Lake Gardens for more info! The free water play area also makes this one of the best parks for kids, we reckon.
Jurong Lake Gardens, 104 Yuan Ching Rd, Singapore 618665
10. Pasir Ris Town Park
This place is wildly popular with families on the weekends. Head down to Pasir Ris Town Park and see why many consider it one of the best parks for kids in Singapore! Equipped with a huge adventure playground, a mangrove forest, a maze garden and a coastline view, Pasir Ris Town Park manages to be both fun and educational. If that's not enough to keep the kids entertained, there are also pony rides, bird-watching towers and barbecue pits. Pack a basket for a meal by the coastline, or grill up some juicy meats at the barbecue pits located everywhere in the park!
Pasir Ris Town Park, 116 Pasir Ris Road, Singapore 519116
11. Bishan-Ang Mo Kio Park
This Singapore urban park is a favourite recreational hangout for residents. And with 62 hectares of scenic waterways, walking paths, bridges, ponds and lawns, there's plenty to keep kids happy too. Oh, and did we mention three of the best playgrounds ever?! Some even come with sandpits! Families and friends can picnic on the open lawns and gently sloping grassy banks while listening to the soothing ripples from the river. If you forget your picnic basket, don't worry, there are plenty of eateries around the area.
Psst, Bishan Park is also pet-friendly; take your pooch off the leash and find it some friends at the Dog Run – there are two fenced areas for both large and smaller breeds. Check out our family guide to Bishan-Ang Mo Kio Park for more info!
Bishan-Ang Mo Kio Park, along Bishan Road and Ang Mo Kio Avenue 1
12. Punggol Waterway Park
This place looks like an island resort… it's definitely a top contender for one of the best parks for kids in Singapore! The main feature here, of course, is the water play area. If water's not your kid's thing (we find that really hard to believe), a good alternative is the sand play area located along the terraced banks of the park. Want to check out more? Read our Punggol neighbourhood guide!
Punggol Waterway Park, Sentul Crescent Road, Singapore 821313
13. Tiong Bahru Park
What this park lacks in open space it makes up for in rustic charm. No kid can resist that retro tilting train at this fabulous playground in Tiong Bahru Park! None. Let them run amok while you munch on your stockpile of baked goods from Tiong Bahru Bakery (and check out our guide for the other local haunts while you're at it). You can't get better than that. Tip: bring buckets and spades for some sand play fun.
Tiong Bahru Park, 1 Henderson Road, Singapore 159561
14. Fort Canning & Jubilee Park
We love everything about Fort Canning, especially the wondrous playground for kids that is Jubilee Park. The playground is nestled in nature and sprawls over a huge area. Kids will love the slides, swings, sandpits and see-saws. Even better: soak up some sun and picnic on its sprawling lawns – which often play host to ballet and theatre productions and movie screenings. Plus, the MRT station is within easy reach. Thumbs up from us!
Fort Canning Park, River Valley Road, Singapore 179037
15. Seletar Aerospace Park
Kids who have aspirations for a future career as a pilot will adore Seletar Aerospace Park, AKA an airport-themed playground. There's a great view of an actual runway over at The Oval at Seletar for mini plane-spotters! Rainy day? Take them for some fun times at Changi Airport for a wet-weather aero-themed alternative. We especially love Canopy Park (more on that next!).
The Oval, 3 Park Lane, Seletar Aerospace Park, Singapore 798387
16. Canopy Park
As a bit of a bonus mention of best parks for kids in Singapore, we're mentioning this one! Situated on Level 5 of Jewel Changi, Canopy Park opened in June 2019 and is a 14,000 square metre recreational park – all indoor! Making it a fab option for a rainy day in Singapore. It's full of awesome attractions dedicated to one thing: fun! Grown-ups and kids alike will really enjoy exploring each of its sights. It's definitely one to bookmark for a later date.
Canopy Park, Level 5, Jewel Changi Airport, 78 Airport Boulevard, Singapore 819666
17. Admiralty Park
The largest park in the north of the Little Red Dot, this vast green space is located in Woodlands. It also scoops the titles of the largest nature area within an urban park and our personal favourite: the most number of slides in any park in Singapore! That's right, folks – Admiralty Park boasts a sliptastic 26 slides, so be sure to tick them all off your list! (Totally makes it one of the best parks for kids in our books as a result!) As well as an inclusive playground, there are also three play areas – Junior Play, Adventure Play and the Family Terracing Play – to suit kiddos of all ages.
Admiralty Park, 6A Admiralty Road, Singapore 732006
18. Gallop Extension at Singapore Botanic Gardens
Another reason to head to the Botanic Gardens with the fam is COMO Adventure Grove, a snazzy playground inspired by the trees found in and around SBG. Not only does it have a whole host of amazing play features, but it also looks super-pretty to boot! The kiddos can climb up the weeping fig structure, take on the giant jackfruit (or is it durian? Hmmm…), and hop around the Saga tree.
COMO Adventure Grove, Gallop Extension, 5 Gallop Road, Singapore Botanic Gardens, Singapore 258960
The best parks in Singapore for a picnic
What better way to enjoy Singapore's sunny days than with a family picnic in one of the city's beautiful parks? They offer some of the best spots for kids to roll out a picnic mat, feast on some sandwiches and while the day away – all while playing to their heart's content in a wide open space. Don't forget to pack your sunblock, insect repellent and perhaps a bicycle too!
19. HortPark
Dubbed the 'Gardening Hub' of Singapore, HortPark is a green wonderland for kids. Enjoy its themed gardens and greenhouses, wide meandering footpaths and lots of good ol' fashioned fresh air! As well as having a great playground, HortPark is also a good starting point for the Southern Ridges walk (especially if you have a pram). If the littlies feel up to it, do the tranquil 1-km walk from Kent Ridge Park via the Canopy Walk – trust us, it's worth it!
HortPark, 33 Hyderabad Road, Singapore 119578
20. Labrador Park Reserve
One for the west-siders! For family gatherings, book a barbecue pit or set up your picnic supplies in the shade along the scenic promenade. This oasis of tranquillity offers spectacular sea views, although be warned: the mosquitoes ate us alive, so pack insect repellent. Teeming with wildlife, the park has nature trails for a leisurely stroll, plus the genuine World War II relics (including a fort and secret tunnels) provide kid thrills. There's a small playground (it's in full sun, so be sure to stay sun smart). Older kids might tolerate the decent walk along the promenade to family-friendly restaurant Privé on Keppel Island.
Labrador Nature Reserve, Labrador Villa Road, Singapore 119187
21. Marina Barrage
This is the place for a picnic in the city. The go-to spot for kite-flying and scenic picnics at the Green Roof, with its jaw-dropping scenery of Marina Bay Sands providing the perfect accompaniment to a lovely, sunny day. If your kids are feeling up for a little education (and welcome air-conditioning from the heat above), head down to the Singapore Sustainable Gallery, which has fun interactive exhibits and galleries that teach your little ones about caring for our environment.
Marina Barrage, 8 Marina Gardens Drive, Singapore 018951
22. Kranji Reservoir Park
For a faraway picnic spot away from the city or crowded spots in the heartlands, hit up Kranji Reservoir Park. With two fishing grounds, lush green canopies and pavilions, the park is a scenic locale for fishing enthusiasts and avid picnickers. Wildlife is abundant here – flying lemurs and squirrels have been spotted!
Kranji Reservoir Park, 30 Kranji Way, Singapore 739440
23. Clementi Woods Park
Rejoice Westsiders! A little bit of green can be found close to home at Clementi Woods Park. Equipped with sheltered stools and tables and plenty of footpaths, this tranquil park is great for jogging, cycling or an evening stroll to wind down for the day. There's even a small amphitheatre and a tower which you and the kiddos can climb up to get a bird's eye view of the entire park.
Clementi Woods Park, located along West Coast Road next to West Coast Plaza
24. Dairy Farm Nature Park
Looking for a quiet place to lay out your picnic mat? Dairy Farm Nature Park has trails for cycling, hiking and an unbelievable amount of green empty space for the kids to run and stretch their little legs as much as they like. Just a short walk away from the quarry (another must-explore patch of land), this hidden green gem is worth visiting if you're ready to venture off the beaten path. Word of warning, there are loads of bugs, so bring the mozzie spray and a magnifying glass for your bug-loving kids to investigate to their heart's content.
Dairy Farm Nature Park, located along Dairy Farm Road
25. Empress Lawn
The Civic District is home to museums and concert halls, but did you know there's a vast open space good enough for a picnic? Situated directly in front of Victoria Theatre and Victoria Concert Hall, Empress Lawn is a nice green opening where you can sit down and have a picnic. The kiddos can have a run around the area while you admire the lovely old buildings and snap photos. When you're done, enjoy a tranquil stroll along the Singapore River.
Empress Lawn, 10 Empress Place, Singapore 179555
26. Canterbury Road
This famous pre-wedding shoot location also doubles up as the perfect picnic spot. Yes, it's a little out of the way, but you'll definitely have a peaceful picnic, that's for sure! If you're keen to explore the area, take the path to an even more secluded field at the bottom of the slope. Psst, see if you can find the hidden swing! Pro-tip – drop by Canterbury Road after 6 pm, when it's not too hot, AND you get to witness the sunset golden hour.
27. Bay East Garden
You can have a picnic practically anywhere within Gardens by the Bay (except at the Conservatories), but we recommend laying your mat at Bay East Garden. Lush lawns and elegant trees are aplenty here, as well as glorious views of the Marina Bay skyline. The kiddos can take their skates or scooters out for a spin while you sit back with a good book.
Bay East Garden, 11 Rhu Cross, Singapore 437440
The prettiest parks in Singapore
While it's not rare to see flowers and lush greenery in this Garden City, some hidden gems around Singapore are worth exploring with the kids. We're all about getting the family outdoors and teaching kids to appreciate nature, so we've shared our top picks of Singapore's prettiest parks and gardens – the best excuse to take the kids out and get some fresh air.
28. Ang Mo Kio Town Garden West
Opposite the Ang Mo Kio Town Library lies a treasure trove of nature: Ang Mo Kio Town Garden West. Beyond the children's playground is a beautiful shelter adorned with flowers and a landscaped pond – just don't detour at McDonald's! Cool down at any of the shelters scattered about the public garden. And, for something special, make sure you wander over to the Kebun Baru bird-singing corner on the other end of the park.
Ang Mo Kio Town Garden West, Ang Mo Kio Avenue 6, Singapore 567740
29. The National Orchid Garden at Singapore Botanic Gardens
The National Orchid Garden at Singapore Botanic Gardens is home to one of the most versatile flowers in botany, with over 1,000 species and 2,000 hybrids on display. Take a walk through the four seasons of colours – it's also lovely and cool here, which is a bit of a blessing if it's a typically hot day at the park!
National Orchid Garden, Tyersall Entrance, 1 Cluny Road, Singapore Botanic Gardens, Singapore 259569
30. Chinese Garden
If the kids (or even yourself) are getting sick of Jacob Ballas, consider going further west to go island-hopping around Singapore. Experience the tranquillity of a garden filled with exquisitely manicured bonsai and plenty of water fixtures. Plus, the garden is modelled on the northern Chinese imperial style of landscaping and architecture. Your little tykes will surely be left impressed! Don't miss out on the chance to climb to the top of the seven-story pagoda – the panoramic view of the garden and the Jurong Lake district is definitely worth it.
Chinese Garden, 1 Chinese Garden, Singapore 619795
31. Bougainvillea Garden at East Coast Park
Here's another reason to visit East Coast Park: did you know that bougainvillaeas bloom in a garden by the sea? This burst of colour is sure to brighten up that weekend cycling trip. Venture up the tower and catch the refreshing sea breeze while looking over the park. See if the kids can spot one of the nine sundials in Singapore – the Neptune Sundial – and we challenge you to find out where the rest are!
East Coast Park, East Coast Park Service Road, Singapore 449876
32. Terrace Garden at Telok Blangah Hill Park
Who doesn't love to feel like they're on top of the world? Part of the Southern Ridges, past the forest trek, this semi-circular Terrace Garden lines the path to the peak of Telok Blangah Hill. As you climb the steps to find the best picnic table, you can admire the carpet of flowers adorning the hillside. Get a full panoramic view of Singapore while you enjoy a family picnic in style.
Terrace Garden at Telok Blangah Hill Park, 10 Telok Blangah Green, Singapore 109178
33. Istana Park
An island paradise within the bustling city, the Istana Park is marked by the Festival Arch and Singapore's first reflecting pool. The park is lined with rows and rows of tropical plants like Heliconia and Dwarf Coconut Palm Trees and even has a Swan Pond and a Spice Garden. Keep an eye out for the Changing of Guard Ceremonies (evening of the 1st Sunday of every month) and Istana Open House (open five times a year during public holidays)!
Istana Park, 31 Orchard Road, Singapore 238888
34. Toa Payoh Town Park
From the white hexagonal blocks and stone bridges to the weeping willows and cascading waterfalls, the park is everything you could want from a Chinese drama set in the '70s. Located just a stone's throw away from the Toa Payoh MRT, it's great for some quiet meditation or a peaceful stroll (maybe even to reenact that scene from Mulan).
Toa Payoh Town Park, Lorong 6 Toa Payoh
35. Hindhede Nature Park
Want to visit a park in Singapore that combines the best bits of nature with civilisation? Head to Hindhede Nature Park, nestled next to Bukit Timah Nature Reserve. It's abundant with flora and fauna of all sorts, so you'll want to grab your camera and snap as many pictures as you can. Enjoy the cool breeze as you traverse the nature trail through beautiful scenery, and while you're at it, get the kiddos to spot all the different coloured flowers!
Hindhede Nature Park, Hindhede Drive
36. Tampines Eco Green
Despite being a sprawling urban estate, Tampines still has its fair share of green spaces. Head down to Tampines Eco Green, where the kids can get up close with nature and experience its innumerable wonders. There are hiking trails that let you discover various flora and fauna, spot butterflies and dragonflies, and watch birds perched near the ponds. Don't forget the insect repellent to ward off those pesky mozzies and sunscreen for protection!
Tampines Eco Green, Tampines Avenues 9 and 12, Singapore 529787
37. Sengkang Riverside Park
Who would've thought that the northeast of Singapore has a pretty park too? Sengkang Riverside Park is a favourite among nature lovers, with the largest man-made wetland and rich biodiversity. Known as Sengkang Floating Wetland, the constructed wetland also doubles up as a wildlife habitat, attracting many mangrove birds and damselflies. Take a break at the giant fruit sculptures and enjoy the scenery! Visitors can also explore the fruit parks around the park and spot exotic fruits not found in supermarkets. Walk over to the northern end of the park, where you can roam around ponds surrounded by lalang grass.
Sengkang Riverside Park, Anchorvale Street and Fernvale Street abutting Sungei Punggol, Singapore 544834
38. Sembawang Hot Spring Park
A natural hot spring in Singapore? You heard right! Hit Sembawang Hot Spring Park for a relaxing foot soak in hot spring water. But before you take the plunge with the brood, there's plenty for the fam to explore. Trot over to the interactive water play feature at the educational zone, where littlies can learn about the groundwater cycle in a fun way. Or enjoy a leisure stroll down Floral Walk where the fam can familiarise with fruit trees and edible plants commonly found in kampungs. Hungry? Tuck into local delights at the Sembawang Eating House. Note: Make sure to read the guidelines for using the hot spring before that hot dunk.
39. MacRitchie Reservoir
Exercise enthusiasts flock to this nature reserve every day for its glorious hiking trails, stunning Treetop Walk and numerous amenities great for warm-ups and cooling down after a thorough run. Settle down for a calm picnic before a quiet mid-morning or evening stroll to admire the parks, or embark on an exhilarating trek round the trails – look out for the long-tailed macaque monkeys – you might even spot a monitor lizard. It's the perfect opportunity to teach your kids about Singapore's surprisingly rich wildlife.
MacRitchie Reservoir Park, Singapore 298717
Islands: Parks off the beaten path
If manicured lawns and flower beds don't appeal to the fam, we suggest hitting the neighbouring islands for some much-needed change of scenery and a new park at that. These off-coast hotspots serve up rusticity, off-the-beaten-path walking tracks, and plenty of ops to unwind.
40. St John's Island
Escape from the city confines of Singapore by hopping on a boat ride to St John's Island. Soak up the sun, sink into a picnic on the beach or simply explore the winding tracks found across the island. Unlike its free counterparts, a ferry ride to the island will cost you a couple of $$. We'd say it's worth it for an entire day of beachside tranquillity or venture out and go island-hopping around Singapore.
41. Coney Island
Grab your bike or rent one and head to Coney Island for plenty of fresh air and a much-needed break from the city. Whether you're planning to spend the day bird-watching, tackling the obstacle course at the Casuarina Exploration Playground or tanning at the beach, this is a great place to unwind. Check out our full guide to Coney Island for more deets on the water playground and where to go horse riding.
Coney Island, located beside Punggol Promenade Nature Walk
42. Pulau Ubin
Shaped like a boomerang, Pulau Ubin has one of Singapore's richest ecosystems and is only a 10 minutes boat ride from the red dot. The fam can look forward to a fishing adventure and exploring Singapore's last remaining villages or kampungs. You can even visit Chek Jawa Wetlands to learn about the six habitats that meet and mix. There's plenty for little explorers to do to unleash their inner wild side.
43. Sisters Islands Marine Park
The Sisters Islands Marine Park has tons to offer for little adventure-seekers to have a great time. From exploring its rich biodiversity, and diving into educational programmes, to trotting down guided trails, there's plenty to keep those grey cells active. Hop on closer to the waters that kiss its shores, and you will spot an array of seahorses, clams, sponges and other marine life. Did we mention it also is home to Singapore's first turtle hatchery? If you have some marine-life enthusiasts in the pack, the park has 250 species of coral to explore too.
44. Kusu Island
Looking for a day out in the sun, sea and natural wilderness? Kusu island (which translates to tortoise island) is a day-trippers paradise, perfect for some change of scenery for the brood. Located just 5.6 kilometres south of Singapore, the island is steeped in local myths and folklore and is even home to a tortoise sanctuary. So park at one of the many picnic tables, bbq pits and shelters with the kids and enjoy your mini-retreat from the city.
Note: Before you plan a family day out at the parks, we suggest keeping a tab on the NParks website notice board for park closures and redevelopment announcements.
See you in the park soon, folks!