We've been exploring the far north-east to get the full lowdown on all things kid-friendly in Singapore's baby town, Punggol.
What's at the other end of the North East line in Singapore? Is Singapore's most family-friendly neighbourhood! We think it's a good contender! Filled with awesome parks to explore, water play areas, playgrounds with awesome structures to climb, and even a beach to build sandcastles on, there are way too many reasons why young Singaporean families love living in Punggol with kids. So, in true HoneyKids fashion, we've sussed out all the best things for our little ones to do in Punggol. Here we go…
Click below to read more:
How to get to Punggol
Things to do in Punggol
Where to Eat at Punggol
Places to shop in Punggol
PUNGGOL: Location and how to get there
Punggol is located in the North-East Region of Singapore. Sengkang borders it to the south, Seletar to the west and Pasir Ris to the east. The Straits of Johor and Coney Island are north of Punggol.
Getting to and around Punggol is easy! First, there are amazing cycling networks and public transport facilities. You can hop over the MRT, LRT or expressways if you drive. Head over to the North-East Line via Dhoby Ghaut to get to Punggol MRT. The LRT network also makes places in Punggol easily accessible.
Did you know that Punggol could get even more accessible by 2030 when the North-East Line is extended to serve Punggol Downtown? Additionally, the Cross Island Line will be ready and could shorten commute time to Punggol.
Things to do in Punggol
Splish and splash at water play!
Splash @ Kidz Amaze
Your little water babies are in for an awesome time at Splash @ Kidz Amaze at Safra Punggol. If you're like us and always worry about slathering enough sunscreen on your bubs, you'll love the fact that it's indoors. And that means you can play for hours in the 'Enchanted Deep Sea' without worrying about sunburn. With multiple play decks, a themed splash pad and five water slides, you're guaranteed at least an hour or two of whinge-free frolics (woohoo!). The best part? It's really affordable – prices start at $20 for a family of four for members and $40 for non-members.
Splash @ Punggol, 9 Sentul Cres, Singapore 828654
Happy Park at Waterway Point
When you're done shopping at Waterway Point Mall (find out more below!), schlep the kids over to Happy Park. It's got both wet and dry play areas for littlies of all ages (although we think it's best for mobile bubs aged two and up) that they'll love exploring. There are lily pads to hop on, a small wading pool, and many small fountains to splash around in. Another cool bonus? It looks extra pretty at night with all the LED lights.
Waterway Point, 83 Punggol Central, Singapore 828761. Open daily 10:30am-8pm.
Bike the Punggol Park Connector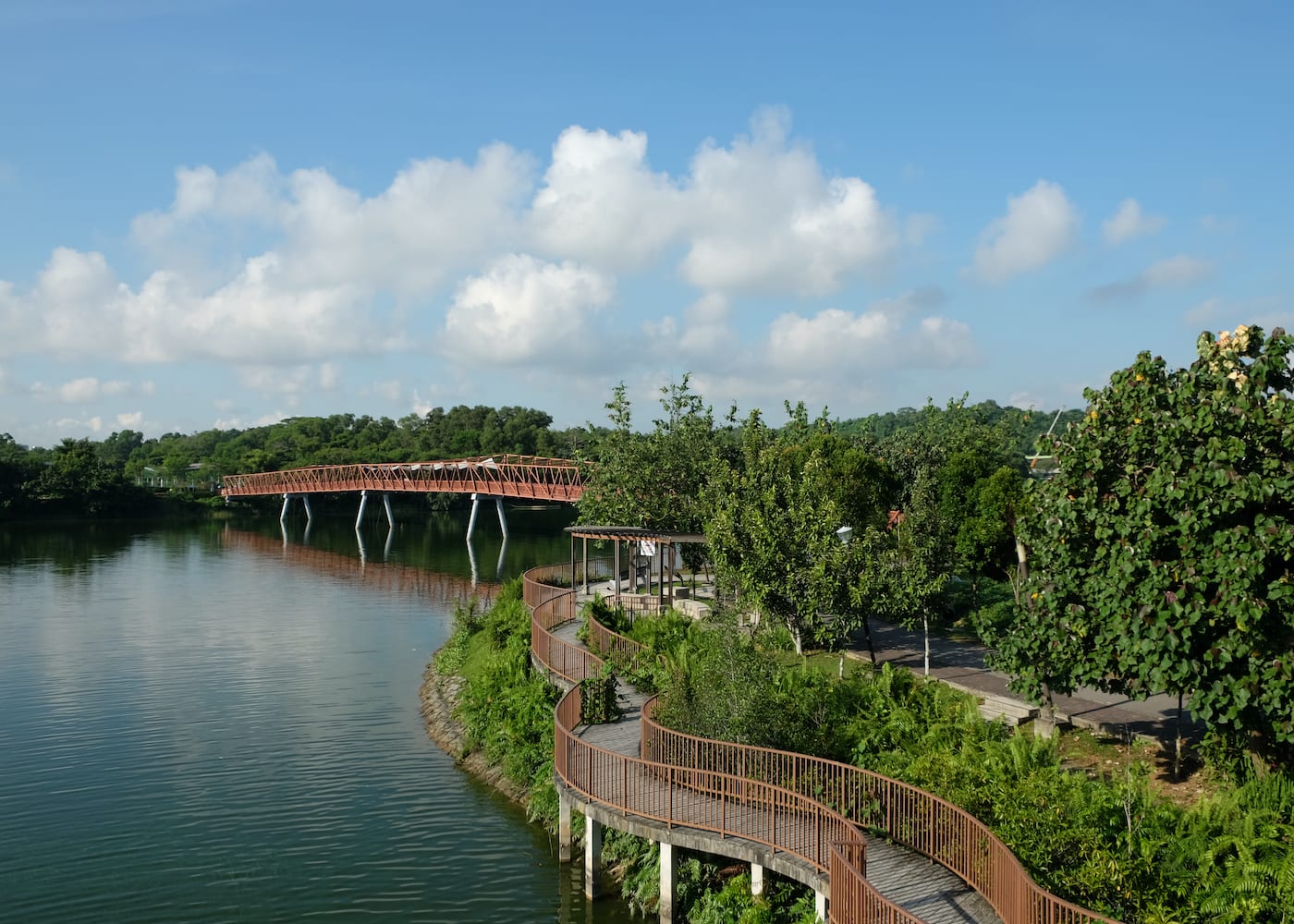 If biking is your cup of tea, the 26 km-long Punggol Park Connector could be just your jelly. It's a great way to hit all your Punggol parks in one go, including Punggol Waterway and even Sengkang Floating Wetland. While you're at it, check out Kampong Lorong Buangkok, Singapore's last surviving traditional village.
Picnic at Punggol Waterway Park
Whether you want to sit down and have a picnic or go on a bike ride in Punggol with kids, you can do all these and more at Punggol Waterway Park. It has four different zones, including Nature Cove, a grassy area where families can kick a ball or settle down with some snacks and a Recreation Zone where you can continue with the water play or sand play. Check out the Heritage Zone for more nature goodness or The Green Gallery for some trail walking. Don't forget to play "Spot The Otter!"
Punggol Waterway Park, Sentul Crescent Road
Spend the day at Coney Island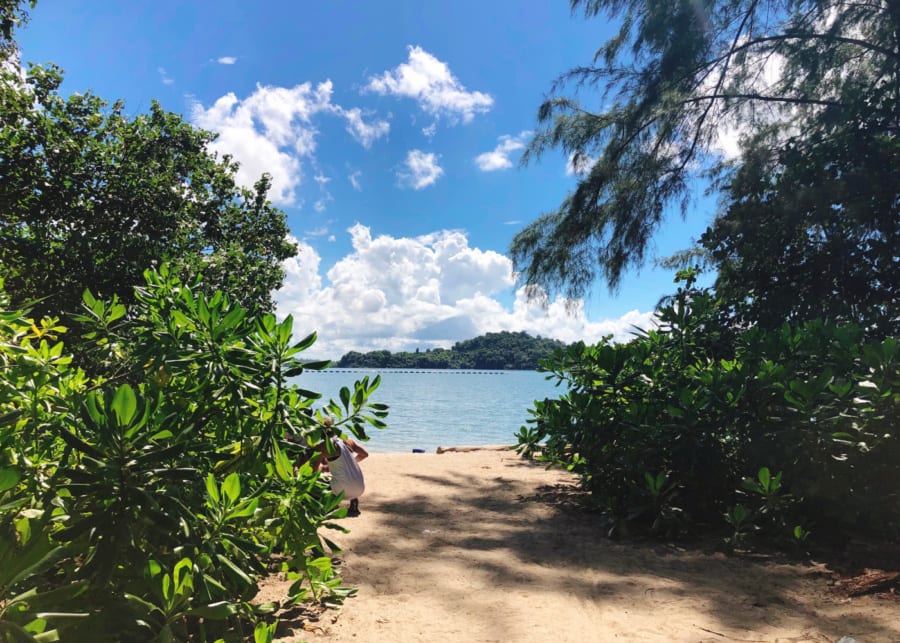 It's no secret that we're big fans of green spaces and rustic parks, and Coney Island ticks all these boxes. You'll need to pack your mozzie repellent and sunblock for this though, because certain areas are known to have their share of sandflies. If you don't have bikes of your own, rent some from Jomando Adventure & Recreation, located at the end of Punggol Settlement. Or if you've cycled enough and are looking for a break, look for signs that'll direct you to five beach areas where you can sit down and while the day away. If the kids want more adventures, check out the obstacle course at the Casuarina Exploration Playground!
Spot turtles at Punggol Point Park
Who knew Punggol could be so darn picturesque? Settle down by the promenade, and you'll get a great view of the open sea from here. Kids will also love saying hello to the turtles at the Water Lily Ponds or playing at the sandy playground. You could even walk to the jetty and try your hand at fishing!
Head to an amazing playground
Thanks to all the new families and HDBs being built around Punggol, new playgrounds are sprouting up all the time. At 673B Edgefield Plains, there's a huge webbed swing with a waved climbing structure, while the playground at 270B Punggol Field looks pretty special with its caterpillar climbing structure. It almost makes us wish we were kids again!
Go prawning
Looking for something new to do with the kids? Try prawning! It's much easier than fishing and less work too. And the best part, of course, is barbecuing the prawns after and reaping the benefits of your newfound prawning skills! But be warned: this place isn't for the hangry!
Hai Bin Punggol, 6 Tebing Lane #01-04 Singapore 828835
Skate & scoot at Rink@Punggol
Just opened in April this year, Rink@Punggol East is the place for you and kiddo to zip, zap and zoom about in your own set of wheels. You're truly spoilt for choice with the largest indoor rollersports' rink's assortment of skates and bikes. You'll find bikes and skates suited for kiddos aged 4 and up.
Rink@Punggol East, 50 Punggol E, Container Park, Singapore 828826
Try an archery course!
Looking for something more adventurous? Why not try your hands at archery? The Archery Club of Singapore offers introductory, advanced and competitive classes. Kids can either have private classes where an experienced trainer teach them the basic shooting techniques, or they can learn the fundamentals in a group setting.
Archery Club of Singapore, Punggol South Archery Centre, Block 542, Hougang Avenue 8, Singapore 530542
Visit the Punggol Regional Library
The relatively new five-storey Punggol Regional Library has heaps of fun things for the kids to explore! With an amazing selection of books for all ages to a dress-up corner with toys and puppets, DIY tinkering station and more, kids can easily spend hours here – and we're not complaining, because yay aircon!
Punggol Regional Library, #01-12, One Punggol, 1 Punggol Drive, Singapore 828629
Where to Eat at Punggol
There are a number of options you can choose from at the malls. Some places we love at Waterway Point are the usual stalwarts Tim Ho Wan, Yayoi, Din Tai Fung, Soup Spoon Union, Genki Sushi and more. You can also find an array of dining options at the Oasis Terraces and Northshore Malls.
However, if you prefer a change of scene, you can hit up The Punggol Settlement and Tebing Lane for some yummy eats. You lapped up the seafront views at Punggol, now lap up the sea offerings at House of Seafood and Ponggol Seafood which are serving up only the freshest bites. Tebing Lane also has its share of eclectic eateries like Whisk and Paddle for brunch fare or Firenzie Bar & Bistro for live football matches and bar snacks.
House of Seafood @ Punggol, 500 New Punggol Rd, #01-01/02, The Punggol Settlement, Singapore 828617
Ponggol Seafood, 500 New Punggol Rd, #01-07/08/09, The Punggol Settlement, Singapore 828617
Whisk and Paddle, 10 Tebing Lane, #01-01, Singapore 828836
Firenzie Bar & Bistro, 10, Tebing Lane, #01-02, Singapore 828836
Anna's Sourdough, 681 Punggol Drive, #01-04, Oasis Terraces, Singapore 820681
Izakaya 95, #02-05, The Punggol Settlement, 500 New Punggol Road, Singapore 828617
Fat Po, #01-05/06, 10 Tebing Lane, Singapore 828836
Shopping malls in Punggol
We're spoilt for choice when it comes to shopping malls in Singapore. Punggol has a few cool ones with a number of kid-friendly amenities. We highly recommend these places during your visit:
Northshore Plaza I & II
The Northshore Plaza malls are the newest in Punggol, opening just last year. It is split into 2 sections that are connected via a bridge. You will find a surfeit of options for shopping and dining. Plus, you can also find cool outdoor playgrounds in both malls.
Northshore Plaza I, 407 Northshore Drive, Singapore 820407 and Northshore Plaza II, 418 Northshore Drive, Singapore 820418
Oasis Terrace
Located next to the Punggol waterway, Oasis Terraces is an indoor integrated shopping mall designed to be family-friendly with a number of amenities. The mall offers a diverse selection of dining options, including restaurants and cafes. Plus, we love the rooftop water play area, a notable attaction at Oasis Terrace. The water playground is the perfect place for kiddos to cool off on a hot day.
Oasis Terrace, 681 Punggol Drive, Singapore 820681 
Waterway Point
Located in the heart of Punggol, Waterway Point is a four-storey mall that's just beside the Punggol MRT/LRT station. You can look forward to a free indoor playground called Wonderland, with toddler-friendly play areas. For older kiddos, there's a rabbit-themed playground with tall slides, trampolines and more. Not to mention the amazing wet playground dubbed Happy Park – there's still lots to look forward to. You can also find yummy eats, shops and amazing waterway views.
Waterway Point, 83 Punggol Central, Level 2, Singapore 828761
Next stop: Punggol!
Featured Image: Rink at Punggol East Facebook