Photography: via Unsplash MI PHAM
Singapore may be one of the most expensive cities to live in, but we've rounded up the best free activities to do with your kids on this tropical island. You'll want to bookmark this!
Here in Singapore, there are always exciting and new activities to do with kids every weekend. And, there are always plenty of holidays camps happening around the island, too. But, if you've run out of ideas, or if your wallet's feeling the pinch, we've got great suggestions for you that won't cost a cent, so you can save your money or for the next fancy dinner date without the kids. And yes, we've even split them into free things to do indoors and free things to do outdoors, so you can find a budget-friendly family activity no matter what the weather in Singapore!
FREE THINGS TO DO OUTDOORS WITH KIDS IN SINGAPORE
1. Fort Canning
Eager to give your tot a little history lesson without them zoning off? Fort Canning is filled with stories to tell and sights to see with its nine historical gardens. These gardens also include trails guides that will allow you to plan your adventure for you child and explore the vast space at your own pace!
2. Hike the trails
No matter what your stamina is – or your kid's interests, for that matter – hiking is a super-cool way to escape the hustle and bustle of the city. Not only is it free, but it's also good exercise! There are trails that are pram-friendly, ones that are great for beginners and those that are off the beaten path. Plus, you'll be rewarded with stunning views and fresh air: rejuvenating for the soul and a great family bonding activity.
3. Cool off at a water park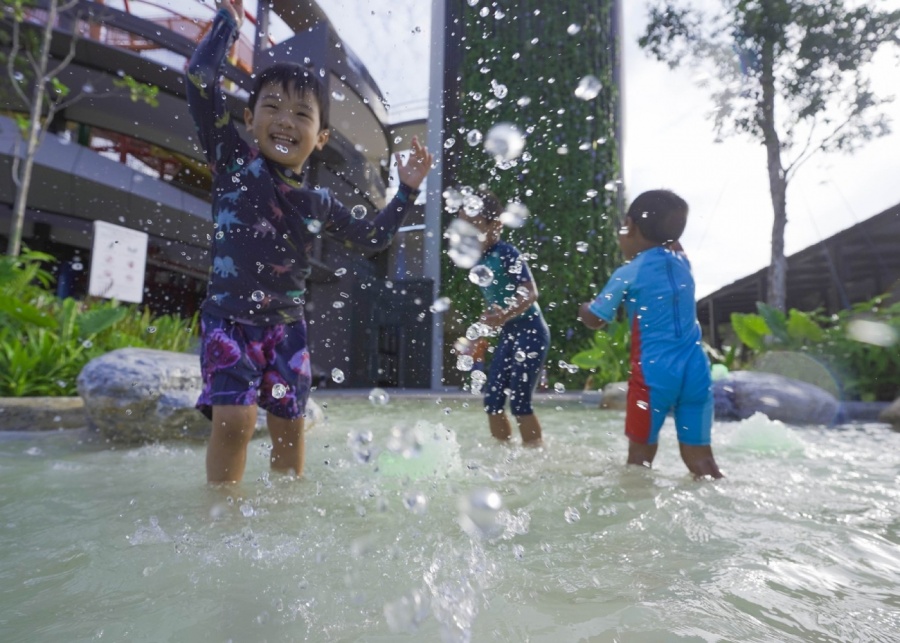 Free water parks are perfect on a hot summer's day. In Singapore, that means most days of the year! So beat the heat and let the kiddos take a dip in the cool waters. Splash around at Jurong Lake Gardens' Clusia Cove (currently closed until further notice), a three-hectare water play area that simulates waves and currents, or Singapore Sports Hub's Splash-n-Surf (currently closed until further notice), a whimsical recreational play area with a thrilling pipe slide, fountains, water guns and more.
A must-visit? Far East Organization Children's Garden (currently closed until further notice) at Gardens by the Bay (read our guide to the Gardens here). There's a dedicated play zone just for toddlers and two rainforest treehouses with a 130-metre long canopy trail just for the older kids. Don't forget the sunblock and swimwear!
4. Have fun at an awesome playground
Kill two birds with one stone: get your retail therapy fix and bring the kids out to a mall playground! The possibilities are endless – these playgrounds exist in almost every mall on the island. But, if you're looking for the best outdoor playgrounds in Singapore, then you're in for a treat too, with so many to pick from! Head up to Admiralty Park (pictured above) – home to the widest and longest slide in Singapore and diverse wheelchair-accessible play equipment for kids of all abilities to enjoy. Check out our piece on inclusive playgrounds while you're at it, too.
5. Cycle or scoot around the city's parks
One of the best things about living in Singapore is easy accessibility to the free, public, beautiful parks. And with a large interconnected network of park connectors, why not spend the day scooting or cycling from one park to another? You could even stop for a picnic, fly a kite, head to the skate park to shred, spot some animals or bird-watch!
Our favourite spots? Punggol's Coney Island for some peace and quiet away from the city. The older kids and daredevils can also visit the various mountain bike parks at Bukit Timah, Pulau Ubin or MacRitchie for some extreme fun. Gnarly, dude. Don't forget to bring your mozzie repellent, lots of water and dress appropriately for the occasion!
6. Listen to music at free concerts
Love the vibes at live concerts, but can't bear to fork out heftily-priced tickets for the whole fam? Well, you're in luck – the Singapore Symphony Orchestra (SSO) regularly performs free lunchtime concerts at Victoria Concert Hall, Gardens by the Bay, Singapore Botanic Gardens and other places around the country. And, unlike enjoying a night in a fancy-schmancy concert hall, you can totally bring your kids and a picnic basket to enjoy the experience together as a family! Another top spot for free music concerts is at The Esplanade – its concourse regularly holds free performances featuring local and overseas artists.
NOTE: These free concerts are currently suspended due to safe distancing measures, so check back when it resumes!
7. See Singapore's cultural and religious landmarks
One of the many highlights of living in Singapore is its cultural diversity – and we've got the landmarks to prove it. Take a stroll around Singapore and hit the temple trail at Little India, starting with one of Singapore's oldest (and probably most colourful) Hindu temples, the Sri Veeramakaliamman Temple. Move on to Chinatown and visit the architecturally stunning Thian Hock Keng Temple, before heading to the iconic Masjid Sultan in the heart of the Kampong Glam district. Then, pop round to St. Andrew's Cathedral, Singapore's oldest Anglican cathedral, and see its gorgeous church grounds and stained glass windows.
8. Live that farm life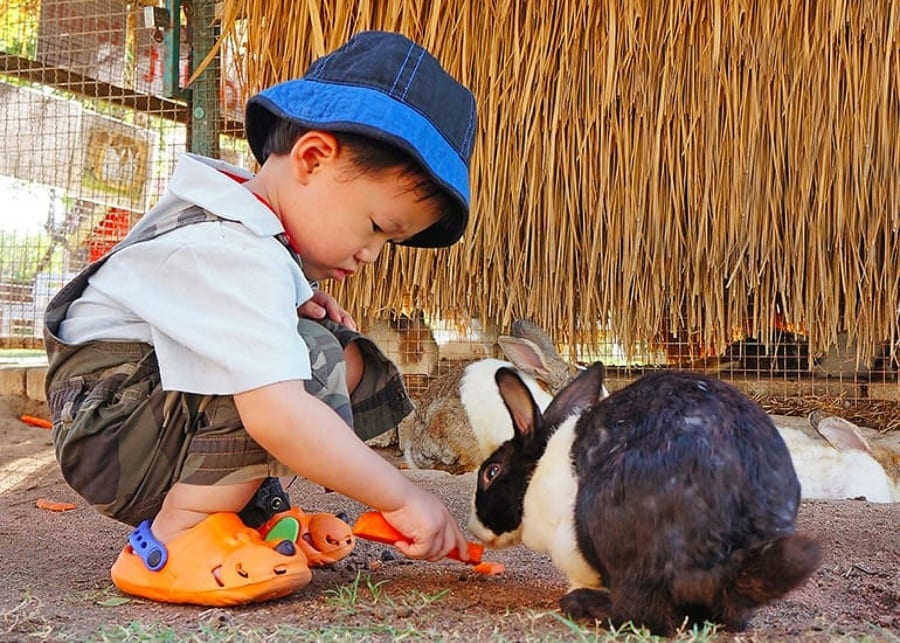 Remember visiting a goat farm on a school excursion? Well, you can reminisce the good ol' days with a farm visit! Take the kids to Hay Diaries to learn how a farm operates. They'll be thrilled to see how goats are milked, and you can even take goat milk home with you, too! Or, head to Jurong Frog Farm to learn more about bullfrogs! Then, drop by Bollywood Veggies to reconnect with nature, and spot different veggies and wildlife!
9. Check out Singapore's 'hoods!
Singapore may be a small country, but we've got plenty of culture-rich neighbourhoods. And, we've got our handy guides to help you discover them, too! From Bugis, Joo Chiat and Katong, to Roberston Quay, Chinatown, Punggol and Little India, there's so much to explore and see. Oh, and don't forget the dioramas and statues at the Chinese mythology park of Haw Par Villa – we suggest visiting this strange oddity during the day with the kids.
10. Hit the beach!
What better free thing to do with kids in Singapore than take a trip to the beach! Yep, we love packing up the bucket and spades (and the kitchen sink, which is usually the case with any trip out with kids), and heading down for some sun, sea and sand! From sunny Sentosa to beautiful East Coast Park, there are loads of beaches to discover in the Little Red Dot!
11. Kite Flying
Head outside and pick a perfect windy spot for some kite flying kiddie adventures. There's plenty of strong-wind spots around Singapore, from Marina Barrage, Punggol waterway park to Sembawang park and Jurong central park – and it's completely free! So dust off your kites and don't forget to slap on some sunblock before taking off!
12. Embark on a heritage trail
Bring the kiddos out for a scenic walk as well as a crash course on Singapore's heritage. With plenty of heritage trails to choose from, explore popular landmarks around neighbourhoods like Hougang, Little India and Tiong Bharu. Plan your routes and make sure to keep you and the littlies well-hydrated!
FREE THINGS TO DO INDOORS WITH KIDS IN SINGAPORE
13. Visit a functioning fire station
Does your little one dream of being a firefighter one day? Earn some cool mum points and bring them to a real-life fire station open house where they'll get to learn the different roles in the Singapore Civil Defence Force (SCDF)! Too cool.
14. Check out a free museum or art gallery!
A great way to escape the heat (or rain) is to head to a museum or art gallery. The good news is there are several free options, and others have heavily discounted or free children's entry, making them an affordable day out. A firm fave on our list is Keppel Centre for Art Education which has loads of interactive displays and is housed in the beautiful National Gallery Singapore. Bonus is it's completely free!
15. Hang out at the library!
Singapore has a host of fab, kid-friendly libraries to take little bookworms to, and they are free to visit! A firm favourite is the kid's section at the National Library. My Tree House is a beautifully and sustainably designed haven for book lovers – and it's the world's first 'green' library for kids. Jam-packed with over 45,000 books for kids four to 12 years, there's enough here to keep even the most avid of bookworms entertained. With plenty of space for the kids to lounge around with a good read, you will also find e-reading kiosks and The Knowledge Tree, an interactive installation that promotes environmental awareness. It's all in line with the library's eco-friendly ethos, which we love!
Note. Not all areas and/or reading sessions and workshops are available; check with each library for the latest info.
16. Whisk yourself off to Changi Airport
Changi Airport has loads to keep the kiddos busy – both airside and open to the public. Visit Jewel to marvel at the Rain Vortex – the world's tallest indoor waterfall. Meanwhile, the Viewing Malls at Terminals 1, 2 and 3 are the perfect places for plane spotters of all ages.
17. Hit a mall!
Malls are not just about the shops; oh no, there's plenty of fun (and free) things to keep the kids entertained. Many are home to some pretty cool playgrounds (although many are still closed at the min), and then there are the super-cool displays for big events such as Chinese New Year and Christmas. Malls such as Vivocity also have plenty of outdoor space (head up to level 3) where the kids can burn off energy, and you can take in those views over to Sentosa!
18. Visit a temple
Another great indoor option for free things to do with kids in Singapore is to visit a temple! There are so many beautiful temples to explore. We especially love The Buddha Tooth Relic Temple and Museum, a four-storey Buddhist temple and museum complex found in the heart of the Chinatown district. The temple is based on the Tang dynasty architectural style and built to house the tooth relic of Buddha. This place is ornate, opulent and full of fascinating tales and history. Make sure you catch one of the free guided tours for this must-see temple and museum.
Looking for more fun things to do with kids? Check out what's on this weekend!