Have you explored the Park Connector Network (PCN)? Don't miss out for a moment longer – here's your guide to this Singapore treasure!
Acronym overload in Singapore is an actual thing. PIE, KPE, SLE… the list is endless. So we thought PCN was yet another acronym that we could ignore. So wrong! The PCN, or Park Connector Network, is a system of jogging, cycling, skating and scooting paths that connect some of Singapore's best parks. Which means easy access to all our kids' favourite playgrounds – and a healthy method to get them exercising and all warmed up for play! Covering a distance of more than 300 kilometres, the paths connect most of this beautiful island by using paved roads, canals and rivers. Simple and easy to use since the '90s!
Singapore's park connector loops
The Park Connector Network currently offers six 'loops' or series of Park Connectors – you could choose to tackle one Park Connector (they're as short as 800 metres) or do a whole loop if you're feeling energetic.
1. Eastern Coastal Loop
Ideal for East Coast dwellers, the Eastern Coastal Loop connects Pasir Ris Park to East Coast Park. The 17.5 kilometres of paths will take you from Pasir Ris Town Park, Tampines Eco Green, Bedok Reservoir Park and Food Centre, Bedok Jetty, East Coast Park and Changi Beach Park. Along the way, there are plenty of rest stops, food outlets, playgrounds, beaches and wildlife to enjoy.
2. North Eastern Riverine Loop
The North Eastern Riverine Loop is ideal if you're after relative flat terrain for cycling. The entire loop is about 16 kilometres and links Buangkok, Sengkang and Punggol. Travel from Punggol Park to Sengkang Riverside Park, Punggol Point Park, past Coney Island, through Lorong Halus Wetland and back around to Punggol Park. Loved by locals for its natural beauty, you'll see loads of birds while you're on the park connector network, like kingfishers and herons, as well as exotic fruits such as lychees and sweatshops.
3. Central Urban Loop
If you're more of a city dweller, this is the loop for you. The Central Urban Loop provides 36 kilometres of paths linking Bishan, Ang Mo Kio, Toa Payoh and Whampoa. Get to know more about the Singapore heartlands as you walk, run, scoot, cycle or rollerblade past iconic HDBs, awesome playgrounds and wide-open spaces like Bishan-Ang Mo Kio Park, Kallang Riverside Park and Punggol Park. And don't be fooled… just because this is an 'urban' loop, you'll still get to see plenty of wildlife and greenery. This is the garden city, after all.
4. Northern Explorer Loop
One of the shorter loops, the 11-kilometre Northern Explorer Loop spans from Lower Seletar Reservoir, along Mandai Park Connector (keep watch for those naughty macaques!), Sembawang, Admiralty Park (don't forget to stop for a quick slide) to Woodlands Waterfront, where you can catch glimpses of Johor. The terrain on this loop tends to be a bit hillier, so it might be better suited to older kids or if you're looking for a workout!
5. Western Adventure Loop
Western Adventure Loop does what it says on the tin. An adventure awaits you on this lush 12-kilometre trail. You'll travel from the green Choa Chu Kang Park along the Bukit Panjang Park Connector, Zhenghua Park, Dairy Farm Nature Park and Bukit Batok Nature Park. Begin your journey on one of the many entry points before leaving the loop for a more rugged nature trail adventure.
6. Southern Ridges Loop
With 10-kilometre of trails spanning southwest Singapore, the Southern Ridges Loop is a feast for the eyes. You can start the pram-friendly trail at Mount Faber Park, head through Telok Blangah Hill Park, and then continue on to either Hort Park and Kent Ridge Park or Labrador Park. The best sights include the iconic Henderson Waves bridge, a bit of history at Labrador Park and the Forest Walk near Telok Blangah. Don't forget to stop for a quick play at the lovely Hort Park on your way home.
Our favourite park connectors
If the idea of tackling a whole loop sounds too daunting, why not just start with one Park Connector? You could pick one near your home or head out of your regular 'hood and do some exploring. Here are a few suggestions to get you started…
1. Changi Bay Park Connector
This park connector is one of our favourite routes! It connects Changi Beach Park to the East Coast PCN, and some folks say the scenery reminds them of Jeju Island! There are two bridges that overlook the waterfront, a boardwalk that's connected to the breakwater, and a pavilion with benches to rest and enjoy the view. Psst, we recommend coming here either super early in the morning or later in the evening for the stunning sunrise or sunset views. Good for the gram too!
2. Rail Corridor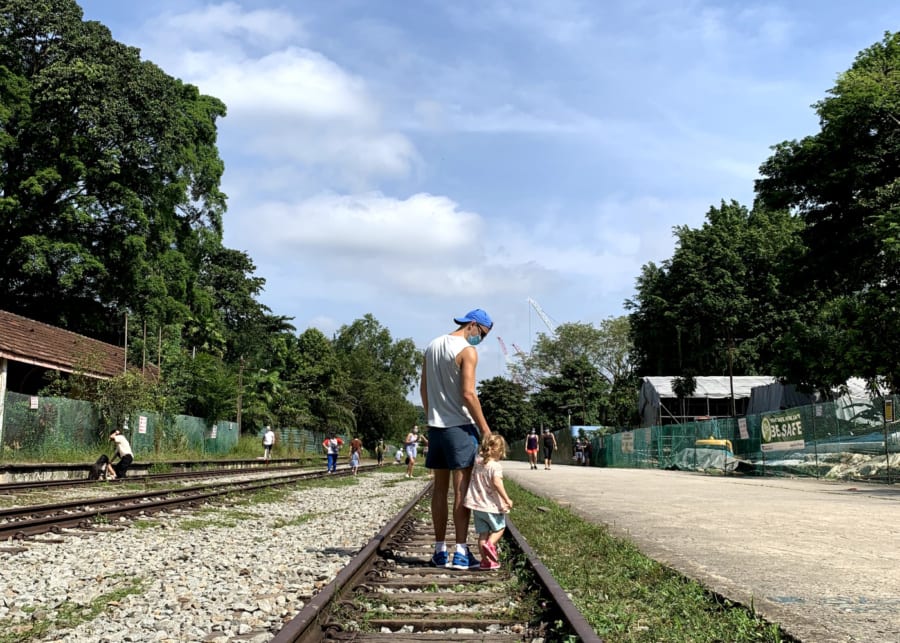 History and greenery are two things synonymous with the Rail Corridor. This 24-kilometre green corridor passes through the north and south of Singapore and features places like Bukit Timah Railway Station, the iconic Bukit Timah Truss Bridge, Bukit Timah Nature Reserve, Singapore Quarry, and more. You'll get to be in one with nature and uncover Singapore's heritage along this trail. Psst, while the corridor is open daily, there's no lighting along the trail except at major intersections. So be safe if you plan to go round that area at night.
3. Queenstown to Robertson Quay
Start off at Queenstown MRT station and scoot or wander along the Alexandra Canal Linear Park until you reach Tanglin Road. Along the way, you'll find exercise equipment and various playgrounds. Once you cross Tanglin Road, you'll join the Alexandra Park Connector. With paved paths for happy scooting and prams, you can make your way all the way to Robertson Quay, where you can stop for refreshments or lunch by the river. A perfect way to spend a morning.
4. Ang Mo Kio Town Garden West to Bishan-Ang Mo Kio Park
This is a great way to get started on Singapore's Park Connectors and keep the kids entertained while you're at it. With wide paths and plenty of kid-friendly attractions along the route, this one is sure to keep everyone happy. Start at Ang Mo Kio Town Garden West and follow the Ang Mo Kio Park Connector through to Bishan-Ang Mo Kio Park. Within the park, the path continues, and you'll find lots of fun things for the kids to do. From ponds, green spaces, bridges, water play areas and playgrounds, too! There are also a couple of lovely eating options within the park if you ever need an extended break.
5. Punggol Park Connector
Have the kids just discovered the joy of bike riding? Tackle the six-kilometre Punggol Park Connector, which runs from Gerald Drive, along Punggol Reservoir (with a view of the Straits of Johor) right through to Punggol Promenade. We love this park connector because it's safe for the kids to cycle, with wide paths away from roads. It's generally pretty quiet too. There are plenty of exit points on this route, and a couple of rest stops along the way, too.
And if you're ready to conquer longer Park Connectors…
Not tired and ready for more adventure? Head on one of two long-distance routes around the country. There are three options on how you can complete this – either by walking, running or biking – but judging by the length and the heat outside, we'd definitely pick the latter. Psst: you may want to leave the kids at home for this one!
1. Round Island Route (RIR)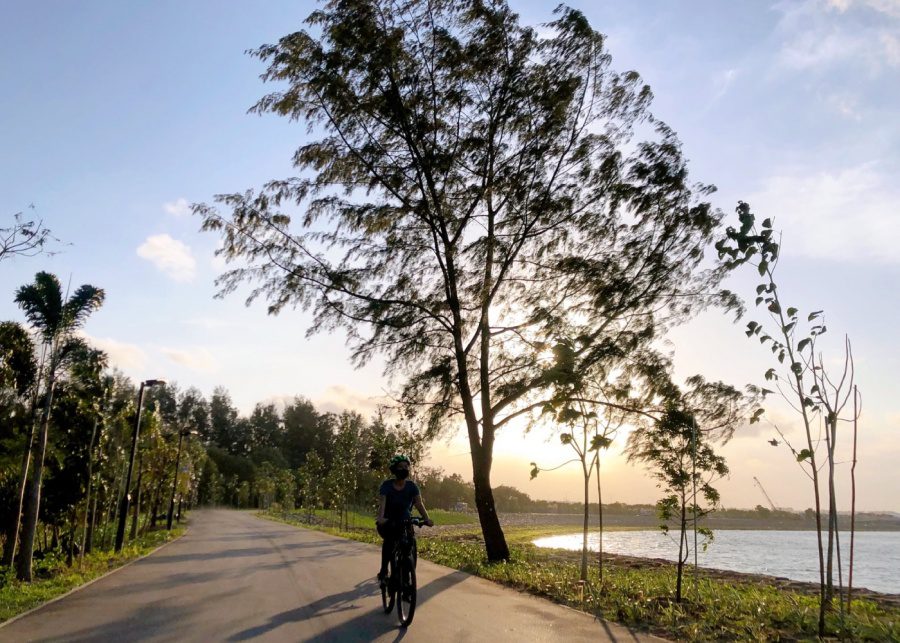 If you've ever wanted to ride, walk or run around the circumference of Singapore, well, you can. The Round Island Route (RIR) is (currently) a 75-kilometre park connector that complements the existing park connector network. Start off at the kid-friendly Rower's Bay, which includes a lookout pavilion, swales and a wetland. Seletar Aerospace Park is easily accessible too. You can venture into The Oval and explore the black and white houses. Tired from all the walking? Take a nice break at restaurants around the area with the kids! From there, continue onwards to Gardens by the Bay and Berlayer Creek at Labrador.
2. Coast-to-Coast Trail
The 36-kilometre Coast-to-Coast trail starts from Jurong Lake Gardens to Coney Island Park. The best part? You can download the dedicated trail app, which makes use of interactive augmented reality (AR) elements that elevate your experience. And don't miss out on the DIY trail guide and curated trails from other users, too.
Park connector dos and don'ts
While you're on the Park Connector Network, take note of some dos and don'ts.
Do feel free to walk, run, cycle, scoot or skate along all paths of the Park Connector Network (although you'll have difficulty scooting along some of the raised walkways, so check specifics before you embark on your adventure).
Do keep left, just as you would on a regular footpath, on an escalator or when driving.
Don't forget that parts of the PCN crossroads, so make sure you follow the rules and cross at designated crossings where you can.
Do remember to wear protective gear if you're cycling or scooting.
Don't lose track of the kids – some of the cyclists can travel at speed along park connectors, so keep the kids out of harm's way.
Do bring your dog – they're welcome on PCs.
Don't forget to bring bags to clean up your dog's mess.
Do check ahead – PCNs do have closures from time to time due to adverse weather conditions or ongoing improvement works.
And finally – do have fun!