Planning to chill by the river over the weekend? Here are some fantastic family-friendly restaurants right by the river side.
We're always on the hunt for the best kid-friendly restaurants and cafes in Singapore. (Bonus points for any kids eat free deals!). But what if you're in the mood for a Saturday brunch by the water, or a weekend stroll by the river followed by a cafe pitstop? The Singapore River is the scene of many a happy afternoon scooting with the kids – and we're thankful to have so many fab spots for families along its banks! So, we've pulled together the ultimate guide to restaurants on the river for the hungry family in Singapore. Read on for our favourite kid-friendly dining options along Boat Quay, Clarke Quay, and Robertson Quay.
Family-friendly restaurants by the river in Singapore
Super Loco
Super Loco is definitely one of our top riverside dining spots in Robertson Quay. The outdoor tables populated by Bugaboos and kids zipping around on scooters are already a good sign. But step inside this bright and cheery brunch spot on a weekend and you'll see why it's such a hit (pictured top). We love the technicolour decor, abundance of highchairs and brilliant brunch menu. Kids will love the scrambled egg with soldiers, chips 'n' guac and the blueberry pancakes, among other options. For us grown-ups? We love how the weekend brunch menu celebrates healthy eating in an accessible-for-all way. Scrambled tofu burrito? Yes, please. Delish corn fritters? Bring 'em over. All in all, we're huge fans, and we know you won't be disappointed either.
Where: Super Loco, 60 Robertson Quay, #01-13 The Quayside, Singapore 238252
Summerlong
We road-tested this relaxed Eastern Mediterranean restaurant for weekend brunch, and we're totally digging its relaxed beachy vibe. Brought to us by the team behind Neon Pigeon and Fat Prince, we were expecting big things from Summerlong (including exceptional cocktails). We weren't disappointed with its good coffee and 'Little Pelicans' menu just for the young 'uns. We'll definitely be back – with and without the kids.
Where: Summerlong, #01-04, 60 Robertson Quay, Singapore 238252
Common Man Coffee Roasters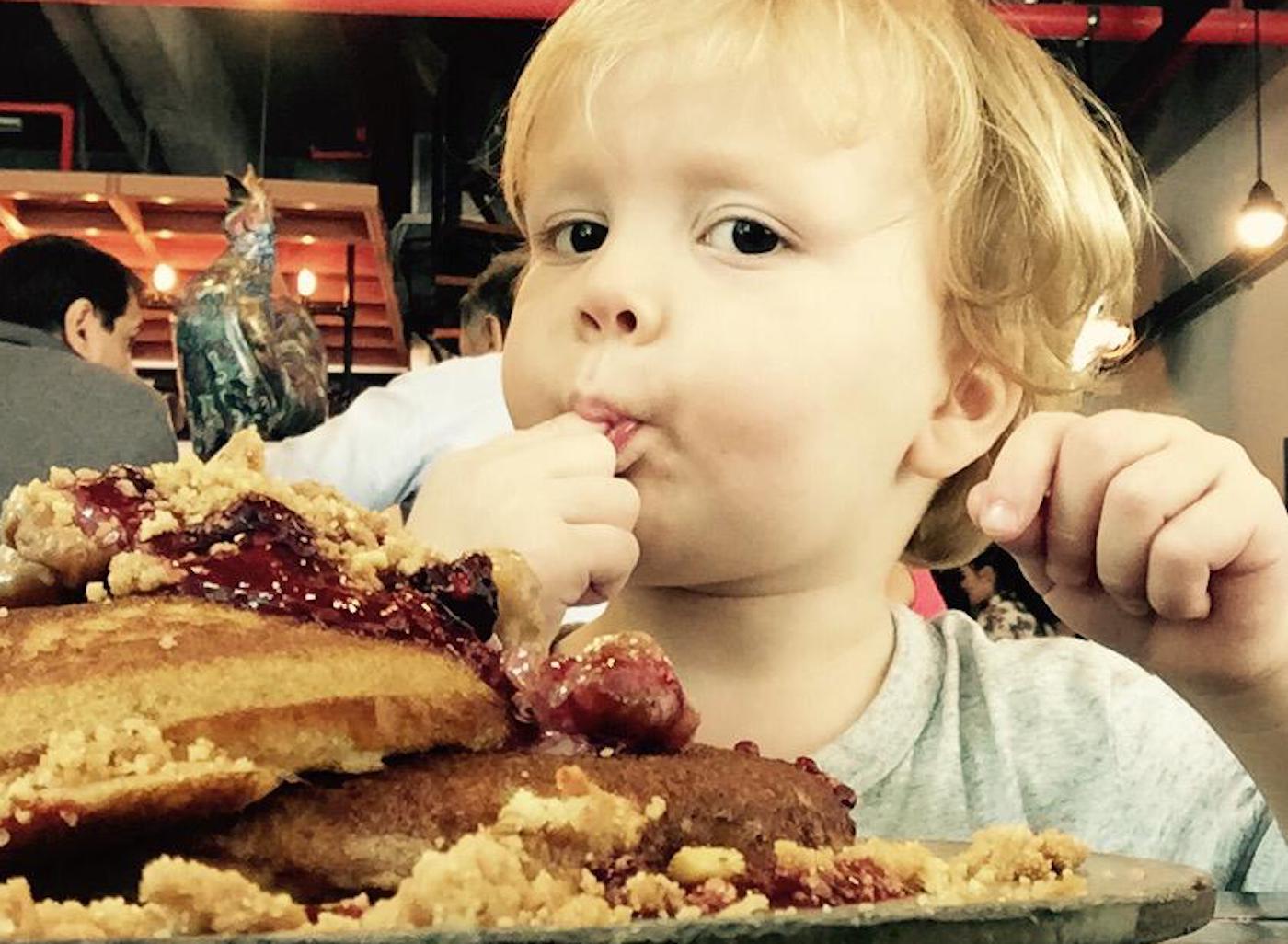 A short stroll away from the river you'll find Common Man Coffee Roasters, which simply had to be included in this riverside dining guide. CMCR boasts arguably the BEST coffee in Singapore, which isn't really a surprise given its owned by the same peeps as 40 Hands in Tiong Bahru. The food is just as incredible as the caffeine – we personally love the Marmite mushrooms! If you have small kids, opt for a seat indoors away from the roadside. Our tip: leave the pram at home as it's up a flight of stairs.
Where: Common Man Coffee Roasters, 22 Martin Road #01-00, Singapore 239058
Toby's Estate
This Australian coffee roastery has a lovely outdoor area perfect for people-watching. With wallet-friendly brunch offerings and oh-so chic industrial decor, this is one place you and your kiddos will love. If we had to choose a time of the day for a feast here, we say breakfast because of the knock-out short-stack pancakes and the sinfully rich MC pie mac & cheese. And that's just for us! Although the roast beef sandwich with rainbow fries is hard to refuse…
Where: Toby's Estate, #01-03/04, 8 Rodyk Street, Singapore 238216
Boomarang
Boomarang is a bit of an institution with the family breakfast crowd in Singapore. Not only does it serve good, honest Aussie food, but the kids' menu is printed on a colouring-in sheet, too. The restaurant's massive frontage means that it's nice and roomy (read: plenty of pram parking space), and you'll easily score a table outside with a view of the river. Make sure to bring your scooters for your kids to burn up all that excess energy. And if brunch turns into lunch, hubby can catch the footy or tennis on the big screen. Hands down the best chicken Parmigiano in Singapore, and the Bondi breakfast spread fills more than one hungry tummy!
Where: Boomarang, 60 Robertson Quay, #01-15 The Quayside, Singapore, 238252
Kith Café
This Robertson Quay fave is so popular with the brunch crowd that outlets have now popped up all over Singapore. It's little wonder as it's a place you can kick back with the kiddos and enjoy damn good coffee. We're also big fans of its brilliant brunch menu and genuine family-friendly vibe. There's always something to keep the kiddos happy here: a box of toys, rocking horses and the perfect riverside location to enjoy a scoot around. There's no indoors to speak of, so come dressed down.
Where: Kith Cafe, #01-28 Watermark at Robertson Quay, 7 Rodyk Street, Singapore 238215
Privé at the Asian Civilisations Museum
Privé at ACM is the perfect spot to refuel if you are hitting the museum circuit with the kiddos. But it is also a fabulous dining destination in its own right with its light, cool interiors and breezy outdoor deck with river views. The kids' menu is awesome with classics like breakfast of champions: scrambled cage-free eggs on multigrain toast and a choice of ham or salmon. We have it on good authority that the cupcakes and the ride-on cars in the courtyard have the power to squeeze out at least another hour of museum time… Watch the Privé Facebook page for specials for kids during school holidays.
Where: Prive at the Asian Civilisations Museum, #01-02, 1 Empress Place, Singapore, 179555
Jumbo Seafood
Crab lovers unite: this spacious family-friendly restaurant serves up mouth-watering plates of chilli and pepper crab for families with a taste for spice. Don paper bibs and get ready for a tummy-bursting meal with the quiet lapping of gentle waves as your constant companion. And if it's all too much for the little ones, they can have their fill of chicken satay, fried rice, noodles, steamed buns and some of the freshest broccoli in Singapore.
Where: Jumbo Seafood, #01-01/02 Riverside Point, 30 Merchant Road, Singapore, 058282
Cafe Iguana
This Mexican restaurant is no stranger to loud gatherings, so call your crew for an arvo session with the kids. Expect generous servings of tacos, burritos and quesadillas and a good dose of fiery Latino flair. All dishes on the kids' menu are served with rice and beans, and our little hip-shakers always go for the mini chicken chimichanga or the soft taco. Don't worry – the chef is adept at tailoring spice to junior palates. Café Iguana is the proud home of the blue agave margarita, so best to order one as a good guest!
Where: Cafe Iguana, #01-03, Riverside Point, 30 Merchant Road, Singapore 058282
Bar Bar Black Sheep
Fresh air and sunshine? We're so there. You'll adore Bar Bar Black Sheep for its simple Asian/Western fare. It's no fuss, no service charge, no GST: just classic hawker-style Thai, North Indian and Western plates served up quick! Cheap cold beer deals only enhance the experience for us parents. Your kiddies will have a blast running wild right outside too – don't forget your scooters.
Where: Bar Bar Black Sheep, 86, #01-04 Robertson Quay, Robertson Blue, Singapore 238245
Our Village
This hidden gem is a hit with the HoneyKids mums for its lovely patio (beautiful views but with walls high enough for you to enjoy your meal without stressing about safety) and excellent North Indian dishes the whole family can enjoy. If your kids want their curries super mild, the kitchen will sort it out for you. Look carefully for the doorway to Our Village as it's a little bit tucked away along the Boat Quay strip. And you don't have to leave the stroller at home – there's lift access! It's a great spot to book when you have visitors in town.
Where: Our Village, 46 Boat Quay, Singapore 049835, p. 6538 3092
PS.Cafe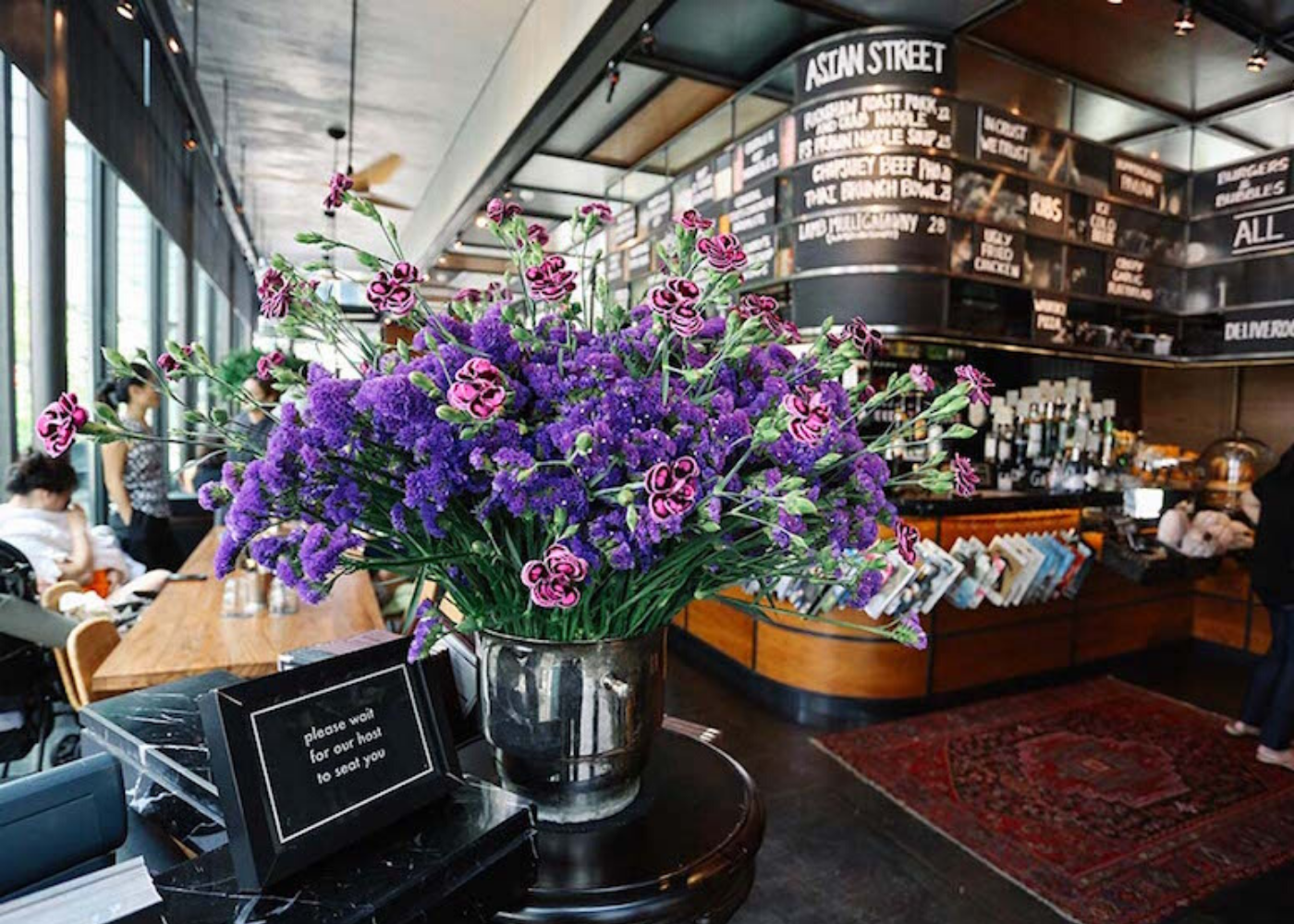 PS.Cafe has a deceptively enormous restaurant on Martin Road, making it a great riverside restaurant dining pick. Our kids beg to go here on a Saturday for afternoon tea and babyccinos – and we usually give in because the cakes are honestly spectacular. Other standouts from the extensive menu include the superfood salad (with a side of truffle shoestring fries of course), the PS.Cafe wagyu beef burger and spicy king prawn aglio olio. If you insist on lining little stomachs before sweet endings, go for the ham and mushroom croque monsieur with three mushrooms and Montreux gruyere.
Where: PS.Cafe, 38 Martin Road, Singapore, 239072
Brewerkz
Pizza, fish and chips and burgers anyone? Every child's dream dinner comes true with Brewerkz' kiddy meal offerings. Waltz down to Brewerkz and let your littlies indulge in some robust American fare, sans cutlery! You'll probably be feeling charitable after a rack of baby back ribs, so splash out for the rainbow cake for dessert. Not a crumb will remain at this riverside dining stalwart.
Where: Brewerkz, #01-05/06 Riverside Point, 30 Merchant Road, Singapore 058282
Red House Seafood Restaurant
Right smack-bang in the middle of the Clarke Quay action, you'll find Red House Seafood – the scene of many a local family dinner since 1976. The huge circular tables accommodate large groups and the easy access to the river should extend the adults' feast a little longer than usual (we recommend the Sri Lankan mud crab with pepper). Plenty of delish Asian grub to keep the little ones sated too.
Where: Red House Seafood Restaurant, 3C, River Valley Road, #01-02/03, The Cannery, Singapore 179022
Love this list of kid-friendly restaurants by the river in Singapore? Check out these family river walks, too!
Top image by Amy Potter