Laugh, learn and play at these hands-on, educational exhibitions and museums around the Little Red Dot...
While we love hanging out in Singapore's prettiest outdoor places, sometimes the endless sun can get a bit much, especially for our littlies. Beat the heat and head indoors to one of these kid-friendly, educational exhibits and museums around the Little Red Dot. There's something for everyone, including National Gallery's homage to its roots as City Hall, where it showcases all of the iconic key moments in Singapore's history. There's more: the world's first travelling wildlife and exploration exhibition is in town. Plus… find out how well you know your poo!
Disney: Magic of Imagination, ArtScience Museum
On until 29 March 2020
Hitch a ride on a magic carpet with your little ones over to the ArtScience Museum for a visual experience you won't forget. Fall in love again with your favourite films, stories and characters from Walt Disney Animation Studios – from Mickey Mouse to Anna and Elsa, you'll uncover the magic behind almost a century of artistry and technological innovations.
Where: ArtScience Museum, 6 Bayfront Ave, Singapore 018974
Inverted Globe, Giant Connecting Block Town at Future World: Where Art Meets Science
Ongoing
Kids who love cars and trains will definitely go gaga over this interactive installation! Using giant blocks, kids will get to design their own transportation network to make the traffic in this make-believe cityscape flow smoothly. Cars, trains, planes and boats will be projected onto a large surface and it's up to visitors to move things around and make it work. And, just like in real life, the challenge of keeping everything moving grows with the amount of traffic!
Where: ArtScience Museum, 6 Bayfront Ave, Singapore 018974
City Hall: If Walls Could Talk, National Gallery Singapore
On until 29 August 2021
Travel back in time in this multimedia experience and get front-row seats to defining events in City Hall: If Walls Could Talk. From the swearing-in of the nation's first president to the unveiling of the national flag, get an insight into pivotal moments of Singapore's history through augmented content and an interactive digital wall.
Where: National Gallery Singapore, City Hall Wing, Level 3, City Hall Chamber, 1 St Andrew's Road, Singapore 178957
Future Makers, Science Centre
Ongoing
The permanent exhibition at the Science Centre is ready to wow all future makers with an object theatre boasting moving screens and very important missions for all little engineers. Once you've been briefed on the mission, you can check out the interactive exhibits and earn secret codes to play an escape room. Put your piloting skills to the test at the special drone-rover arena; you can even bring your own drone or RC car to pilot. It's a dry-weather activity only so be sure to go when the sun's out!
Where: Science Centre Singapore, 15 Science Centre Road, Singapore 609081
I-Opener, Playeum
Until 26 April 2020
Playeum's sixth hands-on exhibition I-Opener is the brainchild of four artists with a disability: Dr Dawn-joy Leong, Cavan Chang, Sol Pickens and Jo Devadason. One of our favourite hands-on exhibits for little ones aged one to 12 has all sorts of inclusive sensory experiences to spark imagination in kids of all abilities. Expect light projections, a tactile soft area to chill out in (bubs will LOVE it – check out our main picture), shadow puppets and even a space where you can paint using just the movement of your eyes! We're suckers for the maker space, too. Just watch out for those hot glue guns…
Where: Playeum, 47 Malan Road, #01-21/22/23, Singapore 109444, Gillman Barracks
Living Worlds: An Animal Planet Experience
Until 22 March 2020
Got a young one who loves animals? You'll want to bring them to the world's first travelling wildlife and exploration exhibition here in Singapore! The exhibition will explore the interdependent relationship between animals and the environments that inhabit through unique interactive and immersive exhibits and never-before-seen footage that showcases stories of the natural world. Plus, they'll also get to learn about conservation, too.
Where: Science Centre Singapore, 15 Science Centre Rd, Singapore 609081
Floral Fantasy, Gardens by the Bay
Ongoing
We've explored every inch of Gardens by the Bay including the Flower Dome and Cloud Forest, which is why we're excited to have not one, but four new garden landscapes to explore at Floral Fantasy, including a 4D ride as a dragonfly! Dance, drift, waltz or float away on bubbling brooks, past waterfalls, hanging plants and more at this attraction.
Where: Gardens by the Bay, 18 Marina Gardens Dr, Singapore 018953
An Old New World: From the East Indies to the Founding of Singapore, 1600s–1819, National Museum of Singapore
Until 29 March 2020
Go on a journey to an Old New World and examine over 220 cool artefacts to learn more about what happened in the 200 years before Singapore was established in 1819. Don't forget to check out the huge ship in the second zone and get the littlies to try their hand at tying their own knots!
Where: National Museum Singapore, 93 Stamford Rd, Singapore 178897
Southeast Asia in the World, Asian Civilisations Museum
Ongoing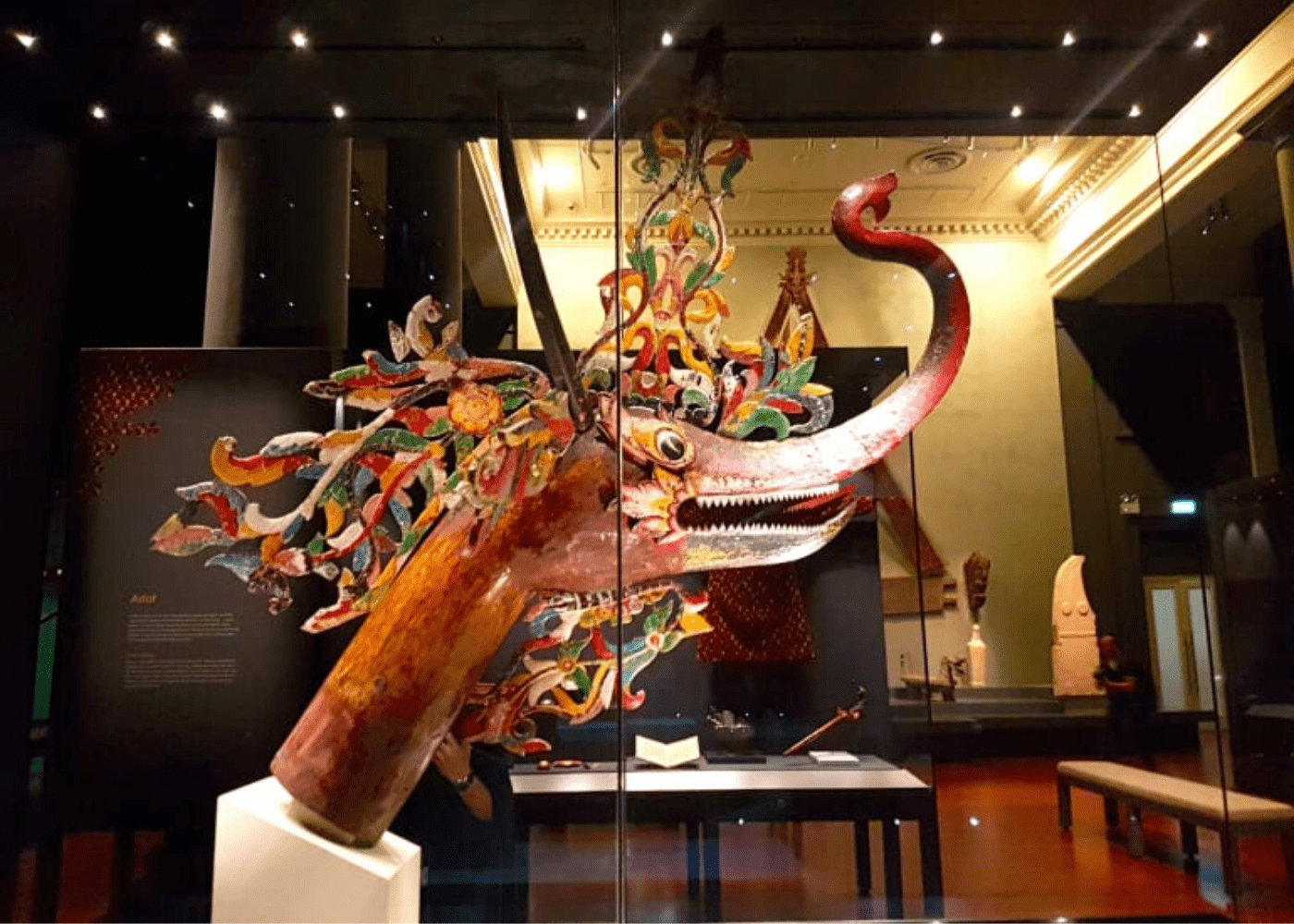 The Asian Civilisations Museum now has permanent galleries on Christian Art, Islamic Art and Ancestors and Rituals to highlight the importance of Southeast Asia in the World. The exhibits focus on art that demonstrates an exchange of ideas and cultural interactions within Southeast Asia and between Asia and Europe. Grab one of the colourful activity booklets (complete with stickers and postcards) and try out the new museum trails to discover how faith and belief have spread across Asia through religious art.
Where: Asian Civilisations Museum, 1 Empress Place, Singapore 179555
Wandering in Black and White, Art Playscape, National Gallery Singapore
Ongoing
We've already checked out the woods and enchanted forests over at Art Playscape, and now homegrown artist, Tang Ling Nah, has introduced cool new works at the Keppel Centre for Art Education at National Gallery Singapore. Wandering in Black and White will take kids on a journey through fantastical cities where they'll be able to explore and even build their own cities, and discover the relationship between light, object and space. Perfect for little kids with big imaginations.
Where: National Gallery Singapore, 1 St Andrew's Road, Singapore 178957
Phobia, The Science of Fear, Science Centre Singapore
Ongoing
Most of us have a phobia (spiders, yuck!) and this addition to Science Centre Singapore is a permanent exhibit exploring fear from a historical, cultural and psychological perspective. Kids will be taken on a journey through the different types of fears, from the fear of being buried alive to monsters under the bed and even every student's worst fear – exams! Better prep the kiddos for some hair-raising moments.
Where: Science Centre Singapore, 15 Science Centre Road, Singapore 609081
Omni-Theatre — SE Asia's First 8K 3D Digital Dome Theatre
Ongoing
Asia's first ever 8K 3D Digital Dome is screening five fantastic shows in a totally immersive experience across a 23m seamless screen: a learning journey like no other! Venture into the wilds of the rainforest in this showing of Great Bear Rainforest.
Where: Science Centre Singapore, 15 Science Centre Road, Singapore 609081
Know Your Poo, Science Centre Singapore
Ongoing
Be sure to bring the kiddos to this fun exhibition about poo and all things related to bodily function. Learn the history and evolution of sanitation and toilets through interactive exhibits! Identify what you should or shouldn't flush down the toilet, learn what makes fart smelly and pose for a picture with the porcelain royal throne. It's an entertaining exhibit that will blow you away!
Where: Science Centre Singapore, 15 Science Centre Road, Singapore 609081
Digital Life Canvas, Marina Bay Sands, The Shoppes
Ongoing
We may have lost (for now) one of the few ice skating rinks we have in Singapore, but we'll let that go because its replacement is really pretty awesome! Where there was once fake ice, there is now an amazing light sculpture and LED floor, all part of Digital Life Canvas, a collaboration with teamLab. Expect some pretty impressive light imagery – birds flying through the light sculpture while fish dart about beneath your feet, and flowers blooming underfoot are all part of the fun.
Where: Marina Bay Sands, The Shoppes, 10 Bayfront Ave, Singapore 018956, p. 6688 8888
The Maritime Experiential Museum
Ongoing
The Maritime Experiential Museum has reopened, having undergone a massive overhaul and complete reconceptualisation. Featuring all new exhibits that integrate technology and interactive exhibits, older kids will love admiring the ships, encountering pirates, and experiencing a typhoon in all its 4D multi-sensory sound and fury. We especially liked the little surprise ending after the typhoon!
Where: The Maritime Experiential Museum, 8 Sentosa Gateway, Resorts World Sentosa, Singapore 098269
Singapore City Gallery, Urban Redevelopment Authority
Ongoing
If you've ever wished for the ability to see into the future then you're in luck! Head over to the Singapore City Gallery exhibit, where you'll find the fascinating story of Singapore's massive urban renewal and also get a look at the future plans for our small, but mighty city. Kids will love getting a bird's eye view of large-scale architectural models where they will keep busy trying to find their home on the island-wide model! Our personal highlights? Interacting with the old and new streetscapes while discovering the history behind some of Singapore's heritage gems at the 'A Brush With History' exhibit, and journeying through Singapore's hidden urban systems in 'How Our City Works'. Family winner for sure.
Where: The URA Centre, 45 Maxwell Road, Singapore 069118
Malay Heritage Centre
Ongoing
Head over to Istana Kampong Gelam (aka the Malay Heritage Centre), the former home of the Sultanate of Singapore, for a cool history lesson and to check out the permanent exhibits showcasing the colourful history and culture of the Malay community in Singapore. There are six galleries spread over two levels, so plenty to keep everyone busy with!
Where: Malay Heritage Centre, 85 Sultan Gate Singapore 198501
The Glass Rotunda: Story of the Forest and Singapore, Very Old Tree, National Museum of Singapore
Ongoing
Our kids can't get enough of the larger-than-life interactive installation, Story of the Forest at the National Museum of Singapore! The installation mimics the sights and sounds of Southeast Asia's lush tropical rainforests by transforming 69 drawings (from the William Farquhar Collection of Natural History Drawings collections) to life in a virtual experience that will blow the whole family away. Get up close and personal with awesome flora and fauna: watch out for our favourite, the Malayan Tapir! Once you're done with interactive heaven, do check out Singapore, Very Old Tree: a phenomenal photography exhibition by renowned local artist, Robert Zhao. The 17-piece collection explores the nation's identity as a 'Garden City' by shining the spotlight on some of the most iconic trees across the island.
Where: National Museum of Singapore, 93 Stamford Road, Singapore 178897
Butterflies Up-Close, Science Centre Singapore
Ongoing
Hands up if your kids made you read one of the all-time favourite classics, The Very Hungry Caterpillar, a gazillion times as part of the bedtime routine? Little ones LOVE following the story of that greedy little critter all the way through to its transformation into the prettiest butterfly in the garden. They can meet a small army of caterpillars and butterflies (more than 500 at the last count) that have crawled and fluttered their way over to the Science Centre's colourful, interactive display.
Where: Science Centre Singapore, 15 Science Centre Road, Singapore 609081
Madame Tussauds
Ongoing
Are your kids big fans of football stars and heart-throb boy bands? Take them on a trip to celebville at Madame Tussauds, where they can share the stage with One Direction, test their sporting skills against heroes like David Beckham or shake hands with the world's biggest political leaders. For a nice breather after an afternoon of fawning over wax versions of your idols, take a boat ride through an enchanted Singapore forest where you'll be treated to mini Singapore in its all swanky splendour.
Where: Madame Tussauds, Sentosa, 40 Imbiah Road, Singapore 099700
Lee Kong Chian Natural History Museum
Ongoing
The two-storey gallery is the place to go if you're keen to learn more about the Earth's history and diversity, plus get up close and personal with iconic specimens of Singapore's geology and ecosystem. From a slice of the rare (and now locally extinct) Changi tree, to the Singapore sperm whale, examine the weird and wonderful from our very own shores. Did we mention there's dinosaur fossils?
Where: Lee Kong Chian Natural History Museum, Faculty of Science, National University of Singapore, 2 Conservatory Drive, Singapore 117377
Amazon Flooded Forest, River Safari
Ongoing
Travel to the Amazon, the second-longest river in the world, at River Safari's Amazon Flooded Forest exhibits. This enormous freshwater aquarium transports you straight into the flooded waters of the river and offers different immersive experiences thanks to its multi-levels of viewing. We'd also suggest ending the day with a boat ride down the Amazon River Quest for an exciting, scenic end to the day.
Where: River Safari, 80 Mandai Lake Road, Singapore 729826
Trick Eye Museum
Ongoing
For an afternoon of giggles and optical illusions, head to the Trick Eye Museum. This place is all about the art of turning two-dimensional paintings into three-dimensional scenes – just watch how the surfaces of the museum walls, floors and ceilings come alive! Arm yourself with a camera, get creative with your poses and go nuts creating the wackiest visual narratives at the various themed galleries. We've taken too many hilarious photos here to count.
Where: Trick Eye Museum, 26 Sentosa Gateway, Resorts World Sentosa, Singapore 098138
An Intergalactic Odyssey
Until 16 February
Take a trip to space in An Intergalactic Odyssey! Be mesmerised by interstellar scenes and play in a flying saucer ball pit as your journey through this space-themed exhibition. Plus, don't miss the chance to take Insta-worthy pictures with the fam against a backdrop of stars.
Where: ArtScience Museum, Inspiration Gallery, Level 4, 6 Bayfront Ave, Singapore 018974