Rain pouring down? Blazing heat? Hazy Singapore day? No problem – we've found 100 things to do indoors with kids of all ages!
Let's face it, the weather in Singapore is unpredictable. This means we're always on the hunt for fun things to do indoors with kids (have you seen our mega guide to the best indoor playgrounds in Singapore?). Between the bouts of torrential rain, scorching heat and protecting our kids from air pollution during the haze, we've had our fair share of days when entertaining the kids outdoors just isn't an option. So that's why we've prepared a whopper list of 100 things to do indoors with kids of all ages in Singapore. Whether you're looking for high-energy adventures or more chilled family activities, there's something to keep the whole family amused.
Psst… Make sure you're subscribed to our weekly newsletter, or follow us on Instagram for the inside scoop on activities with kids we're loving right now. You won't want to miss out!
100 things to do indoors with kids in Singapore
Get a culture fix
1. ArtScience Museum
With its FutureWorld interactive exhibit, the ArtScience Museum is top of our list for indoor activities with kids. It really is a mind-blowing experience that will mesmerise the family! It's a popular attraction, so we suggest purchasing your tickets well in advance to avoid disappointment.
ArtScience Museum, 6 Bayfront Avenue, Singapore 018974
2. Asian Civilisations Museum
Whether you've lived in Asia your whole life or are making it your home for now, this museum is packed with really cool stuff from around these parts. This indoor activity is a worthwhile expedition for finding out about Asian history and culture. There are more displays than ever, making it a great pick for things to do on rainy days.
Asian Civilisations Museum, 1 Empress Place, Singapore 179555
3. Trick Eye Museum
Trick your eyes well and truly at the Trick Eye Museum, where two-dimensional paintings are transformed into 3D images through the use of optical illusions and clever angles. This place makes for some hilarious photography opportunities! Be ready for a couple of hours of fun and laughter, all with a dose of education and culture.
Trick Eye Museum, #01-04, Southside, Blk B 80 Siloso Road, Singapore 098969
4. Lee Kong Chian Natural History Museum
If you've got dino-mad wannabe palaeontologists, take them to Singapore's very own Jurassic World. With three 150-million-year-old diplodocid sauropod dinosaur skeletons on show for small and large humans to gawk at in wonder, this is a big treat for dinosaur fans. Unlike other museums in the city, tickets to the museum must be pre-booked via SISTIC.
Lee Kong Chian Natural History Museum, Faculty of Science, National University of Singapore, 2 Conservatory Drive, Singapore 117377
5. National Museum of Singapore
The clue is in the name, and this one has been around for donkey's years (since 1887!). But if you want to know more about Singapore, this is one of the best educational family activities with kids you can do. Head for the Glass Rotunda at Level 2, where you'll find Story of the Forest, an immersive experience that transforms 69 drawings from the William Farquhar Collection of Natural History Drawings into 3D animations. Very cool!
National Museum of Singapore, 93 Stamford Road, Singapore 178897
6. Mint Museum of Toys
Take your youngsters on a trip down your own memory lane to show them the toys you used to play with back in the day when there were no game consoles. With its world-class collection of vintage toys and childhood memorabilia from more than 40 countries, this place will serve up a heap of nostalgia for parents and puzzled wonderment for the kids.
Mint Museum of Toys, 26 Seah Street, Singapore 188382
7. Science Centre Singapore
Kids interested in science? Then the best indoor activities place for you: Science Centre Singapore! There are heaps of fun, hands-on activities and exhibitions for the kiddos to enjoy to fuel their passion. See the life cycle of butterflies, learn about poop (yep, you read that right) and enjoy other interactive things to do for kids that'll blow their minds.
Science Centre Singapore, 15 Science Centre Road, Singapore 609081
8. Buddha Tooth Relic Temple and Museum
There are so many beautiful temples to explore in Singapore. Our fave? The Buddha Tooth Relic Temple and Museum – a four-storey temple and museum complex in Chinatown. Here's a cool fact: the temple's architectural style is based on the Tang dynasty and was built exclusively to house the tooth relic of Buddha. This place is ornate, opulent and full of fascinating tales and history. Make sure you catch one of the free guided tours for this must-see temple and museum.
Buddha Tooth Relic Temple and Museum, 288 South Bridge Road, Singapore 058840
9. National Gallery Singapore
The National Gallery is one of our absolute favourites for a family day out, and when Sunday rolls around, you'll often find us at the Keppel Centre for Art Education, hanging out with our small humans.
National Gallery Singapore, 1 St Andrew's Road, Singapore 178957
10. Check out a new museum!
From the Children's Museum to the revamped Peranakan Museum – there's always somewhere new to explore when it comes to fam-friendly museums in Singapore! Check out our monthly rundown for the latest happenings!
Head to a library in Singapore with your little bookworms
11. Punggol Regional Library
New library alert! Punggol Regional Library has opened two of its five floors, and there are heaps of fun things for the kids to explore. First up, make a beeline for the 'World and Us Zone', which features reading materials from around the world – including books donated by foreign embassies! For activities, check out the DIY tinkering station, Spark!Lab (suitable for kids aged seven to 12 years), which has fun, hands-on activities and challenges to put the kids through their paces. There's also TinkerTots, where children (aged six years and below) can play with educational toys and have a go at their very own mini tinkering challenges. There's even an amazing Toy Library with a range of toys, educational aids, puppets and costumes for children (aged 6 years and below) to explore. And that's just for starters! Got teens at home? Stay tuned, there will be more teen-friendly options when the rest of the library opens later in the year.
Punggol Regional Library, #01-12, One Punggol, 1 Punggol Drive, Singapore 828629
12. Central Public Library (currently closed for renovations)
Located in the belly of the National Library, My Tree House is a beautifully and sustainably designed haven for book lovers – and it's the world's first 'green' library for kids. Jam-packed with over 45,000 books for kids four to 12 years, there's enough here to keep even the most avid of bookworms entertained. As well as plenty of space to lounge around, you'll find e-reading kiosks and The Knowledge Tree, an interactive installation that promotes environmental awareness. It's all in line with the library's eco-friendly ethos. Saturday and Sunday reading sessions make this a great weekend pit stop for all.
Central Public Library, #B1-01, National Library Singapore, 100 Victoria Street, Singapore 188064
13. Tampines Regional Library
Live in one of the East Coast neighbourhoods? Then head down to Tampines Regional Library, where every third Saturday of the month you'll find special programs for children aged four to six. Kids love the craft sessions and puppet shows. Don't forget to check out Story Time every Tuesday from 4 to 4.30pm, second Sundays of the month 11.30am to 12pm, and Saturdays from 11.30am to 12pm (on the second and fourth Saturday of the month). Want to boost your child's understanding of Mandarin or Malay? Then pop round on the second Sundays of the month for storytelling in Mandarin, and every first Friday of the month from 4 to 4.30pm for storytelling in Malay.
Tampines Regional Library, #02-01, Our Tampines Hub, 1 Tampines Walk, Singapore 528523
14. library@harbourfront
If you haven't checked out this kid-friendly library, you need to – not only is it super-friendly for kids, it boasts 200,000 books, magazines, and audio-visual materials in its new space. There's a Children's Zone where kids can check out digital books and activities and a makerspace where they can make their own DIY crafts, fiddle with puzzles and more. Storytelling sessions are on Thursdays and Fridays, from 5.30 to 6pm. In the heart of family-friendly mall VivoCity, this is a great indoor activity with kids picks.
library@harbourfront, #03-05 (Lobby F), VivoCity, 1 Harbourfront Walk, Singapore 098585
15. Woodlands Regional Library
Could there be a better theme for this library than an enchanted wood? Little ones are sure to love the Enchanted Tree display, and they will not be short on a book choice or two. With some 8,000 titles to choose from, this place boasts the largest collection of Asian children's literature in Singapore! And, it has its very own catalogue for kids (Kids Cat) so tiny bookworms can search for their own reads: easy peasy!
Woodlands Regional Library, #01-03, Woodlands Civic Centre, 900 South Woodlands Drive, Singapore 730900
16. Queenstown Public Library
With regular craft sessions, movie screenings and even gardening activities, Queenstown Library has a lot going on for the whole family. Pop for the Story Time session every Wednesday from 7.30 to 8pm and Saturday from 10.30 to 11am.
Queenstown Public Library, 53 Margaret Drive, Singapore 149297
Things to do indoors with furry friends
17. Wildflower Studio
Wildflower Studio combines the concepts of art jamming and cat cafe. You can choose to partake in a semi-guided art jam session, or a free-and-easy unguided painting session – both involve the cats living here. The studio also allows private event bookings and works with cat rescue groups to run a fostering programme.
Wildflower Studio, 56A Niven Road, Singapore 228405
18. The Cat Cafe
Want more paw-some indoor activities for kids six years and older? Unlike its competitors that charge by the hour, The Cat Cafe allows you to spend all day here to hang out with the kitties as you pay per entry ($16). Visitors can even join in feeding the felines at special times throughout the day. Fun fact: all cats in The Cat Cafe are adopted or re-homed strays!
The Cat Cafe, Level 3, 241B Victoria Street, Singapore 188030 and The Rail Mall, 392 Upper Bukit Timah Road, Singapore 678046
19. What the Pug
Love pugs? This ought to get your tail wagging. Singapore's first pug petting cafe is home to 12 wrinkly-faced canines with distinct personalities and quirks. Kids can play with the young hyper pugs, while parents will appreciate cuddling and chilling out with the older dogs. Each session costs $20 per person and lasts 45 minutes. You'll also get a canned drink and a Polaroid photo as your take-home souvenir.
What The Pug, 80 Haji Lane, Singapore 189271
20. INU Cafe & Boutique
Pup down to this dedicated doggo cafe where you'll get to treat yourself and the kids to delectable Asian delights. Plus, if you've got a furkid, there's a dedicated in-house grooming service, pet boutique on-site, and food specials for furkids!
INU Cafe & Boutique, #01-07, Monville Mansions, 530 Balestier Road, Singapore 329857
21. We are the Furballs (WTF)
Take a woof-while visit to We are the Furballs if you're in Bugis. The four-legged furries here are all smaller dog breeds and they will love playing with new human friends aged 10 years and up. Entrance for students below 21 years is $10.90 per person for 1.5 hours from Mondays to Thursdays. A great one if you're looking for things to do with kids and dogs!
We are the Furballs, #07-07, Bugis+, 201 Victoria Street, Singapore 188067
Things to do indoors for sea-lovers
22. S.E.A Aquarium
Check out this amazing marine world which houses more than 100,000 fishy friends in every shape, size and colour imaginable. The shark tunnel, containing over 200 of these cool predators, is a must. Our fave things to do with kids? The jellyfish exhibit and the gigantic Open Ocean habitat. We particularly love the shipwreck and open aquarium at the end of the exhibit, where kids can touch and hold underwater creatures. This indoor activity will have family members of all ages mesmerised.
S.E.A. Aquarium, 8 Sentosa Gateway, Singapore 098269
23. Ocean Restaurant
The Ocean Restaurant is Southeast Asia's first underwater dining experience. Along with fresh seafood, lunch and dinner options, the kiddos can enjoy a special kids set menu. As they fill up their tummies on scrumptious pumpkin bisque, roasted chicken supreme and a mermaid ice cream sundae, they're in for some eye-catching up-close views of manta rays and sharks in wall-wide glass tanks too! How cool is that?
Ocean Restaurant, #B1-455 & 456, Equarius Hotel, 22 Sentosa Gateway, Singapore 098136
Indoor activities for crafty kids and cooks
24. Streaks 'n' Strokes
Share the arty love at Streaks n Strokes with an art jamming session that kids and adults can take part in! Kids will give their cognitive thinking, creativity and motor skills a great big boost while producing their very own artwork on a t-shirt, tote bag or canvas, which they can then take home. Not keen on venturing out to the studio? Why not order your very own at-home kit, and bring the art session to your place!
Streaks n Strokes, #04-55, 38 Ang Mo Kio Industrial Park 2, Singapore 569511
25. Resin Play
All parents dream of indoor activities like this. Little ones can get crafty with Singapore's first resin school, Resin Play. Expect hands-on workshops and messy play opps for kids through fab resin art.
Resin Play, #02-02, 37 Beach Road, Singapore 189678
26. Thow Kwang Pottery Jungle
Just off Jalan Bahar, you'll find one of the last two dragon kilns in Singapore! Apart from the fascinating and humungous dragon kiln itself, the main attraction is spending an afternoon rummaging through its vast collection of pottery. Sign up for a pottery workshop to try your hand at your own creations – there are sessions for both littles and grown-ups. Events are regularly updated on its Facebook page so you can plan your own day of clay throwing with the kids.
Thow Kwang Pottery Jungle, 85 Lorong Tawas, Singapore 639823
27. ToTT Store
This kitchen supply store should be your go-to whenever you need new kitchenware! But that's not why we're including ToTT in this list: the store has regular cooking classes for junior chefs and even has culinary camps over the holidays. Your little one will be whipping up cakes and signing up for Junior Masterchef in no time. And it's a good bonding sesh with your kids!
ToTT Store, locations at Suntec, IMM, and i12 Katong
28. Hungry Mummies Cookery Class
This one might need a little forward planning, but if you fancy doing some cooking with your mini chef then this is the answer. Private mother and child classes are available upon request and held in your own kitchen where you can whip up yummy kid-friendly recipes. Classes can be tailor-made to suit even the fussiest little eaters! If not, check out their small group cooking classes. Easy peasy indoor activities!
Hungry Mummies, 58 Telok Blangah Heights, Singapore 100058
A day at the movies – with a difference
29. The Projector
This refurbished historic cinema is currently Singapore's coolest cinema thanks to its '70s feel and vintage charm. Check its website periodically for screenings of kid-appropriate films!
The Projector, locations at Golden Mile Tower and The Cathay
30. IMAX at the Omni-Theatre
Enjoy a larger-than-life movie experience at Singapore's IMAX dome theatre which, if you didn't know, doubles up as an observatory, too! With a highly advanced digital full-dome system, it's designed for a fully immersive experience.
Omni-Theatre, 21 Jurong Town Hall Road, Singapore 609433
31. Alliance Française
Looking for things to do with kids? In the mood for a French cinematic treat? Alliance Française has monthly screenings of children's French films so your little one can be exposed to a new language and cultural experience. Très bon!
Alliance Française, 1 Sarkies Road, Singapore 258130
32. Gold Class at Golden Village
Nothing says indoor activities than a trip to the cinema. Treat yourself to a cocktail glass of sweets, a massive comfy chair and waiter service for your popcorn with this ultimate movie experience. With locations scattered around the Little Red Dot, Gold Class at Golden Village is the comfiest way by far to watch a movie with the rug rats.
Golden Village, various locations
33. Shaw Theatres Jewel
Get together with the fam bam at Jewel Changi Airport and enjoy the first dedicated family cinema hall in Singapore at Shaw Theatres. Get the little ones to experience IMAX with laser halls as they watch some great kid-friendly movies. Offering a monthly Movies With The Little Ones programme, the cinema caters to families with young children. The kiddos are sure to have a good indoors-y time here!
Shaw Theatres Jewel, #B2-237, Jewel Changi Airport, 78 Airport Boulevard, Singapore 819666
High-energy indoor activities in Singapore
34. JUMPRROCKS
Unleash all the hype and fun in your tiny human's body by taking them to Jumprrocks at Katong. Get ready to bounce away on mega structures, dive into a ball pit, and escape velocity with trampolines at its Jump Zone. Planning a group outing to this park with friends? Compete against one another through a series of creative challenges or just have fun with physical games at the Battle Groundz. Time to jump high and rock on, everyone!
JUMPRROCKS, #B1-05, Kinex, 11 Tanjong Katong Road, Singapore 437157
35. Kinetics Climbing
If your kids love climbing, get them to do it in a safe indoor space at Kinetics Climbing. Kids from six to 13 years old can enjoy the tiny tots and junior climbing courses to hone their rock climbing skills. Who says it's just for the kiddos? Mamas and papas can take turns with the various adult courses too. It's a win-win!
Kinetics Climbing, 511 Serangoon Road, Singapore 218153
36. Snow City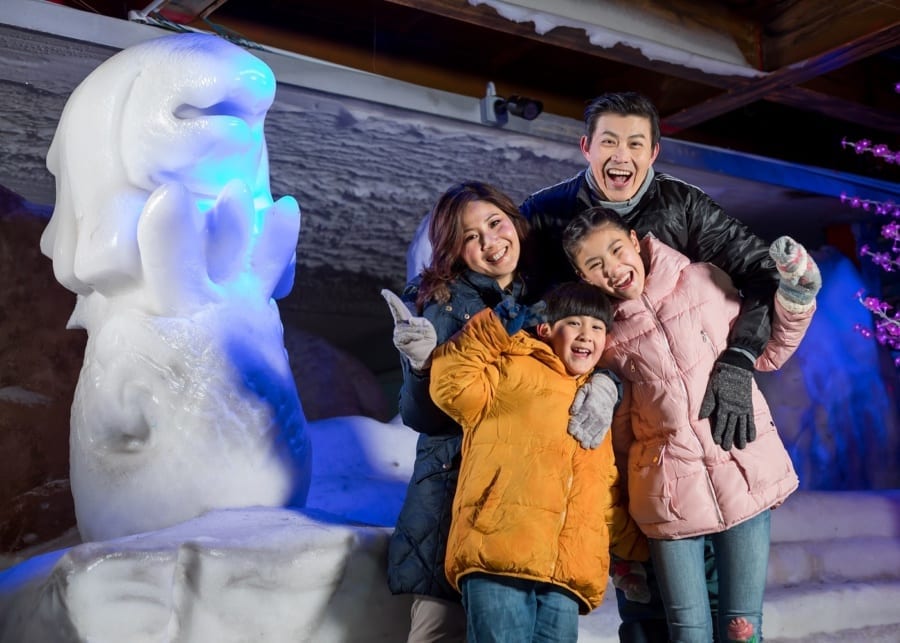 Snow City is the only permanent indoor snow centre in Singapore – who doesn't love the idea of a mini winter wonderland in the tropics for kids to experience Arctic conditions, igloos and ice? Warm gear is provided and the kids will love the snow chamber, which features a 60m long snow slope for the whole family to try some snow tubing.
Snow City, 21 Jurong Town Hall Road, Singapore 609433
37. Ice skating at Kallang Ice World
Head to Kallang Ice World to whizz around on a competition standard ice rink for some indoor fun with kids. Skate hire is available on site, and there is a spectator's gallery for those who would rather watch than whirl!
Kallang Ice World, #03-08/09, Leisure Park Kallang, 5 Stadium Walk, Singapore 397693
38. Virtual Room
Get into an immersive VR experience at Virtual Room. This team-based virtual reality experience is another level of social gaming for everyone. Up to 22 people can play at once in teams of up to four people. All they have to do is strap on a VR headset and jump into historical periods to solve puzzles and challenges and work together to save the world!
Virtual Room, Basement 3, Lucky Chinatown, 211 New Bridge Road, Singapore 059432
39. Jessy Zhou Belly Dance
Need a rainy day activity? Why not sign the kids up for a belly dancing class? Kids will learn the ancient art of Middle Eastern creative movement, which will improve coordination and body awareness for your little shakers while they have fun and make new friends.
Jessy Zhou Belly Dance, Office Lobby to #06-16, Golden Mile Complex, 5001 Beach Road, Singapore 199588
40. Golazo Futsal Singapore
Futsal is a variation of soccer/football, which is played with five to seven players on each side. Get a gang of small strikers together then book a pitch for an all-weather, sheltered indoor activity. Rather spectate than participate? Check the schedule as the live games are open for public viewing.
Golazo Futsal Singapore, 21 Jurong West Street 23, Singapore 648196
41. The Cage
Is your sporty kid in need of some action? Sign your wannabe David (or Daisy) Beckham up for the Little Big People football coaching classes (age four to 16) at The Cage, or hire a pitch ad hoc for a bunch of kids to run riot with a soccer ball.
The Cage, 38 Jalan Benaan Kapal, Singapore 399635 and 200 Turf Club Road, Singapore 288001
42. X-scap8
How about a trip to X-scap8, Singapore's first all-in-one funground? Check out five specially curated zones to explore, as well as the 'Eat-Play-Laugh' Resto Bar, serving up tasty burgers and drinks that overlooks the Singapore skyline and Orchard Road. See our review for all the deets!
X-scap8, #07-02, Orchard Central, 181 Orchard Road, Singapore 238896
43. Orchid Bowl
Strike yourself a pile of fun by donning a pair of funky bowling shoes (available for hire on-site) for a spot of ten-pin bowling at an Orchid Bowl. Suitable for kids of all ages (once able to walk, of course), bowling is one of the best affordable indoor activities for kids and the whole family.
Orchid Bowl, various locations
44. Evolve Mixed Martial Arts
This martial arts school specialises in Muay Thai, Brazilian Jiu-Jitsu classes and MMA, with lessons running every day for different age groups and skill levels. Kids as young as three can join these classes designed to help children build confidence, develop a positive attitude, and pick up some cool life lessons along the way.
Evolve MMA, various locations
45. Ohmsantih Yoga
Let the kids enjoy a nurturing and non-competitive environment to relax and play at Ohmsantih Yoga! The theme of each class is suggested by students and teachers, which encourages creativity and confidence. Your young ones will enjoy its mindful indoor activities and games that tie in with yoga poses and self-awareness.
Ohmsantih Yoga, #02-01, 219 Jalan Kayu, Singapore 799442
46. Superfly Monkey Dragons
Parkour for kids? Now here's something to jump for joy about. Active kids will be buzzing with excitement when they find out they can learn the art of parkour here in Singapore (and for those who have no idea what that means, you may know it as free-running: a sport that involves rapidly moving through an urban environment, negotiating obstacles by running, jumping, and climbing). Kids as young as four can join the fun, and you can choose from drop-in classes or courses. This activity can be based both indoors and outdoors, so check class schedules for full details.
Superfly Monkey Dragons, various locations
47. iFly
Head over to iFly with your over-sevens and experience the ultimate thrill-seeking experience: sky diving! Thankfully, this is where your daredevil kids can experience all the fun but without the risk. First-timer packages come with a training session, complimentary flight gear, personal training from a flight instructor and a flight certificate to prove that you and your small skydiver have conquered gravity!
iFly, #01-01, 43 Siloso Beach Walk, Singapore 099010
48. Pororo Park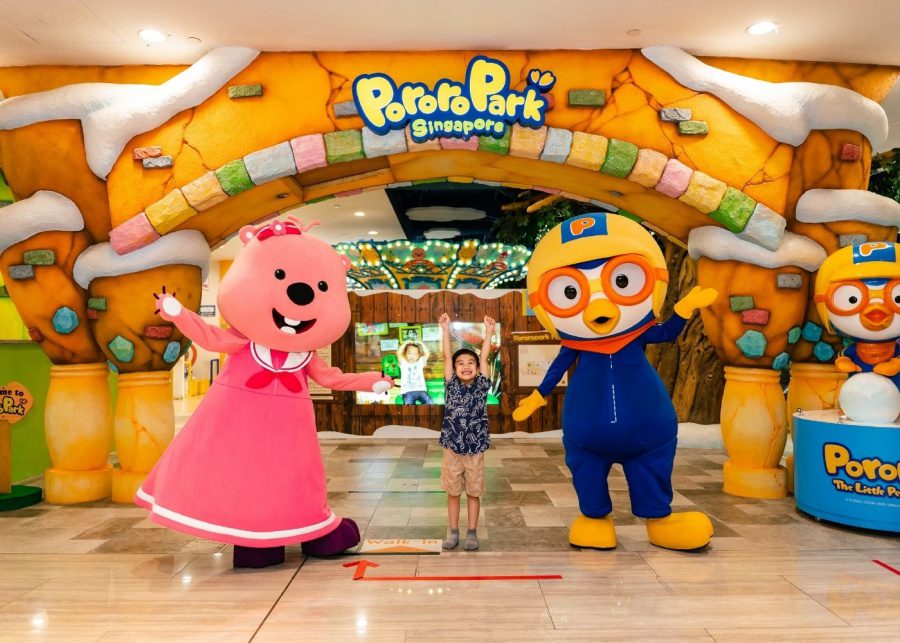 One of our top soft play centres, this is one of our fave indoor activities with kids. Heck, it's one of our all-time fave things to do with kids in Singapore, full stop! This Pororo-themed kids' indoor playground has a Hinoki pit that is a feast for the senses – not only is it safe, but it also stimulates multiple senses at once during play. Kids can also play pretend and shop at the Petty Supermarket, dive into the Shark Ball pool, hop aboard the Pororo express train, visit Pororo's house and so much more.
Pororo Park Singapore, #02-29, Marina Square, 6 Raffles Boulevard, Singapore 039594
49. SuperPark Singapore
Go crazy with all the indoor activities SuperPark has to offer! This indoor playground has three exciting activity areas that are full of non-stop fun. Jump around on the trampolines in the Freestyle Hall, shoot some hoops at its Game Arena or race your friends at the Adventure Area. Parents, we're sure you'll want to join in the fun, too!
SuperPark Singapore, #02-477, Suntec City (North Wing), 3 Temasek Boulevard, Tower 1, Singapore 038989
50. Kidztopia
An indoor playground plus learning fun? This massive indoor children's entertainment centre is the stuff of every kid's dream – they can climb around the jungle gym, work on their crafting skills, play with kinetic sand and Legos and so much more. Dang, we wish we were kids again!
Kiztopia,#01-09, Marina Square, 6 Raffles Boulevard, Singapore 039594
51. BOUNCE Singapore
Get all the wiggles out at this high-octave jumping area. With trampolines at every corner and various thrilling activities, this is one of those indoor activities kids will never want to leave. By the end of the session, we guarantee they'll want to go down for nap time without making any complaints.
BOUNCE Singapore, #09-01, Cineleisure Orchard, 8 Grange Road, Singapore 239695
52. AIRZONE
It might seem daunting – considering it's a suspended net playground in a mall – but you have nothing to worry about at Airzone! There are three levels to explore, each with distinct themed zones and unique games that all members of the family can enjoy. It's also incredibly thrilling being able to look down at the atrium of City Square Mall as you jump around on the bouncy nets. Not to worry though, the nets are safe enough to hold the weight of two public buses.
AIRZONE, #02-K4/K10, City Square Mall, 180 Kitchener Road, Singapore 208539
53. Waka Waka
A fun animal safari theme runs throughout the centre, with a range of cool zones to entertain different ages. Toddler's favourites included the wave slide (with real water and lights inside), bouncy castle and the life-sized lion and zebra statues. It's worth paying extra for the obstacle rope course (with harness and helmets) and the timed climbing walls, totem pole and leap of faith for the older, more capable kids. Make sure to pre-book your sessions to avoid disappointments.
Waka Waka, #05-01, Annex@Furama, 407 Havelock Road, Singapore 169634
54. Kidz Amaze
Kidz Amaze is one of those indoor activities that not only suits the teeny ones but actually has cool stuff for the tween and teen brigade too. Chuck the whole family in there for a serious day of fun. Psst, head to the one at the Punggol which has an indoor water playground, equipped with slides, water fountains and other cool water activities – very cool!
Kidz Amaze, outlets at SAFRA Toa Payoh, SAFRA Punggol, and SAFRA Jurong
55. Nerf Action Xperience
Possibly the hottest attraction for kids in town! Head to the world's first Nerf Action Xperience for a jolly good time with your best mates for an epic Nerf battle showdown! The kiddos can play timed challenges, capture the flag or fight against zombies in this action arena. It'll be so fun, the kiddos will never want to leave.
Nerf Action Xperience, #01-208, Marina Square, 6 Raffles Boulevard, Singapore 039594
Safe, soft indoor landings for small kids
56. T-Play HometeamNS Khatib
This cool concept in Khatib consists of a series of obstacles and play areas in a cute Peranakan theme. There's a soft play section for tiny visitors, too. Look out for the climbing slide tower and interactive trampoline! Check out our review for the full lowdown!
T-Play HometeamNS Khatib, 2 Yishun Walk, Singapore 767944
57. Kaboodle
This 'Imagination Playground' on the East Coast is a fantastic idea for activities with kids! Kaboodle's oversized blue foam blocks, noodles and balls are designed to inspire creativity. The sky is the limit with what you can create – but there are also great suggestions for what you can build and the lovely staff here are only too happy to help. Mini master builders can construct their own castle, ball ramp, or even a race car – but we have to say, quite a few dads get engrossed in the fun here, too. The most fun? Demolishing the creations, of course.
Kaboodle, #02-06, Katong Square, 88 East Coast Road, Singapore 423371
58. Amazonia
Looking for indoor activities for kids? Check out indoor play centre Amazonia! With 9,000 square feet of space, this place has it all: an eight-metre high slide, five-level play gym, fun zones including a trampoline basketball hoop shoot out, plus a toddler play area and a jungle gym zone. There's food and coffee, so tired kids and worn-out parents are well taken care of.
Amazonia, #03-113, Great World, 1 Kim Seng Promenade, Singapore 237994
59. The Polliwogs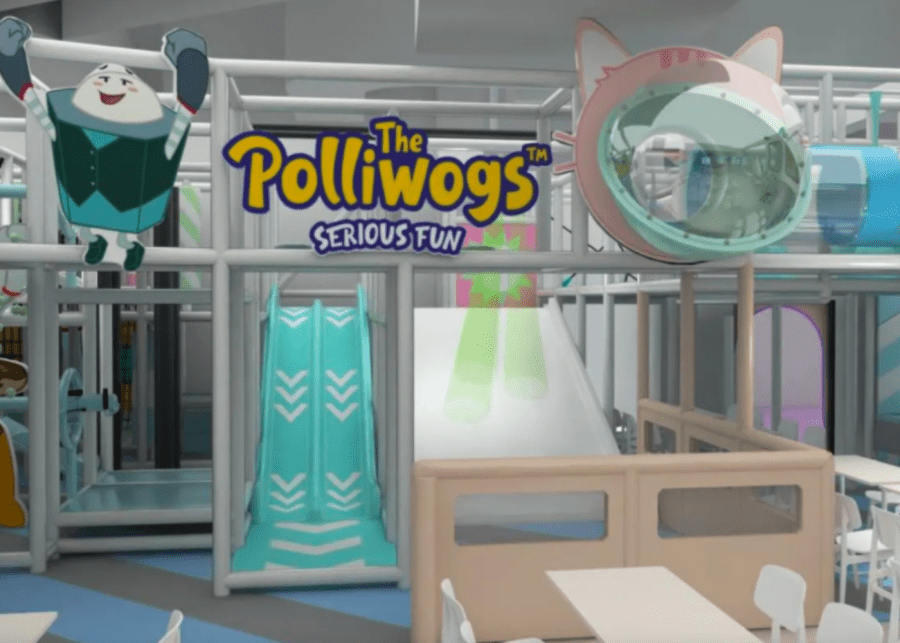 The Polliwogs offers surefire indoor play centre fun for kids. Slides, climbing and ball pools galore will keep them entertained all day long. There's also a separate play area for toddlers to help them develop their fine motor skills, and free wi-fi and a cosy lounge area for parents to have some fun, too!
The Polliwogs, #03-12, VivoCity, 1 Harbourfront Walk, Singapore 098585 and #04-63, The Central @ Clarke Quay, 6 Eu Tong Sen St, Singapore 059817
60. Rocking Horse Playhouse
Looking for more things to do with kids? There's lots of space for bubba to crawl and explore, while little tots can while the day away playing with the high-quality toys available there.
Rocking Horse Playhouse, #01-02M, Horse City, 100 Turf Club Road, Singapore 287992
61. Petite Tayo
The Petite Park is aimed at the under-7's with equipment designed to encourage social participation, coordination and balance. The mini-carousel is a hit with the little ones, and the role-play area is packed with cool toys to encourage your little chef, your home-maker or even your firefighter into some serious play-acting.
Petite Tayo, #01-06/07, Kallang Wave Mall, 1 Stadium Place, Singapore 397628
62. Pirate Land
Pirate Land is an indoor playground and kiddy entertainment centre with its very own Pirate-themed soft play area. The slew of elements and themed soft play areas here include Toy Bricks Street, Kitchen Square and Bouncing House. There's also an infant and toddler play zone designed specifically to cater to infants' motor skills. We love!
Pirate Land, #04-08/09, The Centrepoint, 176 Orchard Road, Singapore 238843
63. Your home!
Just throwing it out there now that we're slightly over a third of the way through our list of 100 indoor activities for kids… you could stay home! No doubt there are heaps of things to do with kids in your own four walls. Need inspo? Check out our rainy day suggestions, or how we coped during the pandemic.
64. Power Kids Gym
Have a high-energy kid to entertain? Look no further than Power Kids Gym and its gym classes! It's a soft space for your budding gymnast to roll, cartwheel, jump, swing and rope climb all in a safe place, which is sure to wear out even the buzziest of kids.
Power Kids Gym, #02-12, UE Square, 81 Clemenceau Avenue, Singapore 239917
65. Little Bear's House
Add Little Bear's House indoor playground to your list if you have curious bubbas! Get them to enjoy this clean, comfortable and engaging space packed with awesome, high-quality toys. We love the padded floor to protect against all those baby bumps, and how the place is so light, bright and relaxing for the whole fam to enjoy.
Little Bear's House, 21 Lichfield Road, Singapore 556841
66. My Little Climbing Room
Do the little ones like climbing around the house? If so, head to the first rock climbing room for children. It's a great way for them to build motor skills and expend their restless energy. Plus, it's also a great workout and will teach them to build confidence and overcome fear. A win-win for all!
My Little Climbing Room, #B1-101, The Promenade @ Pelikat, 183 Jalan Pelikat, Singapore 537643
67. Buds by Shangri-La
You might not know this, but luxe hotel Shangri-La has a kids' interactive play space for guests and non-guests of the hotel! This curated indoor play space allows kids to learn through play in a creative, interactive environment. Visit the muddy room for a neon drawing session, sing your heart out on a stage or head to the ball pit at the explorer zone! Fun times, guaranteed.
Buds by Shangri-La, 22 Orange Grove Road, Singapore 258350
68. Hip Kids Club Playground
When the going gets tough if you're out shopping, put this idea for activities with kids on your list. Pop in Forum the Shopping Mall and let the kids play at its Hip Kids Club Playground. It may seem elementary, but they'll still love the ball pit. Sign up for its one-year membership so you'll always have a place to stop by when the kids get restless.
Hip Kids Club Playground, 583 Orchard Road, Singapore 238884
69. Spring Rolls Trampoline Park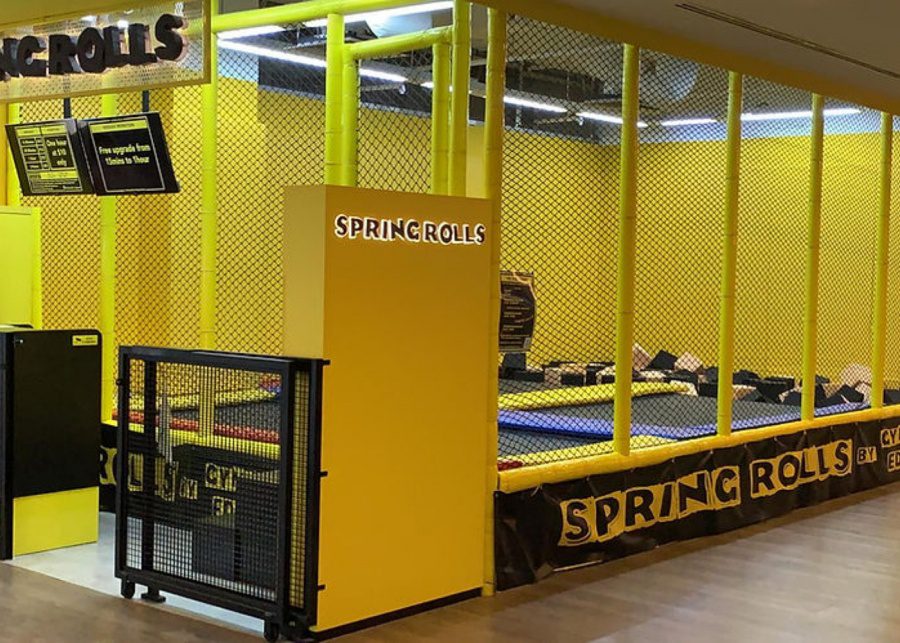 Get the kids pumped up at this pop-up play area! Featuring a trampoline and obstacle play, the little ones will enjoy unlimited fun time while parents take a breather or go round the shops.
Spring Rolls, various locations
70. The Joy Of Toys
We love the remarkable selection of toys that this indoor playground offers kids! Plus, its conducive and calm environment provides families with a relaxing and fun recreational area that all can enjoy. An indoor activity treat for the senses!
The Joy Of Toys, #03-51, The Central @ Clarke Quay, 6 Eu Tong Sen St, Singapore 059817
71. Blue House Infant Atelier
We just can't get enough of Blue House. Alongside preschool and nursery programmes, it holds playgroup sessions as well. Exposing your kiddos to interactive and sensory-driven experiences, the activities exercise their senses and build vital connections. Expect weekly classes for kids at different ages and stages. Blue House also organises various playgroup programs that explore different themes… What's not to love?!
Blue House Infant Atelier, 2 Turf Club Road, Singapore 287988
72. Sunshine Childhood Playland
For parents who live in the north of Singapore: great news, you don't have to travel far to find a fun indoor playground! Head to Northpoint City and play at Sunshine Childhood Playland. Besides your usual play equipment, it has a cute event space that you could totally hire to celebrate bub's birthday!
Sunshine Childhood Playland, various locations
Indoor mind games for the whole family
73. Lockdown SG
Lockdown SG is a reality first-person adventure game brought to life. In the game, you and the kids (children age 12 and under must be accompanied by an adult), are locked in a room and must work out how to escape. The game requires players to use critical thinking skills in order to solve the challenges and riddles, perfect for a bit of family bonding time!
Lockdown SG, #02-02, Orchard Gateway, 277 Orchard Road, Singapore 238858
74. Captivate Escape Rooms
This one's perfect for little kiddos as the puzzles here aren't too challenging, yet they exercise your child's mind! With a range of escape room themes available here – like Alien vs Human, CSI and Mythical Beasts – kids are sure to immerse into a whole new world. If your kids can't stay in one place, this short escape room is great for their attention spans!
Captivate Escape Rooms, #06-28, Singapore Shopping Centre, 190 Clemenceau Avenue, Singapore 239924
75. Trapped Escape Room Singapore
Trapped Escape Room Singapore is an experiential attraction where a group of players have to work together in a team to solve mysteries, find clues and ultimately find their way to victory. There are several themed rooms to choose from, and each room is suitable for different ages ranging from seven and up. So find yourself an escape route from the haze and book yourself in for some super sleuthing and escapology!
Trapped Escape Room Singapore, #B1-08/09/10, The Cathay, 2 Handy Road, Singapore 229233
76. The Escape Artist Singapore
The Escape Artist has themed rooms with varying levels of difficulty to cater for everyone from newbies to professionals. Kids under 12 years need an accompanying adult to be in the room with them – you'll have a ton of fun helping solve the plots and puzzles.
The Escape Artist Singapore, Harbourfront Centre, 1 Maritime Square, #03-15, Singapore 099253
Tricks for the eyes
77. Sentosa 4D Adventureland
This state-of-the-art theatre is fun for all family members measuring over 90cm. Be tossed around in your seats, feel the (haze-free) wind blowing in your face and the odd crab scrambling over your feet (not real we hasten to add!). This clever experience will have you all believing you really are part of Captain Lucky and his pirate crew's gang on the search for hidden treasure!
Sentosa 4D Adventureland, 51B Imbiah Road, Singapore 099708
78. Madame Tussauds Singapore
Meet your favourite celebrities in real life! Go gaga over English royal Queen Elizabeth II, acclaimed pop singer-songwriter Taylor Swift, football star Cristiano Ronaldo and other popular personalities at this wax museum. Plus, if you're a fan of all things Marvel, you won't want to miss out on the interactive Marvel 4D experience where you'll get to see your favourite Avengers come to life!
Madame Tussauds Singapore, Imbiah Lookout, 40 Imbiah Road, Singapore 099700
79. Desperados
Jump on your own horse, put on your Stetson hat and start shooting the bad guys in this Old West-themed 4D interactive shoot-out game. The minimum height is 110cm for your small cowboys and girls.
Desperados, Sentosa 4D Adventureland, 51B Imbiah Road, Singapore 099708
Indoor arcade fun
80. Cow Play Cow Moo
Who doesn't love playing games at an arcade? With the dazzling lights and sounds (plus exciting prizes to be won!), the kiddos will definitely enjoy trying their luck at different games. This arcade, in particular, is known for its soft and colourful plushies and carnival tickets galore. Parents, we hope you're good at winning them cause we're sure the kids will love one.
Cow Play Cow Moo, various locations
81. Timezone Flagship Store
The kids will be the happiest at Singapore's largest arcade! There are indoor activities for everyone at this arcade – there are even bumper cars and bowling alleys. Plus there's a bookable party room with arcade games of all kinds that your kids will totally beg for when their special day comes around.
Timezone Flagship Store, #02-43, VivoCity, 1 Harbourfront Walk, Singapore 098585 (other locations also available)
82. Fat Cat Arcade
If your kids aren't really fans of carnival arcade games but love claw machines, you'll want to head to Fat Cat Arcade. Not only does it have the largest collection of claw machines in Singapore, but prize winners can also choose from more than 500 items! The kiddos will have a hard time picking out their favourite. Coins at the ready!
Fat Cat Arcade, locations at 313@Somerset and Hillion Mall
Indoor thespian fun
83. Sands Theatre
Broadway and the West End might be miles away, but you can certainly bring the kids for an entertaining night out at Marina Bay Sands Theatre! Treat the kiddos to one of the hottest musicals or shows in town – we guarantee they'll love seeing their favourite stories and new ones come alive through brilliant stage and sound production.
Sands Theatre, Marina Bay Sands, 10 Bayfront Avenue, Singapore 018956
84. Victoria Concert Hall
Enjoy orchestral music from the Singapore Symphony Orchestra (SSO) at the Victoria Concert Hall, Singapore's oldest concert hall. The orchestra has regular free and paid concerts that cater to the whole family. Be sure to check out its schedule for an updated list of venues and ticketing information.
Victoria Concert Hall, #01-02, 11 Empress Place, Singapore 179558
85. Academie of Stars
Kids Performing Academy of the Arts is a school developing children in the art of performing. Courses in performance training include singing, dancing, acting and stage performances. So unleash the mini thesp in your child and sign them up for a possible path to stardom!
Academie of Stars, #04-100, Marina Square, 6 Raffles Boulevard, Singapore 039594
86. Dancing Kids
Aimed at your little dancers age five and below, join in these $10 classes at various condos on the East Coast for either its Music and Movement Class or Mummy and Me Ballet. Your small ballerinas will build confidence and interact in a structured environment, while improving their coordination, teaching basic dance movements, and of course, having fun! Group and individual ballet lessons are also available.
Dancing Kids, various locations
87. Tanglin Arts Studio
If your child wants to get to the pointe and dance then Tanglin Arts Academy has it all! Billy Elliots in the making can have their turn with boys-only classes. Plus, baby ballet. How cute!
Tanglin Arts Studio, Hollandse Club, 22 Camden Park, Singapore 299814
88. Singapore Repertory Theatre
Here's a great idea for activities with kids: check out the SRT for performances sure to be a big hit with the littlies. With plenty of awesome productions by The Little Company showing throughout the year, all aimed at families, it's a must. Don't forget to join its mailing list for news of upcoming theatrical delights.
Singapore Repertory Theatre, KC Arts Centre – Home of SRT, 20 Merbau Road, Singapore 239035
89. PIP's PLAYbox
As well as being a super-funky building to check out anyway, Esplanade has a club designed to help cultivate an early appreciation for the arts through exploration, play and other activities with kids. Though it may be a membership-only club, we recommend signing the kiddos up if you frequent the area!
PIP's PLAYbox, Level 4, Esplanade – Theatres on the Bay, 1 Esplanade Drive, Singapore 038981
A bit of indoor pampering
90. Paint Shoppe Nail Spa
Head on down with the kids in tow (or should that be 'toe'?) to Paint Shoppe, where only natural and vegan products are used. Mini dudes and gals alike will love the parent-child manis. The only difficulty? Choosing which colour to go with.
Paint Shoppe Nail Spa, #01-02, 63 East Coast Road, Singapore 428776
91. BabySPA
BabySPA offers not only baby massages and haircuts at its centres, but also hilarious photo opportunities at its water training sessions – think shots of your child bobbing around in a tub supported by a rubber ring! Located throughout Singapore, this is a fun choice for your teeny tiny people and we guarantee it'll have both baby and you chuckling!
BabySPA, locations at Punggol Oasis Terraces, Harbourfront Centre, Northpoint City, and Westgate
Head to a family-friendly indoor restaurant
92. Marche
Eating out with kids can be one of the more erm, challenging activities with kids. So to make for a dining experience easy for all, take yourselves down for some food and some fun to Marche. With a dedicated children's play area, and great kids' food choices for even the pickiest of eaters, this is top of the menu when it comes to hiding from the haze with some tasty grub. Look out for kids eat free deals too.
Marche, outlets in JEM, 313@Somerset, Suntec City, and VivoCity
93. Kith Cafe at Kiztopia Marina Square
Two things all families in Singapore absolutely love? Kith Cafe and Kiztopia playground! Well, at Marina Square, you can find both under one roof, because the kid-friendly play space runs in collaboration with Singapore's homegrown eatery. And apart from the usual Kith Cafe brunch options, here the kiddos can look forward to a kids menu featuring the Kithain junior burger, mini pancakes, fish fingers and much more. And psst – the kids can go home with a free Kiztopia gift (yay!).
Kith Cafe at Kiztopia, #01-10, Marina Square, 6 Raffles Boulevard, Singapore 039594
Other must-do indoor activities in Singapore…
94. Settlers Cafe
If you're a fan of the popular board game Settlers of Catan or any other board cafe for that matter, check out Singapore's first board game cafe. Not only are there hundreds of board games to choose from, but if the kids are hungry, the cafe serves up food so you can enjoy hours of uninterrupted board game fun. One of those indoor activities with kids you'll all get a kick out of.
Settlers Cafe, 39A North Canal Road, Singapore 059295
95. The Mind Cafe
Here's another board game cafe that will tickle your fancy! Spend some good quality time with the family playing your favourite board game or learning the rules for a new one. Plus, parents can enjoy its artisanal coffees and delicious food. Goodbye technology, hello old-fashioned fun.
The Mind Cafe, #02-00, 60A Prinsep Street, Singapore 188664 and #01-01, 30 Prinsep Street, Singapore 188647
96. Changi Airport
Changi Airport is one of the few airports in the world where local people go just to hang out. Why? Well most airports are geared to just being a gateway to overseas destinations, but Changi Airport is already quite the family-friendly destination in itself. With indoor soft play, airplane spotting opportunities, huge slides, the sky train and indoor playgrounds, this is a one-stop place for activities with kids, both small and large.
Changi Airport, Airport Boulevard, Singapore 819663
97. Jewel Changi Airport
Singapore's hottest attraction, Jewel Changi Airport, is full of activities for kids. Not only is it a snazzy mall with upscale boutiques, but has a thrilling 14,000 square metre Canopy Park for kids of all ages to enjoy! There are slides, a mirror maze and sky nets that you can jump around with the kids. So much fun!
Jewel Changi Airport, 78 Airport Boulevard, Singapore 819666
98. Gardens by the Bay
Looking for activities with kids to get you out of the dodgy weather? Enter the Cloud Forest Dome, a mysterious world veiled in mist and boasting its very own 35-metre mountain for you to explore. Get blasted by the world's tallest indoor waterfall, then make your way to the mountain summit to begin your descent back down through the clouds. A fun and educational choice where kids will learn about the unique biodiversity and geology of cloud forests as well as the environmental threats they face today. Once you have conquered the mountain, head next door to the Flower Dome. Displays change regularly and always have a topical theme to sniff and admire. Here's our guide to an awesome day at Gardens by the Bay!
Gardens by the Bay, 18 Marina Gardens Drive, Singapore 018953
99. Play Nation
Want ideas for activities with kids and the video-game-loving young folk? This is a hot spot of pure gaming heaven. Play Nation aims to inject a huge dose of video-gaming fun and entertainment to everyone in a cosy and comfortable setting. You'll find everything from Wii to Kinect here along with a ton of game choices, so with its great package deals and fun staff, this is definitely a choice your kids will love.
Play Nation, 58 Prinsep Street, Singapore 188686
100. Andsoforth Junior interactive experiences
For something different, Andsoforth Junior has cool, interactive experiences happening throughout the year for kids ages 2 and up. We're talking magical stories coming to life, Princess Workshops and more!
Andsoforthjr, various locations
And that's a wrap! If you loved these 100 indoor activities for kids in Singapore, check out these 100 outdoor activities too – once the sun comes out of course!