Image: Gardens by the Bay
Are you new to Singapore, or you simply want to enjoy the very best of this dazzling city? We've picked 70 of the best things to do with kids in Singapore for your next family day out!
Singapore is arguably the best city in the world for families, with its year-round tropical weather, delicious child-friendly restaurants and unbelievable attractions for kids. Even when the dreaded haze hits, we still have awesome indoor play centres to hang out in with our kids. All of that, and that's before we mention all of Singapore's best attractions and fun new things to do with kids!
We're so proud to call Singapore home that we don't want you to waste precious time faffing about working out what to do. So, we've carefully curated a list of 70+ things to do with kids in Singapore – the very best activities, attractions and family-friendly destinations. There's so much to do and no time to waste, so let's get cracking!
Top 70+ things to do with kids in Singapore in 2023
What's on in Singapore right now
1. Check out what's happening this weekend!
Every weekend, there is something new to see or do in Singapore. So, every week we bring you the latest and greatest of what's on in Singapore for the weekend! We cover everything from shows and exhibitions to ticketed events and one-off experiences. So bookmark this page and check it weekly for inspo to fill your weekends with the kids!
2. Find out what's new in Singapore
Every month, new things come to Singapore, and we put them all in this handy guide! Bookmark this guide for all the info on the newest playgrounds, latest fam-friendly restaurants, upcoming kid exhibits, attraction openings, and much more! Singapore has so many attractions for treating the kids to a fun day out. Still, we're always looking for something new to impress – whether for our energetic littlies or temperamental teens. Luckily, the Little Red Dot always has a new treat in store.
3. See what's on at the theatre
There's something special about going to the theatre, and it's a real treat for the whole family. Take your pick from Esplanades – Theatres by the Bay (as impressive on the inside as it is on the outside), or catch the latest musical over at Sands Theatre. We also love Gateway Arts Theatre, Wild Rice and the Singapore Repertory Theatre. These are often home to some great kid-friendly shows! Want to see what's on at the theatres in Singapore that is suitable for kids, all in one handy place? We got you! Check out this list of what's on at the theatre!
4. New exhibits: See what's new at Singapore's best kid-friendly museums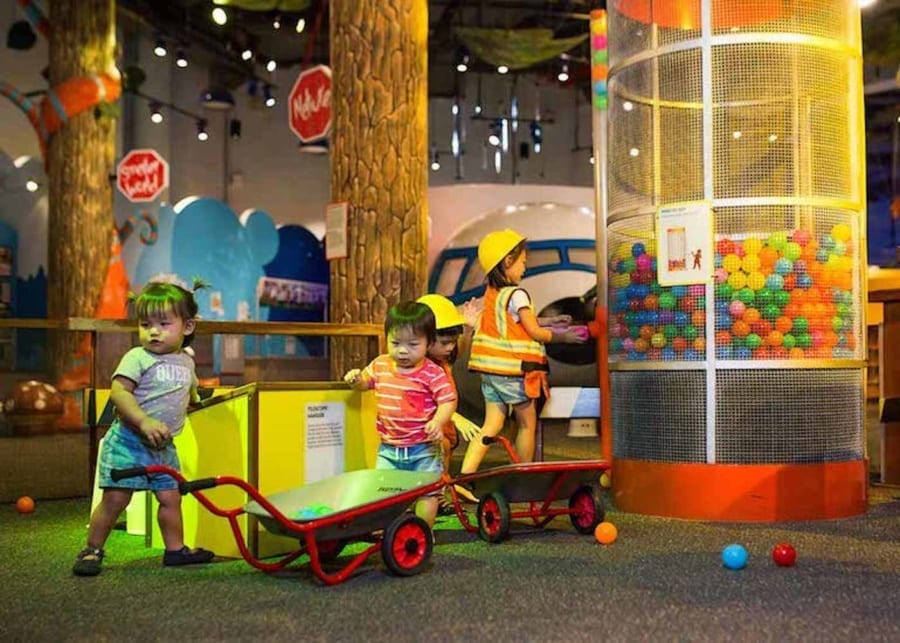 After indoor options? You're really spoilt for choice when it comes to museums for the kids in Singapore – there's a heap! Start at the Science Centre Singapore with interactive exhibits across 14 impressive galleries. Whilst you're here, stop off to enjoy the Omni-Theatre next door or hit up Kidsstop to impress the littlies. Across town, you'll find kid-fave ArtScience Museum with its futuristic, hands-on activities to keep everyone busy. Want to explore Singapore's history? Take your pick from Asian Civilisations Museum, National Museum of Singapore, and many other fab options.
6. Be inspired at an Art Gallery, and the 2023 Children's Biennale 

It's not just the museums that are a great thing to do with the kids in Singapore. Have the art galleries on your list, too! The very grand National Gallery Singapore (which is worth a visit for the building alone) has an amazing dedicated kids' space – Keppel Centre for Art Education. Children's Biennale 2023 is also underway. We also love The Artground over at Goodman Arts Centre, which has a whole host of creative activities and exhibits for the kids (and one of our favourite fam-friendly cafes, Cafe Melba, next door!)
7. Listen to the latest season of our podcast, Growing Pains!
That's right – we're back again with the next instalment of our podcast, Growing Pains! From the rise of eco-anxiety to sex education in Singapore, we've been chatting to cool parents from all corners of the Little Red Dot. So grab a coffee and join our lovely host, mum-of-two Ange Neo, as she gets the lowdown on all the hottest parenting topics right now.
Outdoor Play – Parks, Gardens and Water Fun
8. Gaze at nature at Gardens by the Bay (and visit the water play – see top image!)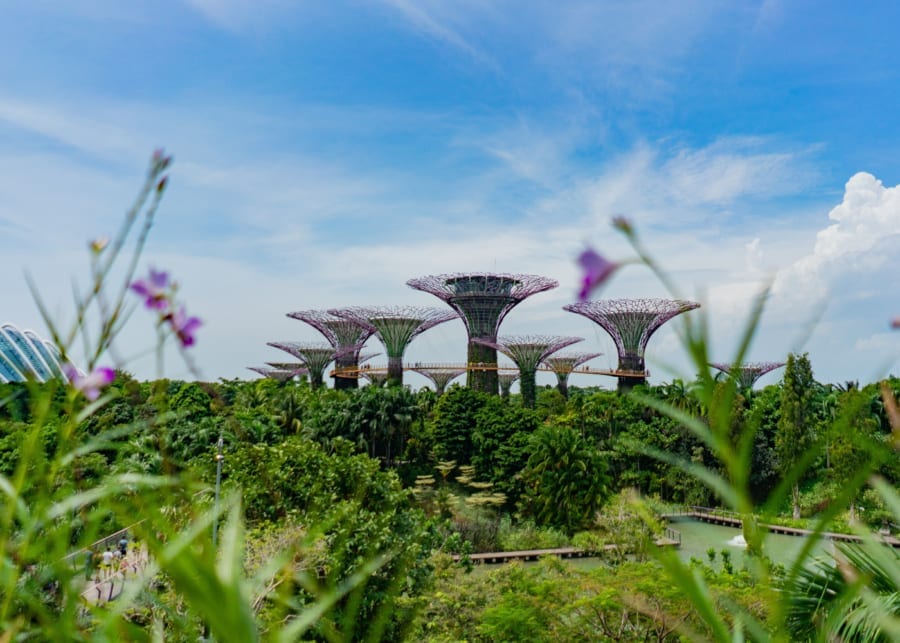 Singapore is a city synonymous with lush tropical growth, with Gardens by Bay being its finest example. Get outdoors and gaze up in awe at the impressive Super Trees en route to the two conservatories. The giant waterfall in the Cloud Forest will take your breath away, and there is always something new to see at the ever-changing Flower Dome. Don't miss the free Far East Organisation Children's Garden water play area, which is so fab it warrants a whole separate visit.
Gardens by the Bay, 18 Marina Gardens Drive, Singapore 018953
9. Spend a day at Sentosa
The "State of Fun" is so jam-packed with family-friendly activities that you'll need a week to tick them off your list. Our top tips? Walk the length of the beach and end up near Fort Siloso for a cheeky ice cream from 7-11! Water enthusiasts will love HydroDash, and adrenaline junkies should head to the Skyline Luge. Psst, plan your visit in advance with our handy guide to Sentosa!
10. Go behind the silver screen at Universal Studios Singapore
Okay, so Universal Studios Singapore should be filed under the Sentosa listing above, but South East Asia's only Hollywood theme park is such a hot ticket that it deserves its own dedicated mention. Go behind the silver screen and witness movie magic as you explore an array of awesome zones from Hollywood through to Sci-Fi City. Hot tip: upgrade to the express pass to avoid ride queues!
Universal Studios Singapore, Resorts World Sentosa, 8 Sentosa Gateway, Singapore 098269
11. Meet the animals at Mandai Wildlife Parks and Singapore Zoo
If you're looking for wildlife, you must visit one of the best zoos on the planet! Singapore Zoo is so cleverly designed that it feels like open wilderness. You'll see what we mean when you walk beneath orangutans swinging in vines, look across a moat at white Bengal tigers or spy through the glass at swimming pygmy hippos. The entire family will fall in love with all the furry (and scaly) animals here! Already visited the zoo? Don't forget there's also Bird Paradise, River Wonders and Night Safari to have on your list for more animal spotting!
Singapore Zoo, 80 Mandai Lake Road, Singapore 729826
12. Get island hopping
You don't have to travel by plane to have a change of scene in the Little Red Dot. Oh no, there are plenty of fabulous islands just waiting to be explored, and most within an easy ferry trip. Step back in time with a visit to Pulau Ubin to discover Singapore of days gone by and the last surviving kampong. After pristine sandy beaches? Have Lazarus Island on your list.
13. Stroll around the Singapore Botanic Gardens
Given the abundance of lush green spaces in Singapore, you'd be forgiven for not realising that it's a teeming metropolis of almost 5.5 million people. Our favourite green oasis, the Singapore Botanic Gardens, is Singapore's first UNESCO World Heritage Site. Wander through the lush tropical rainforest, through the spectacular National Orchid Garden and gander at the resident swans and turtles. Don't miss the lovely Jacob Ballas Children's Garden (closed Mondays) for the most awesome treehouse slide (don't forget your bucket and spade for the sandpit) and COMO Adventure Grove playground for more playground fun! Check our guide for the perfect day out at Botanic Gardens!
Singapore Botanic Gardens, 1 Cluny Road, Singapore 259569
14.  Get out on the water
If you fancy taking to the open seas (or river, for that matter), why not try kayaking? Suitable for littlies (with parents), right the way through to us oldies, it's a great way to explore. After something more active? How about trying a spot of surfing? Granted, there are not the waves of famous surf spots elsewhere, but it's still a lot of fun with the kids. Or, from seven years old, the kiddos can try their hand at sailing over at Changi Sailing Club. All aboard!
15. Visit a nature reserve
As well as having an endless list of amazing green spaces and parks (it ain't called the Garden City for nothing!), Singapore is also home to four incredible nature reserves. You can go crocodile spotting in Sungei Buloh Wetland Reserve (yep, you read that right!), or even hike Singapore's highest peak (it might be modest, but it's still a workout!). For coastal views, head down to Labrador Park, which is part of the renowned Southern Ridges. And perhaps the best till last – MacRitchie Reservoir for picture-postcard views (and many a monkey!).
16. Hit the beach
Who doesn't love hitting the beach? Always scoring high on our list of things to do with the kids in Singapore, a beach day is a firm family fave. Whether you want to pack a picnic and hit the beautiful East Coast Park for some beachside fun or head on over to Changi Beach Park and stroll the boardwalk – Singapore beach days are the best. And, of course, our favourite beach pick, Sentosa, has three stretches of white sand to pick from!
17. Check out a Singapore park or two!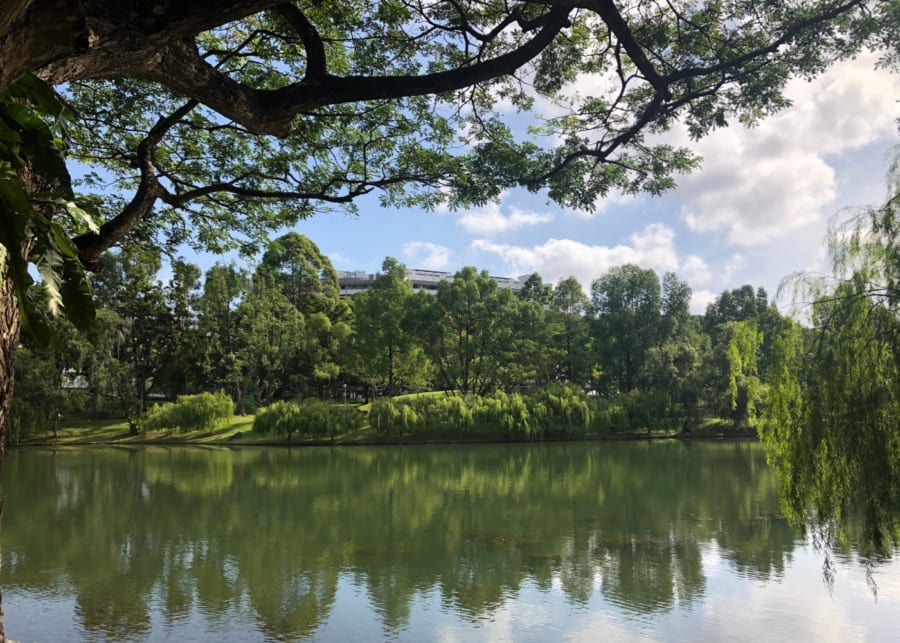 One of our fave things in Singapore has to be the fabulous parks – they're everywhere! We love visiting the Pond Gardens and River Plains for the kiddos to explore in Bishan-Ang Mo Kio Park. If you're looking for somewhere the kids can scoot, you'll find perfect terrain (and one of the best playgrounds) at West Coast Park. There's also an amazing Park Connector network that is great for hiking and exploring – so get out there!
18. See Singapore by bike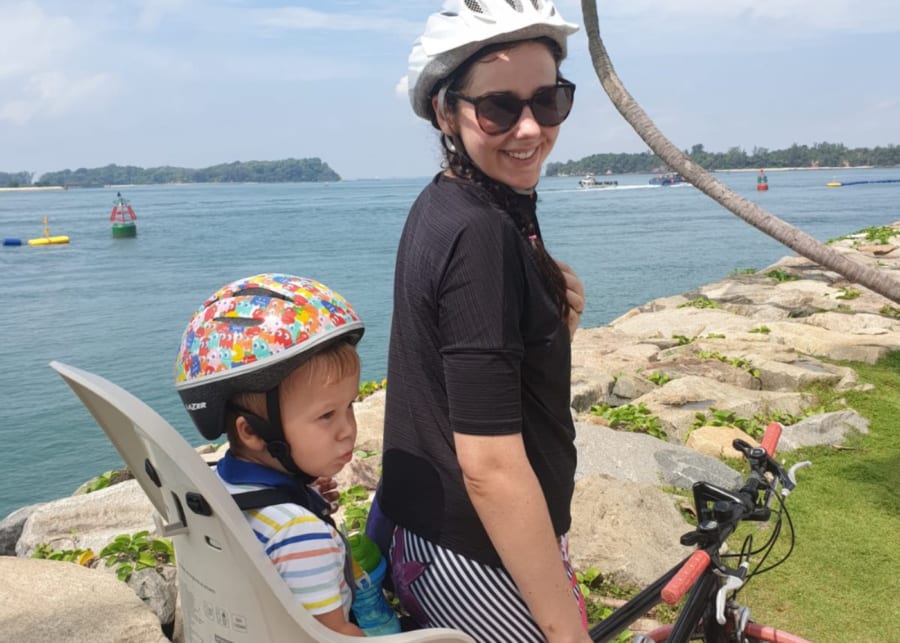 As well as tonnes of great walks, Singapore is a brill option for a cycle ride for the whole fam. Whether you fancy whizzing on wheels beachside along the 15km stretch of East Coast Park or heading to the north of Singapore to take on the Northern loop (with a stop off at Admiralty Park obvs). Don't have your own set of wheels? Never fear, there are some excellent bike-sharing options to choose from. Not sure about cycling with a littlie on board? Here are our top tips to make that biking trip a breeze.
19. Get wet and waterslide! Visit the waterparks Wild Wild Wet, Adventure Cove, and more…
As the largest waterpark in Singapore, there's more than enough to keep the kiddos and grown-ups entertained over at Wild Wild Wet in Pasir Ris. From vertical drop slides for the fearless, to more sedate (but super fun!) toddler splash areas to keep bubs busy, you can easily make a day of it! If you're after waterpark fun on Sentosa, visit Adventure Cove. You can even go snorkelling on their in-house Rainbow Reef!
20. Let the kids run riot at an outdoor playground 

As well as loving the parks because they are just wonderful, we also love them to keep the kiddos busy on the awesome playgrounds they house. From slides galore up at Admiralty Park to something for everyone over at Fort Canning Park, you'll be spoilt for choice with the range of playgrounds to explore across Singapore.
21. Ride ponies at Bukit Timah Saddle Club

If you're looking to escape the high-rise city life of Singapore, head out to Bukit Timah Saddle Club. Psst, it's got a new home (and it's not in Bukit Timah now!) – you'll want to head to Kranji, but it's definitely worth the trip. The kids can wander around the stables admiring the horses and then have a pony ride for $12 (weekends only from 10.30am to 1pm).
Bukit Timah Saddle Club, 1 Turf Club Avenue, Stable 113 & Stable 116, Singapore 738078.
22. Cool off at a FREE water play park!
We all know things can get on the sweaty side in this tropical Singapore climate, so add one of these free water play spaces to your list of top things to do with the kids when the heat gets a bit too much. Did we mention they are free?!
23. Burn some rubber at a karting arena
Give the kiddos a taste of speed by tearing up the tracks at a go-kart circuit! Drop by The Karting Arena, an electric kart circuit that boasts a long track with 11 sweeping corners and hairpin turns. Or head over to KF1 Expo, created by the same team in charge of the Singapore Night Race. Let's go for a race!
24. Get back to nature at a farm
You might not realise it, but Singapore has loads of great farms that are perfect for the kids to explore. Alongside your classic farmyard animals (we're looking at you, cows and goats!), there are other tropical treats in store, including frogs over at Jurong Frog Farm. Some even offer amazing staycays if you want to really have a break from city life!
25. Go on a Forest Adventure
Take to the treetops with aerial assault course, Forest Adventure. There are several courses for the whole family, making this one of the best outdoor activities with kids, we think! Suitable for brave little people above 1.1 metres (around five years old) in height.
Forest Adventure, Bedok Reservoir Park, Singapore 479244
26. Be dazzled by lights
If you can keep the kiddos up late, then they are in for a treat with the light display over at Marina Bay Sands. That's not all – there's also the ever-popular Garden Rhapsody over at Supertree Grove in Gardens by the Bay. Thought this place was magical in the day? Wait until you see it at night, it has the wow factor for both littlies and mums and dads!
27. Explore Singapore's Park Connector Network
Fancy trying a few parks but not sure how to get between them? That's where Singapore's nifty Park Connector Network comes into play. You'll never need your phone map again (well, not too often, at least), with easy and picturesque car-free routes to get you from Park A to Park B in no time.
28. Go for a hike
On a rain-free day, there's no better fun to be had than getting the fam out for a stroll or hike. If you're bringing bubba and therefore a stroller, then you'll be pleased to hear there's still plenty of great pram-approved routes to tackle. Looking for something more strenuous? Then take a peek at these hikes, sure to work up a sweat!
29. Wow views at Marina Bay Sands SkyPark
Looking for views? You can't beat the panoramas from way up high at the Marina Bay Sands SkyPark. The kids will love spotting all the iconic sights (we're talking F1 track, Gardens by the Bay, Singapore… and more!). There are also loads of dining options if you're after dinner with a view too.
Marina Bay Sands, 10 Bayfront Avenue, Singapore 018956
30. Walk the river
Although we love getting a bumboat along Singapore's great river, it's also a perfect stretch for a family river walk. Start at Robertson Quay and meander all the way to Marina Bay passing many a landmark en route. Do the kids love to scoot? Bring the scooters along – it's great scooting territory!
31. Get your skates on
Whether you're keen to hit the ice or show off your inline skills, skating in Singapore is fab with endless options to choose from. Skateboarders are also covered, with dedicated skate parks with ramps (check out the skate park above Somerset MRT!). Even if the weather isn't on brief, you've got indoor options aplenty to enjoy too!
55. Go kite flying at Marina Barrage
Let's go fly a kite! If you want to get that kite up in the air, best to head to the Green Roof at the Marina Barrage. This tranquil place has a welcome patch of green at the top of its winding ramp. Escape the heat with a little trip through the Singapore Sustainable Gallery and learn about caring for the environment. You're right by Gardens by the Bay, too – double win!
Marina Barrage, 8 Marina Gardens Drive, Singapore 018951
Fun Indoor Things to Do in Singapore
32. Banish rainy day blues at an indoor playground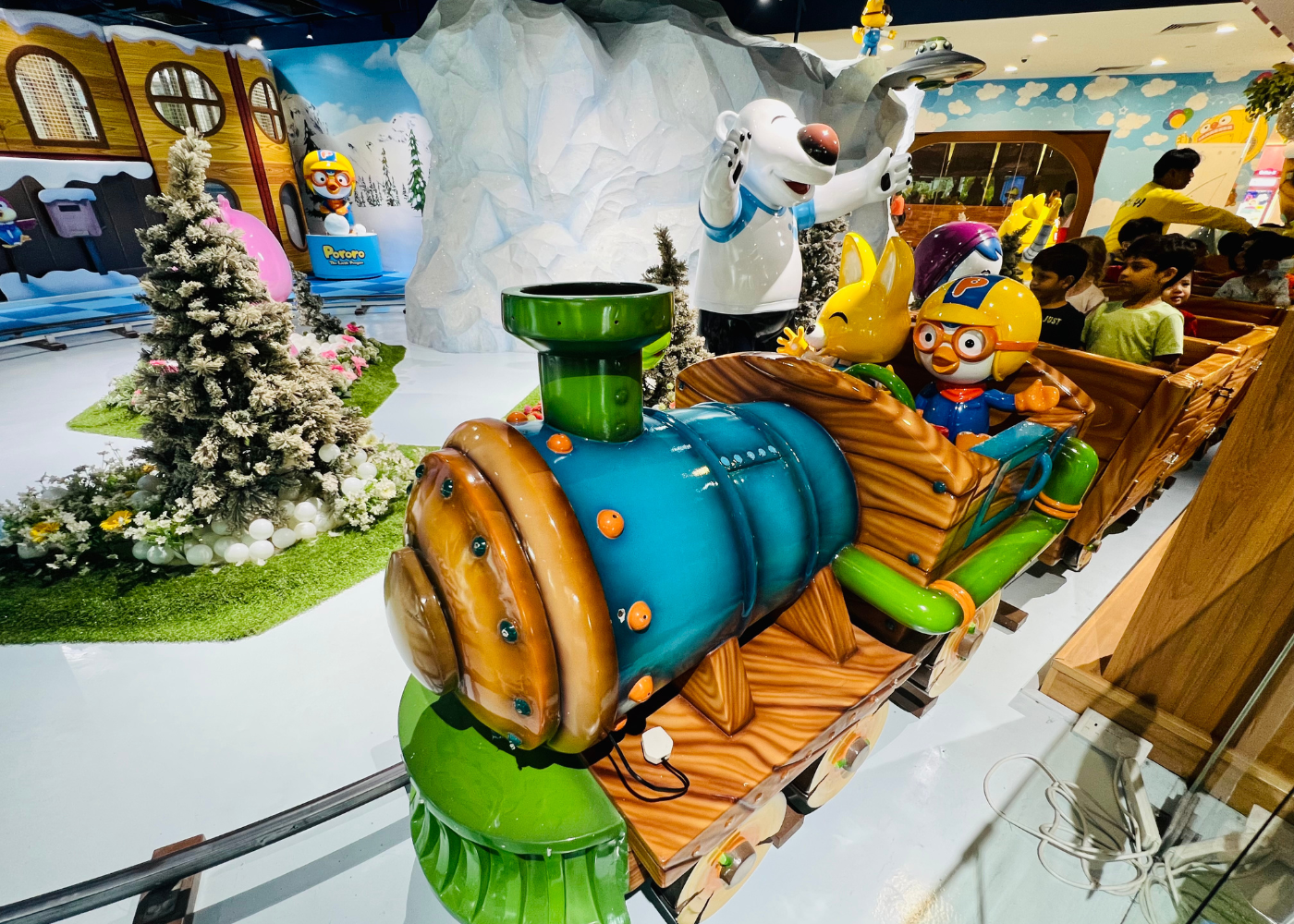 If the weather isn't on your side and you're faced with a downpour, never fear – you're well catered for with the indoor playgrounds on offer. Whether it's soft play suitable for the toddlers, right through to older kids, you'll find it right here in Singapore. Psst, we've got lots more rainy day ideas to save your sanity when it pours!
33. Visit a library
Whether you're a member or not, Singapore's libraries are open to all. They are also amazing for the kids with dedicated kid-friendly sections with a vast selection of books and cosy seating to while away an hour or two. Our fave is the Library@HarbourFront!
34. Discover fam-friendly dining at Dempsey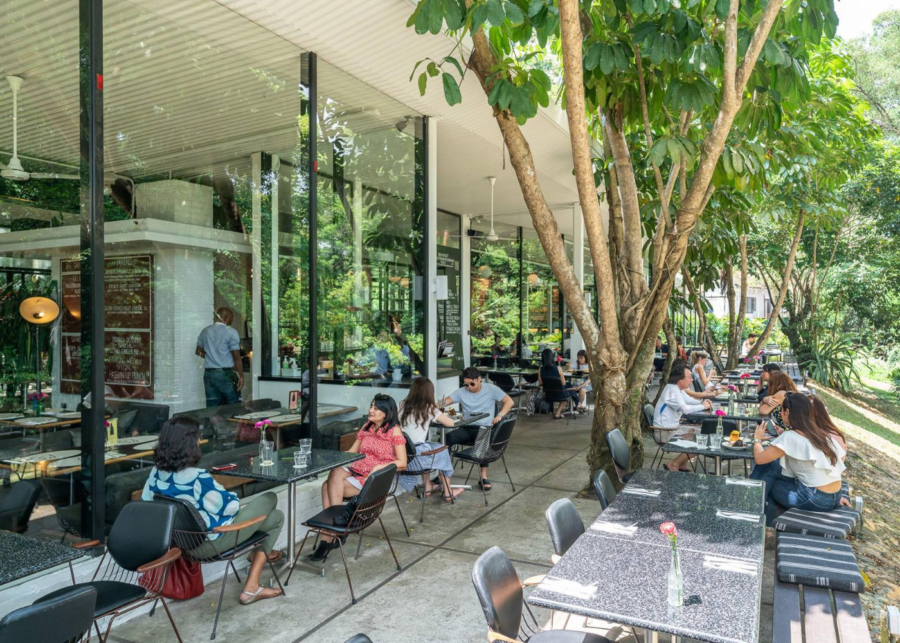 Dempsey Hill is a hidden gem within easy reach of Orchard Road. This tropical oasis comprises former military barracks, carefully renovated into an array of art galleries, independent stores, and amazing cafes. Kids will have a ball checking out the outdoor playgrounds at AT feast, Baker & Cook, Tiong Bahru Bakery or Huber's (and we could go on). The difficulty will be picking one! Psst, this is a very popular spot, so head in early, especially on the weekend.
35. Bounce around at a trampoline park!
36. Ride the Singapore Flyer

Treat your fam to a bird's eye view of Singapore from aboard the Singapore Flyer. As the world's second-tallest Ferris wheel, it has a somewhat circus appeal to little kids (and is rather exciting for us too!). You'll have fun pointing out the Lion City's iconic sights, from Marina Bay Sands to Merlion Park and beyond.
Singapore Flyer, 30 Raffles Avenue, Singapore 039803
37. Climb to dizzying heights!
In need of rainy day plans? We hear you! Add rock climbing to your list for a fab family day out. Kiddos will love scaling new heights for a big confidence boost, as well as mastering a truckload of coordination skills. You can even get involved too!
38. Hit the shops on Orchard Road
Whether you're a fan of shopping or not, Orchard Road is a must-have on your Singapore bucket list. Even without entering one of the numerous malls along this stretch (and credit to you if you can resist!), it's still a fun walk with loads of sights for the kids to enjoy. Check out our Orchard Road guide for the full lowdown.
39. Activities galore at Jewel Changi Airport
Thought the airport was only for flying? Wrong! It's a destination in itself without even setting foot in the departure lounge. The Jewel has an array of kid pleasers from the Hedge Maze to Foggy Bowls (strange but amazing) at Canopy Park. Whilst you're here, don't miss the airport with a whole host of play spaces (and a massive indoor slide!).
Jewel Changi Airport, 78 Airport Boulevard, Singapore 819666
40. Wrap up warm at Snow City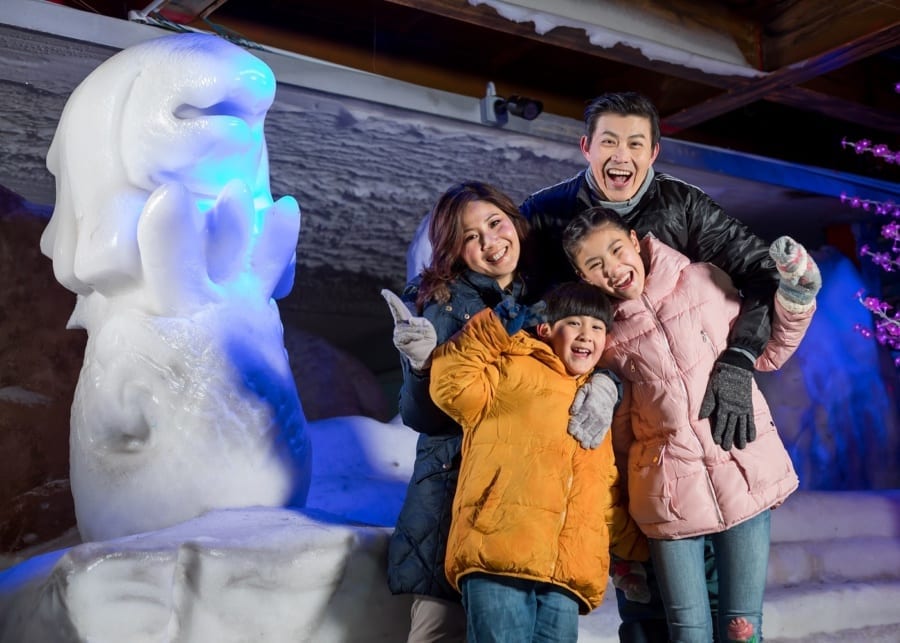 If you're missing colder climates, then head off on a snowy adventure over at Singapore's Snow City. Wrap up warm (or hire some winter woollies!), and you can enjoy the novelty of feeling chilly without the need to blast the aircon!
Snow City, 21 Jurong Town Hall Road, Singapore 609433
41. Visit S.E.A Aquarium
Check out this amazing marine world which houses more than 100,000 fishy friends in every shape, size and colour imaginable. The shark tunnel, containing over 200 of these cool predators, is a must. Our fave things to do with kids? The jellyfish exhibit and the gigantic Open Ocean habitat. We particularly love the shipwreck and open aquarium at the end of the exhibit, where kids can touch and hold underwater creatures. This indoor activity will have family members of all ages mesmerised.
S.E.A. Aquarium, 8 Sentosa Gateway, Singapore 098269
42. IMAX at the Omni-Theatre
Enjoy a larger-than-life movie experience at Singapore's IMAX dome theatre, which, if you didn't know, doubles up as an observatory, too! With a highly advanced digital full-dome system, it's designed for a fully immersive experience.
Omni-Theatre, 21 Jurong Town Hall Road, Singapore 609433
43. Kids will love the revamped Future World exhibit at Art Science Museum
There are new exhibits at our favourite digital playground, Future World, at the Art Science Museum! Think mesmerising underwater scenes, evolving cityscapes and celestial wonders. We had a sneak peek; check out our lowdown before you go, and don't forget that kids go free on Fridays! Book your tickets now.
44. Visit Singapore's first Manga Library in Singapore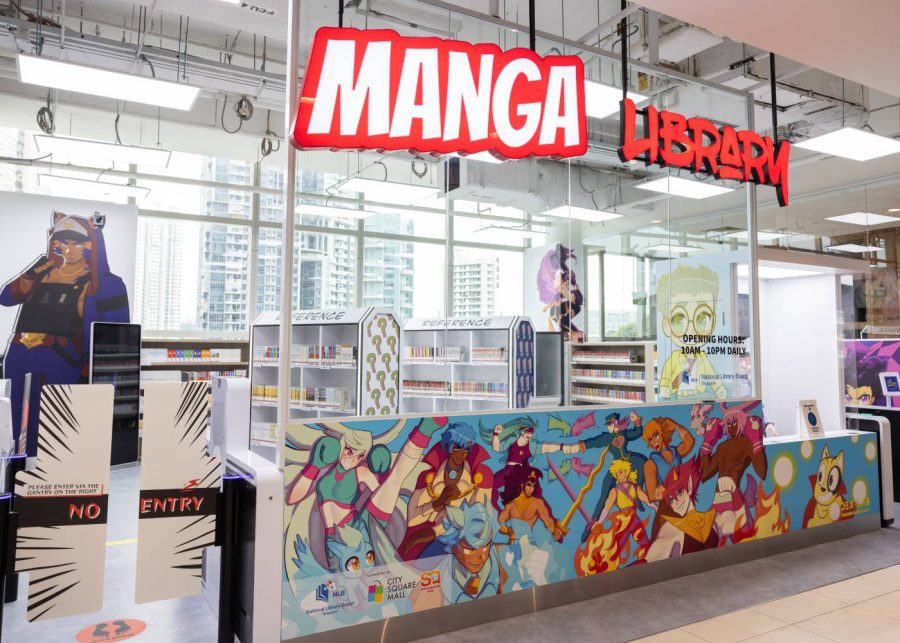 Hop over to City Square mall with the brood to discover a brand-new self-service Grab-n-Go library. Very cool! National Library Board's very first Manga Library in Singapore. Think of a colourful and vast collection of 5,000 manga books to borrow from and creative digital manga on e-Reads screens to browse. Plus, there is an exhibition space if the fam would like to check out the Singapore comics scene. While you are there, acquaint yourself with Mr Kiasu robot concierge – A smart bot programmed with an AI-generated voice. This very helpful bot will recommend books and provide basic instructions on using Grab-n-Go, among other services.
45. Check out the new Children's Museum Singapore
A kids' museum in Singapore? Yep, you heard right! Singapore's first-ever children's museum, designed to be a "starter museum", has heaps of surprises in store for the kiddos. We are talking about interactive installations and experiences that spark imagination and curiosity in kids of all ages. Yay! The museum has multimedia exhibits, artefacts and more to cultivate an appreciation for museums and lifelong learning for our little guests and fam. With scores of activities for the littlies to engage with, we reckon going through the school hols will be a breeze.
A dose of culture: Have fun while learning about Singapore!
46. Head out on a Singapore Guided Tour
Take a Guided Tour of Singapore is a great way to see the city – and we have a whole list in this handy guide! Singapore River Cruise will have you touring the traditional way: on board a quintessentially Singaporean bumboat. The 40-minute journey will float you past the lively restaurant district of Clarke Quay, alongside Boat Quay's colourful shophouses, past the Merlion and to super-sleek Marina Bay Sands. If you can keep the kids awake, catch the light show trip at 7.45pm. Hop on a cruise at any of the jetties from Robertson Quay to Marina Barrage – we went to Clarke Quay.
Otherwise, Singapore DUCKtours' remodelled WWII Vietnamese warcraft will take you touring on both land and sea! Extra points for the amazed look on your kids' faces as you plunge into the river. Another great tour idea is to jump on a classic Big Bus, with the ability to hop on and hop off at different stops around the city – and there's an open-air top deck! Fun!
47. Have an adventure in Little India
Little India is such a treasure trove when it comes to a family day out. From the brightly painted and Insta-famous buildings to the delish food on offer everywhere, the kids are sure to be in awe and feel they've been transported a lot further away than sunny Singapore.
48. Explore Chinatown
For its modest size, Singapore comes up trumps when it comes to the range of neighbourhoods out there to explore. And one of our faves has to be Chinatown. From the street stalls to the stunning temples, there are sights to behold at every corner.
49. Discover the Malay roots at Kampong Glam
There are plenty of things to see and do at this little enclave in Bugis! Kampong Glam is where you can visit the largest mosque in Singapore, see beautiful Malay crafts and exhibitions up close, shop for one-of-a-kind threads and colourful textiles, and enjoy myriad food options. There's even a cat cafe in one of the shophouses! Time to get back to Singapore's Malay roots, kampong-style…
50. Snap the Peranakan houses at Joo Chiat
If you're into the 'gram, you'll instantly recognise the colourful Peranakan houses over at Joo Chiat and Katong. Alongside getting your photo fix with the kiddos, this neighbourhood has so much more in store – from cool family-friendly eateries to lovely independent stores. If the weather isn't on your side, there are some great indoor play spaces too!
51. Visit a temple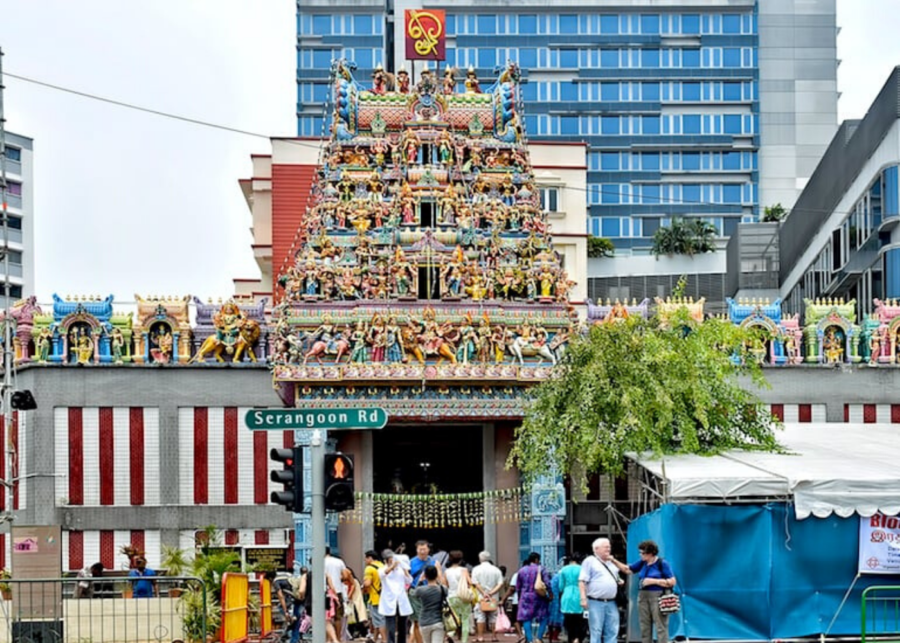 We are blessed with such a diversity of cultures and religions in the Little Red Dot, and what better way to get the kiddos clued up than by visiting one of the many beautiful temples across Singapore? Gather the fam and embark on a temple trail!
52. Shop at a wet market
Another Singapore rite of passage has to be buying goodies at a wet market. Get the kids to spot all the fruit and veggies they know, and then try your best to clue them up on the ones they don't (good luck!). Not sure where to start? Why not take a food tour around a wet market with the kids, where you can taste the unknown and meet the stall owners? Not only is it a treat for the senses, but it's also a bargain, so you might end up coming more often!
53. Go on a heritage trail
To really understand the history and culture of the place we call home, opt for one of the fab heritage trails across Singapore. Not only will you get outdoors exploring a new neighbourhood, but you'll also learn a load of facts to impress friends (we're looking at you mum and dad). There's plenty to keep the kids occupied on these routes too, and they will be learning along the way – even if they don't realise it!
54. Feast at a hawker centre
Another must for any Singapore bucket list, a hawker centre! It's a sight to behold, and that's before you've even started to think what to order (here's the lowdown on the local faves to help!).
55. Search for history at these sights!
Singapore has loads of history, and whilst the museums are a great way to discover it, you can also get outdoors to see some pretty cool historical sites. From the Battlebox at Fort Canning Park to the Dragon's Teeth Gate Rock over at Labrador Nature Reserve, there's plenty to keep the kids engaged and teach them a thing or two. Winning!
56. Check out hip 'hood Tiong Bahru
Thought this popular neighbourhood was just for the cool kids? Think again! Tiong Bahru has plenty of family appeal, from the incredible playground complete with a runaway train to kid-friendly restaurants galore. Plus, loads of hidden green spaces to take a breather. Don't leave without checking out the world-famous hawker centre and wet market – you're in for a treat. Good luck leaving empty-handed!
57. Go longkang fishing
If you really want to teach the kids a thing or two about past times in Singapore you'll be hard-pressed to beat longkang fishing. A tradition from days gone by where kampongs were the place to call home, longkang was a popular way of using nets to catch fish and tadpoles. It's something different for the kids (who are sure to be huge fans) and will teach them a thing or two about Singapore traditions. Winner!
58. Get musical at the Victoria Concert Hall
Not only is this a stunner of a building, but it's also home to some extremely talented musicians. If you've got a budding Mozart at home, or just fancy something a little different, then a performance at the very grand Victoria Concert Hall could be right up your street.
Victoria Concert Hall, 9 Empress Place, Singapore 179556
59. Explore (another!) new neighbourhood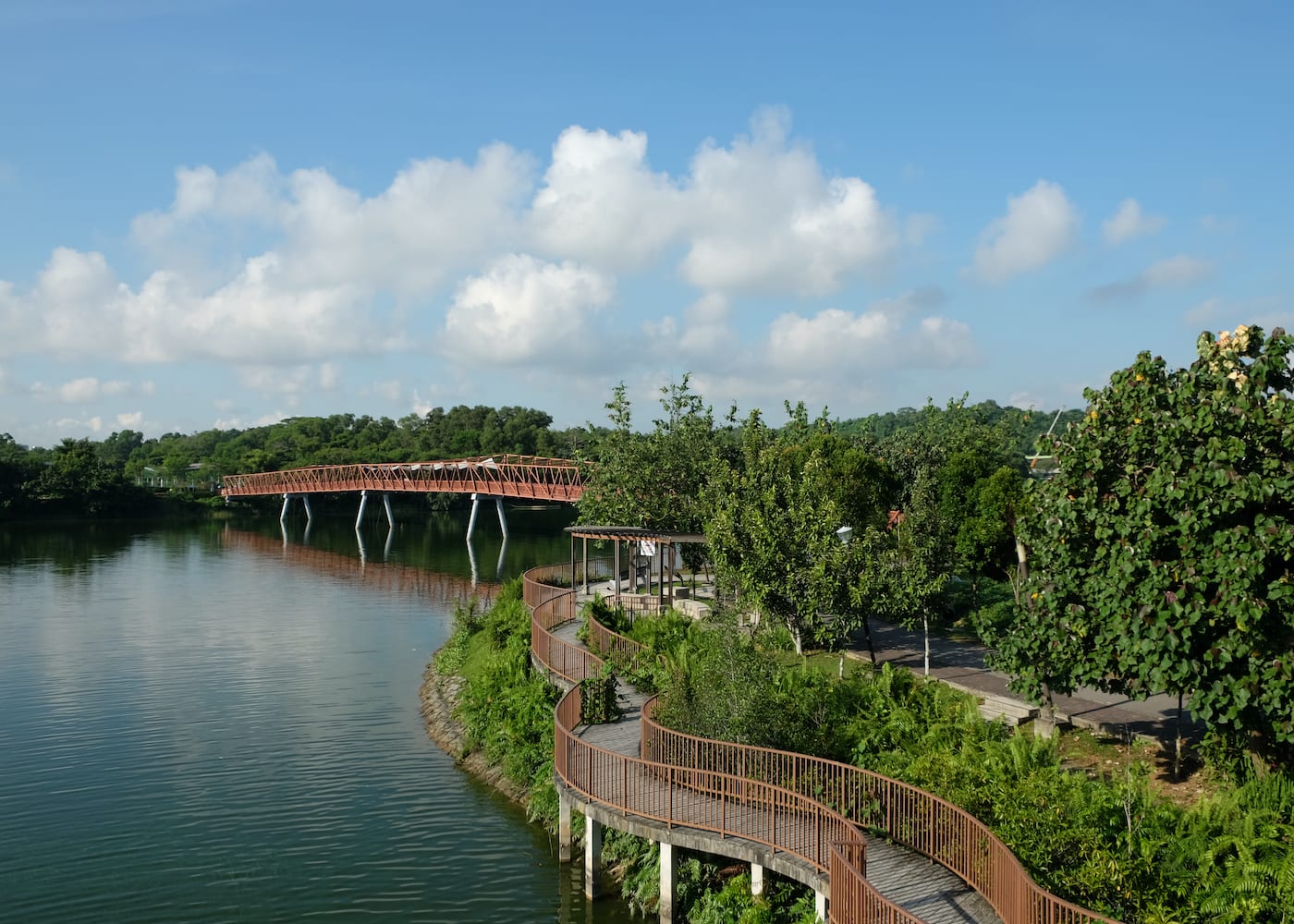 Although we've mentioned a few favourite neighbourhoods already in our list of things to do in Singapore, it's fair to say there's plenty more where they came from. If you want to get back to nature, then opt for beautiful Punggol up in Singapore's North East. Or, check out an oldie but a goodie in Ang Mo Kio, home to beautiful Bishan-Ang Mo Kio Park. You could easily fill most weekends neighbourhood hopping in the Little Red Dot!
60. Visit the renovated Peranakan Museum
After nearly four years of renovations, the Peranakan Museum at Armenian Street has opened its doors to the public again. The completely refurbished building features brand-new permanent galleries that introduce visitors to the diverse Peranakan cultures of Singapore and Southeast Asia. Psst, check out the amazing murals in the kids area during your visit!
Fun ideas that are a bit more unique!
61. Have breakfast with the zoo animals
Indulge in a hearty meal of local and international delights while sitting through a 30-minute presentation featuring orangutans, macaws, tamandua, coatimundis, and reptiles. There's a free-and-easy interaction area where you can meet the animals and their care team as well as photo points to capture those memories as keepsakes. Breakfast in the Wild is available from 9 to 10.30am on weekends and public holidays.
62. Explore Coney Island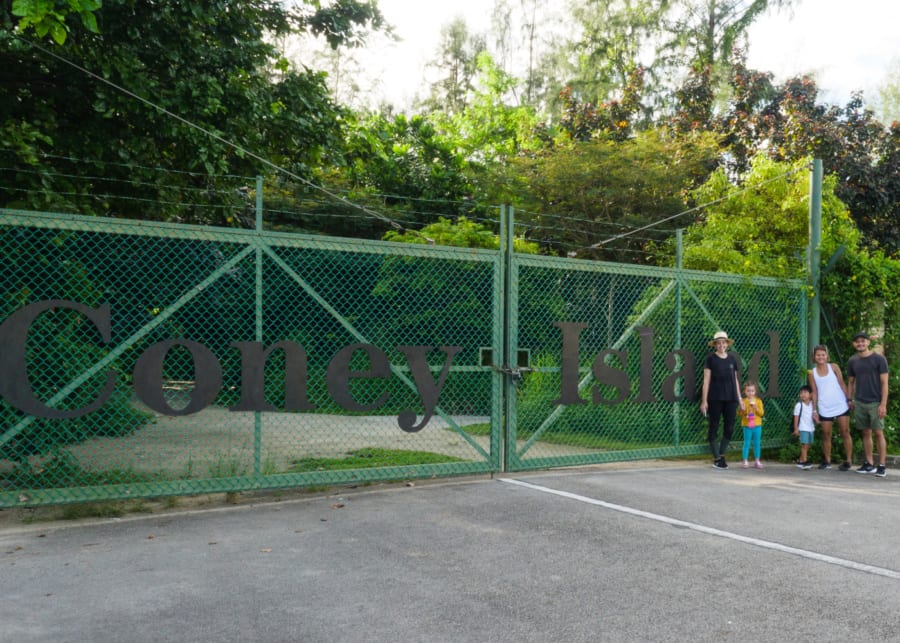 Those gates! If you haven't been to Coney Island yet, we definitely recommend it as a fun thing to do outdoors with kids in Singapore. In fact, why not check out our full guide to Coney Island and its Punggol surrounds (there's even a cool vid to watch!) to see if we can persuade you?
Coney Island, accessed from Punggol Settlement, 3 Punggol Point Road, Singapore 828694
63. Tour Bollywood Veggies
Experience pure farm charm over at Bollywood Veggies in the heart of the Kranji countryside. Book on to a tour, buy some organic goodies and tuck into a lovely meal at the bistro as well.
Bollywood Veggies, 100 Neo Tiew Road, Singapore 719026
64. Visit a fire station!
If your little ones love to dress up as firefighters, they are going to love visiting a local fire station to see a real-life fire truck! Fire stations are open to the public on Saturday mornings, so little ones can meet their heroes. Visitors can go on guided tours to meet firefighters and paramedics and learn how the Singapore Civil Defence Force (SCDF) responds to emergencies. Check the SCDF website for more details.
65. Love pugs? Spend time with these cute critters at the first pug cafe in Singapore
Love pugs? This ought to get your tail wagging. What The Pug, Singapore's first pug cafe, is home to wrinkly-faced canines with distinct personalities and quirks. Kids can play with the young hyper pugs, while parents will appreciate cuddling and chilling out with the older dogs. You'll also get a canned drink and a Polaroid photo as your take-home souvenir. Psst, once you're done, you can pop by Meomi Cat Cafe to continue your furry adventures!
66. Swing, spin, splash – get some friends together and have an arty party!
Art jamming is a trend we're loving, as not only does it get the kid's creative juices going, but they can bring home something to keep as well! The whole family can enjoy these art sessions. Choose from decorating your own tote bags or canvas prints, swing and splash sessions, or glow-in-the-dark neon paints! Check out Splat Paint House if you fancy spraying the walls with nerf guns, Arty Party for swing, spin, and splash sessions, or if creating a canvas rivalling Picasso is more your style, have a look at Art Jamming classes. The HoneyKids team tried out Spin Paint House, and here's our review of it!
67. Check out the Changi Experience Studio!
Even if you're not travelling anytime soon, you still need to head to the airport to check out the Changi Experience Studio. Made up of ten interactive zones – you can learn all things Changi, as well as get the chance to go behind the scenes and take part in simulations of airport activities. Are you ready to take off?
68. Unleash your best moves at the NERF Action Xperience
If rain is scuppering your outdoor plans, get up, get moving, gather a group and head over to Marina Square for hours of NERF fun! Conquer obstacle courses, challenge yourself on accuracy, and compete against your friends. You can also fill a NERF gun with paint and spray your own t-shirt to create your own unique designs! Psst… Check out the 'all-in' ticket for maximum value, and there are special discounts on NERF guns to purchase in their store! Here's how to book tickets.
69. Hunt for dinosaurs around Singapore
Love dinos? So do we! And there are loads of places to see dinosaurs in Singapore – special exhibitions, museums, theme parks, playgrounds, and on TV. Whether you've got big dino fans in the house or not, Changi Jurassic Mile is sure to impress everyone, with more than 20 prehistoric creatures taking up residence along this 1 km track. The tallest dinosaur stands at a whopping five metres! Whilst you're in this part of town, be sure to have Jewel Changi Airport on your list, too for a great fam day out! We've rounded up everywhere we spotted a dino into one handy list – happy dino hunting!
70. Take to the skies in a cable car
Although there are many ways to make it across the water to Sentosa, one of our faves has to be the cable car. It's great fun for the whole family and makes the best game of i-spy with everything to spot from cityscapes to boats, and even the fairytale castle over at Universal Studios Singapore!
Love this list of the best things to do with kids in Singapore? Check out this whopping list of family-friendly restaurants!