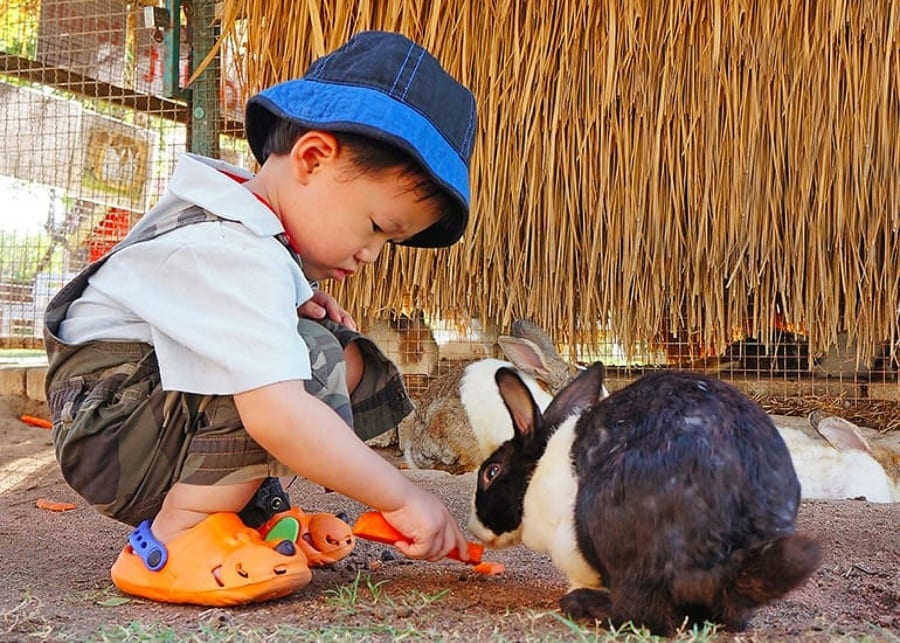 Feed a goat, pet a rabbit, or hang out with frogs! We've found the best farm experiences in and around Singapore for a day in the countryside with the kids.
Growing up in urban Singapore, there's one thing we know our children are missing out on: trips to the countryside and seeing real live farm animals! We want our kids to know where their food comes from, get into more outdoor activities, see a more rustic side to Singapore and enjoy some lovely animal encounters. So, we searched beyond the skyscrapers to gather these fun farm visits in Singapore and beyond where city kids can see vegetables growing, feed animals and spend the day exploring the great outdoors. So pull on your wellies and head on down to these top farms for kids in Singapore!
14 best farms in Singapore… and beyond!
1. Gallop Kranji Farm Resort
The words 'farm stay' may conjure up images of skipping through fields on your way to milk the cows. But the Gallop Kranji Farm Resort still manages to do a pretty decent job of giving us a slice of greenery during an overnight stay in the Kranji countryside. Plus, there's a spa. Say no more! So, while you head off for a well-earned facial, pack the kids and Dad off for a beehive tour, pony rides and prawn fishing. On this Singapore farm, accommodation is villa-style and spot-on for families. We fancy the executive villa complete with jacuzzi and steam room! Get set to make a staycay in Singapore out of it…
Where: 10 Neo Tiew Lane 2, Singapore 718813
When: Open daily
2. Jurong Frog Farm
The whole family will love this Singapore farm with a difference, where residents are rather green and slimy. At Jurong Frog Farm, join a family tour and learn all about these slippery, yet cool, creatures before petting, feeding and even taking a snap with Mr Toad and Mrs Frog. Kissing is not compulsory, and we do have it on good authority that, so far, none of the frogs have turned into a prince.
Where: 56 Lim Chu Kang Lane 6, Singapore 719164
When: Open Sat, Sun and public holidays 9am-5.30pm, Tues-Fri by appointment only.
3. Bollywood Veggies
We love hitting a good farmers' market with the kids (such a great way to teach little ones about different veggies, fruits and herbs), so we're taking it up a notch and going straight to the source. Bollywood Veggies is one of our fave farms in Singapore, and is a great place to take the kids for a top-notch farm visit. It's famous for its charm and family-friendly vibe! Go on an adventure into the Kranji countryside and join a free guided tour around the Food Museum before filling your bags with healthy, organic produce from the farm shop. Enjoy a family meal at the Poison Ivy Bistro (which also happily caters to those with special dietary needs) and then wander through the beautiful lush surroundings.
Where: 100 Neo Tiew Road, Singapore 719026
When: Open Wed-Fri 7am – 5pm, Sat, Sun and Public Holidays 7am – 7pm, closed on Mon-Tue unless public holiday.
4. Hay Dairies
While most kiddos don't give much thought to where the milk in their cereal bowl comes from, essentially almost all will presume it comes from a cow. Goat's milk, however, is considered by many to be a healthier choice. Head over to Hay Dairies – home to more than 800 goats – and get the inside scoop! Usually, you can join a free farm tour, milk a goat or two yourself and get to know these full-of-character cuties before stocking up on the good stuff to bring home. Due to Covid-19, and to protect both visitors and goats, the goat milking area as well as feeding/petting of goats is unavailable until further notice. However, you can still walk along the sheltered pathway to view the goats from a distance. One of the most fun farm visits in Singapore!
Where: No. 3 Lim Chu Kang, Agrotech Park Lane 4, Singapore 718859
When: Open daily except Tuesday, 9am-4pm.
5. Viknesh Dairy Farm
If it absolutely has to be cow's milk in your cuppa, then make a moo-ve over to Viknesh Dairy Farm (next door to Hay Dairies) and have an udderly fun time getting to know the resident cows. Kids can feed the cows, pat a cow (not to be confused with a cowpat), and for a small fee the family will be happily whisked around the farm for a tour. Not only will you pick up fun facts, but you can buy yourself a pint of milk to bring home for that cup of tea. A great farm for kids!
Where: 6 Lim Chu Kang Lane 8A, Singapore 719607
When: Open daily except Deepavali, 10am-4pm.
6. Quan Fa Organic Farm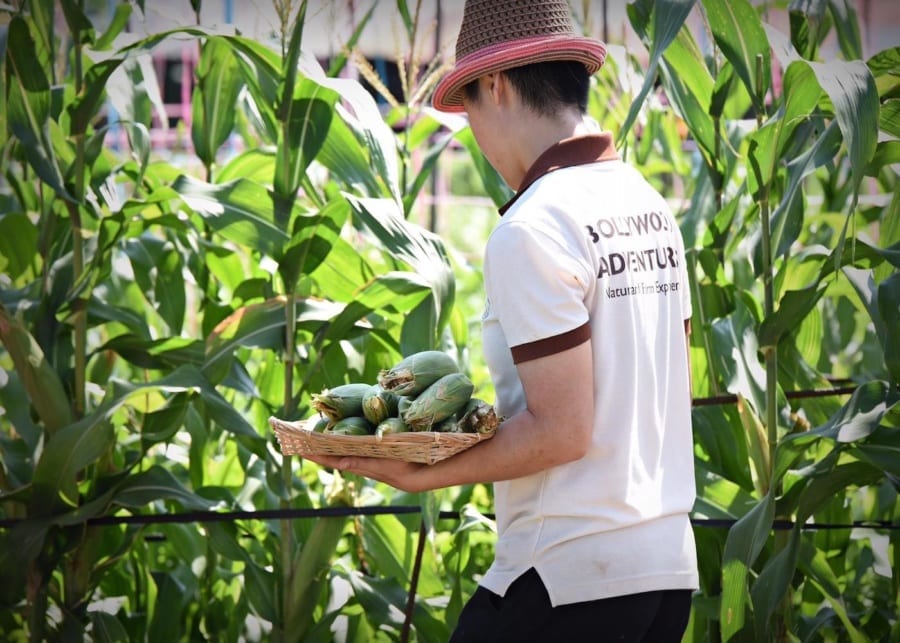 We love our organic vegetable deliveries from Quan Fa Organic Farm, and a farm visit itself is our idea of a great green day out with the kids. Step into nature's own classroom for an awesome organic family-friendly farm tour and smell, touch and taste organic veggies, harvested on the spot! Learn about the different stages of growing fruits, salad greens, herbs and vegetables, from seeding to harvesting. No animals, but this is one inspiring, educational day out!
Where: 35 Murai Farmway, Singapore 709145
When: Open weekdays 10am – 6pm and weekends 12noon – 5pm. **Farm visits currently unavailable**
7. The Live Turtle and Tortoise Museum of Singapore
Turtle lovers, unite! Here's your chance to take a peek and feed our hard and soft-shelled friends at The Live Turtle and Tortoise Museum of Singapore. It's home to 200 turtles and tortoises, with some of them roaming freely through the park. If you're lucky, you can catch mummy turtles giving birth too!
Where: ORTO, 81 Lorong Chencharu, Yishun, Singapore 769198
8. Singapore Zoo
Yes we know that Singapore Zoo isn't technically one of the farms in Singapore, but did you know it has an animal petting corner? It's full of farm animals including ponies, falabellas, rabbits, guinea pigs, pigs and goats. Head over to Kidzworld at Singapore Zoo and join a free keeper encounter session where wannabe farmers can cuddle a bunny, feed a goat and learn the difference between those ponies and falabellas. When you find out, do let us know!
Where: 80 Mandai Lake Road, Singapore 729826
When: Open daily 8.30am-6pm. **Pony rides, rabbit petting and falabella grooming are temporarily suspended**
9. Kin Yan Farm
Although there are no animals roaming the paddocks at Kin Yan Farm, we still think it's worth having on your list for a taste of the exotic. The littlies will love exploring the Cactus and Aloe Vera farm, and don't miss the mushroom section – they might look a bit different to those found on the supermarket shelves! Don't worry, there's something for the Mums and Dads too. Recharge with a wheatgrass shot freshly grown in a field nearby.
Where: Kin Yan Agrotech Pte Ltd, 220 Neo Tiew Crescent, Singapore 718830
When: Open daily 9am – 5pm. Farm tours available on request. Call in advance to enquire as minimum group sizes do apply.
10. Citizen Farm
This little slice of green oasis was previously a dilapidated prison until the lovely people at Citizen Farm got their hands on it. As a collective of farmers, Citizen Farm is all about bringing agriculture and the community together in a sustainable way. Their farm tours and workshops (suitable from 3 years old) are a great day out for the fam. As well as getting to explore (after a cup of fresh farm-brewed tea), kiddos can become little gardeners and get busy planting their favourite seeds. This is for keeps so they can kickstart their own edible garden at home too!
Where: 60 Jln Penjara, Singapore 149375
When: Workshop times vary, see the Citizen Farm website for full details.
11. Qian Hu Fish Farm
You don't need to head to the aquarium to get up close with Nemo and friends. Head on over to Qian Hu Fish Farm for a date with Dory. There's a whole host of attractions on offer, from fun fish tours through to kid-friendly workshops such as tank decorating. You can even introduce the littlies to traditional kampong life and have a go at fishing. Also, fish spa, anyone? After the activity extravaganza, refuel at the onsite cafe. And don't worry, this farm is all about ornamental fish, so you can reassure the kids. The difficulty will be coming home without one…
Where: No. 71 Jalan Lekar, Singapore 698950
When: Open weekdays 9am – 6pm and weekends 9am – 7pm
12. Gardenasia
If you want to make a weekend of it then book a farm stay at Gardenasia in the idyllic Kranji countryside. These colonial-style villas are the perfect family escape from the hustle and bustle of the daily grind. Plus there's a pool! You'll also get breakfast included, as well as dining discounts at the in-house Bistro restaurant for a delicious farm-to-fork experience. What's more, this is prime location for checking out the farms nearby with complimentary tickets for the Kranji Bus Express. Get farm-hopping!
Where: 240 Neo Tiew Crescent, Singapore 718898
When: Farm stay breaks available throughout the year.
13. Kok Fah Technology Farm
Want the kids to understand where their veggies come from? Look no further than Kok Fah Technology Farm, which grows every green vegetable you can think of (as well as the ones you can't!). It's not any old farm either. There are some serious greenhouses to explore and the kids can get stuck in planting their own mini veggie farm or making a take-home terrarium. If you time your visit with a weekend, there's even a market to explore so you can stock up on all that green goodness (and hopefully convert the kids).
Where: 18 Sungei Tengah Road, Singapore 698974
When: Daily 9am – 5pm – farm tours must be booked in advance.
14. UK Agro Farm (Malaysia)
Yes we're talking farms for kids in Singapore… but this one is close enough to be worthy of inclusion. The UK Agro Farm is worth the trip across the border to Malaysia for an authentic farm visit the whole fam will remember. This is a real working sheep and goat farm so expect a genuine farm atmosphere, gazillions of woolly faces, guided farm tours and a spin around the milking sheds! The countryside fun doesn't stop there either: check out the mini zoo and meet the resident peacocks, hedgehogs, ducks, geese and turkeys. You can also head to the ethnic cultural centre, Jakun Village, to try your hand at blow piping and climb a treehouse with the indigenous Orang Asli. All that fun may well wear you out, which is why we say make a weekend of it and stay over. The family farm has villas and dorms so that you can extend the adventure overnight.
Where: Plot 8, Project Pertanian Moden Kluang, KM13 Jalan Batu Pahat
When: Open daily. **Over-border travel sadly not available right now – check back soon!**
See you at Singapore's best farms soon, folks!