Photography: Los Muertos Crew via Pexels
Feed a goat, pet a rabbit, or hang out with cows! We've found the best farm experiences in and around Singapore to immerse yourselves in nature.
Growing up in urban Singapore, there's one thing we know our children are missing out on – trips to the countryside and seeing real live farm animals! We want our kids to know where their food comes from, get into more outdoor activities, see a more rustic side to Singapore and enjoy some lovely animal encounters. So, we searched beyond the skyscrapers to gather these fun farm visits in Singapore and beyond where city kids can see vegetables growing, feed animals and spend the day exploring the great outdoors. So pull on your wellies and head on down to these top farms for kids in Singapore!
15+ best family-friendly farms to visit in Singapore… and beyond!
Urban farms
1. Citiponics
If you think farms only park themselves across acres of land, well, think again! With tech advances in agriculture industries, farms are venturing closer to our homes than ever before. Saves us travel time for sure! Think of waking up to see your food growing across the street from you. Pretty cool! Thanks to Citiponics's Aqua-Organic System, the kiddos can explore vertical farming methods that are sustainable and generate zero waste. Best part? There are no pesticides used in these farming methods. While you are there, harvest some familiar locally produced veggies to complete that farm-to-folk experience. Plus, there are tons of yummy veggies you will find, like sweet nai bai, Georgina lettuce, rose lettuce, spearmint leaves etc. Yum!
Citiponics, Multi-Storey Car Park Level 6, 700 Ang Mo Kio Avenue 6, Singapore 560700
2. Urban Farm @ Funan
Here's a farm parked bang in the centre of our city and it is so easily accessible by public transport. And who would expect it to be atop a retail mall like Funan? The rooftop houses a full-fledged food garden open to the public to explore. You and the fam can get up close to touch and smell fifty different types of edible plants. Wow! Wish you could taste the fresh produce? The Japanese restaurant Noka right next door gives you the farm-to-table experience straight from the garden.
Urban Farm @ Funan, 107 North Bridge Rd, Singapore 179105
3. City Sprouts
This piece of heaven nestled in the heartland of Redhill gives you a taste of farm life but in closer proximity to you. Parked at the former Henderson Secondary School, City Sprouts brings together gardening hobbyists, agri-preneurs, agrifood and agritech partners and neighbouring communities to experience agriculture and food. Stay tuned to its website for a host of exciting farm-inspired workshops that the fam will love, like Little Farm Explorers and Home Composting for Beginners. Psst, City Sprouts also organises guided tours for you and the fam to take a deep dive into its urban farming project.
City Sprouts, 102 Henderson Road, Singapore 159562
4. Edible Garden City
This little slice of green oasis was previously a dilapidated prison until the lovely people at Edible Garden City got their hands on it. As a collective of farmers, Citizen Farm is all about bringing agriculture and the community together in a sustainable way. Their farm tours and workshops (suitable from three years old onwards) are a great day out for the fam. As well as getting to explore (after a cup of fresh farm-brewed tea), kiddos can become little gardeners and get busy planting their favourite seeds. This is for keeps so they can kickstart their own edible garden at home too!
Edible Garden City, 60 Jalan Penjara, Singapore 149375
5. The Sundowner
Sitting atop a conserved shophouse in the Siglap restaurant belt is The Sundowner, which bills itself as a nature-based experience centre. The main attraction at this rooftop space is its urban farm, where the kids can learn more about organic farming, don a bee suit and get up close to rescued bees, and even cuddle with a couple of free-roaming chickens! They can also participate in various workshops, including paper marbling, terrarium building, and learning magic tricks. Parents, you are not forgotten – wind down at the rooftop bar, watch a movie at the Nomad's Tent, or try your hand at mixing your own cocktails and/or pizza! All of these take place while the sun casts its waning colours on the sky above…
The Sundowner, 705A East Coast Road, Singapore 459062
Animal farms
6. Gallop Kranji Farm Resort
The words 'farm stay' may conjure up images of skipping through fields on your way to milk the cows. But the Gallop Kranji Farm Resort still manages to do a pretty decent job of giving us a slice of greenery during an overnight stay in the Kranji countryside. Plus, there's a spa. Say no more! So, while you head off for a well-earned facial, pack the kids and Dad off for a beehive tour, pony rides and prawn fishing. On this Singapore farm, accommodation is villa-style and spot-on for families. We fancy the executive villa complete with jacuzzi and steam room! Get set to make a staycay in Singapore out of it…
Gallop Kranji Farm Resort, 10 Neo Tiew Lane 2, Singapore 718813
7. The Live Turtle and Tortoise Museum of Singapore
Turtle lovers, unite! Here's your chance to take a peek and feed our hard and soft-shelled friends at The Live Turtle and Tortoise Museum of Singapore. It's home to 200 turtles and tortoises, with some of them roaming freely through the park. If you're lucky, you can catch mummy turtles giving birth too!
The Live Turtle and Tortoise Museum of Singapore, ORTO, 81 Lorong Chencharu, #01-16, Singapore 769198
8. Viknesh Dairy Farm
If it absolutely has to be cow's milk in your cuppa, then make a moo-ve over to Viknesh Dairy Farm (next door to Hay Dairies) and have an udderly fun time getting to know the resident cows. Kids can feed the cows, pat a cow (not to be confused with a cowpat), and for a small fee, the family will be happily whisked around the farm for a tour. Not only will you pick up fun facts, but you can buy yourself a pint of milk to bring home for that cup of tea. A great farm for kids!
Viknesh Dairy Farm, 6 Lim Chu Kang Lane 8A, Singapore 719607
9. Hay Dairies
While most kiddos don't give much thought to where the milk in their cereal bowl comes from, essentially almost all will presume it comes from a cow. Goat's milk, however, is considered by many to be a healthier choice. Head over to Hay Dairies – home to more than 800 goats – and get the inside scoop! Usually, you can join a free farm tour, milk a goat or two yourself and get to know these full-of-character cuties before stocking up on the good stuff to bring home. One of the most fun farm visits in Singapore!
Hay Dairies, 3 Lim Chu Kang Lane 4, Singapore 718859
10. Qian Hu Fish Farm
You don't need to head to the aquarium to get up close with Nemo and friends. Head on over to Qian Hu Fish Farm for a date with Dory. There's a whole host of attractions on offer, from fun fish tours to kid-friendly workshops such as tank decorating. You can even introduce the littlies to traditional kampong life and have a go at longkang fishing. Also, fish spa, anyone? After the activity extravaganza, refuel at the onsite cafe. And don't worry, this farm is all about ornamental fish, so you can reassure the kids. The difficulty will be coming home without one…
Qian Hu Fish Farm, No 71 Jalan Lekar, Singapore 698950
11. Bee Amazed Garden
When else can you tell people that you've interacted with bees and not gotten stung? At Bee Amazed Garden, you'll get to learn all about the bees (no, not that one) – from basic beekeeping lessons to honey tasting, as well as a visit to the beehives observatory. There are also various educational programmes that you can take part in if you're interested to dive further into the amazing life of bees!
Bee Amazed Garden, Kampung Kampus, 91 Lorong Chencharu, Singapore 769201
12. Nippon Koi Farm
The largest koi farm in Singapore, award-winning Nippon Koi Farm houses exclusively-bred koi, which are directly handpicked and imported from Japan. Take a walk around the area and let your kids admire the beautiful koi on display; we reckon the littlies will be very fascinated by them! The farm also features the country's first large-scale aquaponics farm, which breeds and cultivates food fish.
Nippon Koi Farm, 51 Jalan Lekar, Singapore 698946
13. Singapore Zoo
Yes, we know that Singapore Zoo isn't technically one of the farms in Singapore, but did you know it has an animal petting corner? It's full of farm animals, including ponies, falabellas, rabbits, guinea pigs, pigs and goats. Head over to Kidzworld at Singapore Zoo and join a free keeper encounter session where wannabe farmers can cuddle a bunny, feed a goat and learn the difference between those ponies and falabellas. For the year of the rabbit, look forward to making many new bunny buddies too. Here's to a hoppy time at the zoo!
Singapore Zoo, 80 Mandai Lake Road, Singapore 729826 
14. UK Agro Farm (Malaysia)
Yes, we're talking farms for kids in Singapore… but this one is close enough to be worthy of inclusion. The UK Agro Farm is worth the trip across the border to Malaysia for an authentic farm visit the whole fam will remember. This is a real working sheep and goat farm, so expect a genuine farm atmosphere, gazillions of woolly faces, guided farm tours and a spin around the milking sheds! The countryside fun doesn't stop there either: check out the mini zoo and meet the resident peacocks, hedgehogs, ducks, geese and turkeys. You can also head to the ethnic cultural centre, Jakun Village, to try your hand at blow piping and climb a treehouse with the indigenous Orang Asli. All that fun may well wear you out, which is why we say make a weekend of it and stay over. The family farm has villas and dorms so that you can extend the adventure overnight.
The UK Agro Farm, Plot 8, Project Pertanian Moden Kluang, KM13 Jalan Batu Pahat
Agricultural farms
15. Bollywood Veggies
We love hitting a good farmers' market with the kids (such a great way to teach little ones about different veggies, fruits and herbs), so we're taking it up a notch and going straight to the source. Bollywood Veggies is one of our fave farms in Singapore, and is a great place to take the kids for a top-notch farm visit. It's famous for its charm and family-friendly vibe! Go on an adventure into the Kranji countryside and join a free guided tour around the Food Museum before filling your bags with healthy, organic produce from the farm shop. Enjoy a family meal at the Poison Ivy Bistro (which also happily caters to those with special dietary needs) and then wander through the beautiful lush surroundings.
Bollywood Veggies, 100 Neo Tiew Road, Singapore 719026

16. Quan Fa Organic Farm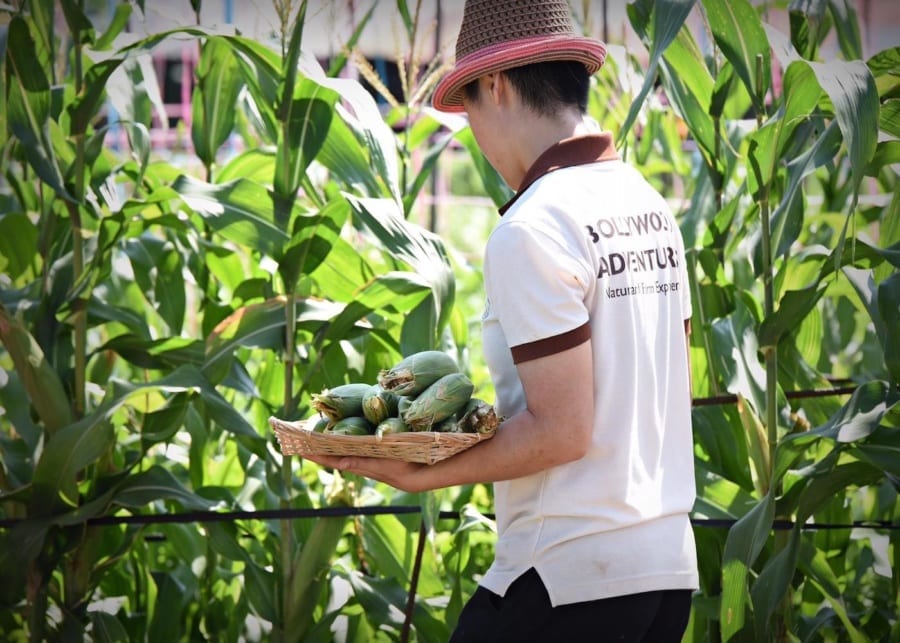 We love our organic vegetable deliveries from Quan Fa Organic Farm, and a farm visit itself is our idea of a great green day out with the kids. Step into nature's own classroom for an awesome organic family-friendly farm tour and smell, touch and taste organic veggies, harvested on the spot! Learn about the different stages of growing fruits, salad greens, herbs and vegetables, from seeding to harvesting. No animals, but this is one inspiring, educational day out!
Quan Fa Organic Farm, 2G Neo Tiew Lane (Plot 119), Singapore 719095 (Farm visits currently unavailable)
17. Kin Yan Farm
Although there are no animals roaming the paddocks at Kin Yan Farm, we still think it's worth having on your list for a taste of the exotic. The littlies will love exploring the Cactus and Aloe Vera farm, and don't miss the mushroom section – they might look a bit different to those found on the supermarket shelves! Don't worry, there's something for the Mums and Dads too. Recharge with a wheatgrass shot freshly grown in a field nearby.
Kin Yan Farm, 220 Neo Tiew Crescent, Singapore 718830 (Farm tours available on request. Call in advance to enquire as minimum group sizes do apply.)
18. Gardenasia
If you want to make a weekend of it then book a farm stay at Gardenasia in the idyllic Kranji countryside. These colonial-style villas are the perfect family escape from the hustle and bustle of the daily grind. Plus there's a pool! You'll also get breakfast included, as well as dining discounts at the in-house Bistro restaurant for a delicious farm-to-fork experience. What's more, this is a prime location for checking out the farms nearby with complimentary tickets for the Kranji Bus Express. Get farm-hopping!
Gardenasia, 240 Neo Tiew Crescent, Singapore 718898

19. Kok Fah Technology Farm
Want the kids to understand where their veggies come from? Look no further than Kok Fah Technology Farm, which grows every green vegetable you can think of (as well as the ones you can't!). It's not any old farm, either. There are some serious greenhouses to explore, and the kids can get stuck in planting their own mini veggie farm or making a take-home terrarium. If you time your visit with a weekend, there's even a market to explore so you can stock up on all that green goodness (and hopefully convert the kids).
Kok Fah Technology Farm, 18 Sungei Tengah Road, Singapore 698974 (Farm tours must be booked in advance)
See you at Singapore's best farms soon, folks!