Are you new to Singapore or to the parenting gig and not sure where to live in Singapore? We've got the lowdown on the top kid-friendly 'hoods to kick off your search!
Need to know the best places to live with kids or the areas in Singapore that are the most family-friendly? Finding the perfect Singapore home for your brood can be a daunting prospect, whether you're a long-time local or fresh off the boat. Equally, if you're making that transition from 'DINKS' (Double Income, No Kids) to first-time parents, you'll need to move out of your cool Tiong Bahru art deco walk-up or hip Chinatown shoebox, and move to one of the more pram-friendly family neighbourhoods.
Singapore may be small in stature, but it more than makes up for it with loads of interesting, culture-packed districts, all with their own unique allure, from top kid-friendly restaurants to schools and green parks. Just make sure to take a little time out from the gruelling house or condo hunting to enjoy all the wonderful sights, sounds, food and culture that this amazing Lion City has to offer. But, don't worry! With our handy list of family-friendly Singapore neighbourhoods, you'll be happily settled in the home of your dreams before you know it…
THE BEST PLACES TO LIVE IN CENTRAL SINGAPORE
1. Orchard
Orchard is one of the best places to live with kids if you still want to feel the buzz of inner-city living. You'll pay through the nose for rent per square metre, given the prime location and proximity to niceties such as retail, F&B outlets and entertainment. But fret not; you'll save on travel costs (you won't need a car thanks to all the public transport links). But if you're a family with one baby and your space requirements are lower, this could be the 'hood for you.
The streets are blissfully flat and wide, which is more than what can be said for other streets around Singapore. You are also within walking distance of first-rate international social clubs, The American Club and The Tanglin Club.
2. River Valley
River Valley is a much-loved child-friendly area offering the perfect blend of city living and space. It's less hustle-and-bustle and slightly more residential. The high-rise condos range from the older, larger style (like Aspen Heights) to chic, river-facing homes with large balconies (along Robertson Quay). In the Mohammed Sultan Road area, you'll also find some quirky shophouses and Buddhist temples. It's definitely the spot to be if you're a fan of alfresco dining or river cruising, making it one of the best places to live with kids. It's only a short taxi ride (or solid 20 minutes walk from the CBD) and is close to the ISS International School.
3. Tanglin
Tanglin is a charming, verdant area on the doorstep of the UNESCO World Heritage-listed Singapore Botanic Gardens. This family neighbourhood is known for its low-rise condos and fabulous houses (we've got our hearts set on a Black and White house one day). It's surrounded by embassies and has the fabulous Tanglin Mall as its local shopping centre. Think a family-friendly mall with great toy stores for kids, boutiques and cafes for mums to hang out after grabbing groceries! And, it's just a stone's throw from the wildly popular Dempsey Hill. It's one of our fave child-friendly areas where you can eat out and shop for modern art and furniture all in one place. You're spoilt for school choice with schools like EtonHouse International School and Invictus International School in the vicinity, making it one of the best places to live with kids.
4. Novena
If you want to live within the city centre but not exactly in it, we recommend Novena. It's a little further up from Orchard, but you can easily access it by train or by bus. Aside from proximity, Novena is popular with expat families due to its great mix of housing, shopping malls and international schools. There's also Newton Circus, Singapore's most well-known hawker centre, and the nearby MacRitchie Reservoir.
THE BEST PLACES TO LIVE IN WEST SINGAPORE
5. Holland Village
Holland Village is a sought-after locale for expats and locals alike, not least for its abundant bars and restaurants. One of the most child-friendly areas in Singapore, for sure – we know many parents who'd swear it's the best place to live with kids! The Lorong Mambong stretch comes alive with revellers at night, spilling out onto the pedestrianised street. It's also home to the charming Chip Bee Gardens strip, which is lined with great restaurants, dessert cafes and gourmet food stores. The MRT station makes HV highly accessible, too. It's within a 10-minute drive from Orchard, and it boasts two Cold Storage stores in the area. Clementi Mall is around five minutes away, with tenants including FairPrice Finest and Art Friend – both of which are massive and very popular for families. A great family neighbourhood if you ask us!
Tips from our resident insider Georgina, mum of Minnie, Willa and Ginger
Why I love my 'hood:
Holland Village is one of the best places to live with kids in Singapore… It's such a child-friendly area! I love its vibrant dining scene, especially along Chip Bee Gardens. The Holland Village Shopping Centre is a treasure trove of little local stores offering everything from mani-pedis to Lego and curios, so I never make it home empty-handed. 
Why it's great for kids:
My area is jam-packed with young families, which is a pretty good indicator of its suitability for kids! It's also predominantly low-rise condos or houses, so my girls have plenty of green space to run around. It feels similar to living in a small house at home, which was a must-have for our second stint living in Singapore.
My fave place to hang out with my kids:
It's nigh on impossible to narrow it down to one favourite family location! The girls love the Watten Estate playground (and my husband and I make sure to grab a coffee en route from Baker and Cook). We often find ourselves having chicken rice and lime juice at the hawker's centre, followed by ice cream at the Daily Scoop on Jalan Merah Saga.
6. Bukit Timah
Bukit Timah is a well-loved residential enclave teeming with young families drawn in by its leafy tree-lined streets and semi-suburban vibe. Such a child-friendly area! At one end you have the reputable Newton Circus hawker centre, and at the other, the Bukit Timah Nature Reserve. We love the boutique-style shopping found at Cluny Court, the excellent kids' activities on offer at The Grandstand and the proximity to the Jacob Ballas Children's Garden. It's close to plenty of international schools, including the Reggio Emilia-inspired Blue House Nursery & International Pre School. And with the Hollandse Club and British Club on your doorstep, you'll be more inclined to move into a semi-detached place without a pool.
7. Braddell and Serangoon
Journey out from Bukit Timah up Thomson Road into the excellent family neighbourhoods of Braddell and Serangoon, which many rate as one of the best places to live with kids in Singapore. This is where the city opens up to reveal picturesque open green spaces like the MacRitchie Reservoir and the Singapore Polo Club. Make sure to brighten your home with some plants from the Thomson Road gardening nurseries. Not only will you get more bang for your housing buck out here, but you're also conveniently close to a raft of international schools, including the Australian International School, the Stamford American International School and the International French School.
8. Queenstown/Alexandra
For the full scoop on why this unpretentious, quiet family neighbourhood is earning a solid reputation as the place to be and be seen, check out Honeycombers' guide to Queenstown. This child-friendly area is full of delish local food, discount sporting goods, arty cafes and restaurants serving up an honest family fare. It's also perfectly situated to reach some of the best international schools in Singapore, including Tanglin Trust School, Dover Court International School and UWC South East Asia. It's a great 'burb to be in!
Tips from our resident insider Suzanne, and mum of and Emily and Olivia
Why I love my 'hood:
Alexandra Road has great public transport links and feels close to everywhere. Bukit Timah, the CBD and Sentosa… except the East Coast – that feels far! We live at the crest of a hill at the Interlace condo (the infamous Lego blocks), so we get a fabulous cool breeze. It's one of the best places to live with kids… although I'm biased! The condo is a city in itself, with five pools, two child-friendly areas to play (one with real grass!), and a 1km cycling/running track. It makes life easier not having to leave home to entertain the little ones.
We also have a great mix of food options from burger joints to local Thai, plus loads of little local hawker centres close by. I practically live at VivoCity, and have been known to linger a little at IKEA from time to time…
Why it's great for kids:
We have many great parks just around the corner, including Hort Park and Labrador Park. We'll often be found on a weekend navigating the Southern Ridges walk, starting with the steps at HarbourFront, up to Mount Faber, across the Henderson Bridge to Hort Park. It's an invigorating trip with amazing views, and the whole family loves it!
9. Sentosa
If you're steeled with a solid budget and a willingness to get over the mental block of living on an island, Sentosa could be the best place to live with kids for your family. You'll feel like you're on a permanent holiday while enjoying the perks of a tropical idyll and plenty of child-friendly areas. You can play golf, wander along the boardwalk post-brunch at Quayside Isle, or jump aboard a stand-up paddleboard at one of the island's many beaches. The supermarket shopping on Sentosa is expensive and limited, but a short trip to VivoCity will fix that in a jiffy. Did somebody say Universal Studios Singapore? (Don't forget to check out our guide to Universal Studios Singapore – all the essentials are here at HoneyKids!)
THE BEST PLACES TO LIVE IN EAST SINGAPORE
West-side dwellers have been leaving in droves over recent years to relocate to the more relaxed, better-value-for-money East Coast precinct. They firmly believe it's one of the best places to live with kids in Singapore. This huge child-friendly area runs an impressive length (some 15km and 185 hectares) from Kallang to Changi Airport. It has a whole different feel to the rest of Singapore. Plus, this family neighbourhood is blessed with cool sea breezes, bike tracks, local eats (think Long Beach Seafood) and aeons of sand for kids to make castles and potter about. Due to its location, it can be a little isolating from the rest of the island. But, most Eastsiders rarely leave their little bubble – there's no need to as it's well-equipped with all conveniences.
10. Katong
Want to live in a child-friendly area but still in the heart of an authentic Singaporean district? Head to Katong! It's all about living as the locals do (this may or may not involve multiple bowls of famous Katong laksa!). The area is a great mix of landed properties and condos that offer ocean views and a lovely sea breeze. Check out One Amber for a family-friendly vibe (and one of the coolest kids' pools we've seen) in a prime position on East Coast Road. Aalto, on the other hand, has a boutique feel with all the amenities a family could need. Psst: it's a little further afield from the restaurants and cafes on East Coast Road and Tanjong Rhu, but offers plenty of space for families.
Family hangout East Coast Park is easily accessible via the many pedestrian links in the neighbourhood – so grab your scooters and bikes for some fresh air! Canadian International School's Tanjong Katong Campus and Shaws Preschools are in the district, and both are great choices for your little learner. Sure, the average expat may feel more at ease surrounded by home comforts in Tanglin. But Katong has come a long way with flash local malls, including Katong I12 and Parkway Parade. And the coffee-quaffing crew are delighted with joints springing up all over the place.
Tips from our resident insider Selina, mum to Maxton and Grayson
Why I love my 'hood:
I had fantasies of living in hipster 'hood Tiong Bahru when we arrived in Singapore, but I'm absolutely loving the East Coast. We can see the water from our place! And, after coming from London, where we were super lucky to look out onto a tiny courtyard, there's nothing like that expansive ocean view. Our boys love spotting all the big ships, and the scene changes every day. Plus, I love that Katong is famous for its Peranakan food. And laksa!
Why it's great for kids:
I can see why young families flock to this neighbourhood. It's close to East Coast Park, and there's a great playground on my street where parents can meet. Plus, you'll find loads of good cafes for mums to hang out, and there's a preschool practically on every corner.
My fave place to hang out with my kids:
We're super close to one of the walkways to East Coast Park, so we like to take the scooter out for a spin. Though I'm quite partial to taking the boys for one of the amazing pastries at one of the amazing coffee shops nearby!
11. Joo Chiat
The uber-hip family neighbourhood of Joo Chiat more than fits the bill for the inhabitant in search of a grassroots Singapore experience. The colourful painted Peranakan houses (pictured top) are a highlight in this quirky area, as are the eclectic furniture stores and bang-on local grub. It's the savvy sister of Katong.
Tips from our resident insider Kate, mum to Harrison
Why I love my 'hood:
Joo Chiat is full of colourful Peranakan charm with a friendly, neighbourhood vibe. It's convenient and super walkable – especially now that they've levelled out the sidewalks – way better for pushing a stroller! Plus, there are loads of great food choices, and the variety keeps expanding. Famous local favourites, great Vietnamese and even fresh bakeries are literally at your doorstep!
Why it's great for kids:
The neighbourhood is super family-friendly, and it seems as though everyone has a kid or two in tow. There are plenty of playgroups, activity centres and schools easily accessible to you – we're spoiled for choice!
My fave place to hang out with my kids:
Aside from the condo pool, we love to cruise around the 'hood as there's always something new! A favourite haunt includes Zaffron for great Indian food and a play corner perfect for the kiddos. Plus, the East Coast Lagoon for great hawker treats and wide open space for the littlies to stretch their legs.
12. Siglap
Venture a little further out along East Coast Road to Siglap! You'll be rewarded with spacious, wallet-friendly accommodation, including semi-detached and fully-fledged houses in this family neighbourhood. The plentiful local playgrounds in this area mean that you and your kids are likely to make lots of local friends. It's the favoured stomping ground of families at the One World International School and UWC East campus.
13. Simei
And, last stop east side before Changi is the fantastic family hub of Simei. Families who put down roots here rave about the wide-open green spaces and second-to-none Singaporean cuisine. It's surprisingly easy and quick to get to the city (only 25 minutes), thanks to the speedy MRT. And you really can't get much more convenient than Simei for that early morning airport run!
Tips from our resident insider Tracy, mum to Jack, Angelica and Rafferty
Why I love my 'hood:
If you fancy a more 'local' area, then the family neighbourhood of Simei is certainly that. No office blocks. No skyscrapers. And patches of green and playgrounds galore. There's also a great choice of both local and international schools on our doorstep. UWC is in Tampines on an amazing purpose-built site, as well as Overseas Family School (OFS).
Why it's great for kids:
We have lots of hidden gems on our doorstep way out here in the Far East. First up, we are really close to the airport. There are tons to do here for little legs. A must for any avid plane spotter, of course, but there is also ample room for the kids to just run and run, playgrounds, an indoor soft play, the tallest slide in Singapore, the free Sky Train, Jewel Changi with the gorgeous Canopy Park, and plenty of quick, cheap eateries to refuel at.
We also have Wild Wild Wet, a short drive away, which is fun and great for kids of all ages. It's one of the few places I can take all three of my kids, who vary from three to 13 in age. Psst, they are ALL happy with what is on offer!
Another of my top mentions has to be Pasir Ris Park, which boasts the best array of playgrounds in Singapore (according to my panel of junior judges). And there's the beach, some cool eateries and wide-open areas to play football, tag and generally run around on.
And finally, wait for it…. we have IKEA in Tampines. Smaland is a hit for my small two. And they all love a meatball lunch. Cheap and exceptionally cheerful!
My fave place to hang out with my kids:
Aside from our perennial favourites mentioned already, we are also rather partial to the free water playgrounds in the area for a few hours of free fun.
THE BEST PLACES TO LIVE IN NORTH SINGAPORE
14. Toa Payoh
Travelling north out of the city, you'll find yourself in the hub of the heartlands, literally! Not only is Toa Payoh Hub home to the Housing Development Board, but there are also family-friendly eats galore like Tim Ho Wan, Crystal Jade, hawker centres and even Popular Bookstore, with plenty of playgrounds dotting the area to keep the kids happy. The public swimming complex and library are also just a short walk from the station for fun afternoons. Although you might not be in 'Expat Central', this area is great for integrating with the locals, and you'll still be able to find international schools in the area, like EtonHouse International School Thomson and SJI International.
15. Ang Mo Kio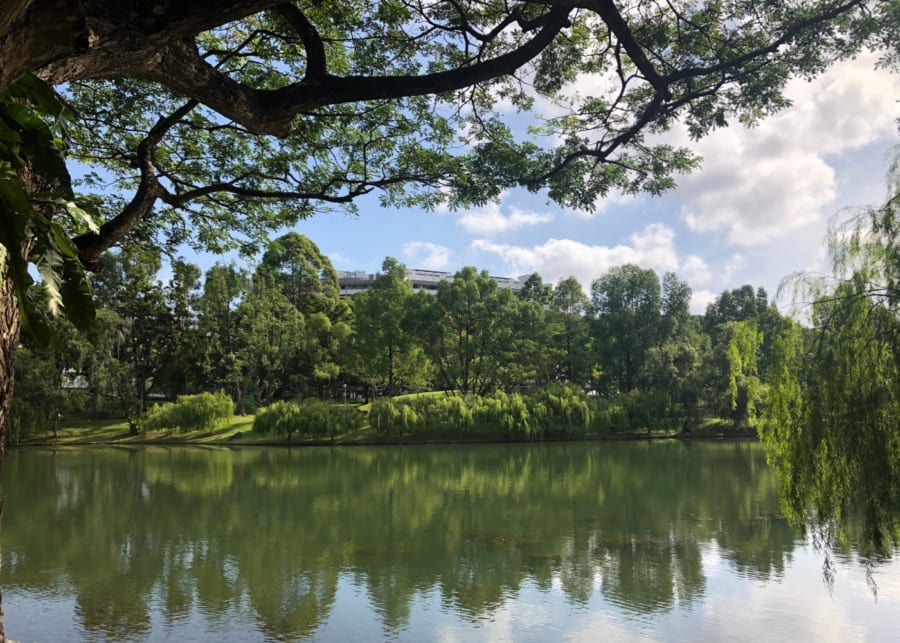 Ang Mo Kio is about as heartlands as you can get. Not only will you get to spend endless hours exploring parks and playgrounds like Bishan-Ang Mo Kio Park and Ang Mo Kio Town Garden West, but you'll also be able to go park hopping using the Park Connector Network. If you don't mind crowds, you'll find everything you need at heartland malls Junction 8 and Ang Mo Kio Hub. You'll be trading hipster cafes for kopitiams and department stores for HDB shops, but you'll be able to get your daily necessities at half the price. There aren't any international schools within walking distance, but it's great if you're planning to send your kids to a local school.
16. Woodlands
It's a bit of a trek (although the new MRT line has helped), but Woodlands is a firm favourite for many families seeking large, affordable housing. While popular with local Singaporeans, there's also a sizeable American community in Woodlands as it's super close to the Singapore American School. If you ultimately put down roots in Woodlands, we're sure you'll be lured across the nearby causeway to Malaysia, so you'll be needing our guide to cheap shopping in Johor Bahru.
Tips from our resident insider Nafeesa, aunt to niece Nayli, and nephews, Hariiz and Hariiq
Why I love my 'hood:
Woodlands may be far from central Singapore, but it's got a wonderful buzzing, family neighbourhood vibe. I reckon it's definitely one of the best places to live with kids! It has loads of great local food places, amenities for families and buses to take you everywhere. We're talking straight to PasarBella, IKEA Tampines and even the National Library. The best part? It's only a stone's throw away from Johor Bahru – the home of cheap shopping and Legoland!
Why it's great for kids:
The Singapore American School (SAS) and Singapore Sports School are located here, with plenty of other stellar preschools, enrichment centres and schools easily accessible to you. Check out the three-storey library, perfect for voracious readers and older kids who need to catch up on homework. Plus, a stadium and public pool, too. For weekends, head to Woodlands Waterfront for a breezy evening stroll or hours of fishing.
My fave place to hang out with my niece and nephews:
My favourite place is Al-Ameen restaurant, a haven for Indian food. Roti prata with sugar is always a hit with the kids! Oh, don't forget the library, too. Its wealth of books for kids of all ages and open spaces lets your little bubs stretch out while they read in comfort.
Punggol
Families who love the great outdoors can settle down in Punggol. It's the perfect place to go back to nature with wide-open green spaces, prawn fishing, and plenty of water play areas, including the splash pad at Punggol Waterway Park, Waterway Point and the water park Splash @ Kids Amaze in SAFRA Punggol. Kids who love biking will have no shortage of paths to explore, especially with Coney Island and Punggol Settlement just a stone's throw away. Plus, the Oasis Terraces mall is fitted with community gardens, an outdoor playground and a fitness corner on the rooftop. Talk about an ultimate community space! You'll find Global Indian International School's SMART Campus right at your doorstep, too.
We hope that this list of family-friendly neighbourhoods in Singapore helps you with your search… happy home hunting, Honeys!