Photography: Swapnil Bapat via Unsplash
Living in Singapore as an expat with kids is AWESOME! And to make it even more awesome, we've put together this huge guide to everything you need to know to get you settled into your new abode...
First off, let us say a very big welcome to Singapore! It's a small island with a big, welcoming heart for sure, and we know you're gonna love it here. And secondly, well done for finding HoneyKids! If there's something happening for kiddos and families in Singapore, then we know about it. #humblebrag
But now the intros are out of the way, you're going to need to know a whole lot of nitty-gritty essentials about your new, rather warm home. So, sound the trumpets and then settle down with a cuppa to take in our essential guide to living in Singapore as an expat newbie…
The essential guide to living in Singapore as an expat
Where's the best place to live in Singapore?
The team at HoneyKids live not only in every kinda accommodation (from HDB to landed house), but can also be found in pretty much every 'hood on the island. Dive into our guide to the best fam-friendly neighbourhoods and then tackle your condo vs landed house dilemma.
My kids need a school in Singapore: point me in the right direction
Lucky for you we have our very own HoneyKids School Selector, our online tool to nailing down the perfect international school for your family. But if you're time-crunched and need info, stat, then we've helpfully put together a whopper of a read about all things schooling in Singapore. And don't forget you can also send your kiddos to local school too if that's a route you're keen to explore. Sign up for our newsletters so you'll be the first to hear about our next free and fabulous HoneyKids School Fair!
Where to supermarket shop in Singapore: I need groceries!
Whether you're craving international goodies from home or need to know where to get your general groceries from, we've got you covered. Hop into our guides on supermarket shopping, the best butchers in Singapore, where to buy the organic fare, gluten-free shopping, conquering wet markets and even how to track down the tastiest bread on the island.
And if I can't face cooking, where are the best restaurants in Singapore?
As a nation of foodies, there is never a shortage of fab places to eat in Singapore. So work your way through these awesome eateries including kid-friendly restaurants (and a whole guide to the ones where kids eat free), hawker centres for families, date night restaurants, cafes that open early and the best coffee shops in the land.
And our useful info doesn't end there either: we've also got the best burger joints in Singapore, where to go on a pizza date with the kiddos, top eats around Orchard Road, the fluffiest babyccinos, the yummiest milkshakes and even a guide to the restaurants you can bring your dog to.
Don't forget to check out our fun read on how to order your coffee or tea like a local, and then print out our bucket list of must-try Asian foods for the fam! Can't be bothered to leave the house? Download these food delivery apps for hawker food delivered to your door!
What fun things are there to do in Singapore with the family?
In a nutshell: tons! Stay tuned to HoneyKids Asia for our weekly guide on 'things to do this weekend with the kids' (published every Wednesday).
On top of that we have an awesome 100 things to do indoors read, and its counterpart, 100 things to do outdoors. And if you're still at a loss then try these guides to:
We've also got a roundup of the best water playgrounds, the fabbiest neighbourhood playgrounds, the playgroups for toddlers, all the after school clubs for kids, our fave affordable activities, a mega guide to indoor play centres, some fun hiking trails for families, a guide to the Park Connector Network, awesome cultural activities, a temple trail and the lowdown on the best beaches and islands surrounding Singapore. Phew!
And to go with all that, you're probably going to need the deets on all things picnic and the best mozzie sprays to buy for kids. Is that all? Hell no. How about board games for a rainy day, or easy activities to try at home like slime making, cool craft ideas as well as our monthly updated list of the brilliant exhibits for kids happening the island over.
And what about transport in Singapore to go between all these fun activities?
We're utterly blessed on this island with an outstanding public transport system. Hop on a bus (most will let you board with a buggy these days), ride the MRT, grab a taxi (but don't forget to bring a car seat: we've got an awesome guide on the ones easy to lug around with you).
If you can bear to part with the eye-watering COE charge that comes with buying a car (it's currently $30,009, but it updates monthly) then get yourself a fam-friendly set of wheels. Car leasing is also an option, and, if all else fails, there's always the bike sharing schemes to fall back on.
What else do I need to know?
Stick with HoneyKids Asia and chances are, if you've got a burning question about something to do with life and/or kids in Singapore, then we probably already have the answer. Bookmark our useful articles including:
After all that family fun in Singapore, you'll need a holiday…
Once you've unpacked and all settled living in Singapore, we think you'll probably need a holiday. Whether it's a family-friendly beach affair, a fun-packed glamping trip, or a stay on a farm, we've got vacay inspo in (buckets and) spades. Island escapes, city breaks, girls' weekends, romantic weekends: the list is endless. Head to our travel section for the full lowdown, and don't forget to send us a postcard.
Now all you need is our ideas to take a mum time moment, and you're all set!
Want all the info in one handy place? Check out our FREE e-book!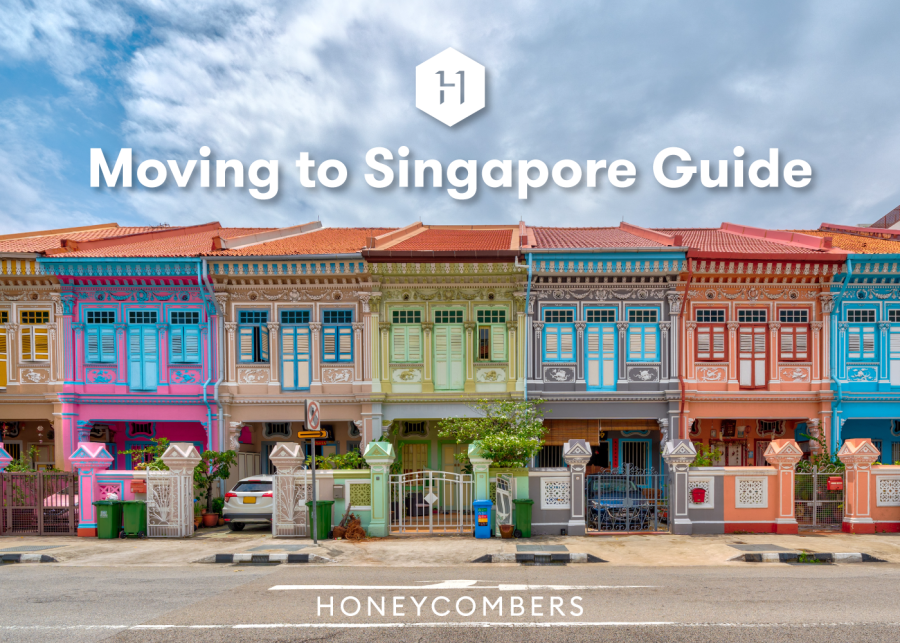 That's right – the search is over; look no further than this one-stop guide to all things moving to Singapore. From finding the right school for the kids to where to set up home (plus all the other lifemin that comes with moving overseas). We've made it easy-peasy and put everything you need to know in this FREE guide. You're welcome!
Welcome to Singapore!