Whether it's a princess-themed birthday or a wild day out rock-climbing, we've found all the coolest places for kids to party in Singapore!
Another year, another kids' birthday party in Singapore. Cue the annual parent-panic to find the coolest venue in town! Well, to ease some of the party-planning pressure, we've put together some cool and creative ideas on DIY (and plastic-free) party favours, as well as where to stock up on party supplies and entertainment hire. And now, we've found the coolest kids party venues in Singapore too…
Because let's face it, we've all been there. We've dropped the kiddos off at their bestie's birthday party, only to come face-to-face with a Pinterest-perfect, OTT celebration that could out-do the Beckham's. But fear not, mums and dads. To help you find the coolest kids party venue in Singapore (that doesn't require a year's worth of savings and planning), we've put together the ultimate list of children's birthday party venues in Singapore, including cool restaurants that host kids' parties too!
No matter your budget or your kids' preferred theme, these party venues for kids cover everything from rock climbing and trapeze swinging, to cooking, bouncing, and even just eating at their fave kid-friendly restaurants. And for the home-bodies out there, we've even included some at-home party options too. Let's get this party started!
Note: Do check ahead with the venue to double check any maximum or minimum party pax package options. Things are changing daily, but we're doing our best to keep up! And psst – some of these venues offer virtual parties too, and special Covid packages with utmost health and safety in mind!
THE COOLEST KIDS PARTY VENUES IN SINGAPORE
1. Climb Central
For an adrenalin-pumping party with a difference, scale to new heights up the rock climbing walls at Climb Central. It's a unique and ideal party venue for the slightly older party child. Our gung-ho little lady went to a six year-old birthday party here and was high as a kite. You can join in the fun too as parties with kids under 13 require two adult volunteers (or if you're afraid of heights just outsource to the professionals). Parents can watch on from the viewing platform in the air-conditioned mall, and head down to the party room after the fun is over for a slice of cake and a refreshing self-catered beverage.
Budget: $$$
Where: #B1-01 Kallang Wave Mall, 1 Stadium Place, Singapore 397628
Best for: Active kiddos that love climbing and clambering!
2. Buds by Shangri-La Singapore
If you've got a mix of party guests coming to celebrate your kid's big day, Buds by Shangri-La Singapore is the best place for everyone. Choose from six exciting party themes for kids aged four years and up, from Wild Wonder through to Under the Sea. Plump for a package and it'll take care of absolutely everything, from the cake and food to the invitations, plus fringe activities including live magic shows and face painting. You can even customise your perfect party and let your little one's birthday dreams come true! The best part? Each party package includes up to four hours of playtime at Buds, which means access to its massive indoor playground and themed activity spaces. Hold on to your party hats for everything from sensory play to role play, with supervision taken care of by the awesome staff. Now that's what we call a party!
Budget:$$$$
Where: 22 Orange Grove Road, Singapore 258350.
Best for: A medium-sized party that calls for a large dose of play, play and more play
3. Jellybean Party
A birthday party + fun-packed activities = super smiley kids! Jellybean Party are a crew of party experts who have already served up serious amounts of fun to over 120,000 happy 'lil ones (and counting). These guys certainly know their party stuff! You can put your feet up and let them handle all the heavy lifting. Decorations and entertainment, sorted. Magic shows, balloon sculpting, craft activities and mascot appearances – all the best bash faves. And the best news of all? Jellybean Party comes to you! So whether you're throwing your party poolside, in a park, at a museum or even in your living room (brave!), Jellybean Party will have your celebrations spiced up in a jiffy. This is the full shebang, folks. A start-to-finish total entertainment experience. All you need to do is figure out which package to plump for, and where you're going to host the party of the year!
Budget: $$$
Where: Anywhere you like! These guys come to you.
Best for: A large kid's party with all the traditional party props, at any venue in Singapore
4. BOUNCE
If your kids are forever bouncing off the walls with their crazy energy, then book their next birthday party at BOUNCE – Singapore's hopping trampoline park! With its 2,000 square metre space of pure fun, 100 interconnecting trampolines, a ninja warrior-style challenge course and a 5-metre platform jump (AKA 'the leap of faith'), there's plenty of room for a big birthday bash. You can choose from three different age-specific parties (2-5, 5-8 or 8-12 years), complete with games, your own party host, and customisable food options. Bonus points for this venue being adult-friendly too!
Budget: $$$
Where: Cathay Cineleisure #09-01, 8 Grange Road, Singapore 239695
Best for: Bouncy kids with bundles of energy!
5. Pit Parties at Centaurs Kids
For some good, clean muddy fun, go for a rip-roaring outdoor party at Centaurs Kids. For the first hour your kiddo crew will have a ball playing a game of their choice – like capture the flag, soccer or touch rugby. And then the REAL fun begins, when they dive into The Pit and navigate Singapore's most fun, challenging dirty obstacle course. It's suitable for little adventurers aged 6 – 13, with shower facilities on-site to clean up too. Afterwards, the kids can tuck into plenty of cake and food (bring your own for an outdoor picnic!) before heading home mud-free.
Budget: $$$
Where: 200 Turf Club Road, Singapore 287994 (off Dunearn Road and Eng Neo Avenue)
Best for: Bigger groups of adventurous and outdoorsy kids that love getting muddy!
6. Sew into It
Softie lovers, budding fashionistas and kids who just want to try something new can sign up to a sewing workshop with Sew Into It. Kids will get addicted to the joy of handmade crafts, watching as a blouse or soft toy comes to life – from the design to the final stitch. Throw a private sewing party either in the studio or from the comfort of your own home (for a minimum of four kids) and kit them out with handmade pencil cases, buckets, book covers – anything they can dream of! Sewing's the gift that just keeps on giving…
Budget: $$
Where: 333 Kreta Ayer Road #02-32, Singapore 080333
Best for: Crafty kids that want a more intimate birthday party
7. Rhythm In Me
For a rock star party as hip-shaking as the name suggests, your b'day bub will be stoked with an extravaganza at Rhythm in Me. These guys are masters of invention so can create a Studio 54-worthy disco party, a makeover party, superhero party, soccer party, Zumba party, diva party, or even a rockstar party. The only limit is your imagination. And we know from experience that parents will love bopping along too!
Budget: $$$
Where: Depot Heights Shopping Centre 108, Depot Road, #02-01, Singapore 100108
Best for: For movers and groovers
8. Gallop Stable
If your little ones are nuts about horses, they'll want to meet Gallop Stable's team of ponies and horses for rides and grooming sessions. You can book carriage rides, catering and even bunny feeding. Or how about some arts and crafts on the side? Want a My Little Pony-themed or unicorn-themed party? Gallop Stable will doll up its team for the occasion.
Budget: $$$
Where: 100 Turf Club Road, Singapore 287992 and 61 Pasir Ris Green, Carpark C, Singapore 518225
Best for: Horse lovers and animal fanatics
9. Forest Adventure
Kids aged seven years and above will love harnessing up and negotiating an obstacle course high among the treetops at epic Forest Adventure. Bear in mind (to avoid disappointed tears) that the various sections require kids to be 1.1m, 1.35m and 1.5m in height respectively. Once the kidlets are let loose on the course they'll traverse wobbly logs, rope swings, rickety bridges and a couple of leaps of faith. We personally tried out the Forest Adventure experience so we can vouch it is super-fun! What did we love best? Zip lining over Bedok Reservoir at the end of it all! Our tip: bring scooters to save little legs a long walk from the car park.
Budget: $$$
Where: Bedok Reservoir park, Bedok, Singapore 479244
Best for: Thrill-seeking kids that are a little older (and tall enough to enjoy the fun!)
10. Kaboodle
Ever since our mini reporters giggled and wiggled their way around Kaboodle, they've been begging to go back. With its 'Imagination Playground' filled with oversized blue foam blocks, noodles and balls, it's the perfect kids party venue. The little ones can build a castle, a car or construct the fort of their dreams. And they're positively encouraged to smash it all down too! And to make party-planning easy, there are fab packages to choose from. You can choose your preferred colours, balloons, cutlery and food, with plenty of add-ons to ramp up the fun. The Premium Party Package covers it all, including a grazing table for parents!
Budget: $$$$
Where: 88 East Coast Road, Katong Square #02-05, Singapore 423371
Best for: A large group of hands-ons kids ready to rumble and tumble!
11. Petites Soirées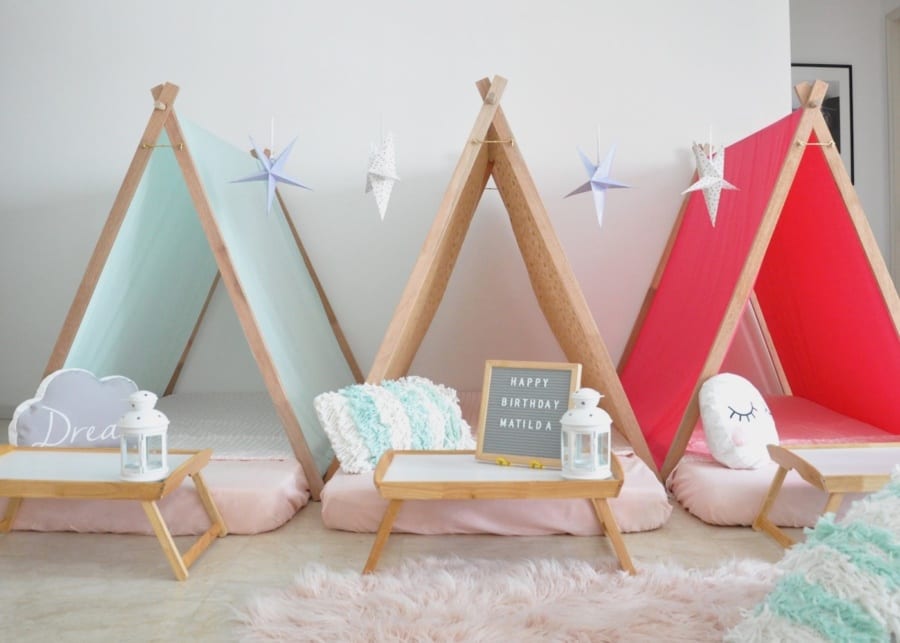 Pyjamas? Check. Yummy snacks? Check. Super cool teepees and sleeping bags? Triple check! We love a good slumber party and Petites Soirées brings the excitement and fun of sleepovers to the party child's house. All you need to do is choose the theme and they'll take care of the set-up, styling and even the packing up at the end of the event.
Budget: $$
Where: Your house!
Best for: Kiddos that love a pyjama party
12. Mint Museum of Toys (currently closed for upgrade work)
If there's one thing every child wants to be surrounded by, it's toys, toys and more toys. And that's exactly what a birthday at Mint Museum of Toys would look like­: your little ones in the midst of 8,000 toys! More than just a traditional party venue with cake and candles, the museum will delight your kids and their friends with an unforgettable experience. Party-goers will be brought on an imaginative journey through Mint's vast toy collection, rediscovering their favourite characters in never-seen-before styles. After the tour, kids will be treated to a fun Make+Play session to build their own personalised keepsake using basic techniques like sewing and paper crafting. Of course, what's a party without costumes and fab photos? You can also rent some superhero costumes for a golden photo album to commemorate the occasion!
Budget: $$$$
Where: 26 Seah Street, Singapore 188382
Best for: Big parties for toy-obsessed, creative kiddos!
13. Bricks4kidz
Hands down the best party for Lego fiends is a 2-hour celebration at Bricks4kidz. And there's no such thing as a humdrum affair here – with every party created especially to the birthday kid's specifications. It's a case of fun and edutainment in one package, which also happens to include goodie bags, birthday e-invites, decorations and exclusive venue use.
Budget: $$$
Where: 293 Lorong 6 Toa Payoh, #01-03 Singapore, 319387
Best for: Lego-fiends who dream of a Lego-themed birthday bash!
14. Newton Show
For a fast-paced party that is big on magic and miraculous experiments, rely on the quirky scientists at the Newton Show. Party goers will have a chance to get involved with weird and wonderful age-appropriate discoveries including experiments with liquid nitrogen, smoke-guns, levitation of objects, dancing colourful worms, dry ice, foam volcanoes and artificial snow. You can also order a scientific cake and make your own fairy floss. Ignite a passion for science while having loads of fun! And to top it off, there are carious parties and themes to choose from, for kids aged three to 14 years. Mind-blowing stuff!
Budget: $$$
Where: West: 887a Bukit Timah Road; East: 229 Joo Chiat Road; Central: 9 Mohamed Sultan Road
Best for: Science lovers and curious, hands-on kiddos!
15. Power Kids Gym
Birthday Parties at Power Kids Gym (formerly JWT Kids Gym) are high-octane affairs with the kids mesmerised into action by the fab party professionals. Babies right through to kids aged 10 years adore the action-packed games, swinging, music, dancing, sports and zip lines. It's all enjoyed in a blissfully air-conditioned space (no sweaty Bettys) and the Power Kids Gym crew set up and pack up. Parents join in at the end for a fun game of dodge ball too! Walk in and walk out smiles all 'round.
Budget: $$$
Where: 81 Clemenceau Avenue, #02-12 UE Square, Singapore 239917
Best for: Little acrobats that love a colourful, rolly-polly party!
16. Streaks n Strokes
Share the arty love at Streaks n Strokes with an art jamming session that kids and adults can take part in! Kids will give their cognitive thinking, creativity and motor skills a great big boost while producing their very own artwork on a t-shirt, tote bag or canvas, which they can then take home. Purchase one of the party packages for the full-on birthday bash experience, with cake, snacks, fringe activities, goodie bags and hamper for the birthday kid as well as a magician! It's a party favour, souvenir and fun bonding session all in one for the birthday kiddo, guests and parents alike!
Budget: $$$
Where: 29 Tai Seng Ave, #06-09, Singapore 534119
Best for: Little painters and parents too!
17. Fantasy Parties
Bringing big smiles to children's faces is what Fantasy Parties does best – one of the most sought-after party planners in Singapore. Make your child's wildest dreams come true by throwing them a birthday party with all the bells and whistles. Think super fun games, goodie bags and party packages, plus so much more. Whether your kids love bubble play, fun games or dress up parties – you name it, Fantasy Parties can do it. Take a peek at their awesome decor options, like the deluxe dessert table setup, cool backdrops and disco equipment!
Budget: $$$
Where: 4D Green Lane, Singapore 438903 (by appointment only)
Best for: Birthday parties with fantastical, bells-and-whistles themes!
RESTAURANTS IN SINGAPORE THAT HOST KIDS BIRTHDAY PARTIES
Love food and love the idea of treating your special little partygoer to a birthday bash at a cool cafe or restaurant? (We also love the idea of not having to deal with the post-party cleanup!) What you need is our hit-list of child-friendly restaurants in Singapore that can host parties for kids that are not only delicious, but super fun too. We're talking fun places that are quirky and think outside the box when it comes to entertaining a junior entourage. Read on, party people…
18. Pizza Express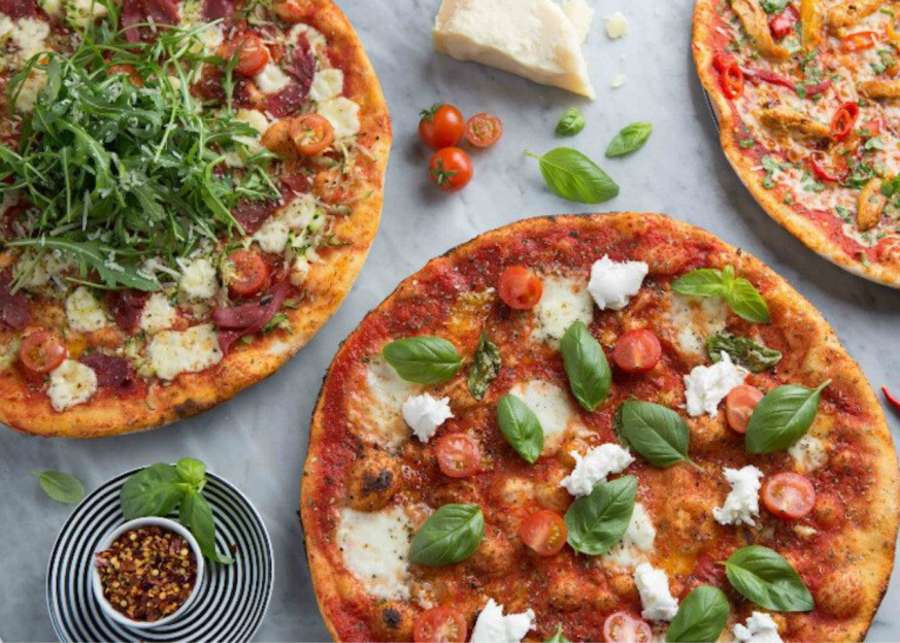 Yes, UK household name Pizza Express is on Singapore shores – dough balls and all. It offers some pretty fun hands-on kid's cooking parties. Pizza-making parties run for two hours – during which time your little chefs will don a hat and apron and get messy with flour, dough and delicious ingredients (our pick is pepperoni with olives). A slice of cake and glass of juice will round out proceedings nicely.
Where: Various locations around Singapore
19. Kith
If you're after a super-chilled kids party venue with bang-on mod-European nosh, then look no further than Kith Cafe. There's good reason it's hard to snag a seat with the family on a Sunday morning! The outdoor tables all offer a great spot for kids to treat as a base – while scooting, playing on the rocking horses and generally running off excess energy. You can tailor the party to suit your special birthday poppet, with the Kith peeps willing and able to organise balloons, magic shows, toys and goodies (or anything else their little heart desires – just ask!). Rough cost is a fab $20++ per head.
Where: Robertson Quay, Millenia Walk and Sentosa Cove
20. Sandbank
This family-friendly posh cafe offers a wide range of party-pleasing amenities for kiddos, from handmade pizzas to a 15m plunge pool that's perfect for a private party (part of the pool is dedicated specifically for children!). Throw the kiddos a lovely surprise party at Sandbank and kiddos of all ages can splash and feast away. And with a fully air-conditioned room, in-house audio system and a wide range of buffets and drinks, what's not to love?
Where: 920 East Coast Parkwary, #01-28/32, Parkland Green, Singapore 449875
21. Cravings (Currently closed)
Another café with rustic charm offering fabulous Birthday parties with a difference is cooking school Cravings. Aiming to provide a one-stop service, the lovely people at Cravings provide catering (from a super cheap $11 per person), event entertainment like face painting and magic show, and a dessert table that has to be seen to be believed. Rainbow paddle pop cheesecake anyone? (20 – 30 pax from $448). You won't even need to fret about making party bags, they'll sort this for you for just $6.90 per child. It's perfect for the time-poor parent wanting a walk-in and walk-out experience that won't break the bank. Easy!
Where: 6 Tebing Lane, #01-05, Singapore, 828835.
22. Cafe Melba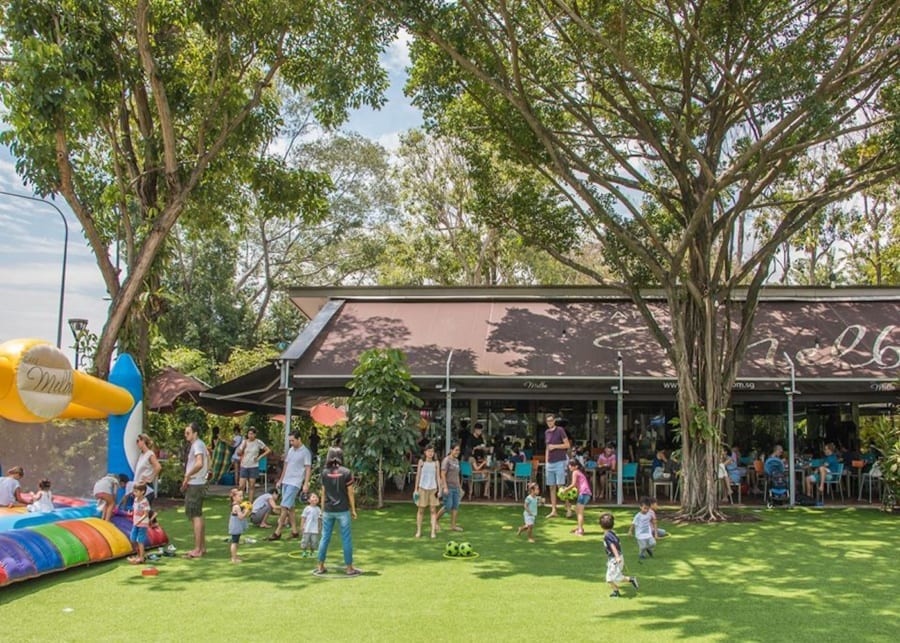 The crew at kid-friendly Cafe Melba really know how to throw an epic kids party. We should know, we've hosted one of our legendary Chinese New Year Parties there. The space is perfect for little people with a wide-open verandah and huge lawn just perfect for that game of pass the parcel. The food is healthy and moreish, and perfect for a kids party where parents want to drop in for a bite to eat and a refreshing tipple. Once the air hits the on-site bouncy castle you'll be free to sit back and enjoy the relaxing vibe.
Where: 90 Goodman Road, Goodman Arts Centre, Block N #01-56, Singapore 439053; and Mediapolis @ One-North, 1 Stars Avenue, #03-01 Singapore, 138507.
23. Little House of Dreams

Nestled within the flagship store of America's best ice-cream joint, Ben & Jerry's, you'll find a fabulous bakery, café and party venue Little House of Dreams. You'll know you're in the right place when you pull up in front of the brightly painted vintage VW van. We love the vintage whimsical styling of this place (indoor green grass and powder blue mini Eames rocking chairs – cute!). Check out the seemingly endless variations of part-ay packages available (and you can order from Ben & Jerry's menu of cleverly named ice-creams). Unbelievable 3D party cakes too! This is THE kids party restaurant for the sweet-toothed partygoer.
Where: Block 10, Dempsey Hill, #01-21, Singapore 247700.
Now, let's party!