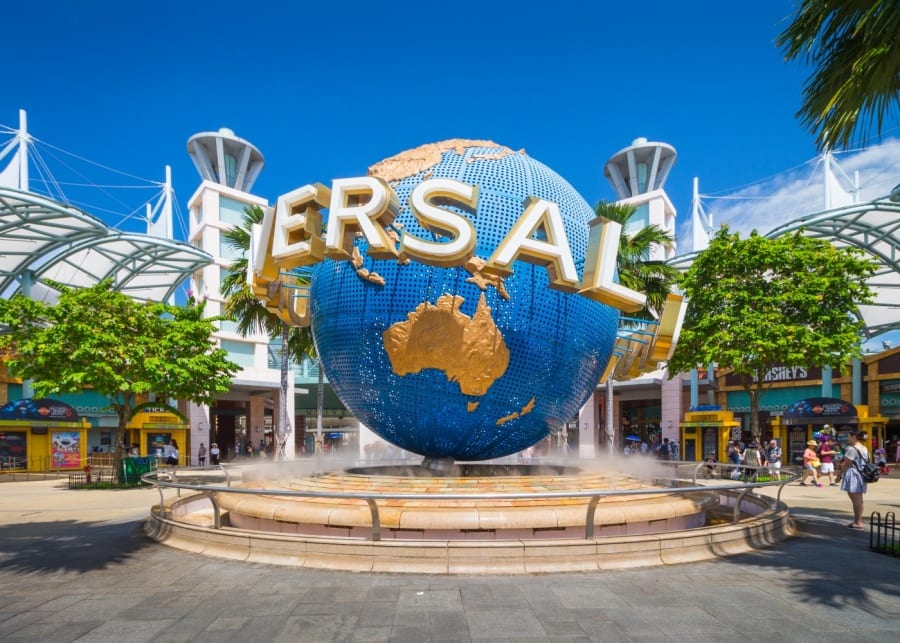 Heading to Universal Studios Singapore for a fun day out with the kids? We've got the all the insider tips on how to have a blast!
If there is one attraction for kids in Singapore that ticks all the boxes for a thrills-and-spills family adventure, then Universal Studios Singapore comes up trumps. If you're looking for things to do with kids, you can never go wrong with an awesome day out at Sentosa, and the fun factor is instantly ramped up when Universal Studios Singapore features on the itinerary.
Whether you have a roller coaster-loving teenager, a toddler who's into all things Shrek, or a kiddo who loves the all-singing, all-dancing shows, this is one destination with something for the whole gang. Here's our guide to this Singapore icon.
THE ULTIMATE GUIDE TO UNIVERSAL STUDIOS SINGAPORE FOR FAMILIES
The essentials
Address: 8 Sentosa Gateway, Singapore 098269
Opening hours: 12pm to 7pm (Thursday – Sunday)
Ticket prices
One day tickets (non resident): Adult (13-59 years): $81. Child (4-12 years): $61.
Singapore Resident one day ticket: Adult: $69. Child: $59.
All the best rides at Universal Studios Singapore
1. Sesame Street Spaghetti Space Chase
Little ones (and big ones!) love, love, love this ride. Hold onto your hats while you blast on a space mission with Elmo and Super Grover to foil a dastardly plan by Macaroni the Merciless to steal all of Earth's spaghetti!
2. Battlestar Galactica: HUMAN vs CYCLON
If you have a roller coaster fan in the family, then this is THE ride you should be getting in line for. Not for the fainthearted (nor for those under 125cm in height), you will be propelled around loops, drops and heights at crazy speeds in an intergalactic battle of duelling roller coasters. Make sure you try the red AND blue rides: our legs are still wobbling from the blue one!
3. Accelerator
Prepare to be twirled and whirled into oblivion on this speedy ride suitable for the whole family.
4. Transformers The Ride: The Ultimate 3D Battle
A ride and an experience all in one fun hit, Transformers are brought to life on this fast-paced ride where you'll join Optimus Prime as a freedom fighter in the quest to defeat the forces of evil. Kiddos need to be at least 102cm to join the adventure.
5. Revenge of the Mummy
A roller coaster in the dark, you say? Evil mummies, scarab beetles and high speed scares? Enter the world of The Mummy if you dare (and as long as you are over 122cm tall).
6. Treasure Hunters
Take it down a notch or two after The Mummy and embark on a more sedate taste of ancient Egypt where you and the kiddos can drive a jeep through an abandoned excavation site. Expect more of those scarab beetles, but at a way more leisurely pace. This one is suitable for the whole gang.
7. Canopy Flyer
Soar around this mini-coaster and get a bird's-eye view of Jurassic Park as you swing above the trees on the Canopy Flyer. Dino fans must be 92cm or taller to ride.
8. Dino-Soarin'
For the littles who are too small for the Canopy Flyer, this fun merry-go-round will still give them the chance to fly like a Pteranodon, just without the high speeds.
9. Jurassic Park Rapids Adventure
What starts out as a seemingly gentle river ride through dino-territory rapidly turns into a scary but fun adventure the whole family will love. Expect to get wet! Pssst: If you have a child measuring under 107cm, step away from the ride. They won't be allowed to board and you'll have a sobbing mess on your hands for the rest of the day. The kids get upset too.
10. Puss in Boots' Giant Journey
This one is higher and faster than it looks, so make sure your kids are prepared for a roller coaster journey through the swashbuckling tale of Puss, Kitty and some giant golden eggs. Kids need to be 100cm and above to ride this one.
11. Magic Potion Spin
Kids love this small ferris wheel found in Fairy Godmother's Potion Shop. It's suitable for all ages and there are no height restrictions. Plus, it is indoors so it's the perfect excuse to get out of the sun for a bit (and have a sit-down!) (currently unavailable).
12. Enchanted Airways
If you have little daredevils who are not quite ready to graduate to the bigger rollercoasters at the park, this junior coaster ticks the box. It's pretty swift around the track and the drops are fairly big, so definitely not one for the less brave in the family (husband: I am talking about you). Height restriction for this one is 92cm.
13. King Julien's Beach Party-Go-Round
Small folk love this Madagascar-themed merry-go-round. But be warned, the kiddos won't let you off until you have ridden every. single. character.
14. Madagascar: A Crate Adventure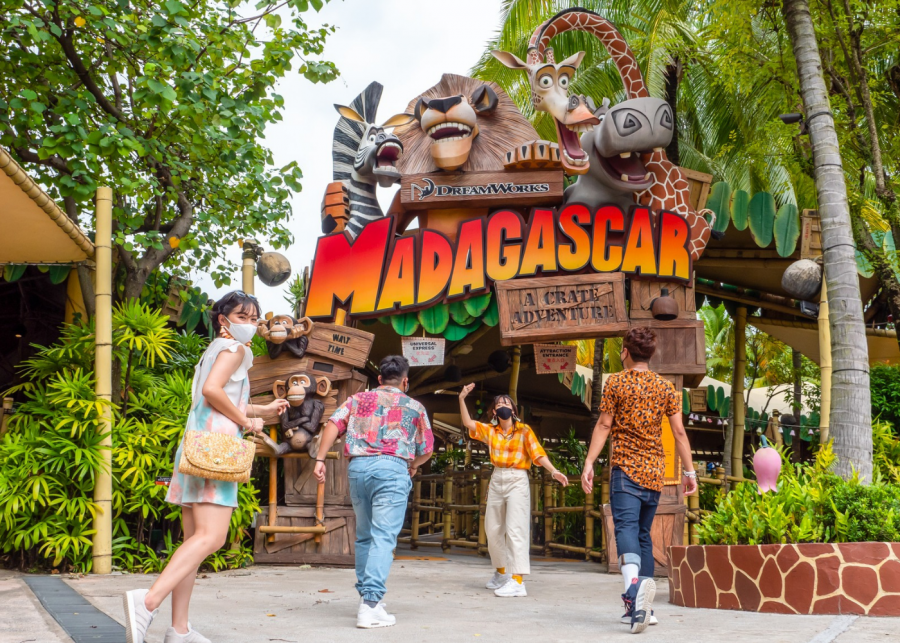 Make a splash when you board the cool boats around this Madagascar-themed river ride. You may get a little wet, but you'll also have a lot of fun! Hurry for one last ride before it shuts down soon to make way for the minions!
The best experiences at Universal Studios Singapore
Street entertainment and select shows will not be available until further notice, but here's a sample of what you can expect when thy 
1. Shrek 4D Adventure
Join Shrek, Princess Fiona, Donkey and the gang on a 4D caper that the whole family will love. Sit in a moving seat as you are bounced along an adventure involving ghosts, onions, dragons and, of course, ogres. (Temporarily unavailable)
2. Lights, Camera, Action! Hosted by Steven Spielberg
You'll literally feel like you are being blown away when you experience a sound stage transformed into a major hurricane in New York City, right before your eyes. This one has no height restrictions, but it may be a little scary for smaller tots. (Temporarily unavailable)
Shows and performances at Universal Studios Singapore
3. Sesame Street Goes Bollywood
The Sesame Street gang turn into Bollywood stars! Watch Bert, Ernie, and Elmo perform exhilarating dance routines to heart-thumping Bollywood tunes in colourful traditional outfits.
4. Lake Hollywood Spectacular
If your kiddos are all about a cracking fireworks show, then head over to Universal Studios on Saturdays at 10pm. You'll ooh and ahh when the sky lights up to a musical score. (Temporarily unavailable)
5. Elmo's TV Time
It's Sesame Street's Got Talent with more comedy and action. Watch as your favourite characters join Jim Magination to star in their very own reality talent show. (Temporarily unavailable)
6. WaterWorld
This is a sure hit for the whole family where you can watch death-defying stunts, awesome explosions and lots and lots of water. Bring your rain mac if you are brave enough to sit near the front! The show is located next to the Lost World Zone. (Temporarily unavailable)
7. Donkey Live
Sing and laugh (a lot – it's really hysterical) with Shrek's sidekick, Donkey, as he hosts an interactive live show in the Far Far Away Zone. (Temporarily unavailable)
8. Rhythm Truck
Move those feet to the beat in this live music performance which will be popping up after dark to bring life to the streets of New York. (Temporarily unavailable)
Meet & greets at Universal Studios Singapore
1. Madagascar
Strike a pose with all your fave furry friends from DreamWorks Animation Madagascar!
2. Puss in Boots and Kitty Softpaws
Kiddos will want in on snapping a photo with Puss in Boots and Kitty Softpaws – get cameras at the ready.
3. Look out! Velociraptors have escaped in Jurassic Park!
Or opt for a more harrowing encounter when the park's Velociraptors break loose!
4. Transformers: Voices of Cybertron
Catch up with Optimus Prime and ask about joining his crew, and if you're really brave then you might even risk a wave at Megatron!
5. Sesame Street
Our pals over at Sesame Street are making an appearance. Catch up with Elmo, Oscar the Grouch, and of course legendary Big Bird!
6. Gru and the Minions
A sure-fire hit for the littlies, make a beeline for Gru and the loveable Minions from Illumination's Despicable Me.
7. Meet Egyptian Royalty
Head to Ancient Egypt to hang out with Egyptian royalty, happening at various times throughout the day. (Temporarily unavailable)
8. Hatched! Featuring Dr. Rodney
Don't miss this once-in-a-lifetime opportunity to watch the hatching of a baby Velociraptor – up-close! (Temporarily unavailable)
9. Shrek and his gang
You'll get your Universal Studios Singapore happily ever after when you bag a family shot hanging out with Shrek, Puss, Donkey and Princess Fiona in the Far Far Away Zone. (Temporarily unavailable)
10. Po and Master Tigress
Get selfies galore with Po and Master Tigress from DreamWorks Animation's Kung Fu Panda!
Where to shop at Universal Studios Singapore
If your kids have been saving up their pocket money and are itching for a Shrek plush, a Minion water bottle or a cube-shaped Elmo stuffie, then you're absolutely in luck. Each zone has its own themed gift shop (along with several others) with every bit of Universal Studios Singapore memorabilia you could possibly think of.
1. Hello Kitty Studio
If you're a fan of the mouthless Japanese cat, then this store is not to be missed! Shop everything Hello Kitty, from stationery to apparel, and even merchandise exclusive to Universal Studios Singapore.
2. Minion Mart
Go absolutely bananas with the range of Despicable Me merchandise for your picking. Dress your tot up in a Minion onesie – totes adorbs!
3. Transformers Supply Vault
Bring home a robot in disguise from this retail outlet. Toys, collectibles, and apparel are stocked here.
4. The Dino-Store
Go way, way, way back to the prehistoric era and grab a souvenir from Jurassic Park.
5. Fairy Godmother's Potion Shop
Fun and exciting merchandise, games, and toys from the world of Shrek.
Where to eat at Universal Studios Singapore
With a huge range of food and drink outlets dotted around the park, ranging from family-friendly pizza joints to delish burger shacks, a Chinese bistro to good ol' Starbucks, there is a feast for all ages and budgets. There are also Halal and vegetarian options at most of the outlets. If you're staying past sundown, there are pop-up food stalls to satisfy all your cravings.
Options currently open include:
Restaurants & Cafes: Mel's Drive-In, Loui's NY Pizza Parlor, Fossil Fuels, Goldilocks, KT's Grill, Gloria's Snack Shack and Stardots will be open
Carts: Pops! Popcorn Delight, Tropical Treats, Planet Yen, Frozen Fuel, Pharaoh's Dessert Oasis and Cairo Market will be open
Our top tips for Universal Studios Singapore
We're a seasoned bunch of Universal Studios Singapore fans here at HoneyKids. Amongst us, we have a brood ranging from itsy bitsy newborns to grumpy teens, and all ages in between. Take note of these tips 'n' tricks for making things easier on your day out…
1. SPF please!
Of course, no one would wish for a cloudy day that would rain down on all the fun activities planned, so when you're out and about with your kids in the sun, make sure the family is well protected with sunscreen generously used. Also, pack them to reapply it whenever necessary as everyone is bound to sweat it out.
2. Be mindful of height restrictions
There's nothing worse than promising the kiddos a fantastic day out zooming around on rollercoasters or down the rapids, only to arrive and discover they're just one measly inch shy of having the best time of their lives. No ice cream or stuffed toy will ease the ultimate betrayal in the kids' eyes, even if they do get to ride the merry-go-round. Check the height restrictions before you head out.
3. Hire a stroller for the bub
Pop bubba in a baby carrier for an easy way to navigate the crowds, then hire a stroller on-site when the little one needs a nap. Rentals are available as you walk through the entrance (eyes right, people) and prices start at $10. Double buggies are also available if you have two sets of weary legs.
4. Stow your stuff in the lockers
Towing kids, bags, strollers, and the kitchen sink around an amusement park is not our idea of a fun day out. Look out for locker rooms dotted around the park in the Hollywood, Sci-Fi, Ancient Egypt, and Lost World zones. These are roomy enough for bags, but if you want a bigger affair to store that kitchen sink, then look out for the bigger lockers near the entrance of Universal Studios Singapore. Prices start from $4 for one hour at the lockers in Lost World and go up to $20 a day.
5. Jump the queues with express passes
Queuing in the heat is not fun. Queuing in the heat with whiny kids is akin to poking sharp sticks in one's eyes. Spending the extra cash on express passes is well worth it if you're heading to the park during school holidays or at the weekend. Express tickets can be purchased as an add-on with your ticket purchase. It's free for little ones under four years anyway, so no need to pay extra for them.
6. Timing is everything
Weekends, school holidays, and public holidays are inevitably chockablock all year round. If you can, go during the week (Thursday or Friday). If you have no choice but to go at peak times, then make sure you get there early before the queues build up. Psst, you can also get into the park early when doors open at 12pm. This is a great chance to grab lunch and explore, then get in line when rides start at 2pm!
7. Nursing room and baby care centre
No need to feed your baby on the Madagascar merry-go-round. Universal Studios Singapore has a dedicated nursing area and baby centre near the Annual Pass Lobby next to the entrance.
8. Bring spare clothes
Some of the rides and shows at Universal Studios Singapore involve water and you will get soggy. There's also an area outside the Lost World where water fountains are absolutely irresistible to kiddos needing to cool off.
Have fun, folks! And don't forget to tag us in your Universal Studios Singapore photos at @honeykidsasia!