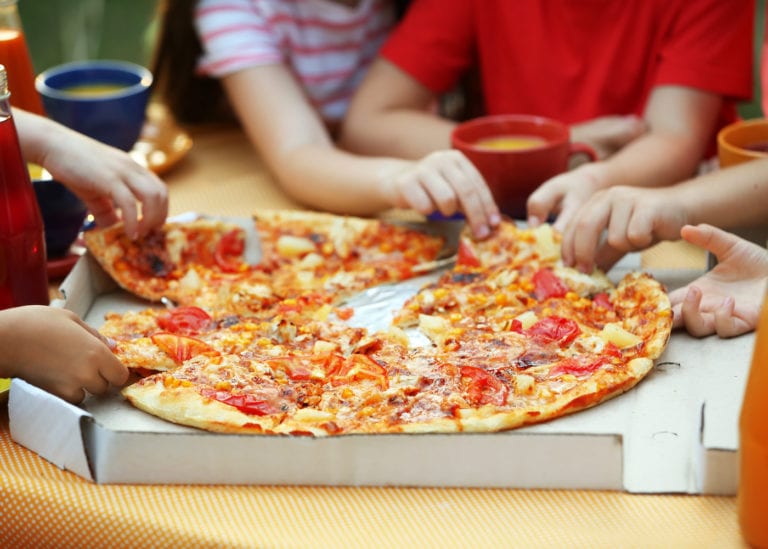 Grab a slice of lunch or dinner at one of these dough-tally awesome pizza joints...
When it comes to feeding our kids, we'd say pizza is one of the absolute faves. Sure, at home we regularly try meat-free options the whole fam loves and even finger food for all ages. But when it comes to eating at our fave family-friendly restaurants, they'd happily eat slice after slice of – you guessed it – pizza, baby! However, not all pizzas are created equal. You've got to have moreish and authentic crusts, paired with lip-smacking toppings that we can also steal a slice of. In agreement? Then read on for our list of the best pizza restaurants in Singapore we go dough-tally wild for…
Give a pizza of your heart at these restaurants in Singapore
1. Proper Slice BYGB
Bring the fam to this unmissable pizza hideout at Amoy Street. This joint pays homage to New York City's neighbourhood pizzerias by creating the "proper slice" to be enjoyed by one and all. And, we daresay, this place has perfected that slice! Every pizza comes with a paper-thin crust, addictive toppings, and yummy sauce. Plus, each pizza pie is divvied up into six slices – more pizza for each person! The menu rotates constantly, so you won't know what pizza will be available each time you drop by. Get a glass of Coke to go along with your pizza slice, and experience the authentic New York way of enjoying pizza.
Proper Slice BYGB, 110 Amoy Street, #01-02, Singapore 069930
2. Da Paolo Pizza Bar
We're big fans of the Da Paolo brand, and we believe this place dishes up one of the yummiest pizzas in the Little Red Dot. Each pizza pie is stone-baked, resulting in a final product that's charred in all the right places and crispy with each bite. Ask the staff what their monthly special is, if you're hankering to try something new. Kids get to eat for free on Mondays, plus there's a one-for-one offer on Tuesdays. What's not to love about this place!
Da Paolo Pizza Bar, 44 Jalan Merah Saga, #01-46, Singapore 278116
3. Priority Pizza
If you've been searching for a pizza that'll leave a good impression on you, search no more: Priority Pizza is the one. Each whimsically named pizza comes in flavours that pack a punch. Japanese curry chicken, spiced chicken kebab, chilli fries… who would've thought these flavours would be good on a pizza? Order a side of popcorn chicken or jumbo meatballs to go with your 12 inches and dinner for the kids is settled.
Priority Pizza, online only
4. The Pizzerian
One look at The Pizzerian's menu and you'll probably need a good five minutes to decide which pizza to get. It's definitely a case of "too many of a good thing" as this eatery! The ones that caught our eyes (and filled our stomachs) are the Cheese Burger Pizza, the Midnight Express, and the Ranch Chicken. There are vegetarian options too, if you're on a plant-based diet or doing meat-free Mondays. The Pizzerian is halal-certified.
The Pizzerian, Our Tampines Hub, 1 Tampines Walk, #B1-42, Singapore 528523
5. Wild Child Pizzette
Don't let its pizza sizes fool you – you'll savour each bite the moment you pop one piece in your mouth. Each pizzette is 10 inches of goodness that's brimming with interesting creations. Who would've thought that kale could – and should – go on a pizza? (Please don't equate this to the "pineapples on pizza – yes or no" can of worms…) There's also the crispy fried spin on the margherita. Try that out and see if you like it! Guess it's true what they say: good things do come in small sizes…
Wild Child Pizzette, 50 Circular Road, Singapore 049405
6. Pezzo
Technically not a restaurant, but you can't have a pizza roundup and not include this homegrown brand. Each slice is affordably priced, and you can mix and match to get six slices of varying flavours. The menu here is standard, though certain outlets carry artisanal choices like four cheese and honey, and spiced chicken avocado with sriracha. Fun fact: Pezzo also sells durian pizza during the season. That one, you're probably better off not trying!
Pezzo, various locations across Singapore
7. Yeast Side
So, where is the best side of Singapore? It's definitely this restaurant at King Albert's Park. The pizzas here are handmade using sourdough, i.e. you'll get a chewy bite when you sink your teeth in them. If your kids are at that stage where they're into all things Korean, then they'll definitely enjoy the Kpop chicken. A fan of mentaiko? Don't pass up the chance to try the aburi scallop mentaiko pizza.
Yeast Side, 9 King Albert Park, #01-09, Singapore 598832
8. Alt. Pizza
Okay, so this one is a bit of a cheat as Alt. Pizza is more set up for home delivery (although we did eat in at the Holland Village branch). However, trust us when we say this is still one of the best pizza restaurants in Singapore. Hands down we wished we lived a bit closer! Perfect thin-crust pizzas and a wide range of scrummy toppings, this is a fam family-friendly pick if you can't face heading out.
Alt. Pizza, branches at Holland Village, Katong, Balestier and Robertson Quayside
9. Plank Sourdough Pizza
Hands up if you're a fan of the scrummy fresh bread from Baker & Cook, one of our fave bakeries. If so, you'll go gaga over its sister restaurant: Plank Sourdough Pizza. With soon-to-be six locations around Singapore, you're never too far from some of the best pizza around. Why, you ask? Well, the wood ovens, fresh ingredients and fab atmosphere make for a cracking meal out with your crew. In terms of our favourite location, the Dempsey branch at Core Collective tops the list. On sunny days, the outdoor playground is perfect for kids to blow off some steam while they wait for their food to arrive.
Plank Sourdough Pizza, locations include Dempsey, Namly Estate, and Serangoon Gardens
10. Trapizza
Enjoying a day on Sentosa? Take in the beach with a side of pizza action at Trapizza on Siloso Beach. Parents will love sipping on a cold one, soaking up the sun and eating all the kids' crusts. As for the little ones, they'll be making a beeline straight for the water play area… although we're guessing that may not be an option if it's closed off for the day. However, the cute pig-shaped pizza should make up for it. Perfecto!
Trapizza, Shangri-La Rasa Sentosa Resort and Spa, 10 Siloso Walk, Singapore 099538
11. Peperoni Pizzeria
Peperoni Pizzeria has a rep with the kids as one of the best pizza restaurants around. And for good reason – its bistros are designed with small humans in mind and it consistently plates up tasty pizza. We love the fact it does XXL pizzas for nights we can't face cooking or getting out our PJs. Let's not forget the kids' set meal: for $14, the littlies get a main, drink and gelato. With outlets islandwide, you're never too far away from a slice of the action.
Peperoni Pizzeria, outlets include Suntec City, Frankel Avenue, and Upper Thomson
12. PizzaMania
If you'd rather have a pizza night in the comforts of your own home, order your slices from this halal-certified Singaporean pizzeria. There are 15 different pizzas to choose from, ranging from classic Italian to Asian flavours, and even meatless options. Are the kids curious about trying spicy food? Order the 5555, inspired by Thailand's tom yum dish. Or, go local with the chilli crab pizza. Perfect for every occasion.
PizzaMania, online only
13. PizzaExpress
British export PizzaExpress is one of the best pizza restaurants around – hello, dough balls! We're super grateful for the colouring pencils and activity sheets to keep those little hands out of mischief, too. Change of plans but still want your fix? Get islandwide delivery courtesy of Oddle. All together now: yessss! With locations across Singapore, you're bound to be within reach of great pizza near you. Top tip: we've had the tastiest pizzas from this chain at the Scotts Square branch.
PizzaExpress, located at Duo Galleria, Holland Village, Scotts Square, and Stars of Kovan
14. Cibo Italiano Singapore
Got older kids? Take all your rumbling tummies to Cibo Italiano Singapore on River Valley Road. It's more of an intimate space (while doable, it's not the best for rowdy toddlers) and most tables are outdoors, so expect to dine alfresco. It's authentic, delicious and we keep going back for more. Especially great for a date night, too!
Cibo Italiano Singapore, 428 River Valley Road, #01-01/02, Singapore 248327
15. Cafe Melba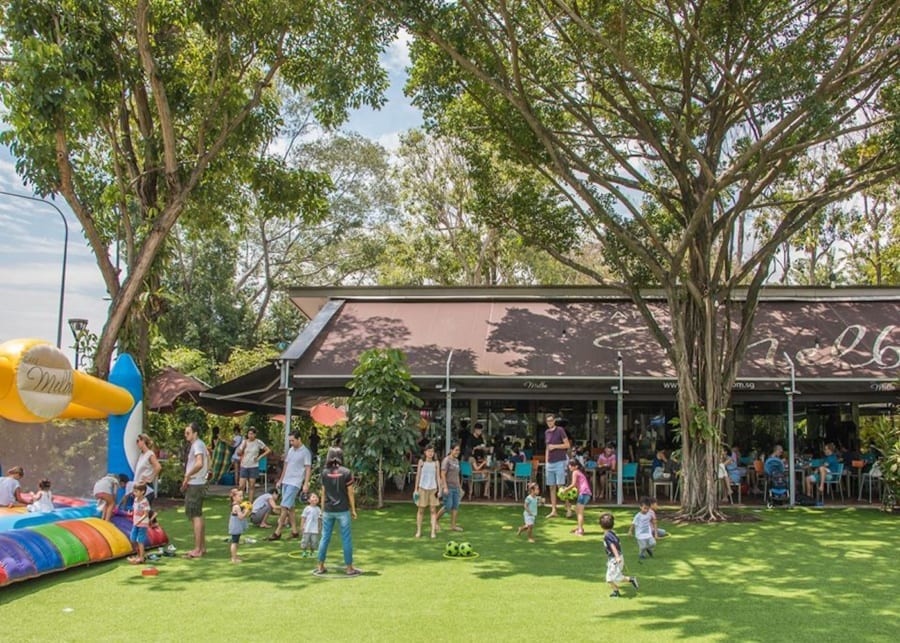 We've said it time and time again: we can't get enough of this place for the bouncy castle action! Not only that, but it's also worth a trip to the very family-friendly Cafe Melba for its cracking pizzas. All branches of Cafe Melba consistently serve up deliciousness for every single one of us, every single time. Oh and also: kids eat free on Mondays!
Cafe Melba, branches at Goodman Road, Stars Avenue, and Mount Sophia
16. Picotin Express
Here's another pizza restaurant that's also kid heaven. We have a soft spot for the lush Bukit Timah location, located within a green golf course. Each pizza comes in a size 12 inches, with a thin crust, tomato base, and mozzarella cheese. We totally loved Bashkir, which heavily features tandoori chicken. What about the younglings? Well, you can just feed them anything and let them roam free at the play area. You get to enjoy your pizza slice, and the kids get to burn off energy. Win-win!
Picotin Express, locations at Fairways, Katong, and Waterboat House

Time to get a slice of the action, folks!