Photography: Lon Christensen via Unsplash
In need of some new date night ideas? We've racked our brains to bring you an entire year's worth of weekly date nights to enjoy with your other half here in Singapore.
There's no doubt about it: having kids changes everything – and they especially change your marriage! So, while we love hanging out with our little ones as a family unit, we also love taking some time out sans sproglets. Yep, we're talking date nights in Singapore! Whether you have a trusty babysitter you can rely on or have a lovely helper at home, leaving the kids behind every so often pays dividends. And no more excuses about where to go – we've got you covered with a whole year's worth of date nights in Singapore, from restaurants and movies to tennis and sailing. That's 52 date ideas for 52 weeks. So what are you waiting for? Go forth and have fun!
52 ideas for romantic date nights in Singapore
1. Head to a date night restaurant
This old favourite! A romantic meal for two never er, dates, and with the wealth of amazing date night restaurants in Singapore, you're spoilt for choice. Whether it's taking in the views at the top of Marina Bay Sands, pretending you're in Spain at delish tapas joint, Esquina, or embracing Caribbean vibes at Lime House – there are so many options for the ultimate date night in SG. Best get booking!
2. Go to the cinema
Sometimes there's nothing we love more than snuggling with our other half in the cinema while watching the latest blockbuster! While a family movie night certainly has its appeal, you can't beat watching films on the big screen while tucking into a bucket of popcorn. Take layers: it gets chilly in there! Check out Popcorn for the latest films showing near you.
3. Go for a romantic stroll
Holding hands isn't just for loved-up teenagers! Enjoy a moonlit walk with your plus one and talk about anything and everything – even better, it's free! Whether it's along a beach, along the river or on a designated pathway, take some Q time with your loved one and enjoy the great outdoors. Our fave? We love Alexandra Arch (part of the Southern Ridges) for a night-time stroll: it's lit up like a Christmas tree until midnight.
4. Head to Garden Rhapsody at Gardens by the Bay
We've taken the kids to Gardens by the Bay during the day on plenty of occasions, but at night it's totally transformed, making it perfect for some one-on-one time with your partner. Be wowed by the awesomeness that are the Supertrees, and enjoy the music and lights in the daily Garden Rhapsody show.
5. Feel the sugar rush at a dessert bar
OK, so the idea is to gaze into each other's eyes as you share spoons with a sweet concoction. In reality, you might end up bickering over who ate the last marshmallow. One of our fave haunts is 2am Dessert Bar in Holland Village. With award-winning pastry chef Janice Wong at the helm, expect ever-evolving creations to satisfy the sweetest of teeth.
6. Try out your harmonies at karaoke
OK, we're calling it – we love a bit of karaoke action! It's a total LOLfest at the best of times, but we think belting out cheesy duets with our other half is a great way to spend an evening. Check out these top karaoke spots in Singapore. Ready, set, diva!
7. Go stargazing
With Singapore's bright city lights, it's not exactly ideal for a spot of stargazing. However, if you head to the Science Centre Observatory during one of its free and open-for-all sessions, you can enjoy an evening of celestial activity. You might even spot a shooting star to make a wish on…
8. Take a turn on the night luge
Head over to Sentosa and enjoy an evening of adrenaline-packed action on the Skyline Luge! Race each other down the illuminated tracks (don't forget to smile for the camera!) and try and set new PBs. It's a completely different experience from doing it during the day, so speed on down!
9. Go wakeboarding
Singapore Wake Park is the country's only cable-ski park built in a lagoon at East Coast Park. It ensures a safe environment for both beginners and experienced riders looking for an adrenaline fix – and we love it!
10. Sweat it out at a spin class
Couples who sweat together, stay together… or so we've been told! If you're keen to burn some calories and get those endorphins released while spending quality time with your other half, why not head to a spin class? Crucycle is one of our faves.
11. Get some axe appeal
Look sharp! How about lobbing some axes at a target 14 feet away? Sounds like one of the more unique date nights to us. Over at Axe Factor on Turf Club Road, you can unleash that fury over them leaving the toilet seat up AGAIN. Talk about an axe to grind.
12. Eat satay on Boon Tat Street
From 7pm each night, Boon Tat Street is closed to traffic and becomes a street-food lover's dream… a whole street dedicated to satay! Take a seat, place your order, grab some drinks from the beer-selling aunties and tuck into some yumminess. We dig stalls 7 and 8.
13. Enjoy a moonlit picnic
Not just a daytime activity! Grab a rug and head to one of the best picnic spots in Singapore to relax under the evening sky. Grab takeout picnic supplies from a nearby eaterie or BYO your homemade creations before enjoying some alfresco R&R.
14. Jump aboard a cable car
We love unleashing our inner tourists and jumping on a cable car at the best of times. But did you know you can enjoy epic views while also tucking into some fine dining? Yep, cable car sky dining is a thing! Current restrictions mean it's a bit of an early meal, but we reckon that's a small price to pay.
15. Hit a beach bar
While you're at Sentosa, why not make a proper evening of it and add some drinks to your date nights? Coastes is one of our fave hangouts for sand, snacks and top tipples.
16. Go art jamming
Hotfoot it down to an art jamming studio, like Splat Paint House on Upper Thomson Road, and let your true colours fly free! Try painting each other à la Jack and Rose, although maybe posing like 'one of his French girls' might be best saved for a more private setting!
17. Get his and her manis
It's not just us ladies who need our digits beautifying – our other halves love a spot of self-care, too! We love Walking on Sunshine in Orchard for its gorgeous garden setting and top services.
18. Head to a games arcade
Relive your youth and hit your nearest arcade! Pit your skills against each other by shooting hoops, playing claw machines and jumping on a racing game. Warning: your money disappears quicker than a toupee in a hurricane, so this might be best tacked on to a dinner or cinema trip.
19. Get your skates on at an ice rink
Lace up those ice skates and take to the rink – it's time to show off those skills and practise your double axles! Beat the heat and head on over to The Rink, Singapore's first and only Olympic-sized ice skating rink, where you and your partner can do your best Blades of Glory impressions.
20. Shoot some hoops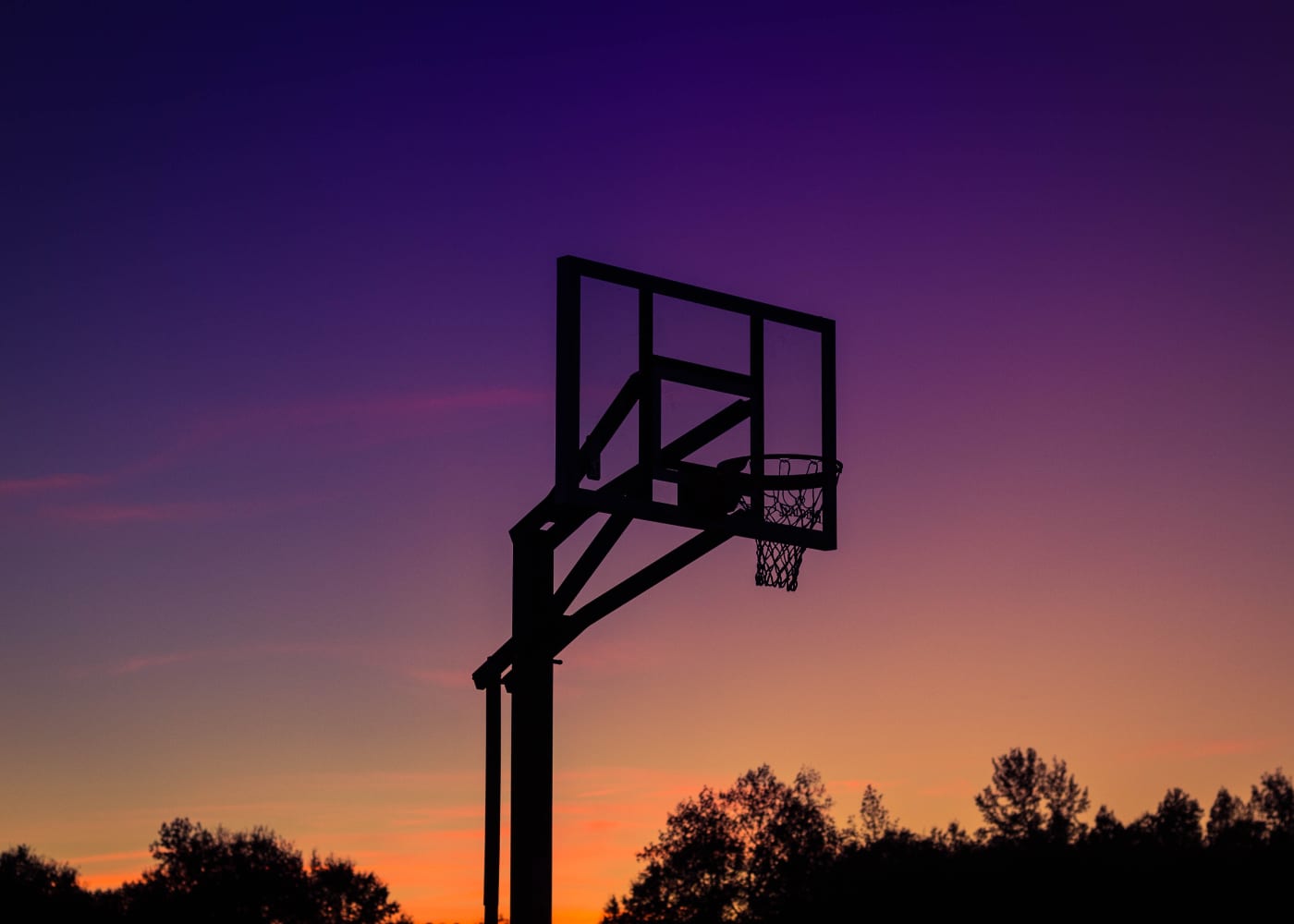 In the mood for something more energetic? Why not grab a basketball and shoot some hoops at your local park if it has a court? If you're more of a planner, you could even consider booking an indoor court for more of a guarantee. Feel free to rope in some other couples and play some three-a-side action.
21. Dine out at Chijmes
We know and love it for its key place in Crazy Rich Asians, so why not toast to it in person? Head to the historic Chijmes and enjoy a bite to eat and a drink in its gorgeous setting.
22. Learn a language
Whether it's the romance of French, the practicality of Mandarin or the passion of Italian, why not consider taking a language class with your other half? Even better, it means a guaranteed weekly date night and cosying up while doing your homework! Check out our article over on our sister site, The Honeycombers, on language classes in Singapore.
23. Make some (tee) time for indoor golf
Mini golf is always a hole-in-one for us: a chance to test our skills, indulge in some friendly competition and enjoy lots of laughs. Also great for double-date fun! We're making a beeline for Clubhouse SG at Robinson Road, which we love for its cool golf simulation and the totally delish cocktails.
24. Scream yourselves silly at Universal Studios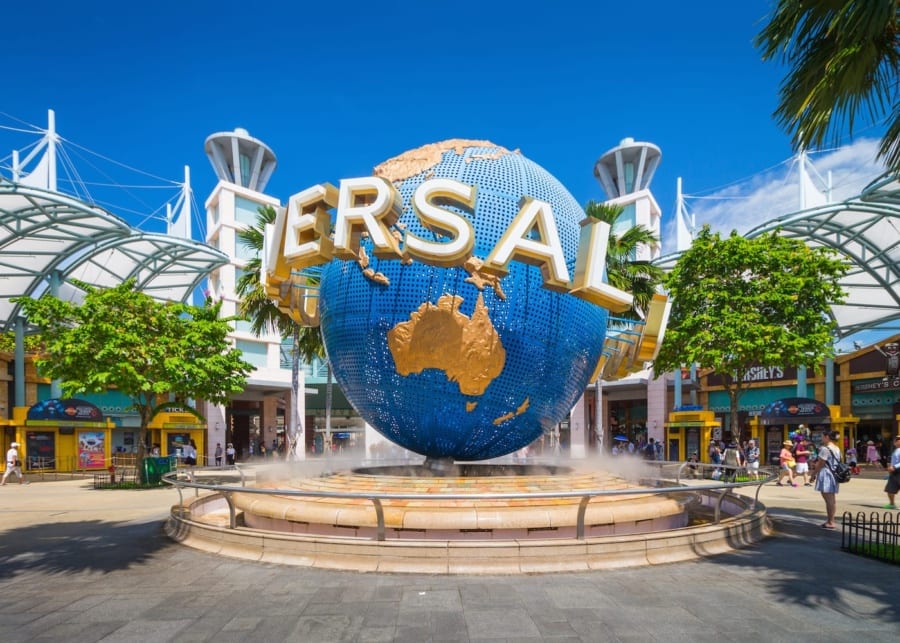 Ronan Keating hit the nail on the end when he crooned, 'life is a rollercoaster.' And who doesn't love a good theme park? Buy your tickets and enjoy an evening at Universal Studios now.
25. Go for a late-night swim
If your condo has a swimming pool or jacuzzi on site, this is one of the easiest date nights going: hit the pool! Take some plastic wine glasses and go sink into that jacuzzi, then talk all night like you used to.
26. Bounce off the walls at a trampoline park
Partake in some parkour or go bonkers for bouncing at one of Singapore's best indoor trampolining centres. Not only will all that movement make you giddy for each other, but you'll also be burning calories while enjoying the funfest. Bonus!
27. Go dining in the dark
Ignite the senses with dinner… in the dark! At NOX, located on Beach Road, you can enjoy a dinner date like never before. Be seated in a pitch-black room while being guided on a culinary journey through taste, smell, touch and sound. So unique, so fun. The best bit? There's no pre-date stress about what to wear or having no time to do your make-up – no one will see you anyway!
28. Enjoy an evening of whisky tasting
We love Singapore for its amazing cocktail bars, but sometimes it pays to kick up a notch and go for the hard stuff: whisky. Whether you're a fan of the drink or are yet to fall in love with the amber nectar, why not head to one of the coolest whisky bars on the Little Red Dot and see if you can be converted?
29. Splash the cash at the shops
Browse the shops together without a soundtrack of whining kids! Head to your favourite shopping mall in Singapore and play at being each other's personal styling assistant by picking out cute outfits for each other.
30. Challenge your wits at an escape room
This one might be best to save for double-date action, as the more people, the merrier! Test the grey matter and battle it out of an escape room. We're fans of the activity when it comes to keeping sulky teens happy, but sometimes it's more fun to leave the children/mini-adults at home and be a big kid by yourselves!
31. Get a culture fix
If you're a museum fan, then grab your other half and get cultural.
32. Head to an arthouse movie house
Film fans, us? If you fancy a change from the big cinema chains, go down the independent route and make a date for The Projector. Expect a great selection of films, unique events and yummy food to boot at this retro movie theatre.
33. Book tickets to the theatre
Here in Singapore, we're no stranger to some fabulous shows: we've recently enjoyed big productions such as Cirque du Soleil and Aladdin, to name a couple. Check in to see what's coming up next at Sands Theatre and Esplanade, as well as the Capitol Theatre and Victoria Theatre and Concert Hall.
34. Take your hottie for a hotpot
Mmmm, hotpot… If you haven't had your hotpot cherry popped, head over to Haidilao. Not only does it have some of the best hotpots that the Little Red Dot has to offer, it's also an experience in itself. Where else can you can get a manicure or massage while you're waiting to be seated?
35. Go for a run
Shake off the stresses of the day (toddler tantrum, anyone?), lace up your runners and pound the pavements with your significant other. The activity will be so much more tolerable once the heat of the day has passed, and exercise is always much better fun when you have a workout buddy.
36. Practise your moves at a dance lesson
If your dance repertoire stops at Baby Shark, perhaps it's time to learn some new moves to groove to. From hip-hop and salsa to swing and tap, put your two left feet forward, grab your (life) partner and hit the dancefloor with a dance lesson for adults. You might just find a new hobby you can enjoy on the regular.
37. Go for a foot massage together
After all that running around after the kids, those tootsies certainly take a battering. Why not go for a relaxing foot massage together? And to help you out, here's our list of the best places for a foot massage in Singapore. Buh-bye, stress!
38. Share some ice, ice (cream), baby
I scream, you scream, we all scream for ice cream! Who doesn't love the stuff? Head down to your nearest ice cream places and partake in some friendly bickering over which flavours to sample. Now comes the bigger argument: whether to share or not…
39. Enjoy some belly laughs
Some people reckon laughter is the ultimate aphrodisiac. Sounds a bit risky to us – we've already got our hands full in the kids' department! If you're prepared to take the gamble, then why not visit a comedy club? One of our faves is Comedy at Canvas, featuring the one and only Kumar. Where else are you allowed to laugh at yourselves and fellow Singaporeans than here? BRB, booking our tickets for some much-needed laughs now…
40. Unleash the rage at a smash room
We all know kids can drive us insane from time to time, so what better way to unleash all that pent-up frustration than by visiting a smash room? Zip up into the supplied jumpsuit, purchase your package, then take a bat to countless plates, glasses and other breakables. Enter Beast Mode and smash to your heart's content at The Fragment Room, Singapore's very first rage room. Let's get ready to rumble!
41. Drive each other crazy
Now you can finally settle the argument of who's the better driver by heading to The Karting Arena! Open until 9pm every day except Mondays, step into the driver's seat of your very own go-kart and whizz around the circuits at speeds of up to 50km/h.
42. Catch up over a pint of Guinness
Enjoy the craic and the pints of the black stuff at Molly Malone's, Singapore's first Irish bar that serves up a great daily roast, too. We can't wait for the trivia nights to resume so we can put our grey matter to the test and banish mum brain (for one night, at least). Hilarious team name essential.
43. Cook up a storm together
If the route to their heart is through their stomach, a cooking class should keep the romance alive and kicking! Sign up for a culinary masterclass and learn how to rustle up a plethora of new dishes. Palate Sensations offers a wealth of available classes, with many running in the evenings. Now to decide which cuisine to tackle…
44. Tackle new heights at a suspended playground
When it comes to date nights in Singapore, the sky's the limit! Well, actually, the limit is the ceiling over at Airzone, Singapore's first-ever suspended net indoor playground. You can get in on the moon-walking action in the North Atrium over at City Square Mall as you explore three levels of nets and a variety of super-cool activities to try out, such as an awesome ball pit, slides and a maze.
45. Go wild at the Night Safari
Jump on a tram at the Night Safari and enjoy a guided tour around the grounds while you spot animals at their most active, including hyenas, lions and deer. Then take a walk around the four different trails and get up close to bats, leopards and Malayan tigers. We loved the cute and quick sugar gliders! Bonus: if you have a family membership, you get to skip the (often) mega queues!
46. Go on a bike ride
Once the sun tapers down a little, why not head out on your bikes and get those pulses racing? It's definitely a date night with a difference! With all the amazing park connectors in Singapore, this is one of the easiest and cheapest date nights out there. Psst, Round Island Route, the latest trail, is one that you and your partner should take on. Bike night date night?
47. Anyone for tennis?
Make like married pros Andre Agassi and Steffi Graf and take 'courting' to a whole new level. Grab your racquets, don your tennis whites and book a court near you to net some action. Lots of condo complexes have on-site tennis courts available to hire, otherwise, check out Active SG for info on where to play. Love, all!
48. Head to a bowling alley
While we love taking the kids along to enjoy some family-friendly bowling alleys, sometimes it's equally as fun to leave the tiny humans at home and let loose with the strike action! Enjoy cosmic bowling – glow-in-the-dark tenpin bowling complete with disco lights – at an Orchid Bowl near you.
49. Go indoor climbing
Spot your other half as they 'get a grip' and tackle an indoor climbing wall. Climb Central at Funan is probably one of the fanciest indoor climbing gyms in Singapore. Scale new heights under cool lights while shoppers crowd around and marvel at your prowess. Go, mummy!
50. Gain a new perspective of Singapore
Raising a family here in Singapore, there's no getting away from one of the nation's most recognisable landmarks: Marina Bay Sands. Why not head up the 57 storeys to the Sands SkyPark Observation Deck at sunset to admire the panoramic views of the Little Red Dot? Pure romance. Definitely one to book ahead.
51. Hit up some live music action
Move over, Spotify: we still have plenty of love for live music venues in Singapore! Whether you're into rocking out or some more sophisticated jazz over cocktails, there's nothing better than soaking up the atmos of a real band. Things have changed since the pandemic, though — it might not be what you expect, so do check your venue beforehand. If you're lucky, you may get some semblance of live music.
52. All aboard a boat cruise
For a special occasion, why not consider splurging on a dinner cruise? We're liking the sound of setting sail aboard Singapore's only luxury tall ship and enjoying an amazing view of Singapore's cityscape.
Bonus date night ideas!
1. Create your own scent
Dive into a world of perfumes and come up with your very own signature scents that set you apart from the pack! At the Love Atelier workshop at Maison 21G, couples can create a love scent with notes that excite both parties individually. A love letter in a bottle indeed!
2. Play some darts
Show off your competitive side by going head-to-head with your partner and throwing some electronic darts! We can't get enough of Oche at Riverside Point – there's always a great atmo and the hours disappear without you even realising it. It's also great to open up the competition and get another couple in on the action. Bullseye!
3. Camping, but make it glamourous
Who says you can't camp in comfort? You don't have to go all the way out in nature just to chill out in a tent – let companies like GlampingCity, Wondrous Glamping and Glamping Society take you on a glamping adventure sans mud. Settle into chic tents and spend a night beneath the stars, without the noise of the kids… Bliss!
4. Learn the art of floral arrangement
Why buy flowers from the florist when you can come up with your own floral arrangement? Plus, you can save up the moolah and give your final product to your partner when you're done! That's a win-win situation if you ask us. Pick up this delicate art at places such as Yamano Florist, Botany Studio and Poppy Flora Studio.
5. Make your own rug
Pick up a new crafting hobby by going tufting, which is aplenty here in Singapore. Be prepared for an arms workout – it's not as easy as it looks! With that in mind, go ahead and book a slot at places that offer tufting classes, including WeTuft and Tuft Club. Show off your customised creation anywhere (and everywhere) around your house.
6. Go on a ghost tour
If you're the adventurous sort, then get spooky with a ghost tour around Singapore. Creepy Tales of Singapore takes you to four haunted spots on the island, where you get to learn more about the places and even listen to real-life stories and paranormal encounters. Psst, if you do chance upon a ghost on this tour, it's best not to let it know you're aware of its presence… else it might just follow you home…
Here's to an awesome year of date nights!