Pass the popcorn and settle down with the kids to watch one of the best family movies EVER (as voted for by us, at least)
When it comes to a rainy day in Singapore, or the need for a bit of downtime at the weekend with the kids, it doesn't get much better than a big bucket of popcorn and a really great movie. To save the inevitable disagreements on what to watch, and to help you decide, we polled the office (the debate was fierce!), to come up with the only list you'll ever need for the best picks for family movies for kids. We're that confident. From the magic of Disney classics to '80s blockbusters, these films are for the young and the young at heart.
THE BEST MOVIES OF ALL TIME FOR KIDS AND FAMILIES
1. Home Alone (1990)
Cheeky, heartwarming and filled with lots of hilarious twists and turns. Home Alone stars Macaulay Caulkin as Kevin McAllister, the perennially overlooked child who gets accidentally left behind when his family goes away for Christmas and is left to face two silly would-be burglars. Kevin's courage and seemingly bottomless bag of tricks – two admirable traits that made him every child's hero – make for some hilarious antics. Regardless of the film's sometimes unbelievable plot, it's a wonderful family movie and will guarantee plenty of laughs around the living room.
2. The Neverending Story (1984)
The epic fantasy journey – told by a young boy who is reading the Neverending story in a book (after being warned not to read it) – is packed with villains, plagues, empresses and fantasy lands. Nightmares and dreams guaranteed for years. Plus the theme tune will stay with you for life.
3. The Iron Giant (1999)
What if a gun had a soul? That was the creative spark that spawned this charming animated film about a boy's friendship with an amnesiac robot war machine from space that crash landed in the sleepy town of Rockwell Maine. It's so much more than just a children's animated film, going so far as to touch on mature themes like alienation, ennui and fear of the unknown. The director, Brad Bird, went on to direct some of Pixar's highest-grossing children's films including The Incredibles (another office favourite) and Ratatouille.
4. Jumanji (1995)
The fun but also quite freaky tale of a board game that spits out everything from piranha plants and natural disasters to animal stampedes and homicidal hunters – all of who are trying to murder the player! One of Robin Williams' best movies (we think), and the one that had us sticking to Monopoly for years!
5. E.T. the Extra Terrestrial (1982)
That small alien dude still has audiences weeping for hours even though it's been almost 40 YEARS since it hit the silver screen! (For those of us who saw it at the cinema when it was released, this is news that makes us feel ancient). E.T. is the tale of an ugly but cute alien who is abandoned on earth by his alien cronies, and subsequently adopted by a young lad with a big bag of M&Ms. The story is immeasurably heartwarming as well as ridiculously sad. All E.T. ever wanted to do was phone home, but look where it got him. We're still in hope that one day our BMX will fly…
6. My Neighbour Totoro (1988)
Hayao Miyazaki's poetic tale of two sisters and the lovable mythical forest sprite, Totoro, is hailed as one of Studio Ghilbli classics. The story paces itself slowly and allows the plot to grow naturally, and the enchanting soundtrack by famed Japanese composer, Joe Hisaishi, elevates the story to lofty heights. It may also be one of the only films ever to feature a cat bus, who's a cat, but is also a bus. Weird but totally wonderful.
7. The Princess Bride (1987)
Cary Elwes as Wesley was many a 30-something's first crush! The Princess Bride tells the story of true love between Princess Buttercup (Robin Wright Penn with long hair!) and her long-lost farm boy, Wesley, who returns as a masked pirate and kidnaps her on the eve of her wedding to a horror of a prince – spoiler alert! This movie just doesn't age – and the dialogue gets even more hilarious each time you watch it.
8. Aladdin (1992)
Okay, so Aladdin may be a petty thief with trust issues, but he is pretty cute, charming, and irresistible. Apart from the loveable characters, magical storyline and can't-get-them-out-of-your-head songs ("a whole new worldddddd"), who wouldn't want a sarcastic talking parrot and protective tiger for pets? So much better than the live-action remake in our opinion!
9. Homeward Bound (1993)
Funny, heartwarming and with a feel-good ending, this is the story of three family pets, two dogs and a cat, who are left with a friend for a few months while the family is busy relocating and unable to care for them. The crazy pets take off on an incredible journey (the movie itself is a spin-off from the original Incredible Journey, 1963) crossing rivers and mountains, confronted with challenges and triumphs until they reach home. The pets all talk and have individual characters that you can't help but fall in love with. Fair warning: The kids WILL want to rush out and adopt a dog the minute it finishes.
10. Inside Out (2015)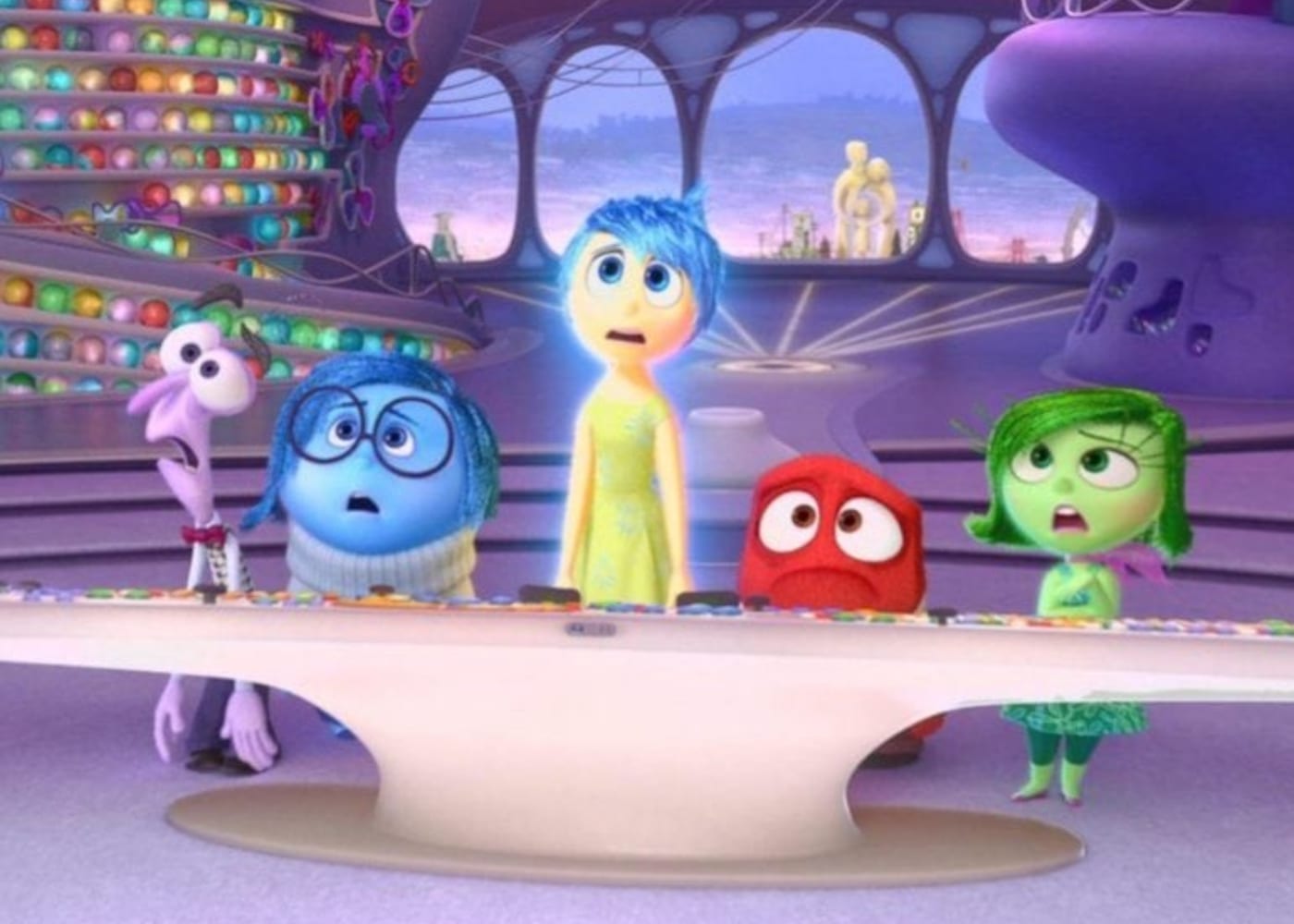 Riley is a happy, hockey-loving 11-year-old whose world is turned upside-down when her parents move her to a new part of the country. Riley's emotions – Joy, Sadness, Anger, Fear and Disgust – are left in turmoil as Joy is swept away and Sadness inadvertently takes over. We love this one just as much (possibly even more) than the kids, although the demise of Bing Bong might be one of the saddest movie moments ever.
11. My Little Pony: The Movie (1986)
The cat is out of the bag… One among us pitches this as their all-time favourite. An American animated musical fantasy film based on Hasbro toy line, My Little Pony. It's full of castles, rainbows and adorable little ponies with magical powers – what's not to like? Plus there are bucketloads of great moral tales woven within. Our office superfan advises "Watch it before you judge it." Okay then. We will.
12. The Parent Trap (1998)
A film that follows the separate lives of two sisters, both played by Lindsay Lohan (pre-meltdown years) in a plot that can veer off course from believability, but is still utterly endearing.
13. The Addams Family (1991)
Despite being a bunch of misfits, the Addams family are actually a solid, caring bunch. Based on a cartoon of the same name, the film centres on con artists who plan to fleece the bizarre family by roping in an accomplice who claims to be their long-lost Uncle Fester. Iconic Wednesday Addams, the morbid, pig-tailed girl who hates everyone, is the perfect example of life living with a teenager…
14. Annie (2014)
We got a vote for the 2014 remake of the 1982 classic Annie – both provide toe-tapping tunes and a fabulous cast for sure. But to be honest, sorry 'voter', the 1982 version was better. Overruled.
15. Star Wars (1977)
Reconnect the kids to one of your own childhood favourites! The original Star Wars trilogy may look a little clunky these days (they were made long before the franchise got a Disney makeover), but we still love the intergalactic fun in the first movie. Princess Leia was defo the original kickass princess, and has there ever been a better baddie than Darth Vader? Probably not.
16. Watership Down (1978)
This (cotton) tale follows a bunch of bunnies who lose their home thanks to redevelopment of their woodland, and the ensuing journey to find a new place to settle. Despite being an animation, it's too scary for very small tots (and even for some grown-ups!), so use parental powers to veto this one if you have kids likely to be scarred for life by General Woundwort…
17. Toy Story (1995)
Hands up who else was convinced their toys talked to each other and held secret meetings after seeing this movie? Characters are cleverly bursting to life, literally, with #relatable problems. In a nutshell, Woody is jealous of everyone's new interest in Buzz, Buzz is busy being ignorant what with his spaceman bravado (and his inevitable breakdown over a cup of tea) and Andy is oblivious to the fact that he has the coolest toy box EVER. Also, Pizza Planet… Why does Singapore not have a Pizza Planet? Our #1 office fan claims to do a "Pretty good Little Green Men impression". We'll be capturing that on Insta-stories as soon as we can.
18. The Greatest Showman (2018)
The music! The story! Hugh Jackman! This film has so much wow that it's impossible not to want to watch it over and over. The storyline is loosely based on P. T. Barnum, an American showman from the 1800s, and this original musical celebrates the birth of show business while telling the tale of a visionary who rose from nothing to create a worldwide sensation.
19. The Sound of Music (1965)
A movie that has definitely stood the test of time, this is an all-round feel-good film kids will adore. It's also a great opp to give the kiddos a history lesson about World War II… And to show them how upcycling was a huge thing back in the days when it was pretty much the norm to make dresses out of curtains. Plus Christopher Plummer is THE Hugh Jackman of the 60s.
20. Labyrinth (1986)
One for kids with wild imaginations, David Bowie as the Goblin King is pure gold when he gives a 16-year-old girl 13 hours to solve a labyrinth in order to rescue the baby brother she had wished away. A movie version of an escape room, if you will.
21. Bolt (2008)
For some reason this Disney CGI movie didn't gain the traction that some of its counterparts did. But among the HoneyKids team, it's a favourite. A pup named Bolt is adopted by seven-year-old Penny, and the two of them become a television hit in a show also called Bolt. But Bolt isn't who he really thinks he is, and when he escapes and is shipped by accident to New York City, he begins to realise that his whole life has been something of a lie…
So, what's your hit-list of favourite family movies to watch with the kids?