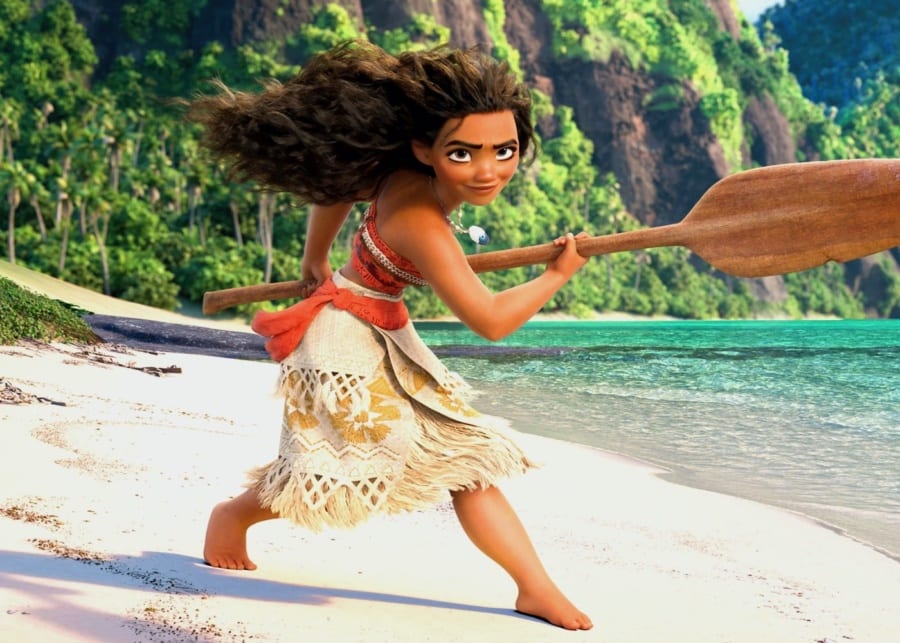 Step aside, damsels in distress. Here are the 11 Disney princesses we're happy to call role models for our own kids...
A recent conversation at HoneyKids HQ rapidly turned from a random discussion about Barbie's body shape, to how our daughters are taking up coding classes and martial arts lessons. Naturally, this moved on to the Disney princesses that we think have broken the 'damsel in distress' mould – the kind that can actually be considered as role models for our kids.
Spoiler alert: Moana was crowned the ultimate Disney princess that we all want to hang out with, although book-loving Belle, and bear-tackling Merida are hot on her heels. And let's not forget kick-ass Mulan with her ninja skills, and the original warrior princess, Leia…
11 Disney princess role models for kids
1. Moana
Oh Moana, how we love thee. This Disney princess has sass, unruly locks, top-notch sailing skills and real-sized thighs. Add in zero simpering, fierce loyalty, kindness and bags of determination and it's easy to see why Moana tops our princesses we want to hang out with list.
2. Merida
While we are not totally on board with Merida turning her mum into a bear (but we do get it, Merida: parents can be annoying), we absolutely love Disney's answer to Katniss Everdeen. Merida from Brave makes flaming red hair seriously cool, refuses to comply with the gooey-eyed princess notion and her bow 'n' arrow skills are spot on.
3. Belle
Beauty and the Beast's Belle may not have the ninja skills of some of the other feisty princesses on our list. But the powers of a keen mind, unwavering loyalty and the ability to see the beauty in everything are key to being a kind and smart cookie. Psst: the Beauty and the Beast Hollywood re-make is almost as good as the original!
4. Elsa
We apologise in advance for probably installing a loop of Let It Go in your mind right about… now. But we can't have a list of cool princesses without a shout-out to Elsa from Frozen. This girl proves that sibling love really can overcome a whole heap of obstacles. Her magical powers are pretty kick-ass too.
5. Anna
We can't mention Elsa without her sister, Anna (it's pronounced Ar-nah, mummy – cue eyeball roll from daughter). We love that Anna could be our bestie. She's outspoken, loyal, has a fantastic sense of humour (handy when your sis is an Ice Queen) and never, ever gives up. Even when she's Frozen.
6. Tiana
The Princess and the Frog gets a massive, green thumbs up from us for its spot-on attitude to modern-day women. Tiana may end up temporarily as a frog, but she doesn't let that stop her from working her butt off in a full-time job, saving for her own business, and embracing dreams that don't involve being reliant on anyone but herself.
7. Mulan
Mulan is one princess who never lets being a girl get in the way of her amazing ninja warrior skills. Okay, so we're sad that she had to pretend to be a boy in the first place to be taken seriously, but this is one anti-damsel-in-distress princess who can definitely hold her own.
8. Pocahontas
While we're totally digging all these hard-as-nails princesses, we're also partial to a good ol' fashioned cheesy love story. Step-up Pocahontas. She's the girl with second-to-none peace negotiation skills, a talent for creating art out of the colours of the wind and a fabulous handmade wardrobe. Plus, she chose her dad over her boyfriend in the end (sorry for the spoiler).
9. Rapunzel
Rapunzel is a princess who doesn't let vanity stand in the way of saving the man she loves. Not only does she cut off those, frankly, beautiful tresses all in the name of heroism, but she can also turn a frying pan into a pretty powerful weapon when the need arises.
10. Princess Leia
Princess Leia didn't start out as a Disney princess, but she later became one in the newer releases of the ever-popular Star Wars movies. And we think she could well be the original warrior princess. Yes, there was that gold bikini moment – but she totally proved her worth as a leader, a friend, a sister and a sharp-shooter despite that fashion fail. Plus, she can rock the most outrageous of hair-dos.
11. Raya
Not only is Raya the first Southeast Asian Disney princess, she's also one of the toughest. Audiences worldwide will finally get to meet her and all her awesomeness on March 5, the official release date of Raya and the Last Dragon. According to Disney's official synopsis, Raya is a lone warrior who sets out to find the last dragon in existence and save the kingdom of Kumandra from the villainous Druun. Although it may sound like a pretty hefty task, we don't doubt that Raya can totally save the day.
Love this list of Disney princess role models? Read why you're never too old to love Disney!