Photography: cottonbro studio via Pexels
Want to teach your children about diversity and acceptance? Let them experience the world in a different way – with a good book!
If there's one thing we want our children to learn and embrace, it's that the world is filled with all sorts of people. There's no 'one-size-fits-all' – especially in a cultural melting pot like Singapore. We want our kids to grow up knowing our families, friends and the people we meet during our lifetime are all different, and that love is love. We also think there's no better way to introduce children to diversity (and encourage empathy and acceptance) than by reading a good children's book that celebrates diversity. Especially one that talks about how people experience the world in different ways.
So grab some of these meaningful titles from your local bookstore or library for your little bookworms, and get reading. After all, variety is the spice of life!
Our favourite children's books that celebrate diversity
Children's books about race and ethnicity
The title may be a tad controversial, but the idea behind the book is commendable. Inspired by the author's four-year-old daughter, the children's book details steps for discussing racism, ultimately teaching kids to be antiracist. This is another useful resource when you want to talk about race and racism with the littles.
There are many reasons why you may be different from others – the way you look, where you come from, or even something random like what you do before going to bed. It's not easy to step into a place where nobody really knows you yet, but somehow you do it. This heartening book is about finding the courage to connect, even when you're scared and alone.
3. We All Belong by Nathalie and Alex Goss
Here's the perfect companion to the above book we recommended. This children's book celebrates diversity by recognising differences between races and cultures and appreciating that everyone is beautiful. There's an activity at the end that helps readers acknowledge everyone's similarities and differences.
If you want to start the conversation about race with your littlies at a young age, then this board book is a good book to start with. It's developed by experts and based on extensive research that allows parents opportunities to begin and continually have vital conversations about race. AKA, this is the book that all families should have in their homes!
The first day of school is often a scary yet exciting time for the kiddos. Faizah, with her new backpack and light-up shoes, is also excited because it's her older sister's first day of wearing the hijab. The latter had picked a beautiful blue one to wear. But not everyone thinks it's beautiful. A great read that showcases the love between siblings, self-confidence, being true to yourself, and of course, the beauty of the hijab.
6. Sulwe by Lupita Nyong'o
Oscar winner Lupita Nyong'o wrote this book to highlight and share her experience. The title means star in Luo, the actress's native language. Sulwe is about a Kenyan girl with very dark skin, who wishes she could be like her mother and sister, who have light skin. One night, she embarks on a magical journey in the night sky that changes her perspective.
Are you new to Singapore? Or perhaps you've been curious about the country's multiethnic, multicultural population. Like why do the Malay folks avoid pork? And why do Indian ladies have coloured dots on their foreheads? This award-winning series has the answers as well as handy tips to your burning questions. Each book is thoroughly vetted so that any sensitivities are addressed adequately, so you don't have to worry about the content.
Happy in Our Skin takes the cake for children's books on diversity. It's a simple but brilliant introduction to racial diversity, pointing out commonalities and celebrating differences. The illustrations and text cover a kaleidoscope of terms that are great talking points for what skin is, and why it comes in different colours.
What is a family? All families do things together, like eat or go to the zoo or the park, but all families are different too. We think this is a great search-and-find book for the kids. Get them to spot the differences between families, like size, siblings, pets, hair, skin and eye colour! But most of all, no matter who's in them, all families love each other very, very much.
Unhei's (Yoon-hey) starting school, but she's afraid to tell people her Korean name because no one will know how to pronounce it. In a show of support, her classmates get her a jar that they fill with names for her. Can she find a name better than her own? The Name Jar is a reminder to embrace our heritage, teaching kids that we shouldn't feel the need to compromise our identity, no matter what.
Adapted from the short film by local artist, Marie Toh, this book follows a kid named Kai who goes practically unnoticed by everyone despite the fact he's always wearing a whale suit. Tackling themes of loneliness, being different and fitting in, the world according to Kai is perhaps not as complicated as we think it is.
Holly, the new kid on the block, is just trying to make friends, but her neighbours have troubles of their own. Annie is trying to adjust to her new baby sister, Laura, while Xavier, her neighbour, tries to impress Annie by inventing a 'de-yuckifiction machine' to de-yuckify Laura. At the heart of this book is friendship and coexisting with blended families of different races, religions and sexualities.
This book addresses the harsh side of being different. How mean can kids be? Hélène knows. Her once-friends now spread horrible rumours about her, even going as far as writing them on bathroom walls. Even at the school's nature camp, she is ostracised, an outcast. She has one solace – Charlotte Bronte's Jane Eyre. But even Jane cannot save her diminishing self-esteem and it takes the help of some unexpected people for her to make it on her own…
Children's books about gender, sexuality & LGBTQ+ families
This beautifully illustrated children's book is about a gender-questioning boy who wants to become a mermaid and participate in the Coney Island Mermaid Parade. The author was inspired to write the book after meeting a former partner's older brother, who was only able to transition after he turned fifty.
15. My Rainbow by Trinity and DeShanna Neal
A transgender girl envies her dolls' long hair. Thus, her mother spends all night sewing a rainbow wig for the girl to wear. This lovely book normalises being transgender from a young age and shows what it means to have loving, supportive parents. Psst, it's based on Trinity and DeShanna's real-life experience.
Parents, you may have one too many instances of your kids asking you – "where do I come from?" You can finally answer their question by reading this inclusive book with them. It covers the different kinds of conception, from pregnancy to birth itself. Many family types are represented here too.
17. And Tango Makes Three by Justin Richardson and Peter Parnell
When it was first published, there was so much controversy surrounding this book. But we think it's a fantastic story about adoption and gay parents. Based on the true story of two male penguins in New York's Central Park Zoo, And Tango Makes Three teaches us that love truly has no bounds.
Morris likes singing, painting, doing puzzles and wearing a tangerine dress that reminds him of tigers and his mother's hair. He also wants to go to space, but the other boys say astronauts don't wear tangerine dresses. Well, he'll just make his own space adventure with space elephants, and in his space adventure, astronauts can definitely wear dresses…
19. I am Jazz by Jessica Herthel
Based on the childhood experiences of Jazz Jennings, an LGBTQ rights advocate, I am Jazz is about a girl born with a boy's body. She loves the colour pink, princess dresses and mermaids. At first, no one understands and people tell her that she should dress and act like a boy, but eventually, her family comes to accept her. Jazz continues to inspire us to be who we are and not what other people tell us we should be.
A little boy helps his Go Ma tell a bedtime story, interjecting with words that change a scary fire-breathing dragon to a… different dragon. Maybe a dragon who is secretly lonely and just needs friends.
Like something straight out of a fairy tale, Bailey dreams of a staircase with a dress on every step – 10,000 to be exact, made of fantastic materials like diamonds, flowers and even windows! But every time she tells someone about her dream dresses, they say, "You're a boy! Boys don't wear dresses!" There is no fairy tale ending for Bailey, but it does end with acceptance.
Sometimes, kids are fine being teens, not coming out of the closet, and flirting with cute boys (well, one boy) on the internet. But when someone blackmails Simon Spier, threatening to out him and ruin his life, Simon's got to step up to the challenge or risk losing everything. Mind the swearing and general teen angst on this one!
Children's books about physical disabilities & differences
Emma is going through a lot these days. First, she overheard the doctor saying that she might have dyslexia, but she's not sure what that means. Will her parents be upset with her? On top of that, she's lost her beloved cat, Ginger. Will Emma be able to find her furry friend? If you know anyone who has this learning disability or you want to find out more about it, this locally-produced book with its lovely illustrations is a good place to start.
24. Sophie, Why Can't You Walk? by Rotaract Club of Singapore (City) and Muscular Dystrophy Association (Singapore)
What do you know about muscular dystrophy? This book, which portrays the personal experiences and reflections of eight young members with muscular dystrophy, highlights the alienation between the able-bodied and the disabled. Children will learn empathy and acceptance after reading this.
Susan does a lot of things. She's good and bad, she's happy and sad. Any kid would be up for a good rhyme of all the things Susan can do. There's a twist at the end, though: Susan also uses a wheelchair.
This heartwarming book introduces the topic of therapy dogs – specifically, Zara's dog, Moose. Moose didn't start out as a therapy dog, but every time Zara goes to school, Moose hates saying "goodbye". He only wants to say "hello!". So, Moose enrols in Therapy Dog School, so he can join Zara and be there for her when she needs him. As you may guess from the adorable illustrations, Zara is in a wheelchair.
A lovely story about nurturing friendship, When Charley Met Emma faces the "but why?" reaction that some children have when seeing a person with missing limbs. Charley's mum rightly replies, "different isn't weird, sad, bad, or strange. Different is different. And different is OK!". Charley asks Emma lots of questions about what she likes to do, and soon he realises he and Emma aren't so different after all!
Parental guilt hits hard when we can't do all the things we think we should be doing for our kids. But they understand. "Don't be sorry, Dad," says a young Nari, reminding her father that they do plenty of things together (despite his physical differences) and she's perfectly happy as long as she's with him.
29. Seal Surfer by Michael Foreman
Ben and his grandpa visit the seals every season. They live by the beach under a cliff, but that doesn't stop Ben from going to see them. Through all four seasons, Ben and his grandpa visit the seals, feeding them fish and playing them music, even surfing with them – lucky! Other than Ben's use of a wheelchair, Seal Surfer explores themes of life and death through seals.
30. Wonder by R.J. Palacio
At first glance, Wonder is all about Auggie Pullman, a kid with craniofacial anomalies who is starting school for the first time. But as you delve deeper, it's about the world in which Auggie tries to find his place and those who try to coexist with him. It's not always easy being friends with people who are different, but that doesn't make it any less worth it. (P.S. Don't forget to catch the movie, starring the fantastic Julia Roberts as the supportive mum we've all dreamed of.) Palacio has also written a picture book, We're All Wonders, for four- to eight-year-old readers. Step into Auggie's world and you'll see we're not as different as we might seem – because we are all wonderful!
Children's books about life with autism & neurodiversity
A new addition to the family tends to make kids anxious, but when Isaac is born, Emma is told her little brother has Down syndrome. So now she is very worried. "He won't be able to eat fruit snacks? Or go to Africa? Or paint the octopus red?" But he will, her dad says, as long as they're patient and help him. Guaranteed to give you warm fuzzies because of the love and support of a family ready to welcome a new baby home.
Nadia is the most charming little eight-year-old. She's just like any other eight-year-old, except she also has autism. Written in both English and Malay, My Name is Nadia is an educational and enjoyable read for both children and adults.
Neurotypical (NT) children who don't have autism are different. Johnny, for example, doesn't arrive on time, has absolutely no routine and speaks in idioms that make no sense. Bonkers! But it's still great to be friends and play games with him, so everything is A-OK! A great way to teach acceptance from a different perspective.
Zane is a zebra with autism, and he's worried that his "autism stripe" makes him stand out. Luckily, with the help of his mum, he soon learns that it's his stripes that make him special – the unique markings that make him exactly who he is.
35. Open by Eva Wong Nava
Benjamin Oh, also known as Open, is a high-functioning, non-verbal autistic boy who loves to draw monkeys and enjoys Chinese opera. An accompaniment to the heartwarming movie The Wayang Kids, this book is about a group of primary school students who compete in an International Chinese opera performance. Dive into the mind of Open and see the world from his eyes – how he struggles to understand his family and friends and the strange emotions they have.
The Reason I Jump is the autobiography of a 13-year-old Japanese boy, Naoki, who is severely autistic and non-verbal. Through a series of questions and answers, Naoki reveals the secret goings-on inside his mind. This touching account helps us understand the struggles and coping mechanisms of people with autism, and it's a beautiful read. Why is it that he jumps? Naoki will explain.
Why is Sam different? He doesn't like his pancakes to touch, his sister is annoyed with his repetitive singing, and his new coat hurts his skin. But once he is diagnosed, Sam's life becomes a little easier. This book also includes 10 helpful tips on respecting and accepting differences as well as how to interact with someone who has Asperger's.
Holly loves doing experiments and learning new things in science class. However, the next experiment is making slime – slime is made of glue, and glue is sticky. Holly's worried. She has sensory issues because of her autism and she doesn't like anything sticky! How will she overcome this sticky situation?
A new girl at school notices Andy playing alone with his yellow frisbee. Andy's older sister, Rosie, is concerned that the girl might upset her brother. This illustrated book explains autism, the challenges an autistic person faces, and a sibling's perspective.
Children's books about hearing loss, being deaf or visually impaired
A subtle nod to children with hearing loss, Freddie and the Fairy is a delightful tale of miscommunication. Freddie asks the fairy for a pet, but her hearing loss means she accidentally grants him a net instead. Read on as these two sweet characters learn to communicate with each other – all through lovely rhymes!
41. The Deaf Musicians by Pete Seeger and Paul Dubois Jacobs
Lee plays the piano all snazzy, like plink-a-plink-BOMP-yimbatimba-TANG-zang-zang. But he's losing his hearing, so he can't hear his bandmates' notes. He has to leave the band because, "who will listen to a deaf musician?" It's a must read-aloud book for kids who will be absolutely jazzed to hear Lee's new band – The Deaf Musicians.
One day, a girl decides to go on a journey on the underground train to reach the place with colours. Follow her as the author masterfully draws you into the worlds he creates, to show us just how colourful life can be… even when you cannot see.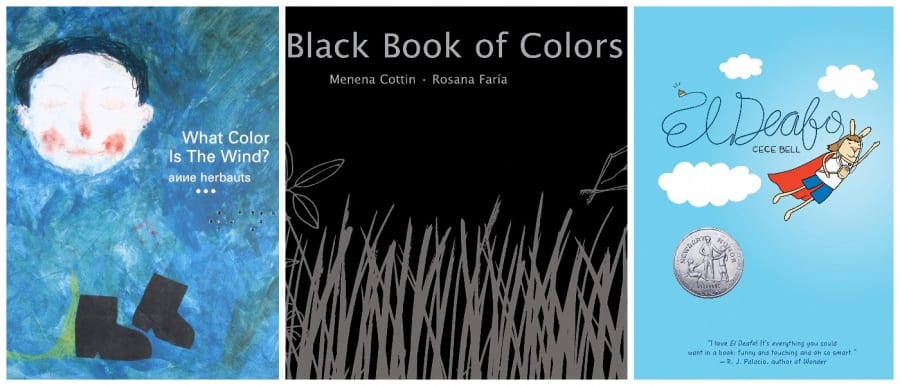 The blind little giant wants to know "What Color Is the Wind?" and asks all the creatures he meets. Illustrated using a variety of different methods like die-cut, gloss and embossing, this book is an absolute treat for the senses. Its poetic prose is a great intro to metaphors, allowing kids to visualise (with or without visuals) what colour the wind might be.
This award-winning, visually stunning and tactile book is great for sighted children to get a better idea of how visually impaired children might 'see' colours. With pitch-black pages, textured images and braille, parents can read aloud the story and let children rely on sound and touch for a more immersive experience.
45. El Deafo by Cece Bell
Winner of the Newbery Honor and Eisner Award for Best Publication for Kids in 2015, El Deafo is a novel based on author Cece's own childhood and how her world changes when she loses her hearing. This makes fitting in and making friends all that more difficult, but she discovers her hearing aid is like a superpower: she can hear all the teacher's secrets. This makes her the superhero El Deafo! Over time, Cece learns how to use her 'superpowers' to make friends (and even a sidekick).
Looking for more children's books on diversity? Check out our HoneyKids Book Club for more stories on race, LGBTQ and more!