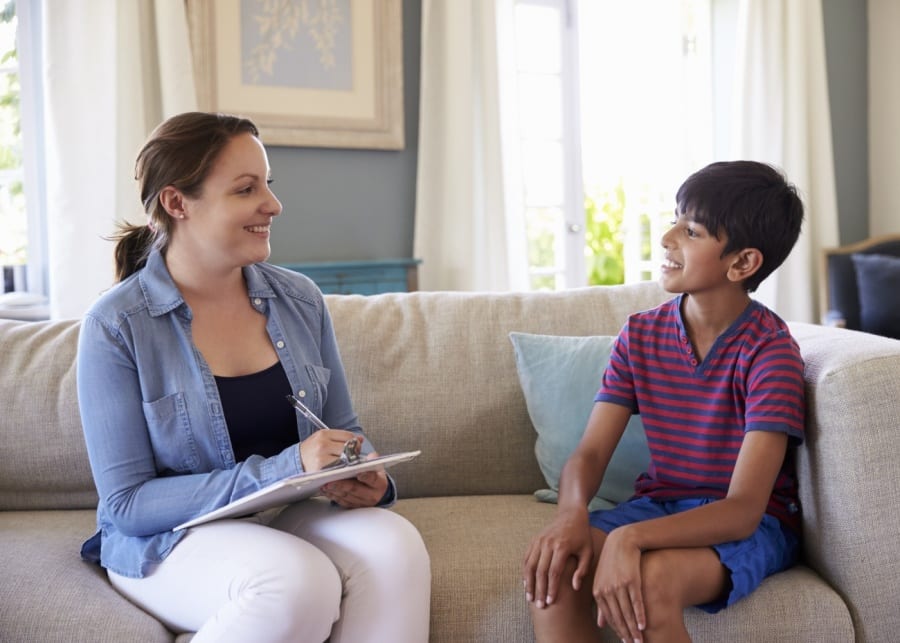 Don't deal with it on your own – there are plenty of places where you and your children can seek help. Try these top family counsellors in Singapore…
While on the surface life in Singapore may appear rosy and full of sunshine, sometimes we all need someone to hear us through all the noise and really listen to us. Life is hard enough as it is, and our mental health has certainly taken a hit recently (thanks, Covid-19). Luckily, there are some great counselling services, therapy sessions and family resources we can turn to when we need to get our thoughts in order and our minds re-balanced. So whether you are a single mum looking for some guidance, a parent working through financial pressures, marital woes, bereavement, anxiety, parenting a special needs child or just learning how to survive parenthood, we've found some really great family counselling sessions for you to reach out to, right here in Singapore.
COUNSELLING AND THERAPY FOR FAMILIES IN SINGAPORE
1. Little Marvels
As its name suggests, Little Marvels' group of therapists strive to empower and make little marvels happen for families. This multidisciplinary clinic believes in partnering with parents to be enablers in their children's development. Little Marvels specialises in Speech Therapy, Occupational Therapy, Psychological Services (diagnostic and therapy), Music Therapy, Play Therapy, and Animal Assisted Therapy. Its clinic, located on Beach Road, has two Sensory Integration Gyms to diagnose and treat children with Sensory Processing Disorders. It has a variety of specialised equipment that Occupational Therapists can use to help children work on adaptive responses and behaviours. But above all, Little Marvels is a family-focused practice, so parents – you're more than encouraged to get involved in the sessions!
Little Marvels, #02-51/48, Citygate, 371 Beach Road, Singapore 199597
2. Annabelle Kids
Being the largest multidisciplinary child therapy clinic in Singapore isn't the only thing that sets Annabelle Kids apart. The clinic is also the only one in the country that offers multidisciplinary intake assessments for all children. This means that your child will be assessed by Allied Health Professionals from all three specialisations (Psychology, Speech, and Occupational) in the same session during their first visit. Not only is this cost-effective for the family, but it also provides the therapists and parents with a holistic view of their child's development. This helps to identify all your child's needs, ensuring they will all be met during the subsequent therapy sessions if needed. Annabelle Kids use play-based sessions that are fun and stress-free for children. All of these take place in beautiful and comfortable spaces, which are also designed to cater to each child's therapy needs. The clinic has a team of experts from various disciplines and is able to provide services such as counselling, speech, occupational, and even art therapy. Annabelle Kids is also able to support applications to specialised education, as well as providing early intervention programmes and play groups that focus on cognitive and social skills development in children.
Annabelle Kids, 510 Thomson Road, SLF Building #15-03, Singapore 298135; and 10 Winstedt Road, #02-06, Singapore 227977
3. Family SOS
Katy Harris runs Family SOS (Family Support Out of School), and not only does she use a multi-approach method when it comes to helping neurotypical, autistic, shy, non-verbal or ADHD kids, she also supports and guides parents during the therapy journey too. Typically, she helps children and teens tackle anti-social behaviour. She provides essential support for young people who need to improve their self-image, self-control, communication skills, aggression or anxiety issues. She also provides a non-judgemental and sympathetic ear for children struggling with life traumas. This could be moving country, bereavement, abuse, bullying or even feelings of being overwhelmed by home or school. She uses methods including interactive media, role play, cognitive behaviour approaches, counselling, goal setting and play therapy. All this while maintaining a close association with the family and teachers of the children she helps.
Family SOS, #03-01, Oasis, 87 Science Park Drive, Singapore 118260
4. Anoushka Beh
Anoushka Beh is often recommended as a warm, easy-to-talk-to therapist. You may have heard her speak at events such as Green is the New Black on the topic of overcoming self-doubt. She uses an integrated approach to help clients by combining her own clinical expertise with various techniques including EFT (Emotional Empowerment Technique), IFS (Internal Family Systems), Guided Visualisation, EET (Emotional Empowerment Technique) and mindfulness-based sessions. She specialises in helping adults, children and families. Anyone suffering from anxiety, grief, relationship issues, career-related stresses or unresolved childhood traumas can reach out.
Anoushka Beh, #10-10, International Building, 360 Orchard Road, Singapore 238869
5. Serendipity Centre
This multi-practitioner centre is a great pick for any family looking for guidance in a more casual setting. There's everything from sand-play therapy to dance therapy, parenting workshops, perinatal psychology, as well as psychotherapy and clinical psychology options. Adults, teenagers, children, toddlers or pregnant women: everyone is welcome.
Serendipity Centre, #06-46, Tanglin Shopping Centre, 19 Tanglin Road, Singapore 247909
6. The Change Group
For anyone looking to make a positive change, The Change Group could be the answer. Individuals, couples and families can book sessions with international psychologists trained in psychotherapy. They offer help in areas including anxiety, depression, abuse, trauma and more. Counsellors can speak English, French or Italian and deal with both local and international clients.
The Change Group, #02-11, Phoenix Park, 308 Tanglin Road, Singapore 247974
7. Alliance Professional Counselling
This is a popular choice for expats here in Singapore, and Alliance Professional Counselling is often recommended on various Facebook support groups. It offers care, support and guidance through counselling and psychotherapy to children, couples and families who may be struggling with a problem or relationship that requires some professional advice without judgment. The counsellors are multicultural, and among them speak English, French, Spanish, Portuguese, Mandarin and Cantonese.
Alliance Professional Counselling, #03-02 & #04-03, Cluny Court, 501 Bukit Timah Road, Singapore 259760 and #02-01, 121 Upper East Coast Road, Singapore 455245
8. International Counselling & Psychology Centre
International Counselling & Psychology Centre's (ICPC) professional team brings over 40 years of collective experience in providing supportive mental health services to Singapore's expatriate and local communities. The ICPC's team provides a great range of family counselling options. They aim to help children and adults deal with problems including living overseas and transitioning to a new life, blended family issues, sibling rivalry, self-harm, LGBTQ+ issues, cross-cultural relationships, divorce and anger management.
International Counselling & Psychology Centre, #06-08, International Building, 360 Orchard Road, Singapore 238869
9. All In The Family
The clue is in the name: everyone in the family can try the counselling services at All In The Family. The centre provides help for individuals and groups on all family matters. It offers counselling to couples facing infertility issues, marriage crisis guidance, hypnotherapy and parenting workshops. It even provides sleep training advice for exhausted parents of livewire babies and toddlers.
All In The Family, #11-06, Paya Lebar Square, 60 Paya Lebar Road, Singapore 409051
10. Relationship Matters
First started by Jessica Lamb, Relationship Matters is recommended for its non-judgemental space for individual adults, couples and families. She works with clients to support them through all sorts of relationship issues. Think infidelity, trailing spouse anxieties, or other issues such as sexual problems, depression and addictions. Speak to a therapist as a couple or individually to find a way to move forward.
Relationship Matters, #07-323, The Plaza, 7500A Beach Road, Singapore 199591
11. The Blue Pencil
This counselling centre is one of the more affordable options in Singapore. We also love that it takes a tailor-made approach to each client's needs. The centre offers understanding and compassionate advice to married couples, youngsters facing emotional struggles in school, families looking to strengthen relationships and anyone who just needs someone to listen.
The Blue Pencil, #03-49, Tanglin Shopping Centre, 19 Tanglin Road, Singapore 247909

12. SACAC Counselling
Established in 1973 for the American community in Singapore, but now open to everyone, SACAC Counselling offers a wide range of psychotherapy support. It helps individuals, couples and families cope with challenges that may be affecting everyday life. The team is a multicultural one, and between them speak English, French, Japanese, Spanish, Hindi and Bahasa. Anger management, grief counselling, marriage guidance, OCD therapy and emotional or behavioural issues in children are just a few of the problems the friendly therapists are highly qualified to deal with.
SACAC Counselling, #09-04, Thong Teck Building, 15 Scotts Road, Singapore 228218
13. REACH Community Services Society
The Ministry of Social & Family Development is behind the community-based REACH Community Services Society for families and individuals looking for support, guidance and a listening ear. The family service centres are dotted around Singapore and provide help to all ages, nationalities and religions via a team of social workers and counsellors. Services provided include affair-recovery programmes, marriage guidance, personal growth and healing sessions, and relationship counselling for families. Fees are based on your monthly income, which makes this option affordable for everyone.
REACH Community Services Society, various locations
14. Samaritans of Singapore (SOS)
Samaritans of Singapore (SOS) is the only suicide prevention centre in Singapore. It is a non-profit organisation that provides 24-hour confidential emotional support to people who feel they have nowhere else to turn. As well as the round-the-clock crisis support hotline manned by trained volunteers, SOS also offers specialised counselling services and bereavement support groups for individuals and families by in-house counsellors, psychologists and social workers. Read our interview with an SOS volunteer, who's been with them for over a decade.
Samaritans of Singapore, #01-01, 10 Cantonment Close, Singapore 080010
15. PAWSibility
If you have a child aged between four and 20, then talking to a counsellor should feel a whole lot less daunting when conducted through Animal Assisted Therapy and Animal Assisted Play Therapy sessions. PAWSibility runs individual and group sessions using a professional therapy dog. This helps engage children and youths during counselling and social-emotional development programmes.
PAWSibility, 90 Taman Warna, Singapore 276401
16. Kaleidoscope Therapy
If you're looking for support and strategies to help your children with behavioural issues including anger management, anxiety attacks, problems with social and interpersonal skills or low self-esteem, speak to Kaleidoscope Therapy. They are a dedicated team of professionals committed to helping your child reach their full potential through having fun. Kids will love the friendly approach, and the art therapy and creative therapy sessions are especially popular.
Kaleidoscope Therapy, #07-05/06, The Grandstand, 200 Turf Club Road, Singapore 287994
17. Livingston Counselling
Cathy Livingston is a registered counsellor that practises Equine Assisted Psychotherapy, an experiential therapy that involves horses. She works with clients struggling with depression, anxiety, grief and loss, as well as those facing other traumatic life experiences. The horses help clients practice new ways of communicating their issues. Potential clients can choose to participate in either traditional therapy or equine-assisted psychotherapy. Equine therapy sessions take place at the Singapore Polo Club and Bukit Timah Saddle Club.
Livingston Counselling, online only
18. Psych Connect
Located in Newton, this specialist psychology clinic provides a variety of services for everyone from as young as 12 months old to adults. Children can partake in psychotherapy, educational, occupational and behavioural therapy, and even assessments that target social-emotional/personality and developmental areas. Adults, meanwhile, can undergo assessments to check their suitability in parenting capacity for gaining custody, guardianship and adoption.
Psych Connect, #03-13, 10 Windstedt Road, Singapore 227977
19. Heart to Heart Psychotherapy
Founded by Dr Jasmine Siang, Heart to Heart Psychotherapy provides counselling and psychotherapy to children, couples and individuals. The clinic covers a wide spectrum of issues, from LGBTQ, sexual addiction and bullying to parental issues, self-esteem issues and isolation anxiety. Sessions can be held in English, Mandarin and Malay.
Heart to Heart Psychotherapy, #09-19, The Central, Soho 1, 6 Eu Tong Sen Street, Singapore 059817
20. Promises Healthcare
If you're looking for a clinic that provides a comprehensive range of clinical psychiatric and psychological services, Promises Healthcare is a good place to start. Established in 2011, it offers individual counselling and group therapy for children and adolescents, family counselling, marriage therapy services, and parenting skills training by child psychologists. Promises is committed to helping families be equipped with what they need to attain a fulfilling life.
Promises Healthcare, #09-22/23, Novena Medical Centre, 10 Sinaran Drive, Singapore 307506
21. Sofia Wellness Clinic
Intending to start on your journey towards a meaningful life? Sofia Wellness Clinic can help you out with that. This clinic provides professional counselling, psychotherapy, and therapy services for people of all age groups. It uses approaches such as Cognitive-Behavioral Therapy (CBT), Dialectical Behavioral Therapy (DBT), Acceptance Commitment Therapy (ACT) and Gottman Method Couples Therapy on patients. The team works together with you in a safe, private environment to achieve your personal goals. Sofia Wellness Clinic offers both in-office and online counselling sessions.
Sofia Wellness Clinic, #02-07, Singapore Shopping Centre, 190 Clemenceau Avenue, Singapore 239924
22. Dynamics Psychological Practice
Dynamics Psychological Practice is a holistic wellness clinic that provides both clinical psychology and educational psychology services and assessments for adults and children. Its Clinical psychology services focus on helping individuals overcome challenges and disorders (anxiety, self-esteem issues, personality disorders, behaviour management, etc.) through counselling and therapy. Educational psychology, on the other hand, provides psychological assessments for the diagnosis of a wide range of conditions like Attention Deficit Hyperactive Disorder (ADHD) and Autism; Developmental Assessments for school readiness and special education school application; and even Cognitive Assessments for general IQ and school admission or placement. Dynamics also provides counselling services for adults and children, including couples and family therapy for those who need it. As the clinic is a member of the Dynamics Therapy Group, you and your family will also have access to the group's multi-disciplinary team of therapists in areas like Speech Therapy, Early Intervention, Occupational Therapy, and more.
Dynamics Psychological Practice, #15-02, Forum The Shopping Mall, 583 Orchard Road, Singapore 238884
The first step to feeling better is seeking the help that you need. We hope these resources will be able to assist you.