Illustration: Nathania Tirtaputra
Struggling to save money in one of the world's most expensive cities? Use our cash-saving tips for smarter ways to keep enjoying the good life in Singapore!
We love living in this humming, cosmopolitan city: the problem is there's just so much in Singapore to see and do and spend our hard-earned cash on. If it feels like you've been splashing cash like it's going out of fashion, we hear you. Never fear, we've got 50 money-saving hacks for families to see you building up the coins in your piggy bank without having to miss out on the cool stuff. It's all about continuing your current lifestyle with a couple of savvy tweaks. You'll actually feel the opposite of FOMO as your money stretches further than ever before. Save your pennies for a rainy day (or your next family staycay or holiday from Singapore). Here's how…
50 MONEY-SAVING HACKS FOR FAMILIES
Basic financial planning in Singapore
1. Set up a savings account
Better yet, save money quicker by setting up an automatic payment. Work out a budget, then pop whatever you can afford per week or per month. It will rack up in no time. If the kids get pocket money, you may want to encourage them to start saving too. It'll be good practice for adulting!
2. Get yourself a piggy bank
Put all your coins (or anything less than 50 cents, perhaps) into an old-school piggy bank. Not only will it free up your wallet space and lighten the load, but by the end of the year you'll have a nice tidy sum! Get your kids to do the same to teach them how to think like a saver.
3. Set reminders for your bills
How many times have you been stung with a late payment fee? Avoid charges by setting up regular automatic payments of your household bills or setting up reminders on your phone so it doesn't slip your mind.
4. Sign up for credit card perks
It's a competitive credit card market in Singapore, so all companies offer great rewards to lure customers. Shop around for the cards that offer incentives that float your boat. Think shopping vouchers, cashback, air miles, dining discounts or cheaper groceries. Takashimaya Vouchers: yes, please!
5. Pay your credit card off each month.
Eugh, credit card interest is the worst. Avoid paying all that interest by paying off your credit card bill in full each month. Getting into the practice of only buying what you can afford to pay back will also help avoid nasty charges. Don't forget to shop around for 0% interest fees and balance transfer fees, too, to ensure you don't get stung.
Family deals and memberships in Singapore
6. Get a family membership
Every family enjoys a good day out. By signing up for family memberships, you'll take advantage of heavily reduced entrance fees for key attractions in Singapore. We're talking Singapore Zoo and Universal Studios. Winner!
7. Become an IKEA family card member
The IKEA family card is free and entitles you to member prices. You'll receive one point for every $1 spent to redeem and offset purchases, as well as free tea and coffee and discounts on meals in the restaurant.
8. Nab a Kinderpass
We're always on the hunt for things to do with kids, whether it's swimming classes, art jamming or music lessons. But these classes do come at a cost, sometimes a steep one. Enter Kinderpass! Pay a flat rate each month, and your little ones can try their hand at a variety of workshops, music and art classes, and also a trip to their favourite play areas. It's a great way to expose the kiddos to a variety of new learning experiences! You can also filter the activities according to location, age of child and type of activity, so you save on lengthy research time.
It's just $12 for a five-year membership, and the benefits are great, from cheaper shopping to discounts on over 1000 merchants island-wide (including Gardens by the Bay!). Don't forget it's also an EZ-link card, so top up at no extra cost. And you can earn KrisFlyer miles (or convert your miles to points). It's a no-brainer!
10. Become a Sentosa Islander member
Check out the brand new Sentosa Islander Pass with three new tiers to take advantage of. Start off with the Island Explorer pass and bag welcome vouchers, 1 point for every S$1 spent, plus plenty of perks and benefits at participating outlets. Make the most of that pass with our guide to Sentosa for families!
11. Get cash back with ShopBack
Sign up for ShopBack to get up to 50% cashback when dining at faves like Subway, The Daily Cut, Simply Wrapps, Pho Street, Texas Chicken (and hundreds more, including entertainment and retail). It's easy peasy – you just start at the ShopBack site to shop online with your usual retailers, and a percentage of your spend goes into your account, which you can redeem down the track. We racked up over $100 in just a few months. Winning!
Money-saving shopping hacks in Singapore
12. Go bargain shopping and hunt for deals!
Go bargain shopping in Johor Bahru to source everything from high-street and designer fashion to grocery hyper-marts and local eats, all at a fraction of the cost in Singapore. And you'll feel like you've had a Malaysian city break! Or, if you want to hit the stores in SG, be sure to check out our monthly roundup of the best family deals before you head out so you can bag a bargain!
13. Set gift limits with friends and family
Birthdays and holidays can be very expensive. Especially if you've got a large family! To help save money, consider setting limits for how much to spend or only buy for kids and not parents. Or, for even more cash-saving hacks, do a 'Secret Santa' option during the holidays so you only have to buy one present. And psst – take advantage of sales and special offers. The recipient will be none the wiser that you bagged their pressie as a bargain!
14. Sleep on it
It's no secret we love a spot of online shopping. It's all too easy to Add to Cart and hit the buy button! Instead, try and impose the "24-Hour Rule". Seen some gorgeous shoes or new jeans? Give it a day to think it over so that you avoid impulse buying.
15. Embrace pre-loved goods
There's a thriving second-hand market for buying and selling in Singapore for everything, from baby bouncers to well-loved micro-scooters and designer handbags. Check out the HoneyKids guide to second-hand shopping in Singapore to help you land some steals! Looking for the kids? Check out our guide to the best circular fashion options in SG!
16. Organise a swap night
If you're in need of new clothes yourself or love books but find they eat a chunk out of your bank account, organise a swap session instead. Get together a group of friends and play swapsies. Not only will you get rid of clothes you've fallen out of love with (we love a clearout!), but you'll also get some 'new' pieces in the process. All without spending money. Winner!
How to save money on water and electricity in Singapore
17. Use less water.
Cutting down on your water usage can also pay dividends. Fix leaks, take shorter showers, only boil as much water as you need in your kettle and don't leave the tap running while brushing your teeth. It all helps!
18. Turn off that AC
As much as we love AC here in Singapore (in fact, it's nicknamed the air-conditioned nation), it can certainly rack up the dinero on your energy bill. Experts advise keeping the temperature at 25° for the most efficiency. Better yet, switch it off altogether, or try not to use it at night while you sleep. You may also want to consider opening the windows and getting those fans blowing instead. Keeping your curtains and blinds closed on really hot days can also help keep your home cooler. Oh, and be sure to get your AC serviced every three to six months to keep it tickety-boo.
19. Look at your laundry
Laundry powder and detergent are super concentrated, so be sure to use the minimum suggested amount to help you rack up the pennies. Other tips? Ditch the tumble dryer and line dry clothes instead. And, if you tend to use the handwashing cycle on your machine, clean those delicates manually instead – you'll save a surprising amount of water in the process.
Money-saving tips on food and groceries in Singapore
20. Shop local
Swap your imported organic broccoli for Asian greens. With year-round tropical temperatures, fresh local vegs from the wet markets are cheap as chips (and even at the supermarket you'll notice the price difference).
21. Get the most out of your groceries.
Food waste makes our eyes twitch. How much guilt do you feel if you've ever had to chuck out fresh produce because it's gone yuck before you had a chance to use it? With that in mind, we've pulled together our fave food storage hacks so you can get lots of life out of your fresh fruit and veggies. They really work!
22. Buy in bulk
For non-perishable products, take a leaf from the US and buy in bulk from hypermarkets like Fairprice Warehouse Club. Split haul with your friends if you must as it's super affordable.
23. Plan your meals
We're firm believers in planning our meals in advance – it means we stick to a list while we're out at the supermarket or putting in our online orders. That saves you money, as you're likely to spend less money than people who only decide what to buy on a whim. Trust us, the savings can be big on this one. Bonus: it also helps prevent food waste.
24. Shop around
It might be a bit more effort, but shopping around can bag you some bargains. Different supermarkets will have different promotions at any one time, so if you see your favourite buys on offer, buy them. Some shops may charge considerably more for the same products too, or they may be a lot cheaper online. Don't be afraid to try own-brand items too.
25. Don't buy bottled water
Don't spend precious cash on bottled water – save money by filling a reusable water bottle instead. Not only will you save money, but you'll also be helping save the planet by cutting down on single-use plastic.
26. Eat local
Hungry for some lunch or dinner? Head to your local hawker centre. Not only will you save tons of money, but you'll also discover all sorts of ridiculously amazing food you never knew you loved (it's popiah for us!). Work your way through our guide to the 30 must-eat dishes in Singapore – we even have a printable checklist for you – and save expensive Western restaurants for special occasions.
27. Shop out-of-hours
Another good food hack perfect for the late-night dinner? Sushi from Cold Storage is half-price right before closing time. Bakeries will also heavily discount or even give away stock at the end of the day. Bargain!
28. Cut down on takeaways
Eating out certainly ain't cheap, but neither is home-delivered food. While it might save you on cooking time, takeout food costs. And it mounts up fast. Save money by cutting back on how often you order delivery or takeout.
29. Eat more seafood and less red meat
A whole snapper not only looks impressive but will feed the entire family, and it's better for you too! Our fave? Pick up a kilo of clams for under $4 at the supermarket to make a super impressive spaghetti vongole. Or, ditch the meat altogether and try a couple of #meatfree days.
30. Get gifted expensive goods
Okay, sometimes we can't live without that decadent weekend roast beef. Our trick? Ask every overseas visitor to skip the boozy gift and instead make a deposit of quality meat. Lamb is not a luxury item in Australia!
31. Drink local kopi
Switch your brew from barista coffee to local kopi. At around $1.20 a cup, you can get your local caffeine hit for a fraction of the cost of that skim latte. Check out our guide to ordering local coffee and tea in Singapore to help you find your new fave. Pick up some kaya toast while you're there!
How to save money on transport in Singapore
32. Cut the car out
Do you really need a car? The public transport system is so efficient here in Singapore that many families are able to do without their own set of wheels. If you do own a car though, would another model be more efficient and, therefore cheaper to run? It's worth considering!
33. Earn petrol points
Have car, need petrol? Sign up in-store or online for the rewards programs and start accruing points to get you free fuel, free stuff and actual dollars off your bill. Team up your loyalty card with one of the best credit cards for petrol, and you'll be saving up to 30%!
34. Share rides
Car-pooling will save you cash on ERP tolls, petrol and parking (which gets verrrrrry exxy in the CBD). Sharing school rides can also save busy mums a couple of sweaty pick-ups each week, and if you get the whole neighbourhood gang in on it, you can sort out your after-school runs as well. If you do this through ride-sharing apps, always, always check notifications and messages for the latest promo code – these deals just keep getting better!
Saving money on kids' essentials in Singapore
35. Rent your baby equipment
Babies grow in the blink of an eye, so why not save a few bucks on a stroller you're only going to use for a few years and rent it instead?
36. Buy furniture that grows with your kids
Once the kids are safely transitioned from crib to bed, don't bank on them sleeping in that toddler bed all the way up to their teen years. Our advice? Instead of buying a bed for every stage, get one that grows with them instead.
37. Sell those unused kid's clothes
You know, all those adorable outfits that only get a couple of wears before you're onto the next size up. Why not sell those online to earn a pretty penny? While selling second-hand goods can take a little bit of time to list, it's a great way to add to the savings pot. Make sure what you're selling is in fab condition, stain-free and has lots of life left.
38. Make the most of kids eat free deals
Going out for lunch with the kiddos? Get in on these great kids eat free deals at some of our fave family-friendly spots!
39. Go for reusables
Have the kids take lunch to school in one of these stylish and environmentally-friendly sandwich bags. You don't just save on packaging, you're saving the planet too! And while you're at it, use reusable supplies wherever possible. Rather than buying disposable beauty and household products, switch to reusable ones instead. Think bamboo breast pads, reusable face wipes for makeup removal, reusable dishcloths, and so much more!
40. Dip into the deals at Daiso
Kids churn through crafting supplies faster than you can sprinkle glitter. If you shop at Daiso, you won't mind. At cheap as chips prices, you can afford to let their creative juices flow. You'll also find home-cleaning supplies like natural-bristle brushes and that amazing magic eraser sponge for cleaning scuffed walls.
41. Find an affordable school
If you're forking out a small fortune on international school fees, you'll be pleased to know about the rise of affordable international schools and alternatives in Singapore – a school move might be right for you.
How to save money on fun and wellness in Singapore
42. Opt for local treatments
Seriously need a massage? Avoid the five-star spa and get a traditional Indian or Chinese massage instead. Not only do these dudes know their pressure points, but you'll also walk away feeling relaxed just knowing you've shelled out around a third of the price. We'd luurrve some reflexology right now.
43. Exercise at home or outdoors
Drop the gym/pilates studio and do a spot of DIY exercise. If you live in a condo and have a gym or pool at your disposal, it's a no-brainer. Head out in the cool of night with a friend for a power walk around your neighbourhood, or head to good old East Coast Park for an active family day out. Bring the bikes or load up the bike-sharing app and hop on for some cheap and cheerful fun.
44. Go on an outdoor adventure
Make the most of Singapore's parks, play areas and pram-friendly walks! As much as we love indoor play centres, ain't nuthin' like an outdoor adventure. Bring the kid's skates and scoots, too!
45. Make a splash at the public pools
Public pools have a one-time entry fee with killer water playgrounds, wading pools and even lazy rivers. Or skip the pool altogether and cool off at one of the many free water play areas dotted around the island.
46. Love your library
They're a great way to keep up your reading habits and get through your TBR list without spending a cent. We love 'em! Browse our list of awesome libraries for kids, and check out the NLB's site for access to electronic resources and free newspapers.
47. Get free entry to ArtScience Museum
Want to bring the kids to check out the amazing Future World exhibit at the ArtScience Museum? Head over on a Friday, and with every paying adult, up to four kids under 12 will enjoy free entry under the Family Fridays at the ArtScience Museum program.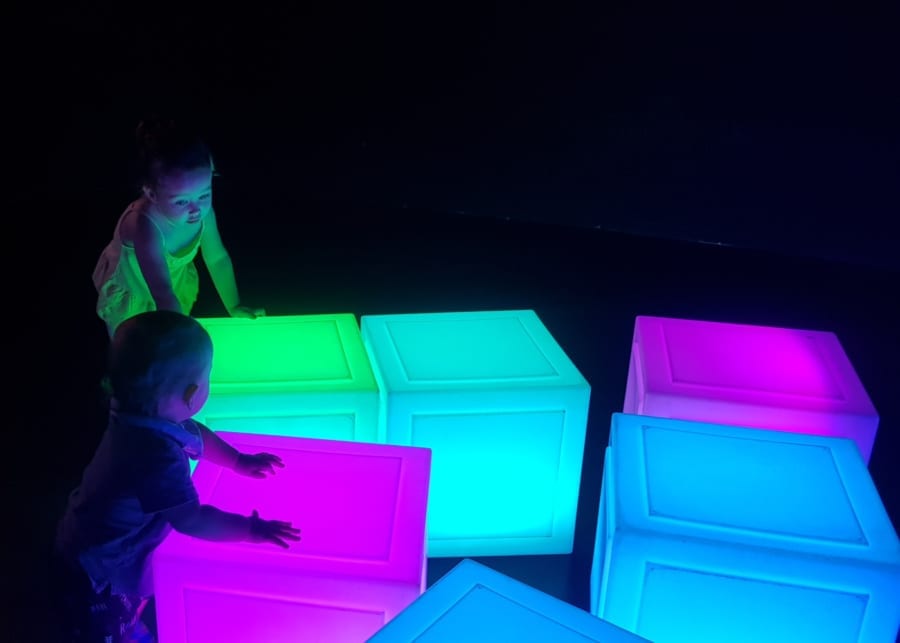 48. Grab a great cinema deal
Movie buffs will know that by world standards, a trip to the cinema is relatively cheap in Singapore. Make your night with Ryan Gosling even more wallet-friendly by watching websites for deals.
49. Entertain at home
There's no doubt that eating out, heading to the cinema, or taking the kids out for a whole day of activities can cost a tidy sum. Save money by cutting back on how often you do that, and instead entertain at home. Have a family movie night, or a board game tournament, or a dinner party with friends where you all bring a plate and a bottle. All the fun, less expense!
50. Head out on a free day out
Remember, you don't need to fork out a small fortune to keep the kids entertained on weekends. Check out our list of fun and free activities for kids in Singapore, and make sure you've tried them all!
There you have it: all the cash-saving hacks to reach your financial goals!