Photography: Ryoji Iwata via Unsplash
Have a pram, will travel? If you're keen to stroll with bub but want to make sure you can bring your wheels, check out these pram-friendly walks in Singapore...
If you're like us, then you'll love the fact that Singapore is the Garden City – so much nature makes for a great place to bring up kids. We're spoilt for choice with all the gorgeous green spaces we have on our doorstep. And being on the move, staying away from crowds and heading to quiet spots are great ways to exercise while still social distancing. If you're currently in the grips of parenting wee folk but still want to hit your daily steps goals, then we've got some good news. We've compiled a list of all our favourite, tried-and-tested walks in Singapore – and they're all stroller-friendly! So pack your sunscreen and your water bottle, strap your little one in the stroller and let's get moving. We give you: the complete guide for families to pram-friendly walks in Singapore.
Pram-friendly walks in Singapore for the entire family
1. Southern Ridges
The Southern Ridges, a 10km stretch of greenery in the southwest, is a great option for both littlies and parents with strollers – it's one of our ultimate pram-friendly walks in Singapore! Even better, you can choose which parts to take in and tailor them to your family's needs. As well as our in-depth article on the Southern Ridges hotspots to take in, NParks has a great guide to check out, too.
Where: Takes in Kent Ridge Park, HortPark, Telok Blangah Hill Park, Mount Faber Park and Labrador Nature Reserve.
2. East Coast Park
It's no secret this place is one of our all-time favourite outside haunts in Singapore. We love hitting this vast stretch of coastline with our families in tow for walks, cycling, skating, scooting and heaps more. With that beautiful cooling sea breeze coming in, flat surfaces and coffee on tap, many of us parents have enjoyed long pram-friendly walks here. There's a whopping 15km of coastline to explore, so you can make your stroll as short or as long as you like! Check out our ultimate guide to East Coast Park for all the deets.
Where: East Coast Park, Along East Coast Parkway and East Coast Park Service Road
3. Jurong Lake Gardens
Another one for the Westies out there. We spent a day exploring with our toddler junior reporter and can report it was a huge hit with the whole family. It was pretty hot, but the free water play area was a great place to splash around and cool off in. And the playground was amazing – we can't wait to go back again soon! Check out our guide to Jurong Lakeside Garden and see for yourself what all the fuss is about.
Where: Jurong Lake Gardens, 50 Yuan Ching Road, Singapore 618661
4. Sentosa Boardwalk
This 670m-long walkway takes pedestrians from VivoCity all the way to Sentosa (it ends at the Resorts World area near the Trick Eye Museum). It's a great option for a pram-friendly walk in Singapore, even in rainy weather with its covered roof! It's flat, shaded and a super-convenient walk with your stroller and teeny tot – there are even travellators should you change your mind about actually exerting yourself. Fast walker? You can do this light walk in just over five mins if you need your Sentosa fix quicksmart; otherwise, it takes a leisurely 15 minutes. Once you've landed island side, there are walking trails to pick up if you feel like continuing on. Otherwise, grab yourself a celebratory coffee and chill before heading home!
Where: Start at VivoCity, 1 Harbourfront Walk, Singapore 098585
5. Gardens by the Bay
Gardens by the Bay is another fave hotspot of ours, with a special shout out to the free water play area at Far East Organization Children's Garden. We always swing by the Supertrees for a quick snap (Every. Darn. Time), then enjoy a quick pit stop at Satay by the Bay when hunger strikes. We love how you can keep on walking and walking and walking… just in case bub drifts off and you can't face disturbing their slumber! Head into the Flower Dome or Cloud Forest if you need some respite from the heat, as these are blissfully air-conditioned (fees apply). The former can be a bit of a squeeze with a stroller though, while we prefer the latter for the continuous ramped walkway.
Where: Gardens by the Bay, 18 Marina Gardens Drive, Singapore 018953
6. Robertson Quay
Robertson Quay has always been a hotspot for our families, and a fab place to go scooting. And where you can scoot, you can push a pram! Cue a great stroller-friendly walk option if you're city-based, need to be near caffeine options at all times and have older kids. Check out our guide to riverside dining while you're in the 'hood!
7. Singapore Botanic Gardens
You'll often find a member of the HoneyKids team here with their mini squads – we love this place BIG time. Don your activewear and slip into those sneakers, as there are a few hills and slopes to contend with in parts during your day at Singapore Botanic Gardens, but that's not enough to put us off. Coffee options are also plentiful, so you can totally fuel up for your pram-friendly walk with ease. Plus, there's super-duper Jacob Ballas Children's Garden to entertain the kids too!
Where: Singapore Botanic Gardens, 1 Cluny Road, Singapore 259569
8. West Coast Park
Westsiders, rejoice! We have serious heart eyes for West Coast Park and love all the different loops and pathways to explore. There's a great playground to enjoy should they need to stretch the little one's legs. Although food options are limited with only a McDonald's in the park, there's a hidden gem in kid-friendly Kith a convenient two-minute stroll away!
Where: West Coast Park, West Coast Ferry Road, Singapore 126978
9. National Stadium
Pretend that pushing a stroller is a track-and-field sport as you take in a loop of the National Stadium with bub. The 100Plus Promenade is an 888-metre loop/running track that encircles the stadium – but even if you don't stroll in the red, blue and green lanes, there's plenty of room on either side… and it's fully sheltered, so we have a lot of time for that. It's usually really quiet (even on a Saturday morning we pretty much had the place to ourselves!), and you'll often see kids on their scooters accompanying parents with strollers. Easily accessible via bus and MRT, this pram-friendly walk also takes in Kallang Wave Mall, which we appreciate for the water play, eateries and shopping.
Where: National Stadium, Singapore Sports Hub, 1 Stadium Drive, Singapore 397629
10. River Safari
Oh, how we love Singapore Zoo! The great news is that the River Wonders side of things is often a lot quieter than its more well-known cousin – and is largely covered. That means if you're unfortunate enough to be caught out in one of Singapore's tropical downpours, you'll still be able to keep on walking, rather than waiting out the rain under an awning! The super-cute animals you can see and learn about as you walk through are also perfect entertainment. A fab option for a pram-friendly walk if you have an annual pass, otherwise entrance fee applies.
Where: River Wonders, 80 Mandai Lake Road, Singapore 729826
Cost: From $28.80 per adult (local resident) and $19.20 per child (local resident, ages 3–12); non-residents from $32.40 and $21.60 per child
11. Bishan-Ang Mo Kio Park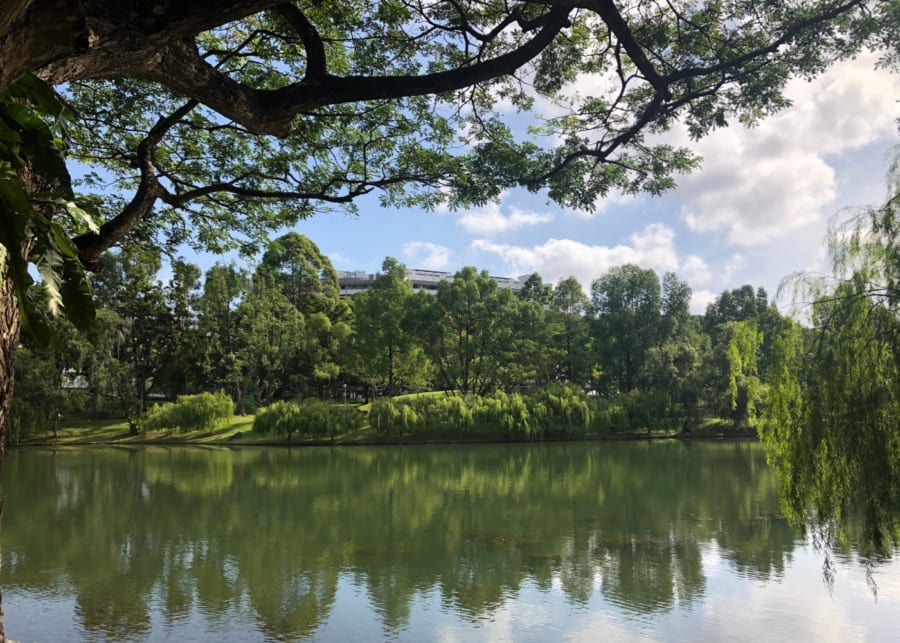 How have we only just discovered Bishan-Ang Mo Kio Park? Expect lots of paved surfaces, plenty of shaded areas and gorgeous grassy spots to bring your picnic to. Got older kids too? They'll love all the little bridges, spotting otters in the water areas, the fab playground… and the totally brill water play area! Psst, don't leave without exploring what else Ang Mo Kio has to offer. Spoiler: loads of fam-friendly options!
Where: Bishan-Ang Mo Kio Park, along Bishan Road and Ang Mo Kio Avenue 1
12. Sungei Buloh Wetland Reserve
There are several stroller-friendly walks on offer at Sungei Buloh Wetland Reserve, one of our fave spots if you're a nature-lover or have a thing for birds. This handy guide to the trails details the paths that are accessible and make for lovely pram-friendly walks. Note: the viewing stations and rope bridges will be out of bounds to you and your wheels, so feel free to bring a baby carrier too, so you don't miss out.
Where: Sungei Buloh Wetland Reserve, visitor centre entrance at 60 Kranji Way, #01-00, Singapore 739453; wetland centre entrance at 301 Neo Tiew Crescent, Singapore 718925
13. Labrador Nature Reserve and Bukit Chermin Boardwalk
Labrador Nature Reserve is a great spot to chill with the kids. There's lots of shade so pop down a picnic blanket and give bub some tummy time. Getting there is a cinch, too. While Labrador MRT is right on the doorstep, we like starting at Harbourfront and then walking down Bukit Chermin Boardwalk towards Labrador Nature Reserve. Top tip: this route has a LOT of sun, so it's best for an early morning or early evening walk when the heat of the day has subsided or an overcast day. Need coffee? Detour via Privé over on Keppel Island for a quick fix – this family-friendly resto also serves up soy milk babyccinos and has a great kids' play area that older siblings will enjoy.
Where: Labrador Nature Reserve, Labrador Villa Rd, Singapore 119187
14. Pasir Ris Park Mangrove Boardwalk
In our guide to Pasir Ris, we mentioned the mangrove forest, which we absolutely loved. Explore the six-hectare site via the boardwalk and get as close to nature as possible. See if the kiddos can spot a monitor lizard along the way! Walk all the way to the look-out deck over at Sungei Tampines, where you can take a break and just soak in the greenery. Psst, if it happens to rain, this is a great spot to seek shelter.
Where: Pasir Ris Park, Along Pasir Ris Central, Singapore 519639
15. Canopy Park at Jewel Changi
We were really impressed by Canopy Park over at Jewel Changi. From the hedge and mirror mazes to the slides and 'foggy bowls', there were loads of things to catch eyes and attention spans. The great news is you can take a stroller through the park (you'll have to park it up if you want to pop into any of the 'attractions'), so bub can enjoy the sights, too!
Where: Canopy Park, Level 5, Jewel Changi Airport, 78 Airport Boulevard, Singapore 819666
Enjoy these stroller-friendly walks in Singapore, parents! And don't forget to tag us if you have any other faves around the island.