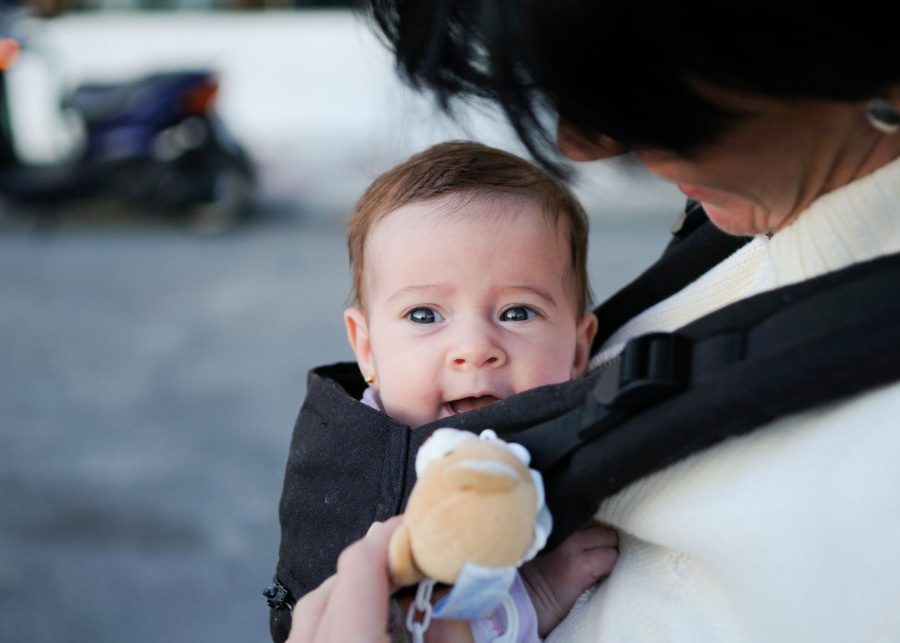 Photography: javi_indy via Freepik
Keen to start carrying your baby around Singapore but not sure which baby carrier, wrap or mei tai to go for? Here's our hit list of cool and comfy baby carriers in Singapore.
Let's face it – while it's definitely great in places, there are still many spots in Singapore that aren't exactly pram-friendly (think: patchy pavements, crumbling steps and escalators everywhere). With this in mind, we've bought lightweight strollers and know our stuff when it comes to travelling safely in taxis with kids. But nothing frees you up for that quick whip around the shops better than strapping your baby into a carrier. Yes, you can push that trolley! With the added consideration of the heat in Singapore, it makes sense to work out which is the best, most comfy and COOL baby carrier on the market before making an investment. We've done the homework for you, and bring you our list of the top baby carriers and wraps right here in Singapore.
The best ergonomic baby carriers for Singapore
1. Ergobaby
BEST FEATURE: SUPER-COMFORTABLE
Suitable from birth to toddler, 3.2kg-15kg. Comes in the 360, Omni 360, Embrace Newborn Baby carrier and Hip seat baby carrier models.
The Omni 360 All-In-One Cool Air Mesh Baby Carrier is your best bet. It gives you the option of all the carry positions plus ultimate ventilation to keep you both cooler. You can also use this from the newborn stage onwards and the crossable shoulder strap helps you keep your tot nice and snug. Can't wait till six months to use your Ergo Baby? They have a new Embrace Newborn Baby version that'll let you wear bub and keep them close even if they're still teeny tiny.
Available at Mothercare
2. Tula Baby Carrier
BEST FEATURE: WEARABILITY AND STYLE
Suitable from newborn right up to 4+ years, comes in Free To Grow, Explore and Lite Compact models.
The Tula Baby Carrier is one of the most popular breeds of Soft Structured Carriers (SSC) that spreads your baby's weight across your body. We like the standard model for older kids and the Free to Grow model from birth in narrow, middle and wide widths. There's also a toddler size for kids 18 months to four years for the die-hard Tula devotee. What do we love? The support, the ease, the comfort (for both you and the baby with M-position seat), extra leg padding for longer wearability and the fact you can wear it on the front or back (from one year of age). The bright and funky prints are the best of any carrier we've seen.
Available at Pupsik
3. Líllébaby – Complete Airflow Baby Carrier
BEST FEATURE: COOL AND BREATHABLE
Suitable from birth to toddler, 3kg-20kg, comes in Complete Airflow, Complete, Elevate and Carryon Airflow.
It's like the Líllébaby Complete 6-in-1 Airflow was designed specifically for the tropical Singapore climate with its 3D breathable moisture-wicking mesh for maximum airflow and ventilation. It can be worn in six ways: fetal, inward facing carry, inward facing carry – wide seat, front facing carry, hip carry and back carry. It also offers great hip and spine support. The adjustable flap provides additional neck support for newborns and then converts to provide upper back stability for older babies. It has a simple design, and you can throw it in the washing machine in case of a poonami – winning! It's truly hard to fault this product, as they've addressed the downfalls of the original in the Complete Airflow, with its lightweight, breathable fabric and a handy pocket. If we had to nit-pick, we'd say styling isn't as hip as some of the other carriers on the market.
Find the Líllébaby carrier at Pupsik Studio
4. BABYBJÖRN – Baby Carrier Harmony
BEST FEATURE: LIGHTWEIGHT AND BACKWEARING CAPABILITIES
Suitable for newborns and younger toddlers up to three years, 3.5kg – 18kg.
The BABYBJÖRN has been around for eons – so there are still a large number of parents who swear by it. The newer Baby Bjorn Harmony has soft and airy mesh material and a redesign to keep the baby's hips in the M-position (hip-healthy – tick!). It's also offers back wearing – which we think is one of its best features (you strap on the front and then niftily adjust safely onto your back). The good news is this model has a weight limit of 18kg, which means you can be wearing the carrier well past toddler age. Did we mention it also has padded back support as compared to its previous versions? – Bonus points!
Purchase from Pupsik
5. Manduca XT Baby & Toddler Carrier
BEST FEATURE: VERSATILITY AND LONGEVITY
Suitable from newborn to pre-schoolers, 3.5kg – 20kg.
German-designed Manduca garners good reviews from the babywearing crew in Singapore. It is another SSC and often compared closely to the Ergo. It's good for infants (it mimics baby wraps and doesn't need an insert) and can be useful for carrying your little person right up to age five years on your back (provided they're under 20kg). There's also a handy detachable smart strap for extra stability and safety when using in rucksack style. It's made of organic cotton which, while soft for baby, can attract dust and animal hair so might not be the best choice for kids with allergies. Check out the limited edition range if you're after material that pops.
Purchase from Shopee
6. Stokke Limas
BEST FEATURE: THE CHIC FACTOR
Suitable from newborn to toddler 3.5kg – 15kg.
Here at HoneyKids HQ we love all things Stokke – the Tripp Trapp high chair and the Xplory stroller to name just two of its uber-popular products. For a company with such a strong design ethos, it stands to reason that the Stokke Limas would be just as fabulous. We're loving the NEW Limas Collection with its wonderfully light, air-wick, quick-dry fabric in chic colours and patterns. It certainly is ergonomically sound for keeping your little precious one close to your chest, safe and free of hip issues. It also has nifty racerback shoulder straps. It's most similar to the BABYBJÖRN in terms of fit and design. We did a barre class wearing the carrier and found it comfy for both mum and baby. It can be a little tricky to fit initially (with lots of buckles and straps to adjust), so it's worth going in-store to Mothercare for a proper fitting.
Purchase from Mothercare
BEST BABY CARRIERS IN SINGAPORE: WRAPS
Baby wraps, ring-slings and mei tais have a passionate following all over the world. There are loads to choose from and there's no such thing as a perfect wrap – it's definitely a case of personal preference. And it can be a little hard to get the knack of all that tying and knotting, but don't give up!
All parents should be alive to the safety risks related to the incorrect usage of a wrap or sling. Babies aren't physically strong enough to move out of dangerous positions that block their airways and can suffocate.
So, when you're deciding on a sling, take your baby with you and have a professional fitting. There's nothing to worry about provided you follow the TICKS checklist:
T – Tight: Slings should be tight enough to hug your baby close to you.
I – In view at all times: You should always be able to see your baby's face by simply glancing down.
C – Close enough to kiss: By tipping your head forward you should be able to kiss your baby on the head.
K – Keep chin off the chest: A baby should never be curled so that their chin is forced onto their chest as this can restrict their breathing.
S – Supported back: The baby's back should be supported in a natural position so their tummy and chest are against you.
7. MOBY Wrap
Discover the ultimate one-stop shop for all your mobility needs with your little one. Explore MOBY's impressive range of baby carrier wraps, including the Reversible wrap and Featherknit wraps, boasting trendy patterns. Crafted from a soft cotton-poly blend, these wraps offer breathability and comfort for your munchkin. Worried about sizing? Don't be! MOBY wraps cater to petite and plus-sized parents alike. Plus, they adapt from the tiniest 3.5kg newborns to sturdy toddlers up to 15kg. And here's the best part: these wraps are machine washable, making them ultra-convenient for busy parents like you.
Purchase at Mothercare
8. Studio Romeo
This elegant French babycare brand captivates us with its signature line of baby wraps, slings, and carriers. Crafted from 100% organic cotton, these wraps feature stylish patterns that mums and dads will adore. Produced in Portugal using non-toxic colourants, they ensure safety for your little one. And don't worry about messy accidents! Simply toss the wrap into a 30°C washing machine for a quick and thorough clean. It's as easy as that!
Available at Smallable
9. Minimonkey
Thanks to this awesome Dutch brand, baby-wearing just got way more fun and convenient! Minimonkey has come up with some seriously cool baby carriers, like the mini sling, regular carrier, and get this, even a twin carrier! How cool is that? The mini sling is perfect for Singapore's hot weather with its lightweight, breathable mesh fabric, and it's waterproof too, so you can use it while showering or chilling by the pool or beach. It keeps your little one snug and comfy in the recommended 'M' position and meets all the safety standards. Plus, it's compact enough to fit in any handbag. This brand has totally nailed it when it comes to making babywearing a breeze!
Available at Pupsik
Few handy-dandy tips before you shop for that baby carrier
Join the Babywearing Singapore FB Group where you can hear from other mums, and find hiring and fitting services to see which carrier suits you best.
Wait until the baby is born before you buy, as personal fit and support is everything.
Take note of the age and weight recommendations for various carriers, and look for M-position and C-curve support.
Try out a few of your friends' carriers before you commit
Also bear in mind that if your baby has hip dysplasia you'll need to be very careful which baby carrier you select.
And there you have it! If you have an uber-favourite brand you would like to share with us, drop us a DM. Happy baby wearing folks!