Is your bub ready for solids? If the answer's yes, you'll need to start thinking about high chairs. We share the ones we love and use for our bubs!
Starting your baby on solids soon? Whether you're going the baby-led weaning route or purées, you're definitely going to need to start looking at high chairs. Because if you don't, you're looking at a horrible mess in your dining room (we know, we've been there). And besides, it's much safer for bub and everyone else, too.
When should you get a high chair for your kiddos?
Knowing when your baby should start sitting in a high chair is important! Typically, this transition happens around 6 months when your baby is ready to eat solid foods.
Here's what to look out for:
Control their head and neck
Grasp small objects
Open their mouth to a spoon
Show interest in food
Sit up on their own
Swallow food
Once your baby shows these signs, it's time to get a high chair!
There are many factors to consider when choosing your little one's feeding throne. And you should give it a good think before making a commitment because you'll be using your high chair until your little one is two or three years old. Is it easy to clean? Is it easy to store? How long can you use it? Is it comfy enough? These are just some of the questions you should ask yourself before choosing your high chair.
There's no doubt that the HoneyKids mums know a thing or two about high chairs. We've all fought the battle of the broccoli (and still continue to fight the good food fight), and we've compiled our ultimate faves…
The HoneyKids guide to the best high chairs in Singapore
1. IKEA
Best for: the budget-savvy mum
Raising a kid (or three) can get expensive. So, rubbing a penny or two together when we can is always a treat. HoneyKids mum Kate swears by her Ikea Antilop chair (pictured up top), not only because it's a bargain but also because it's super easy to clean. "You can just hose it down if you like," says Kate. "And if you have more than one, you can easily stack them on top of each other."
The downside? Because it's made out of plastic, it isn't the sturdiest high chair. Although you should be keeping an eye on your bub anyway, you'll need to watch like a hawk if you decide on the Antilop. Especially if you have a 'climber'.
Suitable for: 0 to three years
Cost: From $35
Where to buy: IKEA
2. Stokke Tripp Trapp
Best for: the mum who doesn't mind the splurge
If you're looking for a chair that'll grow alongside your little one, the Stokke Tripp Trapp is worth the splurge. We've tested it at HoneyKids HQ, and it was a hit! The best part? HoneyKids mum Tracy says: "It looks like a piece of furniture – it'll fit right in with your Scandi dining chairs and everything else in your dining room!" In fact, the Tripp Trapp was designed to be pulled right up to the dining table so that your little one can join in the dining fun!
The downside? With each weaning stage, you'll need to buy the appropriate accessories, which could end up costing you $$. Quality comes at a price.
Suitable for: Official stance is four months to eight years, but we say it lasts way longer (our 1o-year-old uses it)
Cost: From $485
Where to buy: motherswork
3. Phil and Ted's Lobster chair
Best for: the mum who's looking for a space saver
Any mum will tell you that when you have kids, it's easy to accumulate stuff – stuff we sometimes don't even need. For some mums, your typical high chair can take up too much space. Enter: Phil and Ted's lobster chair. You can attach it to almost any table, which saves you a lot of space when it comes to storage. It's easy to fold up and chuck into the bottom of your pram, just in case you're heading to a restaurant that isn't so kid-friendly. "It's compact enough to take anywhere! Including those hipster restaurants that don't have high chairs because they don't want kids around – ha!" says mum Selina.
The downside? If you've got a chunky monkey, you might find it a challenge to slip your babe's legs through the leg holes of the Lobster's seat.
Suitable for: Babies up to 15kg
Cost: From NZD$139.90
Where to buy: Phil and Ted's
4. Peg Perego Siesta High Chair
Best for: the mum who multitasks
As mums, we're all about being able to multitask, especially when we have more than one babe to care for. The Peg Perego Siesta high chair's wheels make it easy for you to keep your little one close to you at all times – even when you're doing the dishes! HoneyKids mum Brynie had this to say about the chair: "You can recline it for those moments that baby needs support or if they fall asleep – nothing beats not having to move a sleeping baby!" Psst, you can even adjust the height so if you need to sit on the floor, your bub can join you.
The downside? The Siesta is not inexpensive, but you can use the chair from birth onwards. Also, unlike its plastic or wooden alternatives, the polyester seat can prove to be tough to clean and can stain over the years.
Suitable for: Birth up to 15kg
Cost: From $617
Where to buy: Amazon
5. Ingenuity Baby Base 2-in-1 Floor Seat
Best for: the mum who wants a multi-purpose chair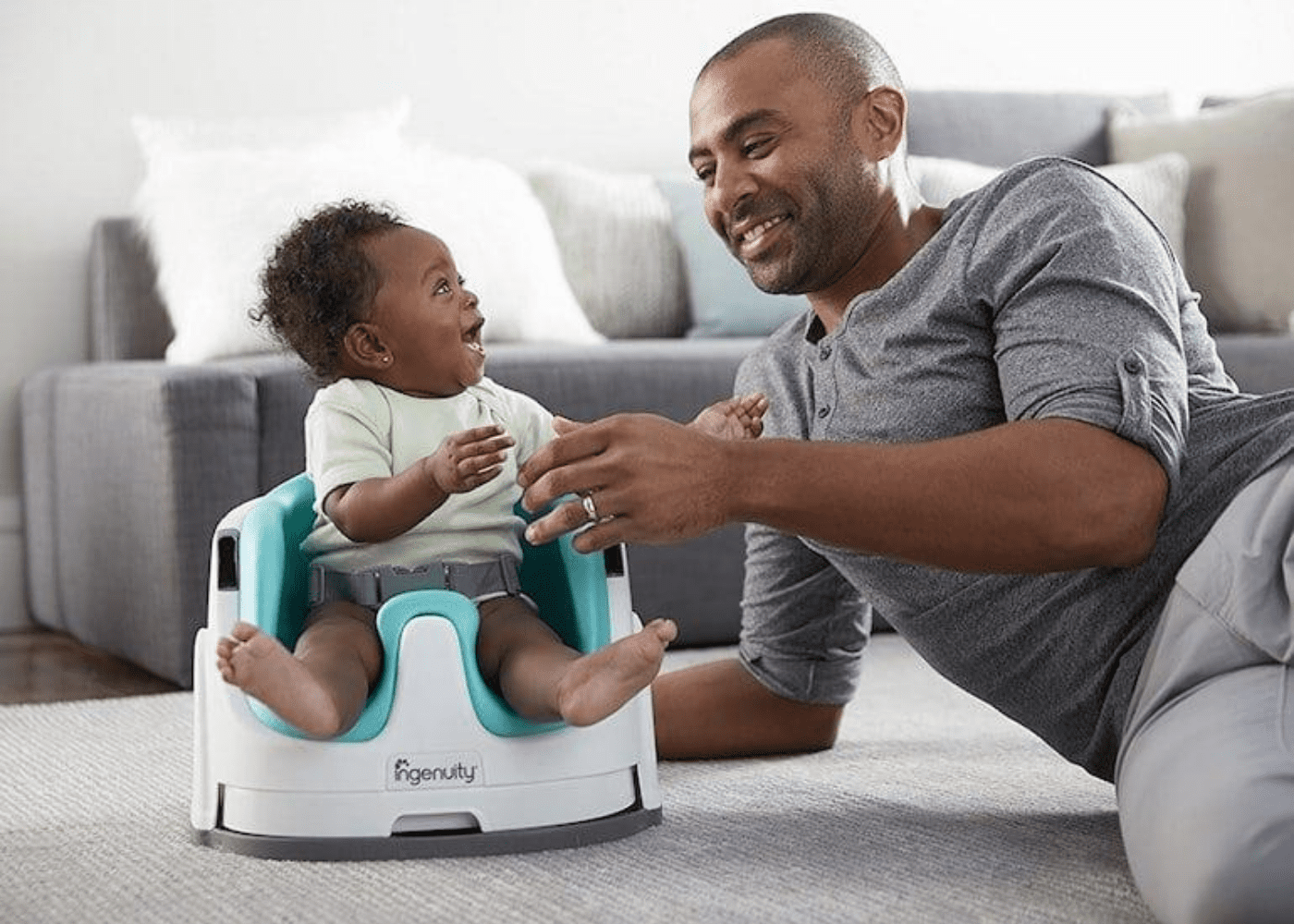 If you're looking for a chair that doubles as a playtime seat and a mealtime booster seat, then the Ingenuity Baby Base 2-in-1 floor seat is your best bet. It easily attaches to most kitchen or dining chairs, and the foam insert can be removed once your baby outgrows it. HoneyKids mum, Jana was gifted this chair and has used it for her two kiddos. "My almost-three-year-old still uses this chair! It's super easy to wipe down and really durable. And I love that I can remove the tray, making it easier for everyone to join in for mealtime."
The downside? Once you've put your bub in (with the foam insert), it's tough to buckle and strap your little one in because the buckle is quite tricky.
Suitable for: Six months up
Cost: From $89
Where to buy: Amazon
6. The Baby Bjorn High Chair
Best for: the mum who wants an escape-proof chair
Got a bub that's always McGyvering his way out of his high chair? The Baby Bjorn's not only aesthetically pleasing but it's also got a nifty tray that acts as a lock when closed. This makes it virtually impossible for them to stand up in the chair or use their feet to push away from the table. Another thing we love about the design? The table's snug enough so that there's less chance of your babe making a mess. And that's definitely a win in our book!
The downside? As with all things white, this chair is prone to stains. Be sure to wipe it down with Magiclean or 409 when you're done with feeding!
Suitable for: Children six months to six years
Cost: From $359.20
Where to buy: Pupsik Studio
7. Oribel Cocoon Z High Chair
Best for: the mum who's looking for form and function
As its name suggests, Oribel's Cocoon Z is a high chair that is snug, warm, and cosy. It's easily adjustable, transforming from a lounge bed for infants to dining chair for bub (three recline modes!) with just a click. This high chair also comes with a huge tray, giving your little one plenty of room to eat their meals and play with toys while you're cooking. Kiddo made a mess? Clean-ups are easy peasy since the detachable tray is dishwasher-safe and you can remove the seat for cleaning! Plus, this new model is fitted with 360-degree gliders to help you move it around the house effortlessly without leaving scratch marks on any floor surface. We love!
The downside? The seat can feel a little too firm for some, but you can always get a seat liner if you feel bub needs some extra padding ($69.90).
Suitable for: Birth to three years
Cost: From $319
Where to buy: Love Oribel
8. Hauck Alpha + Trio: High Chair + Tray + Bouncer
Best for: the mum who's looking for a sustainable, lifelong companion!
Designed in Germany, the Hauck Alpha+ High chair is a chair that your little one can use from birth to 90kg (as an adult chair!). It is designed to last you for a lifetime, across your baby's milestones, and can be used for years even after your baby has grown.
The Alpha+ High chair is compatible with the Alpha Bouncer and the Alpha Tray attachments to suit your kiddos needs as they grow. It's easy to clean, easily adjustable seat heights, and compatible with comfortable seat inserts. This is a great sustainable option made from beech wood!
The downside? It isn't collapsible, and some accessories are sold separately. Rigid seat – so you might like to invest in a comfortable insert.
Suitable for: Birth onwards
Cost: From $188
Where to buy: Hatchery
And the verdict is…
When it comes to buying high chairs in Singapore, the HoneyKids mums put both price point and practicality at the top of their list. The Ikea Antilop high chair is the clear winner for most HoneyKids mums. Not only is it extremely affordable, but it's also easy to clean – a must for any mum.