Bring on the babyccinos! We've found the frothiest warm milk offerings for kids in Singapore to go alongside your big mug of coffee!
Coffee: the lifeline of so many a' frazzled mum and sometimes the ONLY way to get through the day after a sleepless night with your toddler, a fraught day with a sulky teenager, or just a day of parenting fails (forgotten tooth fairy duties, sneaky veg detected in the pasta and a school excursion form you didn't sign…). But how is it possible to get in a relaxing coffee date with the kids always in tow? We'll tell you how: babyccinos! These thimble-sized offerings of frothy milk dusted with chocolate powder and sometimes a side order of marshmallows are a great way to get a prolonged moment of peace while you mainline your own quadruple espresso shot. If it buys you a brief bubble of sanity, then buy into it, we say. And on that note, here's a list of places where you'll find the frothiest babyccino hits around Singapore…
The best babyccinos in Singapore
1. Oh Deli
Oh Deli: oh, how we love thee! Not only do we rate it as one of the best butchers in Singapore, but it turns out it does a pretty mean babyccino, too. Delightfully frothy and sure to keep the kiddos happy long enough for you to gulp a fab latte and maybe even chow down on a delectable Wagyu beef wrap, all-day brekkie or homemade scone with fresh cream and jam.
Where: Oh Deli, 421 East Coast Road, Singapore, 429008
2. Craftsmen Speciality Coffee
We've long been fans of the Aussie cafe vibe that Craftsmen Speciality Coffee has nailed perfectly right here in Singapore, and as well as its amazing menu (you have to try the pulled pork burrito!) it offers up top-notch coffees and pretty-as-a-picture babyccinos. The colourful mini marshmallows seal the deal.
Where: Craftsmen Speciality Coffee, locations at Siglap V, Thomson Road, Mohamed Sultan Road, Holland Village and Clarke Quay Central
3. PS. Café
Our kids beg to go to any of the PS. Cafe locations on a Saturday for afternoon tea and babyccinos – and we usually give in because the cakes are honestly spectacular. Other standouts from the extensive menu include the superfood salad (with a side of truffle shoestring fries of course) and the PS Café wagyu beef burger.
Where: PS Cafe – locations islandwide
4. Toby's Estate
The winning ingredient here at Toby's Estate is that there is ample space for scootering pursuits after your little one downs their drink with Robertson Quay on the doorstep. You can sip yours while they play up and down along the river. Win-win.
Where: Toby's Estate, 8 Rodyk Street, 01-03/04 Singapore 238216
5. Starbucks
Yup… we know it's generic, but you can't fault the fact that Starbucks provides that moment of babyccino peace and quiet for free. We're all about saving money wherever we can, so we'll take that free froth several times over while we languish over our grown-up version. We especially love the one at Parkland Green, where the kids have plenty of space to run around once they're done with their 'cino.
Where: Starbucks, various locations
6. Plain Vanilla Bakery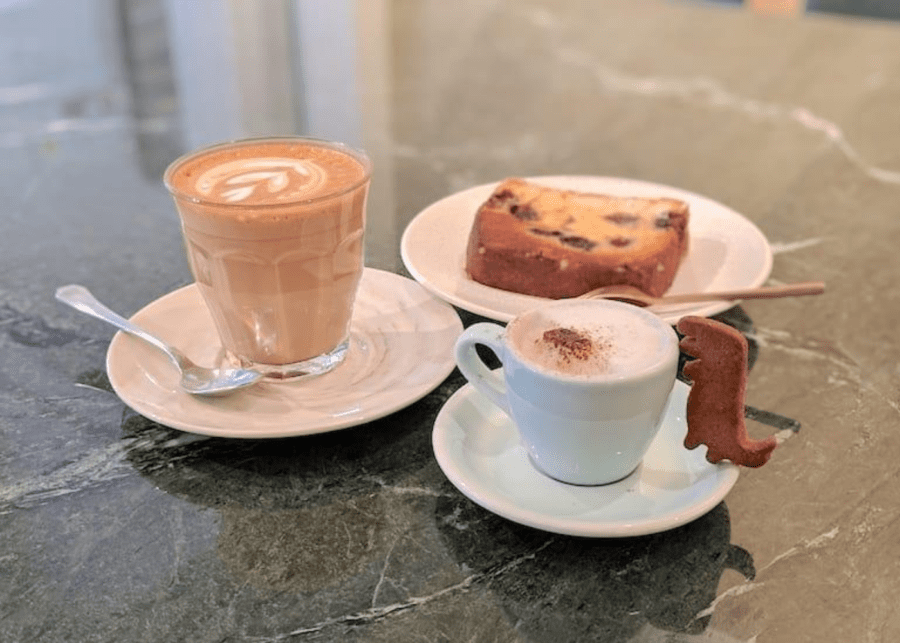 There's nothing plain about the babyccinos at Plain Vanilla Bakery. Kids will love their perfectly foamy milk drinks: extra brownie points for the animal and dino cookies included in the sweet deal too. Don't forget to treat yourself to a cupcake: mummy and bubba date perfection right there.
Where: Plain Vanilla Bakery, locations at Tiong Bahru, Cluny Court, ION Orchard and Telok Ayer
7. Brunetti
The stalwart of the Tanglin Mum Brigade, you can't go wrong for a quick lunch, a chat and a free babyccino at Brunetti. The oh-so-tempting biscuits, cakes and ice creams at a kid's eye-level mean you probably won't make it out without a biscotti or macaron purchase to go along with that frothy milk.
Where: Brunetti, 163 Tanglin Rd, #01-35 Tanglin Mall, Singapore 247933
8. ABC Boulangerie Co.
With four outlets around Singapore, you'll never be too far from a tried and tested babyccino hit at ABC Boulangerie Co (a popular spot for mum meetups, too). Little ones will love feeling all grown up as they sip their choc-dusted drink just like mum does – we say make a date of it and try its kids' meals, sandwiches and quiches too: freshly baked and totally delicious.
Where: ABC Boulangerie, various locations
9. Baker & Cook
Baker & Cook is our go-to for coffee, cakes, moreish dips, sourdough pizzas and, of course, babyccinos! This is also where you should be heading for freshly baked breads that are not your run-of-the-mill supermarket finds. We're talking everything from a good ol' fashioned bloomer to a Turkish pide, a Danish rugbrod to a fig and aniseed sourdough!
Where: Baker & Cook, various locations
10. Cafe Manuka
Appease the kiddos on a shopping trip around Orchard with a welcome pit stop at Cafe Manuka in Paragon. The nearby ride on toys plus the simple but healthy tucker makes it a great pick for refuelling after a busy day in the malls.
Where: Cafe Manuka, #05-k3/k4 Paragon, 290 Orchard Rd, Singapore 238859
11. Carrotsticks & Cravings Cafe
Created and run by a mum-of-three who is on a mission to bring tasty but healthy cafe offerings to families, Carrotsticks & Cravings also serves up a mean babyccino. The two outlets just so happen to be in two of our favourite locations: Dempsey Hill and Roberston Quay!
Where: Carrotsticks & Cravings, 75E Loewen Rd, Singapore 248845 and 7 Rodyk St, #01-34, Singapore 238215
Know of any other awesome babyccinos in Singapore? Send us a DM on Instagram!