Image: Andsoforth
If your little one would love breakfast with Charlie Brown, lunch with Superman and dinner with Harry Potter then you're going to need a themed cafe…
Going to a restaurant or cafe in Singapore with kids can be a bit of a hit-or-miss affair, but throw in the promise of something fun for the kids and bingo, they're suddenly on board. One fool-proof strategy? A themed cafe. Whether you fancy a seriously good burger with a side order of rock memorabilia, a sweet treat topped with a purr-fectly cute character or a bubbling cauldron of magic soup, we've found fun-themed cafes in Singapore the kids – and the grown-ups – are going to love…
The best themed cafes in Singapore
1. Kumoya Cafe
Kumoya Cafe is best known for its rotating themes throughout the year – it's played host to My Little Pony, Pusheen and Sesame Street in the past. Next up: the lovable characters from We Bare Bears! Hurry on over with your little fans before it finishes its run in mid-April. We brought our own small fans along, and the verdict was a big fat thumbs up. There's SO much cute in this place; we're obsessed!
Where: Kumoya Cafe, 8 Jalan Klapa, Singapore 19932
2. Platform 1094 (the Harry Potter-inspired cafe)
If you know the difference between leviOsah and levioSAH, and are still waiting in vain for a wax-sealed letter from a certain magical educational institution, you'll want to hop on your broomstick and make a trip to this wizardry-themed cafe in Singapore's Serangoon. Check out the Hogwarts-inspired interior and magic potion mocktails! The drinks menu includes the real deal for grown-ups, with a signature cocktail called the 'Goblet of Fire' that involves actual flames.
Where: Platform 1094, 1094 Serangoon Road, Singapore 328192
3. Hard Rock Cafe
Got a music fan on your hands? Then you'll love this world-famous restaurant! Check out the cool rock memorabilia on display before ordering a huge ice cream sundae to share while listening to rock-tune classics. Hard Rock Cafe not only serves up a large portion of good ol' rock 'n' roll, but it does a pretty mean burger, too.
Where: Hard Rock Cafe, #02-01, HPL House, 50 Cuscaden Road, Singapore 249724 and #01-209, 26 Sentosa Gateway, Singapore 098269
4. Saint Games
For the video game-loving young folk, this is a hotspot of pure gaming heaven. Saint Games aims to inject a huge dose of video-gaming fun and entertainment in a cosy and comfortable setting. Get 'down' with the kids and learn a thing or two about online gaming before bagging yourself the 'coolest parent of the year' award for bringing kids, tweens and teens to this gamers' paradise.
Where: Saint Games, #02-09, Kallang Wave Mall, 1 Stadium Place, Singapore 397628
5. Wonderland Savour
Alice in Wonderland fans will certainly love visiting this whimsical tea room! Much like the book, you can opt to have a tea party with a variety of sweet treats and a cup of tea at this Alice in Wonderland-themed cafe, Wonderland Savour. If you're looking for something savoury, the cafe also has delicious mains that'll make you feel like royalty. Don't forget to take out your camera as you dine in the quirky, vibrant space that features portraits of the Mad Hatter and the Queen of Hearts.
Where: Wonderland Savour, #02-08, Wisma Atria, 435 Orchard Road, Singapore 238877 and #01-43, VivoCity, 1 Harbourfront Walk, Singapore 098585
6. Andsoforthjr immersive dining experiences
This ever-changing immersive experience sees little ones whisked into the world of Alice in Wonderland, undersea with mermaids, or on an epic adventure around the world in 80 days! Check the website for the latest experience on offer.
Where: Andsoforthjr, 16 Lorong Ampas (Warehouse16), Singapore, 328778
7. Hololive Production x Aniplus
Fans of Anime will love a trip to the Hololive Productions x Aniplus-themed cafe! All of the dishes are inspired by the eight members of Hololive Production!
Where: #01-13C Annexe, The Esplanade Mall, 8 Raffles Avenue, Singapore 039802
8. Jurassic dining! Visit Jurassic Nest at Gardens by the Bay, with Michelin-starred food and 18 huge dinosaurs!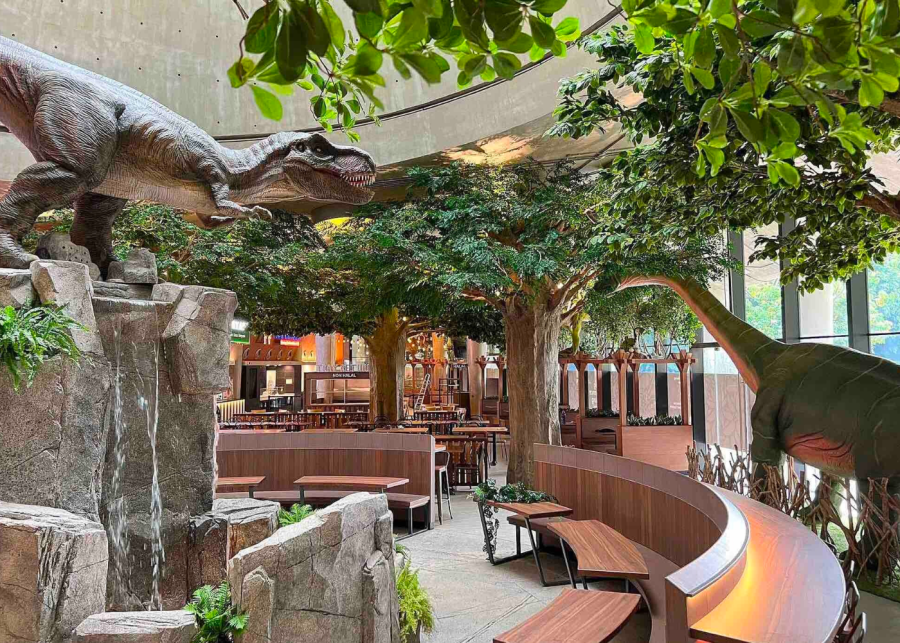 Fancy dining among the dinos? Check out Jurassic Nest Food Hall, the newest restaurant at Gardens by the Bay, which includes super cool and realistic dinosaur statues! This is more than a restaurant hall; it's a whole edutainment destination in itself with daily shows and an educational trail that guides you to explore the surrounding gardens to discover fascinating facts about some of the earliest species of flora and fauna that existed since prehistoric times (wow!)
Where: Jurassic Nest Food Hall, #01-19, Gardens by the Bay, 18 Marina Gardens Dr, Singapore 018953
Enjoy your dining experiences at these themed cafes in Singapore!