Photography: Tim Douglas via Pexels
Don't want to eat out on Christmas Day but can't face cooking either? Check out these fully-catered Christmas dinners that can be delivered to your doorstep, all without lifting a finger (except the one clicking 'Buy Now')...
It's fast becoming the most wonderful time of the year here in Singapore: Christmas 2023! And, as much as we love heading out to a festive brunch with the family, there's something to be said about a quiet dinner at home with your loved ones. The only downside to staying at home for your Christmas dinner? Having to cook. And after all the excitement (and bickering) that comes with unwrapping presents, we're always emotionally exhausted. The last thing we want to do is prepare a family feast! So our top tip? Try a Christmas catering company (hello, islandwide delivery) or a takeaway dinner instead!
While we have the utmost R.E.S.P.E.C.T for anyone who cooks Christmas lunch at home, sometimes the mere thought of slaving in the kitchen in this heat brings us out in a sweat. Sound like you? Then you'll definitely want to know about the delivery, takeaway and Christmas catering options for a festive dinner at home. And if all else fails? Make a note of these delivery apps, too!
CHRISTMAS 2023 DELIVERY & TAKEAWAY OPTIONS IN SINGAPORE
1. Journey into the heart of Christmas with Orange Clove's whimsical offerings
Orange Clove has cooked up some whimsical offerings this Christmas! Whether you're having a mini soiree or a large Christmas party – you're bound to find the perfect menu for your gathering from their list of curated selections. For an extravagant buffet, go for the 15-course Fairytale Forest Feast Buffet which comes with a refreshing grazing platter, hearty meat mains (including a Slow Roasted Spiced Whole Leg of Lamb), soup, sides, as well as whimsical desserts and a beverage choice. Plus, this menu package includes a complimentary "Whimsical Woodlands Thematic" setup – so that's your Christmas feast decor, sorted! For smaller gatherings, Orange Clove's Yuletide Splendour Mini Buffet is great for a party of 15 and more. This mini buffet has nine courses, featuring classic festive dishes like Orange Roasted Turkey Breast with Redcurrant and Apple Sauce, as well as dishes with a unique twist like Baked Fillets of Salmon in Creamy Aged Pu-erh. All mini buffet dishes are served in microwavable containers. These don't take up much space, so you don't need a huge dining hall or function room for this. Orange Clove is also a halal-certified company – a great choice for your inclusive Christmas gathering!
2. Have a taste of "Santa's Gourmet Atelier" with Kryston
Say hello to Kryston, the latest culinary venture by top local caterer Neo Group! For its debut, Kryston is presenting a full Christmas menu with 34 unique dishes in the form of two exclusively curated bundles. The Christmas bundles are perfect for mini gatherings, featuring savoury dishes like Superior Tomahawk Steak, Premium Grain-fed Roast Beef Tenderloin, Laksa Seafood Boil, Salmon Wellington, and more. Sweets are included too in the form of tartlets and Pandan Grandeur Yule Log. If you're planning for a bigger Christmas party, Kryston's Mini Feasts are the perfect choice. Each of its Mini Feasts come with eight to nine courses, perfect for gatherings with 15 guests and above. Dish options include festive centrepieces like Honey-Glazed Festive Chicken Ham and Yuletide Sausage Assortment, accompanied by your choice of seafood, poultry, finger food, greens, and carbs. Of course, the Mini Feasts are complete with desserts as well! Plus, you can get Christmas pastries and desserts through Kryston's collaboration with Celebox, a trusted dessert brand also by Neo Group. All of these delivered to your doorstep in hassle-free packaging – perfect! Thinking of planning something fancy and one-of-a-kind? No problem – Kryston offers culinary consultations to help you build your Christmas dream menu too!

Bonus: Book your Christmas Mini Feast with Kryston by 1 December 2023 to enjoy 50% off a Chocolate Festive Fudge Log.
3. Tuck in to Grain's wholesome Christmas offerings
Want a feast that feels like home but tastes like heaven? That's exactly what Grain promises this Christmas. Its 2023 Christmas menu features decadent classics like Truffle and Morel Glazed Chicken, Housemade Cottage Beef Pie, Fisherman's Coastal Stew, Miso Braised Beef Cheek, and a hearty Charcuterie Platter. All these are prepared using wholesome ingredients with restaurant quality flair – just what you need to make your Christmas feast at home an unforgettable one. Choose from three carefully-crafted menus for your Christmas Buffet or Mini Buffet: Holiday Classic for value festive flavours; Santa's Signature for classic dishes with a twist; and Yuletide Feast for the finest selection of them all. You can even personalise your buffets (to cater to your guests' taste buds) with mouthwatering add-on dishes, including ultra-tender smoked meats from its Ember Smokery collection. Whether you're celebrating with a crowd, or just a few friends – Grain has a package for every gathering size. Its Christmas Meal Boxes, featuring highlights from its Buffet menu, are great for more intimate gatherings.

Bonus: Order by 11 December 2023 to enjoy Grain's early bird pricing on all Buffet and Mini Buffet menus, including its Black Cherry Timber Log Cake at only $7.50 instead $75! The online restaurant is also giving a miraculous price when you bundle up two or three add-ons!
4. Celebrate the Christmas festivities in true Italian spirit with Da Paolo Gastronomia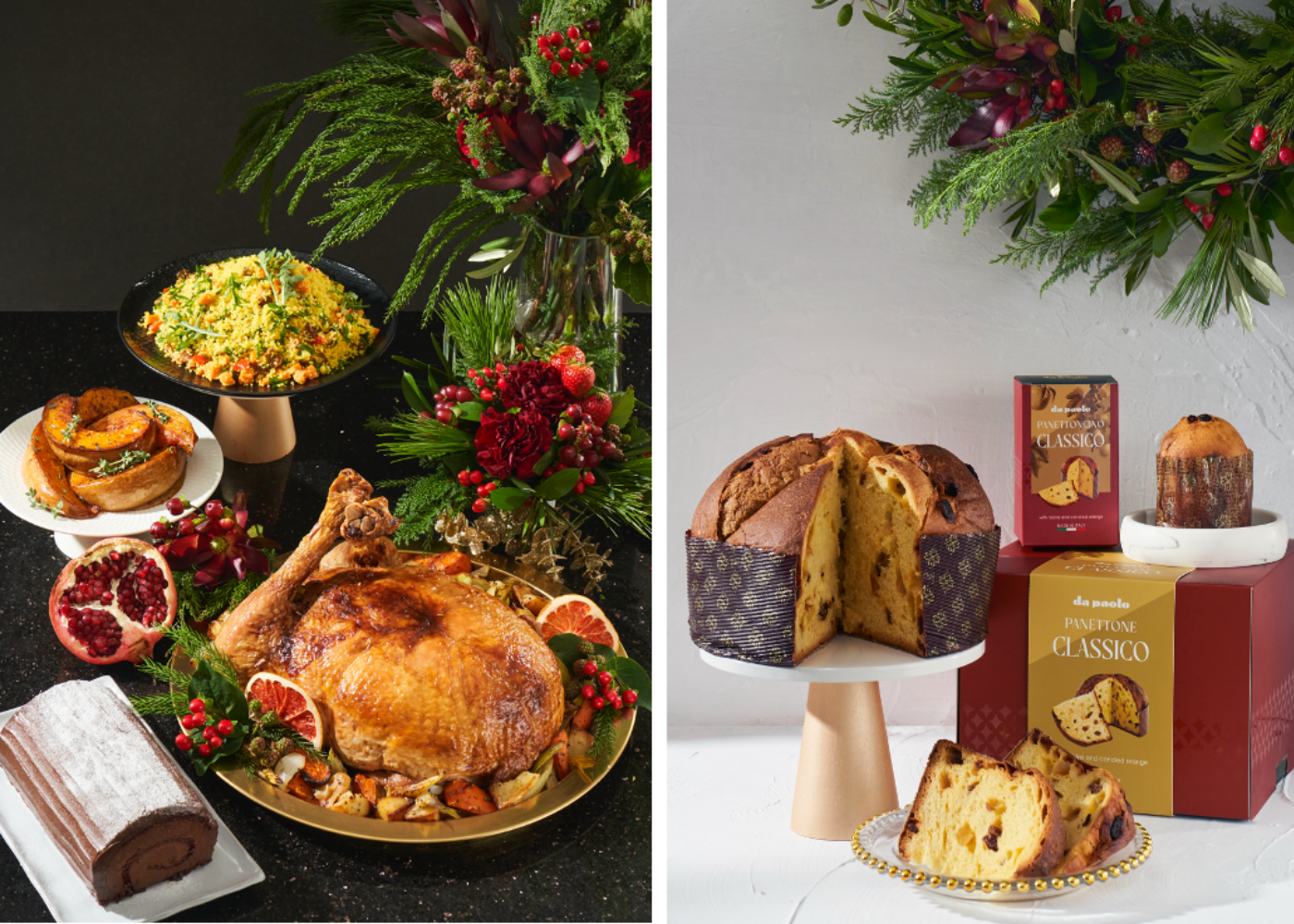 Da Paolo Gastronomia presents a true Italian Christmas feast with an exquisite selection of this year's festive favourites. Tuck into a sumptuous line-up of new and signature offerings such as succulent roasts, moreish sides, and delightful log cakes available for self-pick-up and delivery. Hosting is made easy with two festive bundles curated for the occasion: the Christmas Roast Bundle and the new Christmas Feast Bundle. You can expect an enticing epicurean line-up teeming with succulent roasts such as the signature Stuffed Boneless Roast Turkey, sumptuous sides to complete the Christmas feast, and delightful desserts featuring the new White Forest Log Cake. Kiddos will love the new Gingerbread Chocolate Tart! Check out the meticulously curated selection of hampers, too. Don't miss out on traditional offerings like the classic Pandoro.  Festive offerings are available for orders online from 1 November to 31 December 2023. Enjoy an early bird offer of 15% off Christmas Roast Bundles for orders from 1 November to 30 November 2023.
5. A Tasty Christmas Tale with The Marmalade Pantry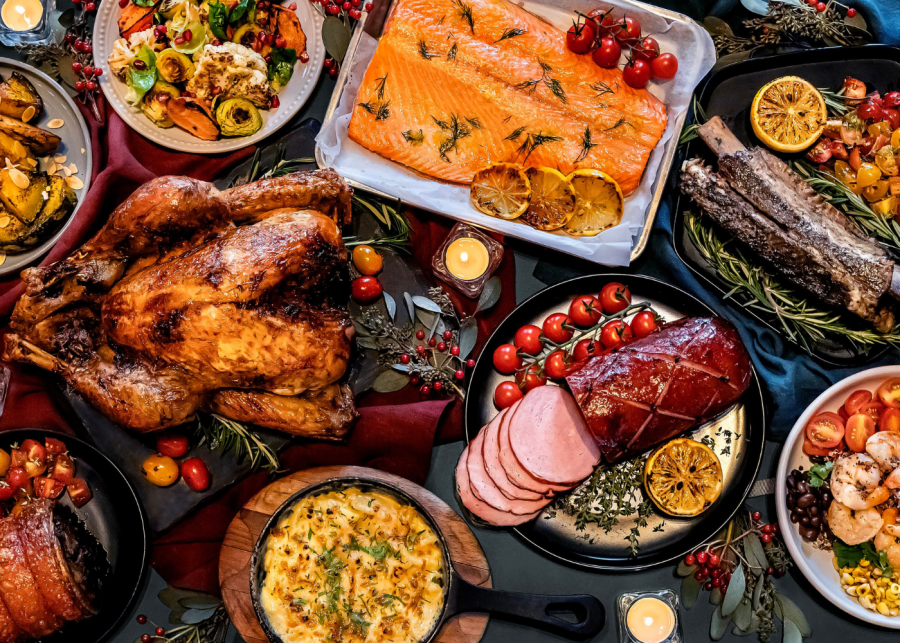 Experience the magic of Christmas with The Marmalade Pantry. Their Christmas offerings (from $248 for Festive Bundles) include a sumptuous feast featuring Roasted Maple Bourbon Turkey, Beef Short Ribs Bone-In to a medley of complementary delights like The Marmalade Mac & Cheese and the must-have festive dessert centrepiece –  the Nutty Noel Chocolate Log Cake. The order period starts from now till 23 December while stocks last.
6. Seafood sensation at home (or traditional beef wellington, sharing platters, sashimi and caviar!) from Greenwood Fish Market
If you love a traditional beef wellington, but also love seafood, why not give a salmon wellington a go? Greenwood Fish Market has a whole host of options if you're hosting a Christmas party at home this year, and whatever you choose is sure to impress. We were lucky enough to enjoy a cold seafood platter delivered to our door, with big juicy prawns, clams, freshly shucked oysters and a half steamed boston lobster. Enough to feed our family comfortably, and we can confirm it not only looked amazing, but tasted great as well!
7. A Season of Joy, Love and Celebrations with York Hotel
Wrap up the year on a jubilant note and heartwarming revelry with flavourful festive offerings from York Hotel Singapore. The Holiday Cheer Bundle menu ($228) consists of Grilled Black Angus Tomahawk Steak with Chimichurri Sauce and Grilled Corn on the Cob, Baked Nordic Salmon Christmas Cottage Pie, Roasted Cajun Turkey with Chestnut Stuffing, and their highly-acclaimed Portuguese Egg Tart sets in two limited-edition festive flavours. An advanced order of three working days is required. Check out the credit card promotions!
8. A French Christmas Affair with Bistro Du Vin
Spruce up your home parties this festive season with Bistro Du Vin's authentic French offerings that will surely delight your guests. From homemade charcuterie to fresh Cancale oysters to roasted birds, your guests are guaranteed a good time! Their festive specials include chestnut veloute with truffle, duck breast stuffed with foie gras, roasted French pigeon with chestnuts, and coffee mash.
9. Christmas Deli Pre-Order Feasts from Cheers and FairPrice Xpress
Cheers and FairPrice Xpress have teamed up with an exciting line-up of Christmas Deli Pre-Order sets available at selected stores islandwide until 15 December 2023 for collections from 22 November to 4 January 2024. There are three platters to choose from depending on your party needs: the Honey Duet, Sausage Duet and the Family Platter, all of which feature traditional festive flavours. The Family Platter features a Traditional Roast Chicken and Roasted Pork Knuckle served alongside mini Chicken Garlic Sausages and mini Pork Cheese Crackers, paired with a signature gourmet sauce – perfect for your party needs this festive season. Kiddos might especially love the sausage platter featuring 3 different kinds of pork sausage, one with cheese!
10. The ultimate Christmas feast at Little Farms
Little Farms has everything you need to create your ultimate Christmas feast, with selected treats from small and independent farmers, cheesemongers, bakers, and producers. There's something for every diet and discerning palate. We especially think their delicious Christmas dinner options make for an easy breezy family feast! What's not to love about Whole Roasted Turkey, some glorious sides such as Rosemary and Garlic Duck Fat Roasted Potatoes, and a range of side salads for those keeping it light? For desserts, tuck into their classic Butternut Pumpkin Pie! Simple yet so elegant, perfect for a sumptuous family dinner this festive season. Pre-orders are open from now till 30 December.
11. Tablescape Restaurant & Bar
Tablescape Restaurant & Bar is bringing a European winter holiday to Singapore in the form of its festive offerings. From its Celebration Roasted Whole Chicken to A Wellington Wonderland, rest assured you'll have a dining table full of hearty offerings for your guests this Christmas. Not forgetting dessert, sweet tooths are in for a treat with the boozy Royal Stout Dream and refreshing Oh Zesty Santa! Tablescape's afternoon tea set is also available for takeaway and delivery, complete with its popular Mont Blanc Éclairs, rich Rosemary Apple Tarts, the new Pistachio Orange Financier, and more. Pre-order now for self-collection or delivery!
12. "A Starlit Christmas Indulgence" by ONE°15 Marina Sentosa Cove
Looking for an easy-breezy Christmas feast with the family this holiday season, minus the hassle of going out to a restaurant? ONE°15 Marina Sentosa Cove has your back with their brand-new festive campaign, "A Starlit Christmas Indulgence." Get ready to dive into some seriously delicious holiday takeaway menus! Picture this: a Christmas Roast Bundle that feeds 6–8 hungry souls, complete with yummy sides like Brussels sprouts with pancetta and classic scalloped potatoes. And guess what? They're throwing in their famous classic dark chocolate log cake for free! But wait, there's more to spice up your feast this year, like the Bone-in Slow-baked Whole Lamb Leg Shoulder and the irresistible Honey Pear Log Cake. Happy eating, folks! Note: Christmas treats are available to order from now to 7 January 2024.
13. Chico Loco
For a Mexican-themed Christmas delivery or takeaway at your casa, check out Chico Loco's lineup of traditional roasts. This fast-casual Mexican spit-roasted chicken joint is known for its signature rotisserie chicken and smoked beef brisket. However, festive dishes like smoked maple agave gammon ham and traditional herb marinated turkey are also totally nom-worthy. Turn any roast into a delicious taco with the DIY Taco Set which comes with six soft herb tortillas, pico de gallo salsa, chipotle mayo, shredded cabbage, pickled onion and juicy lime wedges. Or, level up your Xmas gathering with the Loco Mexmas Bundle and Fiesta Grande Feast.
14. Sumptuous platters from The Plattering Co.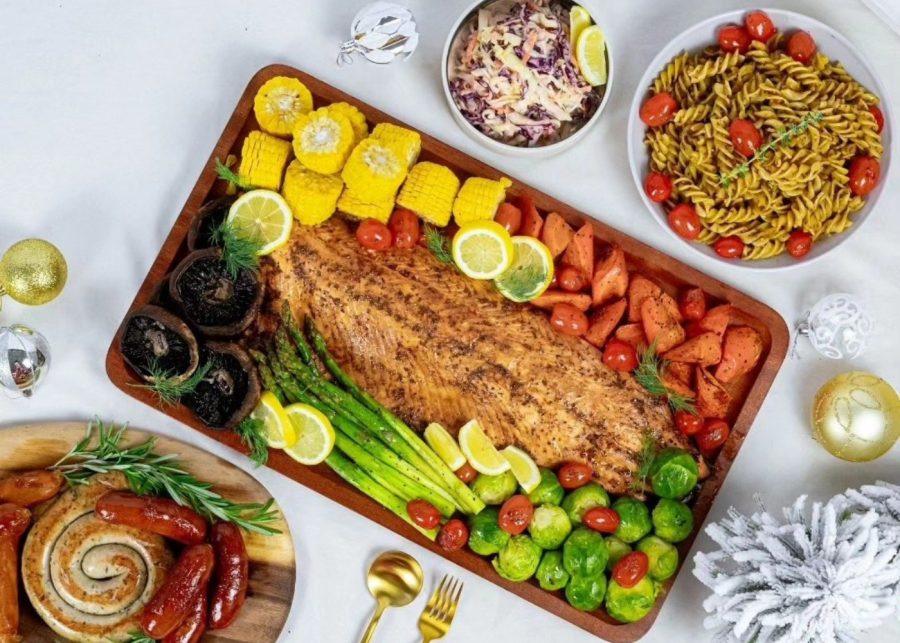 Tuck into some yummy, hearty platters from The Plattering Co this Christmas. Their Christmas menu includes traditional roasts and yummy sides, with bundles for up to 12 pax!
We're still working on updating our Christmas list for 2023 as more information comes in, so stay tuned for updates! In the meantime, here's our 2022 list below.
1. 1-Group's sumptuous 1-At-Home's Christmas Bundle
Looking to go the whole nine yards on your festive feast this season? 1-Group's sumptuous 1-At-Home's ($465++) Christmas Bundle ought to be a fam-pleaser this Christmas. Think the most exotic cuts like 2kg Roasted Turkey Breast Pistachio and Pancetta Stuffing, 1.6g Honey glazed & Baked Smoked Ham, and much more! All this is balanced with a vegetable platter of asparagus, carrots, roasted potatoes and white corn. Delish! The set is perfect for a party of 7 to 8 pax. Grab your Christmas Set, available for delivery from 1 to 25 December. Make note that pre-orders must be made five days ahead of the delivery date, with the last pre-order date being 19 December. Happy feasting!
2. Resorts World Sentosa
Don't feel like travelling all the way to Sentosa just for a Christmas feast? Well, you can taste the festive joy at home with Resorts World Sentosa's luxurious takeaway menu! There are three roasts for you to choose from – the roasted black pepper and paprika grain-fed tomahawk, oven-roasted lamb rack, and the 12-hr slow-cooked Szechuan beef short ribs. Sweeten your meal with various log cakes and other desserts. We have our eye on Mrs Claus' Macaron Tower!
3. Stamford Catering
Halal-certified Stamford Catering is a great option if you're after variety for your Christmas delivery. There are various bundle options suiting families from four to twelve people, so there's something for everyone. The Magical Party Set serves 10-12 and comes with, among other things, honey glazed chicken ham platter with cranberry compote, roasted old bay chicken with lemon creme fraiche, and penni al fughi with roasted turkey ham – all for a very reasonable $220++!
4. Swissbake
Spread the festive cheer to family and friends this season with Swissbake's Christmas menu. The artisanal halal-certified bakery is offering sweet and savoury delights that'll make at-home feasting an easy feat. Its Bundles of Joy can feed up to 10 people with a selection of roasted meats, two sides, and a log cake. If you're looking to impress your guests this year, order your Christmas feast from here.
5. The Gyu Bar
Planning a Christmas feast at home? Skip through all the cooking and let The Gyu Bar handle your festive meal this year. Its yakiniku home kits contain generous servings of Japanese wagyu, salad, side dishes, Hokkaido rice, and condiments. But what's a yakiniku if it doesn't come with a grill and charcoal, gloves, tongs, and even a water pack? The Gyu Bar has pulled out all the stops to ensure that your home kit is complete.
6. Jack's Place
We love a good roast (and by that we mean food) for Christmas, and Jack's Place looks set to be able to satisfy our meaty craving. Check out the affordable festive bundles, which are halal and can feed a party of 15 people. If you want to show off your grilling prowess to guests, get the Festive Grilling Steak Combo. It comes with tenderloin, striploin, and ribeye cuts. Psst, don't forget to order desserts for your in-house gathering. There's plenty to choose from, including a Christmas red velvet cake, festive cookies, and even DIY cookie kits.
7. Swensen's
Planning a festive feast may be daunting (trust us, we know). Fortunately, Swensen's has got your back with three specially curated Christmas packages that'll take the stress out of planning! The set menus feed up to 12 persons and cover everything from ravishing roasts to gorgeous greens, comforting carbs and even dessert with a Christmas ice cream cake of your choice. If you're feeling up to it, you can also choose to build your own festive package, all with a minimum purchase of $188 in a single order.
8. ParkRoyal Collection Marina Bay
Although we love the dine-in festive buffet at ParkRoyal Collection Pickering, sometimes it's nice not to get out of the PJs. So how about bringing the delicious feast home instead with a Christmas delivery or takeaway? Take your pick from the savoury gourmet roasts, delish deli items and dazzling sweet treats (hello, yule logs) from Portman's Bar. The Festive Family Feast is an obvious go-to filled with glazed boneless ham, roasted French poulet, and a chocolate log cake!
9. The Fullerton Hotel
Fancy a Christmas brunch from one of the top hotels in Singapore? This year's selection from The Fullerton Hotel comes with a variety of signature and new offerings. How does roasted turkey masak merah sound? Or perhaps the rosemary and garlic roasted gundagai Australia leg of lamb will strike your fancy? Don't forget to add the limited edition Christmas specials to your cart, especially the Christmas carousel and North Pole mailbox log cake! We can hear the waistlines widening already…
10. Fairprice and Fairprice Finest
Are you on a strict budget after spending all your moolah on Christmas gifts? We feel you. And that's why Fairprice has come up with pocket-friendly options for your consideration. Cherry-pick from a selection of over 130 items costing from under $30 and never reaching beyond $50. What a steal! If you want to take things up a few notches, pop over to Fairprice Finest, where you can peruse an extensive variety of the season's best traditions and gourmet selections.
Stay tuned, we're still updating this list! Merry easy-peasy Christmas, everyone!