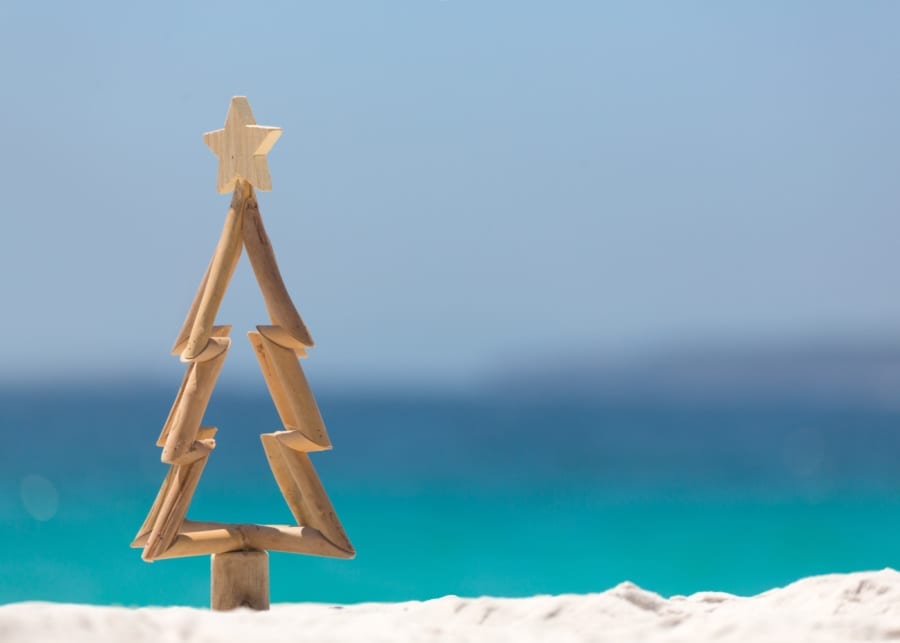 Whether you're celebrating your first or your 20th Christmas in Singapore as an expat, we've come up with the festive feels to help you avoid feeling lonely and blue...
Are you an expat suffering from 'first Christmas in Singapore' syndrome? For anyone far from home and their support network of family and friends, Christmas can be a tricky time tinged with homesickness. Around the world, dodgy Christmas jumpers are being pulled out of the cupboards, Santa is heading towards all the shopping malls and the supermarkets are filling with merry tunes and festive treats. But for expats? It's often just a stocking full of Christmas FOMO!
So, for those of us who have upped and left our 'home' for a new life overseas, what's there to do on Christmas in Singapore? There's certainly no need for festive jumpers here, and the weather outside is far from frightful. Nope, there's not a whiff of a snowflake, whisper of frost or the tiniest of skiing slopes to be seen. Yep, it's that time of year again when many expats get a big dose of nostalgia and are in danger of feeling somewhat lonely and blue.
Thankfully, we know exactly how to put the sparkle back into your Yule with our guide to "Christmas as an expat in Singapore". Read on and you'll be getting all the festive feels right here in your adopted new home.
A guide to Christmas as an expat in Singapore
1. Go and see the dazzling Christmas lights
While it may not get dark as early as it does in your home country at this time of year (and who wants it to be pitch black at 4pm anyway?), come 7.30pm, Singapore is ablaze with beautiful light displays that will have you ooooo-ing and ahhhhh-ing just as heartily as you would anywhere else in the world. Santa meet-and-greets, Christmas carollers, festive markets aplenty and even the odd merry pantomime will add to the Christmassy feeling.
2. Rock around the Christmas tree with a very merry playlist
You can console yourself in the knowledge that back home the Christmas music being piped out of every shop, mall and restaurant will have been driving people mad for months. But if you are craving some classic Christmas tunes then put yourself together a playlist of all your favourite Yuletide cheesy songs, grab the kids (no matter how horrified they may initially be) and rock around the Christmas tree. Whack on the air con, throw on some reindeer antlers and shake your bottoms to some classic tunes of epic Christmas proportions.
3. Have yourself a Christmas movie marathon
Whether your kids are in local school or international school (or both!), either way they get a substantial amount of time kicking their heels at home during December, which generally means having to think up a ton of fun school holiday activities. Pencil in a day or two with a bucket of popcorn and some mulled wine (or warm Ribena for the kids!), and watch your favourite Christmas classic films. Christmas isn't Christmas at all without a bit of Home Alone or Love Actually to lose yourself in for a few hours.
4. Make your own Christmas treats
While you can find the likes of mince pies, Christmas puddings and international goodies on the shelves of Singapore's supermarkets, it's always fun to whizz up a batch of Christmas treats with the small people at home. Nothing says Christmas quite like the smell of freshly baked gingerbread men and a boozy Christmas cake! Bung on a festive-themed apron and have a messy, merry time with some flour, marzipan, edible silver balls and your own small elves.
5. Embrace new traditions
Hankering for your traditional Christmas with family back home will only add to the homesickness. So why not make this silly season a time to embrace what your adopted country has on offer during the holidays? While Singapore may be more familiar with chowing down on chilli crab than pulling a Christmas cracker, keeping an open mind will allow you to join in on new, equally fun traditions. You may well miss your mum's belly-busting turkey dinner, but you can still have a super merry ol' time by heading to a Christmas Day brunch, Singapore style. Now is the time to indulge in fresh seafood and local delights, washed down with some free-flow fizz! Most of the big hotels have not only delish feasts happening on Christmas Day, but also lay on some seriously cool festive activities for kids to keep them out of your hair busy.
6. Share your traditions
Everyone loves a party, so arrange a very merry bash at your home and invite not only your other expat chums (who may also be feeling a little blue), but also your local neighbours and friends (obviously this year, there will be restrictions on numbers!). Get the kids decorating the homemade gingerbread men, feed your guests with turkey and mince pies (probably not on the same plate), pull crackers (not the edible type) and organise a secret Santa gift exchange. You can also go catered at Christmas of course, if you don't want to worry about cooking! Crank up that Christmas playlist you compiled, and create your own merry heap of festive fun.
7. Remember, the world is not so big…
In this age of modern technology, distance doesn't have to be the barrier it used to be. All thanks to the social media apps and messenger services available (if in doubt, ask your teenager or your cooler, younger work colleague for advice). Make sure you schedule some screen time with family back home. The grandparents can watch the kids open their gifts, and you can "chin chin" with a glass of cyber Bucks Fizz (regardless of time zones, it is never too early, or too late, to have a little tipple with loved ones!). Bridge the gap with some technology and connect with those you're missing this Christmas.
8. A long sleigh-ride from home but a quick hop to new experiences
Singapore is a multicultural melting pot of people, religions, nationalities and languages. Each of us has our own idea of Christmas and those ideas are as diverse as we are as a nation. Embrace this! If you're celebrating Christmas as an expat, find out more about how your colleagues, neighbours and new friends celebrate the festive season. And then bring your own twist to things. Remember, Singapore is festively fab at celebrating not just Christmas, but all festivals and important religious dates throughout the year. Get on board the year-round party bus (next stop: Chinese New Year!).
Most of all, enjoy the change of scenery and live it up. And may your expat Christmas in Singapore be merry and bright!