Photography: Marks & Spencer
Christmas is a time to feast and be merry. So we've tracked down the very best Christmas hampers in Singapore that are full to the festive brim with mince pies, log cakes, Christmas pudding and more!
It's time to haul home your Christmas tree, get your Christmas day Champagne brunch booked, and bring the kids to sit on Santa's knee. We LOVE this time of the year! Except when it comes to food. We're always too late, too disorganised and too sozzled (silly season style) to source all the necessary gourmet goodies in time. We're talking Christmas hampers, traditional plum puddings (with the obligatory brandy butter), cakes, stollen, gingerbread people and more. So, to save you from our past fate of circumnavigating the island on the traditional Xmas fare, we've done the research to bring you the best places to order your Christmas hampers and festive essentials in Singapore.
Where to buy Christmas hampers in Singapore
1. Shophouse by Shangri-La
Shophouse is our go-to for sweet festive treats, and its also got some rather delicious looking hampers on offer. The Season's Treats hamper ($138) comes filled with assorted Christmas cookies, drunken English fruitcake, and a bottle of Shiraz for good measure. Or, for an extra special treat, try the Santa's Hamper ($258) packed with all sorts of goodies including German Stollen, chocolate praline, and some Veuve Clicquot bubbles. If it's got Santa's name on it, it's got to be good.
2. The Whole Kitchen
Health brand The Whole Kitchen is dipping its toes into the festive season with specially curated beautiful gift hampers presented in wooden boxes, topped off with a gift card. The Festive Goodness Hamper ($199) is chockfull of goodness (obvi) that includes a Singapore-inspired botanical tea towel. Plus, all items are natural and gluten-free. Get festive without the guilt!
3. Parkroyal Collection Pickering
Green hotel Parkroyal Collection Pickering has launched its first-ever Festive Hamper (from $68), which is stocked with all sorts of Christmas essentials. A portion of sales from the hampers will be donated to Extra.Ordinary People, an organisation that supports children and individuals with special needs. Truly a gift that keeps on giving! While you're at it, go ahead and grab other goodies like the gingerbread house ($50), rainbow durian log cake ($48), and the Christmas pralines (nine pieces for $31.80).
4. Da Paolo Gastronomia
We must admit, we're regulars at Da Paolo all year 'round for its artisanal breads, pre-made meals and sauces. The Christmas sweet offerings are arguably the best on the island too – think a merry stacked gingerbread Christmas tree ($79) and Italian praline wreath ($68), Da Paolo Signature Tiramisu Party Bowl ($158) and a very good looking flourless chocolate cake (from $60). Check out its affordable yet decadent hampers for that last-minute tasteful gift!
5. Janice Wong
One of our fave Holland Village hangouts, Janice Wong welcomes the festive season with its Ultimate Christmas Hamper Surprise ($335). And by ultimate, the good folks over there really went all out – 25 signature chocolate bon bons, two boxes of bean to bar chocolates, and a bottle of Fidora 'Monte Tabor' Amarone della Valpolicella DOCG. Add its advent calendars into your cart too for an extra chocolatey festive season.
6. Marks & Spencer
British household name Marks & Spencer's food is always top-notch. When we need a crumpet fix or mince pies, we head here. And with its fab cafe in Wheelock Place, to say you can rely on Marks and Sparks for Christmas would be an understatement. Its classic Christmas pudding is not only ridiculously delicious, but reasonably priced too. We'll be stocking up on the Belgian Chocolate biscuit pearls for sure, but how cute does a Percy Pig advent calendar sound?! Psst – looking for vegan treats for the big day? M&S have over 10 scrummy delights on offer including Vegan Salted Caramel Truffles. Yum!
7. The Dempsey Project
Looking for a luxe Christmas hamper to gift others? Look no further than The Dempsey Project. Its range of festive food hampers, served up in its signature wicker baskets and bespoke gift boxes, are guaranteed to put a smile on the giftee's face. The Festive Favourite Hamper includes the eatery's Traditional Christmas Cake, delicious artisan shortbread, and even a Bosari Mini Panettone. Luxe indeed!
8. The Providore
For Christmas hampers and second-to-none delicatessen cold cuts, cheeses and dips, you can't go past The Providore. The Tea Hamper with a teapot, ethical honey, a teacup and yummy all-butter biscuits is perfect for all afternoon tea lovers ($100). And do sit down and sample an antipasti platter while you're there – you've earned it after all that Christmas shopping!
9. The Fishwives
Order the il Migliore Christmas cake (500g, $35) from The Fishwives and what you'll get is more than just a ridiculously rich, moist, plummy dessert. You'll reap the rewards of years of fine-tuning in the kitchen by a true Aussie-born baker. Pop one of Mandy's gluten-free Christmas cakes into your cart while you're at it (750g, $42). The traditional Giuseppe Italian Panettone will also be winging its way to our pantry this year (1kg, $52), or take the lot with a festive gift!
10. Baker & Cook
The bastion of all baked goodies, AKA Baker & Cook, has a full range of Christmas desserts including traditional fruit cake ($48), indulgent fruit mince tarts ($25), classic German stollen ($30) and kiddie-fave gingerbread cookies ($6.50). And why not have the lovely B&C peeps whip up a personalised Christmas hamper for the foodie in your family? We're all primed for a festive feast. And don't forget to stock up on its delish ready-sliced bread!
11. Christmas at Takashimaya
When only the best will do, head straight to Takashimaya for its Christmas hampers. In the basement of this iconic shopping mall in Orchard, you will find a golden stack of luxury Christmas puddings consisting of cherries, nuts and other fruits soaked in French cognac, Thatchers cider, and brandy. Fancy!
12. Oh Deli
The gourmet Christmas fare at Oh Deli is bound to get you feeling jolly. We know you'll want to stock up on Aussie brand Phillippa's to-die-for range of baked goodies. Think buttery short-crust organic fruit mince pies (six for $26.90) and gingerbread biscuits (from $17.90). For the friend who has everything, gift a wicker basket filled with festive treats and vino, wrapped up with a personalised card too!
13. The Fullerton Hotel Singapore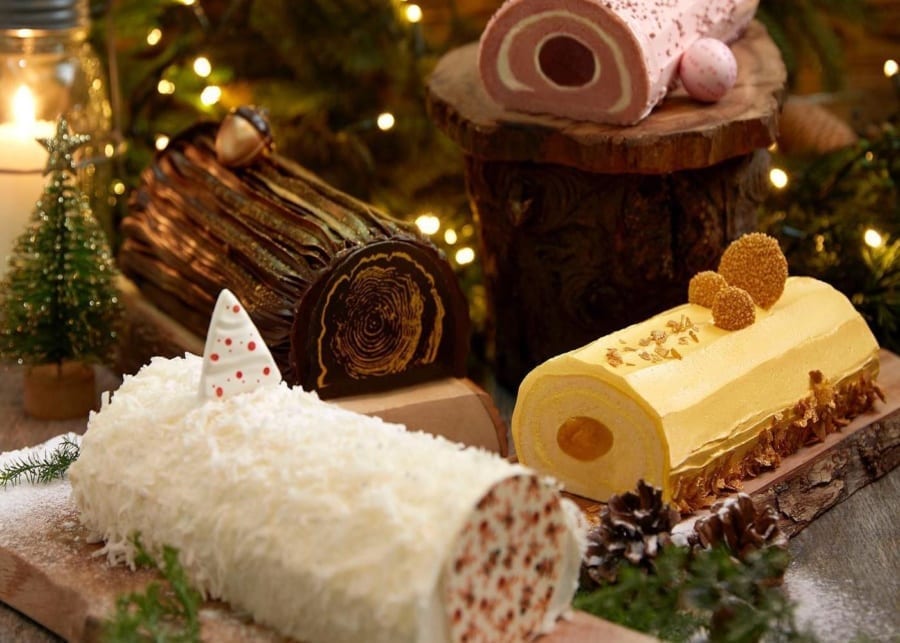 There's a reason people flock to the Fullerton Hotel Singapore for Christmas brunch. The quality and range of sinful desserts are mind-blowing. Thank your lucky stars that the takeaway range is almost as extensive with crowd-pleasers like the yuletide Christmas log cakes ($75), rum cake ($30) and a Golden Greetings Hamper.
14. Cold Storage
Cold Storage has a huge selection of Christmas baked goodies, and even has options for those with food allergies. In stock this season you'll find meat platters, puds, Christmas cakes, mince pies, panettone and stollen from English, German and Italian brands including Matthew Walker, Waitrose, Whitworths, Walkers and Glenfiddich (whisky cake anyone?). Our kids are also quite taken with the Tom Smith red and white Christmas crackers ($13). Keep it in mind for those last-minute purchases…
15. Huber's Butchery
While clearly the focus here is on fine meats, Huber's Butchery has a range of truffles, soups, and sauces to complement your Christmas meals. Download its Christmas catalogue, which comes with recipes selected by the brand's management. Of course, there are the hampers if you're looking specifically for those.
16. Fairmont Singapore and Swissôtel The Stamford
Fairmont Singapore and Swissôtel The Stamford have Christmas covered this year with Christmas at home. There's a treasure trove of festive goodies on offer including a great selection of Christmas hampers. With sweet treats including stollen and nougat, all the way through to craft beers, the whole fam will be very well catered for!
17. Restaurant Gaig
One for Mum and Dad to have on their present wish list this year: the Christmas Gourmet Box from Restaurant Gaig! Filled with our favourite Spanish goodies, there's everything from Jamón and Chorizo, to Manchego and Spanish Picos. There's even a bottle of red wine to toast the festive season. Oh, and chocolate and Cointreau turron. Feliz Navidad!
18. Toast Box
Looking for some Singaporean sweet treats and kopi this Christmas? Check out the festive range on offer at Toast Box. We're fans of its cute gift boxes containing that famous Toast Box peanut butter (if you haven't tried it then you really should!). There's also delicious Nanyang Coffee powder, perfect for a much-needed caffeine boost come the big day. After sweet treats? We've got our eye on the Winter Cherry Butter, and at $16.80 it would be rude not to!
19. Ryan's Grocery
Ring in the Yuletide season with festive hampers from Ryan's Grocery! A Holly Jolly Christmas ($118) contains all that you need to make a nice pasta dish plus additional treats. If you want to go all out, grab the All I Want For Christmas ($198) – it's basically a truffle paradise in a hamper. Go on and add the Valrhona Christmas Treats Pack ($17.90) and Organic Toy Choc Xmas Gift Set ($28.90) into your cart too. You're welcome!
Where to buy Christmas log cake and desserts in Singapore
A Christmas party wouldn't be the same without some good ol' log cake, and for us, the prettier and yummier, the better! After all, the log cake always takes centre stage during the festive season, so why not go for gold? From chocolate classics to more contemporary, local flavours, we've got our faves right here. Plus some staple Christmas desserts too!
1. Goodwood Park Hotel
Collective ooohs and ahhs were abound at the HoneyKids office when the Goodwood Park Hotel log cake ($88) came in! And who'd have guessed that the cake tasted even better than it looks?! But that's not all. The hotel's pulling out all the stops this year with two additional sweets. There's the Festive Fruity Mousse Cake ($78), which resembles a contemporary Xmas wreath, and the Assorted Berries Baked Cheese Loaf ($98). We definitely have our eyes on the latter! Psst, durian lovers, this one's for you – if you loved the hotel's annual durian buffet, get the Christmas Durian Combo ($62 for six pieces).
2. Hilton Singapore
We've been eyeing up the treats on offer at Hilton's D9 Festive Deli, because the Christmas classic yule log has been given some extra special treatment! We're sure Santa will be impressed with these come Christmas Eve!
3. Singapore Marriott Tang Plaza Hotel
End your Christmas celebration on a sweet note with treats from the Singapore Marriott Tang Plaza Hotel. Its festive delights include the playful Strawberry Vanilla Yoghurt Igloo log cake ($69), Christmas Stollen (from $38), and the large Christmas Gingerbread House ($88).
4. Sofitel Singapore City Centre
Remember those child-free days when we used to carelessly walk around the snow-covered streets of Champs-Elysées during winter? No? Well, whether you've been there or not, the folks over at Sofitel Singapore have used the City of Lights as inspo for its holiday treats. There's no log cake this year, but you get two exciting desserts in its place – the Mango Tart with yuzu curd and almond sable ($83) and the Black Forest Pot with dark cherry ($83). So much festive yasss!
5. The Marmalade Pantry
Looking for a log cake you know everyone will love? We suggest popping over to The Marmalade Pantry for its Chocolate Speculoos Log Cake ($68). After all, who can resist the traditional combo of crunchy caramel cookie, coffee, and hazelnut cream? Yums!
6. Shophouse by Shangri-La
After something a bit different for dessert this Christmas? Shophouse by Shangri-La has both the kids and us parents super excited with its Kopi-O and Gingerbread Man ($98). They look (almost) too cute to eat! Other family faves include the Jolly Elf ($128) and the Cajette De Fraises ($67.50).
7. Furama Singapore
It's a magical, cosmic Yuletide season with Furama Singapore! Spring a sweet surprise for your fam and guests with its selection of handcrafted creations. The two log cakes are decadently delicious, while the Mix and Match Sweet Box will make a great parting gift… Or, as a midnight snack after the celebration has wound down!
8. PrimaDeli
Make this year's Christmas a memorable one with PrimaDeli's festive collection. We're loving its Jolly Wishes Cake ($58.80), which features Christmas trees, gift-wrapped boxes, and good ol' Santa Claus on the icing top. Go for Santa's Cottage ($57.80) if you want a centrepiece cake that'll have everyone talking about it till next Christmas. There are also two log cakes if you'd rather keep it simple.
9. Little House of Dreams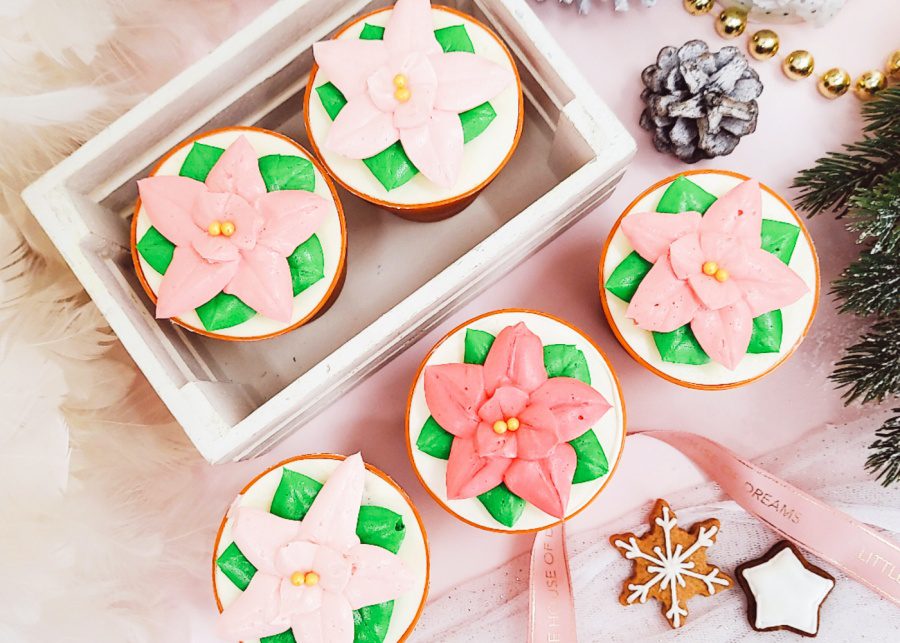 The holiday season just got a little bit cuter thanks to all the adorable Christmassy fanfare from the folks of Little House of Dreams. We're talking Christmas Logcake: Classic Chocolate ($39.90) for that perfect Xmas party giveaway and an Instagram-worthy Poinsettia Bloom Pots ($48 for a box of six) that'll look amazing on your dessert table. Kind of makes us wish it were Christmas all year round!
10. Tablescape
Sweet teeth (and rum-lovers) will love the log cakes from Tablescape. The Rum and Raisin Log Cake ($78) contains Valrhona chocolate mousse and rum-soaked raisins – yum-meh! A perfect finish after a sumptuous meal, we say. If you want to keep it alcohol-free, go for the Raspberry Chocolate Log Cake ($68). Essentially the same minus the rum. Want something different for this year? Add the Festive Charcuterie and Bread Set to your cart. It'll definitely be a hit with your guests!
Love this list of Christmas hampers in Singapore? Check out these at-home festive feasts too!