Shake your holiday gift anxiety with our handy-dandy gift guide for some great ideas for kids, mum, dad and Fido too!
We love Christmas. Not only do we get to feast on turkey, trimmings and log cakes, but Singapore always has a dazzling display of lights and Christmas markets plus festive events for the whole family to enjoy. And, 'tis the season for giving! Stuck on gift ideas for everyone in the fam – kids, mum, dad, the grandparents and even the helper too? Fear not. We've got the perfect list of gifts, goodies and experiences – and even gift ideas for the family cat and dog too!
EDITOR'S 2021 PICKS
1. The new limited-edition Dyson
Sure, it's just a hairdryer. But trust us – this one is a godsend for any busy mum. The high pressure, high-velocity jet of air from this thing makes drying and styling super fast (supersonic, even). Plus, intelligent heat control protects the hair. It's also much quieter than standard hair dryers, so if Mum's sneaking a night out after the kids have gone to bed, prying ears won't cotton on to her cunning plan. Now, with gifting season underway, the limited-edition Prussian Blue & Rich Copper hair dryer can't come at a more perfect time. It's sleeker and more advanced with new attachments to tame flyaways. And you also have an option to personalise it. It's currently out of stock though, so hop over to the Dyson website and hit "Notify Me" real quick.
Where: Buy online directly with Dyson
2. The new Bio-Oil Skincare Oil (Natural)
Every mum deserves some tender loving care for always working hard and making sure her family gets the best care possible. Show her some love this Christmas with the new Bio-Oil Skincare Oil (Natural). Formulated with 100% natural ingredients, it works just as well as the original Skincare Oil, and is suitable for all skin types to help improve scars and stretch marks. Pregnant mummies should use it twice a day on areas prone to stretching such as belly, hips, thighs, arms, and breasts throughout their pregnancy to reduce risk of stretch marks. And even if mum isn't pregnant, it's super moisturising for the skin and helps to fade uneven skin tones! Best of all, Skincare Oil (Natural) contains 14 natural plant oils – including lavender, patchouli, and chamomile essential oils. These essential oils are known for their relaxation properties and can help to improve sleep quality too. Top tip: treat her to a DIY massage at home!
Where: Shopee, online
3. Beautiful handcrafted rattan from Kathy's Cove
Go green this Christmas with these beautiful handcrafted toys from Kathy's Cove. This online store specialises in making sustainable toys, homeware, and furniture for the whole family. For toys, there's a Victorian dollhouse, afternoon tea trolley, and even a kid-sized kitchen playset. There are also cute kids' furniture pieces, including a reading bench (big enough for two!) and a mini armchair.
Where: Kathy's Cove website, online
CHRISTMAS GIFT IDEAS FOR KIDS
4. HUAWEI MatePad Pro 12.6
Endless home-based learning driving you crazy? Here's a solution: MatePad Pro 12.6 – the latest addition to the HUAWEI family. The light as a feather tablet is uber sleek at just 6.7mm thick and comes with a 12.6" OLED full view display. Think incredible colour and clarity. Topped with eight fantastic speakers, the kids will have a dedicated device to stream all their fave Disney shows. For those who love to draw, the magnetic pencil will come in handy. MatePad Pro 12.6 also has an area specially designed for kids' learning and entertainment. It allows you to set the usage time and available apps so that kids can safely learn and explore. You can also turn it into a work device. If you have a Huawei laptop or phone, level up your WFH game with its multi-screen collaborative work function. We love!
Where: Lazada, Courts, Shopee.
5. Disney gift set from The Coffee Bean & Tea Leaf
The Coffee bean & Tea Leaf doesn't just have great coffee. It also carries the cutest selection of Disney gifts for the kids this Christmas. From Mickey Mouse holiday gift sets to Frozen tea sets and colour changing mugs, tick off your Christmas gifts to-buy list at The Coffee Bean & Tea Leaf!
Where: The Coffee Bean & Tea Leaf stores islandwide.
6. Wardrobe staples from Duxton Kids
Clothes aren't exactly the first thing that comes to a parent's mind come Christmas. However, Duxton Kids' cotton basics that are designed to run, skip and tumble with kids through adventures are a must-buy! From tanks to popover shirts, here are all the parent-approved items that are smart, simple, and comfortable.
Where: Duxton Kids online. Monument Lifestyle, 21 Yong Siak st & 75 Duxton Rd. Duxton Playground, 73 Loewen Rd.
7. A new print for their bedroom
We love the super-cute prints available from Mummy Bear & Me. Set up by Singapore-based mum Leila, the kids are sure to be impressed with the range of designs on offer. Keep it Singapore-themed with a colourful map (which can even be customised!) or opt for a personalised Christmas print. There's also mermaids, racing cars, inspiring quotes, and a whole heap of things in between. Even better, if you quote code HKA15, you'll get 15% off across all prints with no minimum spend. Plus, there's free delivery within SG!
8. A gift hamper from Marks & Spencers
If you've had a chance to walk past a Marks & Spencer, then you'd know Christmas is in full swing in all of its stores. So, we thought it'd be a fab idea to put together a hamper full of gifts and treats from everyone's favourite British retailer. We've got our eyes on Colin the Caterpillar advent calendar, Percy the Pig hot chocolate bombs, the colour-changing mug and stencil, and the Percy Pig pinball game!
Where: Marks & Spencer stores islandwide.
9. A cool gadget
You can try to fill the kids' school holidays with as many outdoorsy activities as you want. But the reality is, you still need that cool techy device that even the kids' dad will love… So, if that's the case, skim through our list of the best gaming consoles for kids and see if anything catches your eyes. However, if 'limiting kids' screen time' is your New Year's resolution, how about getting them a Polaroid instead? It can force them to get off the couch and onto the streets to take cool pics. Plus, Polaroids are pretty popular this gifting season. Check out the massive Instax booth at Takashimaya and you'll know we're telling the truth.
10. A keepsake for baby's first Christmas
If it's your baby's first Christmas, then you're probably on the hunt for elf outfits, personalised baubles and keepsakes. We've been on the same boat so we know. Which is why we've rounded up all the best gifts and keepsakes for your baby's first Christmas. So you can skip the searches and hit the shops, stat! You won't believe how quick these personable items run out of stock. It took so long to pick a baby name, so we've got to put it on everything. Right?
11. Cute accessories
Kids' accessories are adorable and the best ones last a lifetime. For kids who love playing dress-up, accessories are a must! So, we thought we'd save you the trouble of searching for the best stores that carry the best accessories. From sunglasses and hats to bags and jewellery, here is everything fun and colourful for the kids.
12. A new book!
We always love to have a new book on the Christmas list for the kids – and a firm favourite on the wishlist this year is Goodnight, Baby Ocean Animals. Written by twin sisters, conservation scientists and Singapore mums – Fiona and Alison, this book celebrates endangered ocean animals in their first years of life. We're pretty sure little ones will love the illustrations in this very cute book, as well as learning how important it is to love and protect our blue planet.
CHRISTMAS GIFT IDEAS FOR MUM
13. Earplugs from ATTENU8
Sometimes, the best gift comes in the smallest box. And no, we're not referring to a diamond ring. We're talking about the new earplugs from ATTENU8. Designed in Singapore, these babies have a metal body that can reduce noise by approx 32dB. Impressive right? That's half the sound of a usual conversation! They're extremely lightweight, which is perfect for sleeping, travelling, and working out in uber loud studios. On top of that, their ergonomic design prevents them from slipping out of your ears. We bet mums would love to catch an extra 30-minute snooze with these earplugs in while the kids blast CoComelon at 7 am.
Where: ATTENU8, online
14. Scent by SIX gift set
Homegrown fragrance brand, Scent by SIX is releasing Christmas gift sets – yay! Featuring its most popular scents, 27˚F Biei and Hikaru, the gift sets include pillow mists, aroma essence, nebulisers, reed diffusers and disinfectant sprays. We reckon it could be the perfect gift for mum – hint, hint!
15. Perennial planners from Ordinary Original
It's fair to say we're a bit in love with the planners from Ordinary Original. Not only are they super practical to help get mum organised, but they are also stunning. The attention to detail means that each planner takes a whole year to produce. Throughout the planner you'll find beautiful illustrations, inspirational quotes and poems, alongside helpful to-do lists and calendars. There are four different themes: Happiness, Mindfulness, Love and Finding heaven on earth. Good luck picking just one!
16. Jewels from Embrace Jewellery
Diamonds might be a girl's best friend, but we like to think that any type of jewellery is sure to make any girl happy! Check out Embrace Jewellery's collaboration with local artist, The Jar of Salt. The collection has vibrant motifs that highlight the unique Singaporean culture. We love the Peranakan tile earrings and Nyonya charm bracelet that goes well with any outfit. We're sure Mum will love it, too – so pretty!
Where: Embrace Jewellery, 391 Orchard Rd, Ngee Ann City, Singapore 238873
17. A new wardrobe from Bimba Y Lola
Add a splash of colour to mum's wardrobe with these incredible pieces from Spanish female apparel brand, Bimba Y Lola. Created by two sisters, their ready-to-wear pieces are funky, chic and poppin' with colour. We love the fun, short black dresses (from $180) in all different prints. Alternatively, opt to get her a leather crossbody bag or a satin scarf. We especially love the animal print knitted scarves in all different styles and colours.
Where: Five locations around Singapore and online.
18. Brews from Bacha Coffee
Does Mum start her day with a cup of joe? Well, at the luxurious Bacha Coffee, she'll be spoilt for choice! With more than 200 brews of single-origin, 100% Arabica coffee beans, and fine-flavoured and blended coffees, pamper Mum and take her to the private, 30-seat coffee room that resembles the historic and grand Dar el Bacha palace in Marrakech. She'll love admiring its black-and-white marble floors and brass chandeliers as she relaxes and enjoys her coffee. Not only that, but the coffee room has a delicious menu with sweet and savoury dishes that complement its generous offerings. A decadent treat for the best mum in the world, don't you think?
Where: Bacha Coffee, 2 Orchard Turn, #01-15/16 ION Orchard Mall, Singapore 238801;
19. Salves and body butter from The Salve Co.
We're probably all in need of some extra TLC this year, and no more so than Mum. Treat her with the rejuvenating, all-natural products on offer in the Christmas bundles from The Salve Co. Salves have been used since ancient times and are renowned for their restoring properties. The Salve Co. adds a modern twist creating much-needed remedies for the modern mum (Better Sleep Salve anyone?!). We particularly love The Salve Co. Self Care bundle, and we're sure Mum would too!
Where: Buy online direct via the website.
20. Get crafting with Cricut
Got a mum who loves crafting but has everything? We're pretty sure she won't have this fabulous Mug Press from Cricut! This state of the art kit means she can make her own mug masterpieces at home. Simply create a design, attach it to a compatible Cricut mug blank, and let the press do the rest. And presto – Mum's very own mug masterpiece! Psst. It's also a great piece of kit to make future gifts for family and friends too!
21. A staycay at Raffles Hotel
Take a luxury staycation with Mum to really treat her this Christmas! Spend some quality time together and recharge at Singapore's most opulent heritage hotel in town (and our personal favourite): the one-and-only Raffles Hotel, located in the Civic District. Delight in its bars and restaurants, shop at its lavish arcade, rejuvenate at its holistic wellness spa, and of course, stay in its spacious suites! And, if you intend to bring the kids, the hotel can arrange a personalised range of amenities, daytime activities and bedtime stories that are specially curated for them, too. Perfect.
Where: Raffles Hotel, 1 Beach Rd, Singapore 189673
22. Revamp the home office
How about a little revamp of that WFH space for Mum this Christmas? We've found the perfect range of gifts inspired by the National Museum of Singapore's architecture. Featuring the museum's iconic dome, atrium, and spiral staircase in its designs, there's everything from mouse mats, folders, pretty mugs, and coasters on offer to give that home office much-needed spruce.
Where: Available at the Museum Label shop located at the National Museum of Singapore.
23. A spa session
It's a cliché, but most mums really do feel like a whole new person after a couple of hours of pampering. So this Christmas, book her in for a facial, a massage, and maybe a body scrub too. She really won't care what you've booked, as long as there's quiet time and it's all about her. Make a beeline for our guide to the best facials in Singapore, or head straight to Auriga Spa at Capella or Damai Spa at the Grand Hyatt for pampering to the max.
Where: Singapore's spa scene is your oyster!
24. Perfume from Penhaligon's
Discover British luxury perfume house Penhaligon's range of Eau de Parfum and charming gift box sets this Christmas. You can either purchase its ever-popular ladies "Merry Maidens" miniature collection ($79.20), which comes with five fruity and floral scents in a gorgeous tin or go on and splurge on a scent you think Mum will like. We personally love the Coveted Duchess Rose Eau de Parfum ($340), which has head notes of mandarin, heart notes of rose and base notes of musky wood – how lovely. Fun fact: Penhaligon's is a holder of two royal warrants from HRH The Prince of Wales (since 1988) and HRH The Duke of Edinburgh (since 1956). Truly fit for a queen like your mum, we think!
Where: Penhaligon's, 2 Orchard Turn, #03-16 ION Orchard, Singapore 238801, or at 10 Bayfront Ave, #01-33/34 Marina Bay Sands, Singapore 018956
25. A good book
Mum probably doesn't have much time to read a good book, but she definitely loves pretending that she does. For the mums here at HoneyKids, even the act of unwrapping a fresh read and taking in that delicious new book smell and then having the books hanging around the house is enough. We loved Jennifer Egan's A Visit From the Goon Squad so we're keen to dive into her other novel, Manhattan Beach. If you think mum needs a good laugh, try Parenting the sh*t out of life by Mother & Papa Pukka, or for some feminist inspiration disguised as a kids' storybook, Goodnight Stories For Rebel Girls by Elena Favilli and Francesca Cavallo is a fun treat with a purpose. Need more inspo? Check out our very own HoneyKids Book Club.
26. Time to herself
That's right, you can't get this one at the shops. Or online. But it's all she really, truly wants. Don't get us wrong, she loves you all, and would probably take a bullet for (most of) you. But sometimes, she just needs a break. She's a busy lady who's made many sacrifices to bear the title of 'Mum', so show how much you appreciate her by just taking care of things. Here are 52 ideas to get you started. If you can't figure it out from there, it's probably time your mum/wife/partner took you back to the shops for a refund! (Joke… kind of).
CHRISTMAS GIFT IDEAS FOR DAD
27. A speaker from Bang & Olufsen
Does Dad love to croon to his favourite hits of the past? If so, splurge on Bang & Olufsen's Beolit 20 ($898). This portable speaker has a contemporary classic design and powerful, clean and crisp sound that easily fills the room you're in. And, it's stylish, too. Its lunchbox design makes it perfect for the home or on the go…
Where: Bang & Olufsen, 10 Scotts Rd, Singapore 228211 or at 310 Orchard Rd, Singapore 238864
28. Cool builds from Lego
We have to admit: we love Lego – not only because the company regularly comes up with the coolest sets of movie memorabilia and other snazzy fun builds (buy the Yoda set!), but they're innovative and just good ol' fun, too! If Dad's a big movie buff like we are, be sure to grab him Lego's James Bond Aston Martin DB5 – this classic car was featured in the Goldfinger film in some of the most exciting scenes. Not only that, it's authentic, realistic and even features an ejector seat very much like the one in the original film. If Dad's not one for cars, he might like building the Harley-Davidson Fat Boy, instead. Our favourite build? Definitely the Star Wars Death Star.
Where: Lego, shop at multiple outlets islandwide.
29. A fountain pen from Kaweco
Established in 1883 in Heidelberg, Germany, Kaweco was once known for its wooden dip pens, but today, they're famed for the iconic pocket-sized fountain pen (from $38.40). It's a great and practical Christmas gift idea for Dad to sign off on all his important documents. And, not only are they affordable, but they're fuss-free and easy to use – so good that we own one, too!
Where: From multiple stationery stores islandwide, like Cityluxe and Overjoyed.
30. A bottle of Scotch from La Maison du Whisky
Dad will surely love a smooth bottle of scotch – and there's no better place to procure one than from La Maison du Whisky! This French specialist is known for its extensive collection of whisky and other alcoholic spirits – you've probably heard of them if you're a whisky lover yourself. With more than 500 whiskies and 300 spirits from over 100 brands, your choices are endless. Thankfully, La Maison du Whisky has a try-before-you-buy option, which should help you narrow your choices down… we hope!
Where: La Maison du Whisky, 80 Mohamed Sultan Rd, #01-10 The Pier, Singapore 239013
31. A sports watch from Garmin
Got a dad who's really into tracking his fitness and working out? Check out Garmin's series of sports smartwatches that range from running and cycling to diving and even aviation. Whether Dad's really active and looking to participate in the next triathlon or simply wants to get fitter in the new year, Garmin has the watch he needs. Dad can even download music directly to his watch for phone-free listening. And did we mention, the battery life of these watches are outstanding? We love!
Where: Garmin, 360 Orchard Road,#01-15 International Building, Singapore 238869, other watch stores islandwide and online via Lazada.
CHRISTMAS GIFT IDEAS FOR GRANDPARENTS
32. A photo book from Artisan Prints
We must admit, we miss the days where we printed physical photographs and kept them in photo albums. Well, this Christmas, gift Grandma and Grandpa a personalised photo book (from $39) from Artisan Prints! You can turn your digital photographs into a high-quality hardcover, softcover or ribbon-bound book by simply uploading your photos on its easy-to-use website. A great gift that we're sure they'll cherish for a long time to come.
Where: Artisan Prints, online.
33. The "How to Babysit a Grandma" book
We're so thankful that we have our parents to take care of our kids when we need help. Have you ever wondered what would happen if your kiddos were to babysit Grandma or Grandpa instead? Find out by embarking on a hilarious journey with How to Babysit a Grandma (or Grandpa)! Not only is it hilarious and sure to make you chuckle, but its colourful illustrations are adorable, too. Perfect for the kiddos to have some one-on-one time with their grandparents.
Where: Physical and online bookstores like Books Kinokuniya, Book Depository and more.
34. Porcelain plates from Candlenut x Supermama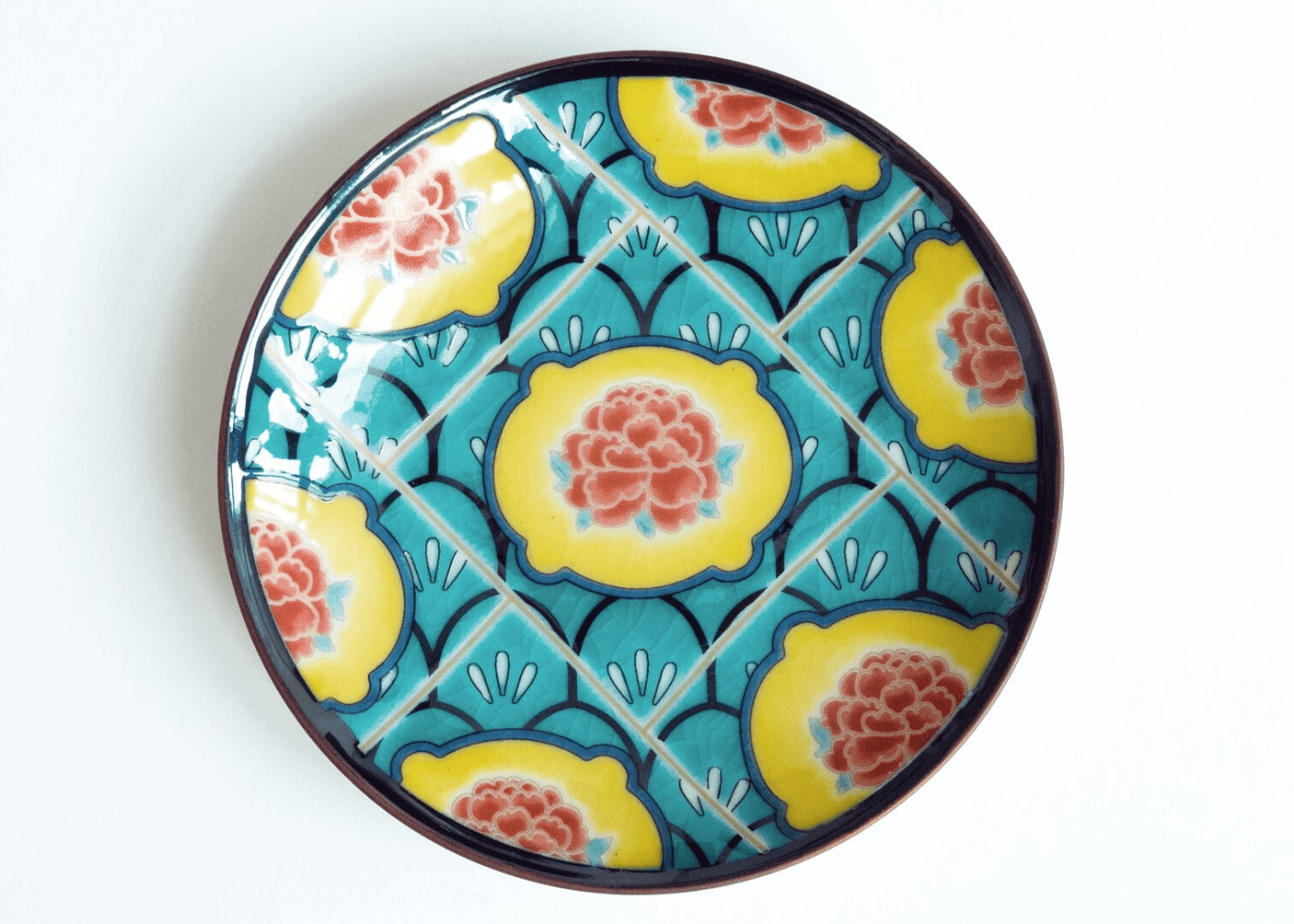 If your grandparents are proud Peranakans (or even if they're not), they'll love Candlenut's porcelain plates ($24) inspired by the colourful Peranakan culture. These vibrant coloured plates were created in collaboration with local home-grown design and craft goods store Supermama, and feature the peony floral motif found on traditional Peranakan tiles. Made in Ishikawa, Japan, these mamezara (small plate) are perfect for condiments or as a decorative ornament at home. Psst, these plates were made in limited quantities, so purchase them before they're sold out!
Where: Candlenut, 17A Dempsey Rd, Singapore 249676, or at Supermama, 265 Beach Rd, Singapore 199544
35. Afternoon tea at Andaz Singapore
Indulge in some afternoon high tea with grandma and grandpa at Andaz Singapore's Alley on 25! This locally-inspired afternoon high tea set (from $48 per person) is served in gorgeous tiffin boxes and includes your typical British high tea savoury and sweet treats, plus several local offerings like prawn kueh pie tee, kueh lapis and a pandan chiffon cake, layered with mousse and covered in green glaze. Plus, you can't beat the views of the city while dining on the 25th floor!
Where: Andaz Singapore, 5 Fraser St, Singapore 189354
36. Beauty products from L'Occitane En Provence
Treat grandma well this Christmas and gift her beauty products she'll adore! Our mothers are obsessed with French international retailer L'Occitane and its luxurious range of products, and we're sure yours will too. Check out its collection of Immortelle Precious products, like its Immortelle Precious cream ($100) that will hydrate and boost her skin's smoothness and complexion. Plus, it has organic and active ingredients that have exceptional anti-ageing properties to help preserve her youth and beauty.
Where: Multiple locations around Singapore and online.
CHRISTMAS GIFT IDEAS FOR YOUR HELPER
37. A course with Aidha
Most helpers love to learn, so there's nothing better than giving them the chance to up their skillset with courses from Aidha. Its courses will teach financial literacy, money management and computer proficiency. Educating them in these lifelong skills are not only practical but incredibly useful in empowering them and their confidence, too.
Where: Aidha, 748A North Bridge Rd, Singapore 198716
38. Hand cream from Crabtree and Evelyn
We love the products from Crabtree and Evelyn ever since they hit our shores. Give your helper's hands a much-needed boost with its gardeners hand restoration gift set ($110.50) which comes with a bottle of hand scrub, hand wash and hand cream. We particularly love its hand cream – a natural-inspired formula made with macadamia seed oil and shea butter to help soften and replenish moisture. We're sure your helper will love it, too!
Where: Crabtree and Evelyn, available online.
39. A mani-pedi at The Nail Social
In addition to some time off, pamper your helper with a relaxing manicure (from $12) and pedicure (from $12) session at The Nail Social! This lifestyle nail salon is not only socially conscious but has amazing services like foot massages, drinks and snacks and fairtrade retail all under one roof. We also love the fact that the salon provides vocational training to local marginalised women, and uses non-toxic, eco-friendly products.
Where: The Nail Social, 42A Haji Ln, 2nd Floor, Singapore 189235 or at 333 Kreta Ayer Rd, #01-14, Singapore 080333
CHRISTMAS GIFT IDEAS FOR THE FURKIDS
40. New premium NUTRIPE pet food
Treat yo' furry friend to the premium Australian-made NUTRIPE ESSENCE dry food this Christmas. The premium kibble contains green tripe, which is a superfood for pets. This unique and natural ingredient carries tons of nutrients such as proteins, probiotics and essential fatty acids. It helps with digestion, supports a healthy gut microbiome, and promotes good health. Plus, all NUTRIPE products are carefully researched and formulated by numerous vet practitioners and scientists, so you can be sure your pets are eating nothing but the best. What's a better gift than that?!
Where: NUTRIPE official website.
41. Pet camera from Smartpaw
Missing your furkid while at work or while the family's travelling? Well, invest in Smartpaw's Burpurr pet camera (from $65.90) that'll allow you to check in on your pets anytime, anywhere. It even comes with an inbuilt microphone and anti-bite cable, so you know it's not going to get destroyed when they're looking for something to gnaw at. They might just nibble on the Christmas presents under the tree instead!
Where: Smartpaw, online.
42. A comfy bed from PetsActually
Give your pets the comfiest and trendiest beds ever from PetsActually! This multi-brand online pet store has tons of options, but we love the hexagonal Cat Ball ($88) that creates a cosy and warm cave for your kitty. And for the doggos, we love the chill Barkëtek Lounger ($138), a hammock dog bed perfect for napping in.
Where: PetsActually, online.
43. Cat scratchers from Lord Lou
We couldn't resist putting this in: Lord Lou has a copycat art scratcher (from $221) that features great works of art that'll not only look great in your home, but your cat will love it too! It comes in three designs – flowers in a glass vase, the Girl with the Pearl Earring and Mona Lisa. They're so purr-ty, we're just glad they're not real works of art.
Where: Lord Lou, online.
Love this Christmas gift guide for the whole family? Check out these festive hampers too!