Wondering what's a good baby shower gift? We've found the best presents for babies that are so cute, we're tempted to have another bub ourselves...
Before social distancing reared its head, baby showers, like tropical showers, were a frequent occurrence in Singapore. But even though we're not able to throw massive parties right now to welcome bubs into the world, there's one thing we can still do: buy gifts for babies! Yep, shopping for a loved one's bundle of joy gives us happy shivers. There's something about teeny tiny baby clothes, trinkets and keepsakes that make us all warm and fuzzy. So, whether you're buying baby gifts for a friend or are pregnant yourself and looking for baby gift ideas for your wishlist, you're in the right place. Here's what baby shower gifts and presents for pregnant pals we're loving right now…
The best baby shower gifts we're loving
1. For baby: Teethers
Babies love to chew – fact. We say help ease those inevitable sore gums with a cute teether you'll be proud to show off in public. Enter Little Bearnie. This local brand sells loads of beautiful baby gifts and the teethers are an absolute favourite of ours. Totally IG-worthy, the accessories are all made using 100% food-grade silicone and toxic-free materials. We're currently crushing on the gem biscuits teether (pictured top). It's the brand's first original product and was designed in-house by founder Valencia Chen. Grab a bubble tea version while you're at it too so mum and bub can enjoy the same snack when they're out and about. Customisation is also available, and there's free local shipping over $50.
2. For mum: Face and body oil
The baby shower gift table is usually filled with goodies for the little one. But don't forget mummy too! If mum-to-be is a little conscious of stretch marks, Bio-Oil's new Skincare Oil (Natural) is the perfect gift. This is the all-natural version of the original Bio-Oil Skincare Oil, Skincare Oil (Natural) is packed with 14 skin-loving natural ingredients including sunflower seed oil (to maintain the skin barrier and to keep your skin hydrated and texture-free), lavender oil (firms up your skin and gives it that IG-worthy glow), patchouli oil (hydrates and reduces inflamed skin) and rosehip oil (aids in skin repair). Yes, all the good stuff!
FYI, Skincare Oil (Natural) is clinically proven to be as effective as the original Skincare Oil too. It's simply up to your preference – take your pick between the fan favourite, Skincare Oil, or its natural counterpart, Skincare Oil (Natural). It reduces the appearance of scars and stretch marks, and improves skin texture, tone and appearance of fine lines and wrinkles. The all-natural formula means it's safe to use for pregnant and lactating women.
3. For baby: Diapers
With the arrival of a newborn comes tons of diapers to get through. So it's no surprise that we're adding diapers as one of our top baby shower gift ideas. Sure, it's an obvious gift, but new mum and dad will thank you abundantly. And since you're going for diapers, you'll want to opt for the best, too. Huggies is the #1 Newborn brand in Singapore and is used in all major maternity hospitals islandwide*. The Huggies Platinum Naturemade Diapers and Pants are specially designed with no harmful chemicals added (no heavy metals, elemental chlorine and dioxin) which makes it even better for delicate bottoms. Made with carefully selected natural ingredients, the diapers contain natural fibre with nourishing vitamin E from wheat germ oil is incorporated into the products to ensure your bub's better skin health. The 5mm thin lining also features light-as-air ZeroFeel Technology and a 12-hour absorbency, keeping your baby's skin comfortable and dry all night long. Sizes are available from newborn to XL (taped diapers) and from M to XXL (pull-up pants).
4. For mum: Pampering time
Why not club together and buy your friend a pamper session so she can have some time out when those sleepless nights get a bit much? A post-pregnancy massage, facial, hair makeover or spa pedicure will always be gratefully received. Check out our tips as well for beauty products to make #mumlife extra simple, or consider creating a DIY survival beauty kit. Think face masks, nail polish, nail files, body scrub, hair masque…. she'll love you for it.
5. For baby: Books and memory books
With so many amazing interactive baby board books on the market, you're never too far from a great baby gift. Our faves? Dear Zoo by Rod Campbell and the That's Not My… series. Other than ensuring a solid storytime though, a great gift for babies can also entail memory books. We adored capturing all the firsts for our own tiddlies so that we have mementoes to look back on. For the more sentimental, we also rate Letters to My Baby by Lea Redmond, where you pen a series of letters for your child to look back on. Buy online from Book Depository or any one of our favourite Singapore book stores.
6. For mum: Pregnancy care package
Every mum needs a bit of TLC during her pregnancy – and there's no better way to show that you care than by sending a care package! Arlou & Rose has a range of gift boxes specially curated to celebrate mothers during every stage of their pregnancy journey – from the first trimester to postpartum. Each package comes with carefully selected goodies, like lactation bars to help with milk production and heat pillows to help momma relax. Oh, and did we mention that postpartum boxes come with gifts for baby too? Yay!
7. For baby: Night lights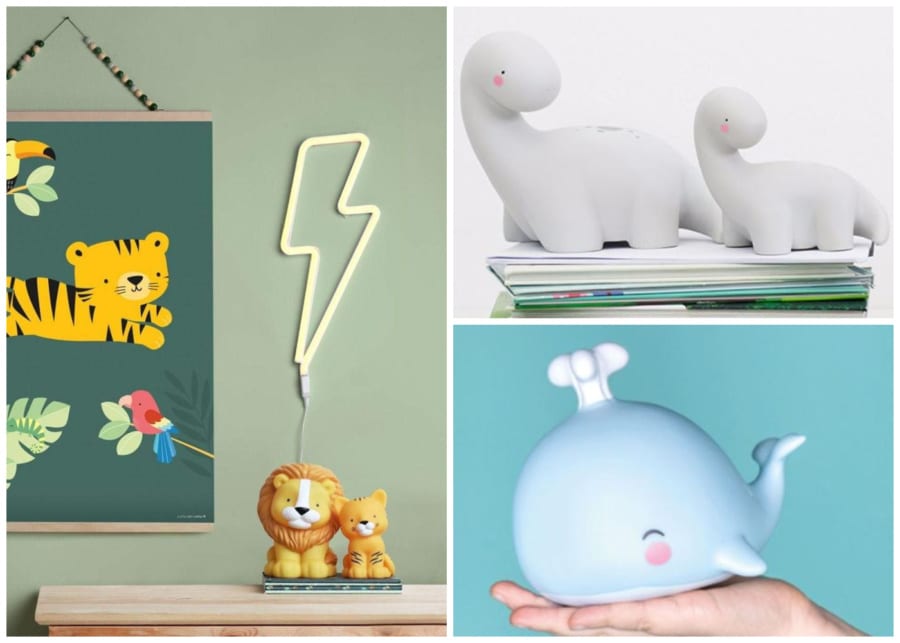 A night light will no doubt feature on every mum-to-be's wishlist. They're wonderful for creating soft lighting in your baby's nursery so you don't have to stumble around in the dark. Also great for late-night feeding when you don't want to wake your body up too much! We adore the range of night lights available from Deer Industries (which, by the way, stocks heaps of amazing gift ideas for babies!). It also sells neon signs for a true wow-worthy baby shower gift – how cool?!
8. For mum: Books
All that feeding and settling means Mum is going to be chained to the sofa for a while, so why not suggest a few great reads for her? Check out our Book Club articles for suggestions! Or how about an e-reader for easy-peasy one-handed reading? Check out Amazon's Kindles for a good option.
9. For baby: Comforters and security blankets
We were gifted a comforter at our own baby shower and it has since become our now two-year-old's most treasured possession. So much so that when we lost one (oops), he was so distraught that a worldwide replacement operation began. There are so many options on the market – some even have rattles and chimes sewn it too. Don't underestimate their power for a good night's sleep! Our idea for a great baby gift? Jellycat is a fave brand, and its Bashful Bunny Soothers are sooooo soft. Stock up from The Elly Store.
10. For mum: Afternoon tea session
Whisk her off for a gorgeous afternoon tea once she's feeling up to it. We've rounded up some kid-friendly options too to make life even easier! You could also buy a gift voucher to her fave cafe. Because we all know she's going to need all the caffeine she can get…
11. For baby: First-aid kit
It might not be the cutest baby present, but can we just say: this is one of the handiest things you can gift your pregnant mate! It also adds a lovely bespoke gift element, too. Buy a cute tin or box, then fill with items like baby paracetamol, a thermometer, cute band-aids and more. Don't forget to add in some hand sanitiser – they'll need it for all those nappy changes. We like NatShield as it's non-toxic, made from plant-based botanicals and safe for infants and pregnant women. Check out our guide to first-aid kits for the family home for more inspo!
12. For mum: A great nappy bag
Babies are cute and all, but they always demand so much STUFF. Nappies, wipes, nappy liners, sanitiser, bibs, bottles… the list goes on. So, when Mum is out and about round the shopping malls, cafes et al, she's going to need a top-notch bag to house everything. We've rounded up nappy bags that are still gorge in our article. You're welcome!
13. For baby: Muslin wraps and swaddles
Us been-there-done-that mums all agree on one thing: we love baby gifts that are multipurpose. Which is why the humble muslin swaddle is a lifesaver. Lightweight, they're perfect to use here in tropical Singapore. Use them to swaddle baby tightly for sweet slumbers, as a nursing cover when breastfeeding, to clean off spit-up, as a towel, or as a mat to sit on at the park. Also, great shade covers for the stroller when you're out on a pram-friendly walk, although be mindful of trapping in heat. We love the beautiful Aden + Anais prints (find a good selection at Pupsik Studio) but do check out our guide to all our fave wraps and swaddles.
14. For mum: All her fave foods
If you're catching up with your loved one close to the birth date, why not create a care package of all the foods she hasn't been able to eat during the pregnancy? A bottle of bubbles, gin, coffee, blue cheese, smoked salmon… let your imagination run wild!
15. For baby: Toys
A soon-to-be-born baby is undoubtedly going to love toys, so get them started with a thoughtful newborn gift! We say ditch the plastic and opt for more eco-friendly offerings. Check out our round-up of gorgeous wooden baby and toddler toys.
16. For baby: Playmats
Playmats are a great way to keep teeny babies occupied and distracted… so Mum can make a quick cuppa! We adore the range at Smallable, with mats ranging from simpler, plainer designs to ones with activity stations, like the one pictured above. Of course, once you go down the play mat route, you'll also find activity mats and activity arcs to distract you. So many cute baby gifts, not enough babies, we say! Done by Deer and Liewood are some of our fave brands to look out for.
17. For baby: Customised artwork
There's nothing like a gorgeous piece of customised artwork to really show you care! We absolutely adore papercuts, and MissBespokePapercuts on Etsy has some wonderful baby gift options to consider. Of course, it helps to know the name and birth deets first, so this present for baby may have to wait until they've made their arrival! (You may like to contact the shop owner and enquire about a gift voucher.) We've also put together a whole list of ready-to-go or custom order art ideas for nursery and bedroom walls, so be sure to take a peek.
Other baby shower gifts for newborns
We could go on, but you've got some shopping to do! Here are some other options for gifts for newborns:
Newborn photoshoot. Great if you have a group of friends all contributing to the pot, a photoshoot will mean pictures to treasure forever. They'll never be that tiny again! Find out about some of our favourite photographers here.
Rattles and pacifiers. Always needed, always useful.
A moneybox. Great for adding to the rainy day fund and for storing pocket money when they're older!
Hooded towel. You could even get one personalised if you know the name ahead of birth.
Clothes. A no-brainer really! Our tip? Don't just buy newborn sizes otherwise the parents will have heaps of teeny tiny togs but nothing for when baby (quickly) goes up a size. Try a selection of newborn, 0-3 months and 3+ months to get the baby clothes collection off to a good start.
Baby skincare. Baby bath wash, moisturiser, massage oil, nappy cream… all gonna be appreciated. We've got a list of natural skincare for babies that you'd want to check out for shopping ideas.
Nappies. Perhaps your friend wants to go down the reusable diapers route? If so, check out our fave brands and help her get started with a practical baby gift.
So, now that you're armed with a cute and creative list of baby shower gift ideas, it's time to get shopping!
Disclaimer: *Kimberly-Clark Singapore PTE LTD's calculation based in part on data reported by Nielsen through its ScanTrack service for the Infant Diapers category, Newborn Segment, for the 12 month period ending December 2018, in total Singapore scan channels. (Copyright© 2019, The Nielsen Company.)