Perk up your child's bedroom with fun canvas art or a print that pops! Here are some of our fave local stores and artists offering something special...
When it comes to the kids' bedrooms, we're always on the lookout for practical-yet-cool space-saving furniture, gorgeous rugs and the ultimate way to store all of that Lego (when we're not stepping on it and lacerating our feet). But once you've achieved bedroom perfection (for the five minutes before the kids trash it again), you're going to need some finishing touches. We're talking posters, prints and canvas art and we know exactly where to find them here in Singapore!
1. Sammyeve
Whether you are searching for the perfect handmade print for your kid's bedroom, or are looking out for a great gift for a special little person, Sammyeve is one of the cutest finds in town. Created by a mum who understands what we're looking for when it comes to a Pinterest-worthy bedroom for the small people, each and every piece that leaves the design studio is individually made using the highest quality materials and attention to detail. Choose from anything from Singapore themes and superhero designs to typographic goodies and Chinese zodiac prints. Then, once you've confirmed your personalised instructions, sit back and wait for your unique piece of art to roll home. Psst: we also love the height charts, how cute!
Where: Sammyeve, online only. 
2. Kristen Kiong
Local artist Kristen Kiong has illustrated for a number of children's books in Singapore, with a distinct whimsical style that's perfect for kids' bedrooms! We love her collection of alphabet prints, which can even be customisable by skin colour and background colour to better suit your little one.
Where: Kristen Kiong, online only
3. Singapore Trading Post
If you're looking for something a little bit quirky to brighten up your teenager's room (ie, make it look less like a dank, dark cave), then Singapore Trading Post is where it's at. We're crushing on the retro posters, prints and canvases of local scenes and products (can someone please buy us the retro Qantas tiger canvas?). Even the moodiest of teens might just crack a smile while choosing something fabulous for their pit room. We want to deck our whole house out in Singapore Trading Post style – just take a peek inside their gorgeous store!
Where: Singapore Trading Post, Tan Boon Liat Building, 315 Outram Rd, Singapore 169074 or at 426 Joo Chiat Rd, Singapore 427644
4. Naiise
There are so many nice things in Naiise that you'll be spoilt for choice looking for a great print to perk up your kid's walls. Pick up wall posters, prints and canvas art from $10 (its on sale now!). We think everyone needs a hippo or unicorn Print in their lives.
Where: Naiise, online only
5. Deer Industries
Swoon alert: Head over to Deer Industries at Tan Boon Liat and pick up an outrageously adorable magnetic print, or adorable animal ones for the littlie's room. Instant room changer and perfect wall decor right there. If only we had enough wall space for all of them!
Where: Deer Industries, Tan Boon Liat Building #07-05, 315 Outram Road, Singapore 169074
6. Paintinks by melt
We've long had a bit of a thing for the Paintinks by melt Insta-feed and can't get enough of the commissions, paintings and illustrations by Melissa Tan. Adorn your kid's walls with whimsical wildlife, watercolour dragons or even these adorable Frida Kahlo-inspired cats. Or why not get the family pets immortalised in paint form to really add a personal touch to your decor?
Where: Paintinks by melt, purchase online on Etsy 
7. Bright Star Kids
For prints that are personalised AND won't bust the wallet, you can't go wrong with a cute wall decal or sticker from Bright Star Kids. Prices start at just $15.95, an affordable way to decorate the kids' rooms. We've also got a bit of a soft spot for the selection of height charts to track the kiddos' heights as they grow!
Where: Bright Star Kids, online only
8. Spotlight
Is there anything we can't get when it comes to home decor over at ever-handy Spotlight? That goes for plenty of fun art picks for kids of all ages, from fire engines and dinosaurs to unicorns and llamas. There's more than enough choice of posters, prints and canvas art for even the fussiest of small art critics, too.
Where: Spotlight, locations in Plaza Singapura and Westgate
9. The Jar of Salt
Manila-based artist Cherie Altea, aka The Jar of Salt, is a bonafide wiz when it comes to turning a dull wall into a colourful dash of fun. Pick up one of her unique acrylics, pastels, inks or collages on canvas to jazz up your kid's or teen's room – or splash out on a treat for yourself!
Where: The Jar of Salt, enquire online.
10. Etsy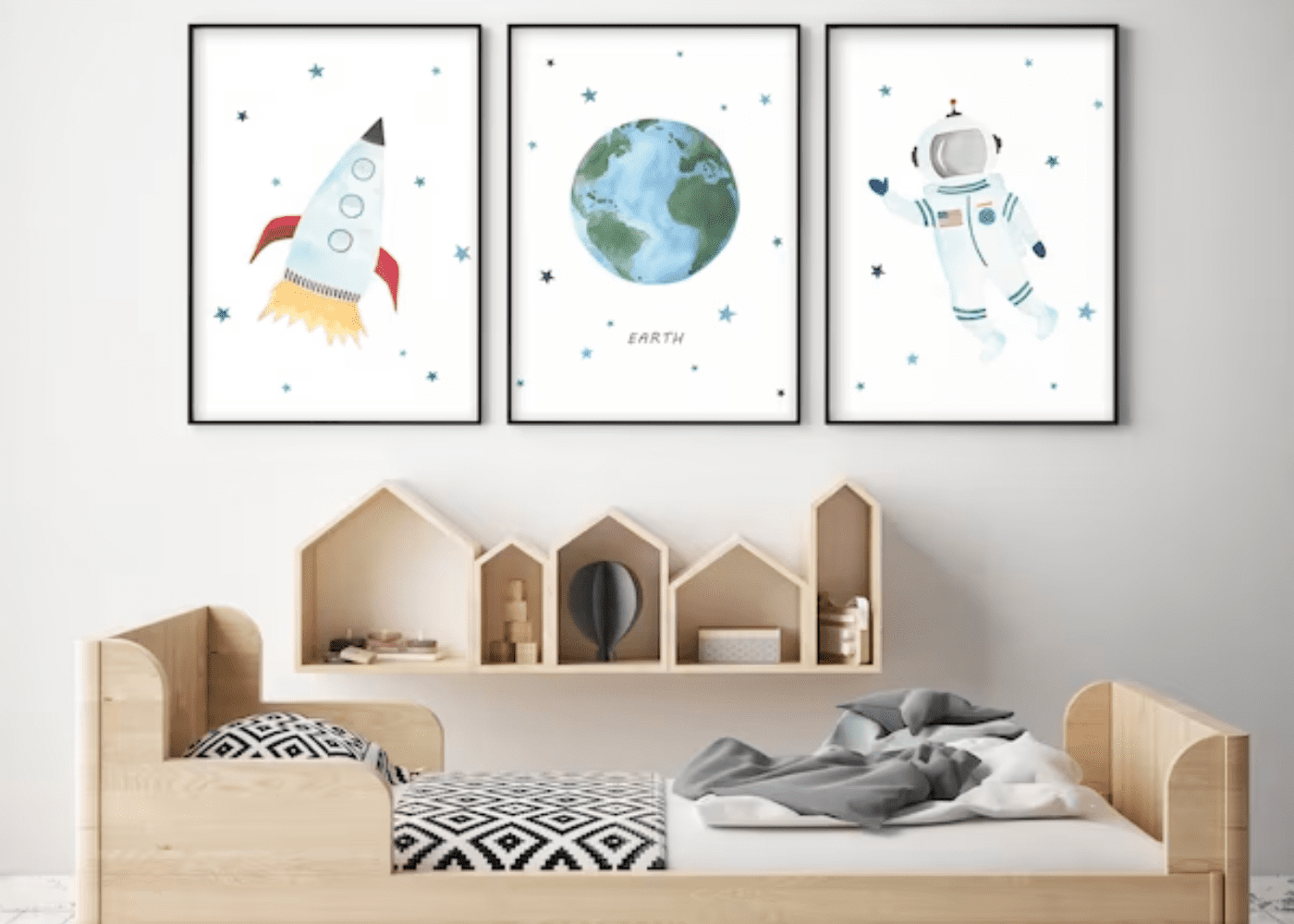 We love supporting artists and creators, and the Etsy platform is perfect for sourcing unique, inspiring wall art for kids that they are sure to love. No matter if they are into all things flowers, fairies, space, science, nature, sports – you name it, there'll be a print to match the theme. The prices vary, and sometimes you can pay less and print the designs at home! This is a great option if you want to resize to fit a particular frame. Happy shopping!
Top image: Pexels
Have fun decorating those nurseries and kiddo bedrooms! Let us know if you have any more recommendations to add to this list?