We're living out our interior decorating dreams through our kids' bedrooms! We've found Singapore's best furniture stores that will help you create a seriously stylish space for a lucky kid!
It's official: kids' furniture in Singapore has reached some pretty stylish new heights. Where was all of this cool stuff when we were kids? So go forth and visit these kids' furniture stores in Singapore where you can find the coolest beds, tables and more to kit out your kid's rooms in style. Go wild, go bright, go bold with your little people's bedrooms. Don't blame us if you have a serious case of interiors envy after reading this!
Kids furniture stores in Singapore
1. Momiji Kids
Momiji Kids is a homegrown brand established since 2019, run and designed by a mother with three small children of her own. This super mum works first hand with talented artisans in Indonesia to create the unique designs as well as distinctive rattan furniture and toys that the brand is known for. Not only does this ensure every piece is of heirloom-worthy quality, but also so that the legacy of these traditional craftsmanship can live on. We love that all of the furniture is designed with functionality and sustainability in mind. Our favourites include the Aulia table set with Maya chairs, versatile Callie storage couch, and the ultra adorable Colette toy pram. Another plus point: all of Momiji Kids' pieces are finished with water-based, non-toxic, and eco-friendly paint. Mums and dads – you're not forgotten! Keep your eyes peeled as Momiji Kids is starting to expand its offerings into adult furniture as well.
Where: Momiji Kids, Tradehub 21, 18 Boon Lay Way, #02-121, Singapore 609966 (by appointment only); available in KrisShop and Tangs as well.
2. FLEXA
This Danish design house goes to the next level with its children's beds, which make the bedroom one super-fun place to be (just look at the image above and you'll see what we mean!). Think canopies, castles, jungle safaris and a must-have fun item in a kid's bedroom: slides! We love that FLEXA wooden beds are all designed for safety, sustainability and to encourage creativity. Customise your bed by creating a play den or reading nook, add a ladder or a bunk and make it just perfect for your kiddo (or kiddos) as they grow. These high-quality, robust beds are made to last (we hear they even withstand the bites of a teething toddler). Even better, they're made with eco-friendly, non-toxic materials so your little people really will sleep safely.
Where: FLEXA, Forum The Shopping Mall, 583 Orchard Rd #02-19/20, Singapore 238884; and Marina Square, 6 Raffles Blvd #02-07, Singapore 039594
3. Decordinary
If you've been coveting colourful handmade rattan chairs, Decordinary has plenty to make your heart flutter, in statement colours from tangerine to jade and sunny yellow. We can see our kids curling up with a book in those beauties above! And, did we mention there's a rattan rocking chair too? The rocking chairs are just $109, the Daisy chair above it is $208, and that stunning yellow Peacock chair? $241. A steal!
Where: Decordinary, 32 Kallang Pudding Road, #06-05 Elite Industrial Building I, Singapore 349313 (by appointment only)
4. Kuhl Home
Having been in the business for more than 40 years, it's safe to say Danish brand Lifetime Kidsrooms (stocked by furniture store Kuhl Home) knows its stuff when it comes to quality furniture for kids. The belief that children need to play, explore and have fun is reflected in their quirky and uniquely themed designs. Think: a bed resembling a private cottage! All Lifetime beds can also be converted into a single bed measuring 207cm, taking your child from toddler to teenagehood and beyond. Aesthetics and function aside, craftsmanship is also a top priority. Products are made from sustainable pine with the use of non-toxic varnishes, making them safe for your little ones. Easily one of our favourite kids' furniture stores in town.
Where: Kuhl Home, 100E Pasir Panjang Rd, #08-01 B&D Building, Singapore 118521
5. Liliewoods
We love this locally designed brand of solid children's furniture, which is designed with kids' development and creativity in mind. Take the Wynona activity table, which is designed for play with a sunken chalkboard surface ($150). There's a treasure chest for your child to keep all their precious things, a rolling bookshelf and a trolley to give your kiddo access to all their art and craft supplies. Clever! Plus, this kids' furniture is made by artisans in Indonesia using responsibly sourced solid hardwood and eco-friendly low VOC finishing, making it safe. And, it's made sustainably, too. Bravo, Liliewoods.
Where: Liliewoods, 1 Kim Seng Promenade, Great World, #02-113, Singapore 237994
6. Cuckoo Little Lifestyle Store
Oh, how we wish we could be small again! If only we could have a room decked out in the fun and seriously stylish pieces at Cuckoo Little Lifestyle Store. From kid-sized desks to loft beds, mid-century style stools for kids and even a lounger! And don't get us started on the accessories. Can we please have one of those armadillo & co rugs already? Got a pair of older kids and are searching for that elusive stylish bunk bed? Check out the Oliver Furniture Wood Collection at Cuckoo – the hunt is over! A fab shop for kids' furniture!
Where: Cuckoo Little Lifestyle Store, Jelita Shopping Centre, 293 Holland Road, #02-13, Singapore 278628
7. Piccolo House
We think Piccolo House has the best range of out-of-the-ordinary bookshelves (there's a wall-mounted shelf that's a plane and a rocket corner bookshelf) and practical storage units, like the clean Abbeville range pictured above. Want to encourage your little ones to keep their space tidy? The sturdy wooden storage cubes ($129 for a single) will give them a good hint. Did you know Piccolo House has resident interior decorators who can help you put together one stylish kid's room? This kids' furniture store is a one-stop shop for great decor, too. Our tip? Check out the cool bean bags!
Where: Piccolo House, 10 Ubi Crescent, #01-63 Lobby D Ubi Techpark, Singapore 408564 
8. Deer Industries
You'll find Deer Industries in the Tan Boon Liat Building – a fave spot for window shopping for our fantasy home. And it's packed with fun bedding, accessories and hard-to-find furniture for babies and kids. There are even children's desks we'd want for ourselves! If you're into clean Scandi style, this is your place – and you can order some pretty special pieces, too. Shop online or visit the showroom.
Where: Deer Industries, 315 Outram Road, Tan Boon Liat Building #07-05, Singapore 169074
9. Kathy's Cove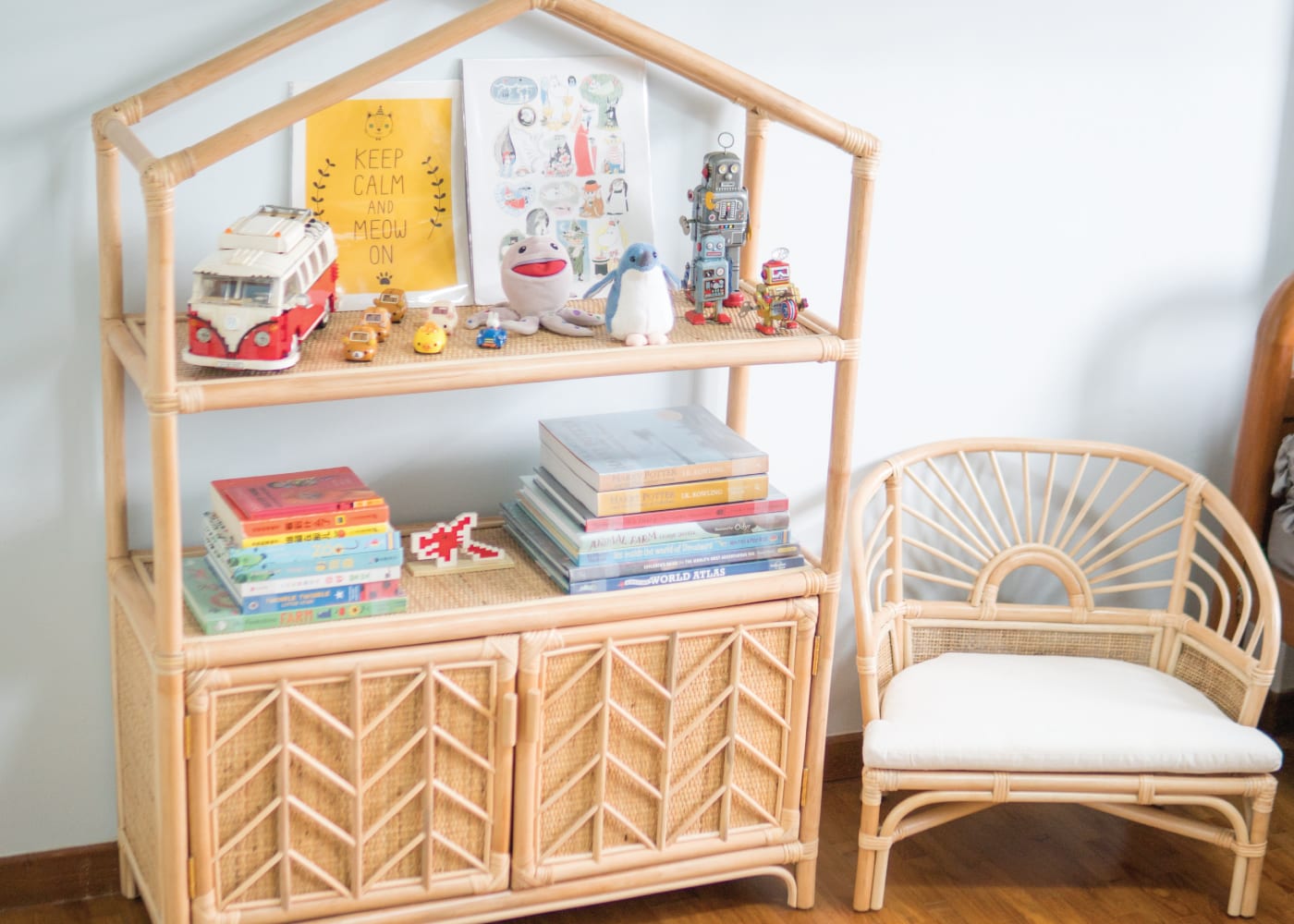 If you're looking for something a little more natural, then this local brand is where you should be looking at. Their sustainable and environmentally-friendly furniture is made out of rattan by a team of master craftsmen, so you're sure to get the very best products for your kids. Vintage and tropical, we love how much thought has been put into their designs.
Where: Kathy's Cove, online only
10. IKEA
Don't underestimate the power of IKEA! This Swedish staple always comes up with some real gems. Who doesn't love IKEA for its fun, affordable pieces? The Flisat table with hidden storage tubs ($99) is simply genius. Plus, the classic beds and cots are great basics that you can easily customise with a lick of paint. Or, if you're feeling adventurous, try your hand at an IKEA hack…
Where: IKEA, 317 Alexandra Road, Singapore 159965; 60 Tampines North Drive 2, Singapore 528764; and 50 Jurong Gateway Road, #02-12/13/14, #03-15/16/17, #04-20/21/22, Singapore 608549
11. HipVan
Head to this online emporium for unique kids' furniture created by independent designers, including local designers Liliewoods, which we raved about earlier. But be quick! These fantastic, hard-to-find gems are often gone in a flash – which is what makes Hip Van so addictive.
Where: HipVan, online only
12. LittleWode
Send your kids off to sleep with LittleWode's wide range of furniture and accessories that are made of sustainable materials. These guys are widely known for their cool bunk bed options, so invite your littlies to marvel at the variety and pick their faves. Oh! And if that wasn't enough to sway you, LittleWode's furniture has been tried-and-tested by thousands of little customers, putting them through their paces to make sure they're 100% kid-approved!
Where: Littlewode, 1 Pemimpin Drive, #03-02 (One Pemimpin), Singapore 576151
Furniture that grows with your child:
Where to buy kids beds, desks and chairs in Singapore that will last for years!
In the blink of an eye your teeny tiny bubba has outgrown the essential baby equipment you stockpiled, swiftly moved through cots, changing tables and highchairs, and is now demanding driving lessons and a new king-sized bed. How did that happen? And how much money have you already spent on new furniture each time the kiddos outgrew a bed or a desk? Best not to think about that. Instead, think about convertible furniture that will grow with your child. It's a one-off investment that'll see your offspring from tot to tween and beyond. Bet you wish you had stumbled upon this when you were bringing baby back from the hospital, eh?
Where to buy convertible cribs, cots and beds in Singapore
1. High Rise Kids Loft Bed with Storage Ladder
Bring home a loft bed by Kuhl Home and sleep soundly knowing you won't have to shell out for another one before your kid leaves home. This multifunctional design takes bedtime to greater heights while giving your child enough space for a lounge or study area when they get older.
Where to buy: Kuhl Home, 100E Pasir Panjang Rd, #08-01 B&D Building, Singapore 118521
2. Stokke Sleepi
For a gem of a crib that evolves as your child grows, the stylish look and great functionality of the Stokke Sleepi makes it a top pick. The Oval Crib is suitable from newborn through to around three years, but if you also pop the Junior Extension Kit in your shopping basket, you'll be extending the bed's life right through until your not-so-little one reaches around 10 years.
Where to buy: MothersWork, 1 Kim Seng Promenade, Great World #02-118, Singapore 237994; and 163 Tanglin Road, Tanglin Mall #02-109/110, Singapore 247933
3. Babyhood Grow With Me Sleigh 6 in 1 Cot
Now here's a bed that your kids won't be able to outgrow even if they tried. The beautifully-designed Grow With Me Sleigh lasts from birth right through to adulthood! How is such wizardry possible? The system converts from a bassinet to a cot, then a toddler bed to a daybed, and finally to a double bed. Transformation kits are included in the price, so you'll be getting great bang for your buck with this pick. Plus, it looks cool at every stage – better yet since no teen would want to sleep in a bed that looks like it was once a crib.
Where to buy: Rushk, online only
4. FLEXA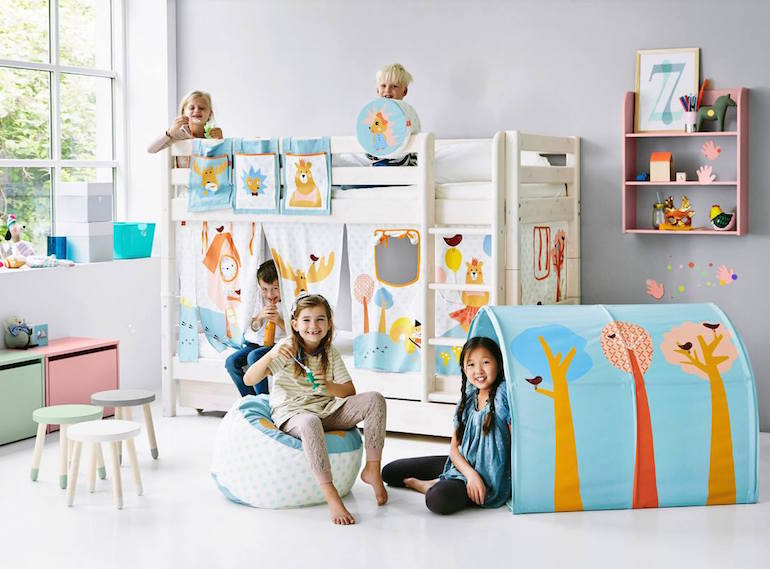 This Danish design house goes to the next level when it comes to beds that grow with children. Think canopies, castles, jungle safaris and slides for younger tots. Then reading nooks, bunk beds and play den options for when the little ones become not-so-little ones. Customise your bed to suit your space, lifestyle, wallets AND kids!
Where: FLEXA, Forum The Shopping Mall, 583 Orchard Rd #02-19/20, Singapore 238884; and Marina Square, 6 Raffles Blvd #02-07, Singapore 039594
5. iloom CUSINO series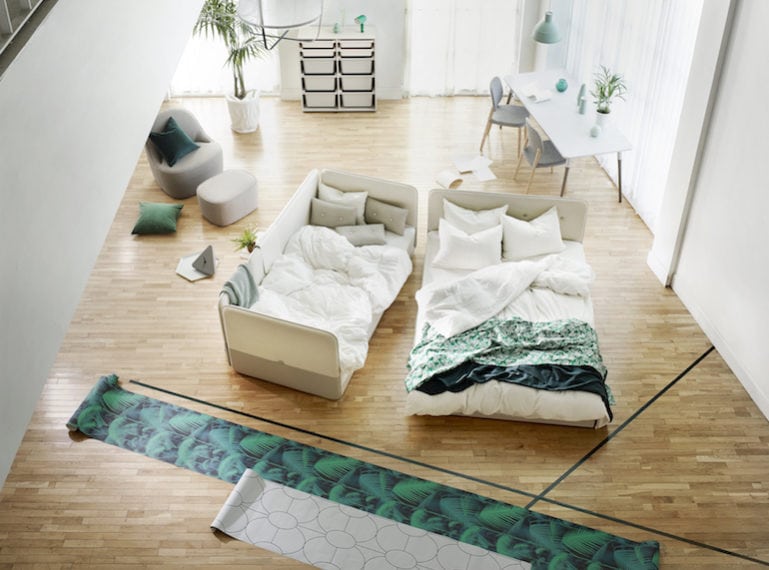 Here's one easy win not just for the kids but for the whole fam. iloom has recently launched in Singapore with furniture that's all the rage in Korea. The Cusino Series is great for families with toddlers who co-sleep and helps to transition kids easily from sharing a bed with mum and dad to slowly but surely increasing the gap so they're on their own. The bed can also double up as a couch. Brilliant stuff.
Where to buy: Metro, 1 Woodlands Square, #01-18/19 Causeway Point, Singapore 738099; and 290 Orchard Road, #02-28 Paragon, Singapore 238859
Where to buy convertible high chairs and child seats in Singapore
1. Stokke Tripp Trapp
Calling all babies, tots and tweens to the dining table! We have put the Stokke Tripp Trapp through its paces by testing it on our own fleet of tinies to teens, and it was a unanimous hit. Suitable for kiddos age four months through to around ten years, this Scandi gem is a definite "grows with your kid' piece of equipment to have on your hit list.
Where to buy: MothersWork, 1 Kim Seng Promenade, Great World #02-118, Singapore 237994; and 163 Tanglin Road, Tanglin Mall #02-109/110, Singapore 247933
2. Nomi Wooden Stem and Highchair
If a funky looking piece of furniture is what you have in mind as a seating option for your kiddo from newborn through to teenhood, the Nomi certainly ticks the chic box. The chair itself is suitable for kids age two and up, but add on the Nomi Baby option and, voila, you have a highchair that can be customised for little ones from six months. The open design makes this an easy peasy one for freedom of movement, so kids can pull themselves to the table without our help. If anything, it certainly makes for a conversational-piece!
Where to buy: Nomi by Evomove
3. Bumbo 3-in-1 Booster Seat
This cutesie booster seat is a saviour if you're looking for something that's both functional and safe. The 3-in-1 seat can be used as a baby floor chair, strapped on to an adult chair for feeding, or even used as a booster (we're in!). Recommended for kids six months and above, this multi-functional furniture piece even supports the growing needs of your kiddo!
Where to buy: Pupsik
Where to buy kids convertible desks and tables in Singapore
1. Lifecot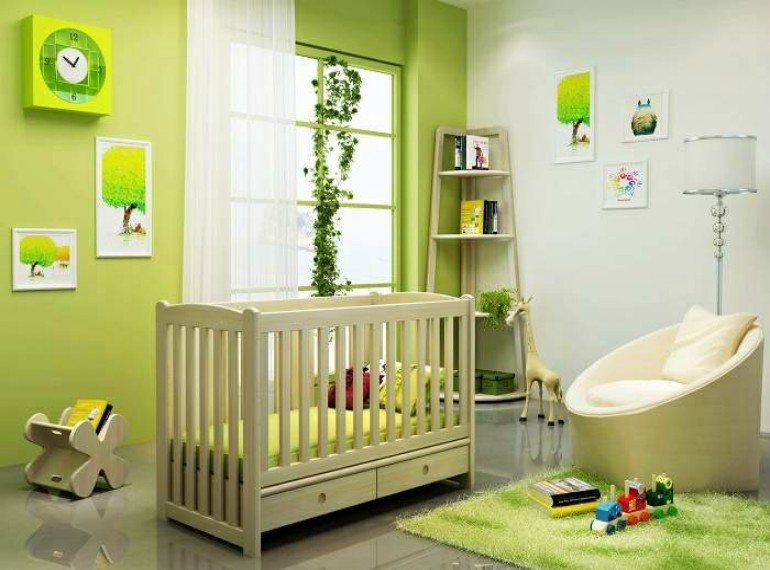 A cot that can be used as a baby changing table, and then reinvents itself as an ergonomic study table, you say? Now that's one nifty idea! This 100% solid Finnish pinewood super-invention is just the thing for when toddlers begin their preschool years and beyond!
Where to buy: Ibenma, Leisure Park Kallang, 5 Stadium Walk #02-07/08, Singapore 397693
2. IKEA
With soooo many desks to choose from and a seemingly endless amount of combos to make your kid's study space age-appropriate, IKEA knows all about furniture that grows with children. We especially love the loft beds that pose as both a cool slumber space and an office spot all in one.
Where to buy: IKEA, 317 Alexandra Road, Singapore 159965; 60 Tampines North Drive 2, Singapore 528764; and 50 Jurong Gateway Road, #02-12/13/14, #03-15/16/17, #04-20/21/22, Singapore 608549
3. Moll Champion Desk
If we counted up how many hours of homework little learners are faced with from preschool until uni, we're guessing a pretty mind-boggling total. Step forward the ergonomically designed Moll Study Desk, which has been created with healthy sitting, reading and writing in mind for small students age four years right through to adulthood. It's not a cheap option, but it's definitely a desk set worth the investment.
Where to buy: ErgoKid Singapore, Wheelock Place, 501 Orchard Road #03-07A, Singapore 238880
4. iloom LINKI-PLUS Series
This smart desk lets your little ones adjust the height and angle of their desk (yup, even the whole desk moves) at the touch of a button. Great for improving their posture, plus the desk is magnetic and non-slip to keep homework from sliding off.
Where to buy: Metro, 1 Woodlands Square, #01-18/19 Causeway Point, Singapore 738099; and 290 Orchard Road, #02-28 Paragon, Singapore 238859
5. Minidesk: Height Adjustable Desk
Keep your growing child happy and comfy with this electric height-adjustable desk by Minidesk. Say goodbye to bad postures, because this desk provides perfect posture suitable for growing bodies. The desk features a child-safe touch screen controller which allows you to adjust the height of the desk. Made with good quality materials and specifically engineered for children's needs, this one's a winner!
Where to buy: Minidesk, 996 Bendemeer Road, B-Central #02-07 Singapore 339944
Happy furniture shopping, kids!