Get the most out of small kid's bedrooms with these cool bunk beds for all budgets - slides and storage included!
With many of us living in cosy HDBs or condos (with dreams of one day owning a landed house!), the need for space-saving furniture is a given. We're big fans of making the most of small spaces, and when it comes to the kids' bedroom? Children's bunk beds are the answer.
From loft bunks and novelty beds to mini-adventure playgrounds, we've found the very best space-saving kids bunk beds for every budget. And the best bit? You'll not only free up some floor space (so you can throw down a stylish rug!) you can also turn your child's bedroom into an organised haven with clever designs and storage options too. Hallelujah!
WHERE TO BUY KID'S BUNK BEDS IN SINGAPORE
1. FLEXA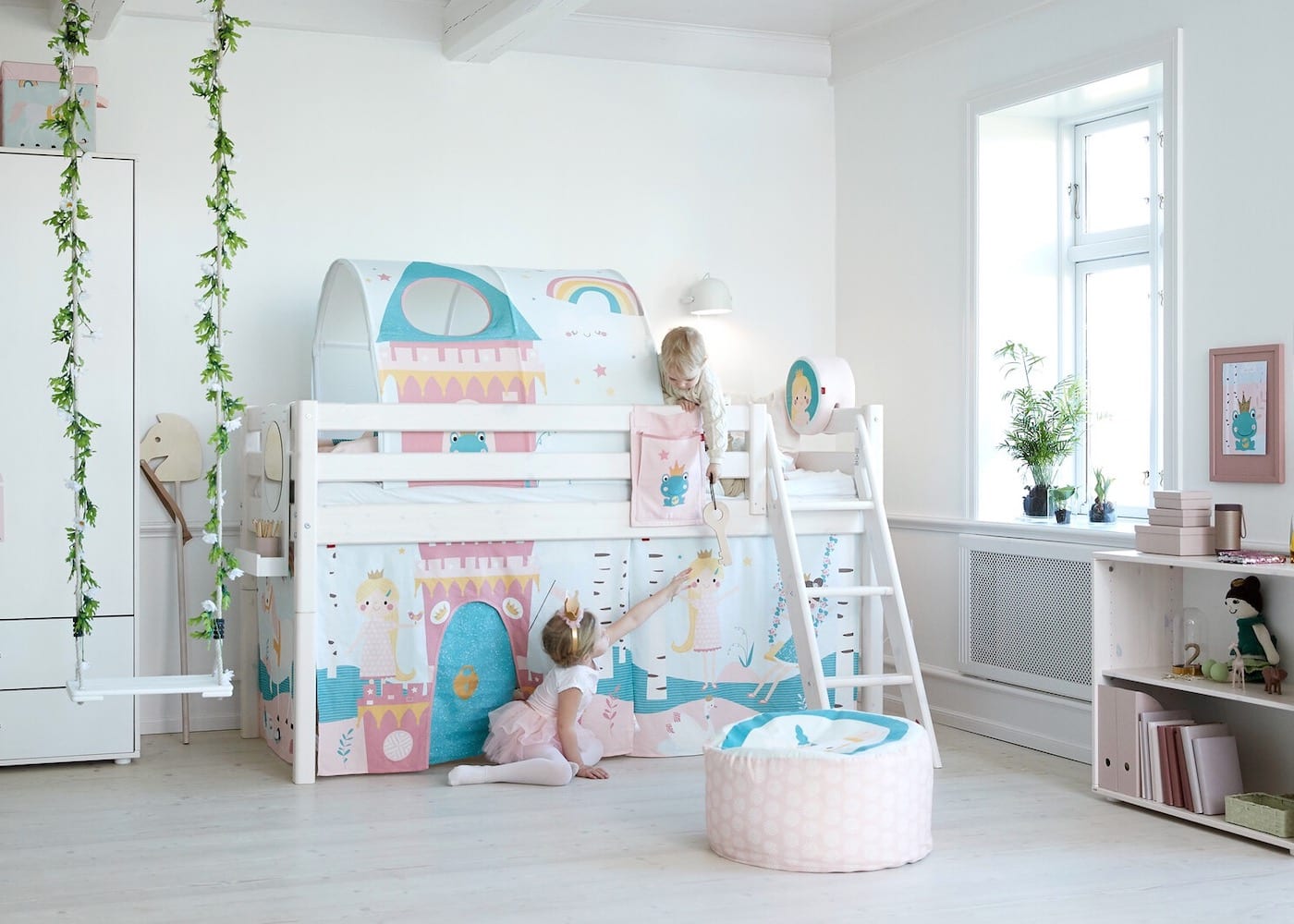 These guys don't just do beds – they do adventure playground beds! We're talking slides, canopies, princess castles and jungle safaris – all in bunk and loft bed form! Very cool, right? And FLEXA doesn't stop there. The beds are top-notch quality, and they can also be customised to the age, gender and personality of your little people. Oh, to be young again…
FLEXA, Forum the Shopping Mall, 583 Orchard Rd #02-19, Singapore 238884 and Marina Square, 6 Raffles Blvd #02-07, Singapore 039594
2. Cuckoo Little Lifestyle Store
If you're ready for a bit of a splurge, then the gorgeous wood furniture collections from Cuckoo Little Lifestyle Store offer stylish yet sturdy picks in classic Scandi style. Finish off the kids' dream bedroom with a teepee and some snazzy wall art. There's SO much to love here, and the kids will never complain about going to bed again!
Cuckoo Little Lifestyle Store, online only
3. Kids Haven
Not only will you find everything you could possibly ever need to turn your kids' bedrooms into a space-saving wonderland at Kids Haven, but there are also novelty beds for your quirky mini-humans. Snap up a race car bed with a pull out trundle, bunk beds with slides, and even a triple bunk to really make the most of smaller bedrooms. This is also the place to head for the pretty cool Maxtrix range where you can mix 'n' match designs to suit your space, style and children's ages. Or customise your own solid wood beds for extra parent points.
Kids Haven, 25 Playfair Road, Singapore 367992
4. Piccolo House
Enter the Piccolo House website at your own peril. We're lusting over the white-washed solid bunks which feature a proper staircase (no need for mummy-panic watching your little ones wobble on a traditional bunk ladder!). And that staircase? It turns into drawers, people! Storage heaven, indeed. We're also digging the queen bunk option – a single top and a queen bottom perfect for squeezing in extra bods.
Piccolo House, 10 Ubi Crescent, #01-63 Lobby D Ubi Techpark, Singapore 408564 (along Ubi Ave 1)
5. IKEA
IKEA never lets us down when it comes to budget-friendly options. And with the often transient nature of life in Singapore, shelling out big $$ for bunks may not be cost-effective if you are going to be shipping out after a short spell here. With the Tuffing bunk range starting at just $189, this is practical yet snazzy furniture that the kids AND our wallets will love!
IKEA, 317 Alexandra Road, Singapore 159965 and 60 Tampines North Drive 2, Singapore 528764
6. Crate & Barrel
Is it a stylish dresser? Is it an uber-modern shelving contraption? Nope – it's one of the kids bunk beds from Crate & Barrel that just so happens to double up as handy storage too. We love the range of kids bunks here, from simple frames with beds underneath, to loft beds with plenty of space below for that all-important play area…
Crate & Barrel, ION Orchard, 2 Orchard Turn #04-21/22, Singapore 238801
7. LittleWode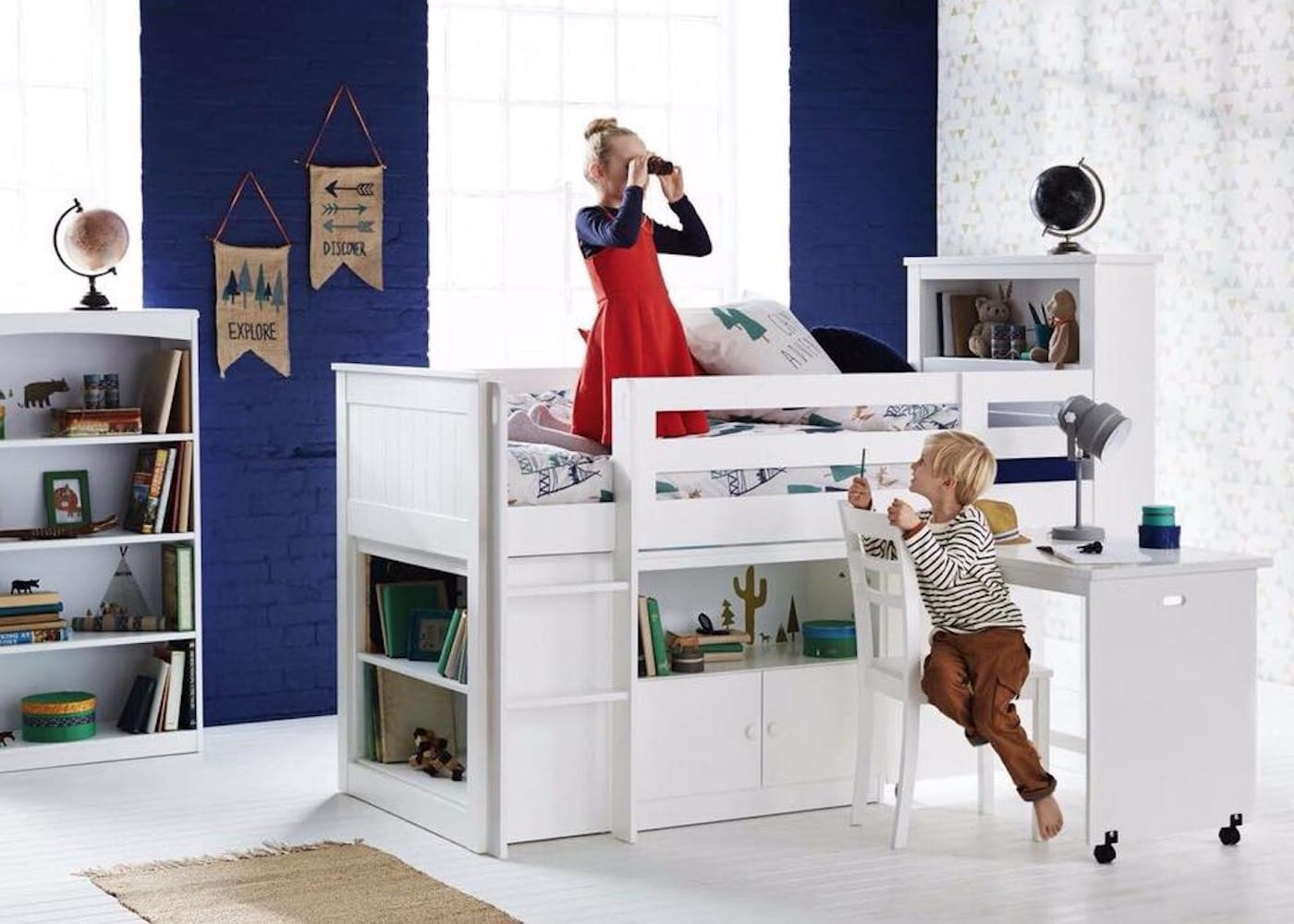 Whether you're looking for a fun bunk for younger kids (think slides!), or a funky loft bed for your teens, LittleWode has plenty of awesome choices – many of which boast English and American themes that the kids will love!
LittleWode, One Pemimpin, 1 Pemimpin Drive #03-02, Singapore 576151
8. Deer Industries
We have a pretty long wish-list after checking out the stylish bunk beds, matching furniture and accessories over at Deer Industries. If you're looking for optimum space usage, then check out the Dutch-designed Combiflex range, which has the option of adding a wheeled trundle bed underneath (perfect for sleepovers!). We've also got our eyes on the Banana Monkey bed sets…
Deer Industries, 315 Outram Road, Tan Boon Liat Building #07-05, Singapore 169074
9. Kuhl Home
The Scandinavians sure know how to design furniture well, and the double-decker wonders at Kuhl Home are the ideal bunk beds we've been eyeing. Sure, the prices may be a little steeper compared to the other options in the list, but we say it's a good investment for the kiddies. Plus, the bunk beds can be converted into two single beds or loft beds once the kids have outgrown them. Win-win!
Kuhl Home, B&D Building, 100E Pasir Panjang Rd #08-01, Singapore 118521
10. Ibenma
Cute, playful and full of character, the kiddos will love the bunk and loft beds from Ibenma. And as for mums and dads? The modular designs get a double thumbs up. You can add and subtract different parts of the beds to suit the room (and your kiddos demands!). Make it a double or single storey, attach a staircase, tap on a slide and even customise themed mattresses and themed accessories. It's where bunk bed dreams really do come true!
Ibenma, Leisure Park Kallang, 5 Stadium Walk #02-07/08, Singapore 397693
11. Spaceman
If space constraint is your main concern, then you'll love the bunk beds from Spaceman. Fold it up when not in use! Slide the mobile desk out when the youngling needs to do their homework! There's even an option to merge the wardrobe with the beds. The beds are made of recycled wood particles and water-based paints, safe for both kiddo AND the environment.
Spaceman, 65 McNair Road, Singapore 328546
12. COURTS
You can't go wrong with some bedroom inspo at reasonable prices over at Courts. Whether you're kitting out the whole house or just getting your kiddo's rooms sorted, there's plenty of choices (and even some great flexi-payment plans and often money-saving offers to be had too!). The Anzola bunk bed range is the most budget-friendly of all, but we're also feeling the stylish triple bunk too…
COURTS, locations islandwide
13. FortyTwo
Practical and inexpensive, check out the metal bunk range from FortyTwo, starting at just $249. Lots of bunk choices come in super single and queen combos, perfect for big families small on space. And if you want to up the budget slightly, they have some adorable wooden bunk options too…
FortyTwo, online only
Enjoy your new bunk beds, kiddies!