Photography: IKEA
Get out of the blazing sun (or pouring rain) and into one of these indoor play centres – we especially love the ones that serve coffee!
Indoor playgrounds are a godsend in Singapore. It's an island of extremes: scorching hot one moment and torrential rain the next, so sometimes a day out at a beach park can be a challenging, tantrum-inducing proposition (and we don't just mean the kids).
And while we love hanging out in our favourite malls in Singapore, there's only so long toddlers will co-operate. If you've already checked out all the family-friendly exhibits on right now, save your sanity (and the state of your house) and head to one of Singapore's top indoor play centres for a couple of blissfully cool hours. Not only will your tiny tearaways enjoy kids' play and be entertained, exhilarated and exhausted but, all things going well, you'll savour a coffee in peace. Here's our list of the best indoor playgrounds in Singapore, arranged by location so you can find one near you!
50+ BEST INDOOR PLAYGROUNDS FOR KIDS IN SINGAPORE
Top tip: Before you head down to these indoor play centres, make sure you double-check to see if there are any booking policies. Many kids' play spots require you to book in advance and take socks for both kids and adults – we'd hate for you to make a wasted trip!
Central
1. Impressions Kids Club
Check out the latest indoor play centre to grace our Little Red Dot! Tucked away in Horsecity, this 3,000-square-foot kids club offers an exciting experience with over 50 activities. Wow! Impressions Kids Club features five main areas: an indoor playground, a nature play zone, a sand play zone, a petite spa room, and a glow-in-the-dark games room. The main highlight is, of course, the playground, which has fun slides, a trampoline, and stimulating obstacle courses. There's even a private stable that can house a pony! This is a great venue for birthday parties and other celebratory events.
Impressions Kids Club, #01-02C, Horsecity, 100 Turf Club Road, Singapore 287992
2. X-scap8
What can you expect from a visit to X-scap8, Singapore's first all-in-one funground? Fun, fun, fun – that's what! There are five specially curated zones to explore, as well as the 'Eat-Play-Laugh' Resto Bar, serving up tasty burgers and drinks, that overlooks the Singapore skyline and Orchard Road.
The centrepiece is the three-storey-high 'Infinity and Beyond' ropes adventure course that is not for the faint-hearted! There's also a Smash Lab, an X-Warrior Challenge with ladders and timers so you can compete against your friends (with a cheeky fun slide to finish!), an Arcade Zone with shoot-em-up and joystick games, motorcycle racers and claw machines, and there's even a very cool golf simulator. Best for kids taller than 1.2 metres, entry is free but activities are chargeable. See our review for all the deets!
X-scap8, #07-02, Orchard Central, 181 Orchard Road, Singapore, 238896
3. The Joy of Toys
Here's a different kind of indoor playground if you're looking for a variety for your little ones. The Joy of Toys is an indoor play centre with an awesome toy selection of "high play value". Building blocks, puzzles, dollhouses, kitchen sets, railway tracks… kids will be happy to play with them again and again. Toys are rotated monthly so that visitors can look forward to something new to play with on their next visit. The space is divided into three sections: the main space that's suitable for preschoolers and school-aged children, a toddler space, and a riding room. There's even a baby care room if you need to change bub's diapers.
The Joy of Toys, #03-51, Clarke Quay Central, 6 Eu Tong Sen Street, Singapore 059817
4. Amazonia
The Amazonia indoor play centre (all 9000 square feet of it) is one of our favourite go-to indoor family entertainment centres in Singapore. It boasts an eight-metre high slide, a five-level play gym and super-fun zones like the trampoline ball shootout, the play gym and the toddler play area. And there's a café for the coffee-quaffing parents, too – yippee!
Amazonia, #03-113, Great World, 1 Kim Seng Promenade, Singapore 237994
5. Buds by Shangri-La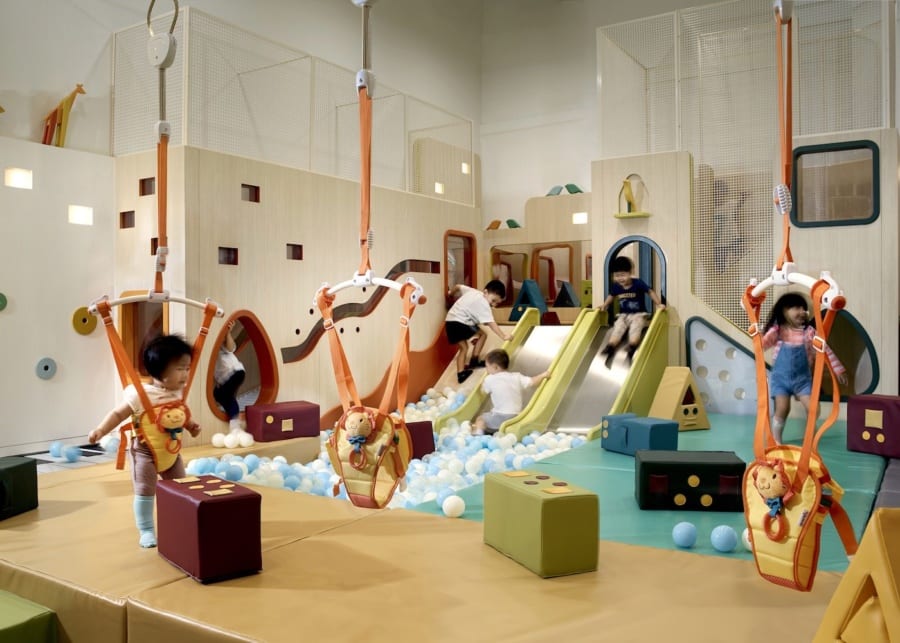 If you're in the mood for a staycation, why not splurge a bit for the kids to have some serious fun at the fully supervised Buds by Shangri-La? It's got a massive ball pit and is filled with climbing structures, bouncy bridges, slides of all sorts and plenty of air cannons. Little ones can get their fair share of fun here, too, in the toddler corner. You'll find baby-sized swings, slides, a piano floor, interactive wall buttons, and vintage kiddie rides – whee! There's plenty of fun to be had outside too. At the wet play area, you'll find splash pads, water sprays, a massive water bucket, and of course, a giant pirate ship. Did we mention there's a cafe for you to put your feet up while the little ones tire themselves out? Hurrah! This place gets super busy, so try and head there at off-peak times. Note: Buds by Shangri-La is only open to hotel guests and members of Buds at the min.
Buds by Shangri-La, 22 Orange Grove Road, Singapore 258350
6. The Rocking Horse Playhouse
When it comes to indoor playgrounds, it doesn't get much better than The Rocking Horse Playhouse. With its spacious interiors, your kiddos can go positively wild! There are also age-appropriate toys, a pantry for parents to mingle, and a cosy couch for some much-needed downtime. If that's not enough, Mum & Baby classes are also on offer, focused on international languages. Be sure to make your bookings online to avoid any disappointments!
The Rocking Horse Playhouse, #01-02M, Horsecity, 100 Turf Club Road, Singapore 287992
7. Pororo Park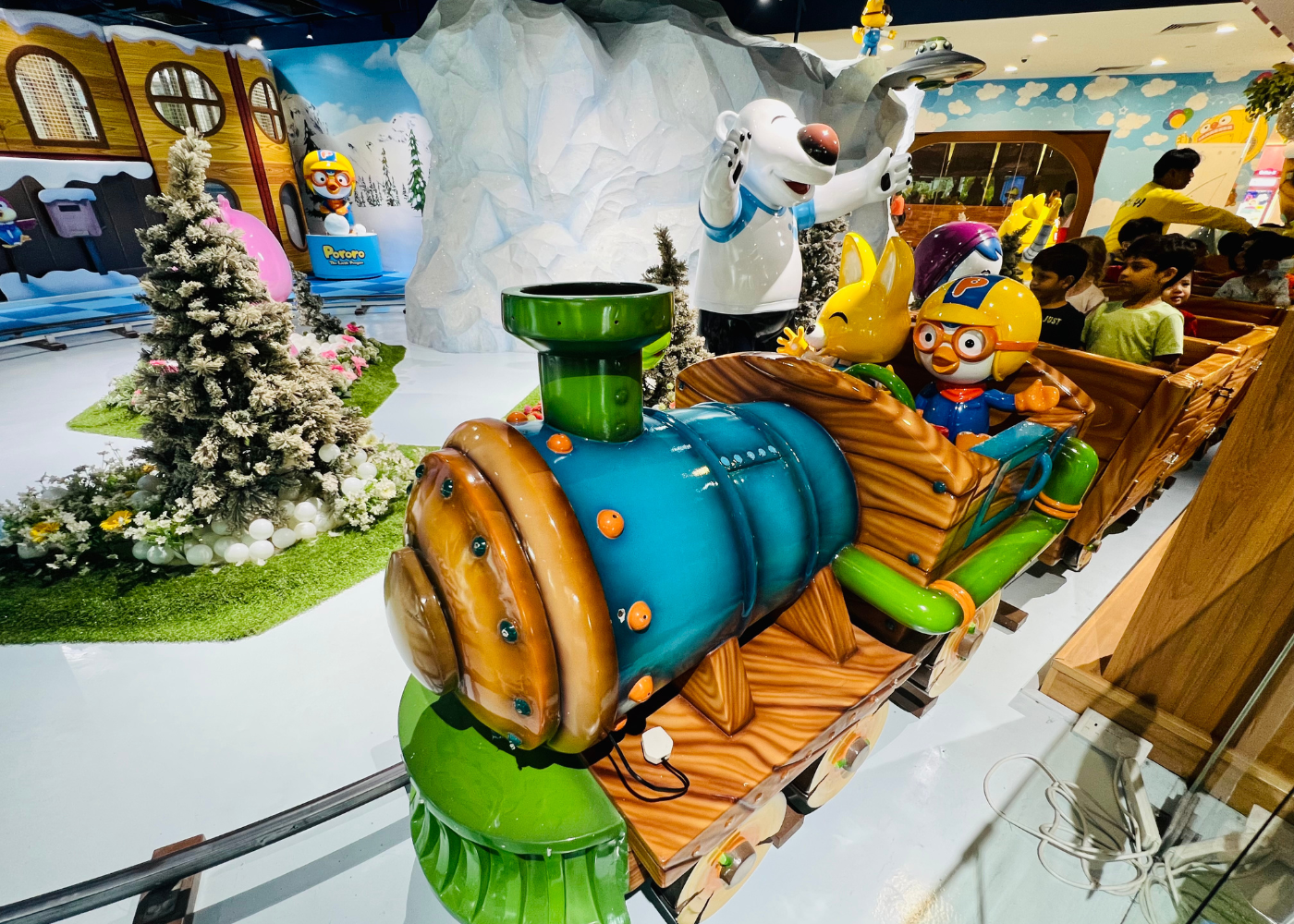 Pororo Park Singapore at Marina Square has reopened after a short closure for renovations and enhancements to the beloved play gym area. Promising an even more engaging and immersive experience for young adventurers and filled with beloved characters, this themed indoor playground will take young explorers on an adventure to the snowy village of Porong Porong Forest. Tackle the obstacle course, ball pits and slides, ride on mini bikes, play in a dig pit with a giant shark, and visit Pororo's play house. Our fave is the Pororo Express: a kids-only mini train ride that will have your kiddos begging to go "Again! Again!" Don't miss a meet and greet with the singing and dancing Pororo (check the website for timings).
Pororo Park, #02-29, Marina Square, 6 Raffles Boulevard, Singapore 039594
8. Waka Waka at Annex @ Furama
We road-tested Waka Waka in River Valley – and our kids had an absolute BLAST! A fun animal safari theme runs throughout the centre, with a range of cool zones to entertain different ages (our 18-month, five- and seven-year-old kids all refused to leave come home time). Toddler's favourites included the wave slide (with real water and lights inside), bouncy castle and the life-sized lion and zebra statues. All the kids played happily on the futuristic air mattress with cool changing neon lights. It's worth paying extra for the obstacle rope course (with harness and helmets) and the timed climbing walls, totem pole and leap of faith for the older, more capable kids. We've already scheduled our next visit, and we're bringing friends!
Waka Waka, #05-01, Annex@Furama, 407 Havelock Road, Singapore 169634
9. Future World at the Art Science Museum
With its amazing Future World exhibit, the ArtScience Museum is right up there as one of our fave cool kids' play areas. Truth: it's actually a permanent museum exhibition, but it's a truly spectacular experience for young and old(er). Immerse yourselves in a room with floor-to-ceiling flower blooms, chillax and watch waves roll in, stack oversized illuminated blocks, and enter a ball pit like no other. Get the full scoop on our visit to Future World and get to the ArtScience Museum as quick as your lovely legs will take you.
Future World, ArtScience Museum, 6 Bayfront Ave, Singapore 018974
10. Kiztopia
Being one of the biggest indoor playgrounds in Singapore, Kiztopia stands to be one of the more popular play centres. Encompassing 18 different play areas, such as ballpits, trampolines and slides, the kids are sure to have a ton of fun! Plus, there's a ninja warrior play area for your bigger kids to duke it out. Once your kids have had enough, be sure to check out the on-site Kith@Kiztopia cafe for some delish grub.
Kiztopia, #01-09, Marina Square, 6 Raffles Boulevard, Singapore 039594
11. SuperPark Singapore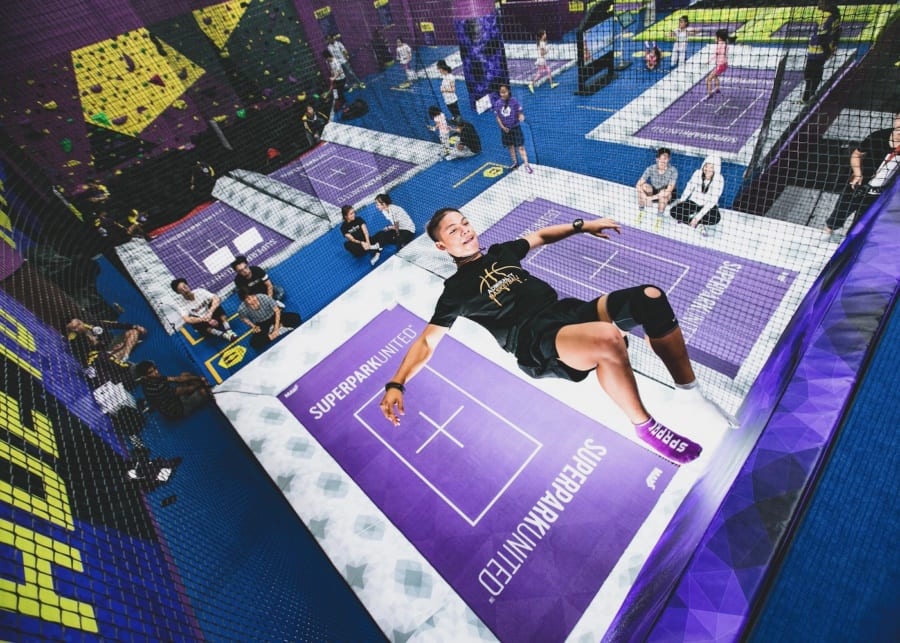 Coming to you straight from Finland, SuperPark Singapore is Singapore's largest all-in-one indoor activity park. And the good news? Parents who've always wanted to join in on the indoor park fun now can! Stretching a whopping 40,000 square feet over two levels at Suntec City Mall, SuperPark has three themed areas offering over 20 activities for all ages. With its roots in Finnish education, the activities are designed to teach children age 12 years and below motor skills – all the while improving their social-cognition skills and confidence. Are you in? See you at SuperPark Singapore!
SuperPark Singapore, #02-477 (North Wing), Suntec City, 3 Temasek Boulevard, Singapore 038983
12. Kidodo
If you happen to be in or around City Square Mall and need an indoor playground option, then Kidodo might just fit the bill. It's great if you're looking for a quick play option, with one hour costing $12 in the week or $15 on the weekend (which includes both child and adult entry). It's not as extensive as some but has more than enough to keep the kiddos occupied – think tunnel slide, ball pits, obstacle soft play course, and more!
Kidodo, #02-19A, City Square Mall, 180 Kitchener Road, Singapore 208539
13. The Polliwogs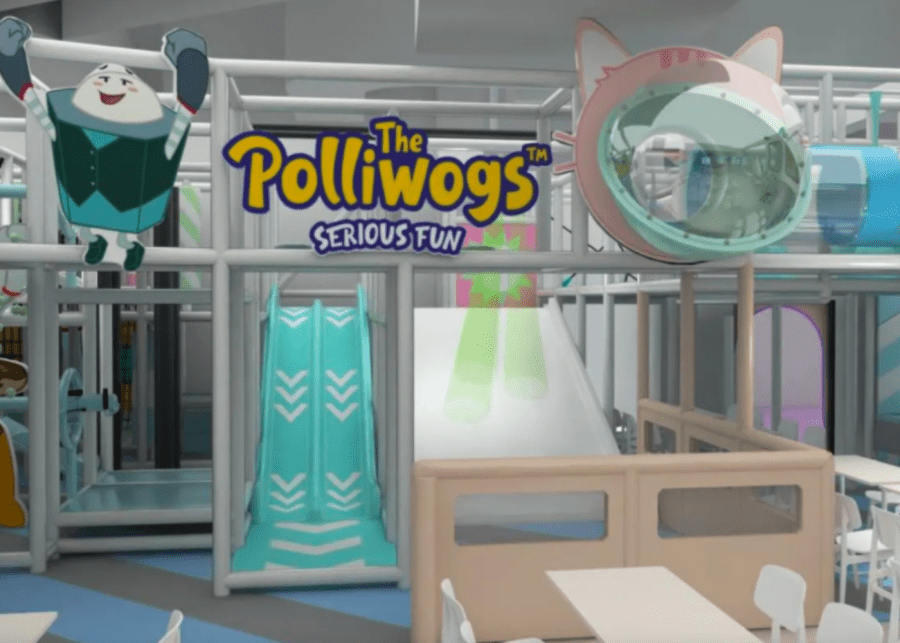 Polliwogs play centres are awesome and conveniently located in malls at VivoCity and Clarke Quay Central. You guessed it – it means we can squeeze in a little retail therapy pre- and post-fun! After all, what's not to love about a well-equipped kiddy haven with a parent's coffee lounge complete with internet and CCTV screens? You can watch on from a safe distance (older kiddos of course) while taking some parent time-out. It is serious fun for the kiddos, so everyone's happy!
The Polliwogs, #03-12, VivoCity, 1 Harbourfront Walk, Singapore 098585 and #04-63, The Central @ Clarke Quay, 6 Eu Tong Sen St, Singapore 059817
14. Petite Tayo
After some Tayo fun?! Hop on down to the Petite Tayo Kids Club. This one is ideal for little kids (one to six years), with four play spaces featuring different sensory and pretend-play stations, including a road circuit, petrol kiosk, playground in the park, climbing wall and even Tayo's Garage! What's more, the added bonus here is that the space doubles up as a workspace for mums and dads. So you can grab yourself a Petite Tayo KidsClub's working pod while the kids play under the care of Petite Tayo KidsClub's very own PlayGuide – win-win!
Petite Tayo, #01-06/07, Kallang Wave @ The Singapore Sports Hub, 1 Stadium Place, Singapore 397628
15. Airzone
Airzone might be the most unique of all the indoor playground options out there in Singapore. Needless to say, it's also a world first – suspended in the air in the middle of City Square Mall. It's certainly hard to miss! The bouncy nets span levels 2 to 6 of the mall atrium, with slides connecting the levels – definitely have a head for heights for this one!
Airzone, #02-K4/K10, City Square Mall, 180 Kitchener Road, Singapore 208539
16. Pirate Land
Another great one to have on your list if you're visiting Orchard Road: Pirate Land has something for everyone with a toy brick street, supermarket and kitchen area, bouncing house, trampolines, ocean animal projection drawing, plastic ball pond, and we could go on! If you visited Pirate Land a while ago (pre-Covid), you might not recognise this spot as it's been overhauled and looks fab!
Pirate Land, #04-08/09/10/11, The Centrepoint, 176 Orchard Road, Singapore 238843
17. Power Kids Gym
Your little energiser bunnies will have a tumbling good time at Power Kids Gym. There are plenty of classes available, but you can also come along for one of the open gym sessions for an hour of freewheeling fun. Here your kids can roll, jump, swing and rope climb around this great safe (and soft) gym space until you carry them out. The kids parties here have to be experienced to be believed. Central location too! Psst – the gym has special open gym slots, so stay in touch with updates on its Facebook page, and call ahead to book your slot!
Power Kids Gym, #02-12, UE Square, 81 Clemenceau Avenue, Singapore 239917
18. Kid-zy-way
Located at Roberston Quay, you might miss this new soft play option if you're not looking for it. And miss out you would, because it ticks all the boxes for a perfect play spot for the kids. It's not massive but has all the soft play essentials like ball pits, hinoki sandpit, plus a mini obstacle course and slide selection. It's a good one for the younger kids of the house, and the location gets a big thumbs up from us!
Kid-zy-way, #02-17, Robertson Walk, 11 Unity Street, Singapore 237995
19. NERF Action Xperience
Got NERF fans at home? Head on down to NERF Action Xperience and scale new heights through a series of physical challenges like 'The Summit' rope course, 'The Glacier' super slide, or dodge 'The Volcano' at the obstacle course. You can also compete in games, take on sensor challenges, and even use your NERF to create art!
NERF Action Xperience, #01-208, Marina Square, 6 Raffles Boulevard, Singapore 039594
20. Hip Kids Play
Thought kid-focussed mall, Forum The Shopping Mall, couldn't get any more kid-friendly? Wrong! Check out the Hip Kids playground on level 2. If the kids need persuading to hit the shops, this is a great find. Even better, it's an incredible value with a fee of $25 chargeable for a one-year membership or a one-time per entry fee of $5. Sure, it might not be as all-singing, all-dancing as some other indoor playground options, but we think it's pretty awesome based on price and location. Be sure to check timings in advance; you can even pre-book your slot to be sure of a spot!
Hip Kids Play, Level 2, Forum The Shopping Mall, 583 Orchard Road, Singapore 238884
East
21. Wan To Play
Another indoor playground has made its presence in Singapore, and we're excited! Wan To Play is a forest-themed indoor playground that'll sure to keep the little ones occupied. There are climbing walls that lead to ball pits and foam building blocks that you can stack up and tear down. Take a breather by sitting down at the activity corner and engaging in fun DIY projects such as sand painting.
Wan To Play, #04-03/04, i12 Katong, 112 East Coast Road, Singapore 428802
22. Better Play
Who better to found an indoor play centre for children than parents of young children? Located above Little Farms (AKA one of our fave supermarkets), Better Play is a Montessori-inspired space where kids and their caregivers can play, relax, and explore together. There are two spaces filled with myriad high-quality toys for children aged six months to six years. There are classes held here too, including music for babies and sensory storytelling for toddlers.
Better Play, #02-12, Katong Point, 451 Joo Chiat Road, Singapore 427664
23. Småland
What is an indoor playground list without Ikea?! This play centre has a magical forest theme, where kids can jump, climb, and play around the enchanted area. They can also explore the new hopscotch area and generally have fun with the Bygglek range. If the littles need a breather, there's an area where they can sit to watch a movie, read a book, or engage in colouring activities.
Småland, IKEA Tampines, 60 Tampines North Drive 2, Singapore 528764
24. The Artground
East siders – this one's for you! As well as running a series of fantastic weekend art programmes, The Artground provides an interactive art space for the kids to explore. It's suitable for babies and kids up to 9 years old, and we also love that it's an accessible space for all. The theme changes throughout the year, so it's never boring. Word of warning, though – this place is hugely popular, so make sure you book in advance! Tickets are published every Tuesday for the following week, so get ready to book!
The Artground, #01-40, Block J, Goodman Arts Centre, 90 Goodman Road, Singapore 439053
25. The Tiara Society
Are the little ones all about princesses? Then there's only one place that's going to cut it when it comes to indoor playgrounds, and that's The Tiara Society. Based on Once Upon a Time Fairytale theme, the kids will make a beeline for the wardrobe chamber containing every costume under the sun for the dress-up of dreams! Then, hot foot it over to the wall of dollhouses before visiting the Ice Palace (hi, Elsa!) and catching a ride in a princess carriage. Don't worry if your kid isn't on board with the princess theme; there's also a knight's fort to explore! We'll see you there!
The Tiara Society, #02-02, Coastal Playgrove, 902 East Coast Park, Singapore 449874
26. Playtopia
If you live near Tampines, then you've got a great play option in the form of Playtopia. Based at Tampines Walk, the entrance is via the library (so you can kill two birds with one stone and do a library date, too!). It's got ball pits, tunnel slides, loads of obstacles for the kids to tackle, plus a smaller area for the littlies. It's not as large as some of the big names, but it's a great option to have on the list if you're in this part of Singapore!
Playtopia, #03-02, Tampines Regional Library, Our Tampines Hub, 1 Tampines Walk, Singapore 528523
27. Tayo Station
Tayo the Little Bus and friends have pulled up at Downtown East to make its first ever stop in Southeast Asia. Based on the popular South Korean show, this indoor play centre has plenty of areas for kids to play and learn, including a child-sized street scene for the tots to zip and zoom around in and, most importantly, learn all about road safety. Pop over to Poco's Hinoki Play for sensory play featuring aromatic wood cubes imported from South Korea. Or let the kids tire themselves out on the three-storey kids' play structure, Gani's Playground, which features two massive slides.
Tayo Station, #03-112, Market Square @ Downtown East, E!Hub, 1 Pasir Ris Close, Singapore 519599
28. Impressions Kids Club East
More good news if you're out east – Impressions Kids Club is in town! IKC East offers up trampolines and ball pits, as well as a casia seed pit! It also has great pretend play options with a supermarket and garage to check out! Did we mention there is a cafe on-site too?!
Impressions Kids Club East, #04-01, 131 East Coast Road, Singapore 428816
29. Kaboodle
Ever since our junior reporters (aged four and six) spent the morning at Kaboodle (read our full review of Kaboodle here), they've been begging to go back. The 'Imagination Playground' of oversized blue foam blocks, noodles and balls shipped in from New York are designed to inspire kids to build the castle/race car/fort of their dreams. And they're positively encouraged to enjoy smashing it all down too! It's fun learning at its best. There's even a cafe for parents and dedicated sensory craft lessons, so check it out!
Kaboodle, #02-06, Katong Square, 88 East Coast Road, Singapore 423371
30. Play! by KinderPlay
If you happen to find yourself at Changi Airport and need a place for the kids to run off some excess energy, then this Cartoon Network-themed playground is your spot. Aimed at the younger kidlets, it has a soft-fall floor and padded equipment to give you peace of mind. Our junior reporter loved the cage with giant floating balloons and the multi-coloured décor. It's open daily until 11pm if you have night owls!
KinderPlay, #B2-14/15/16/17, Changi Airport Terminal 3, 65 Airport Boulevard, Singapore 819663
31. Canopy Park
Perhaps not a traditional indoor playground in the soft play setting sense, but we couldn't write a list of indoor play spots and miss out on the epic Canopy Park! From hedge mazes to discovery slides, foggy bowls, and sky nets. There's a whole heap of fun going on here!
Canopy Park, Level 5, Jewel Changi Airport, 78 Airport Boulevard, Singapore 819666
32. Action Motion and Aqua Adventure at HomeTeamsNS Bedok
Whether you're after indoor playground fun with ninja courses, ball pits and rockclimbing or a water play adventure with Singapore's largest slide, then HomeTeams NS Bedok Reservoir is the place to go! With exciting zones that are sure to get your adrenalin pumping, this is a great place to take active older kiddos who need to burn off some energy.
HomeTeamsNS Bedok Reservoir, 900 Bedok North Road, Singapore, 479994
West
33. HomeTeamNS T-Play Bukit Batok
Want the kids to learn something as they zip around ball pits, trampolines, climbing walls and slides? Get your sights set on T-Play, an augmented transportation-themed playground at HomeTeamNS Bukit Batok. Made entirely in Sweden and assembled in Singapore, T-Play occupies a whopping 4,200 square feet. It features some seriously cool interactive play equipment for kids on the move. From airport check-in counters to heli landing pads, the kiddos will emerge absolute experts in all things transportation. Chuck in a nursery area with plenty of soft play equipment for the toddlers, and you've got yourself a winner. Entry fees range depending on age, visiting hours and membership tier. So pick an off-peak time to visit for tons of fun at a great price!
HomeTeamNS Bukit Batok, Level 2, 2 Bukit Batok West Ave 7, Singapore 659003
34. Bouncy Paradise
If the kids are into bouncing and you're based out west, then make a beeline for Bouncy Paradise. To be fair, even if you're not based here, it's still worth the trip. We're talking the world's largest inflatable playground, no less! Occupying a whopping 20,000 sqft, the kids are sure to be well-entertained here. Tackle the 20 mega-sized rainbow slides, or how about the ball pit with over 300,000 balls? Little ones won't get lost, though, as there's a dedicated toddler zone too. You can tick off trampolining here as well with 20m of trampolines to bounce your way through!
Bouncy Paradise, 200 Pandan Gardens, The Sports Stage, PeopleUp Enrichment Hub, Singapore 609336
35. KidsSTOP at the Singapore Science Centre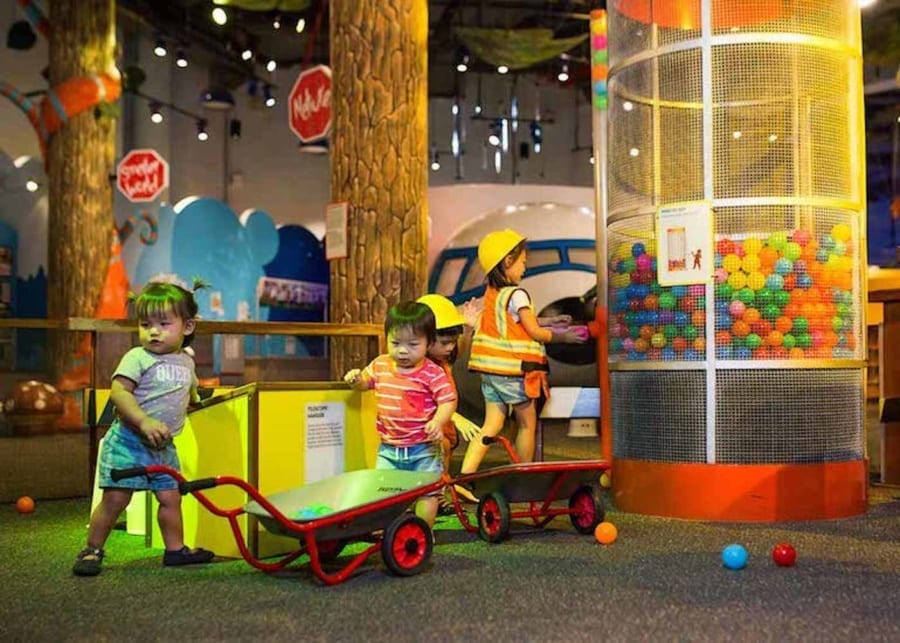 For an indoor play zone that offers arguably the best edutainment experience for kids in Singapore, head to KidsSTOP at the Singapore Science Centre. It's like Willy Wonka's factory filled with loads of fun science-based exhibits. The dino-dig pit is simply irresistible for younger kids – our 18-month-old junior reporter adored the builder station with vests, helmets and tools. Don a pilot's cap and navigate a plane, or scrabble to collect colourful balls as they drop from a crane. Children can weigh and measure themselves and learn all about the human body, while older kids will love scaling eye-watering heights on the climbing equipment.
KidsSTOP, 21 Jurong Town Hall Road, Singapore 609433
36. Snow City
Speaking of Snow City, how could we not include this indoor play centre in our roundup? It's the only permanent indoor snow centre in Singapore – who doesn't love the idea of a mini winter wonderland in the tropics for kids to experience Arctic conditions, igloos, and ice! Warm gear is provided and the kids will love the snow chamber, which features a 60m long snow slope for the whole family to try some snow tubing.
Snow City, 21 Jurong Town Hall Road, Singapore 609433
North
37. Kidztropic
There's a new soft play in town! The team call it a "cosy indoor family edutainment centre", and Kidztropic at Level 3 of The Poiz Centre in Serangoon is a fun meeting place for both parents and kids. Activities are both fun and educational, inspiring kids to develop teamwork and confidence. The indoor playground area has loads of slides, a ball pit, trampolines, climbing walls, pretend play and an area with sensory toys. All of this to fuel your kid's imagination and creativity through child-initiated play.
Kidztropic, 51 Upper Serangoon Rd, #03-12/13 Poiz Centre, Singapore 347697
38. HomeTeamNS T-Play Khatib
And it's not just Bukit Batok that's home to a HomeTeam NS indoor playground; residents near Khatib are also in for a treat too! This time the theme is Peranakan Adventureland, and we LOVE it! Think creative tunnels, mini-trampoline play and super-duper spiral slides, all with the added wow factor of Peranakan-inspired design. There's even a nod to the famous Toa Payoh dragon slide, with an indoor equivalent if you can't face heading to the original one in the heat! See our full review on what to expect!
HomeTeamNS Khatib, 2 Yishun Walk, Singapore 767944
39. Little Bear's House
If you're looking for fun near Serangoon, then look no further than Little Bear's House! This super-cute play space has a whole host of engaging toys to keep the kids busy. There's a lot of thought gone into the toys here, too, with the emphasis on toys that develop spatial awareness while teaching littlies about colours, shapes and basic counting. Toys are interactive and perfect for pretend play (we love the shop area!). It's also super convenient for feeding little ones with a guest pantry, baby high chairs, and a nursing room.
Little Bear's House, 21 Lichfield Road, Serangoon Garden Way, Singapore 556841
40. Adventure HQ
One for the older kids and adventure seekers, Adventure HQ has it all! With over ten installations to tackle – from Singapore's first indoor roll glider to the longest indoor slide (an impressive 14m!) – there's something for everyone. Make sure you have a head for heights as you scale the urban climbing wall, or if you want to keep your feet on the ground, then how about the artificial caving experience with its labyrinth of dark tunnels with stalactites, stalagmites, sumps and fossils! There's no age requirement here, but a minimum height of 125cm to take note of.
Adventure HQ, HomeTeamNS Khatib, 2 Yishun Walk, Singapore 767944
41. Merry Haus
Merry Haus is part cafe, part indoor playground. Although the indoor play area is small, there's plenty to keep the kids entertained while you enjoy the delights over in the cafe. There's a ball pit, hinoki pit, dress up, as well as art activities for little ones to enjoy. Although when they see you tucking into the delish waffles and ice cream on the menu, you might struggle to keep them away!
Merry Haus, #01-34/35, Oasis Terraces, 681 Punggol Drive, Singapore 820681
42. My Little Climbing Room
For little kids who want to scale to new heights but are just a head too small for the big kid climbing gyms – My Little Climbing Room is the indoor play centre for them. Don't be fooled by its size! Fitted with kid-sized harnesses and 4m high climbing walls, rope swings and balancing toys, this is just the place for budding acrobats to practise their balance and coordination.
My Little Climbing Room, #B1-101, Promenade@Pelikat, 183 Jalan Pelikat, Singapore 537643
Various locations
43. Smigy Playground
We love Smigy! You can easily spend a couple of hours with your toddler sliding, playing in the ball pits, pretend shopping at the mini supermarket and dressing up the dollies in the doll hair salon. Our HoneyKids junior reporters, aged two and four years, respectively, love the ball pit with the interactive screen and driving the cars all around Smigy. You can also find them climbing the play structures or digging away in the Hinoki pit. The locations are really easy to get to with public transport on the doorstep and loads of convenient shops so you can pick up your groceries as well!
Smigy Playground, outlets in PLQ Mall, Tiong Bahru Plaza, and United Square
44. Kiztopia Club
As well as the fabulous Kiztopia, there are also smaller Kiztopia Clubs that are also well worth the visit! There's outer space-themed fun at Jurong Point or safari-themed adventures at Waterway Point in Punggol to explore.
Kiztopia Club Jurong Point, #03-18/19, Jurong Point, 1 Jurong West Central 2, Singapore 648886 and Kiztopia Club Punggol, #01 01/02/03/04, Punggol Town Square, 85 Punggol Central, Singapore 828726
45. Kidz Amaze
Kidz Amaze has three ginormous indoor play centres. Each one has been designed by early childhood experts to be not only visually appealing but also developmentally sound. The most exciting of the trio has got to be Splash @ Kidz Amaze SAFRA Punggol – Singapore's first indoor water playground. Being a public space, it's actually quite affordable, and because it's indoor, you can play for hours in the 'Enchanted Deep Sea' – rain, hail or shine! With multiple play decks, a themed splash pad and no less than FIVE water slides, it's got something for every 18-month to 13-year-old water-lover. They run water-themed kids' birthday parties too!
Kidz Amaze SAFRA, locations in Toa Payoh, Jurong, and Punggol
46. Sunshine Childhood Playland
Here's another indoor play centre within a shopping mall that you should check out with the kiddos. There's a little bit of everything that'll keep your little people occupied at Sunshine Childhood Playland. Explore the pretend play cubby houses, where kids can roleplay in the supermarket, a doctor's clinic, and the kitchen, a perennial favourite. There's also the ball pit and toddler-friendly climbing frame. Our favourite has to be the sensory play space – we could stay in there the whole day!
Sunshine Childhood Playland, locations in Northpoint City, Seletar Mall, Buangkok Square Mall, and HarbourFront Centre
47. Jumptopia
The clever folk at Kiztopia have another super fun concept that the kids will go crazy for – Jumptopia! This pop-up play space is a bouncy castle fan's dream hangout. Think larger-than-life bouncy play structures, complete with slides, ball pits, and your favourite Kiztopia characters!
Locations vary; Google Jumptopia for details 
48. Trampoline parks, various
Possibly the quickest, funnest (and sweatiest) way to tucker out your terrors is at a trampoline park. Kids go crazy for interconnected trampolines, dodge ball court, parkour walls, slam dunk rings, slacklines, tumble tracks and rock climbing walls. We've personally tried, tested and reviewed all of the great trampoline parks in Singapore. Our top picks? BOUNCE Singapore at Cathay Cineleisure is an absolute magnet for teens. Katapult is situated in the picturesque and family-centric leisure park Orto while Spring Rolls is awesome for the number of locations and proximity to the shops!
BOUNCE Singapore, #09-01, Cathay Cineleisure, 8 Grange Road, Singapore 239695; Katapult Trampoline Park, #01-11, ORTO, 81 Lorong Chencharu, Singapore 769198; Spring Rolls, various locations.
49. Timezone, various locations
Timezone is a go-to rainy weather play space for older kiddos to play games, shoot some hoops, go bowling, and generally socialise. We love the giant 22,000 sq ft Timezone above ION Orchard MRT, with its bumper cars and awesome prizes.
Timezone, various locations across Singapore
50. Zoomoov, various locations
It's a giant dig pit with slides! Zoomoov can be found in various locations around Singapore and is a happy place for bonding activities between parents and children aged 1-12 to enjoy a special time together. Focused on the concept of 'M.O.O.V' – Motor Skills, Observation Skills (Listening and Visual) and Verbal Communication skills, there are eight fun character electronic scooter rides to zoom around on within the mall!
Zoomoov, various locations: Ang Mo Kio Hub – Level 3, Changi City Point – Level 2, City Square Mall – Level B2, Jewel Changi Airport – Level 4, VivoCity – Level 2, Kallang Wave – Level 1, Jurong Point – Level 2, United Square – Level 1 ,West Coast Plaza – Level B1 and Westgate – Level 4
Looking for more indoor play centres in Singapore? Check out these trampoline parks, and these soft play areas for babies!